This pumpkin cake is perfect for Fall! Moist and delicious pumpkin cake layers with a tangy cream cheese frosting and crunchy candied pecans.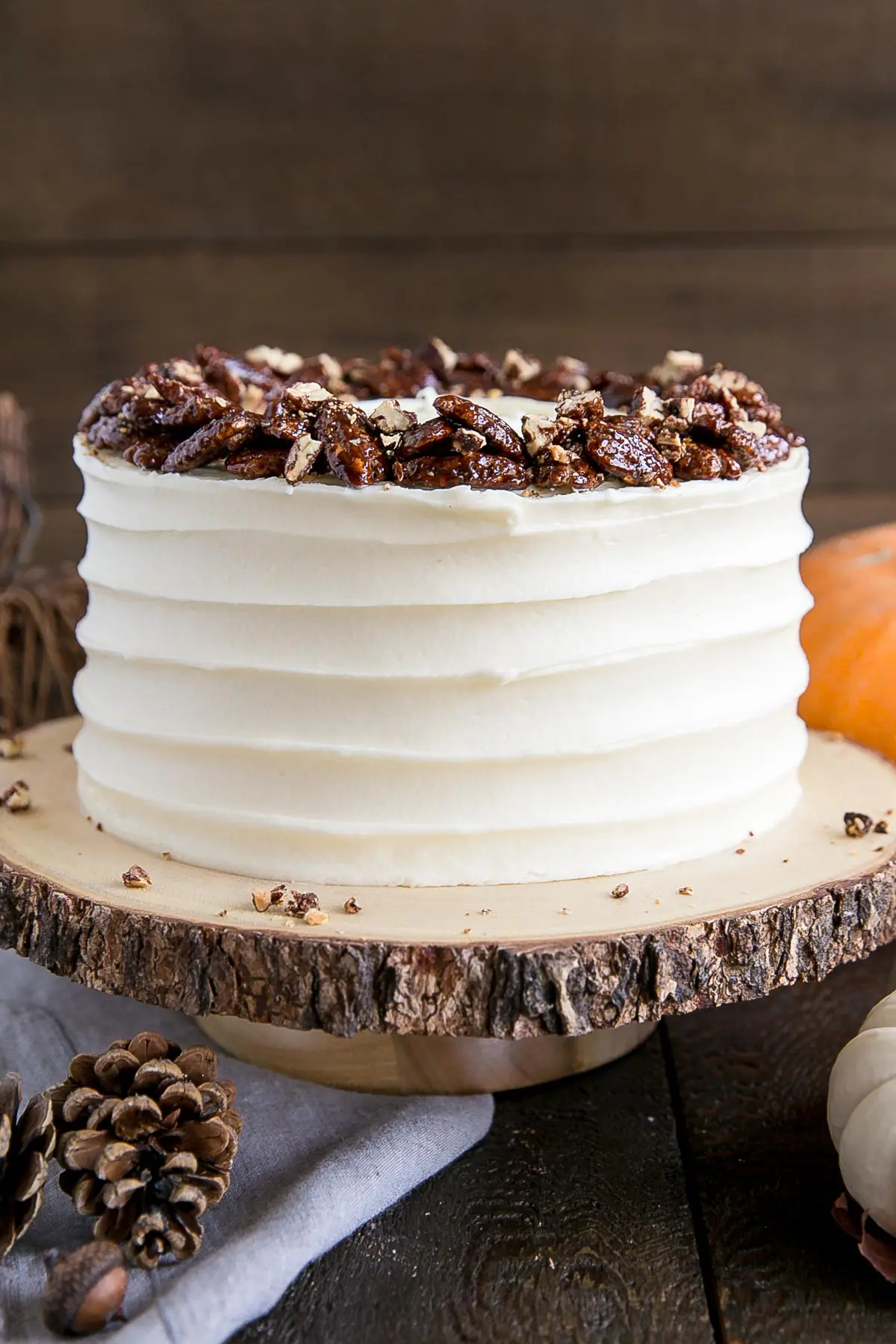 This post was originally published on 10/05/18 and was updated with new content on 10/22/21.
Happy Thanksgiving!
I hope you're celebrating it with friends and family. Ryan and I are hosting Thanksgiving dinner again this year — nothing fancy, just a large roast chicken using Ina's recipe (it's amazing) and some sides. We usually do a turkey on Thanksgiving, but there are always so many (too many) leftovers, and it's just my parents coming over so we're opting for a smaller bird. And, of course, this Pumpkin Cake will be served as dessert.
In true Olivia fashion (at least recently), I meant to get this recipe out weeks ago so that you too could have it for Thanksgiving. Alas, it was not meant to be. Too much life stuff (aka puppy) going on that has put a serious damper on my baking. It's all good though, she's adorable (most of the time), and growing so fast that I want to soak in the puppy time as much as possible!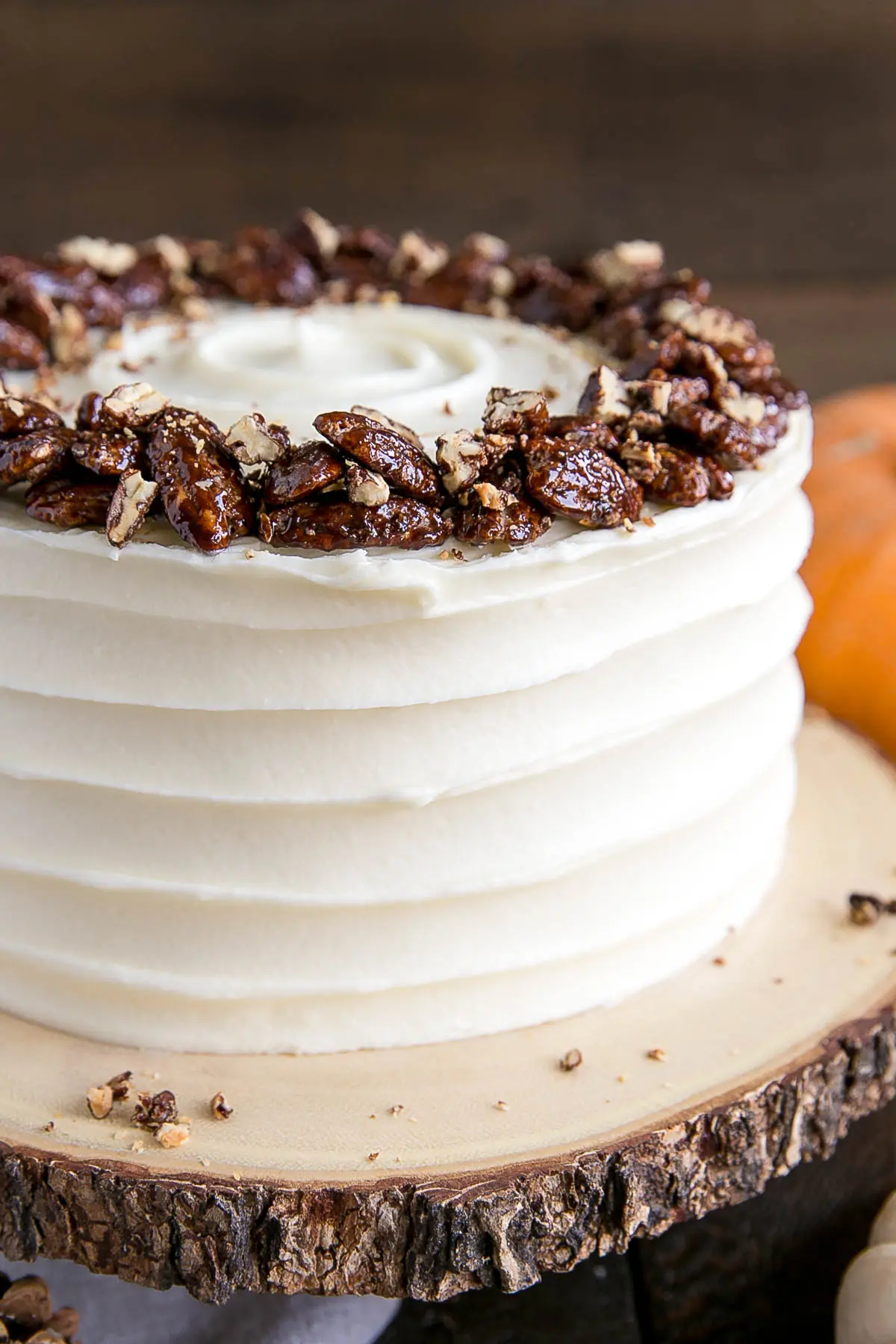 Last year I abstained from inundating you with pumpkin recipes and opted for some other Fall flavors like Pecan Pie Cake, Chai Cake, and Sweet Potato Cake. This year, I'm back with another Pumpkin Cake recipe for you!
My Pumpkin Spice Latte Cake is one of my most popular Fall recipes (for good reason, I think) so I wanted to take that recipe, tweak it for a larger version, and try it with some different flavors. Dare I say that the pumpkin cake recipe I bring you today is even better than that one.
How to make this Pumpkin Cake Recipe
This is probably one of the easiest cake recipes I have on my blog. It's a two bowl (one bowl if you're lazy) method that doesn't even require a mixer. All you have to do is:
Whisk the dry ingredients together (skip this for one bowl)
Whisk the wet ingredients & sugar
Add the dry to the wet and mix until just combined
Cake Tip
To make the recipe in one bowl simply combine all the wet ingredients then add the dry ingredients and mix until combined.
Paired with a simple cream cheese frosting, it does not get any easier!
The most challenging part of this recipe for me, honestly, was the candied pecans.
How to make Candied Pecans
Who knew making candied pecans would be such a pain in the butt?? The recipe I have for you below is actually super easy, but I stumbled a couple of times in my experimentation.
I had this vision of what I wanted the candied pecans to look like: shiny and glossy, but not clumped together or glued with caramel. Most of the candied pecan recipes out there show sugary coated nuts, and that was just not the look I was going for.
I opted to try a recipe I found online that seemed to have a technique that would work (albeit with some strange ingredients – milk??). It had a ton of great reviews, so surely it would not fail me. But fail me it did. I should have gone with my gut! The sugar mixture totally burned to the bottom of my pot before it was even supposed to be ready. Thankfully I had the sense not to throw $20 of pecans into it.
For attempt #2 I tweaked this recipe to see if that would work. The recipe is dead simple, which is a huge win-win for me.
You start with a frying pan over medium heat, and toss in the pecans to toast for about 3 mins or so (until they are fragrant). In the meantime, mix the remaining ingredients in a small bowl and when the nuts are ready, pour the mixture into the pan with the nuts and stir continuously for 5-10mins. I used two heatproof spatulas for this, which worked perfectly.
Now, as you're candying the pecans, they'll go from a liquid glaze to grainy and crystallized (aka the look I didn't want), but you just keep cooking them and eventually they caramelize into a deep, dark, glorious color. Except that mine actually burned. SIGH. Some of them, anyhow.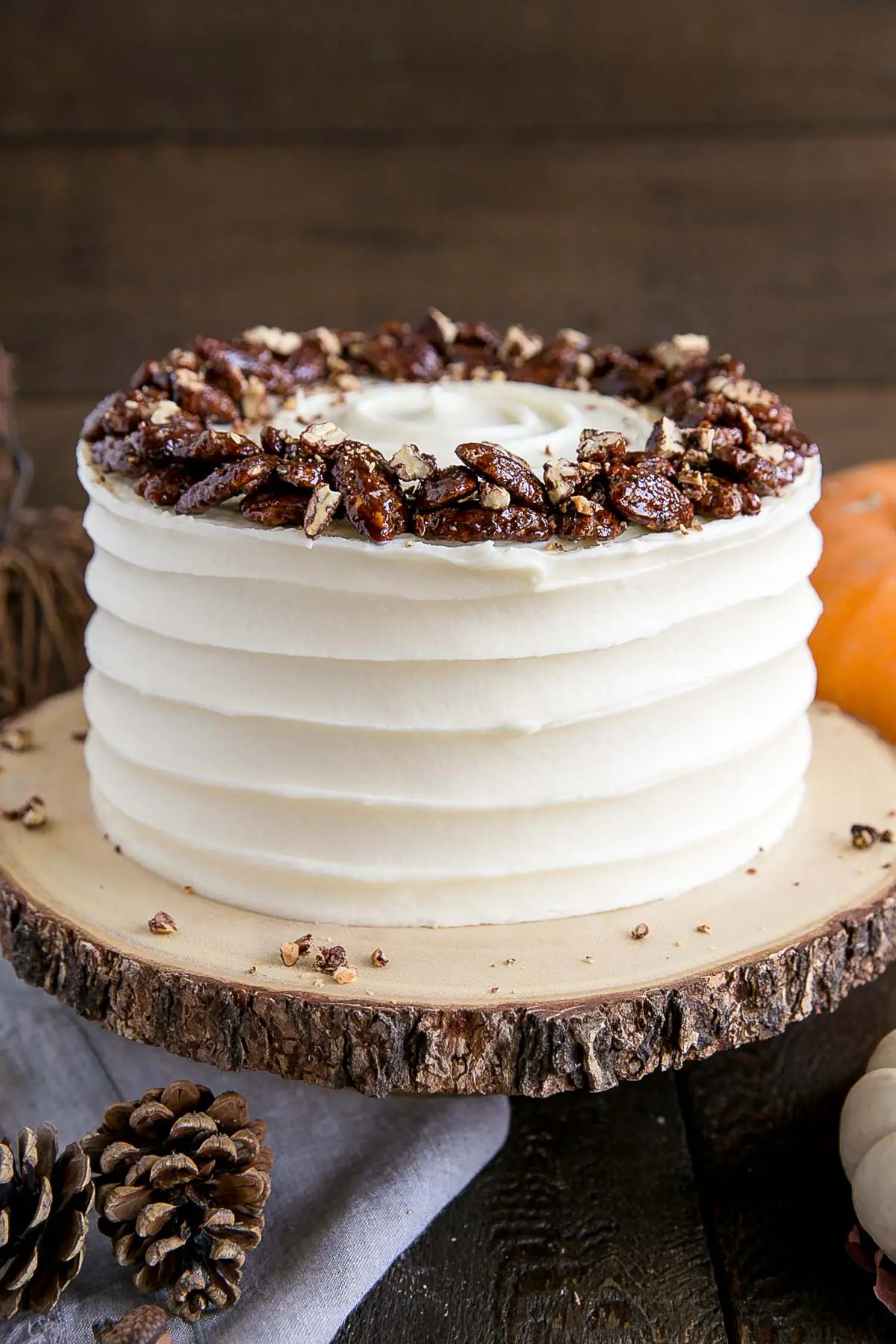 My stove is the worst. The oven takes forever to bake anything, and the burners get WAY too hot. You literally cannot simmer on it. I should have lowered my temperature — noted for the future!
Funny thing though, as I was caramelizing the pecans I actually really liked the way they looked in the sugared/crystallized state! So much that I asked Ryan to pick up more pecans on his way home so I could redo them yet again.
You'll notice that I actually ended up going with the shiny ones anyway, because they just look so pretty. Even though at one point I was convinced they looked like cockroaches on a cake, and panicked and added some chopped ones to try and hide that fact. I may have messaged 5 of my friends with a pic and a question: "Do these look like cockroaches?" This is my life, for real.
Here's a shot without all the extra chopped pecans…. you can see where I got the idea, right?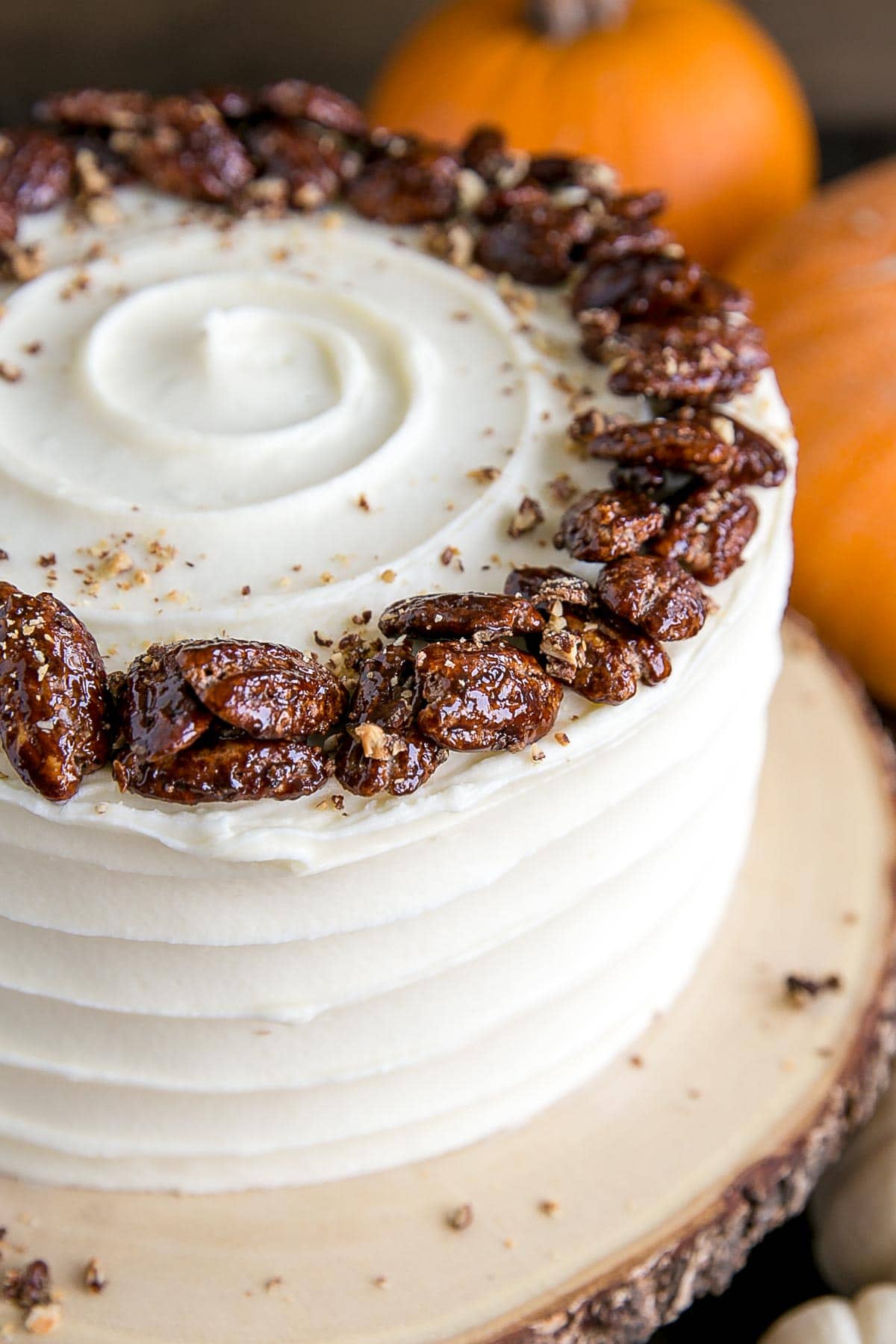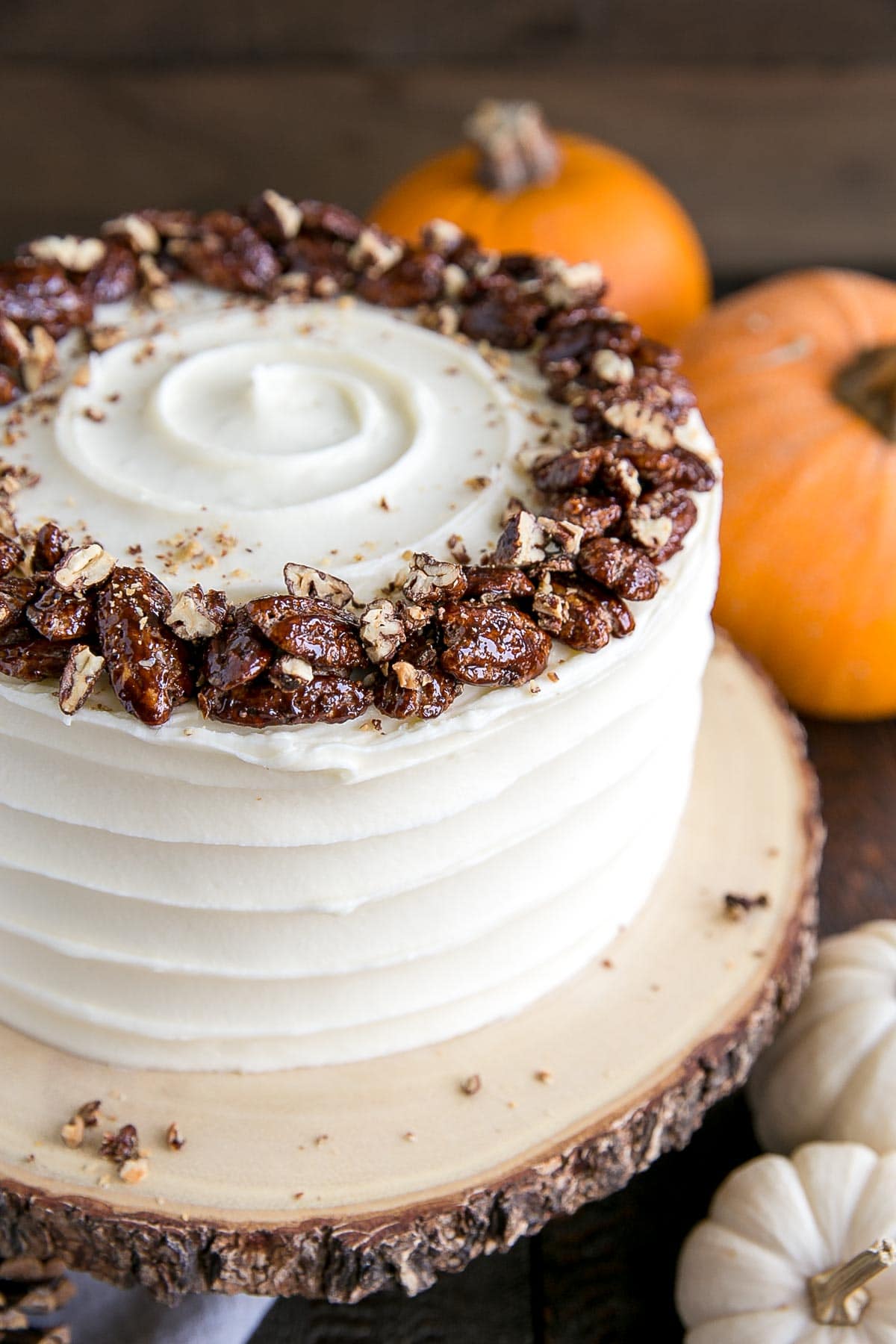 ANYhow. I actually prefer the taste and texture of the sugared ones rather than the caramelized ones, but both are delicious, and the beauty of this recipe is that you can decide how you want them to turn out!
This candied pecans recipe is honestly so much easier and less time-consuming than the others recipes out there, that I wonder why everyone doesn't make their candied nuts this way?? I certainly will be in the future. Any other type of nuts should work equally well too, if you're not a pecan fan!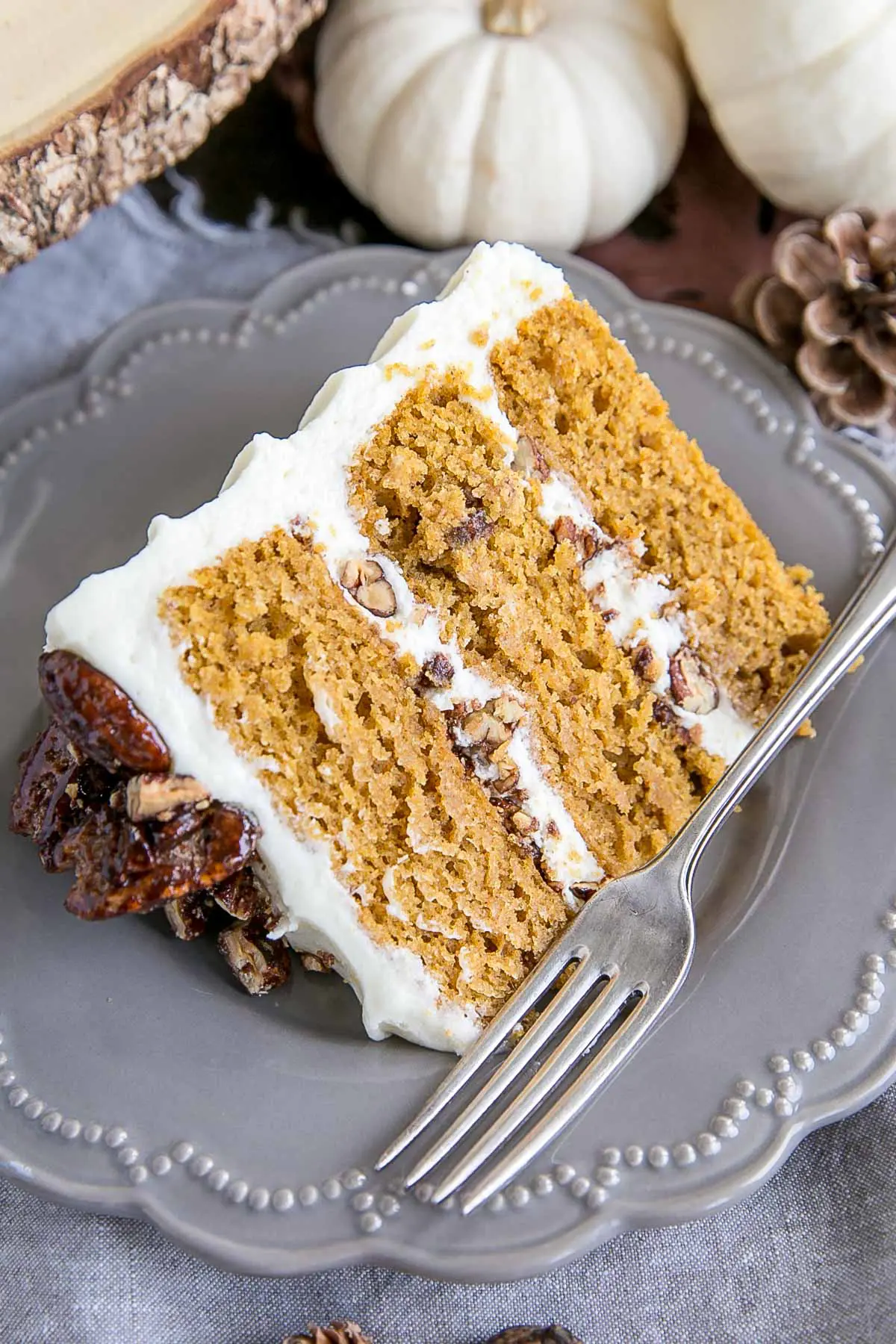 I chose to pair this pumpkin cake with a simple cream cheese frosting, but it would go equally well with a plain vanilla frosting or a cinnamon frosting if you're looking to amp up the spice even more!
If you're a pumpkin spice fan or just looking for something delicious for your Fall & holiday dinner tables, this Pumpkin Cake with Candied Pecans will not disappoint!!
Looking for more Pumpkin Recipes?
Frequently Asked Questions
How can I convert this recipe?
The recipe as-is will also work in three 6″ pans or two 8″ pans but the layers will be thicker so baking time will be longer.
To make cupcakes, all you need to do is reduce the baking time — start checking at 15mins or so. The recipe will make 18-24 cupcakes depending on size.
For other conversions go

here

. Bake time may vary depending on pan size.
Can I make it in advance?
The cooled cake layers can be baked ahead of time, double wrapped in plastic wrap, and frozen for up to 3 months. Take out 2-3 hours before assembly.
The frosting can be placed in an airtight container and refrigerated for 1 week or frozen for 3 months. Bring to room temp and rewhip before using.
The candied pecans can be placed in an airtight container and stored at room temperature for a week or two.
The finished cake (whole or sliced, stored airtight) can be frozen for up to 3 months. Decorate top with pecans before serving.
Can I get the measurements by weight/grams?
There is a Metric option in the recipe card. If you click it it will convert everything to grams.
This conversion is done automatically and I cannot guarantee the accuracy but many readers have had success using the metric option on my recipes.
Tips for making this Pumpkin Cake Recipe
Apr 14, 2022 – Cream Cheese Frosting recipe revised to make a more stable frosting.
You can make this pumpkin cake recipe in one bowl if you skip sifting the dry ingredients and just add them to the wet at once. It will work fine!
The candied pecans recipe works two ways: You can stop when the nuts look like they are covered in cinnamon sugar (my personal fave), or you can keep cooking them until they get a clear, dark caramel glaze.
I prepare my cake pans using

Homemade Cake Release

and line with parchment paper.
Learn how to keep your cakes moist using

Simple Syrup

.
To help ensure your cake layers bake up nice and flat, check out my

How to Bake Flat Cakes

post!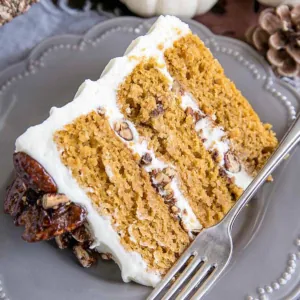 Pumpkin Cake with Candied Pecans
This pumpkin cake is perfect for Fall! Moist and delicious pumpkin cake layers with a tangy cream cheese frosting and crunchy candied pecans.
Ingredients
Cream Cheese Frosting:
1 1/2

cups

unsalted butter

room temperature

6

cups

powdered sugar

sifted

1 1/2

cups

cream cheese

12 oz, chilled, full fat, block not tub, cubed

2

tsp

vanilla extract

cornstarch or meringue powder

optional
Assembly:
2/3

cup

chopped candied pecans

whole candied pecans
Instructions
Pumpkin Cake:
Preheat oven to 350F and grease & flour three 8″ cake pans. Line with parchment.

In a medium bowl, whisk together flour, pumpkin pie spice, baking powder, baking soda, and salt.

In a large bowl, whisk together sugars, oil, pumpkin, vanilla, and eggs.

Add dry to wet and mix until just combined.

Divide batter evenly between prepared pans and bake until a toothpick inserted into the center comes out mostly clean (approx. 30-35 mins).

Cool in pans on wire rack for 10mins, then turn out onto wire racks to cool completely.
Candied Pecans:
Line a large baking sheet with parchment.

Heat a large frying pan over medium heat. Add pecans and toast for approx. 3 mins, stirring often.


In a small bowl or measuring cup, combine sugar, cinnamon, water, and vanilla. Stir well.

When the pecans are fragrant, add sugar mixture into the pan. Stir constantly over medium heat for 5-10mins. I used two heatproof spatulas for this.*

Spread onto parchment lined baking sheet to cool. Separate them as best as possible with the spatulas.
Cream Cheese Frosting:
Using a stand mixer or hand mixer beat butter until pale and creamy.

Reduce speed to low. Add powdered sugar 1 cup at a time and mix on low until well blended. Increase speed to medium and beat for 3 minutes. Add vanilla and continue to beat on medium for 1 minute.

Slowly add chilled cream cheese one cube at a time (about 1 tablespoon at a time). Beat well until blended and ensure no lumps of cream cheese remain.

If needed, add cornstarch or meringue powder 1 tablespoon at a time to stiffen the frosting (I didn't but this is an option).

Run mixer on low for a couple of minutes to remove any air bubbles.
Assembly:
Place one layer of cake onto a serving plate or cake stand. Top with 1 cup frosting and spread evenly. Sprinkle 1/3 cup chopped candied pecans over the top of the frosting (reserve the prettiest ones for the top). Repeat with next layer.

Place final cake layer on top and crumb coat the cake. Chill for 30mins.

Use the remaining frosting to cover the outside of the cake. Decorate the top and sides with a swirl if desired (I used a large offset spatula to do this). Decorate with whole and chopped candied pecans.
Notes
* The sugar syrup will coat the pecans and eventually turn grainy. You can stop here if you like or keep cooking/stirring until they are caramelized and golden. Watch them carefully as they will burn quickly near the end.
Candied Pecan recipe adapted from The Cafe Sucre Farine.
Calories:
851
kcal
Carbohydrates:
88
g
Protein:
6
g
Fat:
55
g
Saturated Fat:
28
g
Cholesterol:
119
mg
Sodium:
201
mg
Potassium:
290
mg
Fiber:
3
g
Sugar:
69
g
Vitamin A:
4630
IU
Vitamin C:
1.2
mg
Calcium:
104
mg
Iron:
2.2
mg
The nutritional information and metric conversions are calculated automatically. I cannot guarantee the accuracy of this data. If this is important to you, please verify with your favorite nutrition calculator and/or metric conversion tool.
This post was originally published on 10/05/18 and was updated with new content on 10/22/21.