These easy Chocolate Pumpkin Spice Cookie Cups are perfect for Fall! Chewy chocolate cookie cups filled with pumpkin pudding and topped with fresh whipped cream.
Seeing as how it's officially October (crazy!!), I think it's high time I busted out some new pumpkin recipes. I'm actually a little behind this year.
Usually, I get into the pumpkin spirit as soon as the calendar turns September, but we were moving at the time and I didn't have enough foresight to fill my backlog with pumpkin recipes. Poor planning on my part, but I do have at least two pumpkin spice recipes coming at you this year. Maybe more if I can swing it.
For my first pumpkin recipe of the year, I bring you these delicious Chocolate Pumpkin Spice Cookie Cups!

I've noticed it's become a trend in recent years to bash all things pumpkin spice. I'm not really sure where all this hate came from, or why. There are likely more important things to focus one's energy on than hating pumpkin spice.
Maybe it's the summer-lovers who are none too thrilled about their favorite season coming to a close, so they look for something to take out their anger on.
I, on the other hand, welcome Fall and all things pumpkin with open arms. It is, after all, the best season of the entire year. Amiright?
My inspiration for these Pumpkin Spice Cookie Cups was a mini pumpkin pie, but I wanted to mix it up a bit with a rich chocolatey cookie base.
The chocolate cookie cups pair surprisingly well with the pumpkin pudding filling!
You may have noticed that I have an ever-growing cookie cup collection. I am a huge fan and, judging by the response, it seems that you guys like them too! They are really fun and easy to make. Portable, bite-sized deliciousness. What's not to love??
I've already got holiday themed cookie cups in mind, so watch for those in the weeks to come.
Pumpkin Pudding Filling
The pumpkin filling in these cookie cups is not completely from scratch. I usually bake from scratch, but sometimes it's just easier to whip out a box for something, whether it's a cake, cookie, or the filling for these Chocolate Pumpkin Spice Cookie Cups, which incorporates modified instant pudding.
If you would rather not use instant mix, you can make your own pudding at home and add in the pumpkin puree and spice. Not quite as easy, but just as delicious.
Chewy chocolatey cookies paired with delicious pumpkin pudding. If you are a pumpkin spice fan like me, you will love these Chocolate Pumpkin Spice Cookie Cups!
Looking for more Pumpkin Recipes?
Tips for these Chocolate Pumpkin Spice Cookie Cups:
If you don't have black cocoa powder, you can use regular cocoa powder. The recipe will work fine, but it will affect the flavor and color slightly.
These freeze very well! Store in fridge for up to 5 days or in freezer (in an airtight container) for 1-2 months.
Serve cold or at room temperature.
If you like these, check out some of my other cookie cup recipes!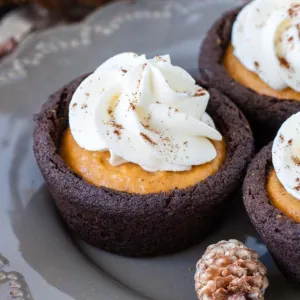 Chocolate Pumpkin Spice Cookie Cups
These easy Chocolate Pumpkin Spice Cookie Cups are perfect for Fall! Chewy chocolate cookie cups filled with pumpkin pudding and topped with fresh whipped cream.
Ingredients
Pumpkin Filling:
1

pkg

vanilla instant pudding

large, 153g, 5oz

12

oz

can evaporated milk

354ml, chilled

14

oz

pumpkin puree

398ml, not pumpkin pie filling

1 1/2

tsp

pumpkin pie spice
Instructions
Chocolate Cookie Cups:
Preheat oven to 350°F. Spray two regular sized muffin tins with cooking spray.

Whisk together flour, cocoa powders, baking soda, and salt. Set aside.

Beat butter and sugars on med-high until light and fluffy (approx. 2-3mins). Reduce speed and add eggs one at a time and vanilla. Beat until combined. Add flour mixture and mix until just combined.

Using a large cookie scoop (3 Tbsp) scoop dough into muffin tins, press down to flatten.

Bake for approx. 10-13mins or until mostly set, but still soft in the middle.

Remove from oven and immediately use a small jar or container to press firmly down in the center to create a well. Cool in pans for 15mins, then place on wire rack to cool completely.
Pumpkin Filling:
Place milk and pudding into a medium bowl and beat for 2mins (I used a hand mixer). Place in fridge to set for 5 mins. Beat in pumpkin puree and pumpkin pie spice. Pipe or spoon into cookie cups.

Top with whipped cream if desired.
Notes
Note: I over-baked one of my batches of cookies and they were a bit too crisp for my liking (I prefer chewy). If this happens to you, just place the unfilled cookie cups in an airtight container with a slice of bread and leave to sit overnight. They will soften right up!
Calories:
249
kcal
Carbohydrates:
34
g
Protein:
3
g
Fat:
11
g
Saturated Fat:
7
g
Cholesterol:
47
mg
Sodium:
182
mg
Potassium:
162
mg
Fiber:
1
g
Sugar:
21
g
Vitamin A:
3440
IU
Vitamin C:
1.2
mg
Calcium:
70
mg
Iron:
1.4
mg
The nutritional information and metric conversions are calculated automatically. I cannot guarantee the accuracy of this data. If this is important to you, please verify with your favorite nutrition calculator and/or metric conversion tool.
Originally published Oct 2, 2016