Six decadent layers of Oreo cake, Oreo buttercream, and a dark chocolate ganache. Perfect for the cookies and cream lover in your life!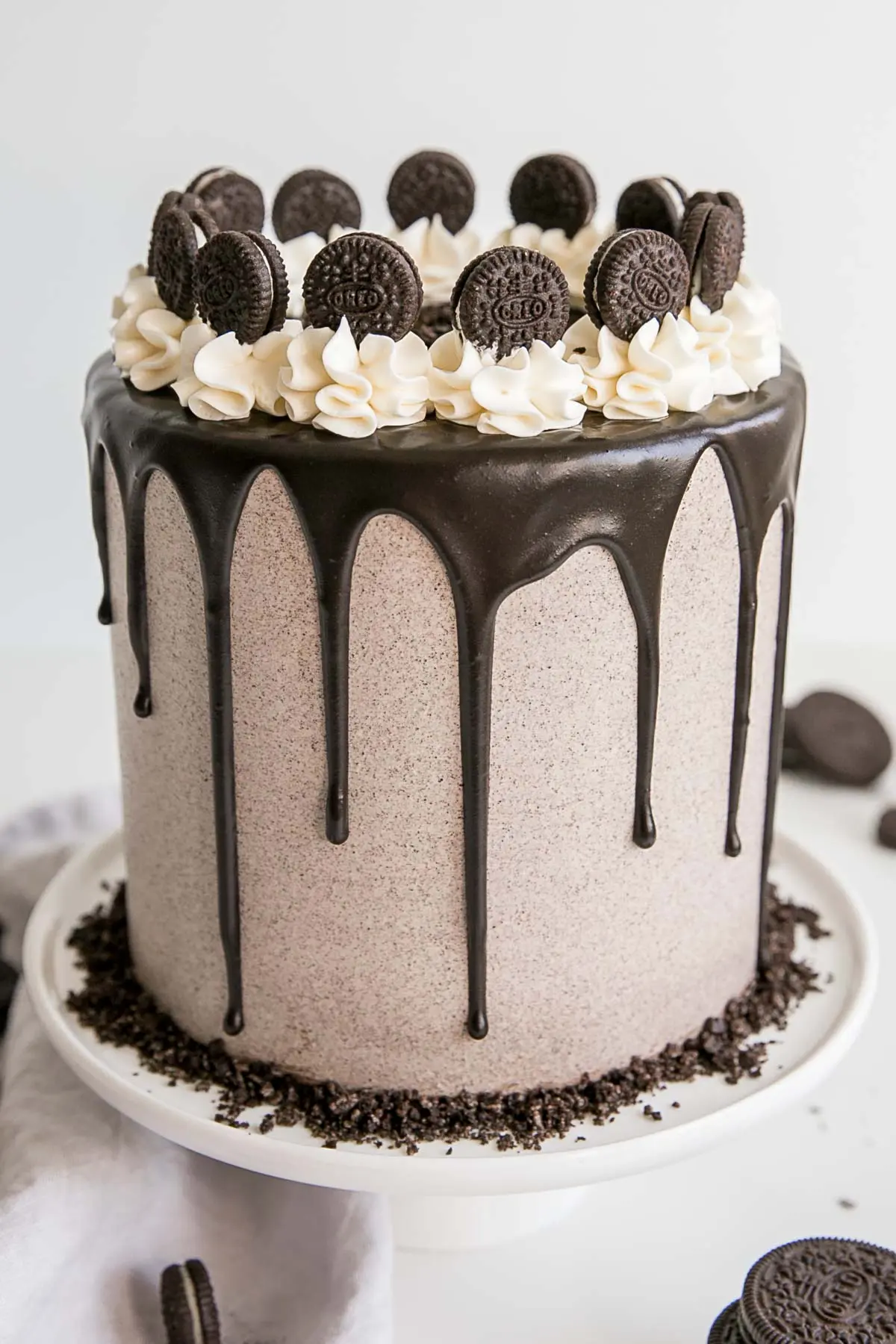 Hello Oreo lovers! Do I have your attention? Good, because this cake is for you. This Oreo Cake is actually an update of one of my older recipes (from 2016!). The photos were in dire need of a refresh, and I wanted to tweak the recipe a bit.
As you know, Ryan tends to be my go-to guy for ideas when I'm stuck on something to bake. Naturally, he gravitates to things that he already loves and asks me to turn them into cakes. Hence the Cinnamon Toast Crunch Cake, the S'mores Cake, and the Turtles Cake, to name a few.
When he suggested an Oreo Cake my arm didn't need much twisting. I am a HUGE fan of Oreos. Though, truthfully, I prefer Golden Oreos to the original. Something about that vanilla cookie flavor goes so well with the Oreo filling! Be sure to check out my Golden Oreo Cake too for a delicious alternative.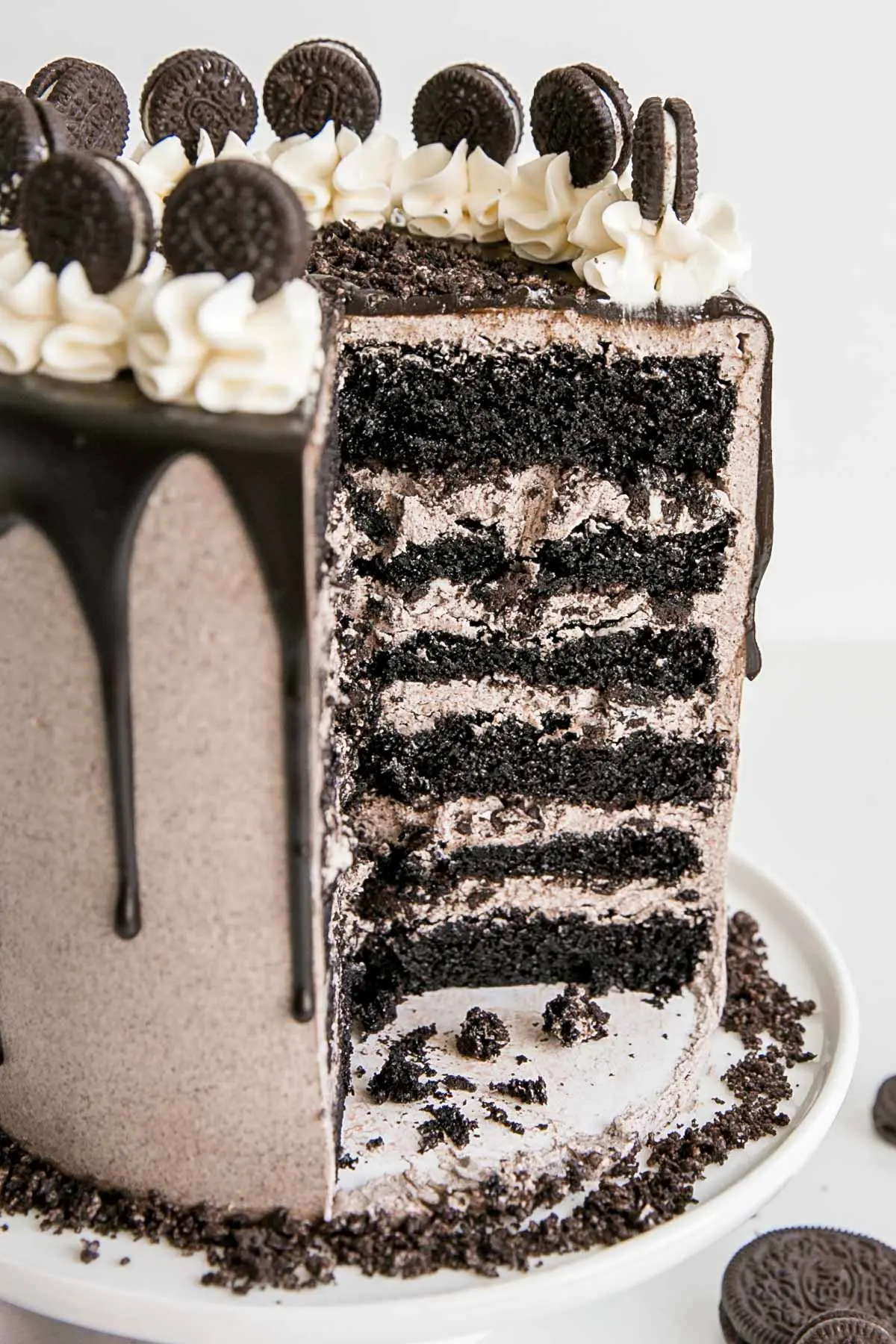 How Do You Make Oreo Cake?
This cake is packed with Oreo cookie flavor in the best ways possible. I modified my favorite chocolate cake recipe, and made a couple key modifications to Oreo-ify it:
I swapped out some of the all-purpose flour for Oreo cookie crumbs
I swapped out some of the cocoa powder for black cocoa
The Oreo cookie crumbs are very easy to get in Canada. You can literally find them in almost any grocery store, right next to the graham cracker crumbs. I hear they aren't as easy to find in the US (is that right?). Really though, any chocolate cookie crumbs will do.
What if I can't find Oreo Cookie Crumbs?
If you can't find chocolate cookie crumbs, you can just make your own by separating Oreo cookies from the filling and pulsing the cookie parts in a food processor. Be sure to separate them — do not attempt to pulse whole cookies and use those in the cake batter.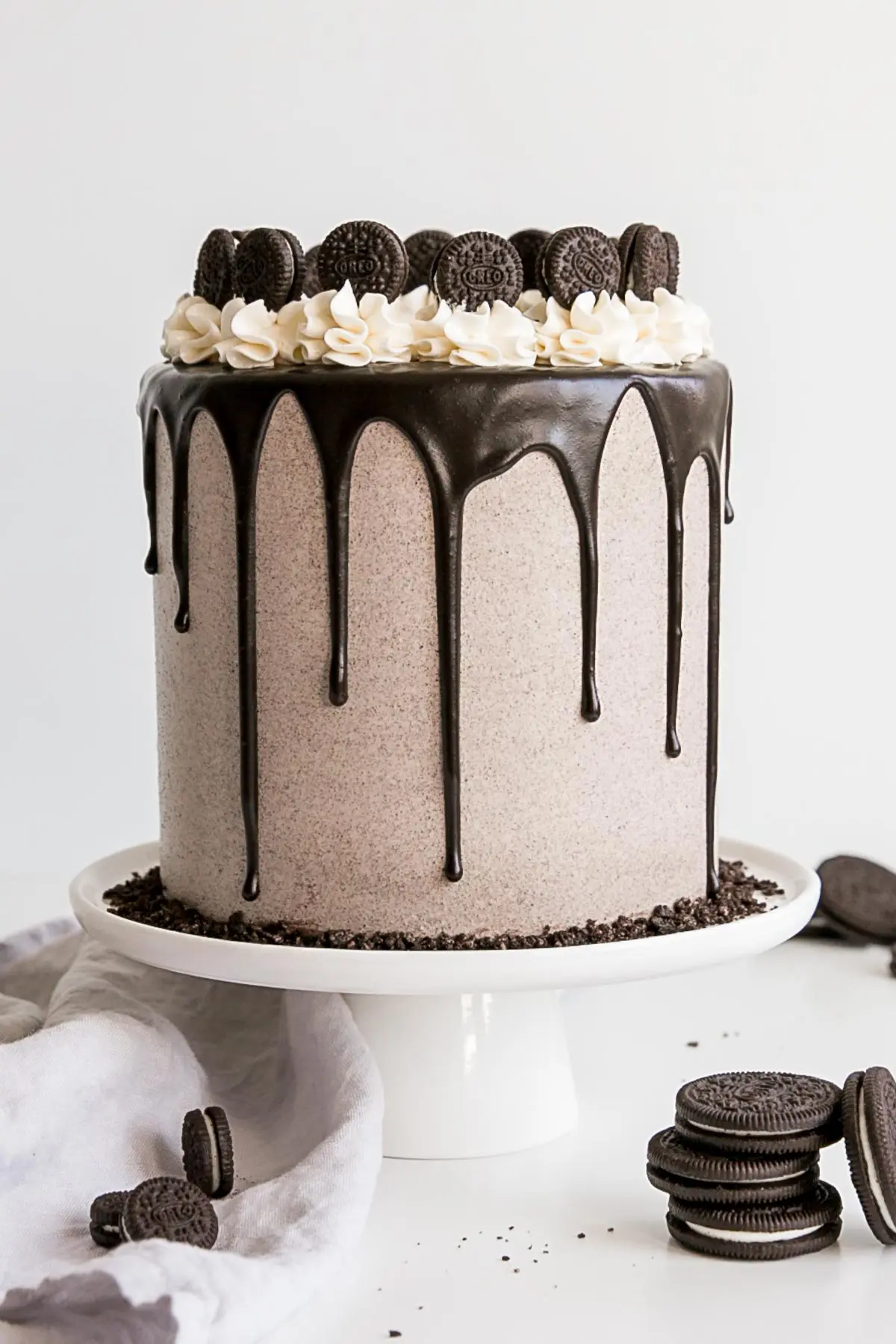 Black cocoa powder is one of my favorite things ever. It's what gives Oreo cookies that deep rich color and flavor. Black cocoa powder is a super dark Dutch-process cocoa, which basically means it's had even more acid stripped from it.
Cake Tip!
It's not recommended to replace all of the cocoa in a recipe with black cocoa powder, due to it's very low fat content — it can make baked goods dry. Substituting half or so should be more than enough to get the flavor and color to come through.
What if I can't find Black Cocoa Powder?
If you don't have black cocoa powder, you can substitute more Dutch-process or regular cocoa powder. It will affect the color and flavor slightly.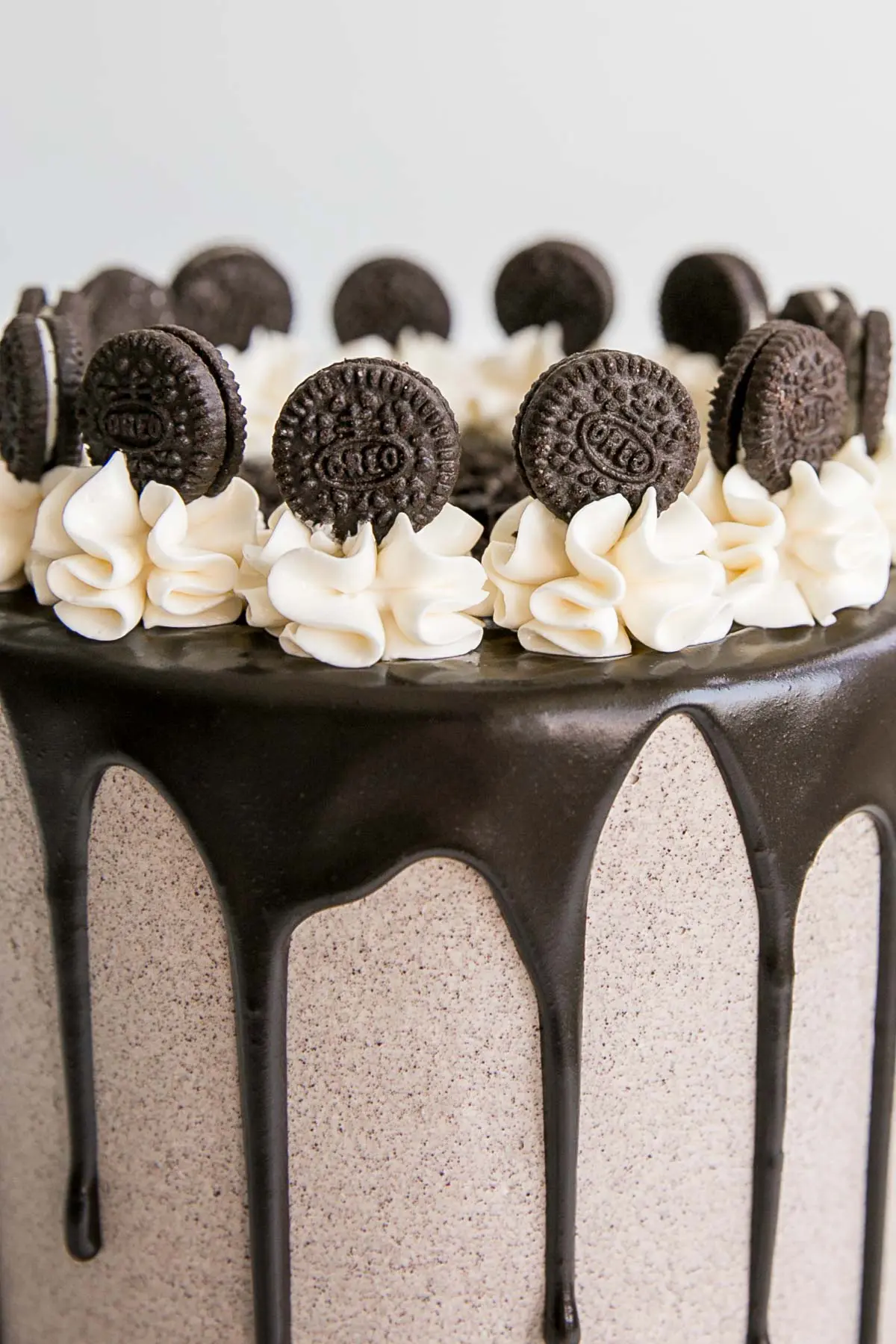 I used Oreo cookie crumbs again in the Swiss meringue buttercream frosting. This added both flavor and color in just the perfect way.
For additional flavor and texture, I added some chopped-up Oreo cookies between each of the cake layers, and finished the whole thing off with a dark chocolate ganache drip for good measure. I've been back on the drip cake trend lately, and I think that's a good thing.
I tried to darken the dark chocolate ganache by adding some black color gel to the cream before microwaving it all. This worked okay, but it made the ganache a bit dull. At least I assume that's what it was.
The only other difference was that I used the ganache later the same day instead of leaving it overnight and nuking it a bit in the morning to thin it out. But I think it was the color gel. It's not shiny, but I think this color looks better than a brownish ganache would have.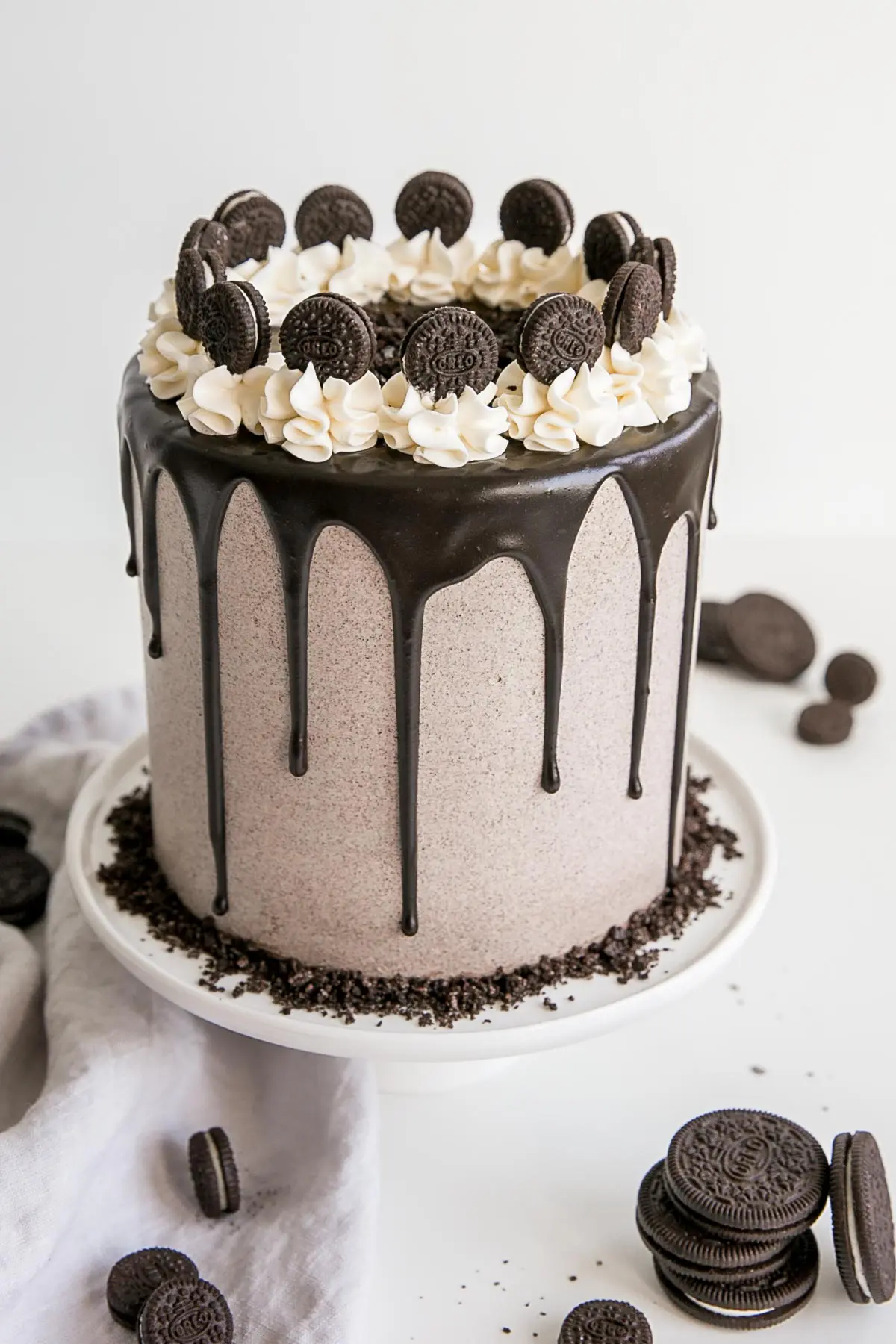 What is the difference between an Oreo Cake and a Cookies and Cream Cake?
Nothing, honestly. They are basically one and the same. Some people prefer to call them cookies and cream desserts, and some people Oreo. There are a ton of companies out there that produce cookies and cream desserts. There is some debate about which came first (kind of a chicken and egg thing happening).
I didn't spend a ton of time researching it, but basically, it seems that everyone is claiming to have created the sandwich cookies. It's the Oreo brand that popularized them, so they're the ones we know today.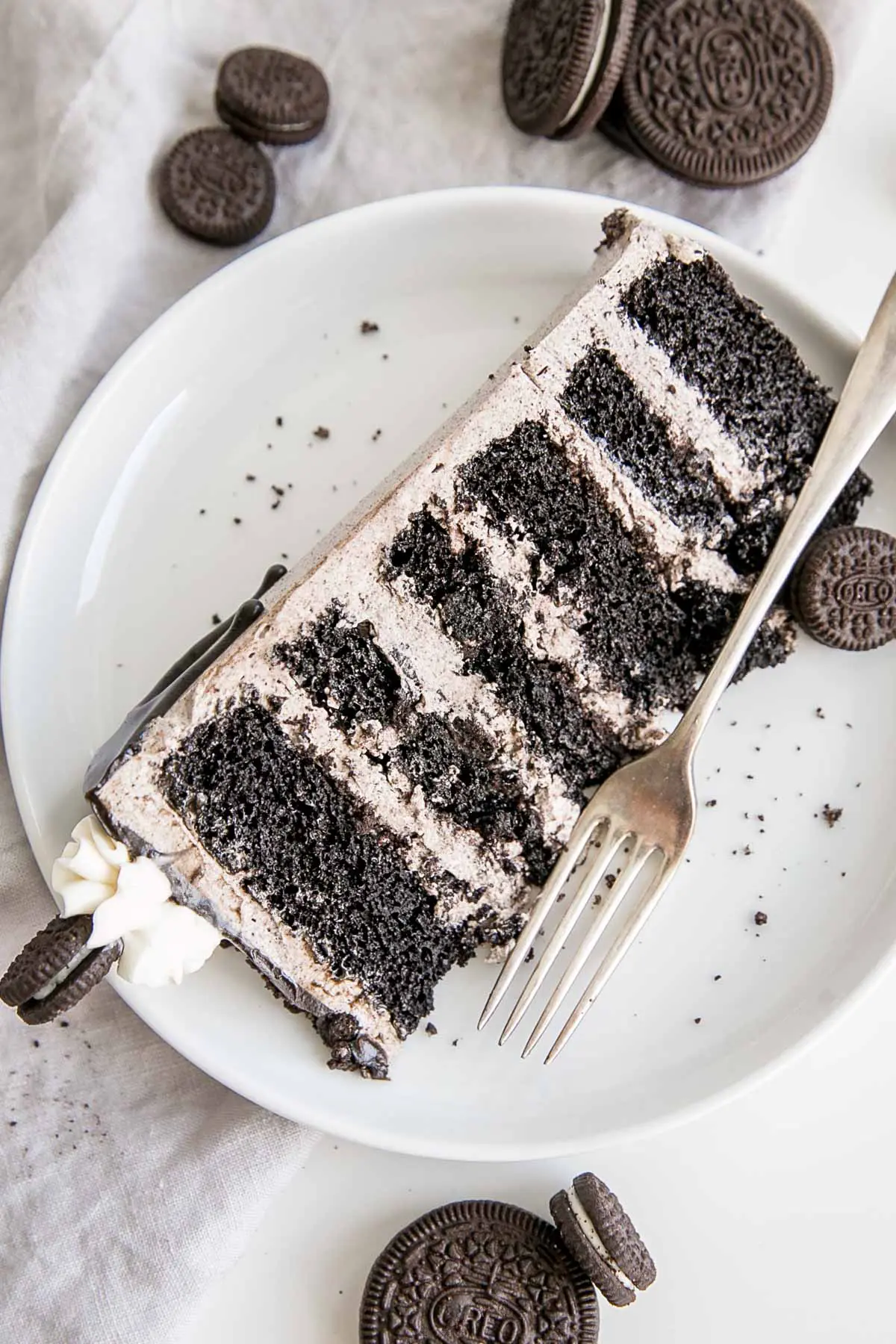 This Oreo Cake has been a popular recipe here on Liv for Cake over the years. If you're a cookies and cream fan or have one in your life, you will LOVE this cake!
Frequently Asked Questions
How can I convert this recipe?
The recipe as-is will also work in two 8″ pans, though the layers will be a bit thinner. For three 8″ pans, 1.5x the recipe. Baking time may need to be adjusted.
To make cupcakes, all you need to do is reduce the baking time — start checking at 15mins or so. The recipe will make 18-24 cupcakes depending on size.
For other conversions go

here

.
Can I make it in advance?
The cooled cake layers can be baked ahead of time, double wrapped in plastic wrap, and frozen for up to 3 months. Take out 2-3 hours before assembly.
The frosting can be placed in an airtight container and refrigerated for 1 week for frozen for 3 months. Bring to room temp and rewhip before using.

The ganache can be made a day in advance and left on the counter overnight (with plastic wrap placed directly on the surface). It will need to be warmed slightly to thin out.

The finished cake (whole or sliced, stored airtight) can be frozen for up to 3 months.
Can I get the measurements by weight/grams?
There is a Metric option in the recipe card. If you click it it will convert everything to grams.
This conversion is done automatically and I cannot guarantee the accuracy but many readers have had success using the metric option for this recipe.
What if I don't have Black Cocoa/Dutch-process Cocoa Powder?
If you don't have black cocoa powder, you can substitute more Dutch-process or regular cocoa powder. It will affect the color and flavor slightly.
I like to use Dutch-process cocoa powder in all of my chocolate recipes, but regular cocoa powder will work just fine. Dutch-process has had some of the acid stripped from it and yields a richer flavor overall. Again, it won't make or break the recipe to use regular cocoa powder here.
What if I don't have buttermilk?
Buttermilk is not optional and cannot be swapped for milk as it will affect the overall result.
If you don't have buttermilk, you can make your own at home by combining 1 cup of milk (whole milk ideally, but I often just use 1%) with 1 Tbsp of lemon juice or vinegar and letting it sit for 10mins.
Can I use hot coffee instead of hot water?
You'll often see this kind of chocolate cake recipe using hot coffee instead of hot water in the batter, and you can use either.
Tips for making this Oreo Cookies and Cream Cake
You can do this as a 3 layer cake instead of thinner 6 layers, but you will have some buttercream left over.
I added a couple drops of black color gel to the ganache to darken it. This is optional.
The cake layers are easiest to frost when they are chilled, as they are a bit firmer and help the buttercream set quicker.
Check out my tutorial on How to Make Ganache for making the drip.
I like to prepare my cake pans using Homemade Cake Release then line with parchment.
Be sure to check my

Swiss Meringue Buttercream

post for tips and troubleshooting.
Learn how to keep your cakes moist using Simple Syrup.
To help ensure your cake layers bake up nice and flat, check out my Flat Top Cakes post!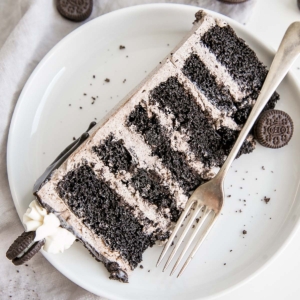 Oreo Cake
Oreo Cake! Six decadent layers of Oreo cake, Oreo buttercream, and a dark chocolate ganache. Perfect for the cookies and cream lover in your life!
Ingredients
Instructions
Oreo Cake:
Preheat oven to 350F, grease three 6″ round baking pans and dust with cocoa powder. Line bottoms with parchment.

Place all dry ingredients into the bowl of a stand mixer fitted with a paddle attachment. Stir to combine.

In a medium bowl whisk all wet ingredients (pour coffee in slowly as not to cook the eggs if very hot).

Add wet ingredients to dry and mix on medium for 2-3 mins. Batter will be very thin.

Pour evenly into prepared pans. I used a kitchen scale to ensure the batter is evenly distributed.

Bake until a cake tester comes out mostly clean. A total of 30-35mins.

Cool 10minutes in the pans then turn out onto a wire rack to cool completely. Once cooled, cut each layer in half horizontally to get 6 layers.
Oreo Buttercream:
Place egg whites and sugar into the bowl of a stand mixer, whisk until combined.*

Place bowl over a hot water bath on the stove and stir with a whisk until the mixture is no longer grainy to the touch (approx. 3mins).

Place bowl on your stand mixer and whip on med-high until the meringue is stiff and cooled (the bowl is no longer warm to the touch (approx. 5-10mins)).

Switch to paddle attachment. Slowly add cubed butter and mix until smooth.

Add vanilla and whip until smooth.** Remove about 1 cup of buttercream and set aside.

Add Oreo cookie crumbs to the remainder of the buttercream and whip until smooth.
Dark Chocolate Ganache:
Add cream to a medium microwave safe bowl. Add 1-2 drops of black color gel and stir to combine (optional). Add chopped chocolate and microwave in 10second intervals, stirring in between, until completely smooth and shiny. Set aside to cool completely and thicken before using as a drip.
Assembly:
Place one layer of cake on a cake stand or serving dish. Top with about 2/3 cup Oreo buttercream and sprinkle with chopped Oreos. Repeat with remaining layers. Do a think crumb coat all over the cake and chill for 20mins.

Frost and smooth the outside of the cake with the remaining Oreo buttercream. Chill for 30mins until firm.

Using a small spoon, place dollops of ganache around the top edges of the cooled cake, allowing some to drip down. Fill in the top of the cake with more ganache and spread evenly with an offset spatula. Allow to set for a few minutes.

Fit a piping bag with a 1M piping tip. Fill with the white buttercream that was set aside. Pipe rosette dollops on top of the cake. Place a mini Oreo in the center of each dollop if desired.
Notes
* Ensure there is no trace of egg yolks in your whites and that your mixer bowl and whisk is completely grease free or your meringue won't stiffen.
** The buttercream may look like it's curdled at some point. Keep mixing until it is completely smooth.
Calories:
784
kcal
Carbohydrates:
89
g
Protein:
8
g
Fat:
47
g
Saturated Fat:
29
g
Cholesterol:
128
mg
Sodium:
502
mg
Potassium:
282
mg
Fiber:
3
g
Sugar:
68
g
Vitamin A:
1125
IU
Calcium:
71
mg
Iron:
3.2
mg
The nutritional information and metric conversions are calculated automatically. I cannot guarantee the accuracy of this data. If this is important to you, please verify with your favorite nutrition calculator and/or metric conversion tool.