This sprinkle studded Funfetti Cake is paired with a fluffy cream cheese frosting and topped with a rich dark chocolate ganache.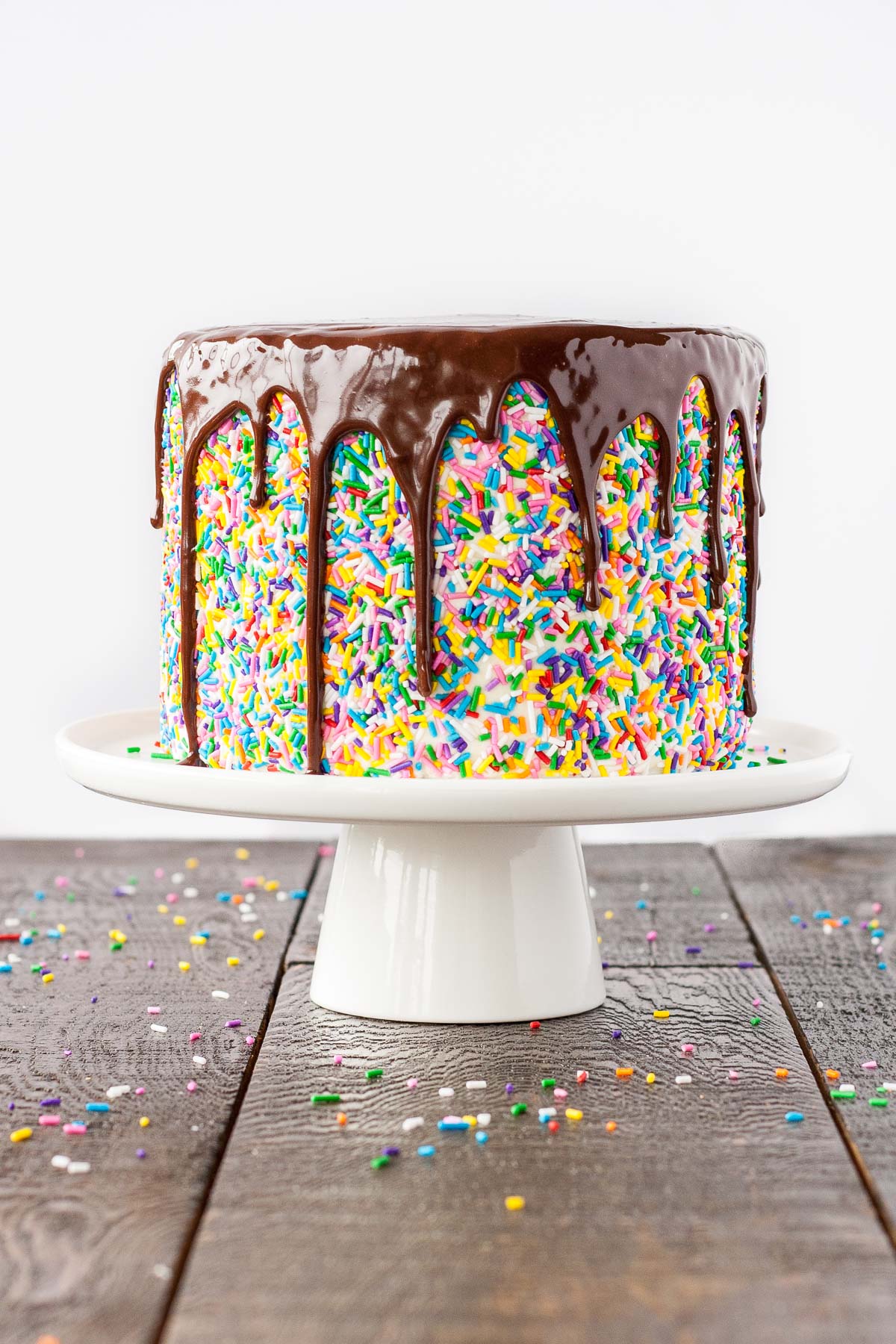 I am so excited about this Funfetti Cake because it's my first contributor post for The Cake Blog!
I'll be making cakes for them each month, and I'm kicking things off with an homage to one of my favorite cakes ever, the Momofuku Birthday Cake. If you've made a Momofuku recipe before, or even just read my post on the cake, you know it's a bit of an undertaking (to say the least). That attempt was rife with failures, so I wanted to simplify (read: change) the recipes but still try to achieve a similar flavor. Certainly, my simplified version would work swimmingly and be a perfect first cake for The Cake Blog, right? Hah.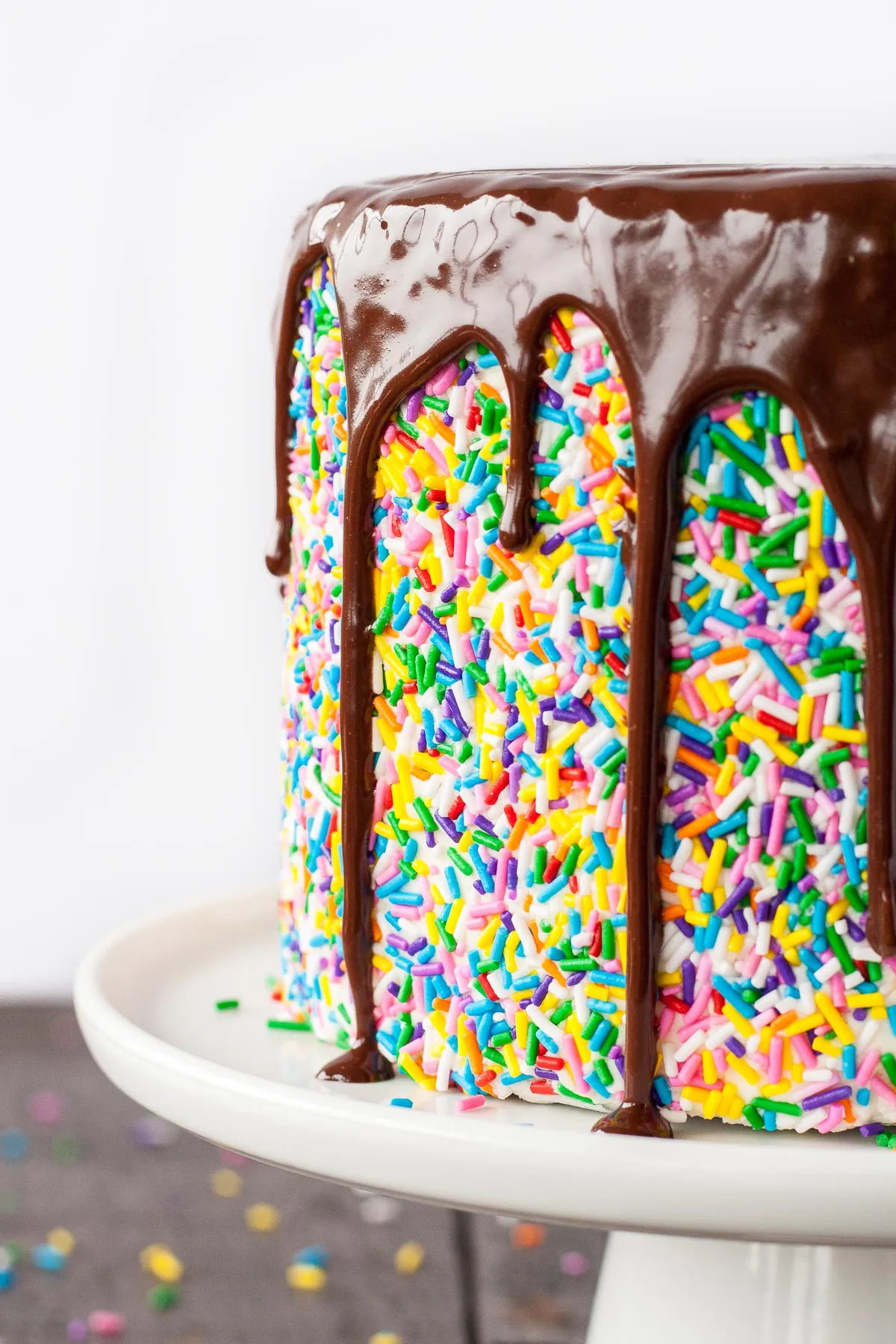 If you've read any of my previous posts, you know that failures in the kitchen are par for the course when it comes to my baking. More often than not, things don't turn out as they should, and you get to hear alllll about it. Well, this one is no different. Where do I even start??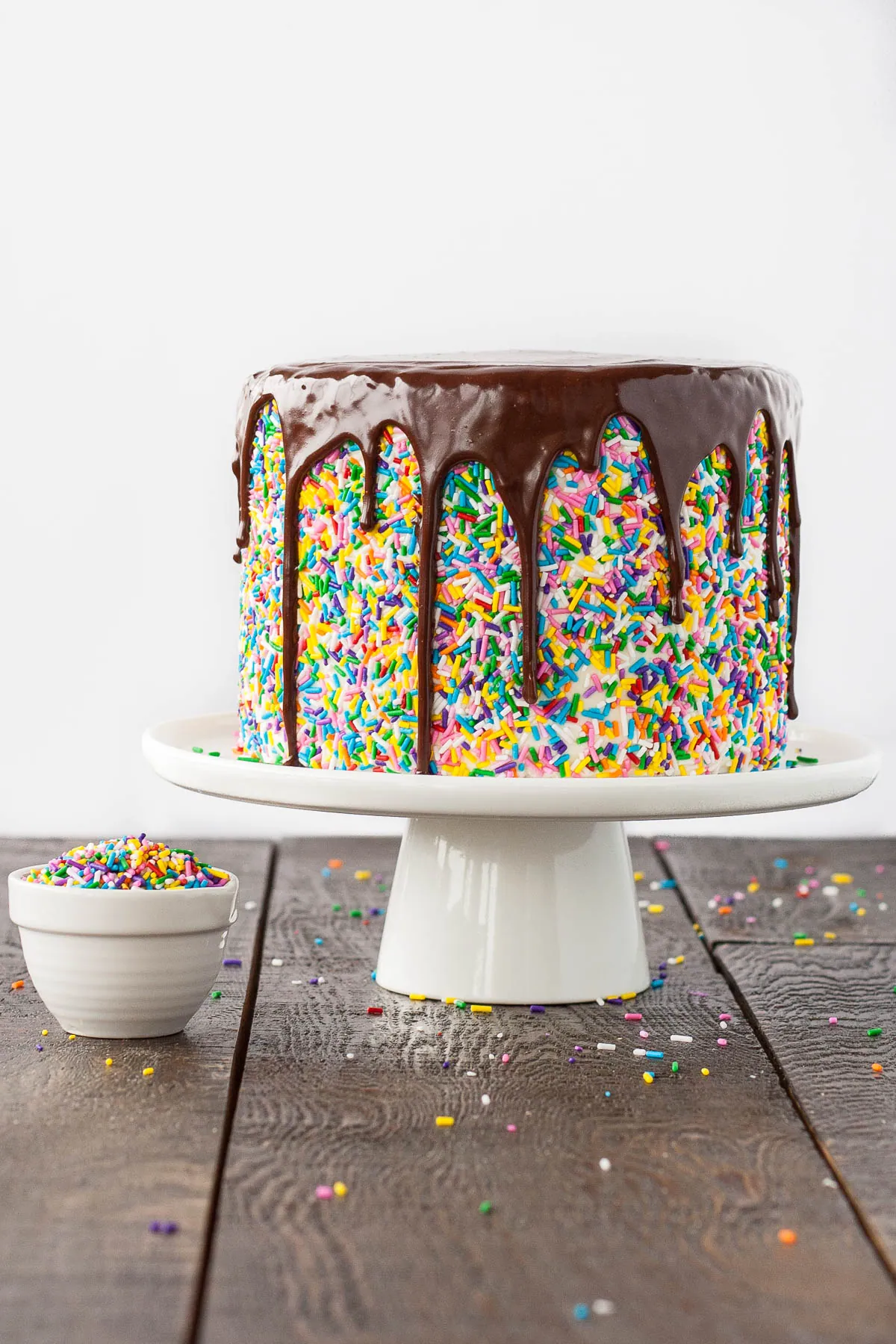 My plan was to cover the cake in sprinkles, but also have sprinkles baked into the cake itself. I didn't want to use the longer style sprinkles you can see here and here, I wanted the pretty, round nonpareils, so I got some. Except that the pretty, round nonpareils SUCK. Or at least the ones I got did. They turned my cake batter a lovely shade of grey… TWICE!
I thought the first time was because I incorporated them into the flour and they were mixing in the cake batter too long, so the second time I decided to fold them in gently at the end. They bled all over the damn place, and I was forced to dump another otherwise perfectly good cake batter down the drain. In hindsight, I should have kept the batter and baked it up later anyhow, but I wasn't thinking clearly in my blind rage. Ryan was at work, lucky for him.
In my third attempt, I skipped the sprinkles altogether. Well, that frikken cake sank like a ton of bricks in the center. Too much baking soda, I suppose… That was enough baking for the day.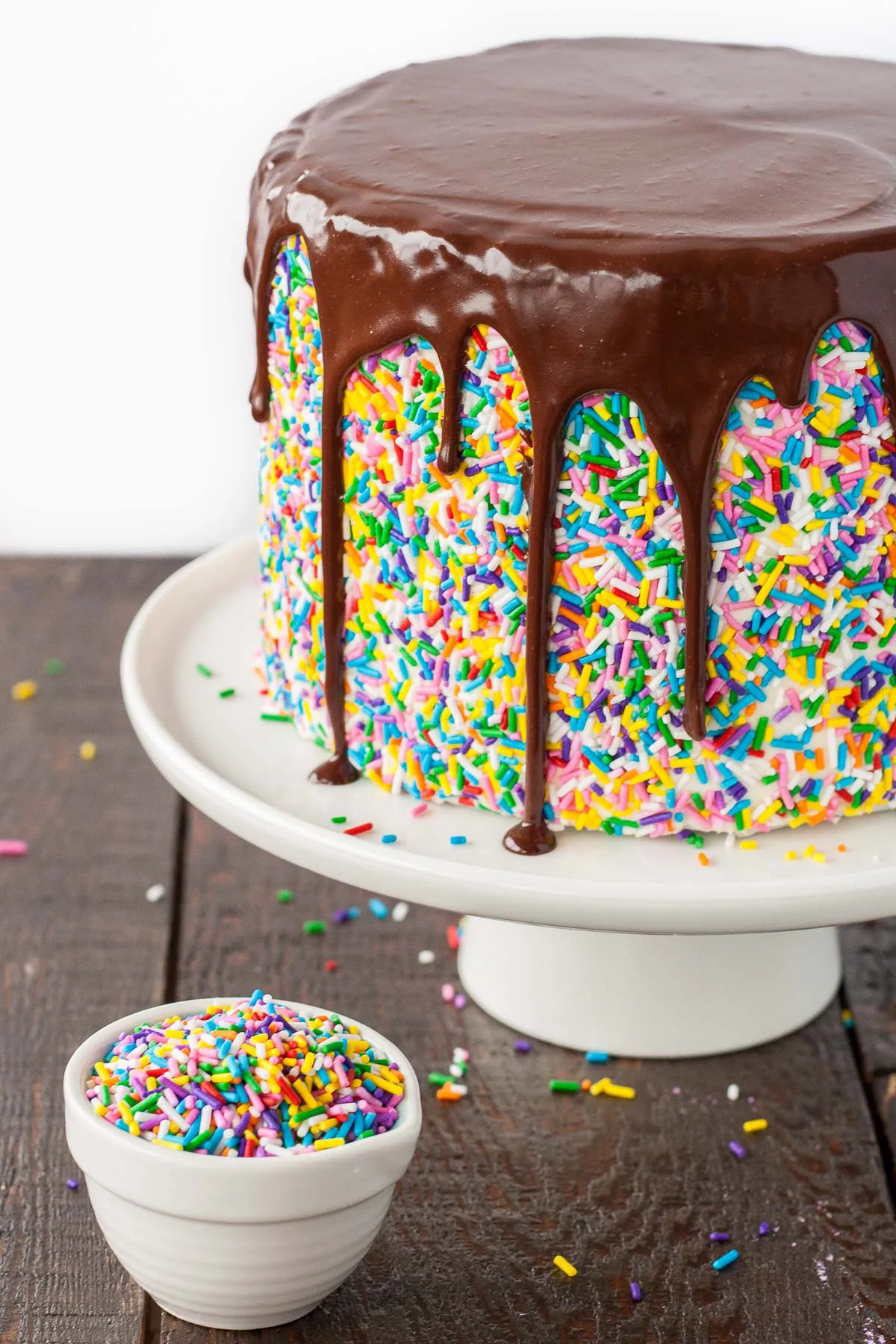 The next day I went and returned the remaining jars of pretty, round nonpareils that I had intended to cover the cake with, and swapped them for the longer sprinkles. At least those worked in the cake batters I'd made before.
A change in the recipe and some new sprinkles finally did the trick, and attempt #4 was mostly a success. I say mostly because my oven sucks. It's a gas oven and literally the worst thing ever. It bakes SO unevenly, and the temperature fluctuates so much that it's a wonder people like to use them at all. My next stove purchase will be a combo for SURE — gas burners, electric oven.
So since my oven bakes unevenly, the layers baked unevenly, but whatever, it was leaps and bounds better than the 3 previous attempts. Funny enough, I never have problems with chocolate cakes — it's always the vanilla ones that are a huge pain.
Oh man this is going to be a long post — I still have to cover the frosting and decorating! Are you still with me??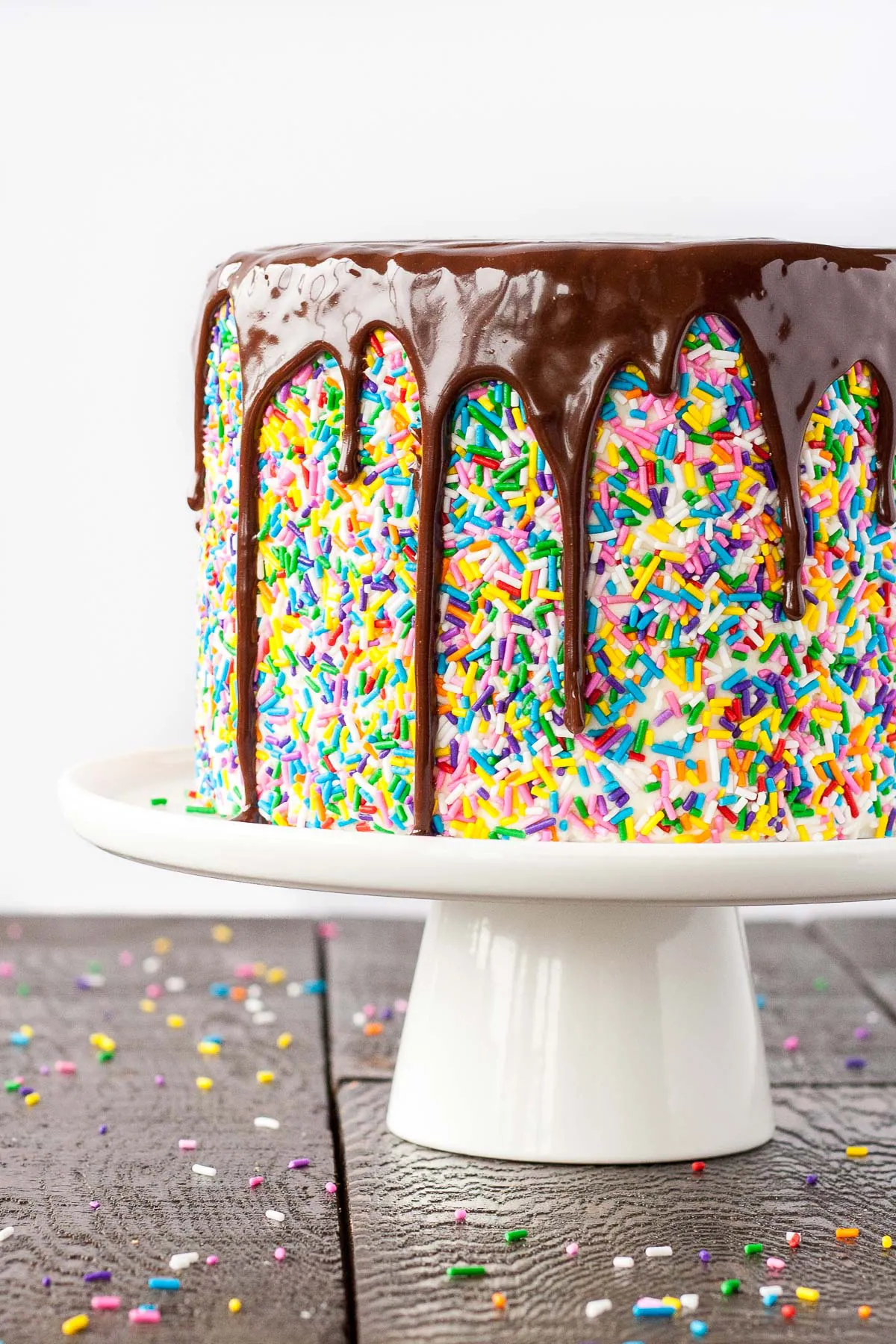 The frosting is easy and delicious, but I had forgotten why I hate working with cream cheese based frostings and pretty much never use them – they are super soft! My original plan to cover the cake with sprinkles was to roll the cake in them on its side, like you can see here. I was worried that the frosting would be too soft to do that, so I opted for something safer and placed the cake on an inverted bowl and pressed the sprinkles into the sides and top. Placing the cake on the upside down bowl is a little trick that makes it easier to get the sprinkles all the way down to the base of the cake.
Next up: ganache. I couldn't decide on a color. I thought a white ganache would look pretty with the sprinkles, except that white chocolate is actually yellow chocolate, and the ganache turned out dingy and gross (I knew it would). This was going to ruin my whole vision. I tried coloring the ganache — first a teal blue, but I didn't like it. So then I added some pink to get it a nice purple, except it wasn't a nice purple. So I scrapped it and made the same dark chocolate ganache that I used for my Mocha Cake.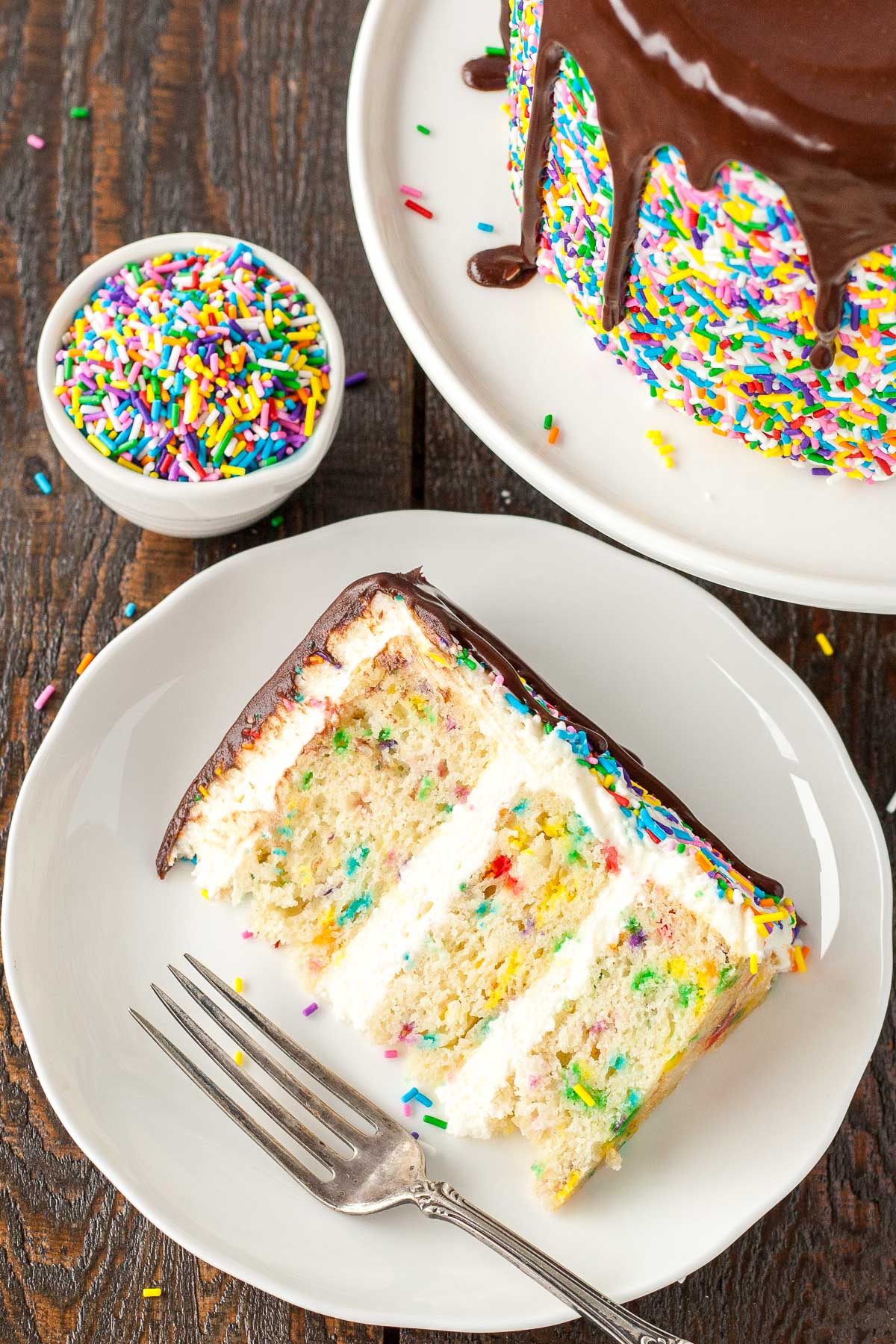 On top of all that, I was worried about the ganache dripping nicely down the sides of the sprinkle-covered cake. I was picturing it getting snagged on the sprinkles and doing this weird zigzag pattern or something. To try and prevent this, I made sure to press the sprinkles into the frosting and smooth them out. At least that worked pretty well.
Ok, enough drama! Head on over to The Cake Blog to check out the details and get the recipe for this Funfetti Cake!