This Nutella Cake is six layers of pure decadence! Delicious chocolate cake layers, Nutella buttercream, and Nutella ganache.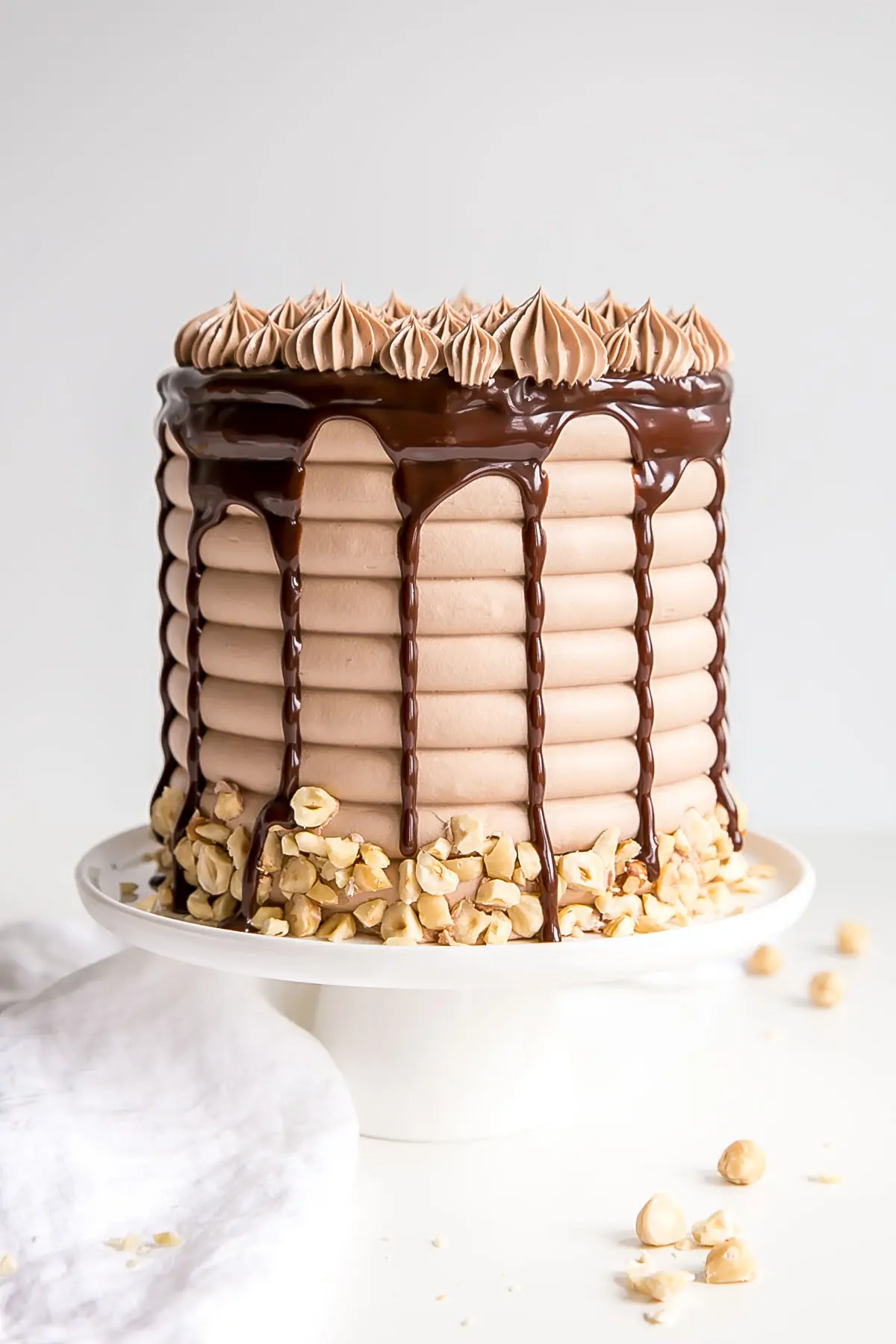 My Raffaello Cake from a couple weeks ago got me thinking about my Ferrero Rocher cake from a couple years ago and about how delicious Nutella is and how I need another Nutella recipe on my site. This time, I'm pairing a silky Nutella Swiss meringue buttercream with classic chocolate cake layers and a delicious Nutella ganache.
Are you as excited as I am??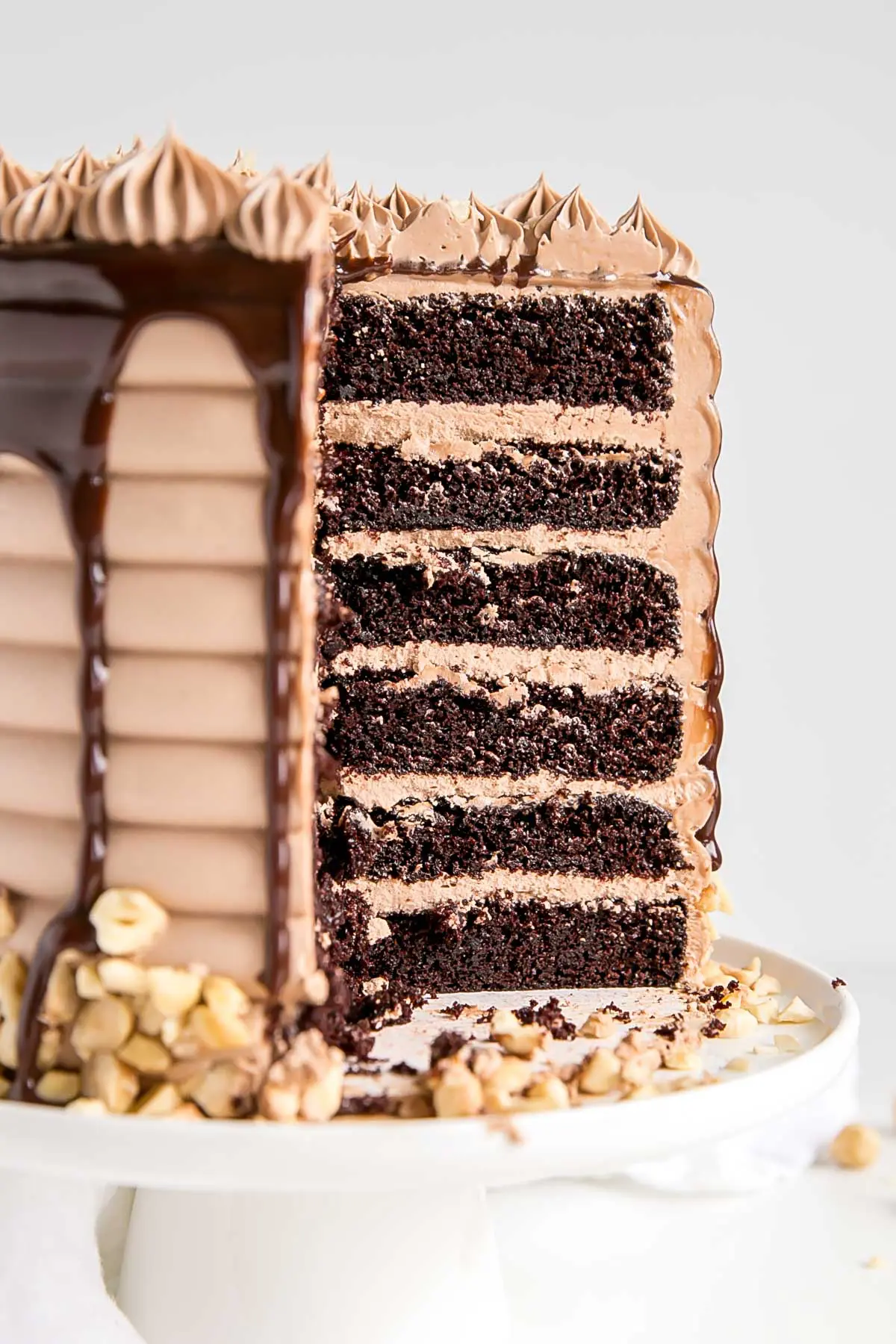 How to make this Nutella Cake
I used my favorite Chocolate Cake Recipe for the cake layers. It's a tried and true favorite. These cake layers had actually been sitting in my freezer (properly wrapped) since September! I originally made them for a different cake recipe that still hasn't seen the light of day (and likely won't).
I was worried that the layers would be either dried out or taste funny, but thankfully they were perfectly fine. I typically don't recommend freezing cake layers for longer than 3 months though, if you can help it. But properly wrapped (2x in plastic wrap and then a freezer bag), they can last a bit longer.
I cut each of the layers in half horizontally to get 6 total. This is optional, but I like it better for the cake to buttercream ratio in this recipe.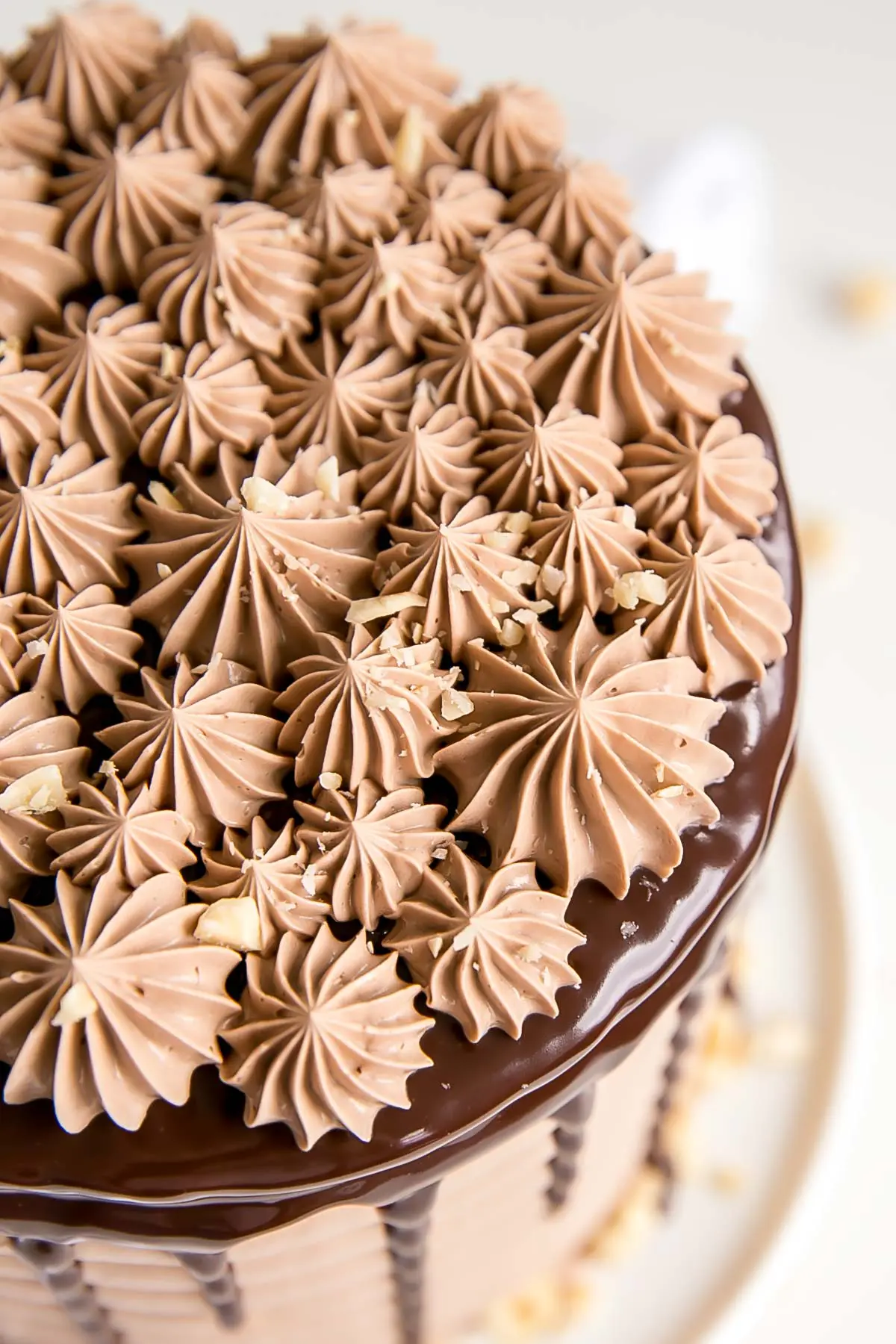 How to make Nutella Swiss Meringue Buttercream
You are going to be eating this buttercream with a spoon! SO good. I've made a variation of this Nutella buttercream before in my Nutella Banana Cake, and it's honestly one of the best things ever.
Adding something like Nutella or peanut butter to frosting can be tricky, because not only does it add sweetness, it can change the consistency of the frosting (make it softer) if you add too much. It's a delicate balance between getting the flavor through while still having a stable frosting to work with.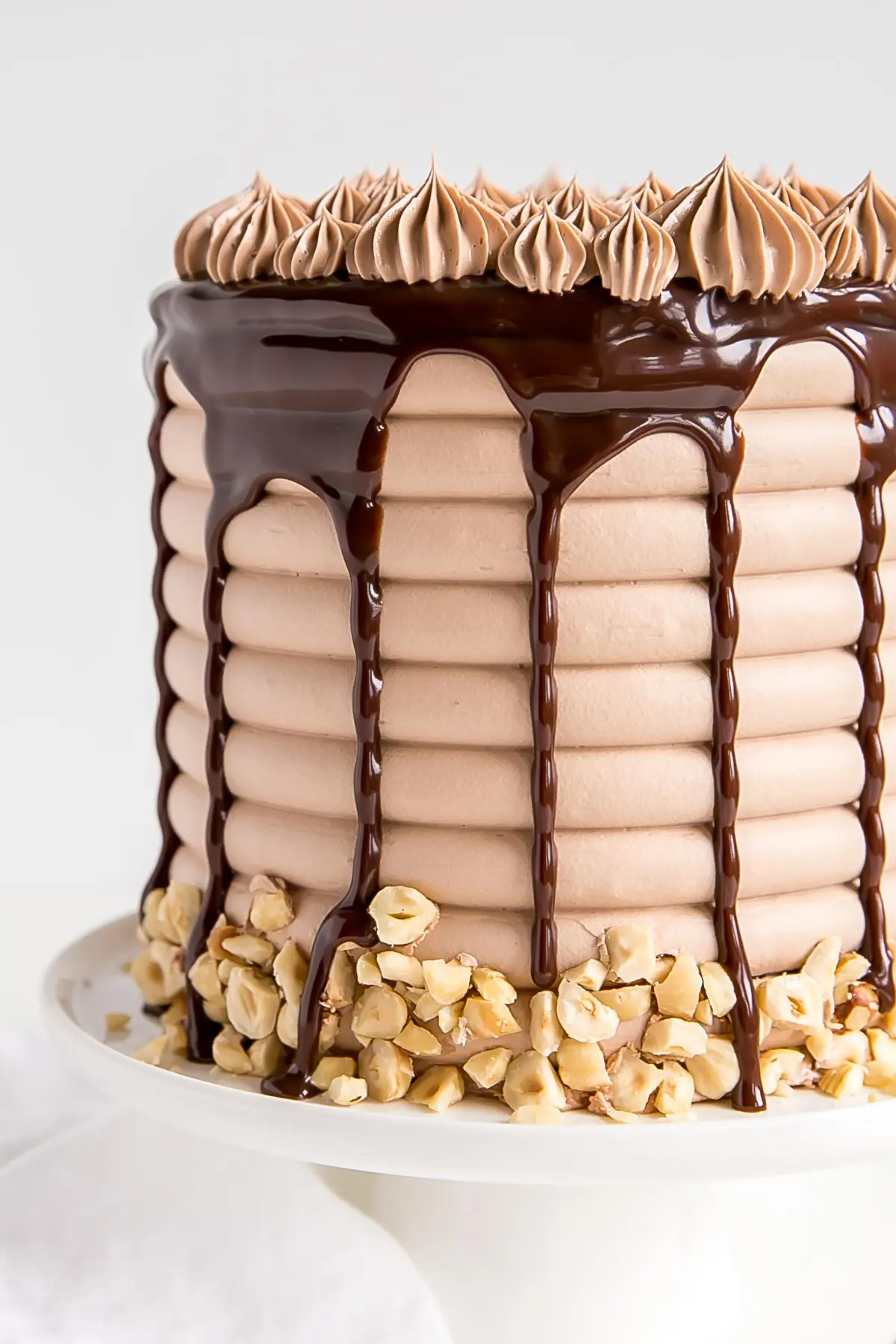 How to make Nutella Ganache
In case you haven't noticed, I'm a big fan of drip cakes. A drippy ganache makes such an impact! And adds flavor too.
I modified this Nutella ganache recipe from In Good Taste. I used the same proportions of cream and Nutella, but none of the other ingredients, and just microwaved them together instead of the traditional ganache method of pouring heated cream over chocolate. Mine needed a few sessions in the microwave with stirring in between. I started with 20 seconds, stirred it to get it to mostly come together, then repeated the process, heating in 10 second increments.
I ended up straining the ganache, since there were still tiny bits of Nutella in there that were too stubborn to dissolve completely. I've never strained ganache before, but it worked perfectly and the ganache was silky smooth.
You need to let the ganache cool completely and thicken up. I let mine sit overnight because I like to spread out my baking, but 2-3 hours or so should be enough (maybe less).
I didn't need to heat it up at all the next day, and it worked fine for the drip (on a well chilled cake). It could have been a touch thicker so the drips didn't go all the way down, but I think it worked out okay.
If you're adding some of the ganache between the layers (recommended for added flavor), be careful not to add too much, as it will affect the stability of the cake. You don't want your layers sliding around! Just drizzle a bit over top of the frosting on each layer as you're stacking. At this point you could also sprinkle on some chopped hazelnuts. I didn't, but it would be a nice flavor/texture addition.
Let the ganache set a bit before doing the piping on the top. To do this, I used a variety of French Star tips: 6B, 4B, and 32.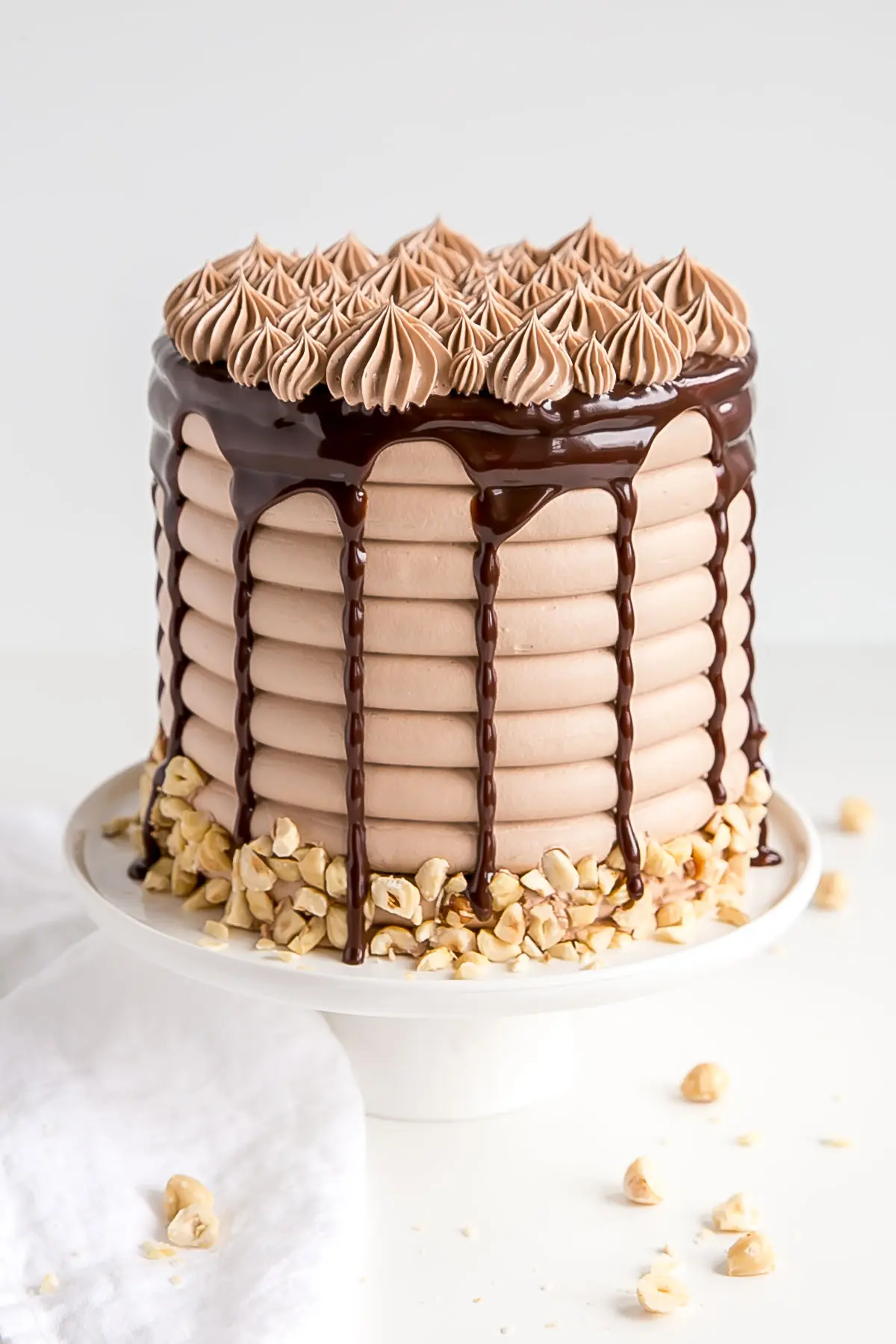 How to use a Cake Comb
Using a cake comb on the sides of a cake is a simple way to create a stunning effect. I used the left side of the right cake comb from this set for this Nutella Cake. I've used a cake comb before, and it's honestly my new favorite thing to do.
To decorate a cake using a cake comb, you crumb coat, chill, and frost your cake as normal, but use more frosting on the sides than you typically would. You'll be doing a lot of passes with the comb and scraping it off, so I find it's better to build it up first. Once the sides and top are frosted, I take a large icing scraper to smooth the sides out, then start doing passes with the cake comb.
You press the cake comb into the side of the cake, and do one continuous sweep while turning your cake turntable. After the first pass, you'll see if you need to add more frosting to certain areas. Repeat until you're happy with the result. It took me about 10 passes or so for this Nutella Cake.
If you're a Nutella fan or have one in your life, this cake is for you! I hope you love it as much as we did here.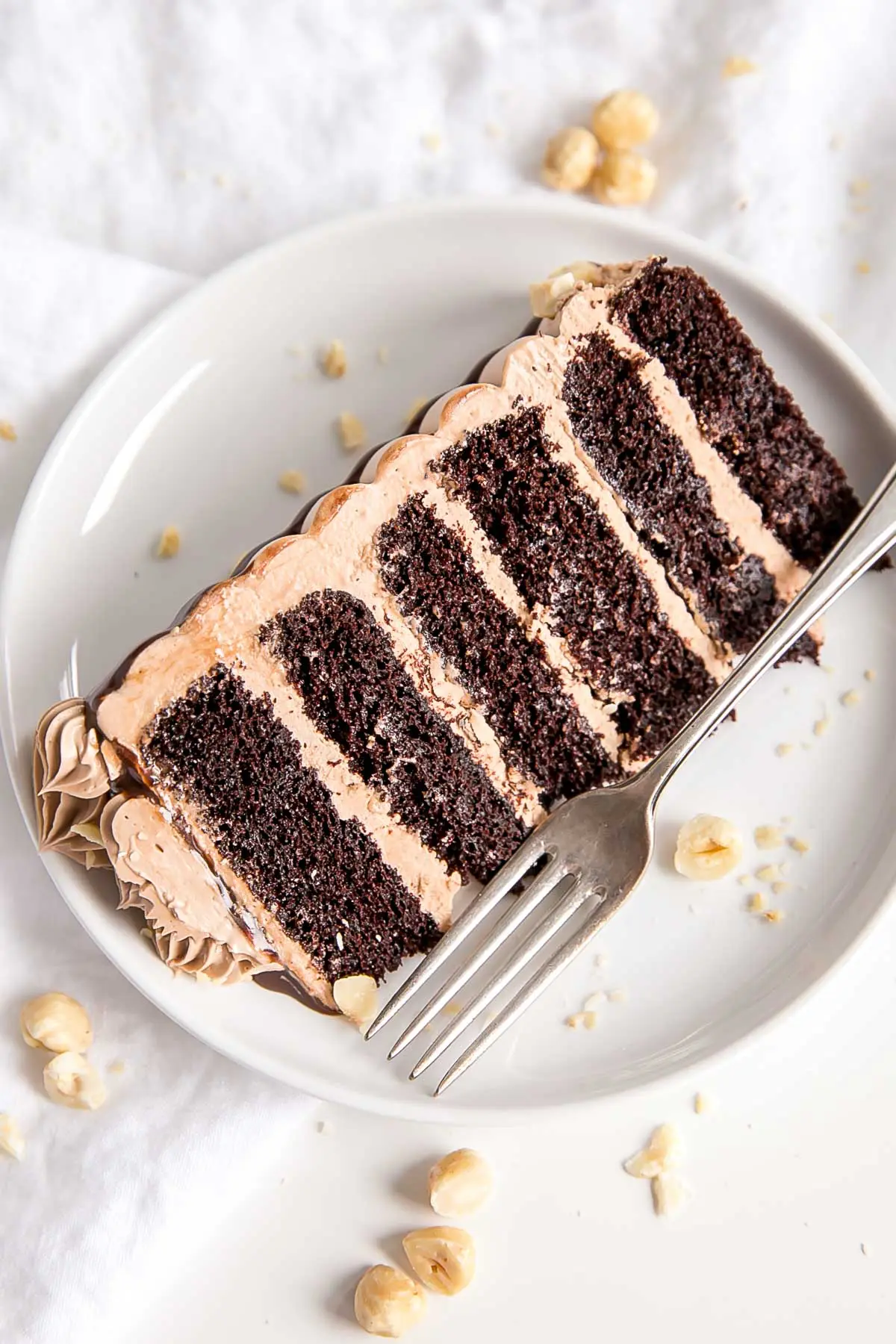 Looking for more Nutella Recipes?
Tips for making this Nutella Cake
The recipe as-is will also work in two 8″ pans. For three 8″ pans, 1.5x the recipe.
To make cupcakes, all you need to do is reduce the baking time — start checking at 15mins or so.
For the texture on the sides of the cake, I used the left side of the right cake comb from this set.
The Nutella ganache is a little on the thinner side, so make sure it's completely cool and thickened before using (2-3 hours).
Be sure to check my

Swiss Meringue Buttercream

post for tips and troubleshooting.
Learn how to keep your cakes moist using Simple Syrup.
To help ensure your cake layers bake up nice and flat, check out my Flat Top Cakes post!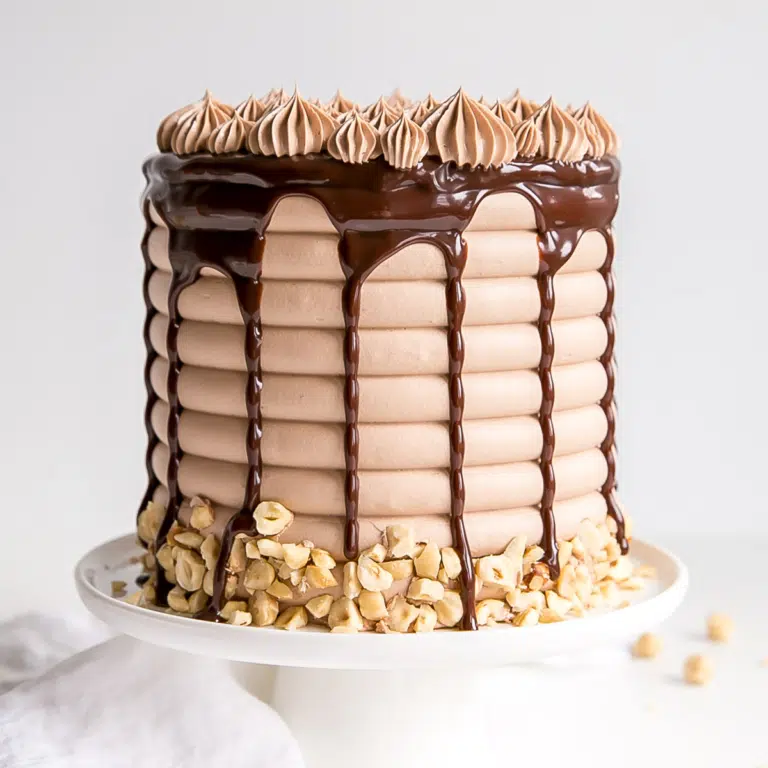 Nutella Cake
This Nutella Cake is six layers of pure decadence! Delicious Chocolate cake layers, Nutella buttercream, and Nutella ganache.
Ingredients
Nutella Swiss Meringue Buttercream:
6

large

egg whites

2

cup

granulated sugar

2 1/2

cups

unsalted butter

cubed, room temperature but still cool

3/4

cup

Nutella
Assembly:
chopped hazelnuts

(optional)
Instructions
Chocolate Cake:
Preheat oven to 350F, grease three 6″ round baking pans and dust with cocoa powder. Line bottoms with parchment.

Place all dry ingredients into the bowl of a stand mixer fitted with a paddle attachment. Stir to combine.

In a medium bowl whisk all wet ingredients (pour water in slowly as not to cook the eggs if very hot).

Add wet ingredients to dry and mix on medium for 2-3 mins. Batter will be very thin.

Pour evenly into prepared pans. I used a kitchen scale to ensure the batter is evenly distributed.

Bake until a cake tester comes out mostly clean. A total of 35-40mins.

Cool 10 minutes in the pans then turn out onto a wire rack to cool completely.
Nutella Swiss Meringue Buttercream:
Place egg whites and sugar into the bowl of a stand mixer, whisk until combined.*

Place bowl over a hot water bath on the stove and whisk constantly until the mixture is hot and no longer grainy to the touch (approx. 3mins). Or registers 160F on a candy thermometer.

Place bowl on your stand mixer and whisk on med-high until the meringue is stiff and cooled (the bowl is no longer warm to the touch (approx. 5-10mins)).

Switch to paddle attachment. Slowly add cubed butter and mix until smooth and fluffy.** Add Nutella and mix until incorporated and buttercream is smooth and fluffy.
Nutella Ganache:
Place Nutella and cream in a microwave safe bowl. Microwave in 10 second increments, stirring in between, until completely smooth. Strain if needed to ensure it's completely smooth (I did).

Allow to cool completely and thicken before using on cake.
Assembly:
Cut each layer of cake in half horizontally to create 6 total layers.

Place one layer of cake on a cake stand or serving dish. Top with about 1/2 cup buttercream. Drizzle with some of the ganache (1-2Tbsp).*** Sprinkle chopped hazelnuts on top (optional). Repeat with remaining layers. Frost and smooth the outside with a thin crumb coat. Chill for 20mins.


Frost and smooth the outside of the cake, generously frosting the sides specifically. Smooth with an icing smoother. Use a cake comb on the sides of the cake. Repeat, scraping off more frosting each time, until smooth.

Using a small spoon, place dollops of ganache around the top edges of the cooled cake, allowing some to drip down. Fill in the top of the cake with more ganache and spread evenly with an offset spatula.
Notes
* Ensure there is NO trace of egg yolks in your whites and that your mixer bowl and whisk is completely grease free or your meringue won't stiffen.
** The buttercream may look like it's curdled at some point. Keep mixing until it is completely smooth.
*** Be careful not to drizzle too much of the ganache between the layers as it can cause them to slide around. It's just to add a bit more flavor.
Nutella Ganache recipe adapted from In Good Taste.
Calories:
944
kcal
Carbohydrates:
98
g
Protein:
8
g
Fat:
60
g
Saturated Fat:
41
g
Cholesterol:
152
mg
Sodium:
434
mg
Potassium:
372
mg
Fiber:
4
g
Sugar:
79
g
Vitamin A:
1405
IU
Calcium:
109
mg
Iron:
3.3
mg
The nutritional information and metric conversions are calculated automatically. I cannot guarantee the accuracy of this data. If this is important to you, please verify with your favorite nutrition calculator and/or metric conversion tool.