Nutella Banana Cake! Layers of fluffy banana cake, silky Nutella buttercream, and crunchy hazelnut meringue.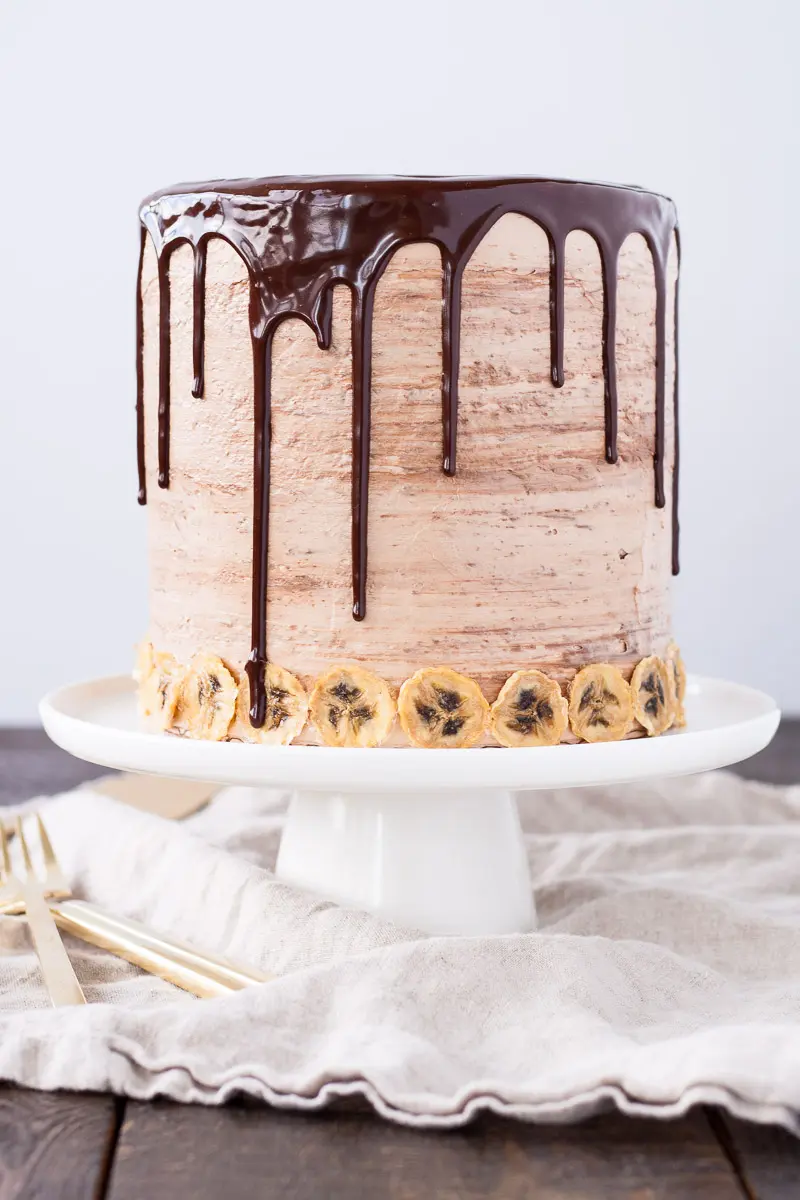 Sorry for not posting a recipe last week! The past couple of weeks have been legit crazy around here. We sold our place two weeks ago, and are now full on in house hunting mode. If you're not aware of the madness that is the Vancouver housing market the past few months, consider yourself lucky. We knew what we were getting into (sorta) but it's been the exact opposite of fun. The amount of people bidding on each place is crazy.
Our realtor was telling us about this one place in east Maple Ridge (aka WAY out in the boonies for those of you who don't know — like 1 hour+ from downtown Vancouver and literally nothing to do in the area). It listed at $750K (which is a ridiculous number to begin with) and sold for $890K. So stupid. We lost out on a place this week, so I'm extra annoyed/grumpy/hating everything and everyone. It seriously makes me want to move far, far away. Especially considering what we could get with our money elsewhere AND the fact that we don't even love it here as it is…
Seriously people, I just spent the last 5 minutes looking at places in the south of France. Seriously! SIGH.
Ok, enough bitching, but I had to get that off my chest. Let's get to this cake, shall we?? I needed something to console myself this week – clearly – and what better way than with a Nutella Banana Cake?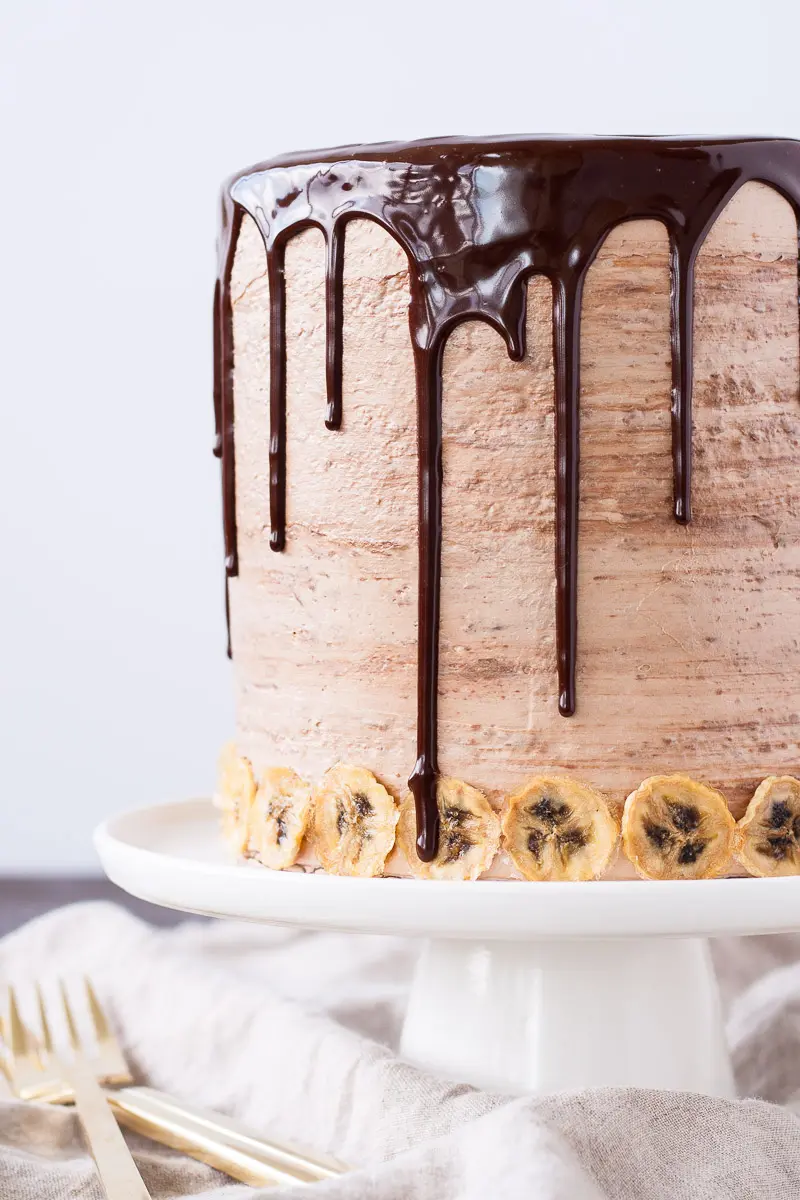 The combination of Nutella and banana always reminds me of Paris. We had our fair share of Nutella Banana crepes when we lived there. I'll be honest, I don't actually like Nutella all that much. Crazy, I know. Or rather, I don't like it straight up on its own. It has to be "with" something, like bananas in a crepe – or in the form of a cake!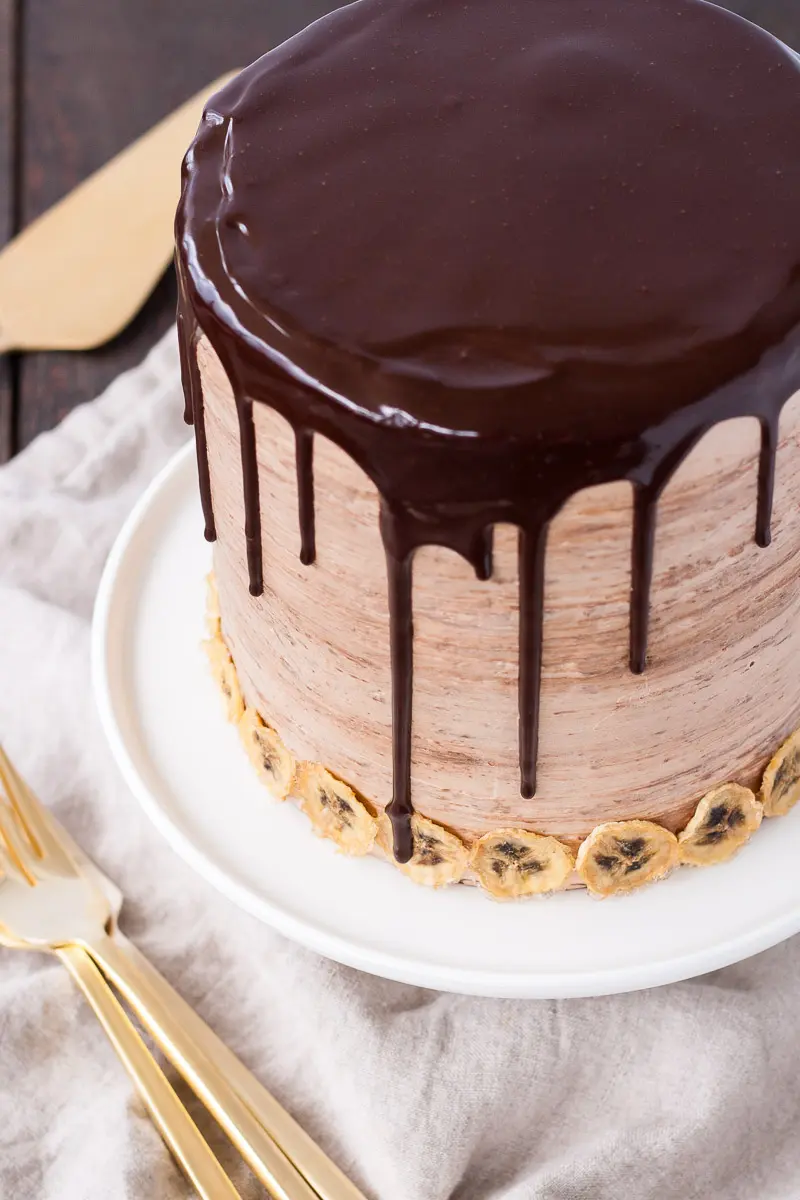 I'm not sure what it is about the Nutella Banana combo that's so delicious, but it just IS. I put some mashed bananas in the cake and used cake flour to make sure it was nice and light. Bananas tend to make things a bit more dense (like banana bread) and I didn't want a super dense cake. The banana flavor in this Nutella Banana cake is surprisingly strong, and the cake is nice and light.
Initially I was going to just pair it with a Nutella buttercream, but decided to add a hazelnut meringue layer for some extra crunch and flavor. I love a crunchy texture inside my cakes in case you haven't noticed and this one does not disappoint. I'm not a huge fan of hazelnuts either, but I could eat this meringue-like it's going out of style. It's really easy to make too, so if you're thinking about skipping this step, don't!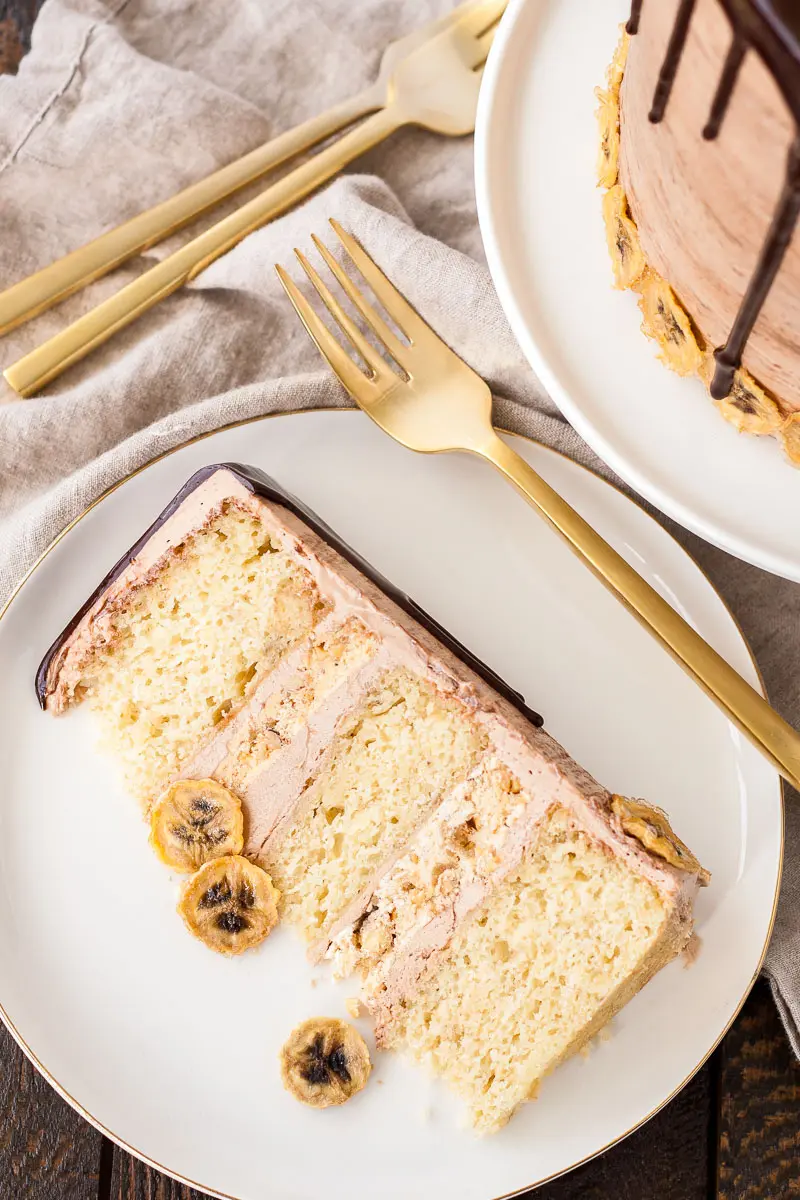 So I don't actually care for Nutella or hazelnuts, and yet here I am making another Nutella hazelnut cake. The banana flavor combo makes it, though.
As per usual, there were a few mishaps with this Nutella Banana cake. Par for the course.
First, one of the cake layers collapsed on me (the middle layer in the cut slice pics). I accidentally knocked it against the oven rack while I was rotating the pans. It wasn't quite set yet, and it literally deflated in front of my eyes. So sad. Be extra careful when you're moving your cakes around! Wait until they're set to do so.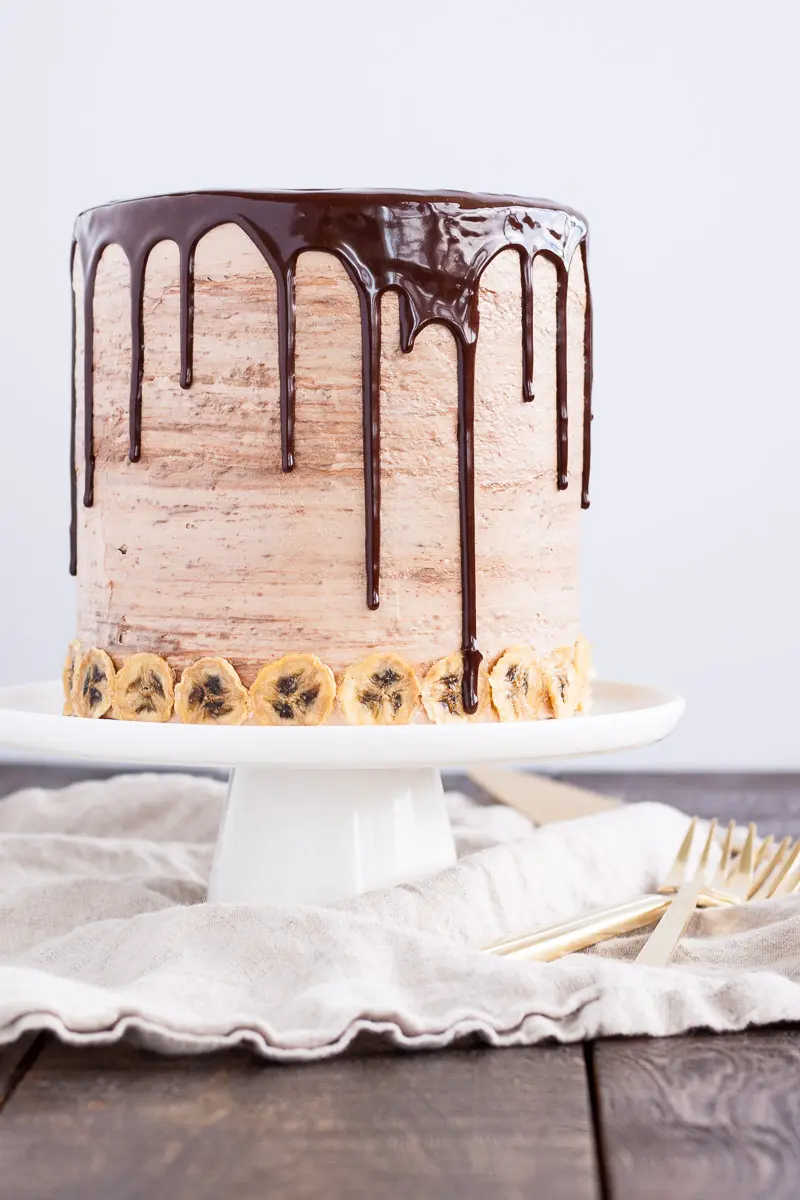 Second, the whole cake decorating was a bit of a disaster. I didn't really know what I wanted to do, and kinda winged it (as usual). I made some banana chips to go along the bottom because I thought it would look cute, but didn't really know what to do with the rest of it. Once I had frosted the cake, I decided to add some extra Nutella along the sides for some color contrast and to go for a watercolor pattern. Well, that didn't exactly work out as I had planned. I should have just added more Nutella to the extra bit of buttercream I had to make it darker. That would have been the smart way to do it. WHY didn't I do that?! Laziness, that's why. Instead, I just dabbed some Nutella along the sides and scraped it smooth.
It did NOT incorporate well.
Nutella is pretty oily and it didn't play well with the soft buttercream. It was not the look I was going for at any rate, so I made some drippy ganache to help cover it up. LOL. Sigh.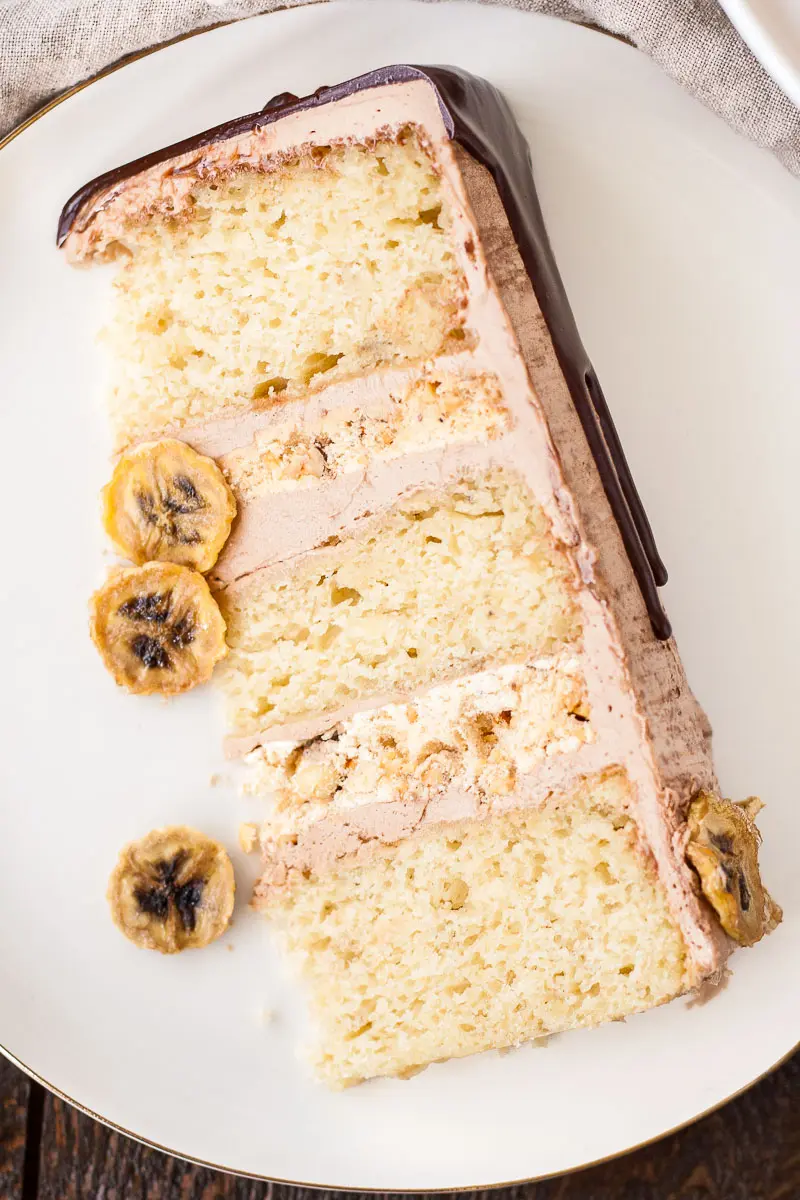 Maybe if I hadn't said anything, you wouldn't have noticed, but the lumpy frosting is literally giving me anxiety. Thankfully any decorating shortfalls were made up for with the flavor!
If you have a Nutella banana lover in your circle, they will love this cake!
Notes & tips for this Nutella Banana Cake:
The meringue will soften over time as it sits in the cake with the frosting. It will still be delicious, but might not have that crunch after a few hours.
The Nutella on the sides did not incorporate well. I've grown to like the unintentional effect, but if you'd prefer a better blend then I'd recommend mixing the Nutella into the leftover buttercream before spreading it on.
For the ganache, I let mine set overnight (with plastic wrap placed directly on the surface). It will be too thick at this point, so I microwave it for 10 secs and stir it until it's the right consistency.
The drip technique works best on a chilled cake so that the drips set quickly.
Instead of banana chips on the sides, you can use sliced fresh banana.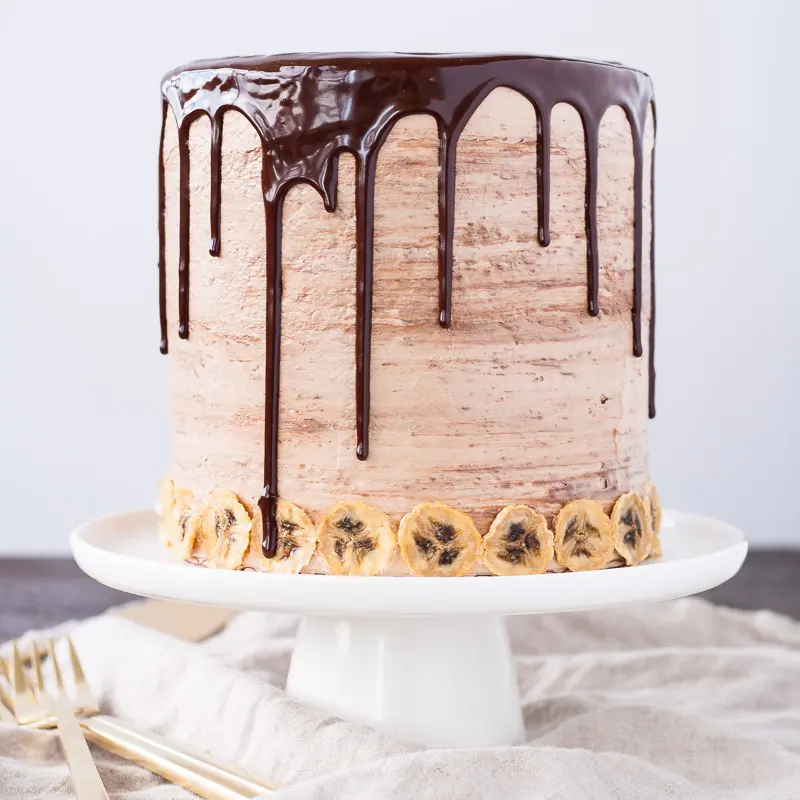 Nutella Banana Cake with Hazelnut Meringue
Layers of fluffy banana cake, silky Nutella buttercream, and crunchy hazelnut meringue.
Ingredients
Banana Cake:
1 1/2

cups

cake flour

sifted

1 1/2

tsp

baking powder

1/2

tsp

salt

1/2

cup

unsalted butter

room temperature

1

cup

granulated sugar

2

large

eggs

room temperature

1

tsp

vanilla

3/4

cup

overripe bananas

mashed, approx. 2 medium

1/2

cup

buttermilk

room temperature
Dark Chocolate Ganache:
2

oz

heavy whipping cream
Banana Chips (optional):
2

medium bananas

sliced 1/8″ thick

2

Tbsp

lemon juice
Instructions
Banana Cake:
Preheat oven to 350F. Grease and flour three 6″ cake rounds, line with parchment.

In a medium bowl, whisk cake flour, baking powder, and salt. Set aside

Beat butter until smooth. Add sugar and beat on med-high until pale and fluffy (2-3mins).

Reduce speed and add eggs one at a time, fully incorporating after each addition. Add vanilla and mashed bananas and mix until well combined.

Alternate adding flour mixture and buttermilk, beginning and ending with flour (3 additions of flour and 2 of milk). Fully incorporating after each addition. Do not overmix.

Spread batter evenly into prepared pans and bake for 30mins or until a toothpick inserted into the center comes out mostly clean.

Place cakes on wire rack to cool for 10mins then turn out onto wire rack to cool completely.
Hazelnut Meringue:
Toast hazelnuts at 350F for 8 minutes. Immediately wrap in a tea towel and cool. Use tea towel to rub the skins off and finely chop the nuts.

Preheat oven to 250F and line a 10×15″ pan with parchment.

Combine egg whites, salt, and cream of tartar in the bowl of a stand mixer*. Beat on high until soft peaks form. Slowly add sugar (1 Tbsp at a time) and beat until stiff peaks.

Dab a bit of meringue under the corners of the parchment to secure it. Fold chopped hazelnuts into the meringue and spread evenly in pan.

Bake for 30mins until set and pale golden. Use a 6″ cake ring to stamp out two rounds.** Return to oven and bake until crisp (45-60 mins). Cool in pan then remove the circles. You may need to trim them a bit and it's ok if they break!
Nutella Buttercream:
Place egg whites and sugar into the bowl of a stand mixer, whisk until combined.*

Place bowl over a hot water bath on the stove and whisk constantly until the mixture is no longer grainy to the touch (approx. 3mins).

Place bowl on your stand mixer and whisk on med-high until the meringue is stiff and cooled (the bowl is no longer warm to the touch (approx. 5-10mins)).

Switch to paddle attachment. Slowly add cubed butter and mix until smooth. Add Nutella and whip until smooth.***
Chocolate Ganache:
Place chopped chocolate and cream into a microwave safe bowl. Stir to combine. Microwave for 20 seconds, stir. Microwave in 10 second intervals, stirring in between, until ganache is smooth and silky. Set aside to cool completely before using on cake.
Banana Chips:
Preheat oven to 200F. Line a sheet pan with foil and spray with cooking spray. Toss sliced bananas with lemon juice and space evenly on baking sheet. Bake for 1 hour and flip the slices over. Bake for an additional 90mins or until desired crispiness. Cool completely.
Assembly:
Place one layer of the cake onto a cake stand or serving plate. Top with 1/2 cup of buttercream and spread evenly. Place one meringue disc on top and top with additional buttercream if desired. Repeat with remaining layers and crumb coat the cake. Chill for 20mins. Frost the cake with the remaining buttercream, smooth the sides and chill for 20mins.**** Place banana chips along the bottom. Use a teaspoon to drip the ganache along the top edges then fill in the rest of the top with the ganache.
Notes
* Ensure there is NO trace of egg yolks in your whites and that your mixer bowl and whisk is completely grease free or your meringue won't stiffen.
** If you don't have cake rings you can skip this step and just roughly crush up the meringue when placing it in the layers
*** The buttercream may look like it's curdled at some point. Keep mixing until it is completely smooth.
**** I tried to go all fancy like and added some Nutella along the sides of the cake to make a "watercolor" effect. It didn't totally work, but in case you're wondering why yours might look different! You will have some hazelnut meringue left over. You can either add more into the layers, decorate the top with it, or eat it on it's own like I do!
Calories:
703
kcal
Carbohydrates:
73
g
Protein:
8
g
Fat:
43
g
Saturated Fat:
26
g
Cholesterol:
120
mg
Sodium:
190
mg
Potassium:
403
mg
Fiber:
3
g
Sugar:
54
g
Vitamin A:
1100
IU
Vitamin C:
4.3
mg
Calcium:
83
mg
Iron:
1.9
mg
The nutritional information and metric conversions are calculated automatically. I cannot guarantee the accuracy of this data. If this is important to you, please verify with your favorite nutrition calculator and/or metric conversion tool.