Perfectly chewy Nutella Cookies loaded with hazelnuts and chocolate chips.
I'd like to say that these cookies are the result of leftover Nutella from the Nutella Hazelnut Cake I made a few weeks ago, but lol leftover Nutella, like that's a thing. They're actually the result of a failed attempt at my mom's plum cake, and the realization that I needed something to post this week. The cake wasn't actually a 100% fail, but the photos were, so I'll have to bake it again. So you get these cookies instead, which really isn't that bad of a deal.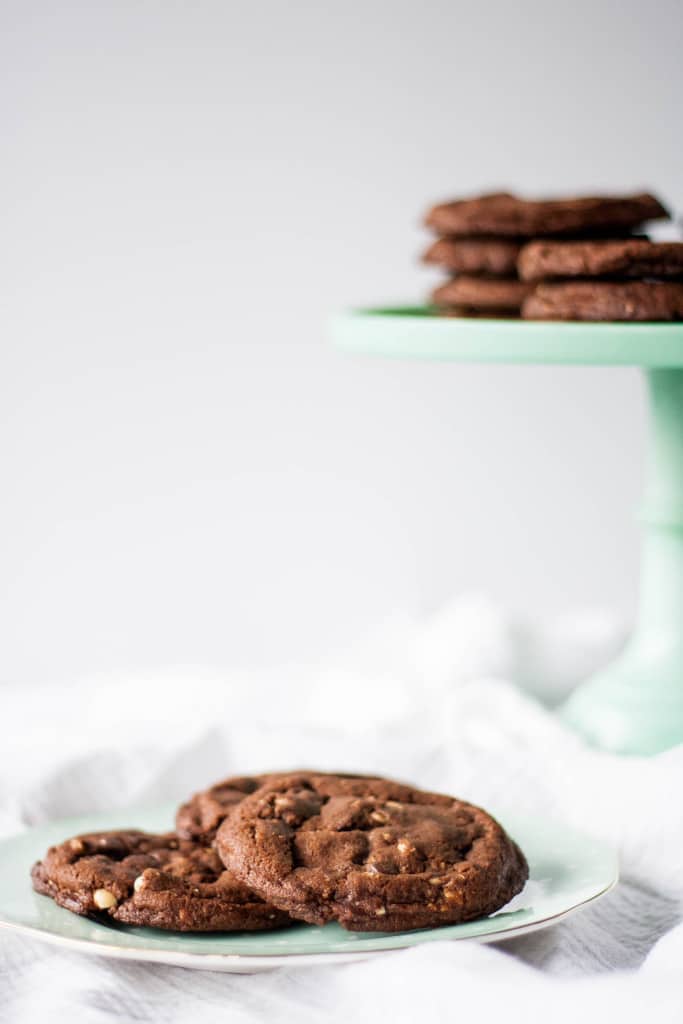 To make these Nutella Cookies, I modified the recipe for my Peanut Butter Chocolate Chip Cookies. I swapped the PB for Nutella, added some cocoa, and hoped for the best. Nutella is a bit thinner than PB, so the cookie dough was way softer than expected and I was worried they wouldn't turn out. Chilling these guys in the fridge before baking is an absolute must or you'll have a giant flat uni-cookie. Nobody wants that.
Thankfully, the cookies turned out perfectly post chill session.
I did have some leftover chopped hazelnuts from the Nutella Cake, so I threw those in, as well as a bunch of chocolate chips. I have a chocolate chip problem. I pretty much throw them into every cookie I make. But if you're not a chocolate chip fiend like I am, feel free to leave them out!
These Nutella Cookies turned out perfectly crackled, chewy, and delicious. If you want the Nutella taste to stand out, skip the chocolate chips or decrease the amount. The hazelnuts are optional too, but I feel like they add good flavor and texture to the cookies.
Nutella Cookies With Hazelnuts & Chocolate Chips
Perfectly chewy Nutella Cookies loaded with hazelnuts and chocolate chips.
Instructions
Whisk flour, cocoa, baking soda, and salt in a small bowl. Set aside.

Beat butter and sugars in the bowl of a stand mixer fitted with the paddle attachment until light and fluffy (approx 3mins).

Add Nutella and beat until combined.

Add egg and vanilla and beat until well combined (approx 1 min).

Reduce mixer to low and add flour mixture. Mix until just incorporated.

Add chocolate chips and chopped hazelnuts and mix until just incorporated.

Using a large cookie scoop, portion the dough into 16 mounds. Round the mounds into balls and press down slightly to flatten.*

Place mounds on a tray, cover with plastic wrap, and refrigerate at least 1 hour. Do not bake unchilled dough! Cookies will spread too much.

Preheat oven to 350F. Line a baking sheet with parchment or a Silpat.

Place cookies on baking sheet at least 3″ apart. I use a half sheet pan and baked 6 cookies per sheet.

Bake for 11-14minutes or until cookies start to crack.**

Cool on baking sheet for 10mins and transfer to a cooling rack to cool completely.
Notes
*The dough will be quite soft at this point, I placed the scooped balls in the fridge for 15mins to firm up before rounding.
**If you prefer fluffier cookies, bake for around 11mins, before cracking.
Calories:
289
kcal
Carbohydrates:
32
g
Protein:
3
g
Fat:
16
g
Saturated Fat:
9
g
Cholesterol:
27
mg
Sodium:
88
mg
Potassium:
182
mg
Fiber:
2
g
Sugar:
22
g
Vitamin A:
200
IU
Vitamin C:
0.3
mg
Calcium:
36
mg
Iron:
2
mg
The nutritional information and metric conversions are calculated automatically. I cannot guarantee the accuracy of this data. If this is important to you, please verify with your favorite nutrition calculator and/or metric conversion tool.