This Nanaimo Bar Cake takes the classic Canadian treat and transforms it into a delicious layer cake! Chocolate cake layers with a vanilla custard frosting and chocolate coconut crumble.
There's a good chance you are probably reading this right now and thinking – what the heck is a Nanaimo bar?!
Rest assured, you are not alone. Unless you grew up in Canada or have a passionate Canadian in your life, you likely won't have heard of this amazingly delicious treat. Those who do know it though, know that it is ubiquitous around here. You'll be able to find Nanaimo bars in every grocery store and every local bakery across the country.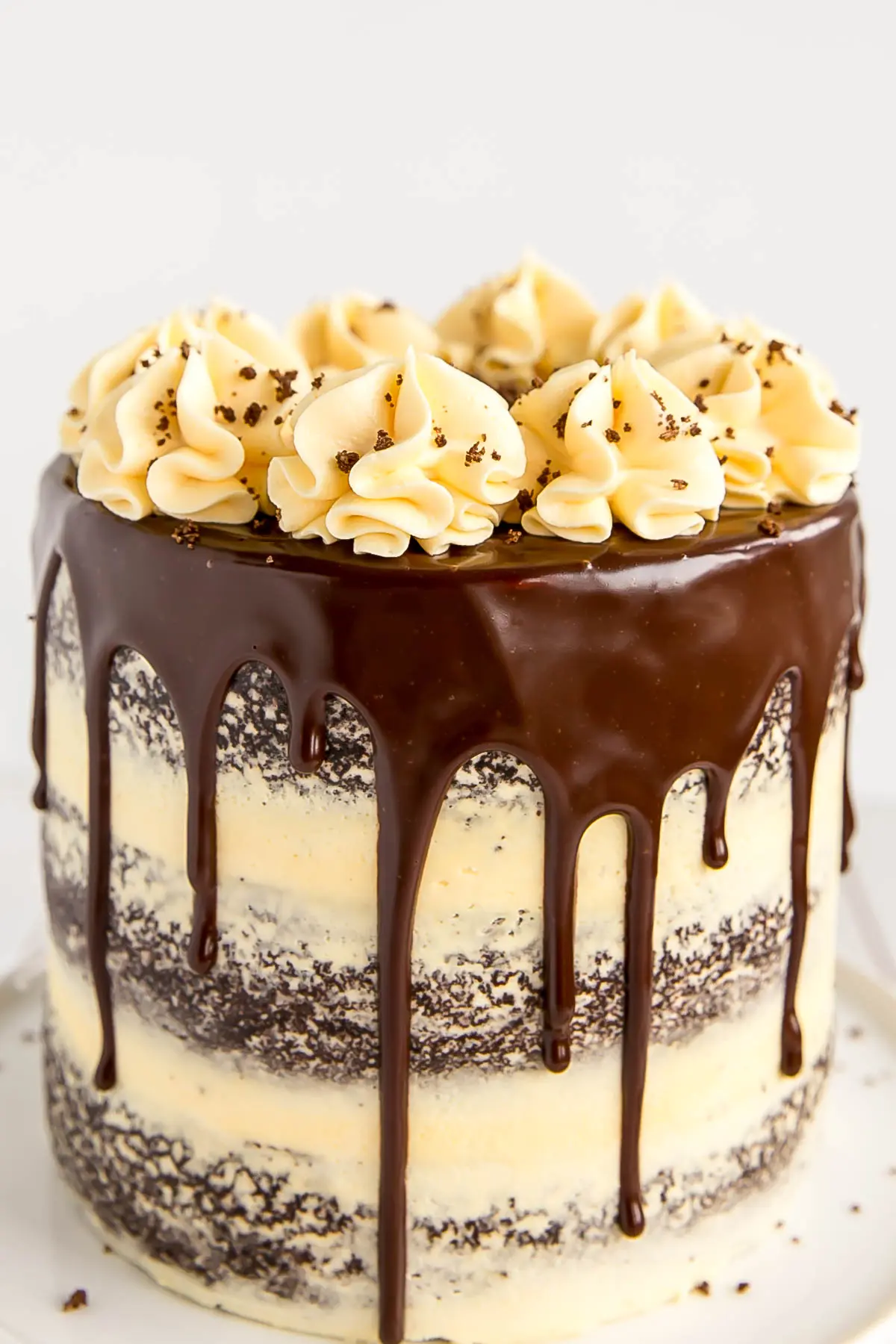 What is a Nanaimo Bar?
A Nanaimo bar is a no bake treat made of a chocolate graham cracker/coconut base (sometimes also with almonds), followed by a yellow custard filling and finally a layer of chocolate. According to Wikipedia, there seems to be a bit of controversy as to where the bar actually originated, but to avoid any potential wrath, I'm going to stick with saying it was in Nanaimo, BC.
Did you KNOW (and this is news to me) that you can do a self-guided tour in Nanaimo and try over 30 different variations of Nanaimo bars?? They have a map with all the delicious locations you can hit up. Amazing. That Nanaimo bar milkshake is calling my name.
Nanaimo bars are known for their signature yellow custard layer. There is really nothing like it. There's also not much to it, to be honest. It's basically butter, powdered sugar, and custard powder (which is what gives it that signature yellow color). I'll fully admit that the only things I've ever used custard powder for are this cake and actual Nanaimo bars. I wish it came in a smaller container! It's not a bank-breaker, but I don't like to see things go to waste.
What can be used instead of custard powder?
I'm not sure how readily available custard powder is outside of Canada and the UK, but it doesn't seem too hard to find, as both Amazon and Walmart seem to carry it. The main ingredient in custard powder is cornstarch, so you can try to replace it with that and increase the amount of vanilla for taste. You won't be able to get that signature yellow color this way, but it would still be delicious.
Ideally though, use the custard powder if you can find it!
When making this Nanaimo Bar Cake, I ran through a few different options. My first plan was to incorporate the graham cracker crumbs and coconut right into the cake batter, but I nixed that for two reasons:
This chocolate cake batter is very thin, so I imagined the coconut would just sink to the bottom.
The graham cracker and coconut flavor would likely be lost in the rich chocolate cake.
Instead, I decided to do a crumble layer to make sure the flavor of that classic Nanaimo bar base came through, but also to add some texture.
I wanted the decoration of the cake to emulate a Nanaimo bar as much as possible, so I kept it simple — a naked cake so that you would see the layers of chocolate and custard, and a drippy chocolate ganache to evoke that top layer of the Nanaimo bar. If you wanted to, you could put some ganache between the layers too. I think that would be a nice addition, but I would double the ganache recipe if you plan to do that.
If you love Nanaimo bars as much as I do, you will love this Nanaimo bar cake! It's basically a deconstructed Nanaimo bar with rich chocolate cake layers. What's not to love?? For my non-Canadian friends, I really hope you will give this one a try. It is totally delicious, and you'll wonder why Nanaimo bars haven't infiltrated every part of the world yet.
Looking for more Chocolate Cake recipes?
Tips for making this Nanaimo Bar Cake
The cake batter is very thin and rises a lot. Do not be alarmed by this!
If you can't find custard powder you can try to replace it with cornstarch and increase the amount of vanilla for flavor.
For the crumble layer, use fine shredded coconut if you can find it, but it's not critical.
If you like, you can sprinkle more shredded coconut over the crumble layer when stacking the cake.
For the ganache, I find that a good quality chocolate makes a huge difference. I use Callebaut because that's what is available to me.
To help ensure your cake layers bake up nice and flat, check out my Flat Top Cakes post!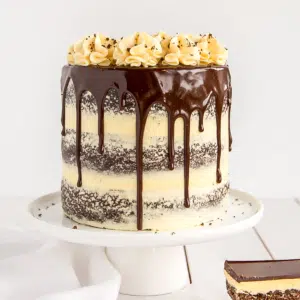 Nanaimo Bar Cake
This Nanaimo Bar Cake takes the classic Canadian treat and transforms it into a delicious layer cake! Chocolate cake layers with a vanilla custard frosting and chocolate coconut crumble.
Ingredients
Instructions
Dark Chocolate Ganache:
Finely chop chocolate and place into a bowl. Bring cream just barely to a simmer and pour over chopped chocolate. Cover with plastic wrap and let stand 2 mins. Stir with a spatula until combined, smooth, and silky. Set aside to cool completely until thickened but still pourable. See notes.*
Chocolate Cake:
Preheat oven to 350F, grease three 6″ round baking pans and dust with cocoa powder. Line bottoms with parchment.

Place all dry ingredients into the bowl of a stand mixer fitted with a paddle attachment. Stir to combine.

In a medium bowl whisk all wet ingredients (pour water in slowly as not to cook the eggs if very hot).

Add wet ingredients to dry and mix on medium for 2-3 mins. Batter will be very thin.

Pour evenly into prepared pans. I used a kitchen scale to ensure the batter is evenly distributed. Bake until a cake tester comes out mostly clean. A total of 35-40mins.

Cool 10 minutes in the pans then turn out onto a wire rack to cool completely.
Chocolate Coconut Crumble:
Preheat oven to 350F and line a baking sheet with parchment. Whisk all dry ingredients in a medium bowl. Pour in melted butter and stir until it begins to clump.

Spread evenly on baking sheet and bake for 15mins. Cool completely before using on cake.**
Vanilla Custard Frosting:
Prepare a stand mixer with a whisk attachment.

Whisk butter until creamy, scraping bowl as needed.

Reduce speed to low and add in powdered sugar 1 cup at a time until well blended, add custard powder. Increase speed to med and beat for 3 minutes.


Add vanilla and 2 Tbsp cream and continue to whip on medium for 1 minute.

Add more cream as needed until desired consistency is reached (I added all 4 Tbsp).

Whip until the frosting is smooth and silky.
Assembly:
Place one layer of cake on a cake stand or serving dish. Top with about 2/3 cup buttercream, spread evenly. Sprinkle some of the crumble on top. Repeat with remaining layers, but don't sprinkle crumble on the very top layer.

Frost and smooth the outside with a thin crumb coat (thicker on the very top). Chill for 20mins.

Using a small spoon, place dollops of ganache around the top edges of the cooled cake, allowing some to drip down. Fill in the top of the cake with more ganache and spread evenly with an offset spatula.***

Use a 1M tip to pipe dollops on top with remaining frosting and sprinkle some crumble in the middle.

Notes
* For the ganache, I let mine set overnight (with plastic wrap placed directly on the surface). It will be too thick at this point, so I microwave it for 5-10 secs and stir it until it's the right consistency.
** You will have some crumble leftover after using it in the cake. You can use this as a topping for ice cream or a crunch layer in another cake.
*** You may have some ganache left over.
Calories:
743
kcal
Carbohydrates:
91
g
Protein:
5
g
Fat:
42
g
Saturated Fat:
26
g
Cholesterol:
118
mg
Sodium:
427
mg
Potassium:
261
mg
Fiber:
3
g
Sugar:
70
g
Vitamin A:
1040
IU
Calcium:
74
mg
Iron:
2.9
mg
The nutritional information and metric conversions are calculated automatically. I cannot guarantee the accuracy of this data. If this is important to you, please verify with your favorite nutrition calculator and/or metric conversion tool.