Delicious chocolate cupcakes with a whipped chocolate Baileys buttercream.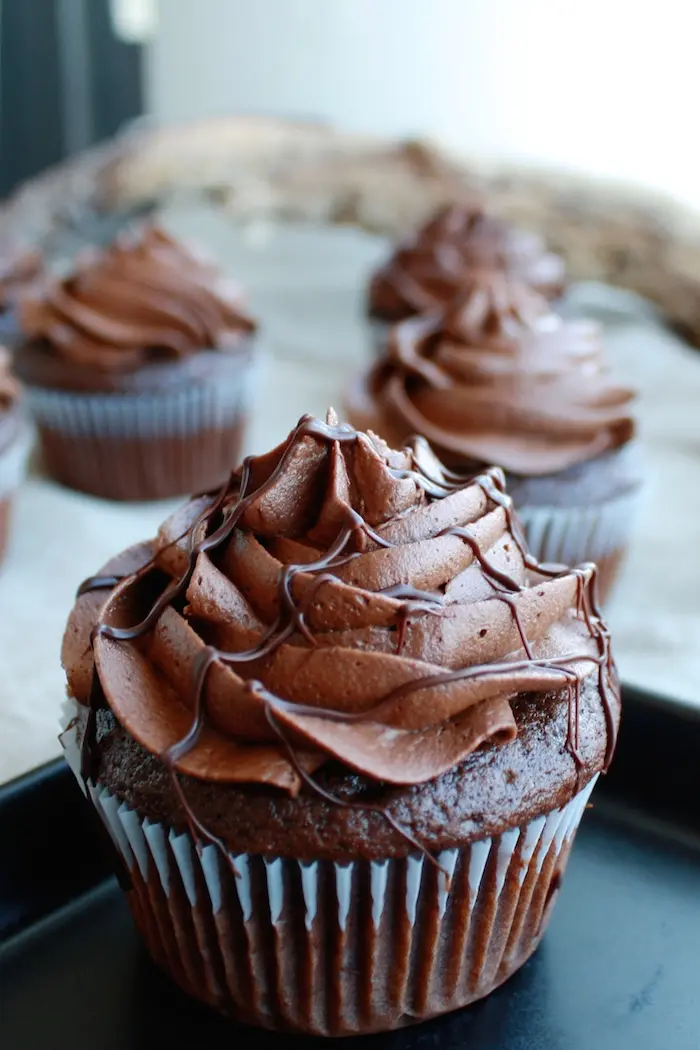 I never really need an excuse to bake something, but it's always nice to have a reason. A recent dinner invite to my good friend Dave's was the perfect opportunity for me to try out something new. I stuck with cupcakes because they are fairly easy, and since I had my first cake order due the same day, I didn't want to take on too big a project. Plus, let's face it, who doesn't like a good cupcake??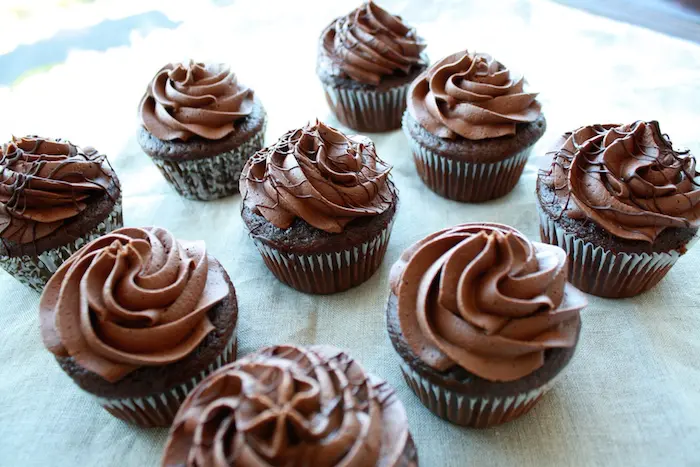 The cupcake recipe is straight up from my Martha Stewart's Cupcakes book, but the frosting is my own creation.
Martha's recipe makes 32 cupcakes. I didn't need quite that many (read: if I make that many I'll eat them all), so for the sake of our waistlines, I halved it. Her recipe says to fill the liners 3/4 full, which is a lot, but I thought maybe they wouldn't bake up so high. The cupcakes came out a little larger than I expected – I should have gone with my gut! They were quite domed when they came out of the oven, and I actually used a tea towel to press them down a bit so they wouldn't be so puffy. Next time I'll only fill the liners 2/3 full as usual, and make a few more cupcakes instead.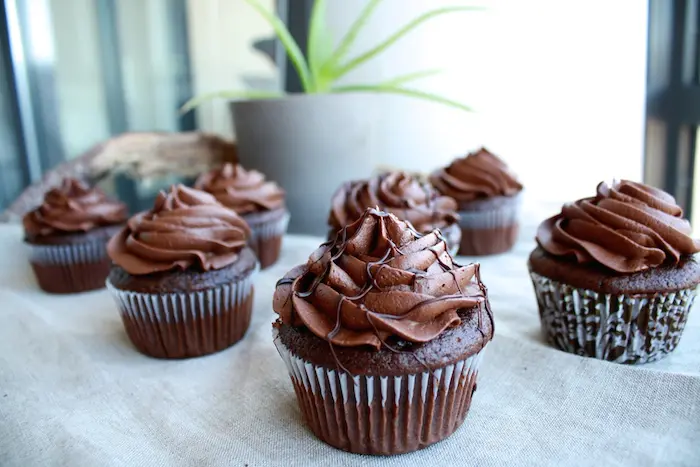 The cupcakes are delicious. Ryan loved the lighter texture in contrast with the decadent frosting, but I would have preferred for them to be a bit more dense (I like a fudgier cupcake). The flavor was perfect.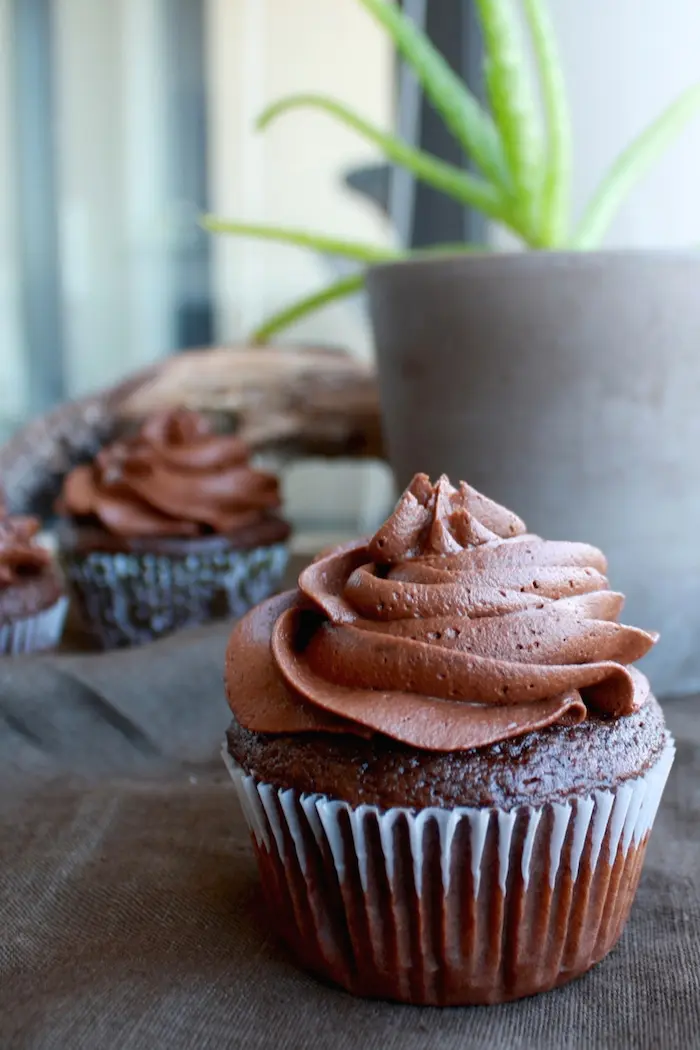 The buttercream, on the other hand, didn't turn out quite how I expected. I was going for a Baileys flavor, but that didn't come through as much as I wanted even though I used 2 tablespoons of it in the buttercream! The chocolate overpowered it (maybe because I used Dutch processed cocoa powder) and you couldn't really taste the Baileys.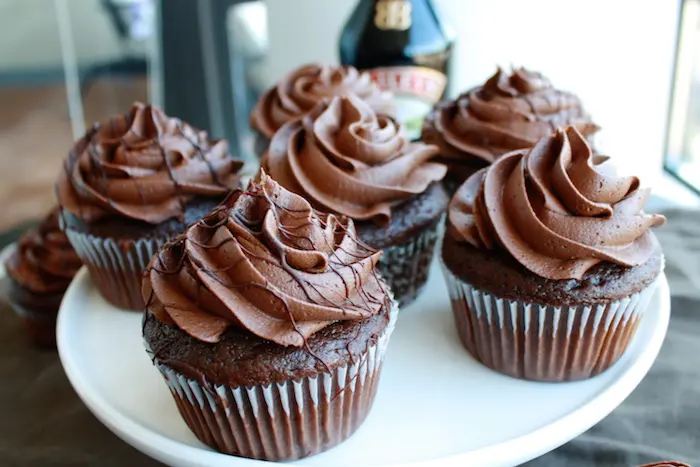 It was still amazing and probably one of the best chocolate frostings I've ever had, you just couldn't really taste the Baileys. Next time I think I'll skip the cocoa powder altogether so that the Baileys stands on its own.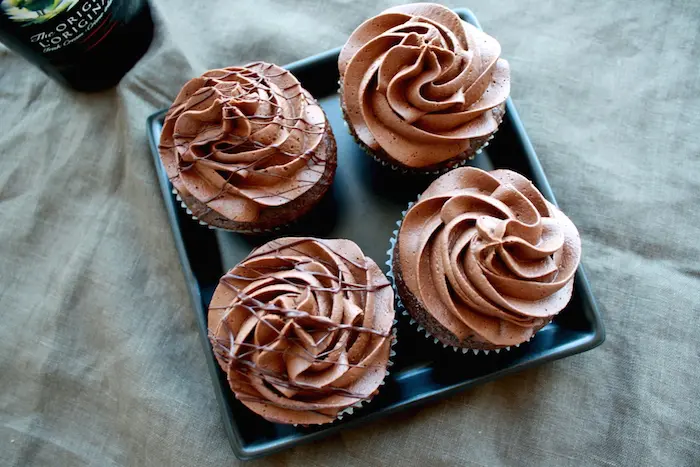 I couldn't decide if I wanted to drizzle melted chocolate over top of these guys, so I only did it to half of them. I prefer the plain ones myself, but thought the drizzled ones looked a bit fancier. Interestingly enough, the first ones to be snatched up post-dinner were the plain ones. I thought for sure everyone would go for the chocolate drizzle! Why all the drizzle hate? I'm going to stick to plain and simple from now on.
Baileys Chocolate Cupcakes
Delicious chocolate cupcakes with a whipped chocolate Baileys buttercream.
Instructions
CUPCAKES
Preheat oven to 350F and line muffin tins with cupcake liners.

Whisk cocoa and hot water together until smooth, set aside.

In a separate bowl, whisk together flour, baking powder, baking soda, and salt.

Melt butter and sugar in a small saucepan over medium heat. Stir to combine.

Transfer butter to the bowl of a mixer fitted with the paddle attachment. Beat until mixture has cooled, approx 4mins.

Add eggs one at a time, beating until fully incorporated after each addition. Scrape sides of bowl as needed.

Add vanilla and cocoa mixture, beat until combined.

Reduce speed to low and alternate adding flour mixture and sour cream in 2 additions. Beat until just combined.

Divide batter evenly into lined cups. I use a large ice cream scoop for this. Fill about 3/4 full.*

Bake for 15-20mins or until a cake tester comes out mostly clean. Rotate the trays after 10mins.

Transfer to wire rack to cool for 10mins, then remove cupcakes from tins and cool completely on wire racks.

Decorate with Baileys Buttercream.
BAILEYS BUTTERCREAM
Prepare a stand mixer with a whisk attachment.

Sift icing sugar and cocoa, whisk together well.

Whip butter until creamy.

Reduce speed to low and add in icing sugar /cocoa mixture 1 cup at a time until well blended.

Increase speed to med and beat for 1 minute.

Add 2 Tbsp Baileys and 2 Tbsp cream and continue to beat on medium for 2 minutes.

Add more cream as needed until desired consistency is reached.

I whipped this for a few minutes longer as I was determined to get rid of the graininess.
Notes
*For smaller cupcakes, fill 2/3 full. The recipe will likely make about 20 cupcakes then.
Cupcake recipe from Martha Stewart.
Calories:
404
kcal
Carbohydrates:
47
g
Protein:
3
g
Fat:
23
g
Saturated Fat:
14
g
Cholesterol:
82
mg
Sodium:
132
mg
Potassium:
124
mg
Fiber:
1
g
Sugar:
35
g
Vitamin A:
725
IU
Vitamin C:
0.1
mg
Calcium:
33
mg
Iron:
1.4
mg
The nutritional information and metric conversions are calculated automatically. I cannot guarantee the accuracy of this data. If this is important to you, please verify with your favorite nutrition calculator and/or metric conversion tool.