Harry Potter fans, this Butterbeer Cake is for you! Butterscotch cake, cream soda, and marshmallow all in one spellbinding dessert. The perfect Harry Potter Cake!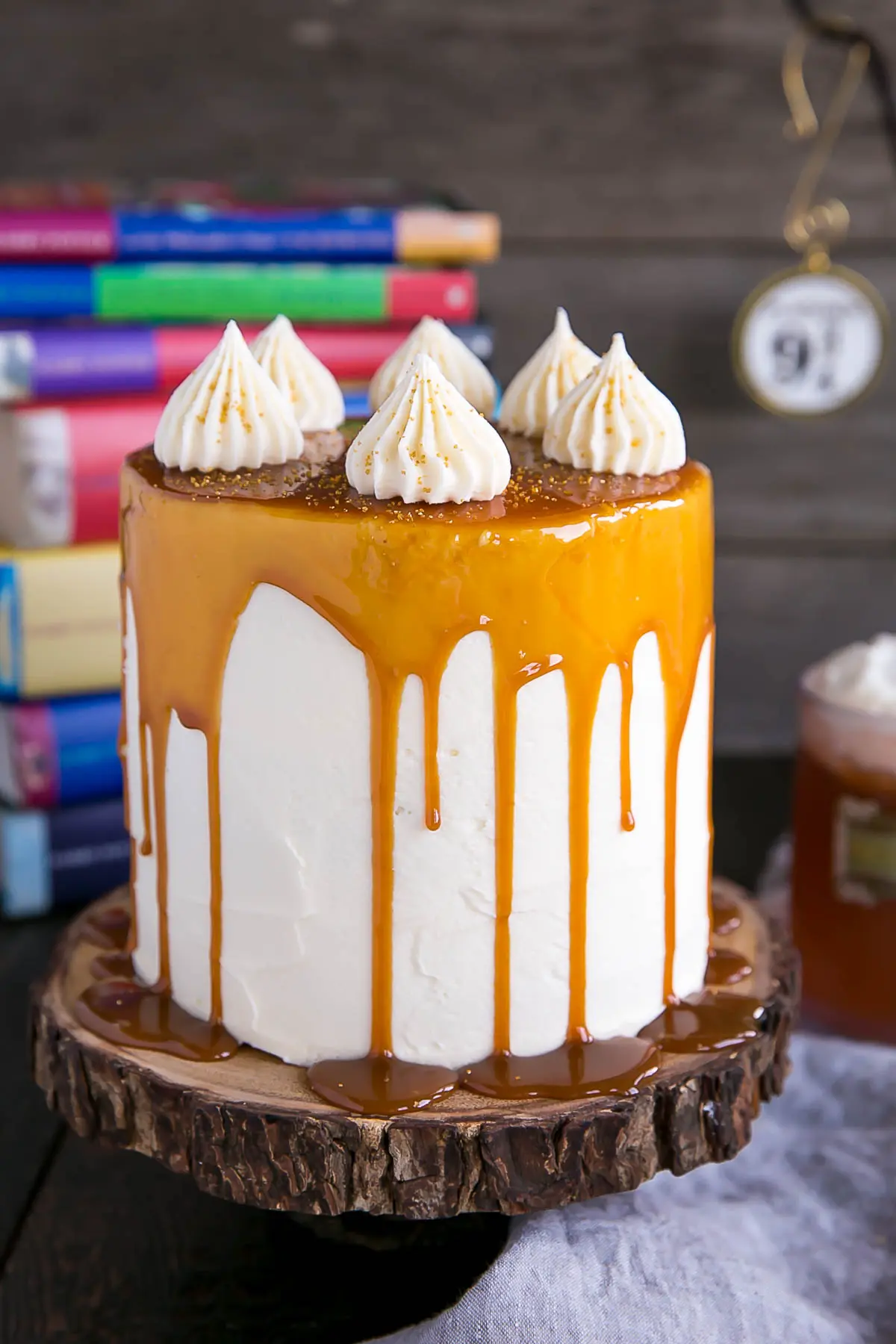 I can't believe it's taken me this long to do a Harry Potter themed recipe.
I am a huge fan of the books and movies, so the fact that I have a Game of Thrones themed cake and no Harry Potter cake is shameful, really. Alas, that all changes today with this Butterbeer Cake!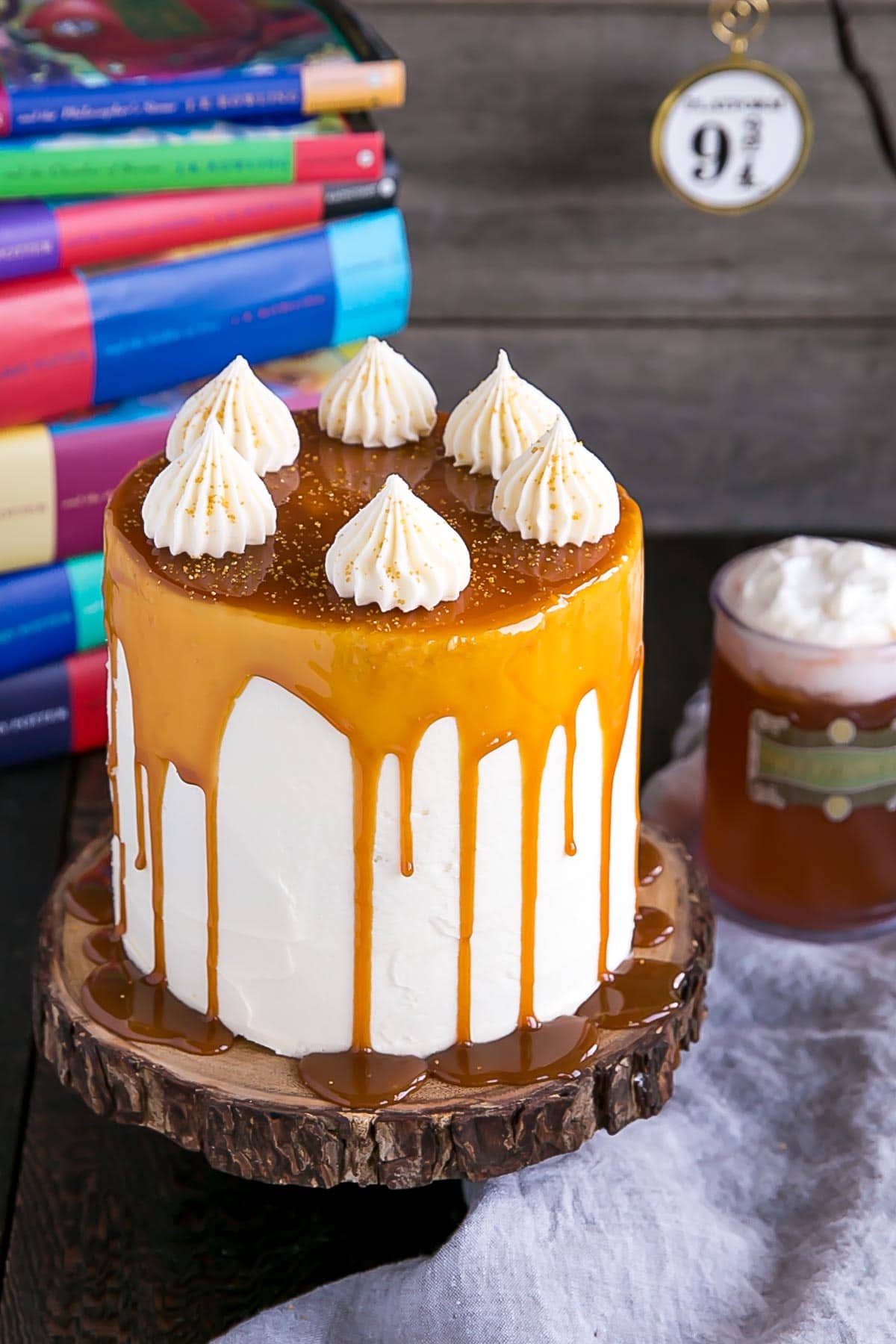 What is Butterbeer?
Butterbeer is a delicious combination of cream soda, butterscotch, and marshmallow. Except it doesn't really taste like butterscotch or cream soda, just of some amazing blend of flavors and heavenly marshmallow creme topping. I didn't even care that it was carbonated (which I normally don't like).
I'm going to go ahead and blame the delay on this recipe on the fact that I actually didn't try Butterbeer until very recently. In fact, I didn't think I'd like it.
I don't like butterscotch, or cream soda, or pop, so I was expecting to hate it through and through for its sickly sweetness. I was only going to try it so I could say I had.
My first introduction to Butterbeer was over the summer while we were in London. I dragged Ryan, his dad, and his stepmom (some more willingly than others) to the Warner Brothers Studios to do the Harry Potter tour.
Ryan and I bought one Butterbeer to share because I swore I would only have one sip of it. Souvenir glass? Pshh, why would I want one??
Needless to say, I finished half the drink before Ryan could even have a sip of it. SO. GOOD.
Is there alcohol in butterbeer?
Contrary to the name, there is actually no alcohol in Butterbeer at all.

The fizzy beverage is all-ages friendly. However, if you're looking to incorporate a bit of booziness into this Harry Potter Cake, you can always soak the layers in a Butterscotch schnapps simple syrup!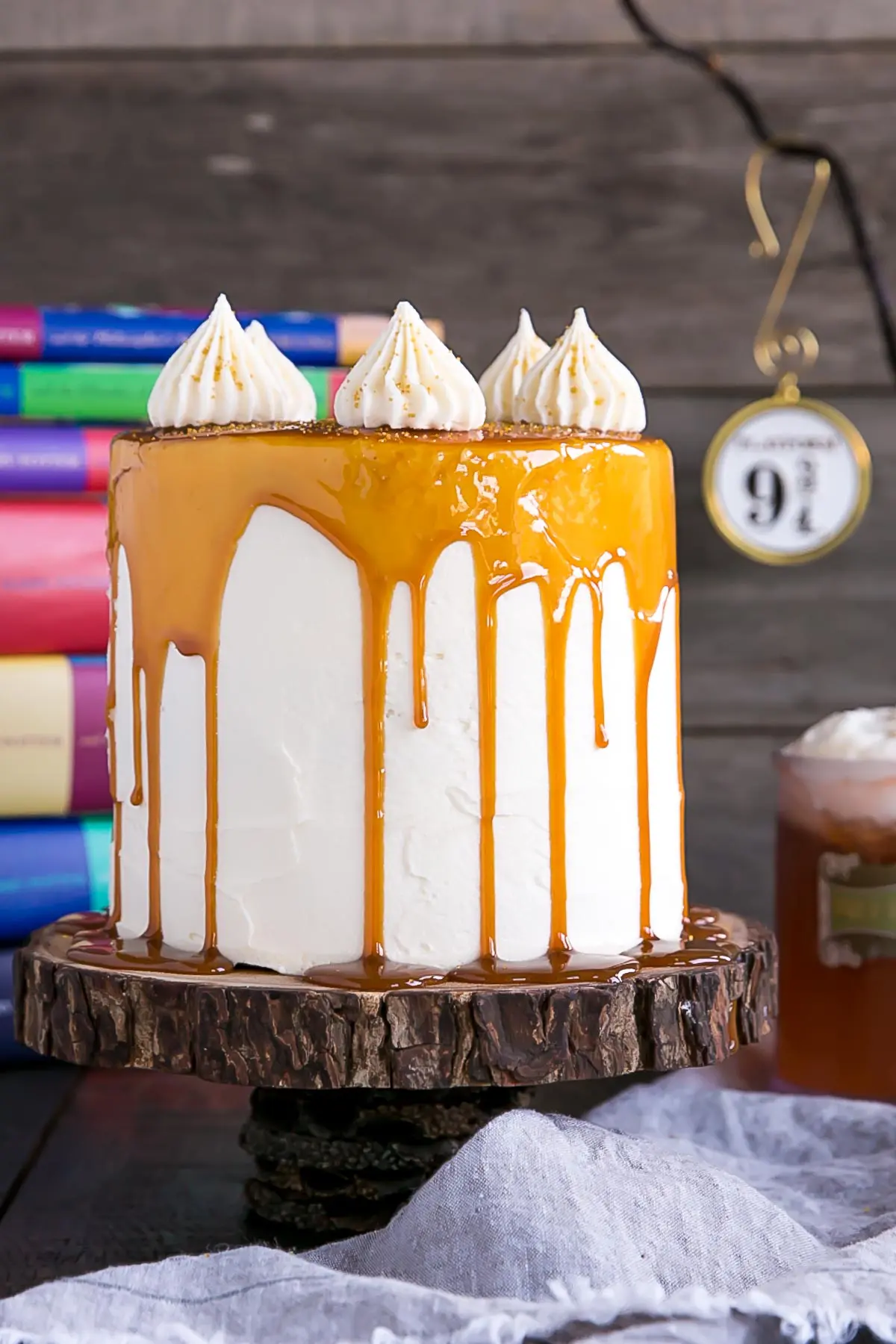 What are the different types of Butterbeer?
You can get butterbeer in the regular, soda pop version, or frozen (like a slush), or hot!
As much as I loved the original pop-like version of Butterbeer, I didn't know there were actually superior versions of this.
Fast forward a few months and we're in Orlando celebrating my birthday, which includes numerous days at the Disney parks and, of course, Universal to check out the Harry Potter lands, among other things. My friend Eva insisted that I HAD to try the frozen Butterbeer, and that it was better than the original.
Lunch on our first day was at the Leaky Cauldron (for real!!) and that's where we ordered our frozen Butterbeer.
We had planned to get an original Butterbeer too, but the girl taking our order asked if we wanted to try the warm Butterbeer. She said it was her favorite and they only have it available during the colder months. We did not have high hopes for it but ordered it anyhow.
Both the frozen (like a slush) and the warm were leaps and bounds better than the original. How do you improve on something that's already so good, right??
I think the warm one was my favorite, actually. Perfectly comforting and delicious. Needless to say, I had Butterbeer Cake running through my mind before we even left the parks.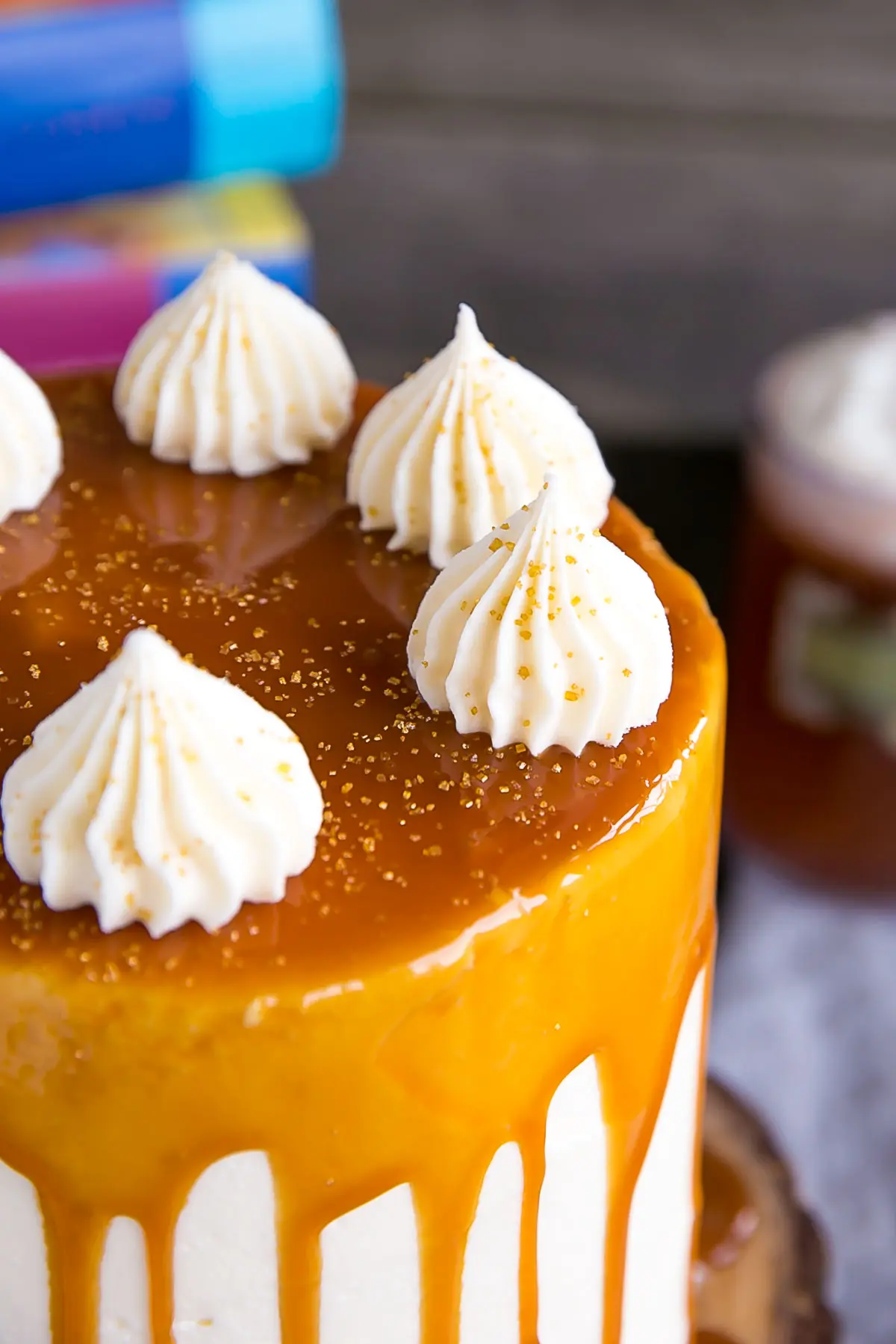 How to Make this Butterbeer Cake
This butterscotch cake gave me a little bit of trouble in terms of nailing down the perfect texture, flavor, and color.
Cake Tip!
Don't use pink cream soda unless you want your cake to be pink!
The first batch was probably the best bake overall, except I could only find hot pink cream soda, so that's what I used. Unfortunately, this made the layers an ombre kinda pink when I cut into them. The layers also shrank quite a bit post-baking, so I probably overbaked it.
For the second attempt at this Butterbeer Cake, I managed to find clear cream soda, but that same store didn't have the exact brand of pudding that I used the first time, so I tried the store brand.
The cake baked up with a whole lot of tunneling through it — either due to the brand of pudding I used or due to improper mixing techniques. Likely the latter. Sigh.
Attempt #3 used Jell-O instant pudding, clear cream soda, and proper mixing. Success! The first two batches were happily eaten anyway — naked cake layers and all — and they were delicious.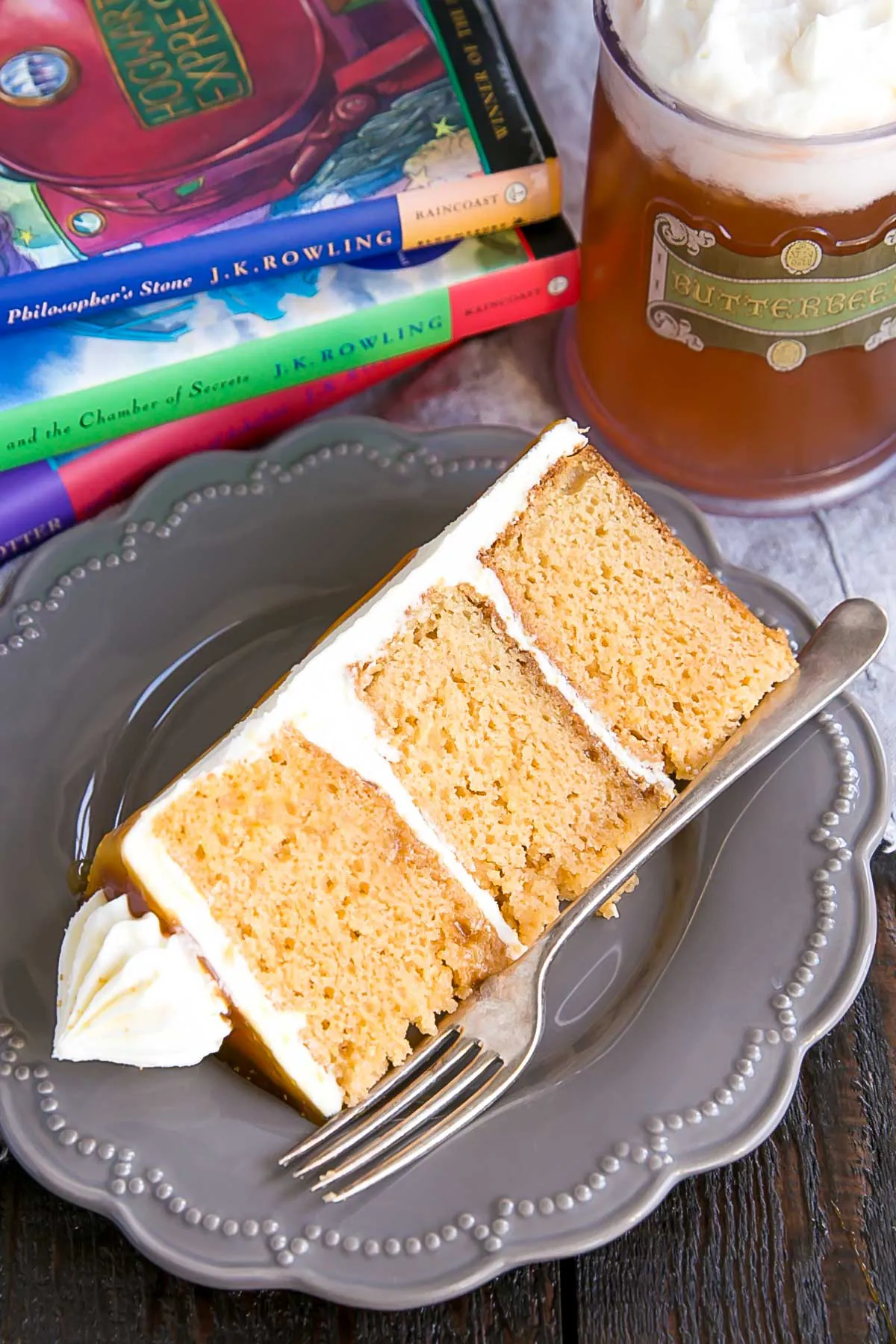 This Butterbeer Cake, like the drinks, is fairly sweet — but it's intended to be. I mean, you're combining cream soda, butterscotch, and marshmallow… it's kinda hard to tone that down (and why would you want to?).
If you're a Harry Potter fan, or have one in your life, you're going to want to add this Harry Potter Cake to your baking list!
Frequently Asked Questions
How can I convert this recipe?
The recipe as-is will also work in two 8″ pans. For three 8″ pans, 1.5x the recipe. Baking time may need to be adjusted.
To make cupcakes, all you need to do is reduce the baking time — start checking at 15mins or so. The recipe will make 18-24 cupcakes depending on size.
For other conversions go

here

.
Can I make it in advance?
The cooled cake layers can be baked ahead of time, double wrapped in plastic wrap, and frozen for up to 3 months. Take out 2-3 hours before assembly.
The frosting can be placed in an airtight container and refrigerated for 1 week for frozen for 3 months. Bring to room temp and rewhip before using.
The finished cake (whole or sliced, stored airtight) can be frozen for up to 3 months.
Can I get the measurements by weight/grams?
There is a Metric option in the recipe card. If you click it it will convert everything to grams.
This conversion is done automatically and I cannot guarantee the accuracy but many readers have had success using the metric option on my recipes.
Tips for this Butterbeer Harry Potter Cake
Butterbeer Cake
Harry Potter fans, this Butterbeer Cake is for you! Butterscotch, cream soda, and marshmallow all in one spellbinding dessert. The perfect Harry Potter Cake!
Instructions
Butterbeer Cake:
Preheat oven to 350F. Grease and flour three 6″ cake rounds and line with parchment.

In a medium bowl, whisk flour, baking powder, pudding mix, and salt until well combined. Set aside.

Using a stand mixer fitted with a paddle attachment, cream butter and sugar on med-high until pale and fluffy (approx 3mins).

Reduce speed and add eggs one at a time fully incorporating after each addition. Add vanilla.

Alternate adding flour mixture and cream soda, beginning and ending with flour (3 additions of flour and 2 of cream soda). Fully incorporating after each addition.

Bake for about 40mins or until a toothpick inserted into the center comes out clean.

Place cakes on wire rack to cool for 10mins then turn out onto wire rack. Allow to cool completely.
Marshmallow Frosting:
Beat butter until creamy. Add powdered sugar 1 cup at a time. Beat for 3 mins.

Add marshmallow fluff and vanilla extract and beat until fluffy (2-3mins).
Assembly:
Place one layer of cake on a cake stand or serving plate. Top with 2/3 cup of frosting and spread evenly. Top with 1-2 Tbsp butterscotch sauce (optional), swirl into frosting.

Repeat with remaining layers and apply a thin coat of frosting all over the cake. Chill for 20mins. ***

Use the remaining frosting to frost the top and sides of the cake. Chill for 20mins.

Using a teaspoon, drizzle butterscotch sauce along the top edges of the chilled cake, allowing some to drip down. Pipe dollops on the top using an Ateco 867 or Wilton 6B tip. Fill in the top of the cake with more butterscotch sauce and spread evenly. Sprinkle with gold sanding sugar if desired.
Notes
* Regular vanilla will work ok.
** I boiled mine for about 5mins to reduce it a bit as it was a little on the thin side. You can also use homemade.
*** Adding butterscotch sauce between the layers is a delicious flavor burst, but it will make your cake a little more susceptible to sliding around during assembly. You can place 3-4 bamboo skewers into the top of the cake as support. You'll need to trim the skewers to the proper height of the cake.
Marshmallow buttercream recipe adapted from The Cake Blog.
Calories:
790
kcal
Carbohydrates:
117
g
Protein:
4
g
Fat:
35
g
Saturated Fat:
22
g
Cholesterol:
138
mg
Sodium:
180
mg
Potassium:
128
mg
Sugar:
89
g
Vitamin A:
1130
IU
Calcium:
56
mg
Iron:
1.4
mg
The nutritional information and metric conversions are calculated automatically. I cannot guarantee the accuracy of this data. If this is important to you, please verify with your favorite nutrition calculator and/or metric conversion tool.