Make the most of apple season! This Apple Crisp Cake pairs spice cake layers with a delicious homemade apple pie filling and apple crisp crumble.
My first ever Apple Crisp (or Apple Crumble) was in Home Ec class in Jr. High. It was (and still is) one of the best apple desserts I've ever had — and so easy to make!!
It's a favorite for sure, and I don't make it often enough. But we're in the midst of apple season here, and what better way to make the most of it than with this Apple Crisp Cake!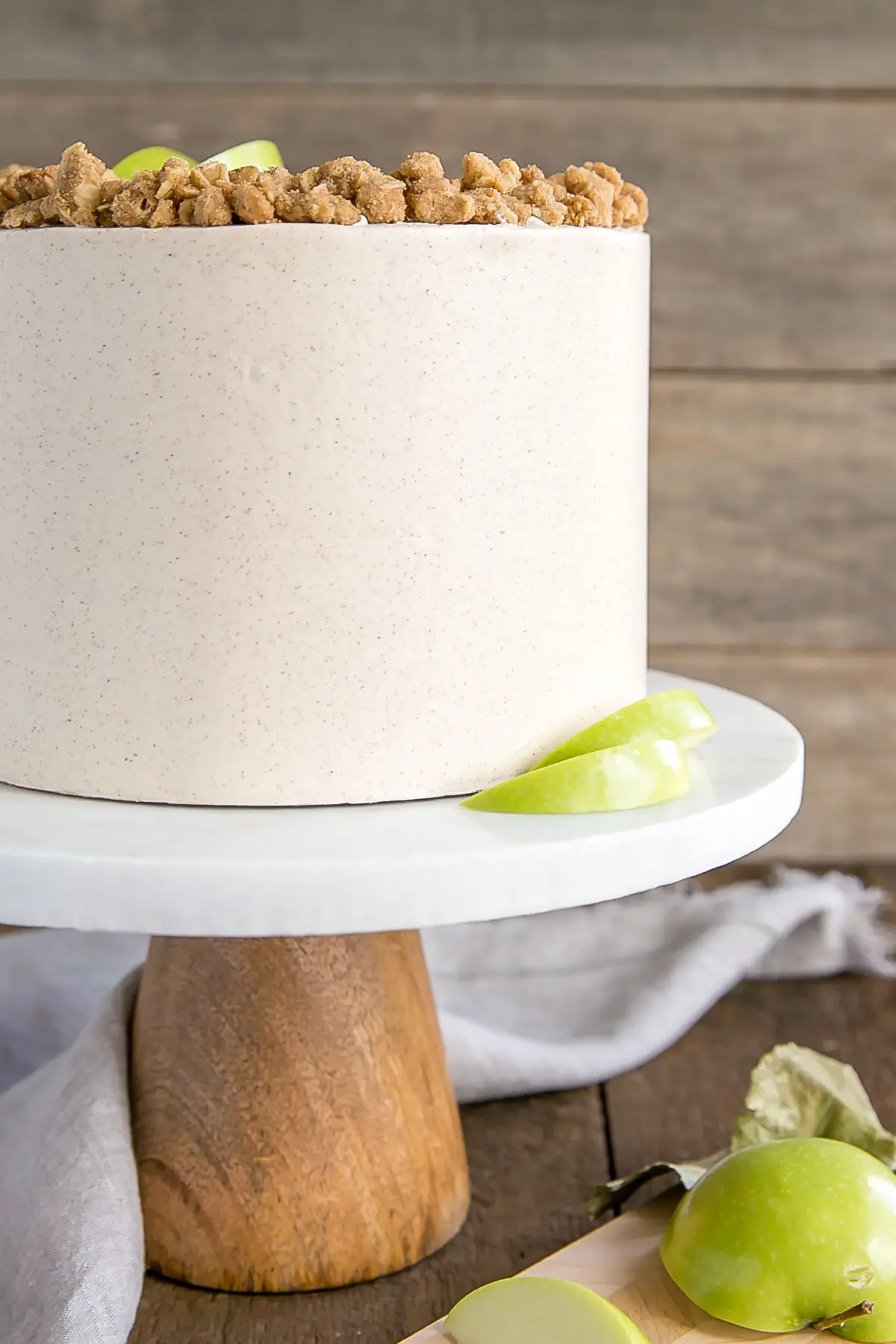 How to Make this Apple Cake
There's something so comforting about apple desserts in the Fall. Those fragrant spices and sweet-tartness of the apples — it's perfect.
To make this Apple Cake, I modified my Spice Cake recipe for the cake layers. I didn't put apples into the actual cake, as I wanted to separate it out as a filling, but if you'd like to put apples into the cake layers, you can check out the recipe for my Caramel Apple Cake (you can 1.5x the recipe, or adjust the Servings slider to 18).
For the apple pie filling, I used the same recipe that I used for my Apple Pie Cake and Apple Crisp Cookie Cups. It's an easy and delicious way to make it at home, but you could totally use store-bought instead if you like. I prefer the taste of homemade, so that's what I do.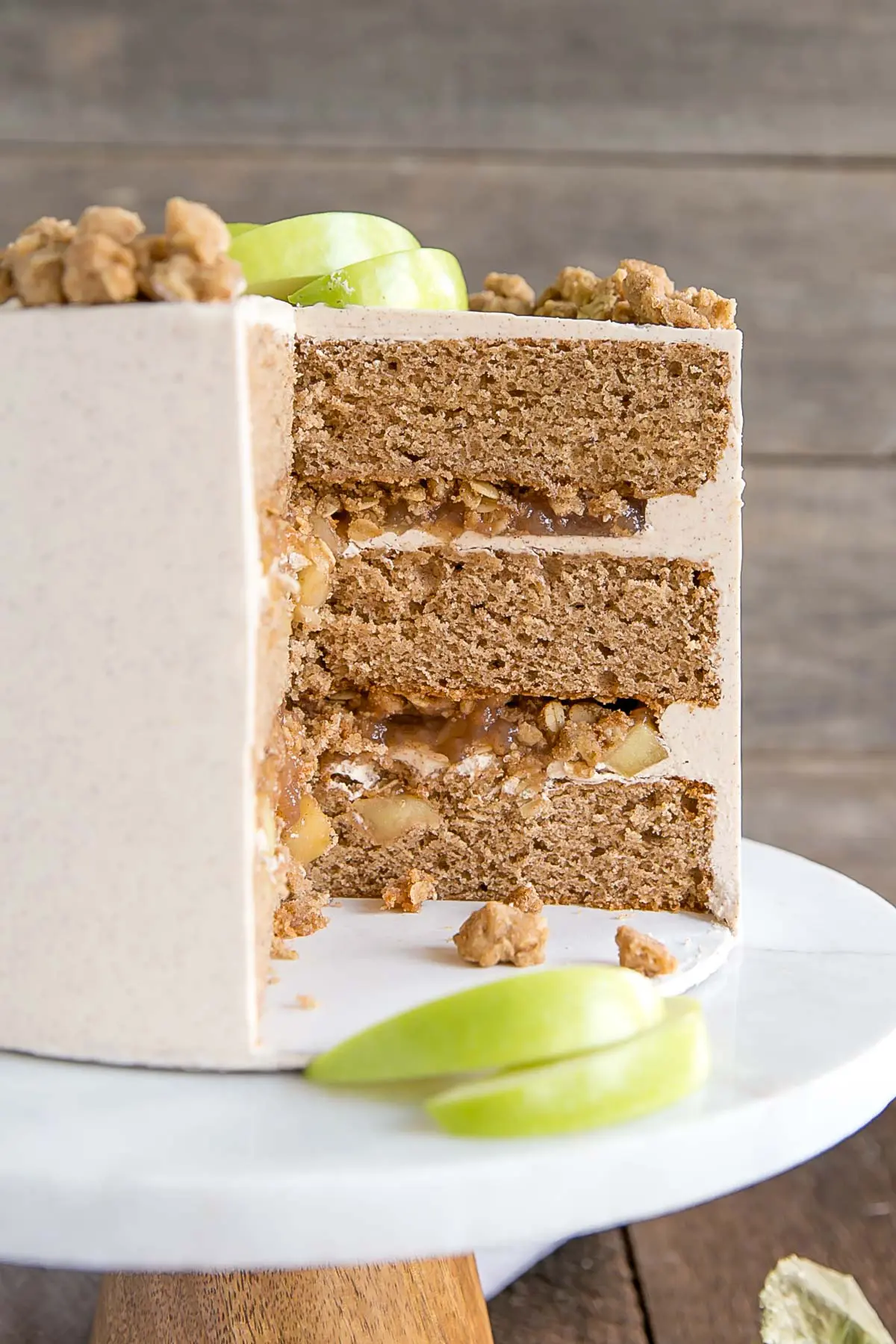 How Do You Make Apple Pie Filling?
I like to use Granny Smith Apples for my filling due to their tartness and firmness, but you can use any kind you like, provided it's not too soft (like Macintosh). You want it to retain some of its structure in the filling. Here are some other good options for apples to use:
Braeburn
Golden Delicious
Pink Lady
Honeycrisp (a personal fave to eat)
Or you can go crazy and do a mix of all of them! That's probably what I'd do next time, if I actually remember!
To make the apple pie filling, you literally just toss everything except the apples into a pot, boil, cook for 2mins, toss in chopped apples, and cook for 10-15mins until tender. That's it!
I do this the day before, and keep it in the fridge once it cools. I give it a good stir before using in the cake though, as it sets a bit when cold.
The biggest pain, honestly, is peeling and chopping the apples. But it's not that bad, and as a bonus for making the filling, your house will smell amazing for hours!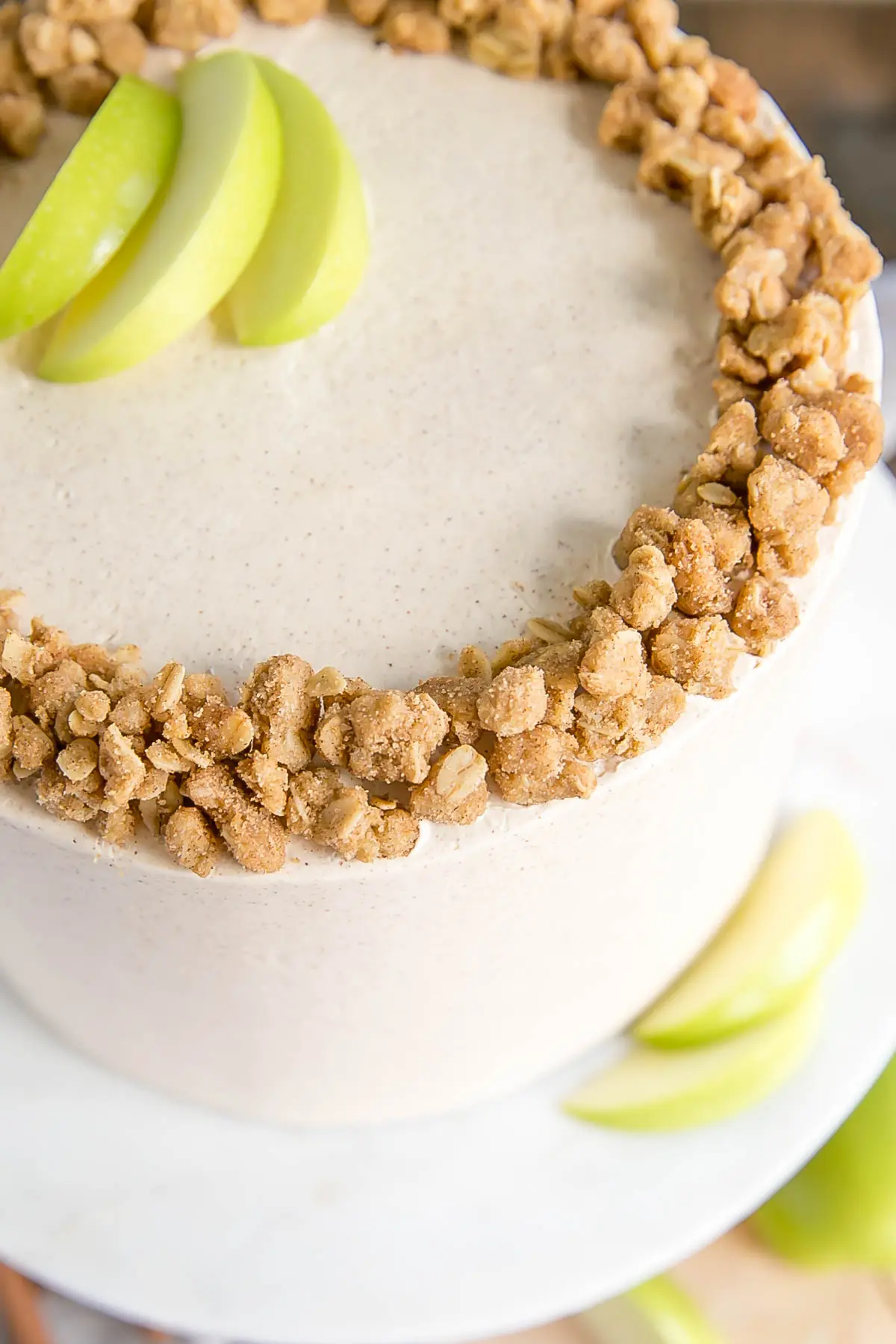 Apple Crumble
For the apple crisp crumble, I literally took the topping recipe from my Apple Crisp and used that. The only difference is that I melted the butter instead of using it cold, and I love the large chunks of crumble that I was able to get out of it!
The crumble is another super easy thing to do: throw everything into a bowl, mix, spread on baking sheet, bake for 10mins. I also do this in advance and store in an airtight container once cooled. Not unlike my Maple Cake from a few weeks ago, this recipe makes more crumble than you'll need.
I like to have extra so I can pick out the larger chunks (for the top specifically), but you can halve the recipe if you prefer.
Cinnamon Swiss Meringue Buttercream
The cinnamon Swiss meringue buttercream is your standard SMBC with cinnamon thrown in. I was going to leave it plain vanilla, but adding the cinnamon gives it an additional hit of flavor that goes perfectly with the rest of the cake. Plus it looks super pretty!
I actually made the buttercream in advance too. Come to think of it, every element of this cake was made in advance. Since we got Zelda, I've had to portion out my baking even more than before.
Can I make this apple cake in Advance?
I almost always bake the cakes in advance, but I make the buttercream the day I'm assembling the cake even though it adds a bit of chaos to an already hectic day.
Here's what I did for each component in order to make them in advance:
Cake Layers – Cool completely, double wrap in plastic wrap, freeze. Thaw for 1-2hours (wrapped) before assembling. Will keep for months.
Apple Pie Filling – Transfer to glass tupperware, cool completely, refrigerate. Bring to room temp and give a good stir before using. Will keep for 2 weeks.
Apple Crisp Crumble – Cool completely and transfer to an airtight container. Will keep for 2-3 weeks.
Cinnamon Buttercream – Refrigerate. Bring to room temperature and rewhip before use. Will keep for 1 week. Or freeze for up to 3 months in an airtight container.
Doing these in advance made it so much easier to assemble on the day of. I didn't have to worry about making the buttercream or crumble. All I had to do was put it together. Honestly, I'll probably keep doing it this way from now on!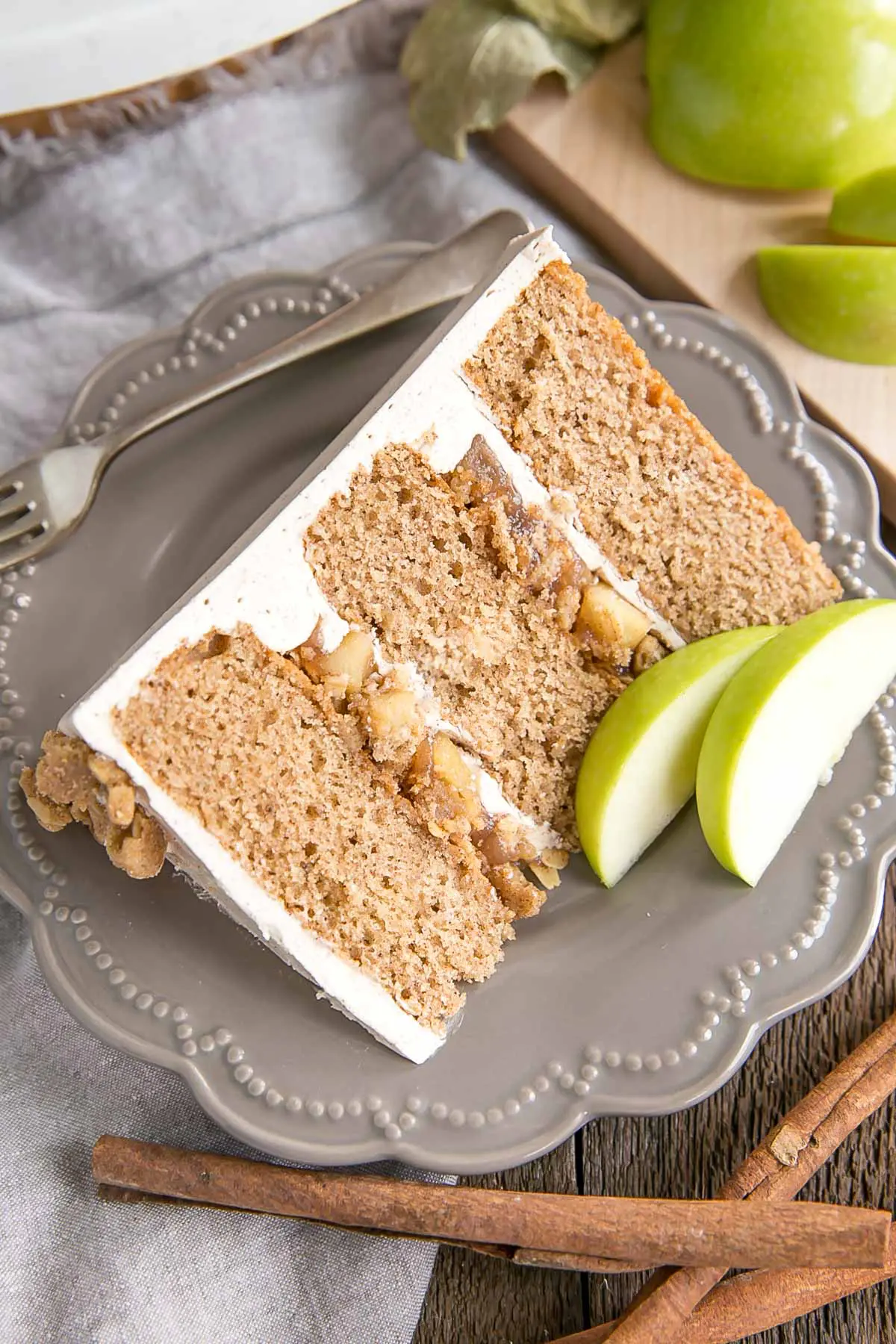 I have a recipe for traditional Apple Crisp here, but if you're looking for something outside the box and equally delicious, this Apple Crisp Cake is for you!
Looking for more Fall desserts?

Tips for this Apple Cake with Cinnamon Buttercream
To make a three layer 6″ cake change the Servings to 12 and use those amounts. Baking time may differ slightly.
To make cupcakes, all you need to do is reduce the baking time — start checking at 15mins or so.
You can prepare everything in advance and assemble on a separate day. See post above for details of how I split it up.
If you prefer, you can use store-bought apple pie filling instead of making your own.
You will have crumble left over. I like to make more than I need so I have the option to pick out the larger chunks. Feel free to halve the recipe if you prefer, or use the extra as a yogurt topping!
Be sure to check my Swiss Meringue Buttercream post for tips and troubleshooting.
Learn how to keep your cakes moist using Simple Syrup.
To help ensure your cake layers bake up nice and flat, check out my How to Bake Flat Cake Layers post!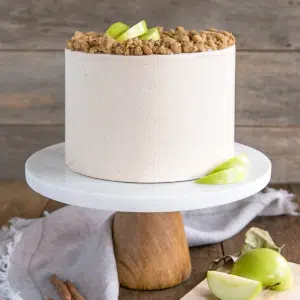 Apple Crisp Cake
Make the most of Apple season! This Apple Crisp Cake pairs spice cake layers with a delicious homemade apple pie filling and apple crisp crumble.
Ingredients
Instructions
Cinnamon Spice Cake:
Preheat oven to 350F. Grease and flour three 8″ cake rounds and line with parchment.

In a medium bowl, whisk flour, spices, baking powder, and salt until well combined. Set aside.

Using a stand mixer fitted with a paddle attachment, cream butter and until smooth. Add sugars and beat on med-high until pale and fluffy (approx 3mins).

Reduce speed and add eggs one at a time fully incorporating after each addition. Add vanilla.

Alternate adding flour mixture with milk, beginning and ending with flour (3 additions of flour and 2 of milk). Fully incorporating after each addition.

Spread batter evenly between the prepared pans and smooth the tops.

Bake for approx. 40 mins or until a toothpick inserted into the center comes out mostly clean.

Place cakes on wire rack to cool for 10mins then turn out onto wire rack to cool completely.
Apple Pie Filling:
Toss chopped apples and lemon juice in a large bowl, set aside.

In a large saucepan, combine sugars, cornstarch, and spices. Pour in water and whisk. Cook over medium heat until boiling. Cook for 2 minutes, stirring occasionally. Add apples, bring back to a boil. Simmer, stirring occasionally, until tender (10-15mins). Cool completely.



Apple Crisp Crumble:
Preheat oven to 350F. Whisk flour, oats, cinnamon, and brown sugar in a medium bowl. Add enough melted butter so that the mixture starts to clump. Spread on a parchment lined baking sheet and bake for approx. 10 mins. Cool completely. Break crumble apart if needed.
Cinnamon Swiss Meringue Buttercream:
Place egg whites and sugar into the bowl of a stand mixer, whisk until combined.*

Place bowl over a double boiler on the stove and whisk constantly until the mixture is hot and no longer grainy to the touch (approx. 3mins). Or registers 160F on a candy thermometer.

Place bowl on your stand mixer and whisk on med-high until the meringue is stiff and cooled (the bowl is no longer warm to the touch (approx. 5-10mins)).

Switch to paddle attachment. Slowly add cubed butter and mix until smooth.**

Add vanilla and cinnamon and whip until smooth and fluffy.
Assembly:
Place one layer of cake on a cake stand or serving plate. Top with approx. 1 cup of buttercream and spread evenly. Pipe a border of buttercream around the outside to hold in the apple pie filling. Fill with approx. 2/3 cup apple pie filling, spread evenly. Sprinkle with approx. 1/2 cup crumble (smaller pieces). Press gently into apple pie filling. Repeat with next layer.

Place final layer on top and do a thin crumb coat on the cake. Chill for 20mins.


Frost and smooth the top and sides of the cake with remaining frosting. Place larger chunks of the crumble around the top of the cake.
Notes
* Wipe your mixer bowl and whisk down with lemon juice or vinegar to make sure it is completely grease free and make sure there is no trace of yolk in your whites or your meringue will not stiffen.
** The buttercream may look like it's curdled at some point. Keep mixing until it is completely smooth. If it looks soupy, place it in the fridge for 20mins and rewhip.
Calories:
804
kcal
Carbohydrates:
81
g
Protein:
6
g
Fat:
51
g
Saturated Fat:
32
g
Cholesterol:
180
mg
Sodium:
168
mg
Potassium:
219
mg
Fiber:
1
g
Sugar:
60
g
Vitamin A:
1640
IU
Vitamin C:
1.3
mg
Calcium:
100
mg
Iron:
1.6
mg
The nutritional information and metric conversions are calculated automatically. I cannot guarantee the accuracy of this data. If this is important to you, please verify with your favorite nutrition calculator and/or metric conversion tool.
Originally published Sep 15, 2018