Delicious cinnamon spiced apples baked with a yummy oat crumble topping make the perfect, easy Apple Crisp.
This apple crisp recipe goes back over 20 years! I can't remember whether it was in Jr. High or High School that we made this for the first time in Home Ec class. I've kept a handful of recipes from those Home Ec days, and over the years my sister, Monika, and I have made them countless times – this apple crisp especially. Somehow my recipe stash made it over to my sister's place in Australia, so I haven't seen the originals in a while.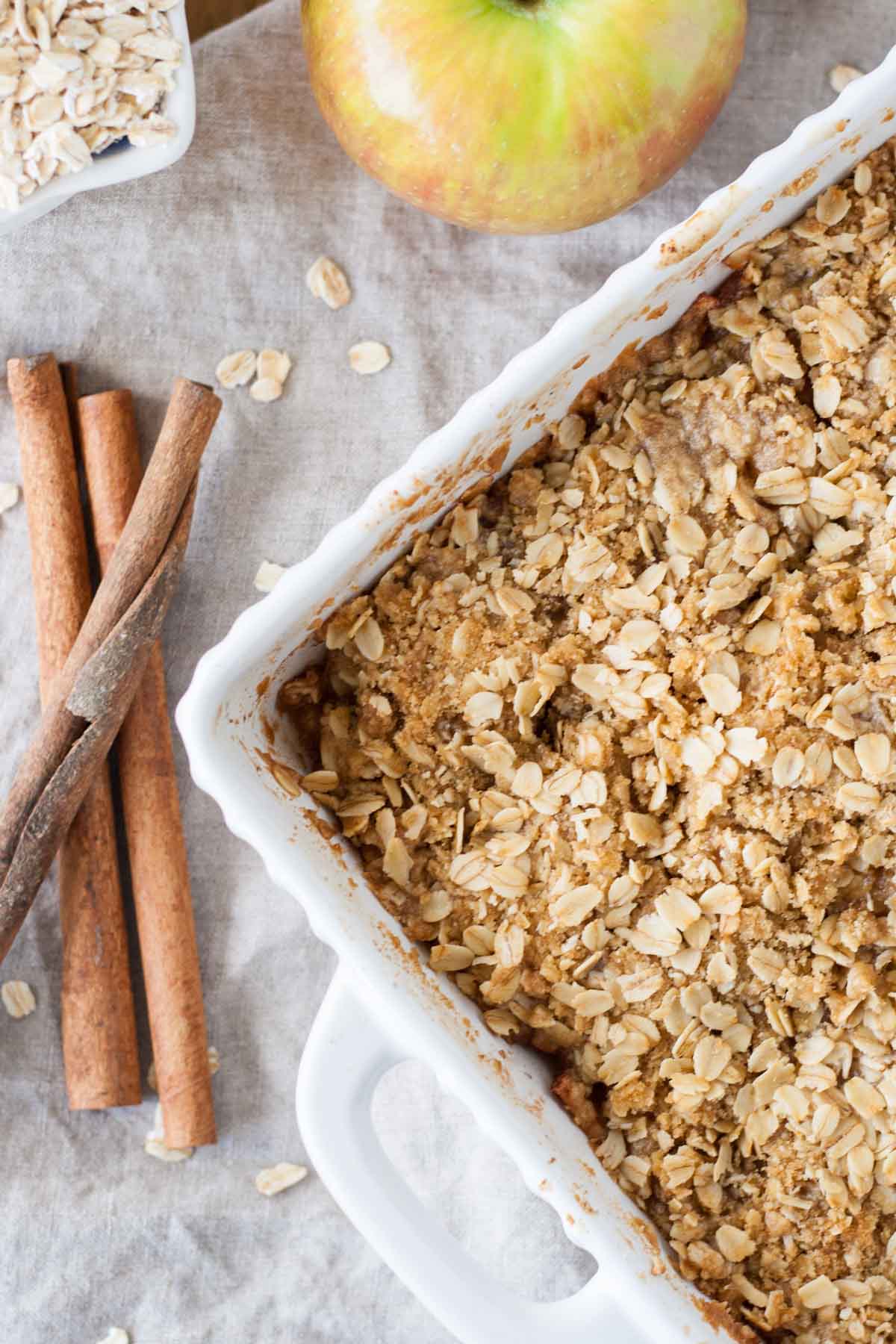 I actually haven't made this recipe in a few years, maybe because my recipes disappeared mysteriously, but likely because I was wrapped up in cakes more than anything else. As such, reading over the original recipe required some decoding… The measurements were strange – everything was in ml rather than Tbsp or cups (i.e. the recipe called for 125ml of flour). Using ml is fine for wet ingredients (usually), but it's weird for dry. Maybe they were trying to each us to convert into Tbsp/cups? Who knows. At any rate, it was weird (and annoying).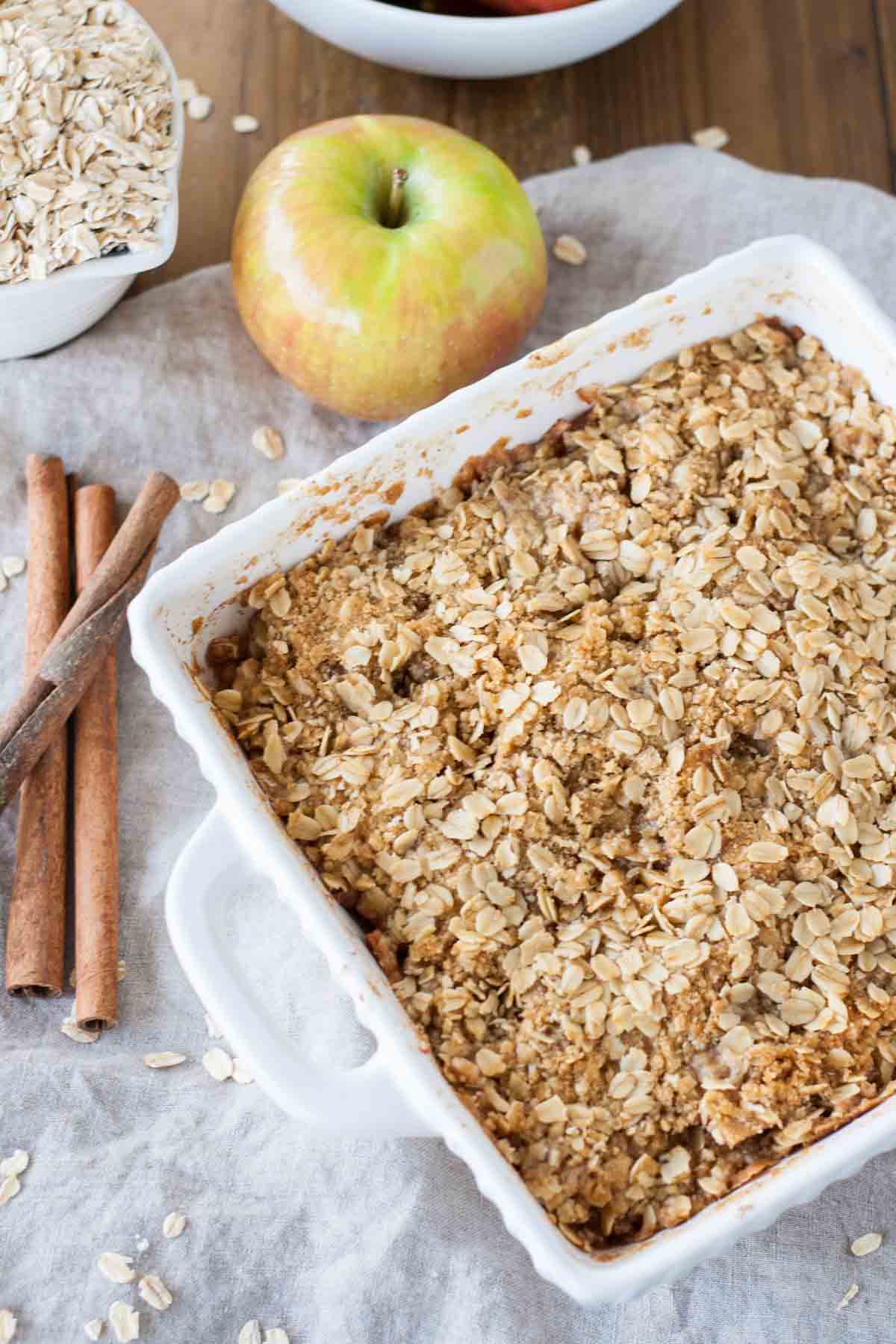 The other thing I couldn't remember was what size baking dish to use, and the recipe didn't say. It only calls for 2 apples, but that didn't seem like enough, so I asked Monika about it, knowing that she'd likely made it more recently than I had.
O: Hi 😀
O: have you made the apple crisp lately? the school recipes are SO weird, it doesn't tell me what size pan to use!
M: Not for a while…
M: Hmmm I don't think it really matters as long as it all fits? I used glass dishes
O: lol well I know, but I need to know how much 2 apples makes, like is it a square pan or a rectangle?
M: Oh! I always used about 6 apples
O: oh crazy! ok
O: did you use a square dish?
M: I think a deeper dish works better, I didn't have a choice mine are all round
O: ahh ok
O: like about the size of a dinner plate? or a smaller plate (sorry!)
M: The topping measurements are good but I doubled the oats
M: Smaller plate
O: oh weird, so you triple the apples but only double the oats?
O: butter and everything else is the same?
M: Pretty sure yeah 🙂
M: Make the topping first, add as many oats as you think will be good. I don't think I really measured. Then cut the apples, I use 6 (two will give you like nothing!) and see how many suits you. 🙂
O: you don't need to double the butter or anything though?
O: or cinnamon/sugar?
M: I'm sure it'll turn out great! Just use the recipe as a guide 😉
M: Hmmm I can't remember 😮
M: See how much the recipe gives you, double if you want more?
O: ok 😐
O: baking is a science you know 😛 which is why I'm freaking out about it
O: and you're just like, oh wing it! lol
M: Lol!!
So, I winged it…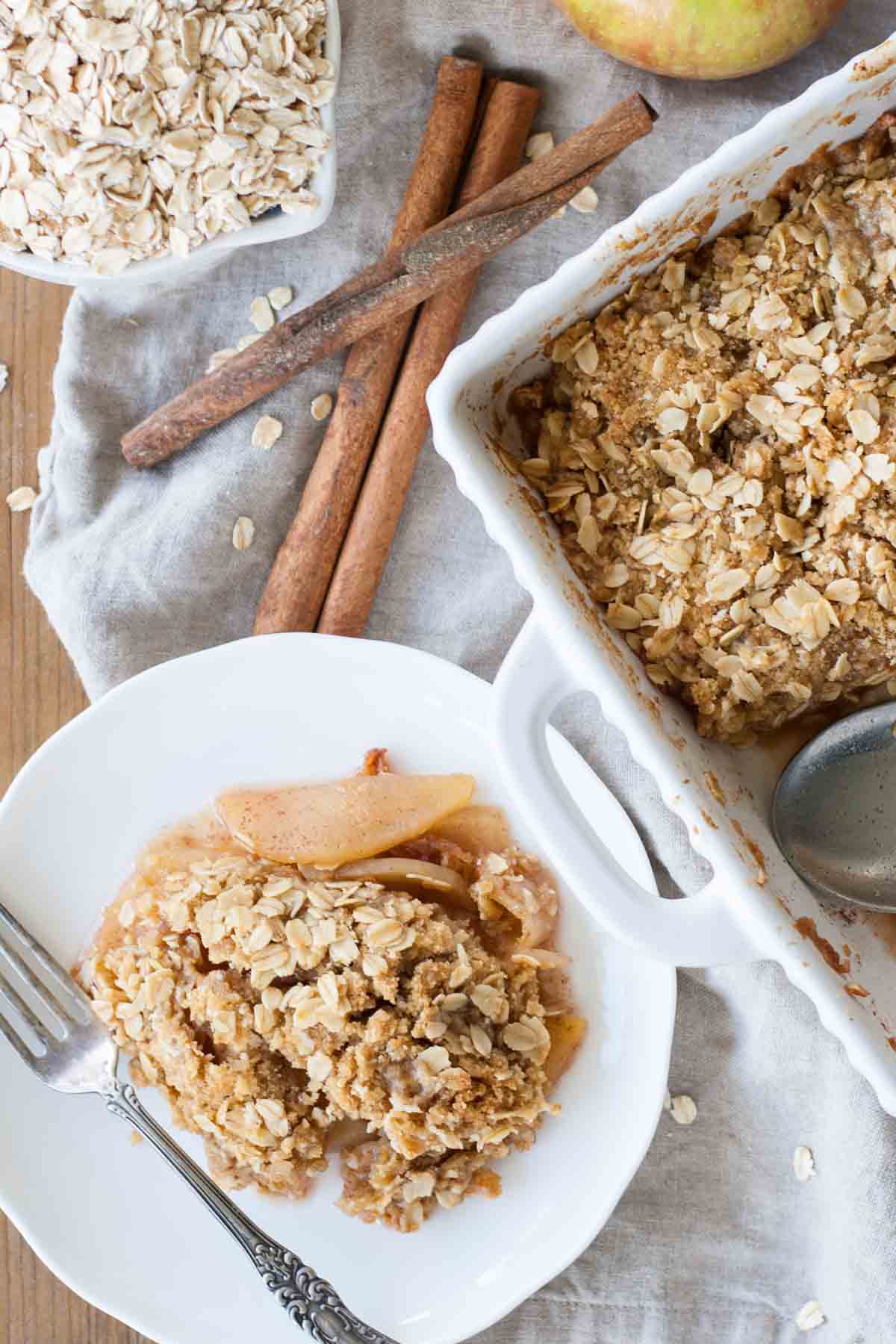 I used 5 apples, but next time I would use more, since they shrank a LOT once cooked and even more when cooling. I didn't remember that part. The dish was FULL when I put it into the oven, and you can see what it looked like afterwards. Next time, I'll try 6 or 7 apples.
I used a combination of Granny Smith and Honey Crisp apples, but you can use any good baking apples. As a side note, this is the first time I've tried Honey Crisp apples and OMG they are good! They may just be my favorite ever.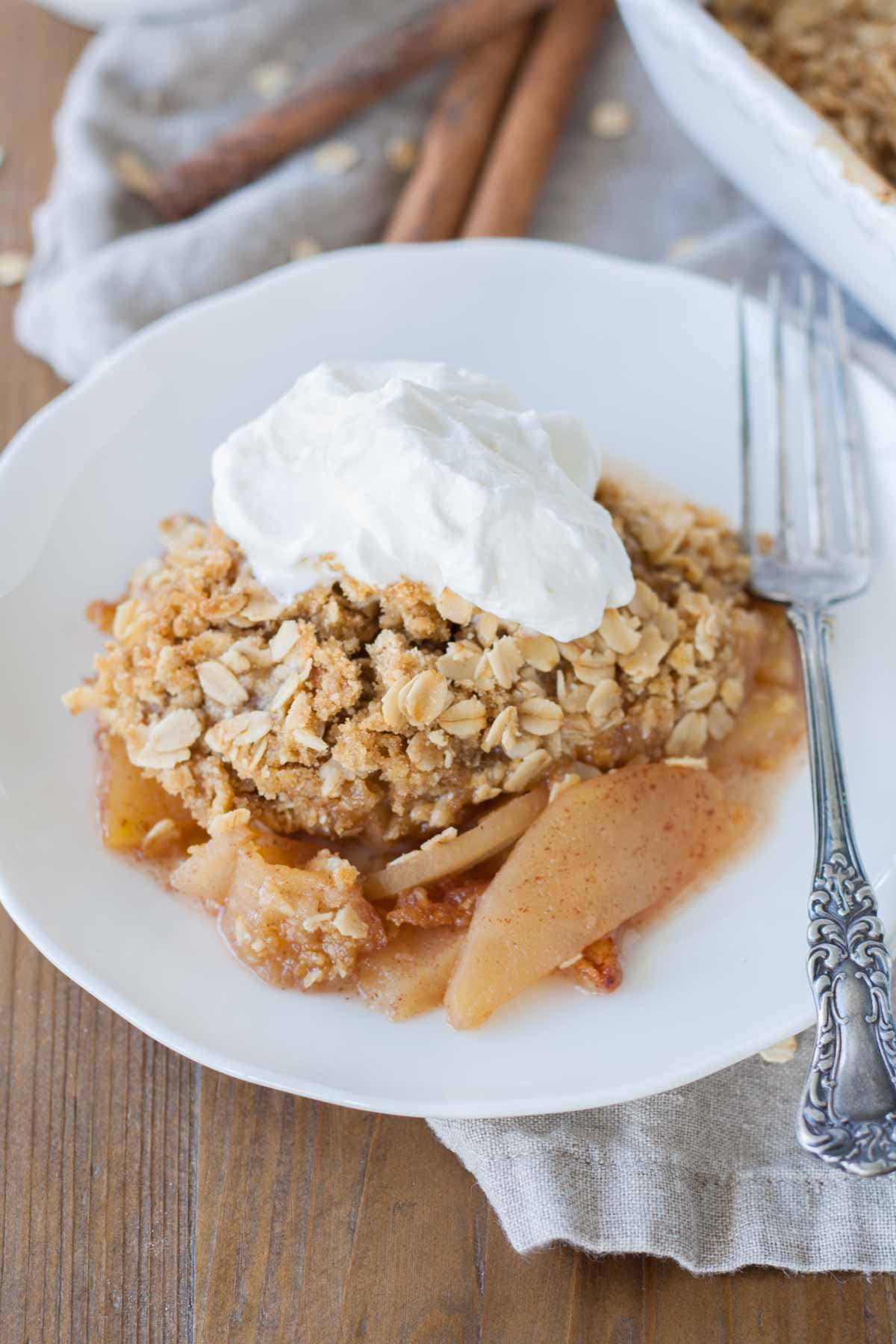 I finished off the apple crisp with some homemade whipped cream, which is incredibly easy to make! I poured a small carton of heavy cream (approx 240ml) into my KitchenAid with the whisk attachment, and whipped it up with about 3 tsps of sugar. If you do make your own, be careful not to overwhip, or you'll end up with butter. Also, for best whipping, make sure everything is chilled — cream, bowl, whisk, etc.
This apple crisp recipe is the perfect comfort dessert for Fall. Super easy to make, and delicious served warm with some whipped cream or ice cream.
Apple Crisp
Delicious cinnamon spiced apples baked with a yummy oat crumble topping make the perfect, easy Apple Crisp.
Instructions
Preheat oven to 350F and grease an 8″ square baking dish.

Combine sliced apples with lemon juice, sugar, and cinnamon. Spread evenly in bottom of dish and dot with 1 Tbsp butter.

In a medium bowl, combine flour, brown sugar, and oats. Cut in butter until the mixture resembles coarse meal.***

Sprinkle mixture evenly over apples. Bake for 35-40mins until apples are tender.

Serve warm or cold with whipped cream or ice cream as desired.
Notes
* I used a mixture of Granny Smith and Honey Crisp.
** 1/2 cup makes this recipe pretty sweet, so reduce to 1/4 cup if you'd like to tone it down.
*** I use a pastry blender for this, but you could use 2 butter knives or even your hands to beak up the butter.
Calories:
245
kcal
Carbohydrates:
40
g
Protein:
1
g
Fat:
9
g
Saturated Fat:
5
g
Cholesterol:
24
mg
Sodium:
6
mg
Potassium:
142
mg
Fiber:
2
g
Sugar:
27
g
Vitamin A:
330
IU
Vitamin C:
5
mg
Calcium:
23
mg
Iron:
0.8
mg
The nutritional information and metric conversions are calculated automatically. I cannot guarantee the accuracy of this data. If this is important to you, please verify with your favorite nutrition calculator and/or metric conversion tool.