Apple Pie Cake! Layers of spice cake, vanilla buttercream, apple pie filling, and even flakey pie crust.
It's moving week!! I am SO excited. We've been in packing hell for weeks, surrounded by boxes, and I just can't wait to be moved into the new place now. I'm going to miss the area that we're currently in, a lot, but I think the new place will be better for us both space and lifestyle wise. I really wish the moving timeline was so cramped. We literally get the keys at noon on the day we move. Would have been nice to get in there a bit early to clean, etc. So it should be an interesting (read: exhausting) few days once we move. I will keep you posted on developments, but in the meantime, let's talk about this Apple Pie Cake because it's freakin' fabulous. Right??
I don't usually toot my own horn about the things I make, but I am so happy with how it turned out! Which is a very rare thing. The lattice on the bottom was a bit of a pain in the butt to make (and it nearly did me in), but it was totally worth it.
My first attempt at the lattice was an epic failure that ended up all over my kitchen floor. It was the prettiest lattice of the bunch too! SIGH. I had rigged up this contraption to bake the lattice. You can read about the details more in my post on The Cake Blog.
Basically, I was worried about the lattice sticking to the cake ring I was baking it on, so I placed some parchment between it and the lattice. Well, parchment is slippery (go figure) and as I took my perfectly baked beautiful lattice out of the oven, the parchment slid off the cake ring and my lattice slid off onto my kitchen floor.
Many expletives were tossed around, as well as second guessing if I should even bother with it at all. I could have just used the flower and leaf cut outs and made just as pretty a cake, but I already had a vision for what I wanted it to look like and that vision included lattice. Dammit. The lazy baker in me had a major struggle here, but I persevered.
The other issue I had that the lattice sections I was baking were too long (9-10") and therefore too heavy and would break as they baked. Having them at 6" seemed to be the best length. This was not ideal since I would have more seams between the lattice than I wanted, but oh well!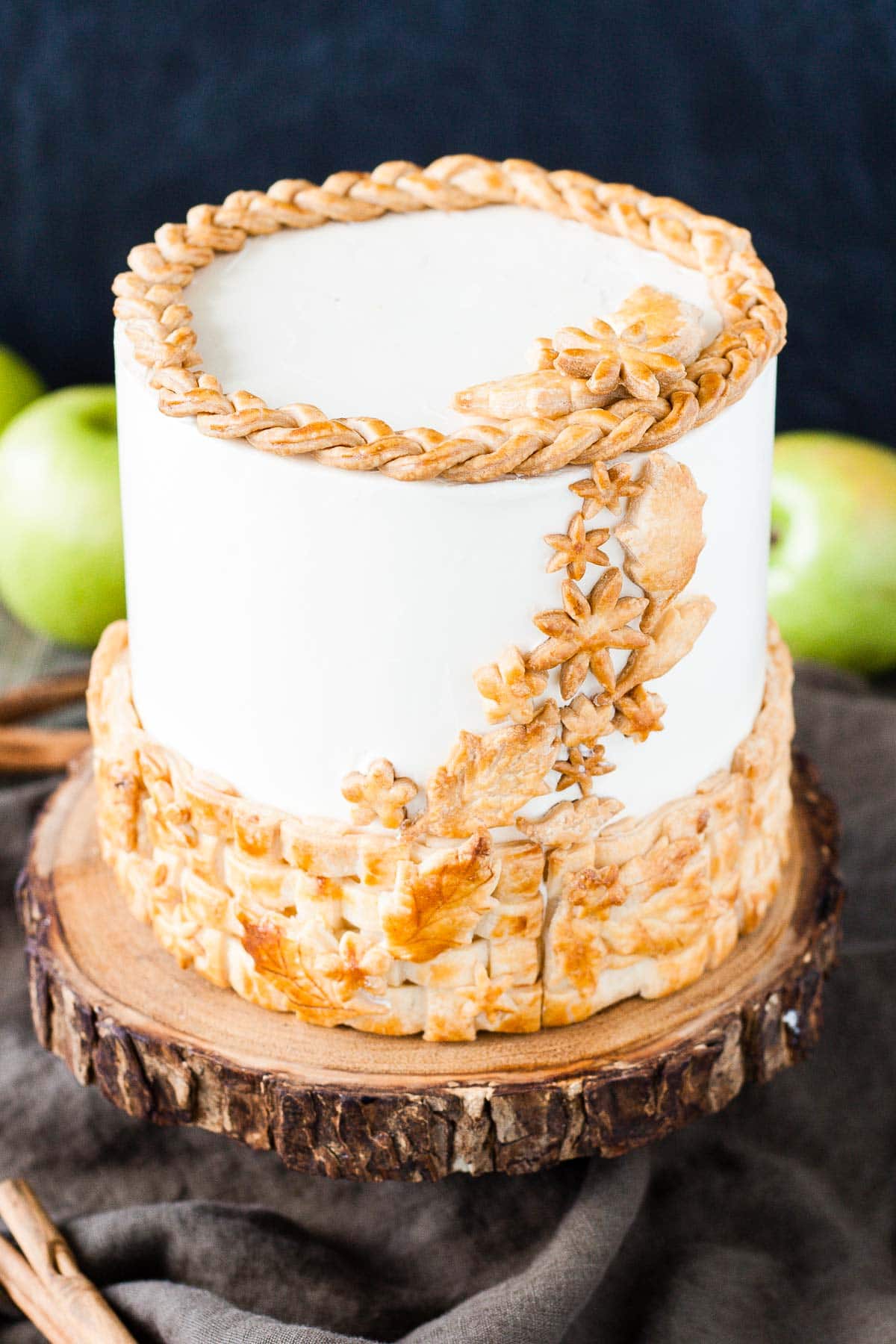 Many attempts and many, many, many broken pieces of lattice later (about 2 pie crusts worth), I finally had enough to go around the cake. Yay! Sticking it onto the cake without it breaking was going to be another challenge, but at least I had some seemingly good components. I had a couple of pieces break a bit as I was applying them, but they were in the back and easy enough to piece together.
Overall this Apple Pie Cake was a huge success, both in style and flavor. It tastes JUST like an apple pie! The pie crust pieces on the inside are a prefect addition. Head on over to The Cake Blog. for the details and the recipe!