This Classic White Cake recipe pairs fluffy vanilla cake layers with a silky white Swiss meringue buttercream.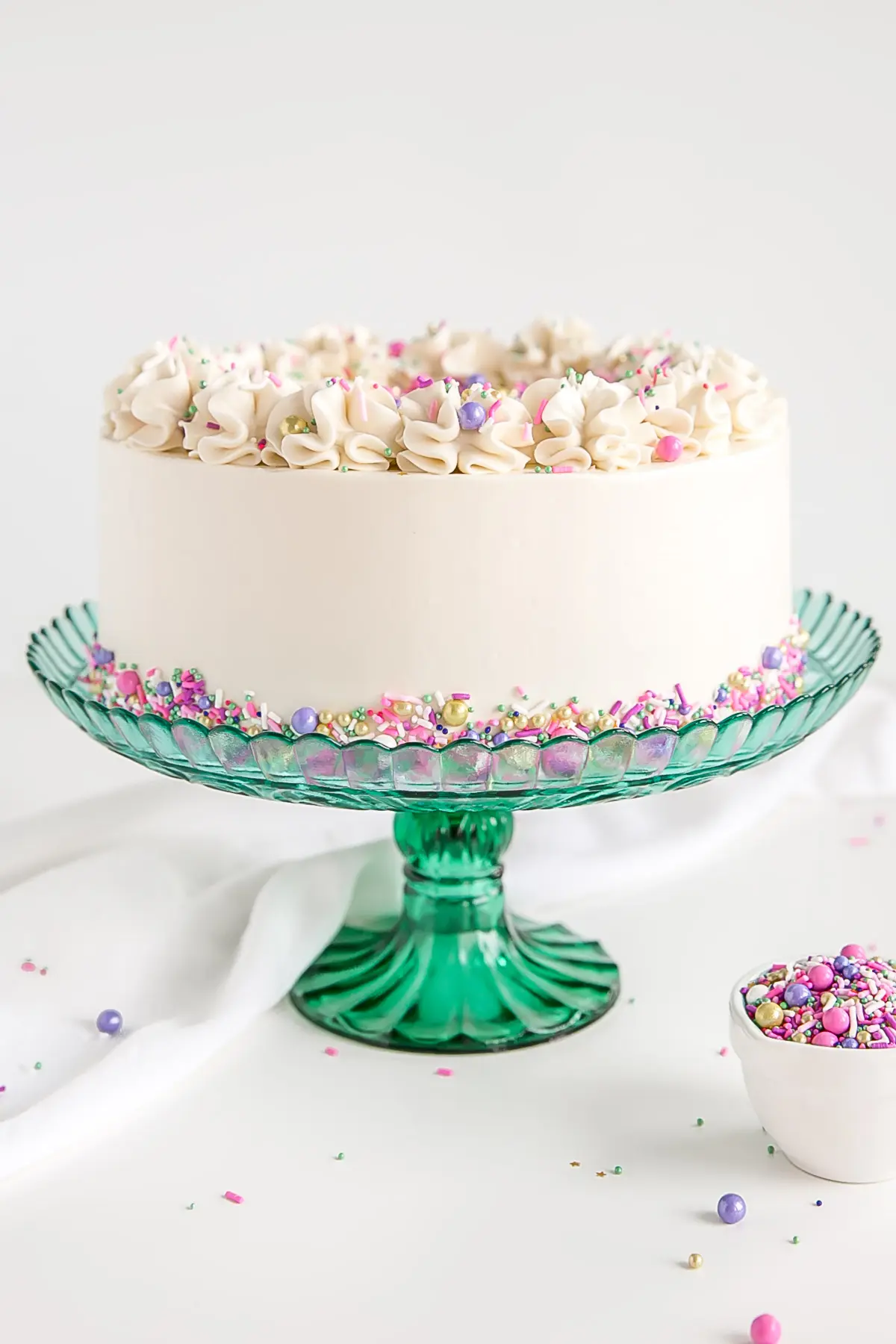 In my previous post, I shared a tip on how to make buttercream white, and I thought it would be the perfect opportunity to pair it with a classic white cake. I already have a Classic Vanilla Cake recipe for you, which is perfectly pretty and delicious, but yellow inside and out. But there are certain occasions that call for a pure white cake.
White wedding cakes are probably most common, but a white cake base is also best if you're looking to color the cake batter, because you won't have to worry about the yellow tint affecting the colors.
Today, I've modified my Vanilla Cake recipe for you to make this Classic White Cake.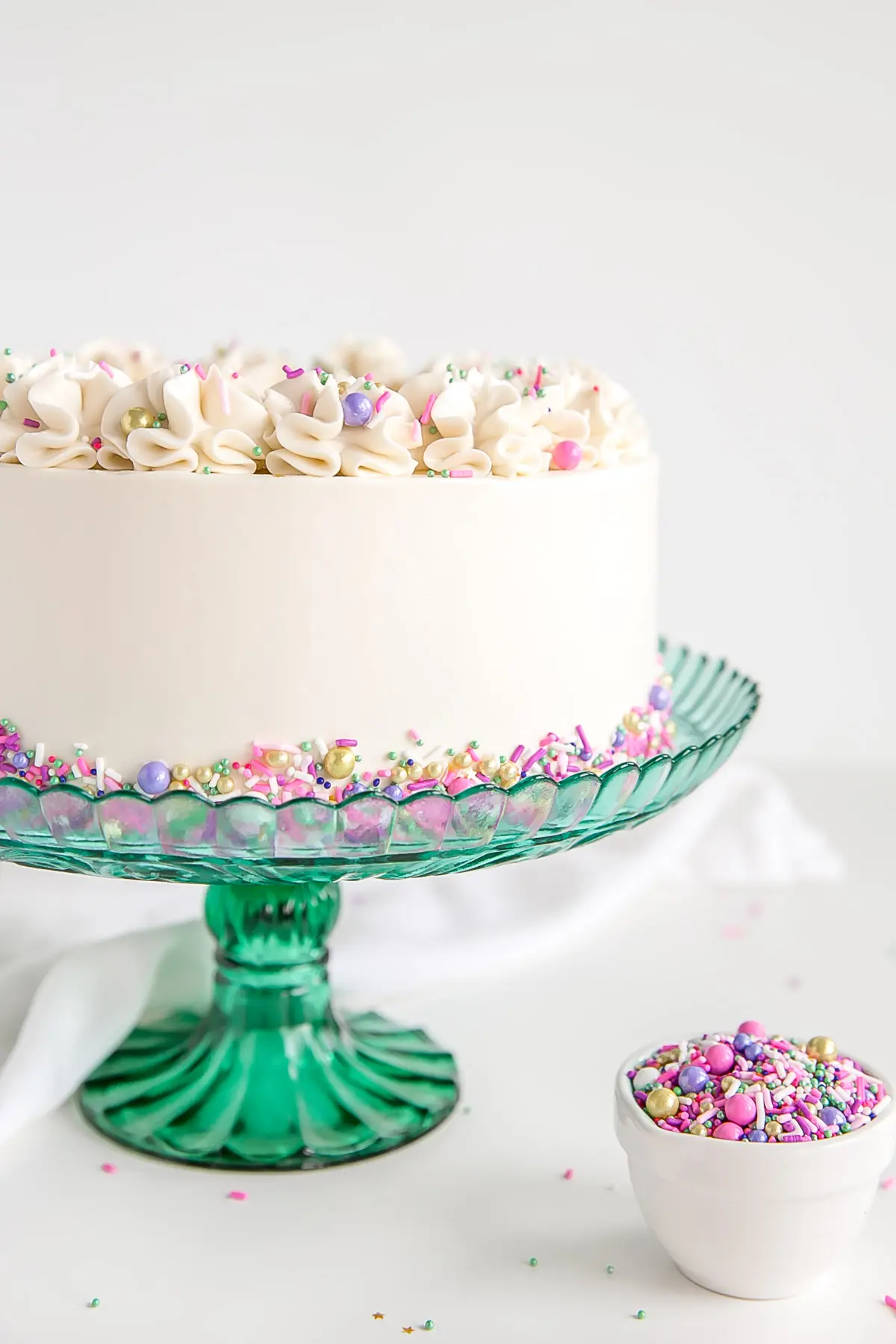 What is the difference between white cake and vanilla cake?
The main difference between a white cake and a vanilla cake is that a white cake uses egg whites rather than whole eggs, as the yolks tint the batter yellow. Using all egg whites tends to have a drying effect on the cake though (the yolks add more fat), so I've added some oil to the recipe to counteract that and to provide a bit more moisture.
You want to make sure to really whip your butter and sugar until it's pale and fluffy, but avoid using a super yellow butter, as that can also affect the color of your cake.
Finally, any flavourings you add (vanilla extract, almond extract, etc.) can tint the cake batter too. I used a clear vanilla extract here to make sure the color of the cake and frosting wasn't affected.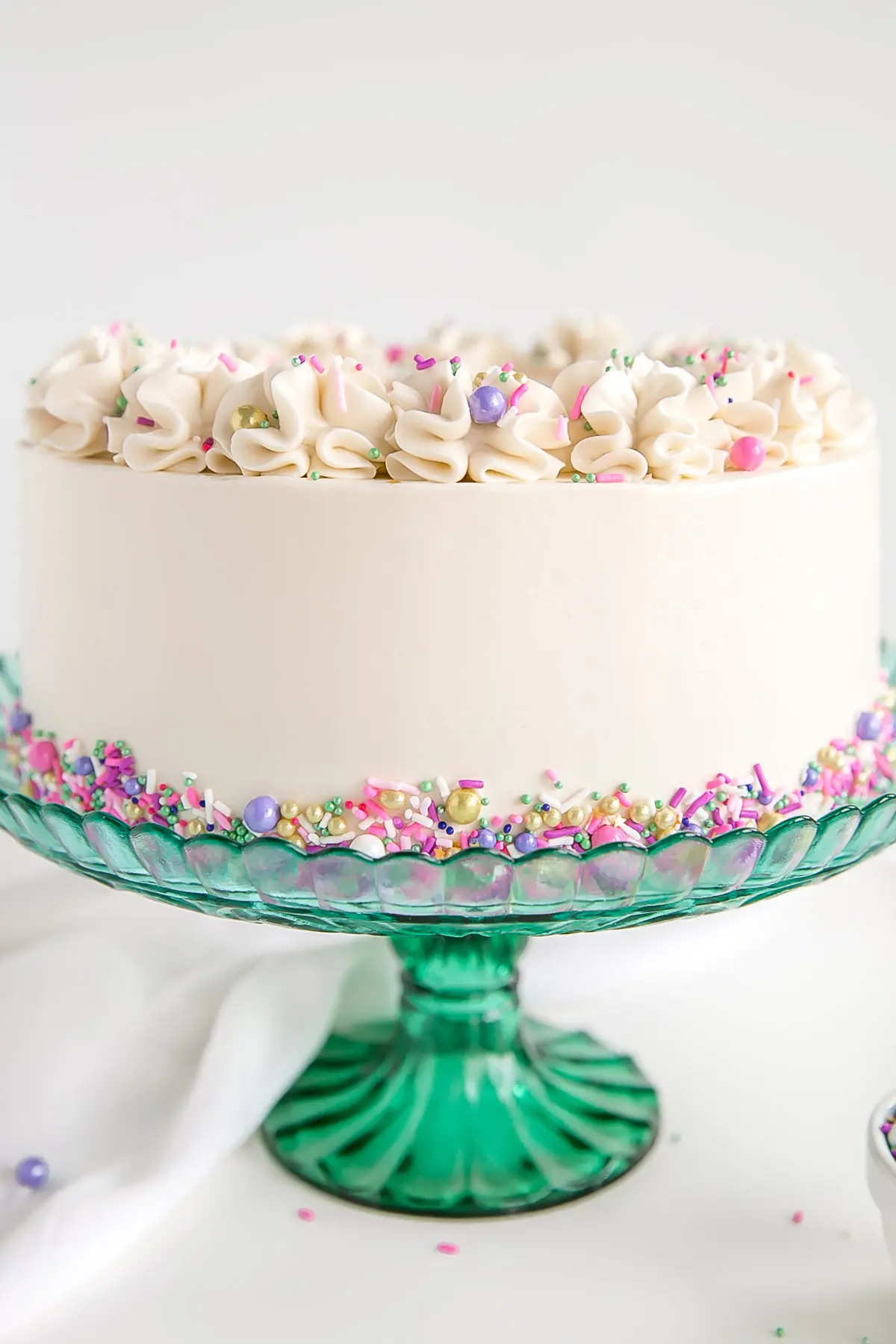 In last week's post I included a tip on how to make your buttercream white by adding some violet color gel. I'll admit that this trick works better with some frostings than others. I think it's easier to get an American buttercream to be pure white than a Swiss meringue buttercream, but then I don't have a ton of experience whitening either kind.
The violet gel trick totally worked here and neutralized a lot of the yellow, but not all of it. I maybe could have added more, but I was worried about the frosting turning grey or blue — experiment at your own risk!
I also added some Americolor Bright White color gel, but it honestly didn't make a difference. One thing I keep meaning to try is whipping the crap out of the butter first, before adding it to the buttercream. In my mind, this should work, and hopefully make for a lighter buttercream, but I've yet to try it. Let me know if you do!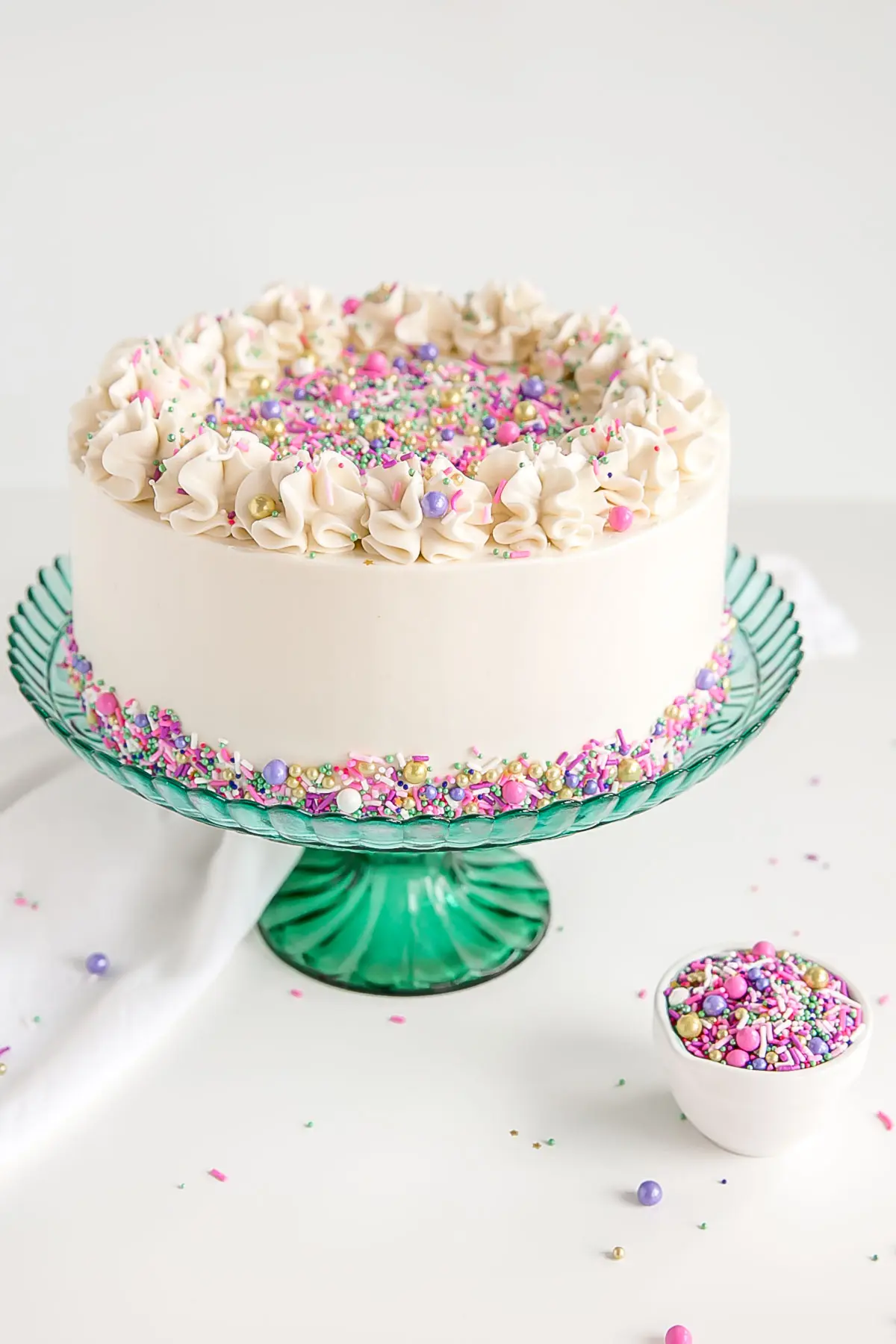 I kept the decorating of this cake simple (I'm a less is more kinda girl). I don't often use sprinkles on my cakes, but I have SO many different bottles of sprinkles in my pantry it's not even funny. I just cannot resist the pretty colors! Especially when I can get them for a deal at Homesense.
Ironically, Ryan bought me the sprinkles I used on this cake for Christmas. None of the ones I had in the pantry would have worked as well or paired as well with this pretty cake stand (which is also coincidentally from Homesense). Actually, the props are too. Seriously people, Homesense is where it's at.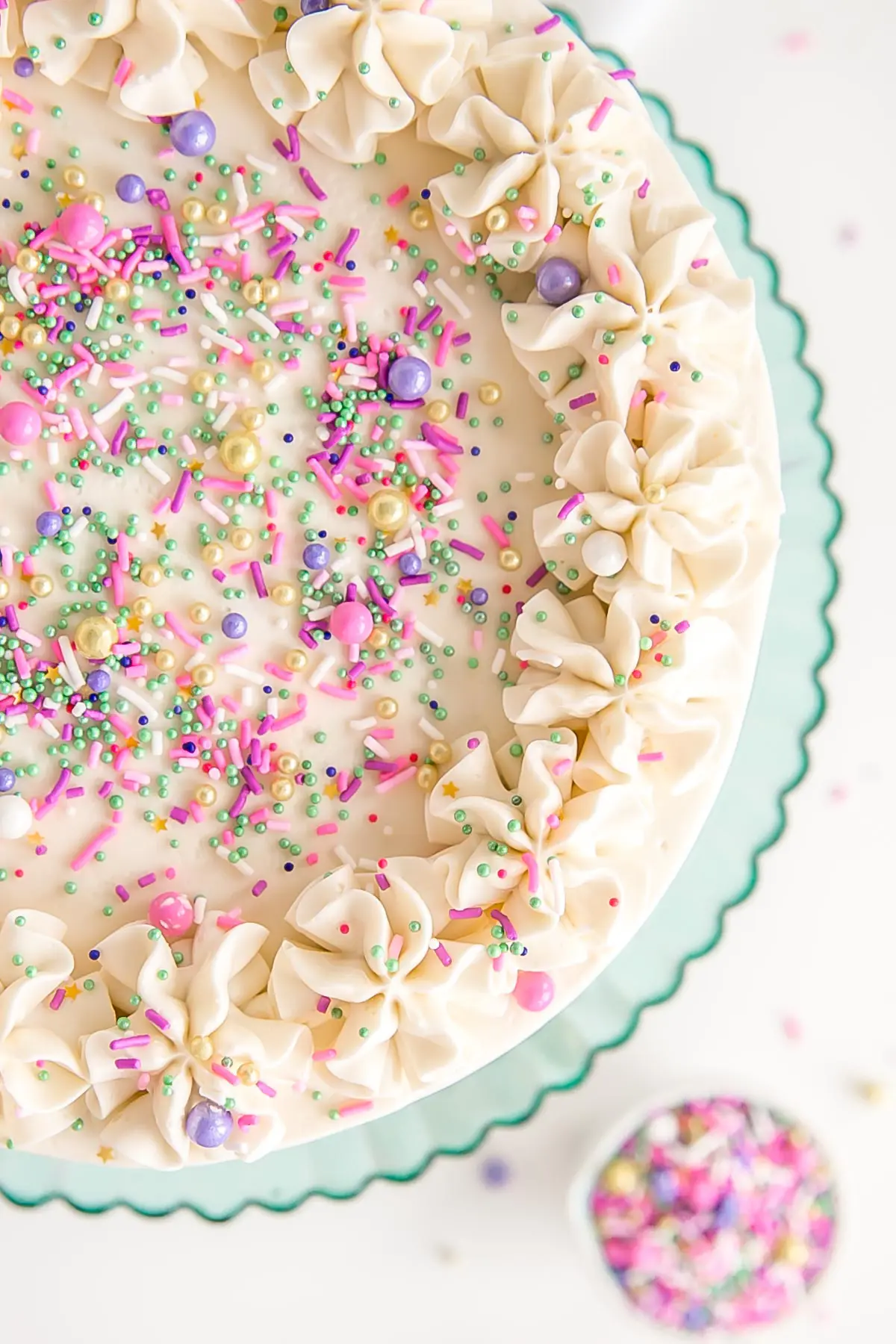 I used the All Dolled Up sprinkle mix from Sweetapolita, but took out all the large sprinkles and instead added some mini green pearls (GUESS where I got them??) to add more green color. I may have added a bit too many of the mini greens, but oh well!
This classic white cake is simple and delicious. The clear vanilla extract gives it a more candy-like birthday cake flavour, which I love. The cake is incredibly moist and tender, and the buttercream is a perfect silky pairing.
Looking for more Classic Cake Recipes?
Tips for making this Classic White Cake Recipe
The cake recipe as-is will work for three 6″ pans. You may need to adjust the baking time slightly.
This recipe will make about 18 cupcakes. All you need to do is reduce the baking time (approx. 15mins)
I used a mixture of Sweetapolita's All Dolled Up sprinkles and some mini green pearls.
I used a 1M tip to pipe the frosting dollops on top.
Be sure to check my Swiss Meringue Buttercream post for tips and troubleshooting, especially for how to make the frosting white!
To help ensure your cake layers bake up nice and flat, check out my Flat Top Cakes post!
Classic White Cake
This Classic White Cake recipe pairs fluffy vanilla cake layers with a silky white Swiss meringue buttercream.
Ingredients
White Swiss Meringue Buttercream:
Instructions
White Cake:
Preheat oven to 325F. Grease and flour two 8" cake rounds and line with parchment.

In a medium bowl, whisk flour, baking powder, and salt until well combined. Set aside.

Using a stand mixer fitted with a paddle attachment, beat butter until smooth and pale. Add sugar and oil and beat on med-high until pale and fluffy (approx 3mins). Reduce speed and add egg whites one at a time fully incorporating after each addition. Add clear vanilla.

Alternate adding flour mixture and milk, beginning and ending with flour (3 additions of flour and 2 of milk). Fully incorporating after each addition.

Bake for approx. 35mins or until a toothpick inserted into the center comes out mostly clean.

Place cakes on wire rack to cool for 10mins then turn out onto wire rack.
White Buttercream:
Place egg whites and sugar into the bowl of a stand mixer, whisk until combined.*

Place bowl over a pot with 1-2" of simmering water and whisk constantly until the mixture is hot and no longer grainy to the touch or reads 160F on a candy thermometer (approx. 3mins)

Place bowl on your stand mixer and whisk on med-high until the meringue is stiff and cooled (the bowl is no longer warm to the touch (approx. 5-10mins)).

Switch to paddle attachment. Slowly add cubed butter and mix until smooth.**

Add clear vanilla and whip until smooth.
Assembly:
Place one layer of cake on a cake stand or serving plate. Top with approximately 1 cup of buttercream. Repeat with remaining layer and crumb coat the cake. Chill for 20mins.

Frost the top and sides of the cake and smooth with a bench scraper.

Pipe rosette dollops using a 1M tip with remainder of frosting.


Chill cake until frosting is firm. Gently press sprinkles gently along the bottom of the cake and sprinkle along the top.
Notes
* Wipe your mixer bowl and whisk down with lemon juice or vinegar to make sure it is completely grease free and make sure there is no trace of yolk in your whites or your meringue will not stiffen.
** The buttercream may look like it's curdled at some point. Keep mixing until it is completely smooth. If it looks soupy, place it in the fridge for 20mins and rewhip.
Calories:
720
kcal
Carbohydrates:
78
g
Protein:
6
g
Fat:
43
g
Saturated Fat:
28
g
Cholesterol:
103
mg
Sodium:
206
mg
Potassium:
200
mg
Sugar:
59
g
Vitamin A:
1215
IU
Calcium:
80
mg
Iron:
1.2
mg
The nutritional information and metric conversions are calculated automatically. I cannot guarantee the accuracy of this data. If this important to you, please verify with your favourite nutrition calculator and/or metric conversion tool.