Spiced carrot cake layers infused with maple syrup and topped with maple caramel & cream cheese frosting.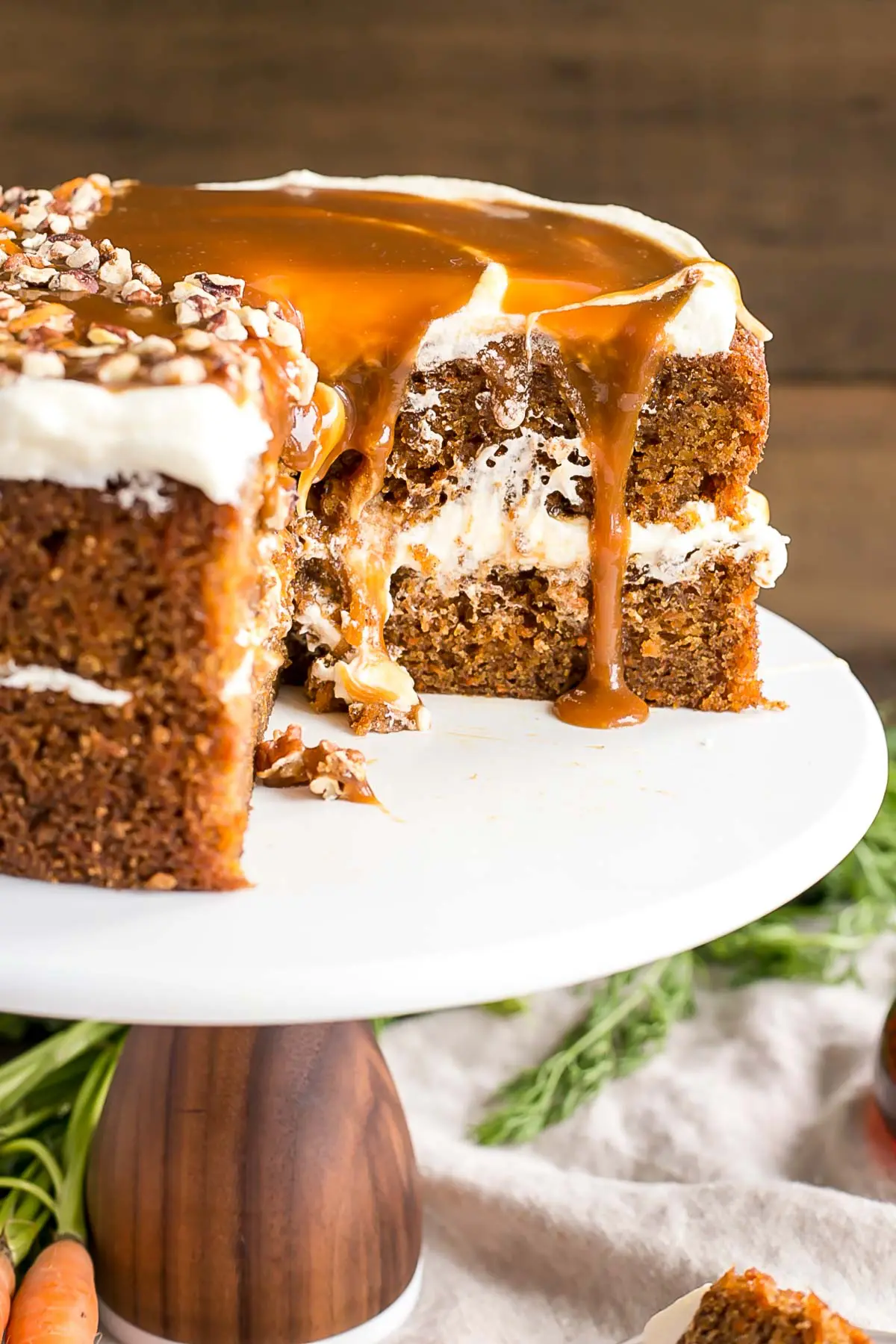 This post has been sponsored by Fat Daddio's. Thank you for supporting the brands I love – they help make Liv for Cake possible! All opinions expressed here are my own.
We're halfway through August now, which means were that much closer to Fall (my fave season), and I really could not be happier. We're still in summer mode, so I'm not going to bust out the pumpkin recipes just yet. But I thought it would be a great time to do a seasonal transition cake of sorts, using those fresh carrots from your garden or local farmers market and pairing them with the comforting Fall flavours of maple to make this delicious Maple Caramel Carrot Cake.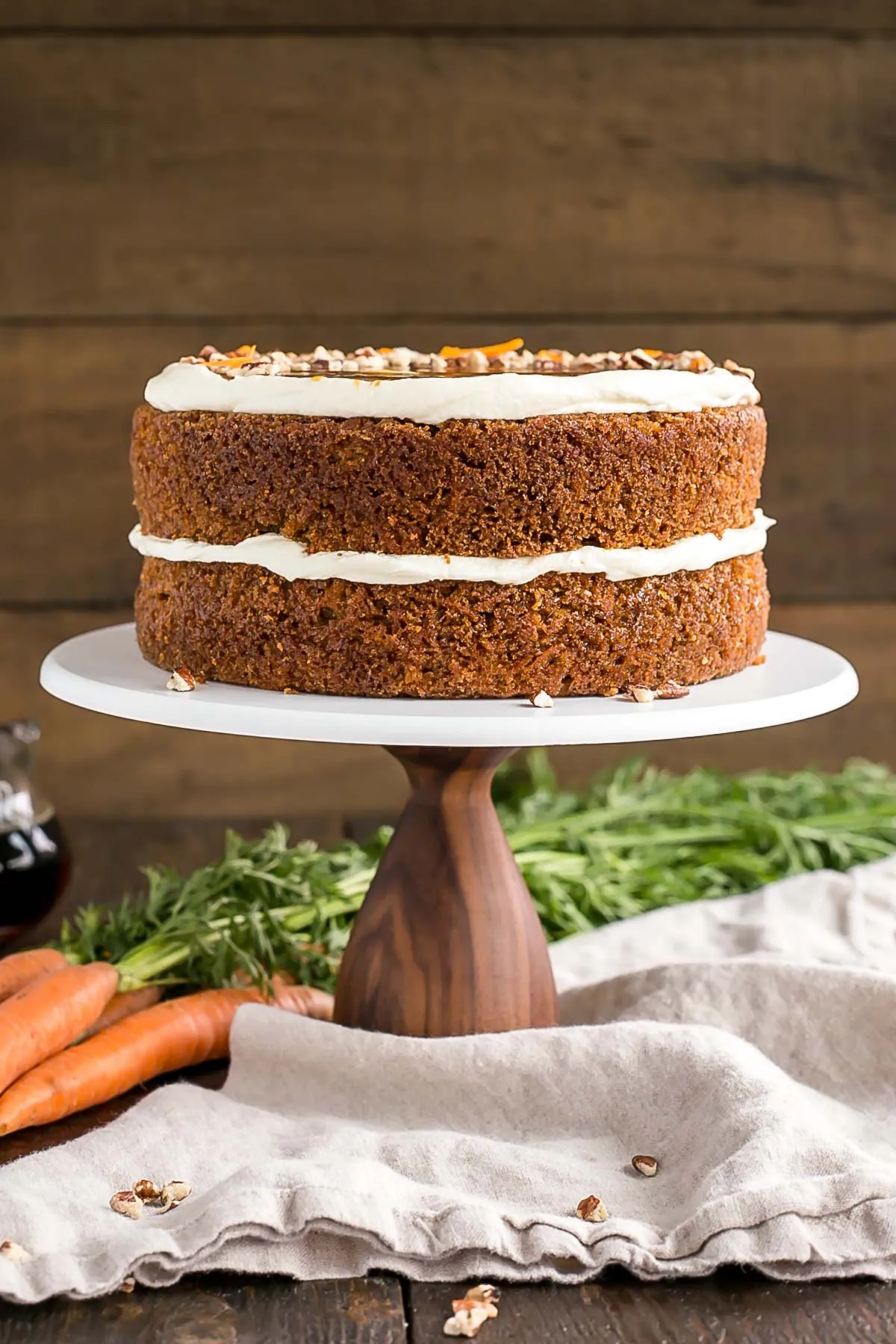 I am thrilled to be partnering with Fat Daddio's again for this recipe! If you've been following Liv for Cake for some time now, you know that I almost exclusively use Fat Daddio's products when it comes to my baking. Fat Daddio's is a family owned company from the Pacific Northwest that has been providing bakeware to commercial bakeries and professional chefs for over 40 years.
They will always be my go-to brand when it comes to cake pans. They are the best. The BEST! The pans are more heavy duty than the ones you'll find in your local craft shop, and their anodized bakeware heats up faster and cools quicker, so your cakes bake up more evenly. Fat Daddio's is truly a brand you can rely on to provide the very best products.
Fat Daddio's doesn't sell directly to the public, but you can easily find their products online on Amazon or Golda's Kitchen. If you happen to live in Vancouver, my favourite place to get them is at the Gourmet Warehouse.
Last time, I used their 6″ cake pans to make a Chocolate Dulce de Leche Cake. Today, I'm going with another drippy, gooey caramel theme, and using their 8″ cake pans  to make this Maple Caramel Carrot Cake.
The 8″ cake pans I used here worked beautifully. The cake, however, did not co-operate. At least not on first attempt(s). I had so many challenges with this cake that at one point I considered the possibility that the universe didn't want me to make this recipe. There are too many carrot cake recipes out there already (it said), why does the world need another one?! Nevertheless, I'm glad I persevered, because this Maple Caramel Carrot Cake is truly like no other.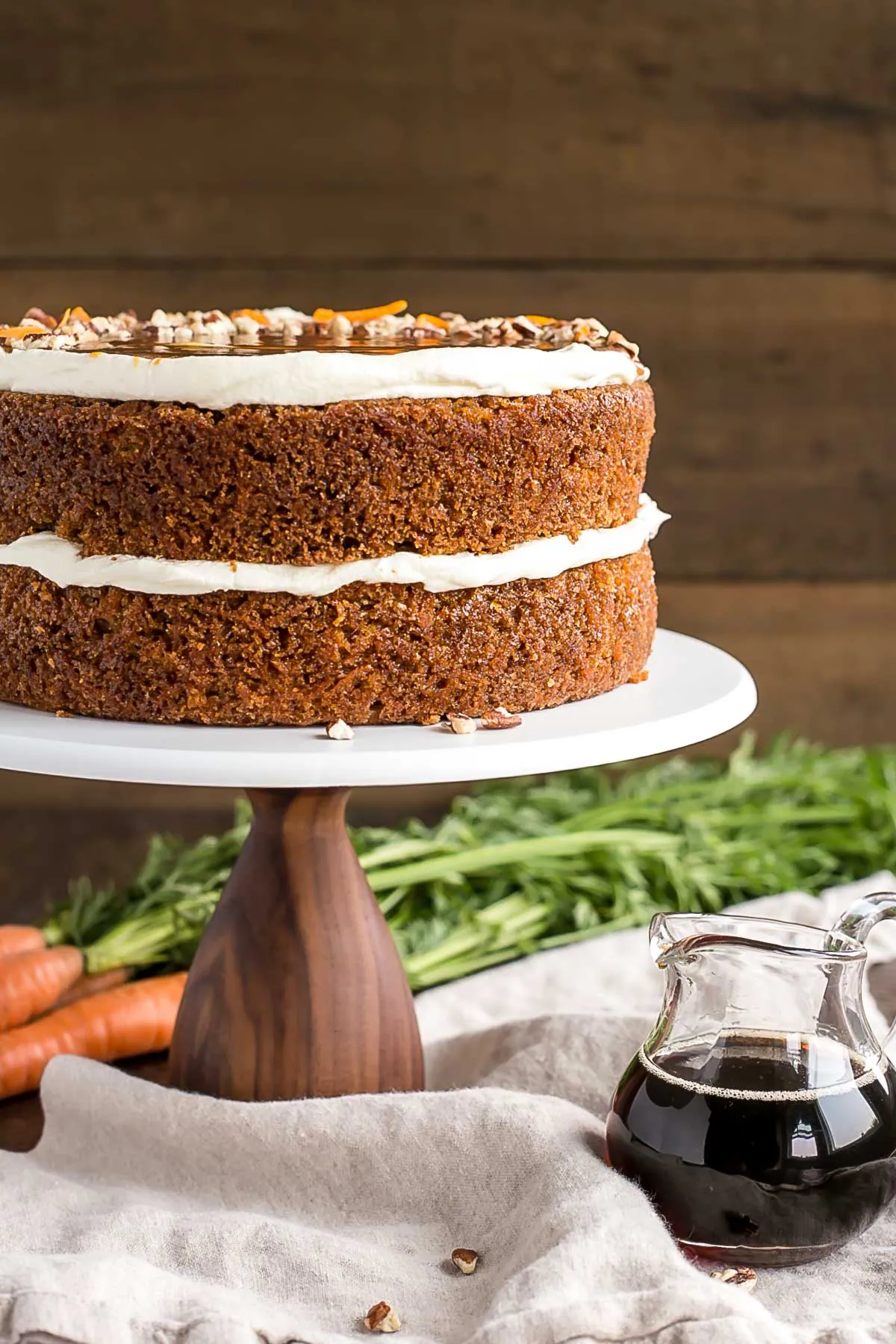 Little known fact (at least to me): purple carrots turn dark green when baked in a cake. True story. My original vision for this cake involved the pretty rainbow carrots that you can see all around farmers market stalls this time of year. I LOVE them. I thought they would be so pretty in a cake — the contrasts of the orange, yellow, and purple… SO pretty right? Right. Much to my dismay when the cake layers came out of the oven, I knew my perfect rainbow vision was not going to happen.
My research into why this happens led me a bit astray. Everything I found talked about regular orange carrots turing green, and the culprit was baking soda. The orange carrots in my cake were fine though — it was the purple ones that were the issue. I suspect it was probably still the acid in the baking soda, though. I know it can turn blueberries green too (eww, right?).
At any rate, cake #1 was scrapped due to dark green worm-like specks through the layers (not pretty). It actually would have been scrapped anyway though, because the layers didn't bake up as tall or pretty as I wanted, so I needed to tweak the recipe. Just as well, but I was sad to give up my dream of the rainbow carrots!
The next issue was with the maple caramel. I don't know why, but I always have issues with caramel. It's easy enough to make (or should be), but it always gives me problems. Caramel and I are not BFF's and likely never will be. It's just one of those things. My first attempt seemed like it was going okay, but something was off and I ended up with a thick, crystallized mess. Attempt # 2 was much better.
Assembling the cake was no picnic either. Somehow I was low on powdered sugar. How this could happen still boggles my mind. I am usually so diligent about noting ingredients I am running short on so that I'm never in this situation. I searched and searched for another bag of powdered sugar, but no luck. So my frosting was 1/2 cup short on powdered sugar (recipe adjusted for correct amounts), which meant that the frosting was softer than I wanted it to be. Normally it wouldn't be a huge problem, but assembling a cake with soft frosting and soft caramel in 30+°C (85+°F) temps with no A/C posed a bit of a challenge, to say the least.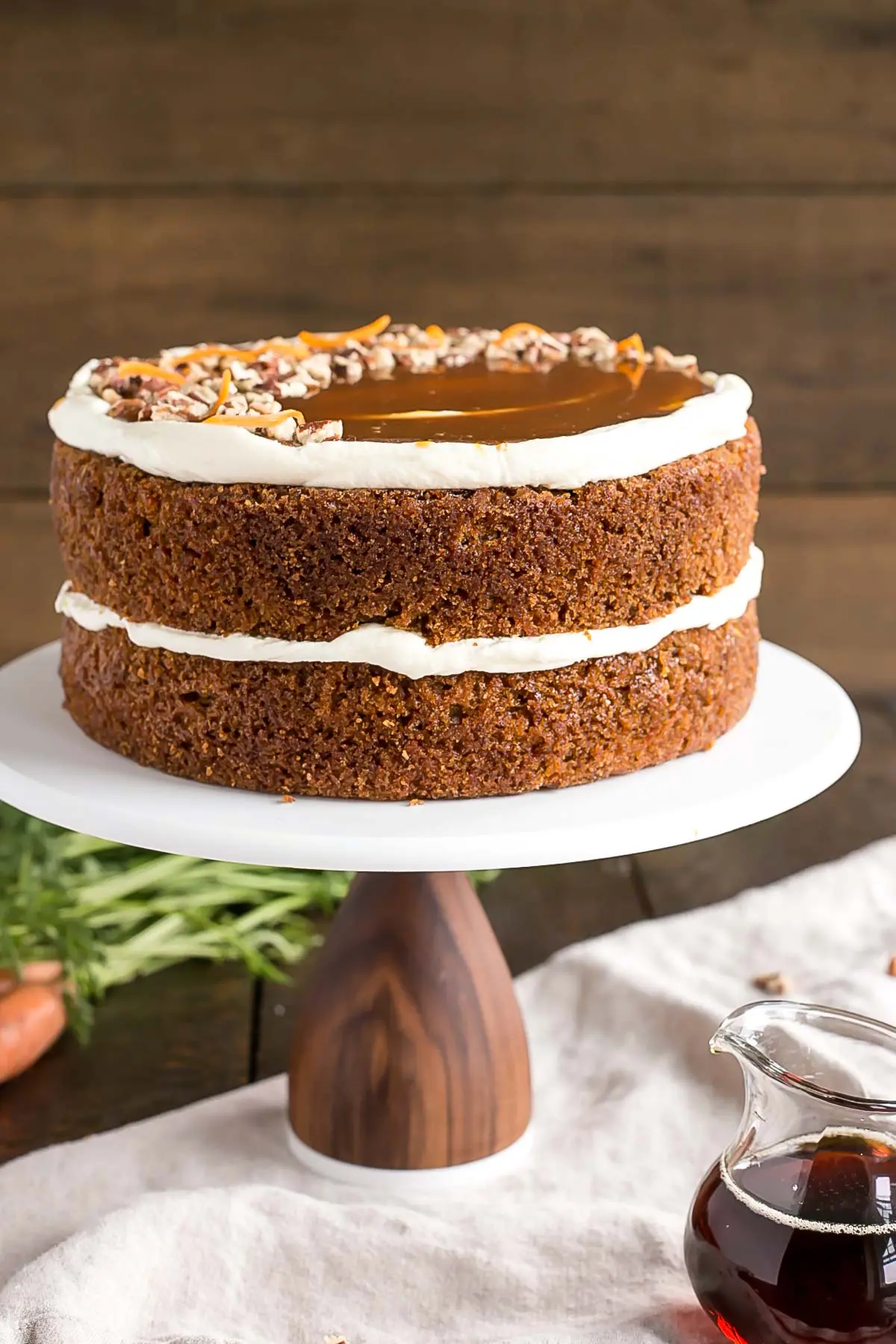 In the end, it all worked out and OMG is this cake good. Maybe my favourite cake ever. EVER! Carrot cake is delicious as it is, but something about the combination of the maple and the caramel with the cream cheese frosting is just pure heaven. It's so good that Ryan won't even let me give any slices away, so they're squirrelled away in our freezer.
If you're looking for something a little different, a twist on something traditional, then this is the cake for you! The cake layers are incredibly moist and the maple caramel has a delicious and unique flavour. It really is my new favourite cake recipe. I hope you like it as much as I do!
Tips for this Maple Caramel Carrot Cake:
You can use store-bought caramel if you'd like to simplify the recipe, but it won't have a maple flavour.
If you refrigerate your caramel, you will need to warm it up a bit before using on the cake. I microwave it in 5 second intervals, stirring in between, until it's pourable (but not warm).
It's best to create a bit of a lip with the frosting so that the caramel doesn't pour out and over the sides.
To help ensure your cake layers bake up nice and flat, see my Flat Top Cakes post.
Maple Caramel Carrot Cake
Spiced carrot cake layers infused with maple syrup and topped with maple caramel & cream cheese frosting.

Ingredients
Instructions
Carrot Cake:
Preheat oven to 350F. Grease and flour two 8" cake rounds, line with parchment.


In a medium bowl, combine flour, baking powder, baking soda, spices, and salt. Set aside.

In the bowl of a stand mixer combine vegetable oil and sugars. Beat until well combined (2 mins). Add eggs one at a time, fully incorporating after each addition. Add vanilla.

Add flour mixture in 3 parts. Add in carrots.

Spread batter evenly into prepared pans and bake for 55mins or until a toothpick inserted into the center comes out mostly clean.



Place cakes on wire rack to cool for 10mins then turn out onto wire rack to cool completely.

Maple Caramel:
Place maple syrup in a medium saucepan and bring to a boil over med-high heat. Do not stir at any point.

Reduce heat to medium and simmer until maple syrup starts to brown even more (the bubbles will be very dark brown) or the temperature reads 240F on a candy thermometer.


Remove from heat and slowly pour in cream while whisking quickly. The mixture will bubble up a lot.

Return to heat, add butter, and continue to cook for 2-3mins while whisking constantly.

Cool completely then transfer to an airtight container and store in the fridge.*
Cream Cheese Frosting:
Beat butter and cream cheese until fluffy (2 mins). Add powdered sugar one cup at a time. Add vanilla and beat until fluffy (3 mins).
Assembly:
Trim cake layers if needed. Place one layer of cake on a cake stand or serving plate. Drizzle with 2 Tbsp pure maple syrup. Top with 1 cup of cream cheese frosting and half of the caramel.**

Repeat with remaining layer and sprinkle chopped pecans on top if desired.
Notes
* If you refrigerate your caramel, you will need to warm it up a bit before using on the cake. I microwave it in 5 second intervals, stirring in between, until it's pourable (but not warm).
** It's best to create a bit of a lip with the frosting so that the caramel doesn't pour out the sides.
Maple Caramel recipe adapted from Ricardo Cusine.
Calories:
619
kcal
Carbohydrates:
98
g
Protein:
5
g
Fat:
23
g
Saturated Fat:
13
g
Cholesterol:
115
mg
Sodium:
262
mg
Potassium:
363
mg
Fiber:
1
g
Sugar:
76
g
Vitamin A:
6055
IU
Vitamin C:
1.9
mg
Calcium:
134
mg
Iron:
1.7
mg
The nutritional information and metric conversions are calculated automatically. I cannot guarantee the accuracy of this data. If this important to you, please verify with your favourite nutrition calculator and/or metric conversion tool.