This Pear & Walnut Cake with Honey Buttercream is incredibly moist and packed with flavor. The perfect way to kick off the Fall season!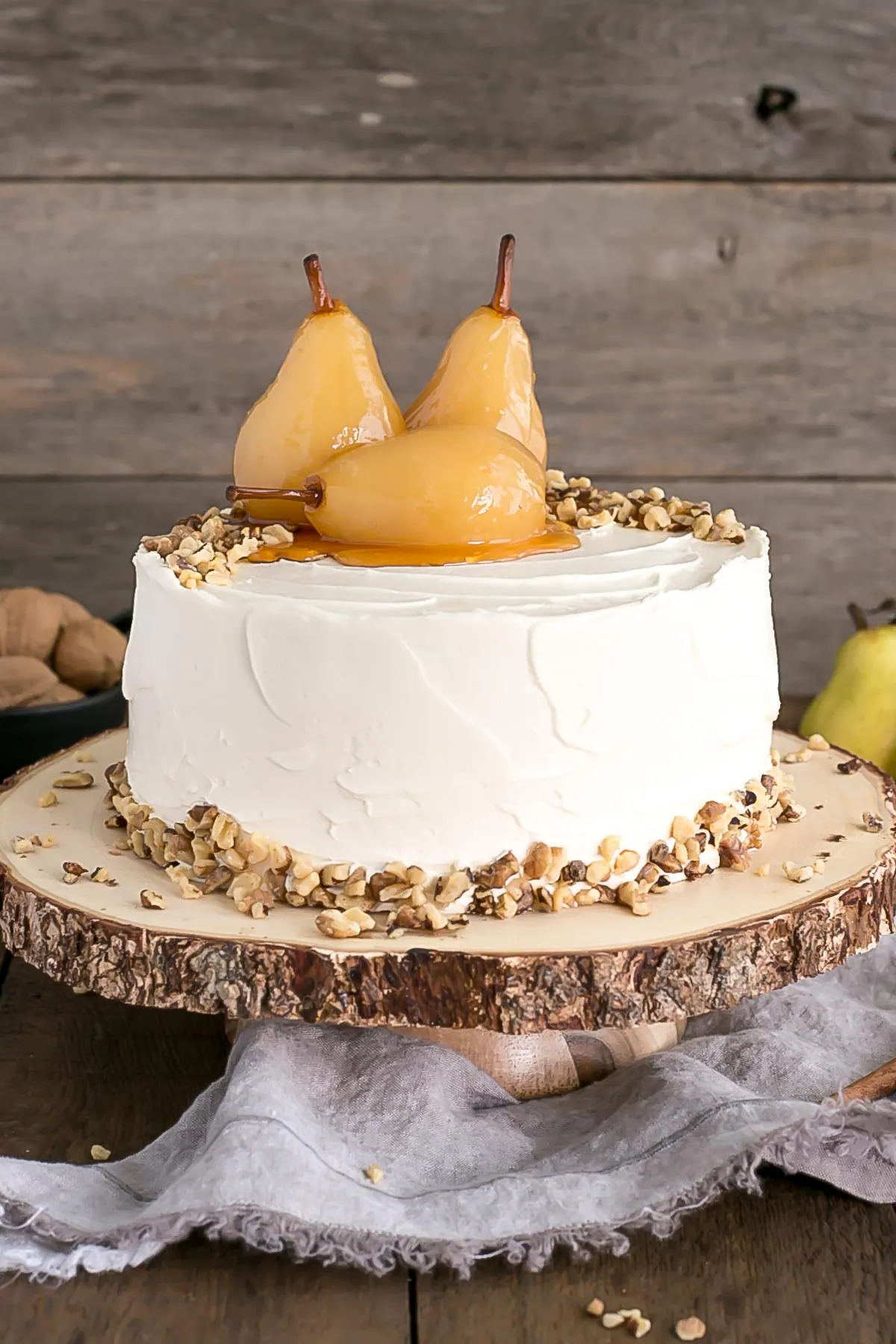 It's September! Are you as excited as I am?? The weather has finally, finally cooled off a bit, and I am itching to get back into jeans and sweaters. Update: I wrote this last week. We are now expecting a massive heatwave for the next 7+ days. Temps into the 30's C! So much for jeans and sweaters, lol.
I'm kicking off my favorite season with a fruit I rarely eat, never mind bake with. Truthfully, I don't eat a lot of any fruit, but I can probably count on one hand how many times I've bought pears in the past 5 years.
I can't explain why exactly, just that I tend to gravitate towards apples when it comes to my limited fruit consumption. I already have an Apple Pie Cake, so it was time to try something new with this Pear Cake!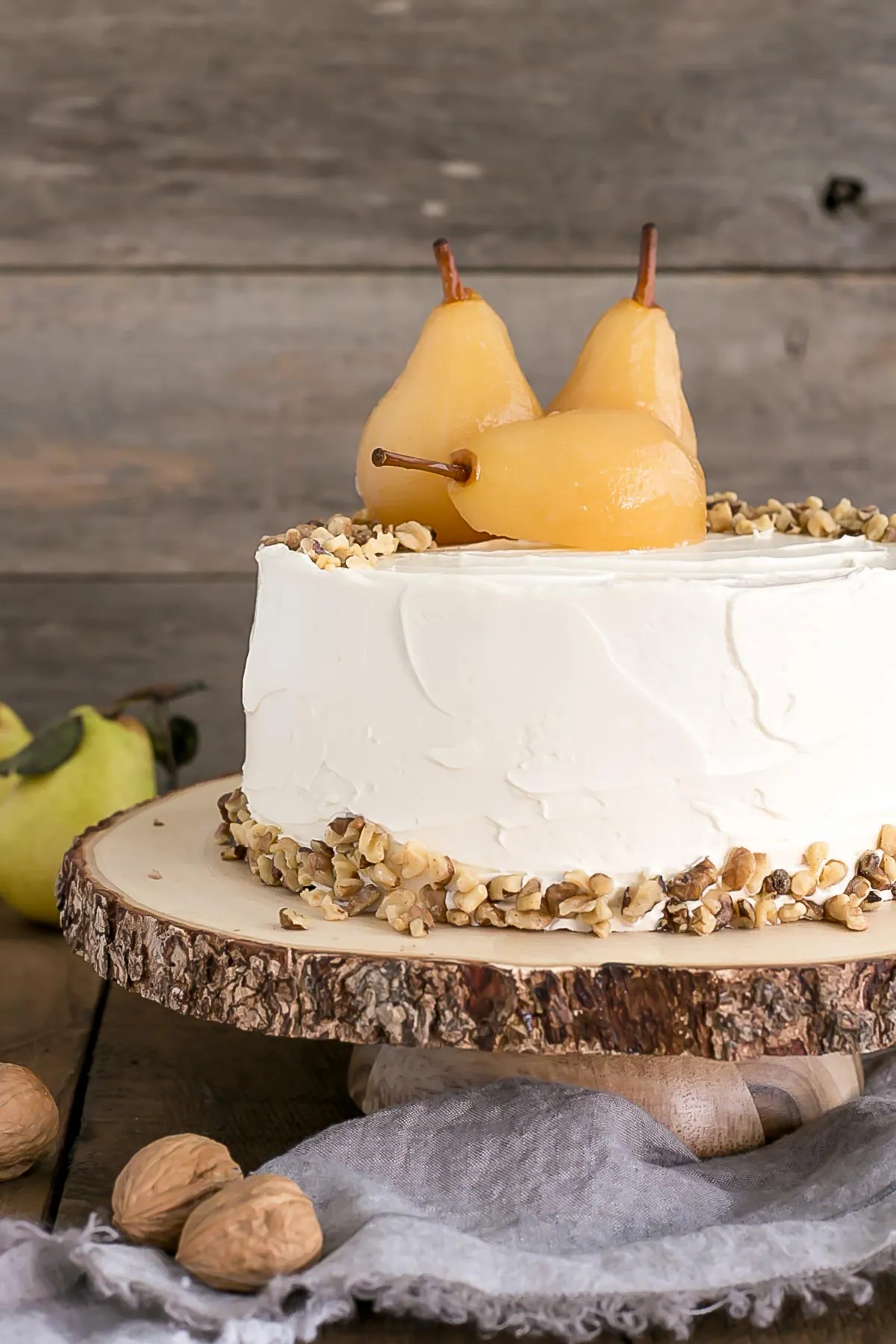 How to Make this Pear Cake
This cake is a standard creaming method butter-based cake. As with most of my recipes, I used my Vanilla Cake as a base for this and added/modified ingredients as I was testing it out.
There are freshly grated pears in the cake which add a ton of moisture, and some toasted walnuts for additional flavor and some crunch. I find grated pears worked best for the flavor and texture I was going for.
I paired it with a honey buttercream for something a bit unique, but you could leave the honey out if you like and have a simple (but delicious) vanilla buttercream.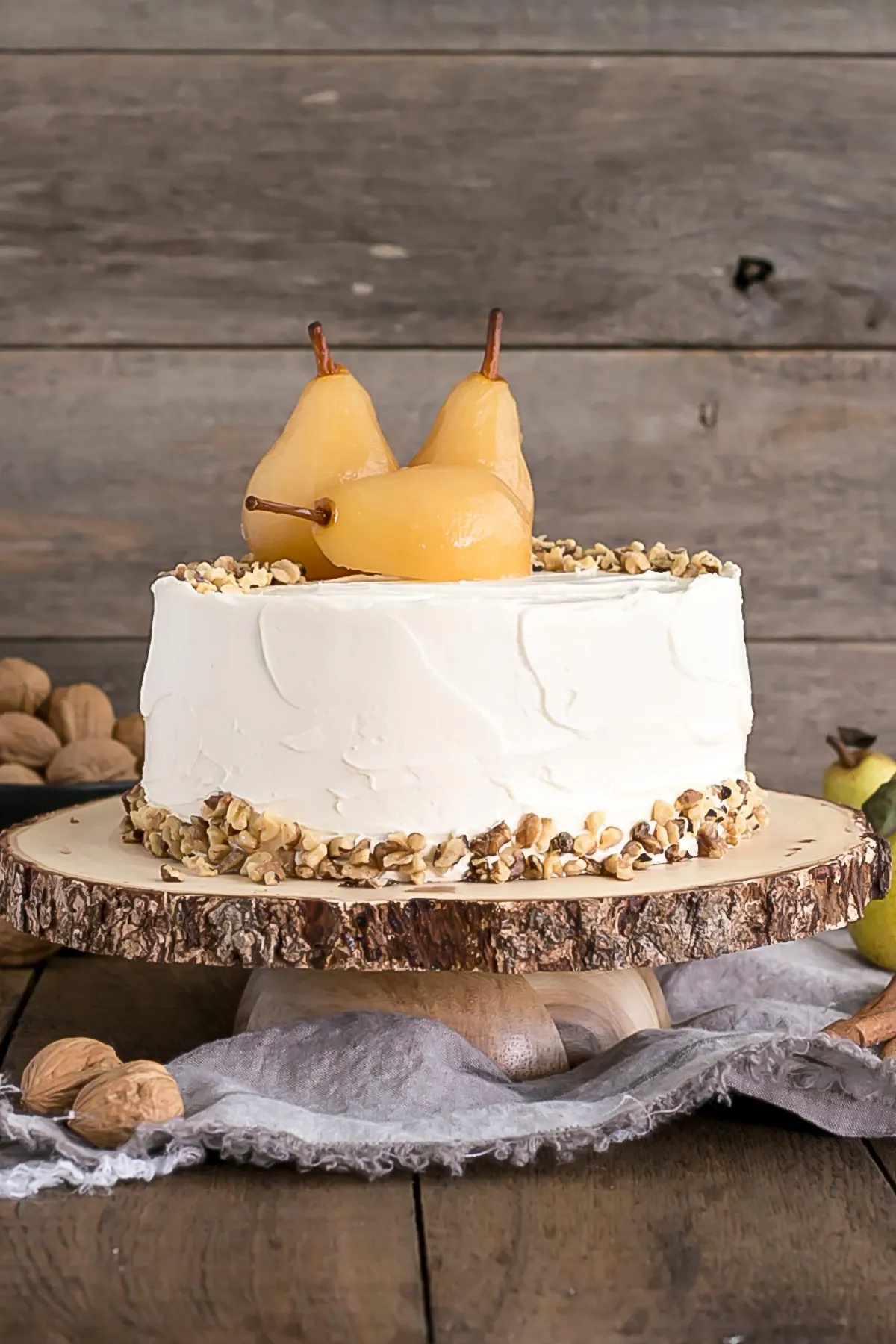 Poached Pears
The poached pears are totally optional for this, as I just used them as decoration. They're easy enough to make though, if you're feeling up for it!
I had to do mine twice, because the first pears I used were too soft and/or I cooked them for too long, so they were a bit mushy when I took them out of the liquid. The second batch went much better. I used the poached pear recipe from Epicurious with some modifications.
If you decide to do the poached pears for the top, do them the day before so they can rest in the liquid in the fridge. I'd also bake the cake layers the day before, because I like to spread out my cake-making time!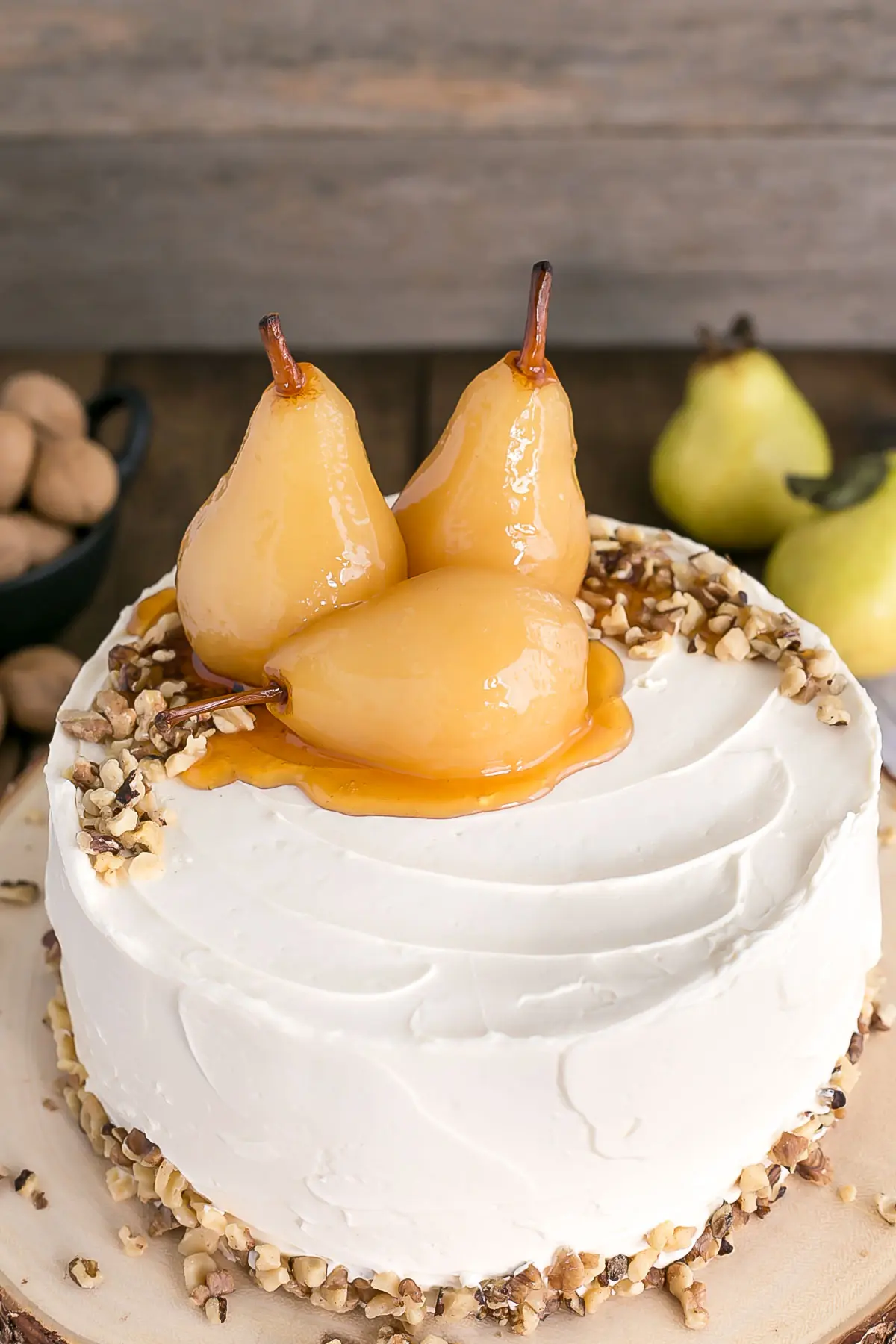 This Pear & Walnut Cake is incredibly moist, but it is a bit more on the dense side. If you're looking for a light and fluffy cake, this is not it! But I love it.
To me, the texture of this cake is perfect for Fall: comforting and delicious. The spices and walnuts add amazing flavor, too. I didn't realize how much I love walnuts in cake until I made my Walnut Cake a few years ago — it's one of my favorites.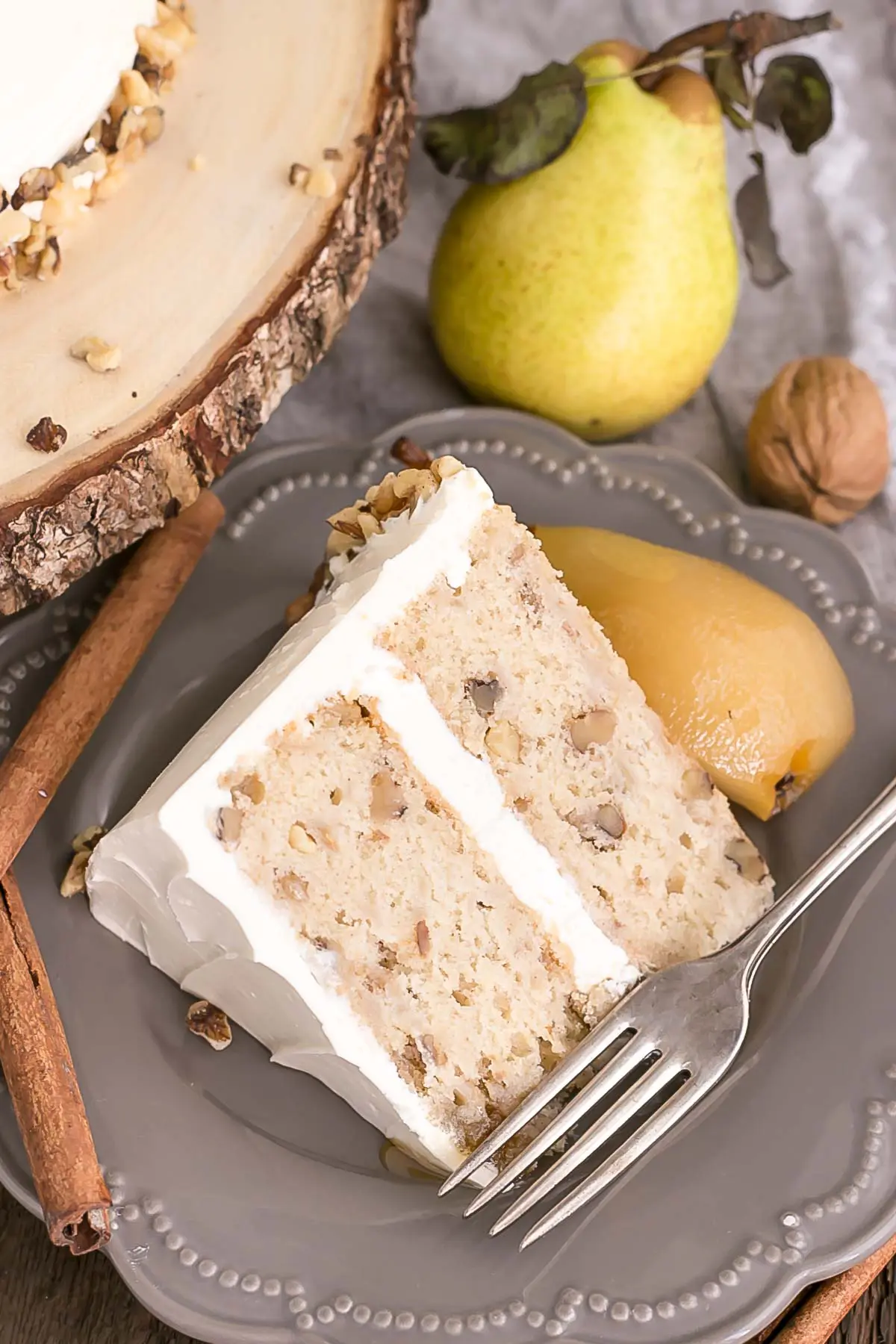 If you're looking for a unique and delicious cake to kick off the fall season, this Pear & Walnut Cake is for you!! And if you're a fan of honey, be sure to check out these delicious cakes:
Tips for this Pear & Walnut Cake with Honey Buttercream:
The recipe as-is will also work in three 6″ pans. For three 8″ pans, 1.5x the recipe.
To make cupcakes, all you need to do is reduce the baking time — start checking at 15mins or so.
If you're going to do the poached pears as a garnish, do them a day in advance.
I used both Anjou and Bartlett pears for this recipe, but any kind of pear is fine.
Be sure to toast your walnuts in advance — it gives them more flavor. About 5-10mins at 350F, until they are fragrant.
The cooled cake layers can be baked ahead of time, double wrapped in plastic wrap, and frozen for up to 3 months. Take out 2-3 hours before assembly.
The frosting can be placed in an airtight container and refrigerated for 1 week for frozen for 3 months. Bring to room temp and rewhip before using.
Be sure to check my Swiss Meringue Buttercream post for tips and troubleshooting.
Learn how to keep your cakes moist using Simple Syrup.
To help ensure your cake layers bake up nice and flat, check out my How to Bake Flat Cake Layers post!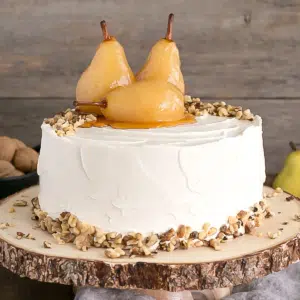 Pear & Walnut Cake with Honey Buttercream
This Pear & Walnut Cake with Honey Buttercream is incredibly moist and packed with flavor. The perfect way to kick off the Fall season.
Ingredients
Instructions
Poached Pears (optional):
**NOTE** Do a day in advance.

Place honey, water, lemon juice, and cinnamon into a medium pot (big enough to hold the pears so they will be covered). Bring to a boil over med-high.

Add pears and simmer over medium until tender, turning occasionally (approx 20-30 mins depending on how firm your pears are – insert a sharp knife to test). Do not overcook!

Gently remove pears with a slotted spoon and place them into a medium bowl, cover with the honey syrup (so pears will be covered). Cool completely then place in the fridge to chill overnight.

The next day, if desired, place the honey syrup into a medium pot and simmer over medium heat (10-15mins) to reduce. You can drizzle this over the pears or over the cut slices of cake. *
Pear and Walnut Cake:
Preheat oven to 350F. Grease and flour two 8″ cake rounds and line with parchment.

In a medium bowl, whisk flour, baking powder, cinnamon, and salt until well combined. Set aside.

Using a stand mixer fitted with a paddle attachment, cream butter and sugar on med-high until pale and fluffy (approx 3mins). Reduce speed and add eggs one at a time fully incorporating after each addition. Add vanilla.

Alternate adding flour mixture and buttermilk, beginning and ending with flour (3 additions of flour and 2 of milk). Fully incorporating after each addition.

Gently fold in walnuts and shredded pears. Spread evenly between the two pans.

Bake for 50-55mins or until a toothpick inserted into the center comes out mostly clean.

Place cakes on wire rack to cool for 10mins then turn out onto wire rack.
Honey Swiss Meringue Buttercream:
Place egg whites and sugar into the bowl of a stand mixer, whisk until combined.**

Place bowl over a double boiler on the stove and whisk constantly until the mixture is hot and no longer grainy to the touch (approx. 3mins). Or registers 160F on a candy thermometer.

Place bowl on your stand mixer and whisk on med-high until the meringue is stiff and cooled (the bowl is no longer warm to the touch (approx. 5-10mins)).

Switch to paddle attachment. Slowly add cubed butter and mix until smooth.***

Add honey and whip until smooth.
Assembly:
Place one layer of cake on a cake stand or serving plate. Top with approximately 1 cup of buttercream. Repeat with remaining layer and crumb coat the cake. Chill for 20mins.

Frost the top and sides of the cake in a rustic manner. If desired, add toasted walnuts along the bottom and top, and place poached pears on top. Secure pears in place with toothpicks and drizzle with poaching syrup.
Notes
* Note that the honey syrup will be very strong in flavor and may overpower the cake if you choose to use it. However, you can always save it and use it as a topping for ice cream or yogurt.
** Ensure there is NO trace of egg yolks in your whites and that your mixer bowl and whisk is completely grease-free or your meringue won't stiffen.
*** The buttercream may look like it's curdled at some point. Keep mixing until it is completely smooth.
Poached pears recipe adapted from Epicurious.
Calories:
692
kcal
Carbohydrates:
72
g
Protein:
7
g
Fat:
43
g
Saturated Fat:
23
g
Cholesterol:
140
mg
Sodium:
213
mg
Potassium:
273
mg
Fiber:
2
g
Sugar:
52
g
Vitamin A:
1170
IU
Vitamin C:
1.2
mg
Calcium:
104
mg
Iron:
1.8
mg
The nutritional information and metric conversions are calculated automatically. I cannot guarantee the accuracy of this data. If this is important to you, please verify with your favorite nutrition calculator and/or metric conversion tool.
Originally published Sept 2017