This classic German Chocolate Cake combines rich chocolate cake layers with a sweet coconut pecan filling and a dreamy chocolate buttercream.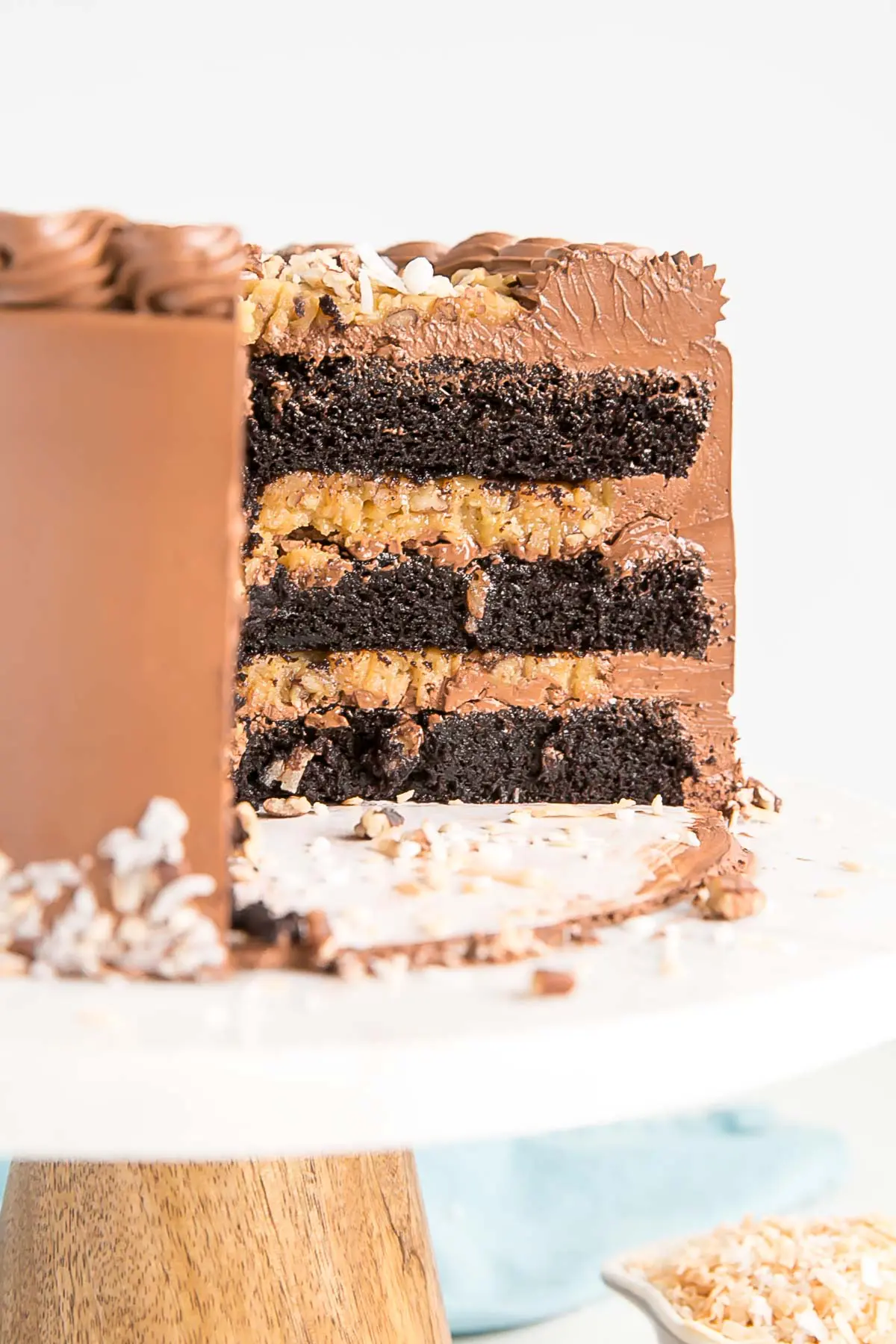 I am fascinated with the history behind some recipes. The origin of the German Chocolate Cake is not at all what I expected it to be, not even close!
German Chocolate Cake was actually named after American baker Samuel German, who worked for the Baker's Chocolate company in the mid 1800's. While there, he created a baking chocolate for the company, which they named Baker's German's Sweet Chocolate.
Years later, in the 1950's, Mrs. George Clay used said chocolate to create a cake that she called "German's Chocolate Cake". At some point the 's was dropped, and people started calling it what you and I know it as today: German Chocolate Cake.
Coincidentally, Baker's Chocolate Company is not named so because of baking, but because the company founder's last name was Baker.
My whole life is a lie!

What is German Chocolate Cake?
German Chocolate Cake consists of a coconut pecan filling sandwiched between chocolate cake layers. Pretty simple, right?
Now, traditionally this cake is made using a lighter-colored mild chocolate cake. I am a rich/dark chocolate kinda gal, so I'm using my favorite Chocolate Cake recipe as the base for this.
The original recipe also does not call for chocolate frosting, but I'm also a cake needs frosting kinda gal, so this is my version of the traditional cake.
Feel free to skip the frosting if you prefer (there is enough coconut pecan filling to fully top 3 layers).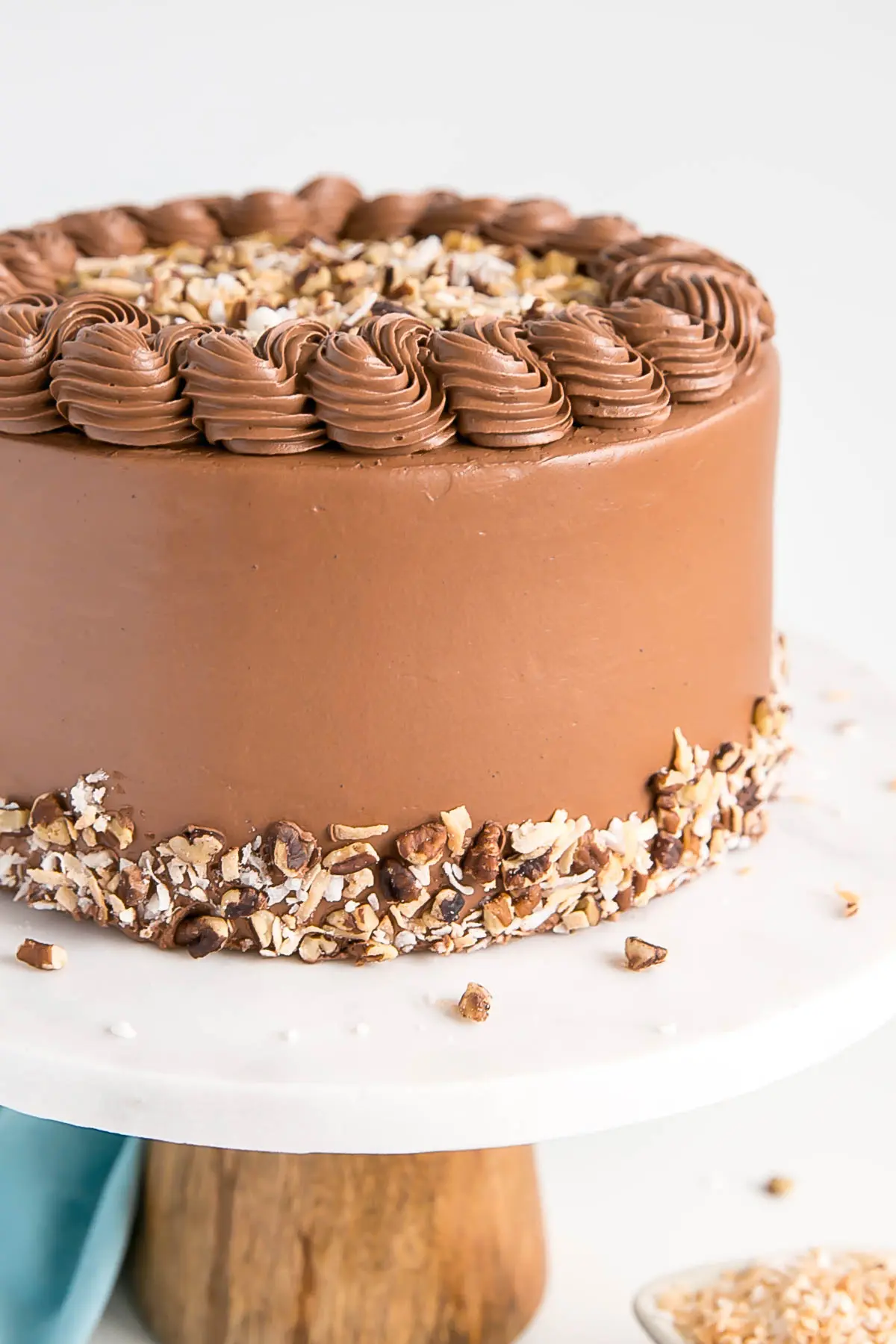 How do you make German Chocolate Cake?
The chocolate cake recipe is pretty standard, it's one I use all the time in various forms. The only thing to note here is that the batter is very thin and rises a LOT, so don't overfill your pans — half full max.
Since I baked it in three 8″ pans instead of my usual two, the layers are a bit thinner and can be a bit delicate when warm. I recommend chilling the cake layers before assembling the cake.
I always wrap the cooled cake layers in plastic wrap and freeze them until I'm ready to decorate. I take them out when I start making the frosting, and by the time the frosting is done, the layers are thawed enough to assemble.
Cake Tip!
Chilled cake layers are easier to work with! Especially for delicate cakes like this one. Either freeze them before hand and take out when you start making the frosting, or just refrigerate them overnight.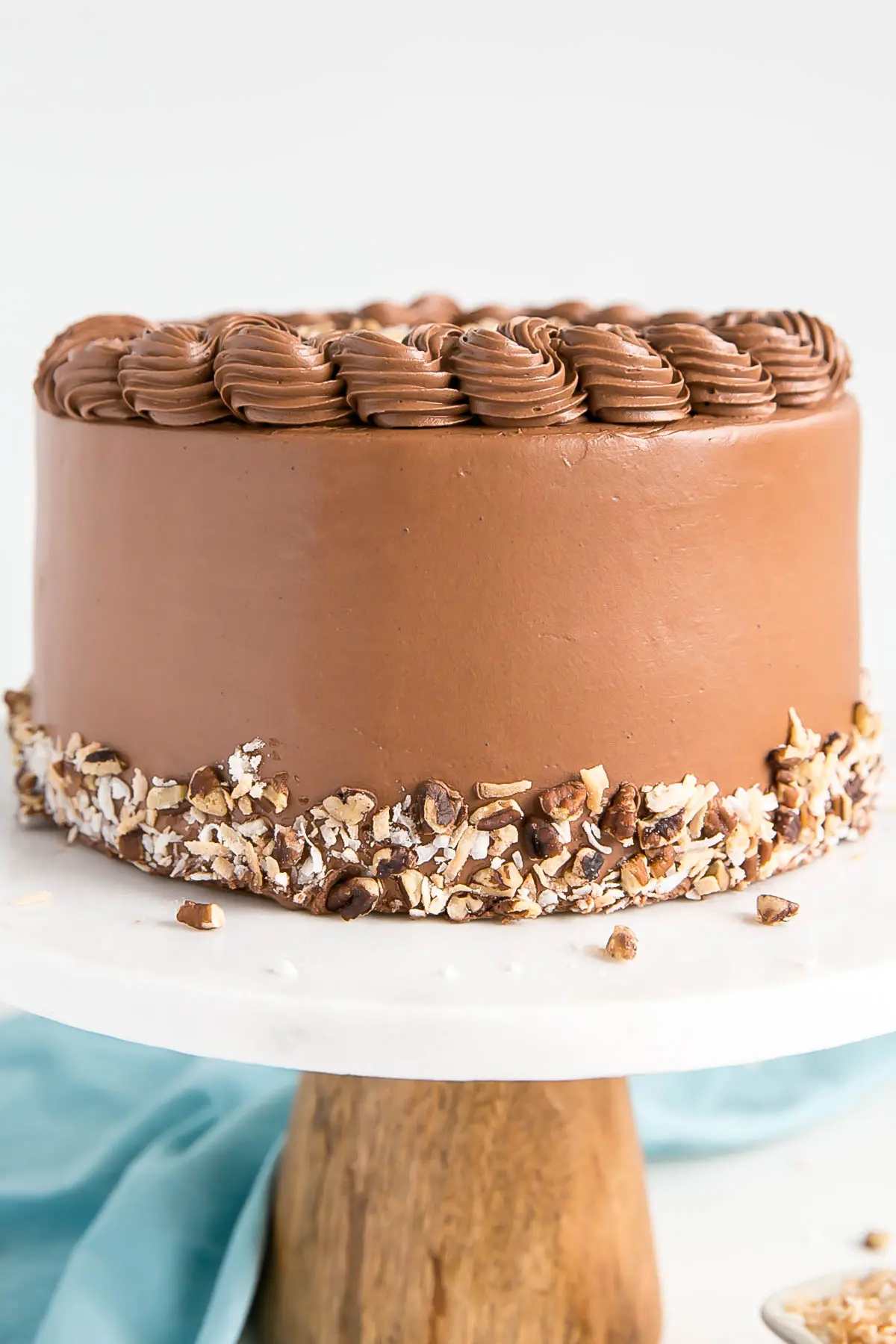 The coconut pecan filling is very simple to make:
cook the eggs, milk, and sugar mixture until it resembles a pudding
add butter, pecans, and coconut
I toasted the coconut and pecans and used half brown sugar instead of just all regular sugar that most recipes call for. Note that doing both of these things will make the filling have a yellow tint to it, which is different from the original, but equally delicious.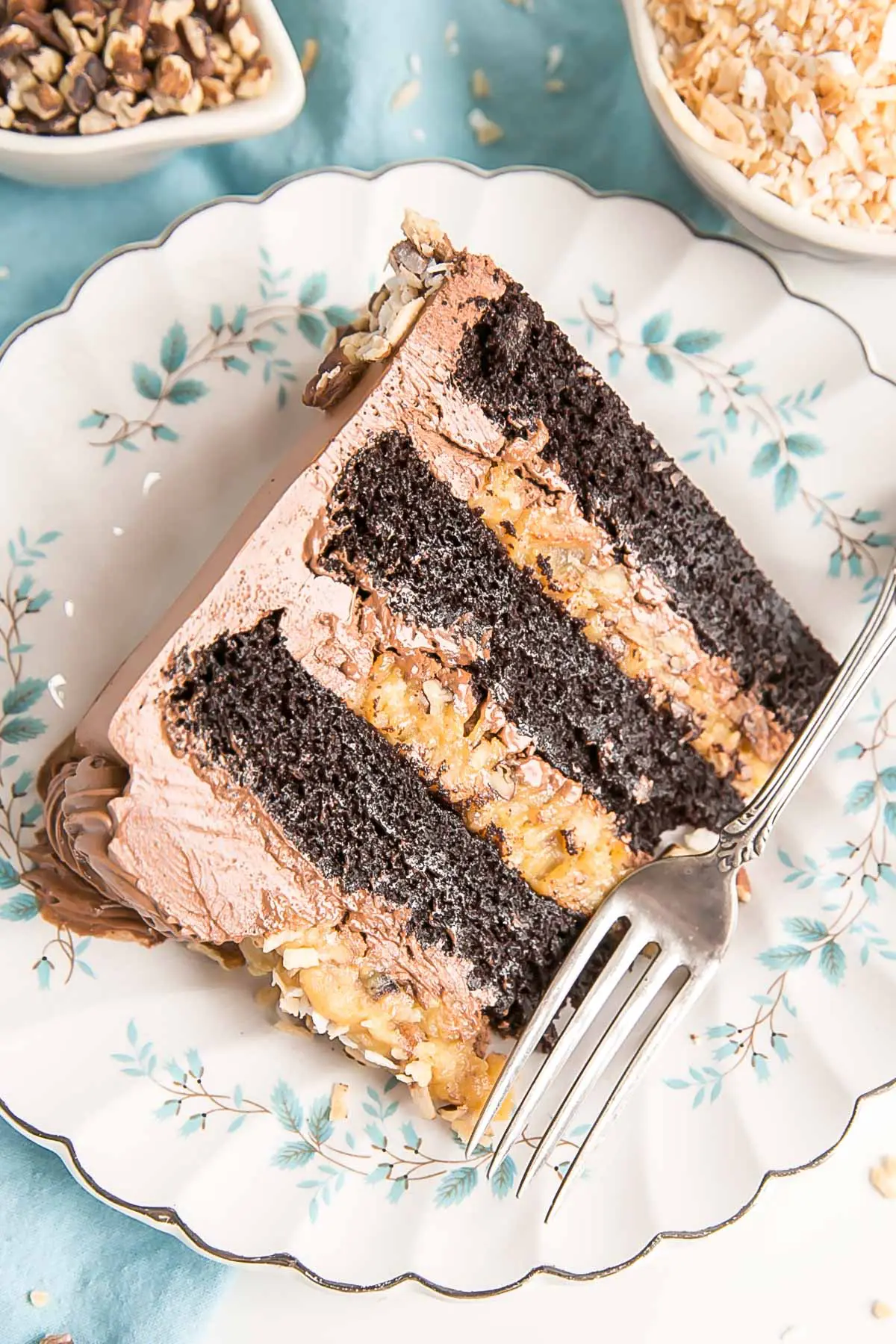 Using brown sugar in the filling makes it a bit trickier to know when it's done cooking, as you can't really tell that it has caramelized, so just cook it until it thickens to a pudding-like consistency.
Toasting the coconut and pecans is optional, but I find that doing this enhances the flavor. It takes very little time, so I opt to do it when I can.
I used sweetened coconut in the filling, but you might want to use unsweetened depending on your sugar tolerance. The filing is sweet. I happen to like it that way (I was eating it with a spoon), and it goes well with the not-too-sweet chocolate cake and dark chocolate frosting, but you may want to tone it down a bit if you prefer your desserts less on the sweeter side.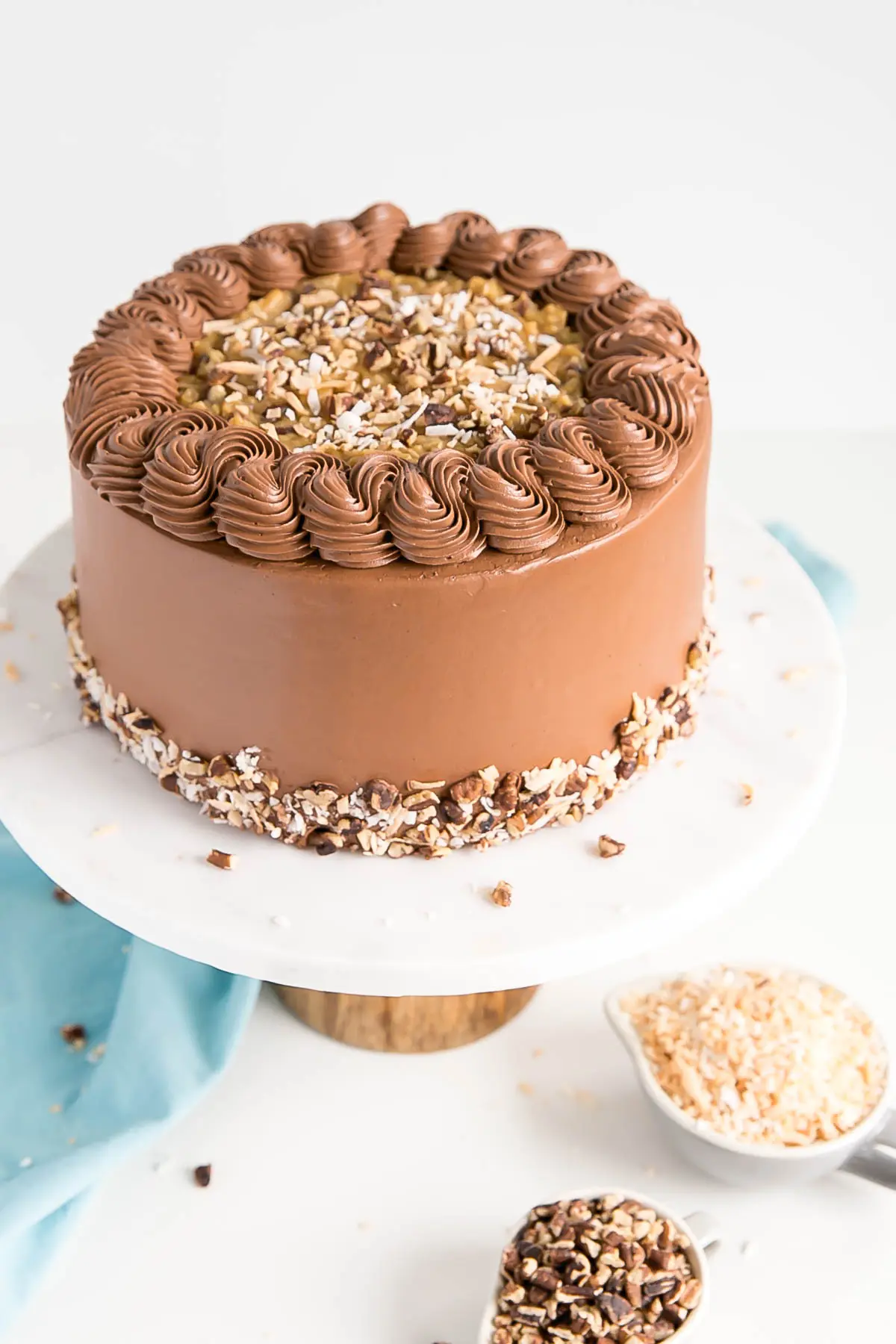 Let's talk about my cake layers for a sec, because they look more dense than they actually are.
This cake was sitting in my fridge for two days while I waited for the weather to clear so I could take pics, so the weight of it compressed the layers a bit. The cake was also cold when I cut it, which makes it look more dense than it is.
Not that there's anything wrong with a dense cake (I actually prefer those), but this one looks almost like a brownie and it is NOT that dense.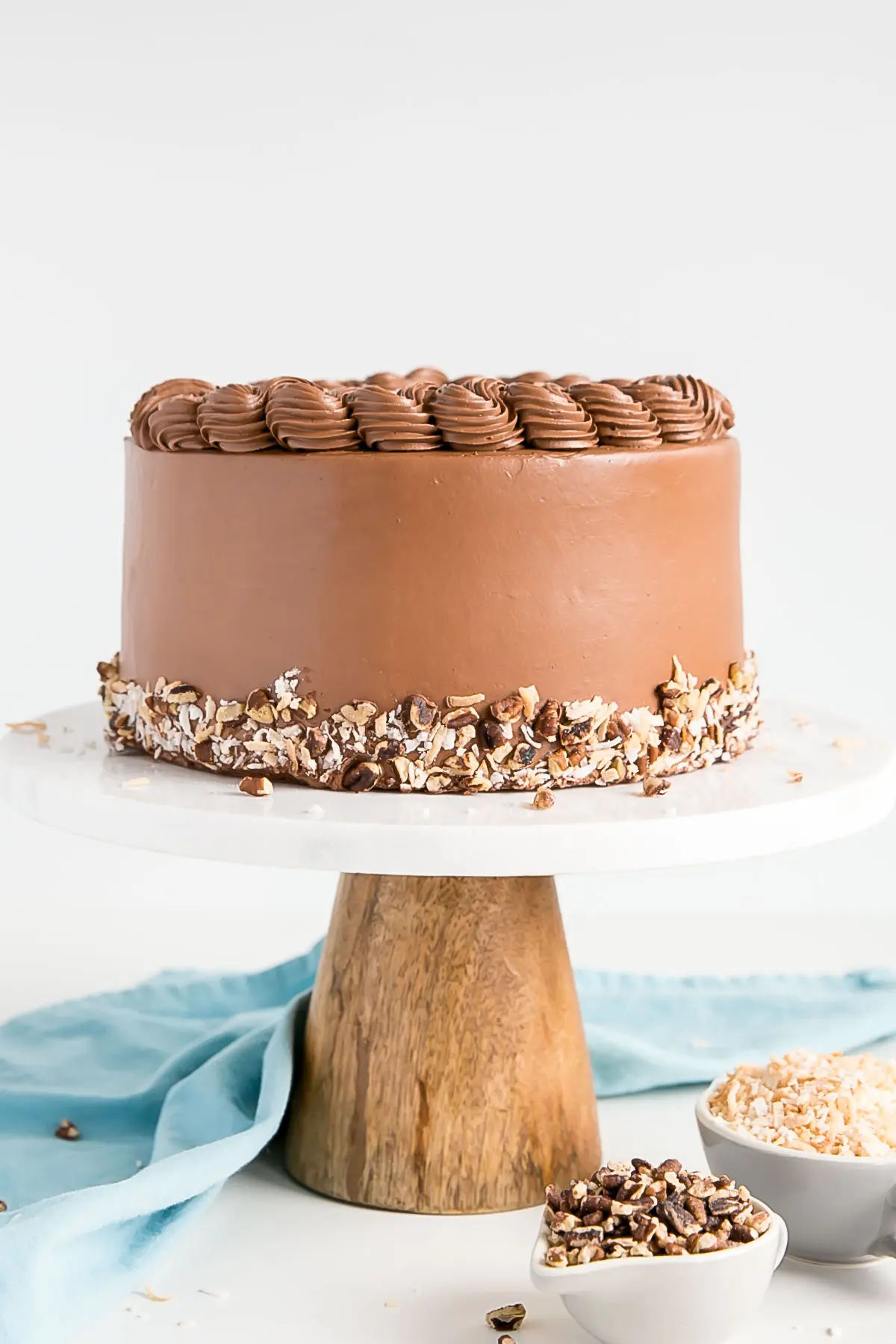 Chocolate Swiss Meringue Buttercream
I am on a quest to find the perfect chocolate Swiss meringue buttercream. We're getting there. My goal is a dark(er) chocolate frosting (which is hard to do with SMBC) that is stable to frost and pipe with.
My first chocolate SMBC was for this Mocha Cake. It's still one of my faves because it's crazy delicious, but it's too light in color for what I'm looking for. I'm basically trying to achieve an American style chocolate buttercream frosting color with an SMBC. No small feat!
My next chocolate SMBC was for this Classic Chocolate Cake. I added more melted chocolate to it, hoping to darken the color. That worked (though not to the extent I was hoping), but the extra chocolate made the frosting quite soft and a bit harder to work with.
For the Chocolate Swiss Meringue Buttercream on this German Chocolate Cake, I first started with a dark brown sugar SMBC. At least the base wasn't pure white, I figured. I also cut back a bit on the proportion of melted chocolate and added some Dutch-processed cocoa powder to it.
It's better in terms of the color I was going for, but not quite there. I should have added some black cocoa powder, but I was worried that it would skip the dark brown color I was going for and go right to blackish (it's pretty potent). I will try that next time.
Let me tell you though, this chocolate SMBC is the BEST. The flavor is seriously amazing. I don't know if it's the dark brown sugar in it, or the combo of the high-quality dark chocolate and cocoa powder or what, but I was happily eating this with a spoon.
When assembling this cake, I first spread a thin layer of buttercream on each layer before topping with the filling. This is completely optional. I usually do this with any softer fillings (curd, jam, etc.) so they don't seep into the cake layer, but this filling is so thick it stands well on its own. You probably don't need the buttercream dam either.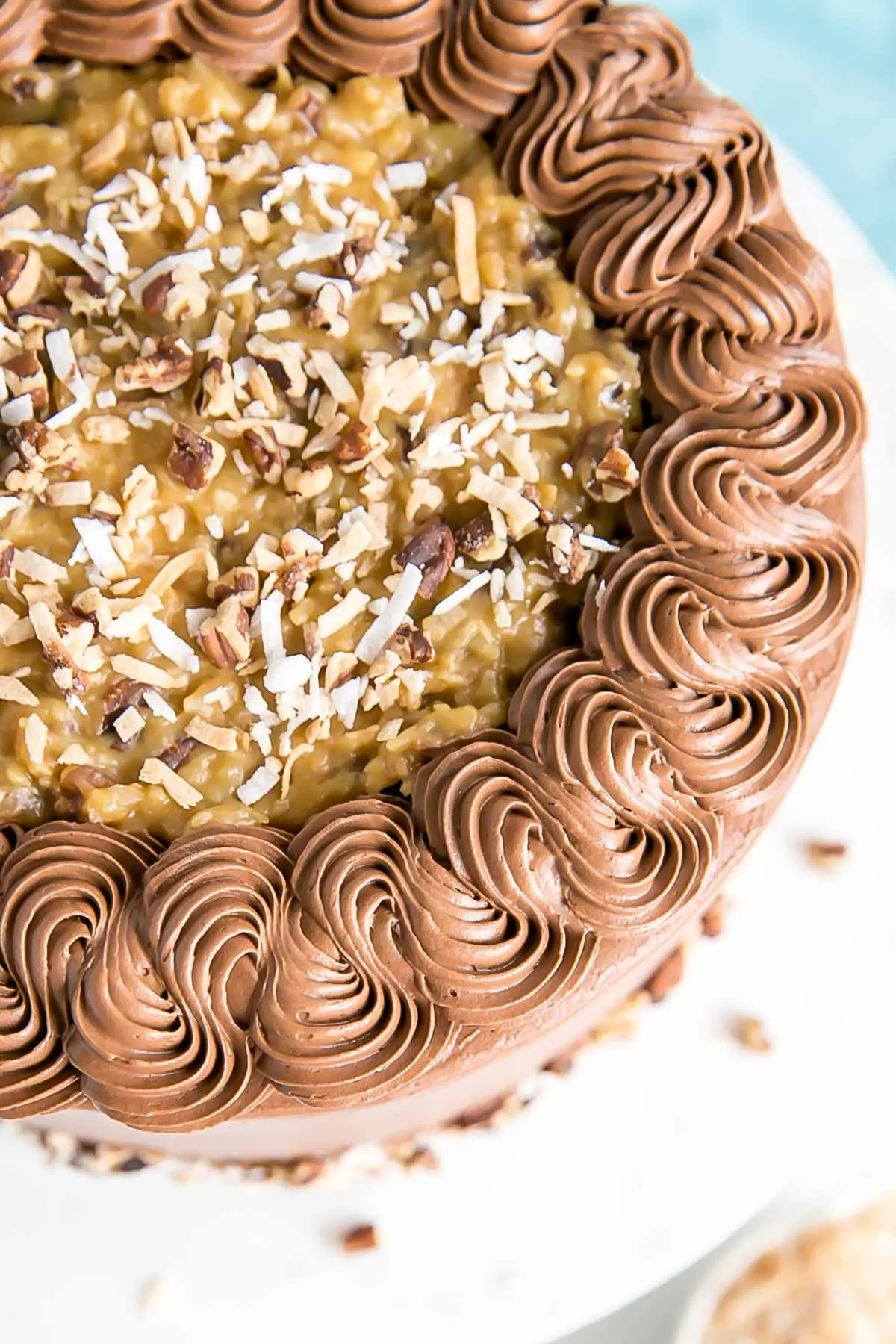 The top border on this German Chocolate Cake is done using a 6B piping tip. I basically just piped the infinity symbol (∞) sideways along the top.
I recommend chilling the cake before filling in the top with the rest of the coconut pecan filling. That way you won't damage any of the decorative border.
This German Chocolate Cake is the perfect combination of flavors and textures — it's no wonder it's been such a hit all these years. I don't think Mrs. Clay has gotten enough credit for it! And though my cake is modified from her original recipe, I tried to stay somewhat true to the filling. After all, I think that's what makes this cake what it is!
Other Classic Cakes You May Like
Frequently Asked Questions
How can I convert this recipe?
The recipe as-is will work in either two 8″ or three 6″ pans. The layers will be thicker than in the recipe above (three 8″ pans) though, so you'll need to increase the baking time.
To make cupcakes, all you need to do is reduce the baking time — start checking at 15mins or so. The recipe will make 18-24 cupcakes depending on size.
For other conversions go

here

. Bake time may vary depending on pan size.
Baking time will vary if you change the pan size. Every oven is different so I can't say for certain what you'll need to adjust it to. Be sure to check on the cakes while they are baking.
Can I make it in advance?
The cooled cake layers can be baked ahead of time, double wrapped in plastic wrap, and frozen for up to 3 months. Take out 2-3 hours before assembly.
The frosting can be placed in an airtight container and refrigerated for 1 week or frozen for 3 months. Bring to room temp and rewhip before using.
The coconut pecan filling can be stored in an airtight container and refrigerated for up to a week. You can also freeze it for up to 3 months.
The finished cake (whole or sliced, stored airtight) can be frozen for up to 3 months.
Can I get the measurements by weight/grams?
There is a Metric option in the recipe card. If you click it it will convert everything to grams.
This conversion is done automatically and I cannot guarantee the accuracy but many readers have had success using the metric option on my recipes.
What if I don't have Dutch-process Cocoa Powder?
I like to use Dutch-process cocoa powder in all of my chocolate recipes, but most any kind of cocoa powder will work just fine. Dutch-process has had some of the acid stripped from it and yields a richer flavor overall. Again, it won't make or break the recipe to use regular cocoa powder here.
What if I don't have buttermilk?
Buttermilk is not optional and cannot be swapped for milk as it will affect the overall result.
For best results, use actual buttermilk, but if you don't have any you can make your own at home by combining 1 cup of milk (whole milk ideally, but I often just use 1%) with 1 Tbsp of lemon juice or vinegar and letting it sit for 10mins.
Can I use hot coffee instead of hot water?
You'll often see this kind of chocolate cake recipe using hot coffee instead of hot water in the batter, and you can use either.
Tips for making this German Chocolate Cake Recipe
You can make the pecan coconut filling a couple days in advance, just keep it in an airtight container in the fridge. Bring to room temperature and give it a good stir before using.
I used sweetened coconut (half shredded, half flaked), but you can use unsweetened if you prefer a less sweet filling (it was pretty sweet).
You can use regular cocoa powder for the cake and frosting if you don't have Dutch-processed. It will affect the flavor and color slightly.
If you'd prefer to use an American-style buttercream with this German Chocolate Cake you can double my Easy Chocolate Buttercream Frosting recipe.
Traditional German Chocolate Cake does not have a buttercream. You can leave this out if you like, and there will be enough of the pecan coconut filling to top 3 layers.
Using good quality chocolate for the frosting will make a huge difference!
I prepare my cake pans using

Homemade Cake Release

and line with parchment paper.
Be sure to check my

Swiss Meringue Buttercream

post for tips and troubleshooting.
Learn how to keep your cakes moist using

Simple Syrup

.
To help ensure your cake layers bake up nice and flat, check out my

How to Bake Flat Cakes

post!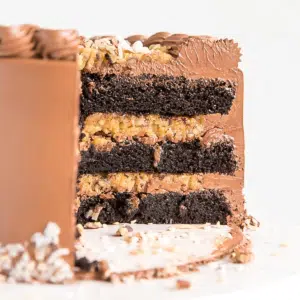 German Chocolate Cake
This Classic German Chocolate Cake combines rich chocolate cake layers with a sweet coconut pecan filling and a dreamy chocolate buttercream.
Ingredients
Chocolate Swiss Meringue Buttercream:
Instructions
Coconut Pecan Filling:
Whisk egg yolks and evaporated milk in a medium saucepan. Stir in sugars, salt, and vanilla.

Cook over medium heat, stirring frequently until mixture comes to a low boil. Continue cooking, stirring constantly, until mixture thickens to a pudding-like consistency (about 10mins).

Remove from heat. Add butter, coconut, and pecans and stir until combined. Cool completely before using on cake.
Chocolate Cake:
Preheat oven to 350F, grease three 8″ round baking pans and dust with cocoa powder. Line bottoms with parchment.

Place all dry ingredients into the bowl of a stand mixer fitted with a paddle attachment. Stir to combine.

In a medium bowl whisk all wet ingredients (pour hot water in slowly as not to cook the eggs).

Add wet ingredients to dry and mix on medium for 2-3 mins. Batter will be very thin.

Pour evenly into prepared pans. I used a kitchen scale to ensure the batter is evenly distributed.

Bake for 30-35 mins or until a cake tester comes out mostly clean.

Cool 10 minutes in the pans then turn out onto a wire rack to cool completely.
Chocolate Swiss Meringue Buttercream:
Place egg whites and sugar into the bowl of a stand mixer, whisk until combined.*

Place bowl over a pot with about 1″ of simmering water. Whisk constantly until the mixture is hot and no longer grainy to the touch (about 3mins). Or registers 160F on a candy thermometer.

Place bowl on your stand mixer and whip on med-high until the meringue is stiff and cooled (the bowl is no longer warm to the touch (5-10mins)).

Switch to paddle attachment. Slowly add cubed butter and mix until smooth.**

Add cooled melted chocolate, cocoa powder, and vanilla. Whip until smooth.
Assembly:
Place a layer of cake on a cake board or plate. Spread a thin layer of buttercream on top of the layer (optional) and pipe a border around the outside to hold the filling in. Fill with about 3/4 cup of coconut pecan filling. Repeat with next layer.

Place final layer on top and do a thin crumb coat on the cake. Chill for 20mins.




Frost the top and sides of the cake with remaining frosting. Do a decorative border on top using a 6B tip if desired. Chill for 30mins.

Fill top center with remaining coconut pecan filling and spread evenly. Sprinkle with toasted coconut and chopped pecans. Press toasted coconut and pecans along the bottom if desired.
Notes
* Wipe your mixer bowl and whisk down with lemon juice or vinegar to make sure it is completely grease free and make sure there is no trace of yolk in your whites or your meringue will not stiffen.
** The buttercream may look like it's curdled at some point. Keep mixing until it is completely smooth. If it looks soupy, place it in the fridge for 20mins and rewhip.
Calories:
845
kcal
Carbohydrates:
89
g
Protein:
9
g
Fat:
52
g
Saturated Fat:
31
g
Cholesterol:
143
mg
Sodium:
367
mg
Potassium:
433
mg
Fiber:
5
g
Sugar:
69
g
Vitamin A:
1045
IU
Vitamin C:
0.4
mg
Calcium:
140
mg
Iron:
3.9
mg
The nutritional information and metric conversions are calculated automatically. I cannot guarantee the accuracy of this data. If this is important to you, please verify with your favorite nutrition calculator and/or metric conversion tool.
This post was originally published on 02/01/19 and was updated with new content on 02/06/23.