This Ferrero Rocher Cake is your favorite chocolate hazelnut treat in cake form! Chocolate hazelnut cake layers and with a Nutella buttercream.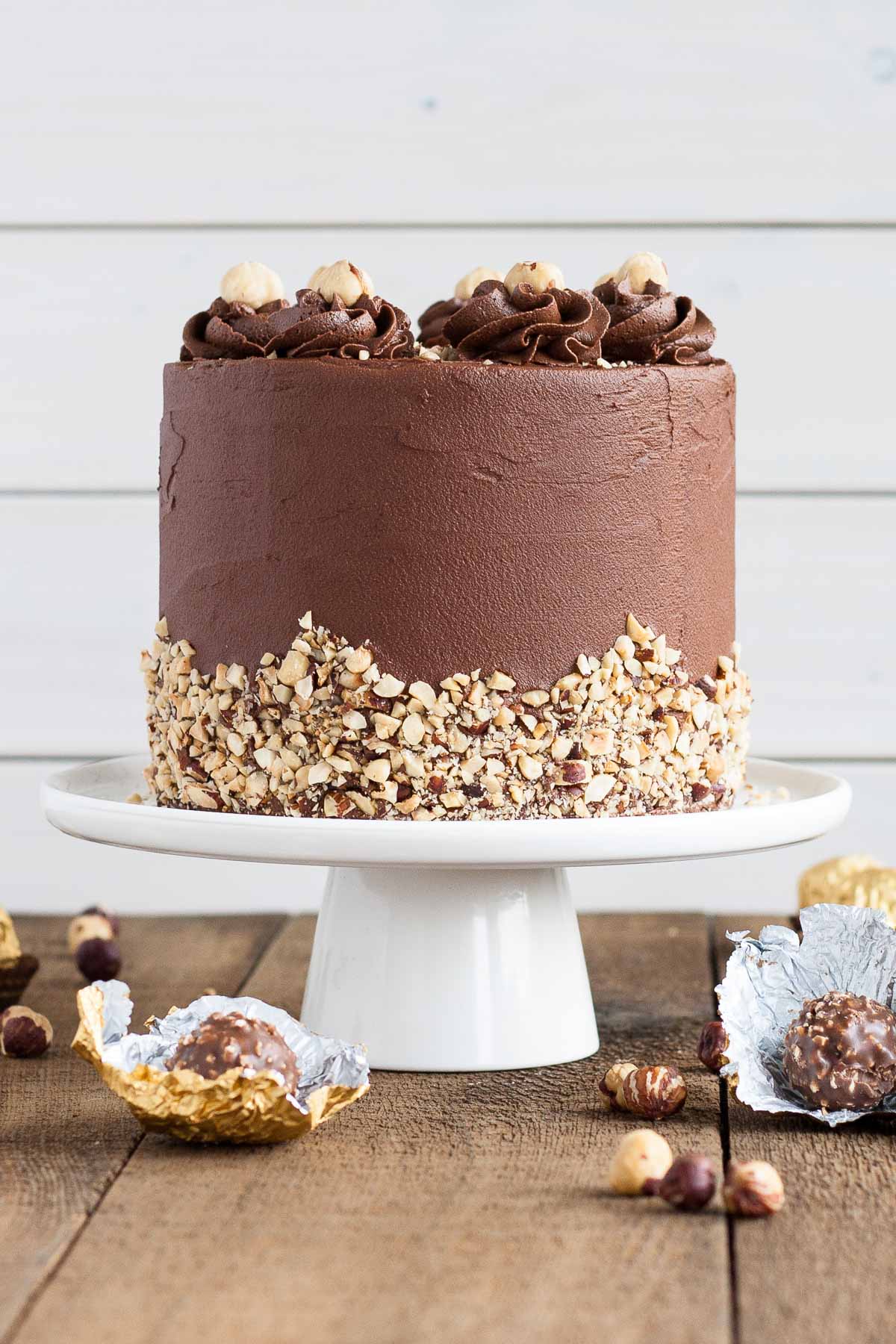 Can you believe it's almost November?? I honestly can't. These past few months (and this year in general) have gone by crazy fast, despite all the chaos and craziness. I can't believe we're almost in the holiday season.
Of course, I welcome the holiday season with open arms. I plan to start packing away all the pumpkins and breaking out the Christmas decorations in the next week or so. I am one of those people.
Today, I'm bringing you one of my favorite cakes based on one of my favorite treats!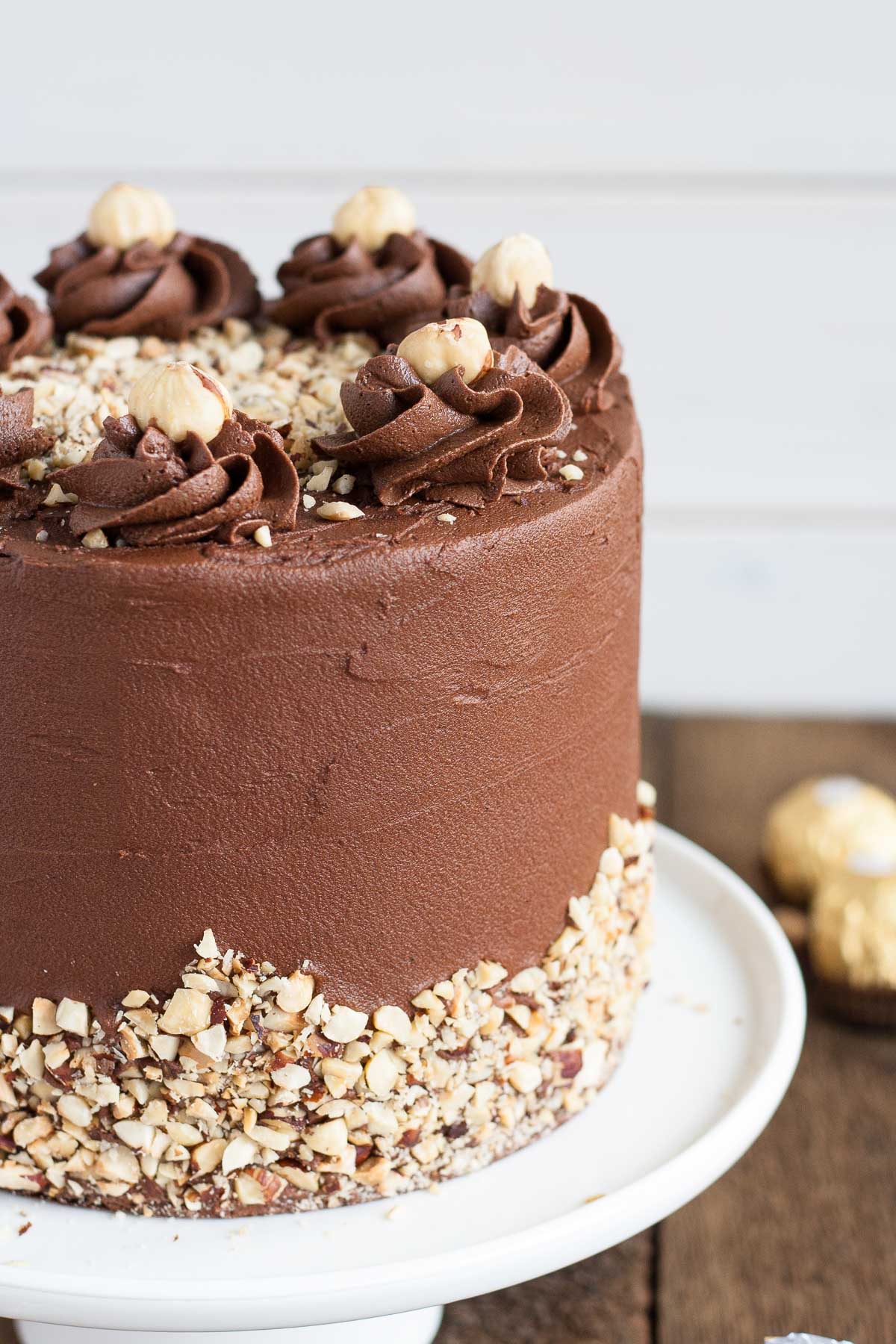 I know you can technically get Ferrero's year-round but to me, they are a holiday treat.
Maybe it's because of the commercials they always bust out during the holiday season. And it's kind of a tradition these days that my parents always get Ryan a box of Ferrero's for Christmas. It's really cute actually.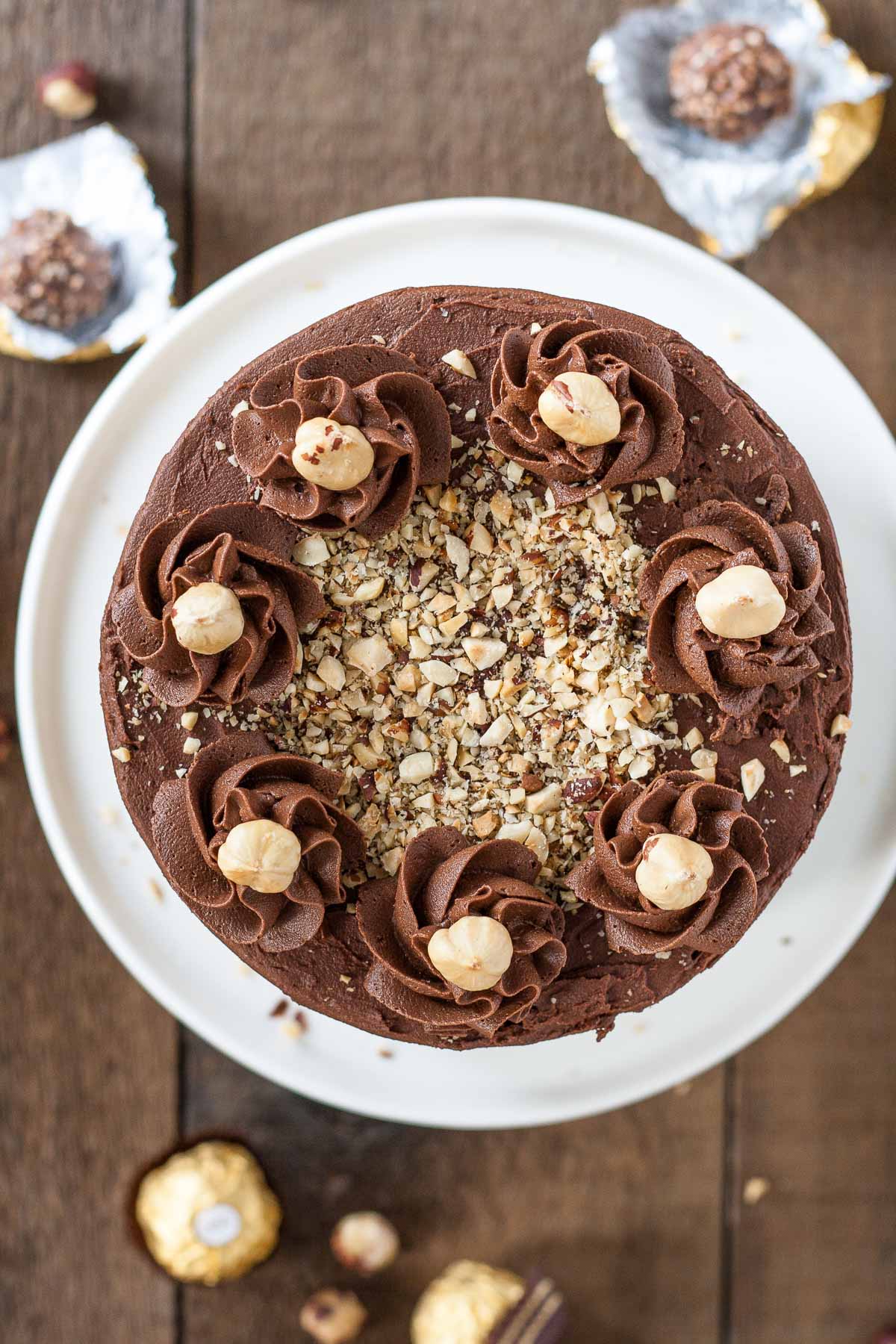 Despite my many Nutella recipes, I'm actually not a huge fan of Nutella on its own. I used to eat it straight out of the jar with a spoon when I was younger, so maybe I just got sick of it.
In a Ferrero though? Heaven.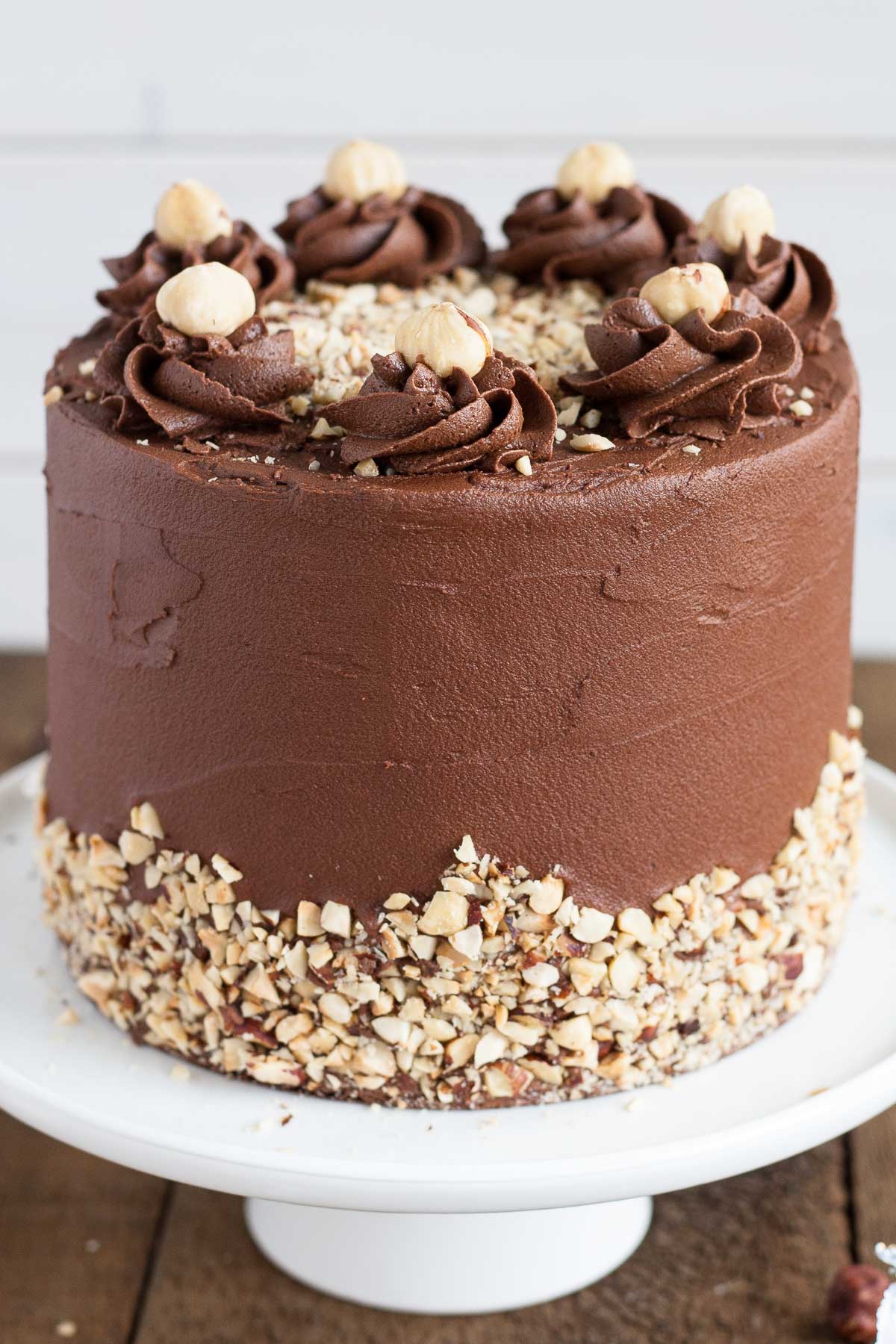 How to Make this Ferrero Rocher Cake
I wanted to make sure all the elements of a true Ferrero shone through. This cake is packed with chocolate and hazelnut flavor. There is hazelnut flour in the cake itself (optional, but it adds flavor and texture) and I added a layer of crunchy hazelnut meringue to emulate that crunchy shell that Ferrero's have.
Chocolate Hazelnut Cake
To make the cake layers I replaced some of the flour in my favorite Chocolate Cake recipe with hazelnut flour.
This adds a delicious flavor and texture to the cake. You can either make hazelnut flour at home by grinding up some toasted, skinned hazelnuts, or you can buy it. I talk a bit more about that here in my Hazelnut Cake recipe.
If you don't want to bother with either you can just replace the hazelnut flour with more all-purpose flour.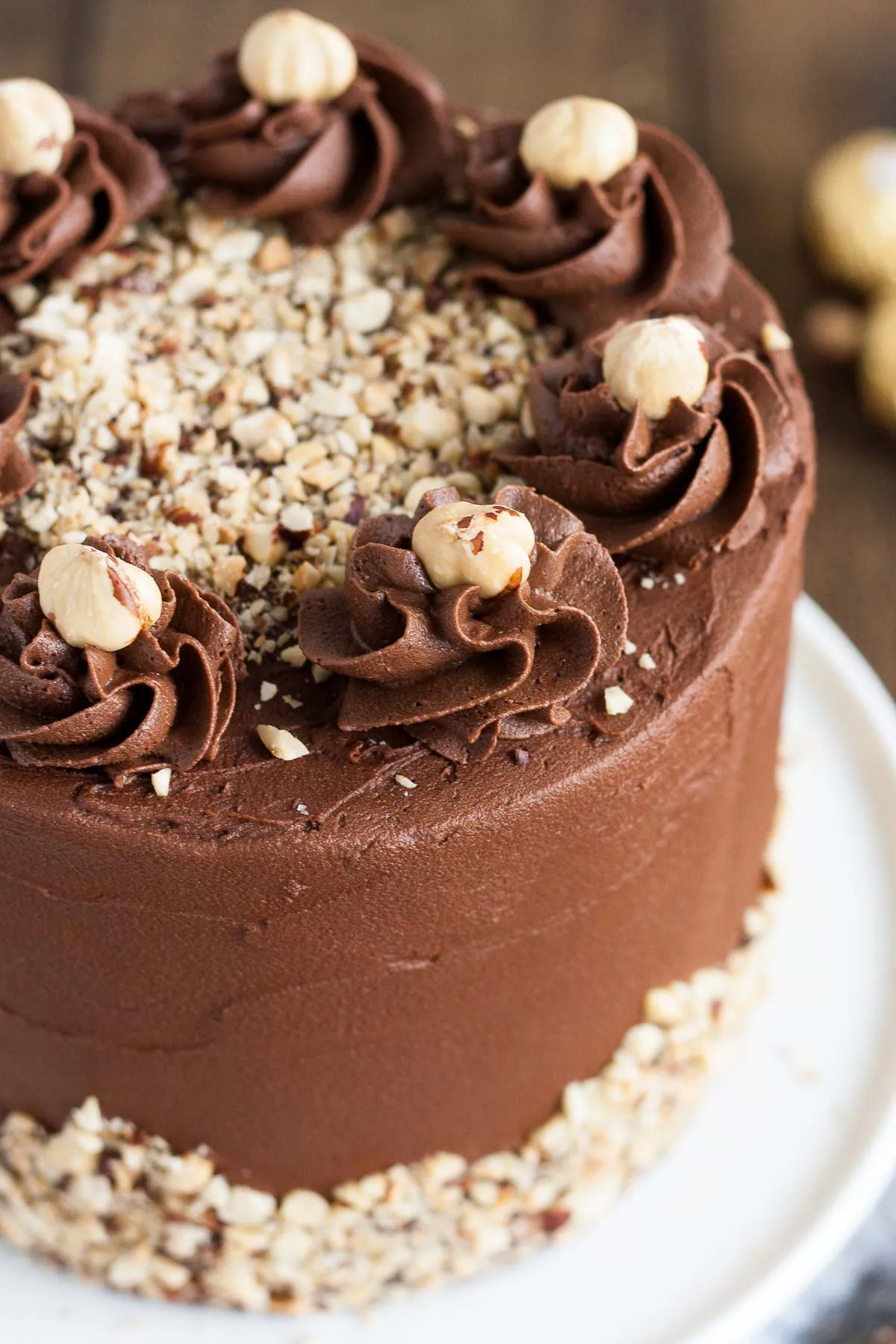 Hazelnut Meringue
I initially planned to use feuilletine flakes to add the crunch, but I opted for something a little more elaborate and went with the meringue instead.
The meringue will lose some of its crunch the longer it sits with the buttercream though, so you can choose to use the flakes instead if you have them on hand.
Next time though, I'd probably just chop up actual Ferrero's and spread them between the cake layers instead.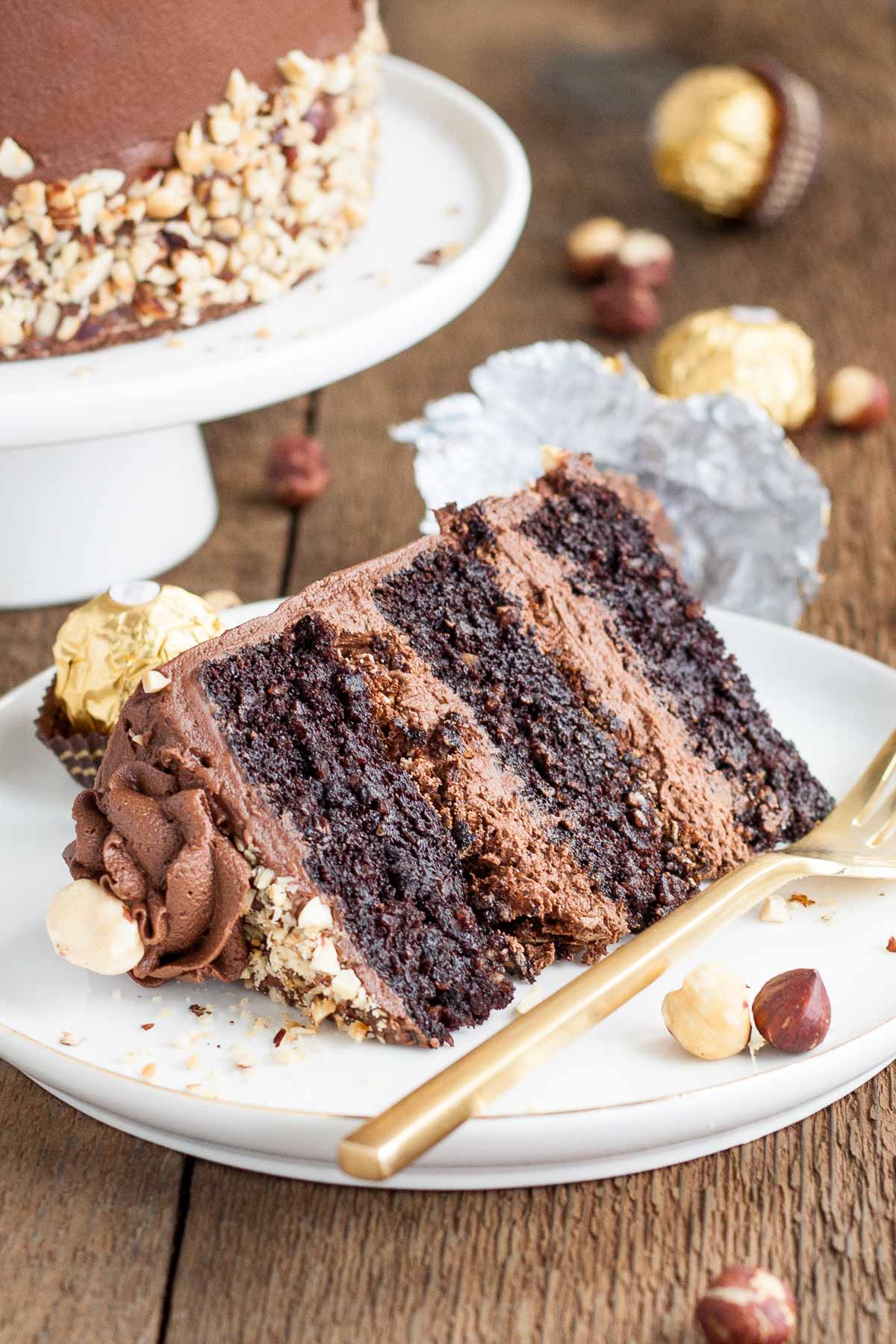 Nutella Buttercream
The rich Nutella buttercream is something I would happily eat with a spoon. It is SO good. A fluffier version of Nutella that pairs really well with the dense chocolate cake.
I used an American Buttercream recipe because I wanted the frosting to be dark and look more like what you see in a Ferrero. If you'd like though, I have a Swiss meringue buttercream version on my Nutella Cake that you can use instead.
I may have gone a little heavy-handed on the frosting between the layers, but I told you it was good!! You can't totally see the hazelnut meringue layer, but I swear it's there! And it's delicious.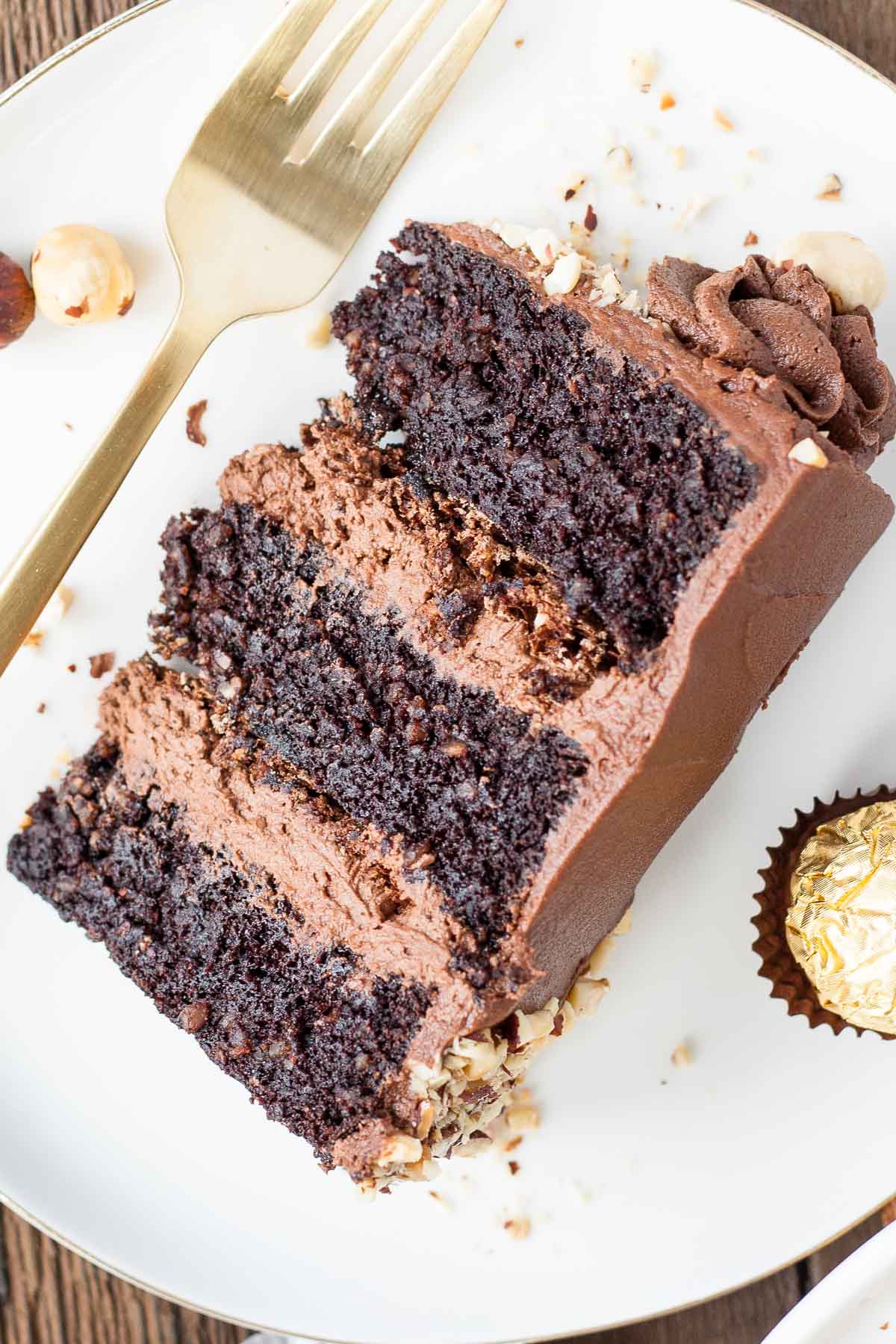 The cake is fudgy and delicious. Paired with a smooth Nutella buttercream and crunchy chocolate hazelnut meringue, it's really the best thing ever.
If you're looking for something unique this holiday season, or really any time of year, this Ferrero Rocher Cake is sure to wow!
Oh, and if you want an equally delicious and stunning holiday cake based on a Ferrero brand confection, you have to check out my Raffaello Cake!
Notes & tips for this Ferrero Rocher Cake:
The recipe as-is will also work in two 8″ pans. For three 8″ pans, 1.5x the recipe. The layers will be slightly thinner though, so be sure to reduce the baking time.
To make cupcakes, all you need to do is reduce the baking time — start checking at 15mins or so.
The cooled cake layers can be baked ahead of time, double wrapped in plastic wrap, and frozen for up to 3 months. Take out 2-3 hours before assembly.
The frosting can be placed in an airtight container and refrigerated for 1 week for frozen for 3 months. Bring to room temperature and rewhip before using.
If you don't have hazelnut flour on hand and/or don't want to make any, you can just substitute in additional all-purpose flour.
To enhance the chocolate flavor of the cake, you can use strong hot coffee instead of hot water.
The hazelnut meringue will soften the longer it sits in the cake. Ideally, serve the same day. Regardless though, it will still taste delicious! You can use chopped up Ferrero's between the layers instead though.
To help ensure your cake layers bake up nice and flat, see my Flat Top Cakes post.
Ferrero Rocher Cake
This Ferrero Rocher Cake is your favorite chocolate hazelnut treat in cake form! Chocolate hazelnut cake layers and with a Nutella buttercream.
Ingredients
Instructions
Chocolate Hazelnut Cake:
Preheat oven to 350F, grease three 6″ round baking pans and dust with cocoa powder. Line bottoms with parchment.

Place all dry ingredients into the bowl of a stand mixer fitted with a paddle attachment. Stir to combine.

In a medium bowl whisk all wet ingredients (pour hot water in slowly while whisking as not to cook the eggs).

Add wet ingredients to dry and mix on medium for 2-3 mins. Batter will be very thin.

Pour evenly into prepared pans. I used a kitchen scale to ensure the batter is evenly distributed.

Bake until a cake tester comes out mostly clean, a total of 30-35mins.
Nutella Buttercream:
Prepare a stand mixer with a whisk attachment and whip butter until creamy (2 mins).

In a medium bowl, whisk together sifted powdered sugar and cocoa powder.

Reduce speed to low and add in powdered sugar mixture 1 cup at a time until well blended. Scrape down sides of bowl and whisk as needed. Add in Nutella and whip on high for approximately 5 mins.
Hazelnut Meringue:
Preheat oven to 250F and line a 10×15″ pan with parchment. Trace two 5″ circles onto the parchment, flip over so the traced side is down.

Combine egg whites, salt, and cream of tartar in the bowl of a stand mixer**. Beat on high until soft peaks form. Slowly add sugar (1 Tbsp at a time) and beat until stiff peaks.

Dab a bit of meringue under the corners of the parchment to secure it. Fold chopped hazelnuts and cocoa powder into the meringue. Pipe into discs using the 5″ circles as a guide. Pipe or spread remaining meringue in empty spaces on the parchment.

Bake for 90mins and cool on pan.
Assembly:
Place one layer of the cake onto a cake stand or serving plate. Top with 2/3 cup of buttercream and spread evenly.

Place one meringue disc on top and top with additional buttercream if desired (or sprinkle with chopped Ferrero's. Repeat with remaining layers and crumb coat the cake. Chill for 20mins.

Frost the cake with the remaining buttercream, smooth the sides and chill for 20mins. Press chopped hazelnuts into the sides and top with rosettes if desired.
Notes
* Grind up 1 cup toasted, skinned hazelnuts to a fine powder. Or sub in 3/4 cup all-purpose flour.
** Ensure there is no trace of egg yolks in your whites and that your mixer bowl and whisk is completely grease free or your meringue won't stiffen.
Calories:
733
kcal
Carbohydrates:
87
g
Protein:
8
g
Fat:
43
g
Saturated Fat:
25
g
Cholesterol:
93
mg
Sodium:
401
mg
Potassium:
381
mg
Fiber:
6
g
Sugar:
71
g
Vitamin A:
780
IU
Vitamin C:
0.6
mg
Calcium:
98
mg
Iron:
3.5
mg
The nutritional information and metric conversions are calculated automatically. I cannot guarantee the accuracy of this data. If this is important to you, please verify with your favorite nutrition calculator and/or metric conversion tool.
Originally published on Nov 6, 2016