Bite-sized sugar cookie cups filled with a vanilla custard and topped with fresh berries.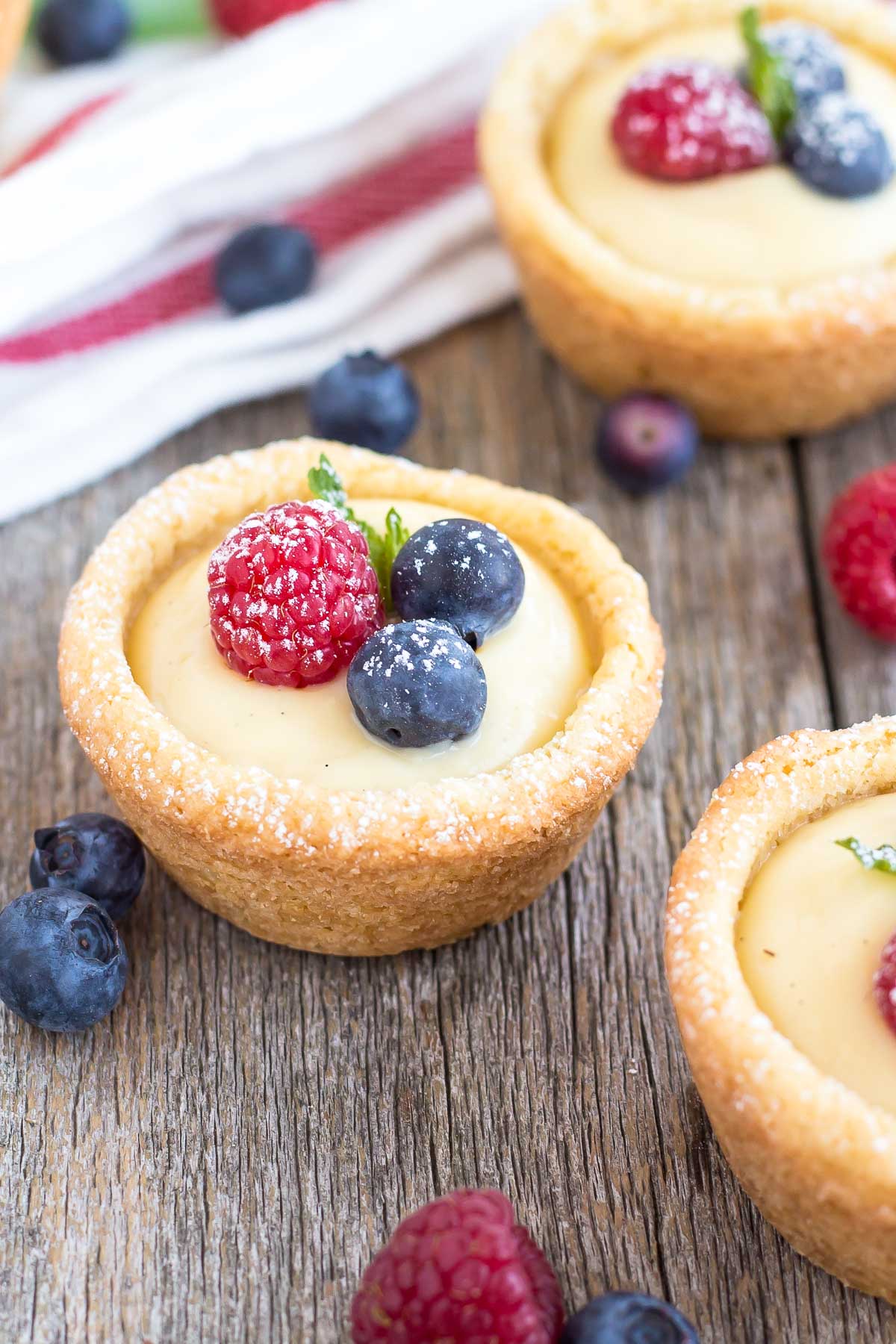 Not sure about you, but I am ready for spring. Like, SO ready. We had so much snow this winter it's not even funny. For a place that rarely gets snow at all, it's been a little ridiculous. Sadly, we still have some time to go before those spring flowers make their debut, so I'm bringing a bit of spring and sunshine to you today with these Vanilla Custard Cookie Cups!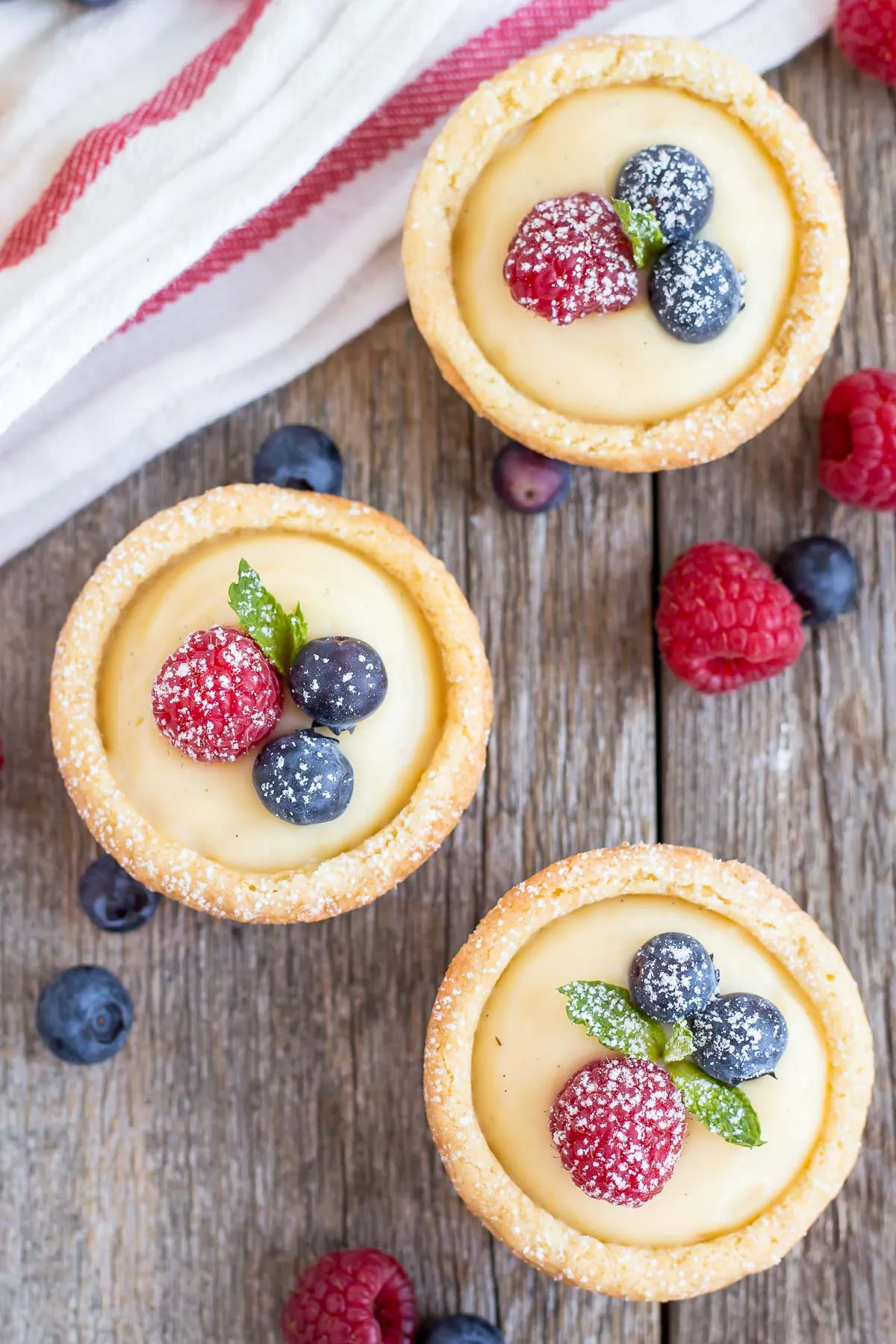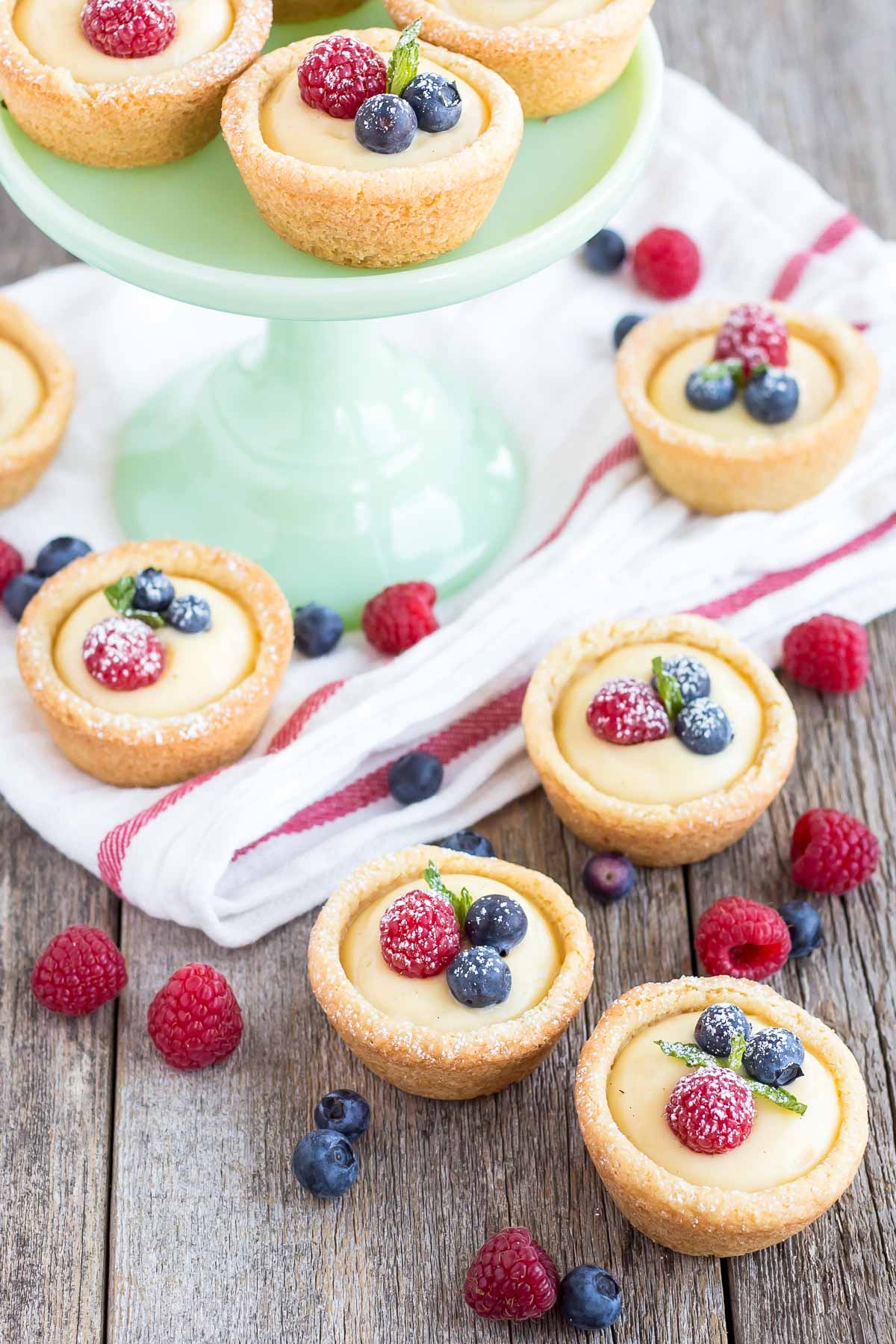 Yes, more cookie cups. I love them, and based on my top posts from last year, it seems like you love them too! And what's not to love? They are much easier to throw together than a layer cake, and just as pretty and delicious.
These Vanilla Custard Cookie Cups are a little different from my other cookie cups, which typically use a cheesecake and whipped cream filling. These ones use a delicious vanilla pastry cream as the filling.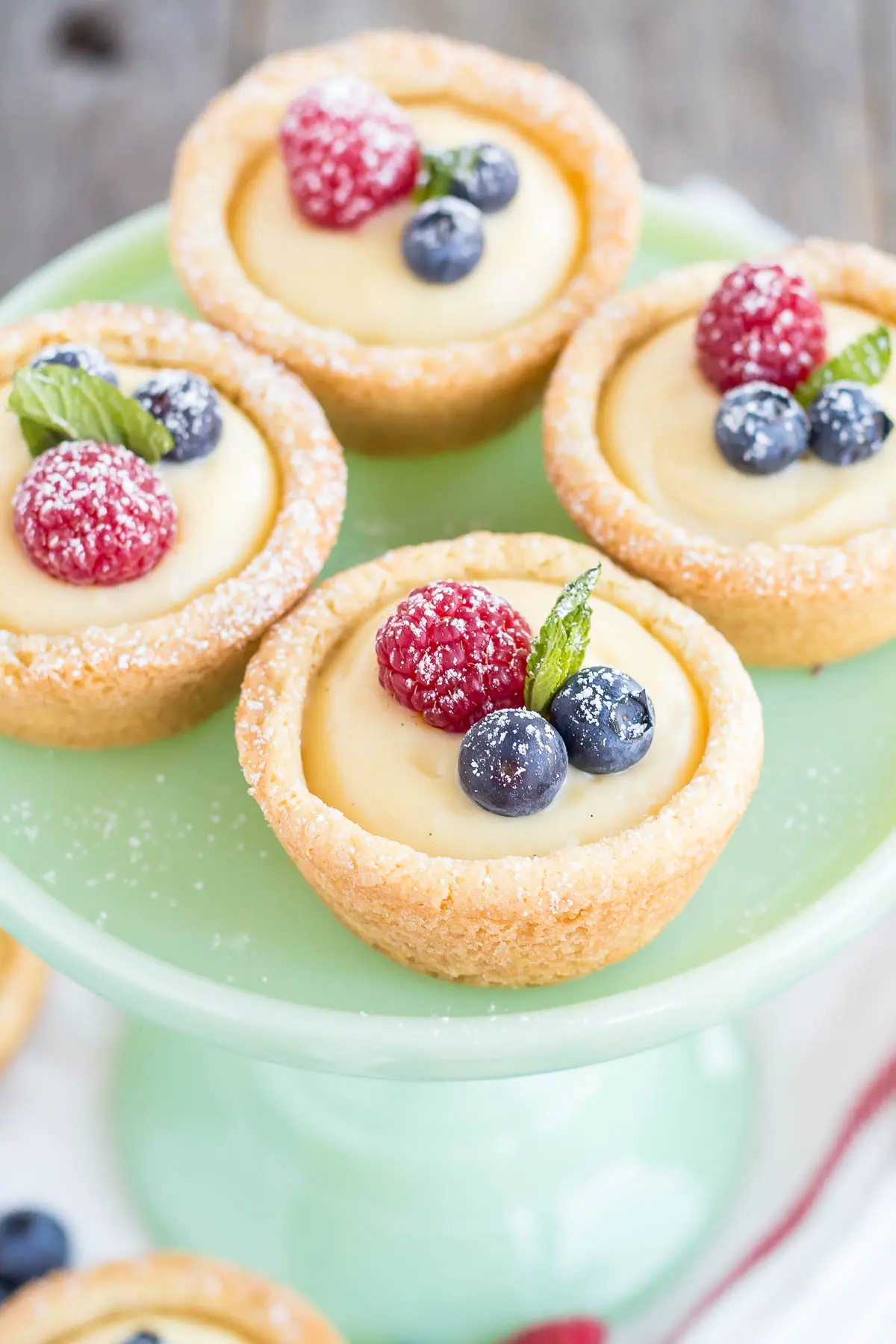 Pastry cream (aka vanilla custard) is often used as a filling for various baked goodies — like eclairs or Boston cream donuts. It involves a few simple ingredients: milk, egg yolks, vanilla, sugar, and cornstarch as a thickener. Heat up the milk, whisk it into the egg yolks and cornstarch, cook till it boils, strain, and cool.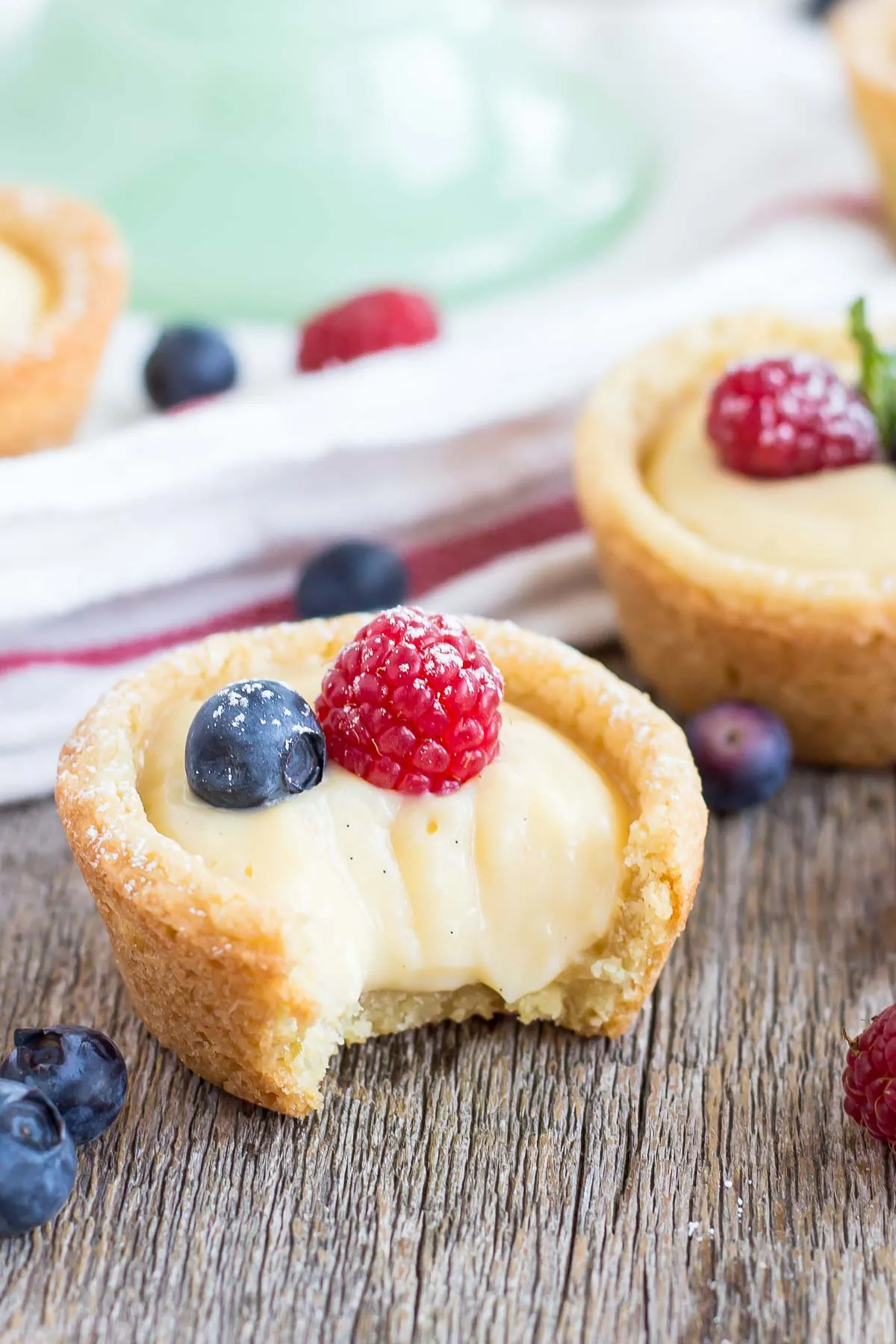 Truthfully, I don't love pastry cream. Something about the flavor is off-putting to me (probably the cornstarch), but I am clearly in the minority here, as it is a beloved filling of many. As such, I thought it would be perfect for these Vanilla Custard Cookie Cups.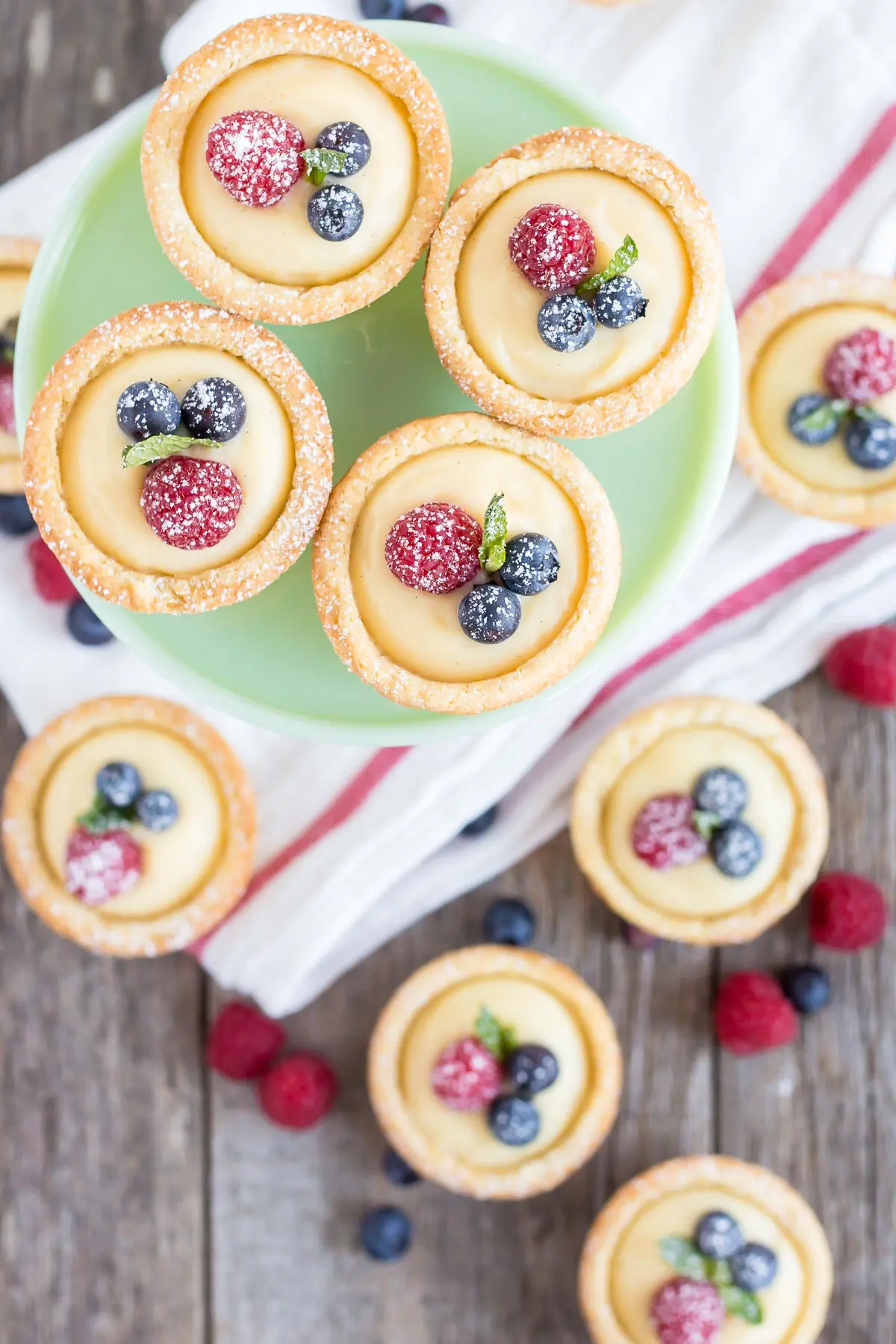 Like the filling, the cookie cup base here is also a little different than my other cookie cups (but only slightly). I wanted it to be lighter and more like a sugar cookie, so I used only granulated sugar and no light brown sugar. I think they came out pretty perfect!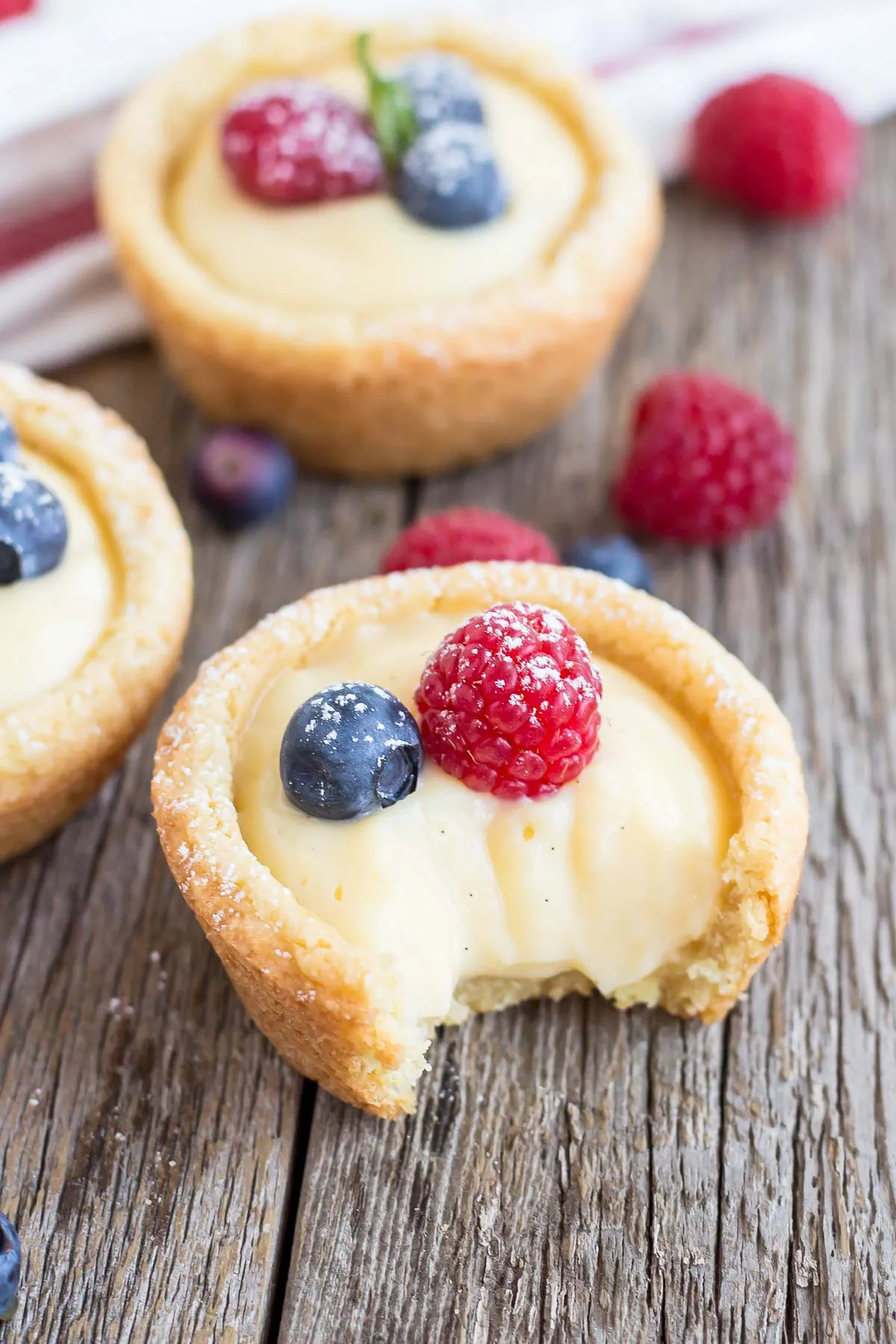 Topped off with some fresh berries and a simple dusting of powdered sugar, these Vanilla Custard Cookie Cups are the perfect treat to tide you over until spring and summer.
Notes & tips for these Vanilla Custard Cookie Cups:
If you don't have vanilla bean paste, you can use 1 tsp of vanilla instead.
You can use vanilla pudding in place of pastry cream if you prefer.
Best served cold, out of the fridge.
Serve within two days. These do not freeze well.
Vanilla Custard Cookie Cups
Bite-sized sugar cookie cups filled with a creamy vanilla custard and topped with fresh berries.
Instructions
Cookie Cups:
Preheat oven to 350°F. Spray 2 regular sized muffin tins with cooking spray.

Whisk together flour, baking soda, and salt, set aside.

Beat butter and sugar on med-high until pale and fluffy (approx. 2-3mins). Reduce speed and add eggs (one at a time), and vanilla. Beat until combined.

Add flour mixture and mix until just combined.

Using a large cookie scoop (3 Tbsp), scoop dough into muffin tins, press down to flatten slightly.

Bake for 10-12 mins or until lightly browned and mostly set.

Remove from oven and immediately use a small jar or container to press firmly down in the center to create a well. Cool in pans for 10 mins, then place on wire rack to cool completely.
Vanilla Custard:
Place 3 cups milk and vanilla bean paste into a medium saucepan. Cook over high heat, stirring often until it just starts to simmer. Remove from heat.

In a medium bowl, whisk remaining 1 cup milk, egg yolks, sugar, and cornstarch.

While whisking vigorously, slowly pour the hot milk into the egg mixture.

Return mixture to saucepan and cook over high heat, whisking constantly, until it thickens and comes to a boil.

Pass through a strainer and into a small bowl. Place plastic wrap directly on top of custard to prevent a skin from forming. Place in refrigerator to cool completely.

Whisk custard to a smooth texture and pipe into cooled cookie cups. Top with fruit if desired.

Store in fridge and serve within two days.
Calories:
309
kcal
Carbohydrates:
42
g
Protein:
4
g
Fat:
13
g
Saturated Fat:
8
g
Cholesterol:
94
mg
Sodium:
199
mg
Potassium:
103
mg
Sugar:
27
g
Vitamin A:
485
IU
Calcium:
75
mg
Iron:
1
mg
The nutritional information and metric conversions are calculated automatically. I cannot guarantee the accuracy of this data. If this is important to you, please verify with your favorite nutrition calculator and/or metric conversion tool.