These Chocolate Peppermint Cookie Cups are the perfect make-ahead treat for the holidays. Dark chocolate cookies filled with a whipped peppermint cheesecake and topped with crushed candy canes!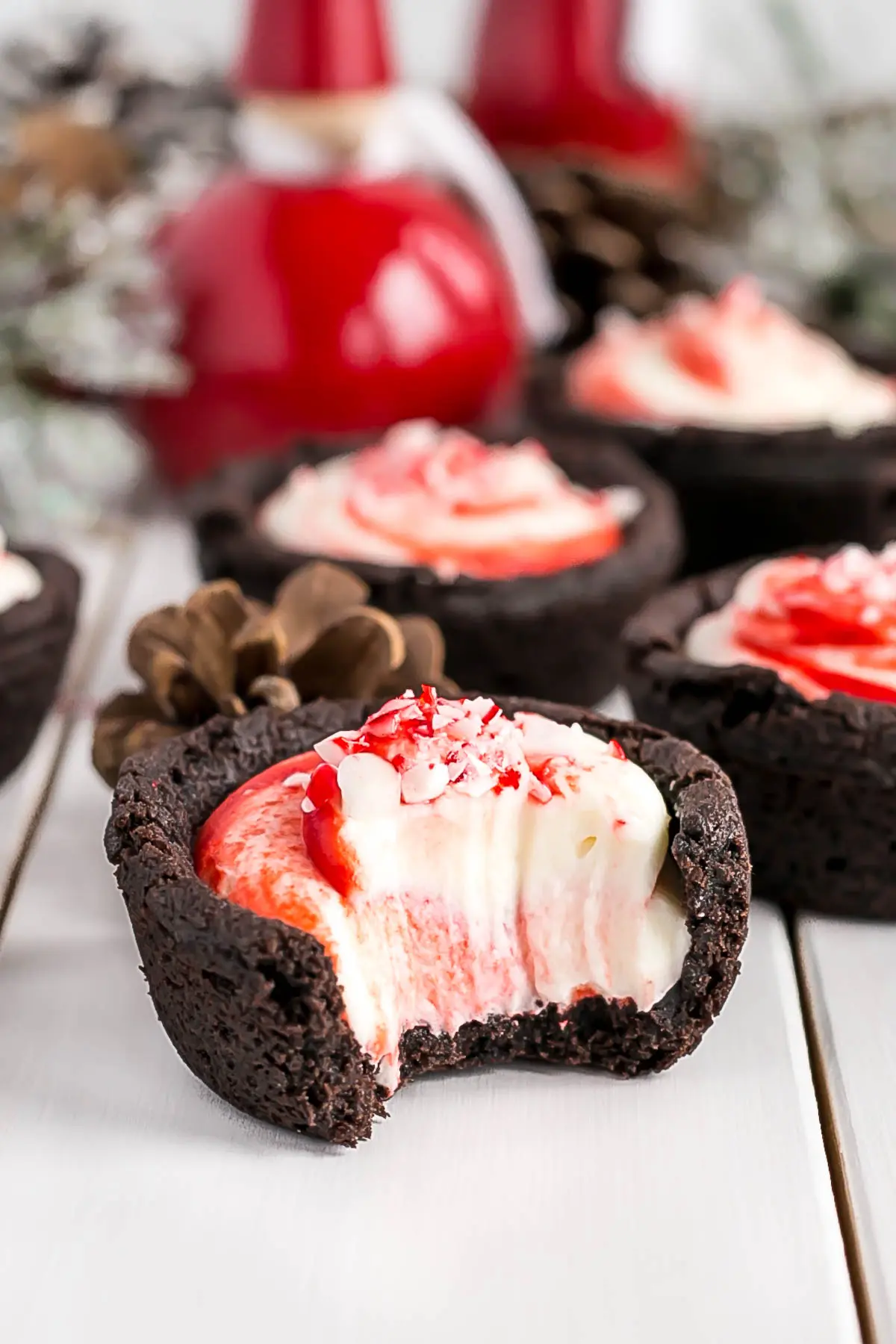 Normally I'm quite ok with the grey, gloomy weather in Vancouver. I often actually prefer it, especially on weekends when I really don't want to be leaving the house anyhow. If it's pouring out, I don't feel as guilty about being a hermit. As a food blogger though, it's just the worst.
It has been a horrible month for weather — the rainiest November in 50 years apparently — and taking photos in gloomy grey skies just does not work very well. I'm self-taught in photography and photo editing, and quite frankly most of the time I don't know WTF I'm doing. I just kinda play around with things and hope for the best. The photography aspect is my least favourite part. Every once in a while though, all of the stars align and I manage to whip out some amazing pictures that require very little editing. That happens maybe twice a year, if that, lol.
Most of the time I hate my pictures, and editing them is a HUGE pain in the butt. Case in point, these Chocolate Peppermint Cookie Cups that were shot on a particularly crappy day.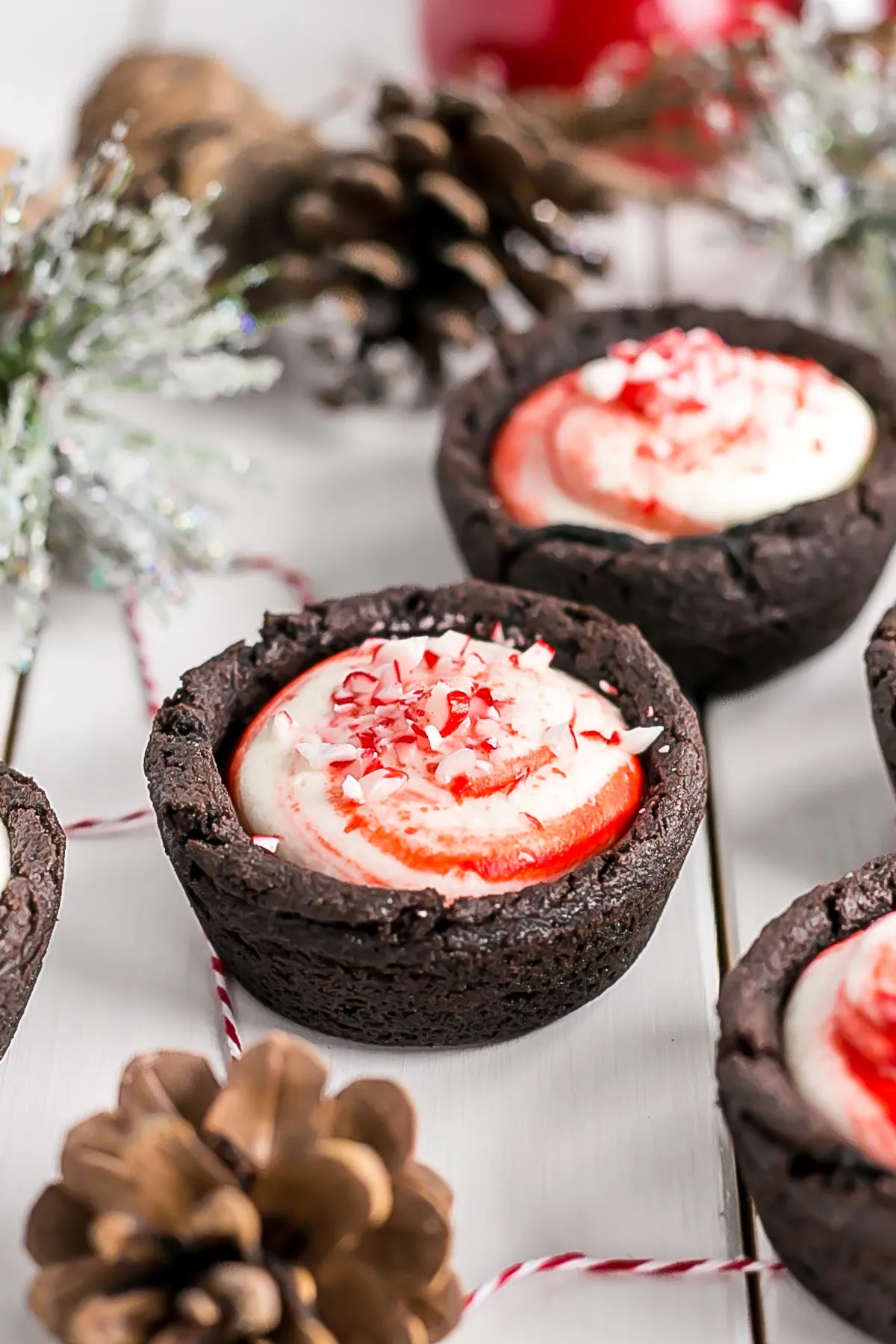 I try to tell myself that no one else will notice the issues that I see, but now that I've told you, you're probably looking for them! The lighting was bad, so the photos were really dark and shadowy. I managed to edit the shadows out of the pics a bit, but some look better than others. The color is off too, or something. I don't know.
ANYhow, enough griping about the pics, because what you probably care about is how these Chocolate Peppermint Cookie Cups taste. I don't blame you!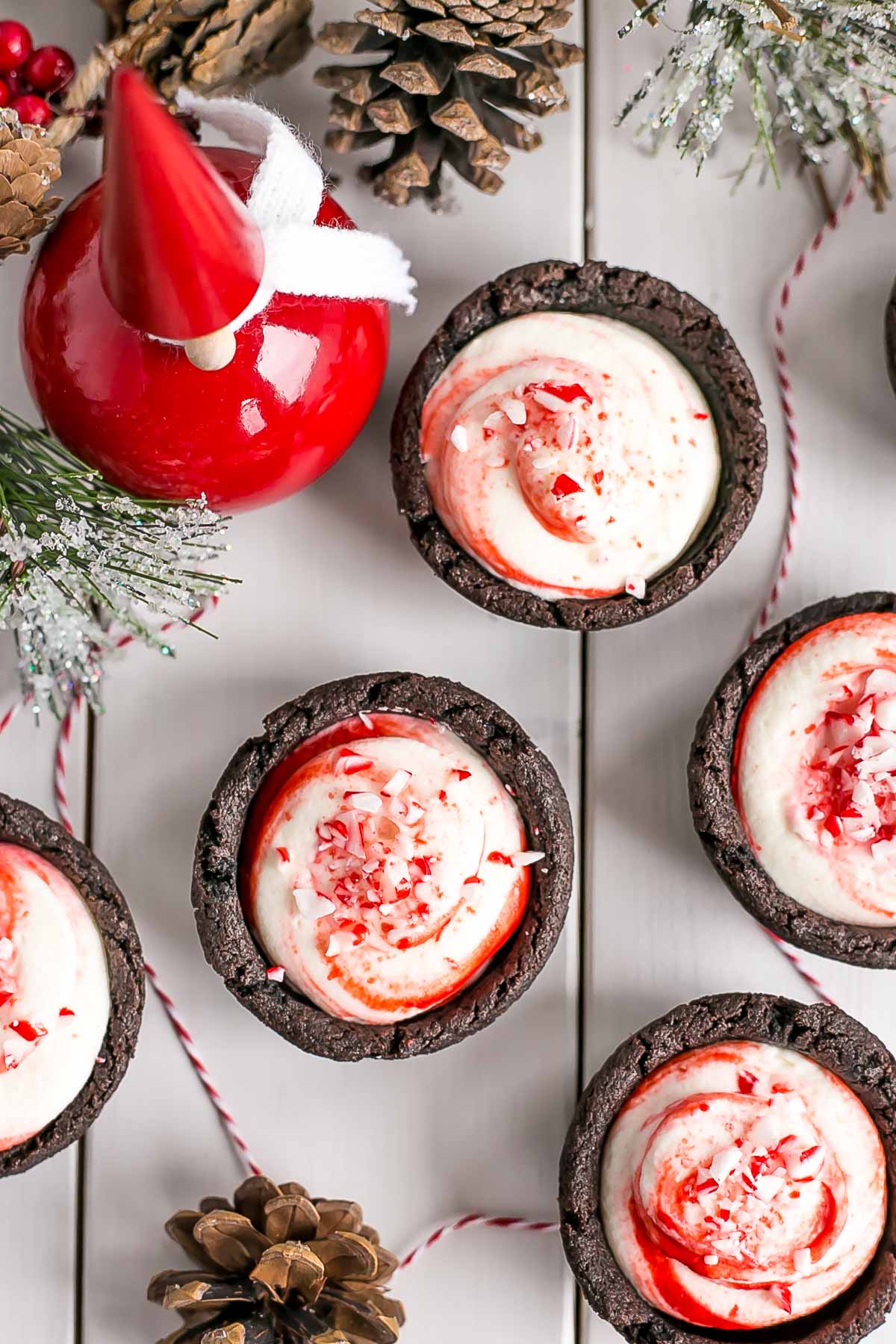 These cookie cups are a spin off of the Dark Chocolate Candy Cane Cookies I made last year. These cookies are crazy popular on the blog right now, and I can understand why. Chocolate and mint is one of the best combos out there! And candy canes just scream holiday season. You really can't go wrong.
The filling for these Chocolate Peppermint Cookie Cups is a peppermint infused cheesecake mousse that goes perfectly well with the dark chocolate cookies. I use black cocoa powder to give my chocolate cookies that deep, rich color and as a bonus it also gives them a bit of an Oreo flavour.
The candy cane swirl was actually really easy to do, except of course I overcomplicated it. What I ended up doing (and what worked best) was to just stripe the inside of a pastry bag with red color gel. I used a small, food-safe paintbrush, and made two stripes on opposite sides and then filled the bag carefully with the cheesecake filling. I had bought red sparkle gel and red decorating gel and tried those first, using them to stripe the bag. The results were very pale and lackluster, so I went with the color gel. Naturally, that was the easiest and cheapest option since I already had it!! Sigh.
I topped them all off with some chopped candy cane for a bit of extra flare, but you could leave this off.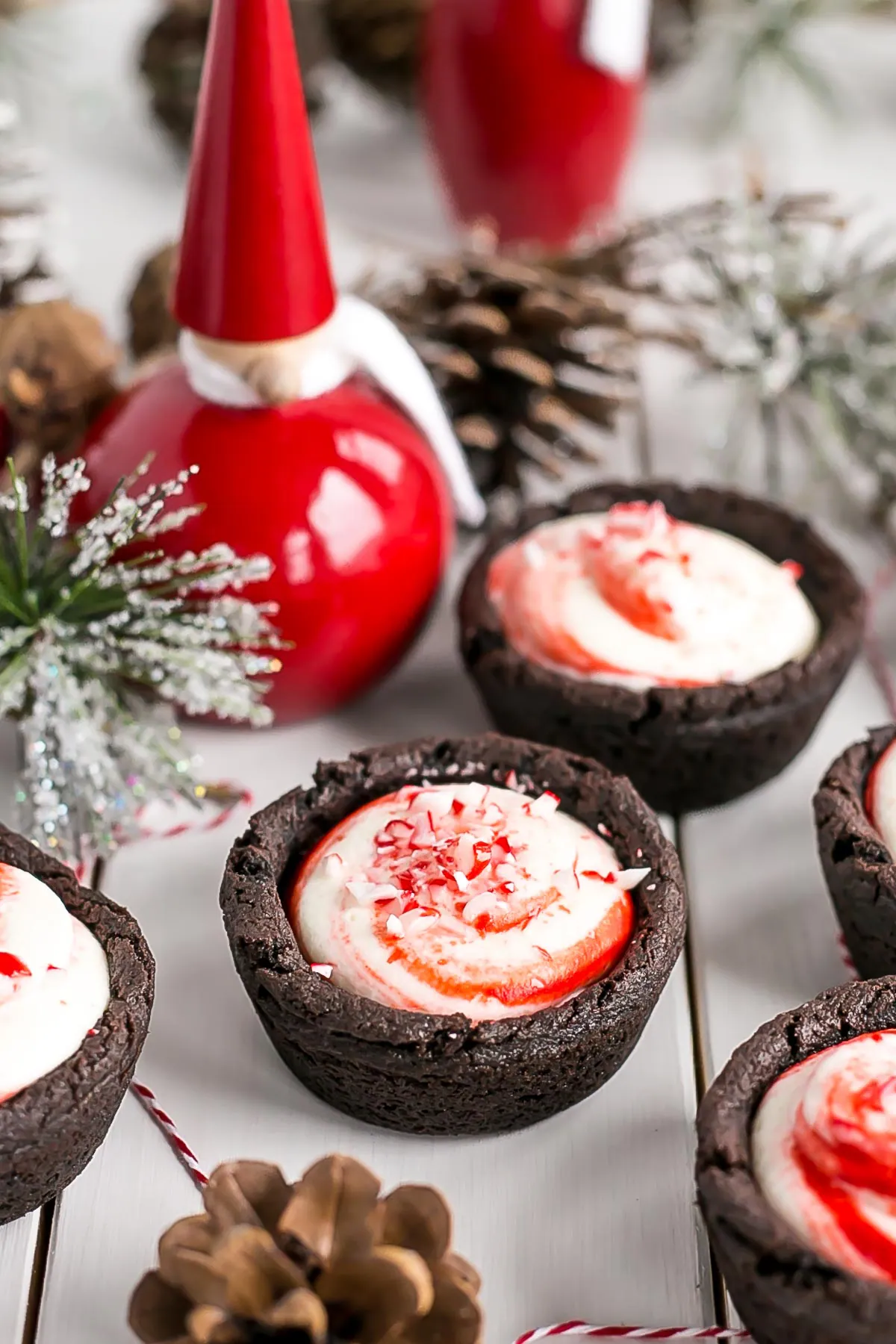 If you're a fan of candy canes and chocolate, you're going to love these Chocolate Peppermint Cookie Cups. As a bonus, they're easy to make AND they freeze super well (sans chopped candy cane, sprinkle that on before serving). You can make these guys weeks in advance and stick them in the freezer. Holiday baking made easy!
Tips for these Chocolate Peppermint Cookie Cups:
Chocolate Peppermint Cookie Cups
These Chocolate Peppermint Cookie Cups are the perfect make-ahead treat for the holidays. Dark chocolate cookies filled with a whipped peppermint cheesecake and topped with crushed candy canes!

Ingredients
Peppermint Cheesecake Filling:
Instructions
Chocolate Cookie Cups:
Preheat oven to 350°. Spray two regular sized cupcake tins with cooking spray.

Whisk together flour, cocoa powders, baking soda, and salt. Set aside.

Beat butter and sugars on med-high until light and fluffy (approx. 2-3mins). Reduce speed and add eggs one at a time and vanilla. Beat until combined. Add flour mixture and mix until just combined.

Using a large cookie scoop (3 Tbsp) scoop dough into muffin tins.

Bake for approx. 10-13mins or until mostly set, but still soft in the middle.

Remove from oven and immediately use a small jar or container to press firmly down in the center to create a well.

Cool in pans for 10mins, loosen each slightly by twisting it in the pan. Cool for 5 more minutes then remove from pan and cool completely on a wire rack.
Peppermint Cheesecake Filling:
Whip heavy cream until stiff peaks (ideally with a cold whisk and in a cold bowl).

In a separate bowl, beat cream cheese and sugar until smooth.

Add whipped cream into cream cheese mixture and beat until combined.

Pipe a swirl into cooled cookie cups and refrigerate until set (approx. 1-2 hours).

Sprinkle with chopped candy canes if desired.

Serve chilled and eat within 2-3 days. Or freeze for up to 4 weeks (without chopped candy cane).
Calories:
300
kcal
Carbohydrates:
32
g
Protein:
3
g
Fat:
18
g
Saturated Fat:
11
g
Cholesterol:
71
mg
Sodium:
174
mg
Potassium:
94
mg
Fiber:
1
g
Sugar:
21
g
Vitamin A:
640
IU
Vitamin C:
0.1
mg
Calcium:
38
mg
Iron:
1.1
mg
The nutritional information and metric conversions are calculated automatically. I cannot guarantee the accuracy of this data. If this important to you, please verify with your favourite nutrition calculator and/or metric conversion tool.