These Eggnog Cheesecake Cookie Cups are the best treat for the holidays! Chewy gingerbread cookie cups filled with a fluffy eggnog cheesecake.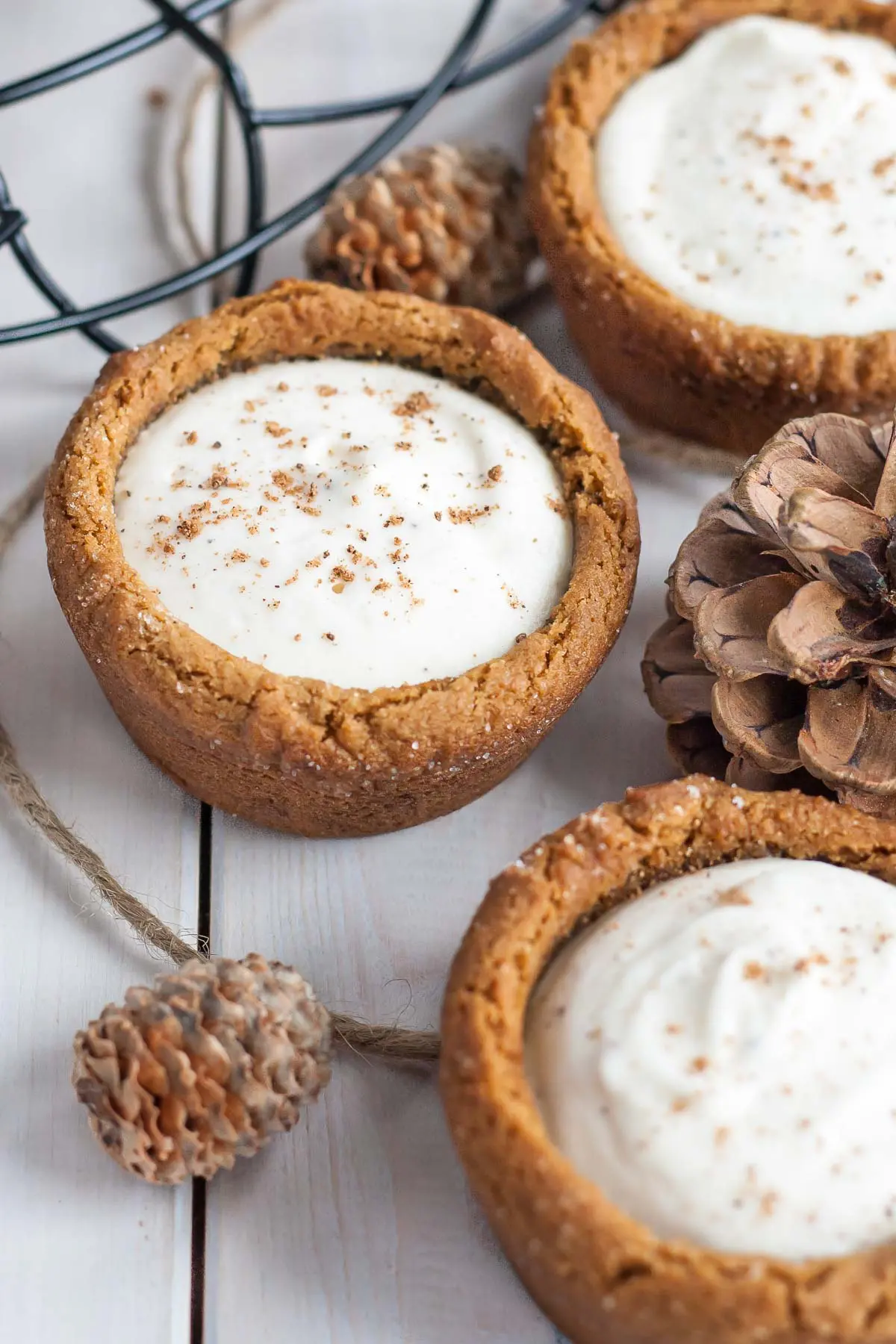 The holiday season is in full swing and I'm oddly more prepared for it than I've ever been in my life.
All of my holiday shopping has been done for over a week now (don't ask me how that happened, it's a Christmas miracle), all of the holiday decorations are up, the holiday tunes have been going strong, and we've made our way through a few of our favorite holiday movies already.
It just feels very nice and festive. I'm enjoying every minute of it.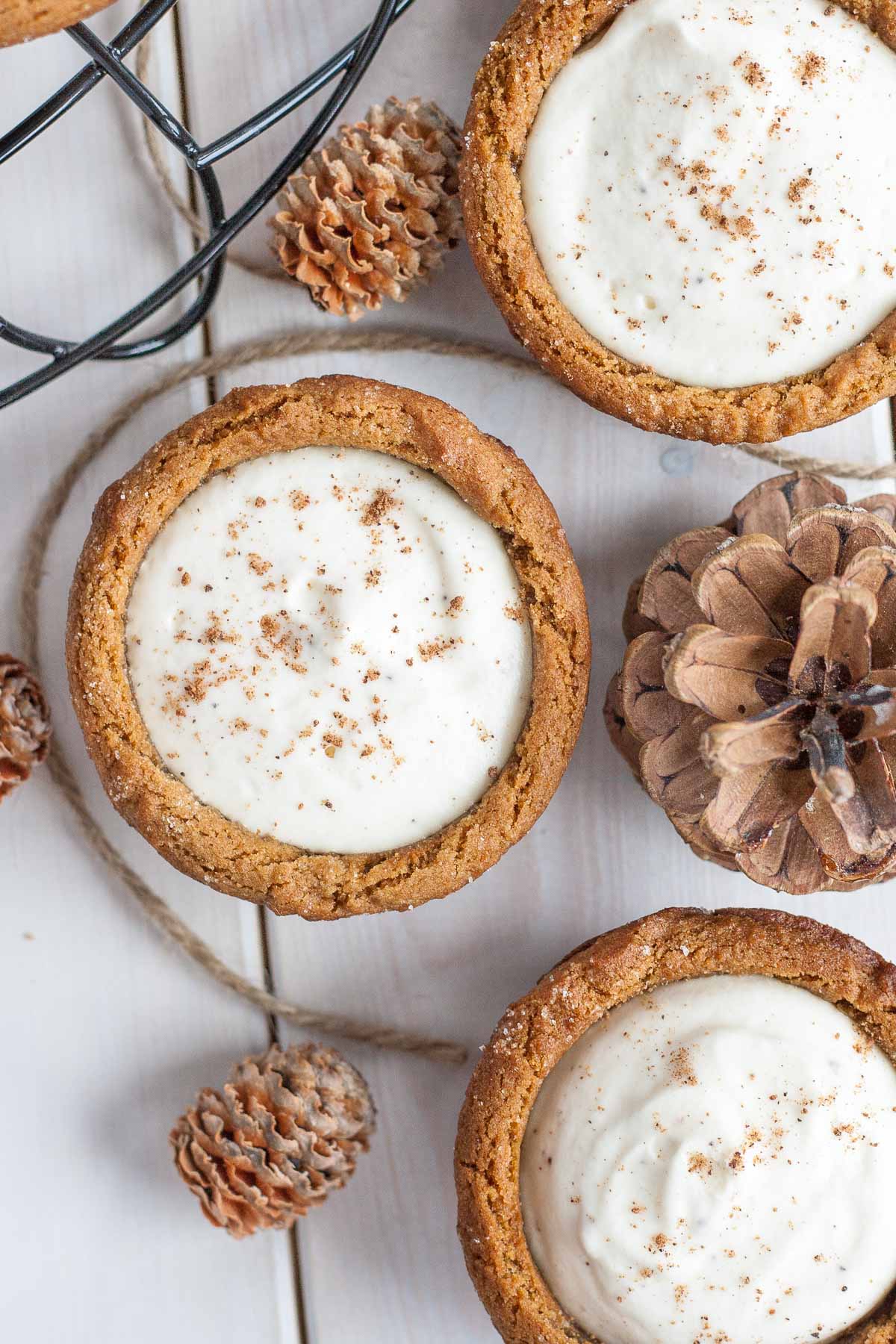 Today, I'm resharing with you one of my older recipes (from Nov 2016). I'm resharing it because it's one of my absolute favorite (and easy) holiday recipes, and also one of my most popular.
Many of you may not know about these Eggnog Cheesecake Cookie Cups though and that just seemed like a shame – you're totally missing out!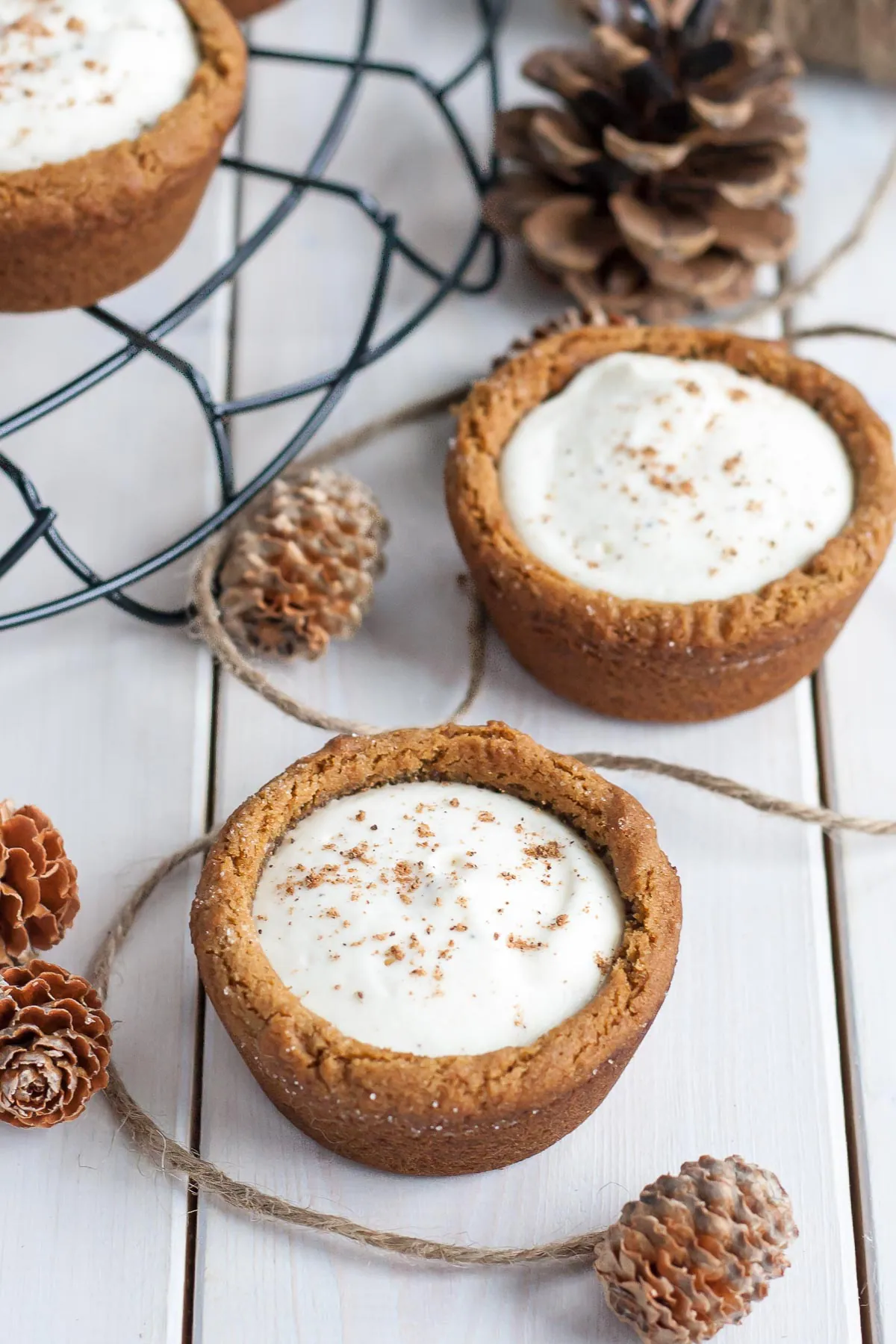 It's no secret that I am a huge fan of cookie cups. They are easy to make and delicious. A fun way to make a unique dessert.
They are so easy to mix and match, too — pick a type of cookie and decide on a filling. The possibilities are endless! Seeing as how it's the holiday season, I wanted to combine two of my favorite holiday flavors into one delicious cup!
Gingerbread Cookie Cups
The base for these Eggnog Cheesecake Cookie Cups is the cookies from my Snow Capped Gingersnaps, with a couple of minor alterations.
These are the best chewy gingerbread cookies you will ever have. I prefer my gingerbread cookies chewy vs crispy and these totally hit the spot. A perfect cookie for the holiday season!
Eggnog Cheesecake Cookie Cups
The filling for these cookie cups is a no-bake eggnog cheesecake.
It's a very simple recipe that involves folding whipped cream cheese into whipped cream. You then pipe it into the cooled cookie cups and you're all set.
Truthfully, I actually don't like eggnog in its pure form. I find it thick and heavy, kind of like drinking pudding. But I do LOVE the flavor of it in cakes and various other desserts.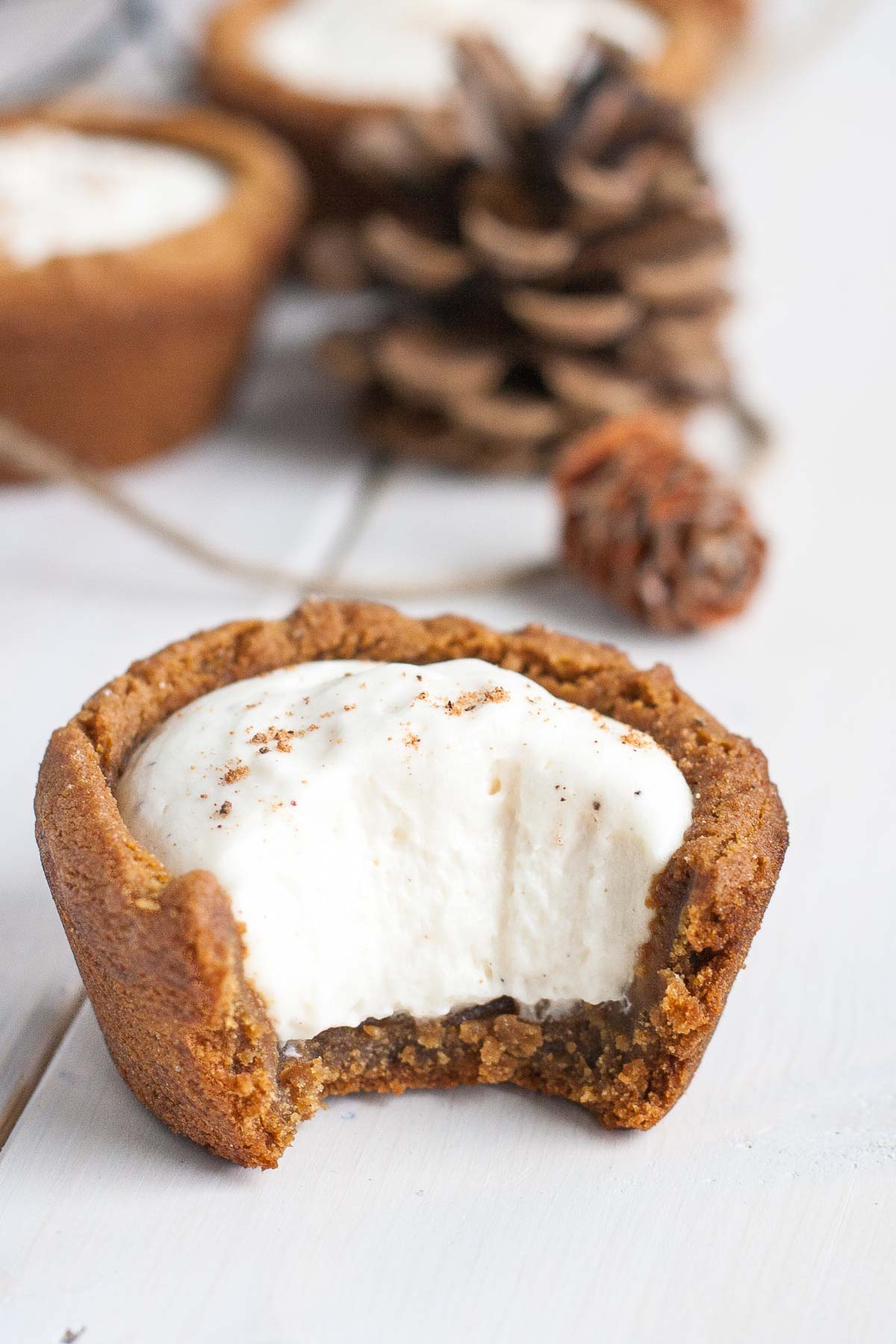 These Eggnog Cheesecake Cookie Cups are amazing. Amazing!! They are one of my most popular holiday recipes and you need to try them. Plus they are pretty easy to make, which scores them extra points in my opinion.
Also? These cookie cups freeze very well, so you can make them earlier in the season and then just take them out whenever you need them.
The perfect holiday treat!
Looking for more Eggnog Desserts?
Tips for making these Eggnog Cheesecake Cookie Cups:
I used a large cookie scoop (3 Tbsp) to portion the dough and a regular-sized cupcake pan.
You can make minis if you prefer — start checking them at 7mins or so.
If the cookie cups are too gooey when you try to press down onto them, pop them back in the oven for a couple minutes.
Don't let the baked cookie cups sit in the pan for too long, as they'll start to stick. I try to transfer them about 5mins into cooling — this can be tricky if they are very soft. I find that twisting them to take them out works well. Sometimes I wait another 5 mins.
Ensure your heavy cream is cold (ideally the mixer bowl too). This will help give the whipped cream more volume.
The cookies will soften a bit the longer they sit with the filling.
Store in the fridge for up to 3 days or in the freezer (in an airtight container) for 1-2 months.
Best served cold, but can be served at room temperature. Eat within 2-3 days.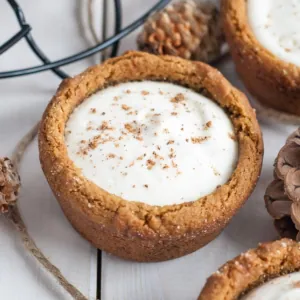 Eggnog Cheesecake Cookie Cups
The best treat for the holidays! Chewy gingerbread cookie cups filled with a fluffy eggnog cheesecake.
Ingredients
Eggnog Cheesecake Filling:
Instructions
Gingerbread Cookie Cups:
Preheat oven to 350F and grease 2 regular sized muffin tins.

In a medium bowl, whisk flour, baking soda, cinnamon, ginger, cloves, and salt. Set aside.

In the bowl of a stand mixer, beat butter, molasses, and brown sugar till pale and fluffy (2-3mins). Add egg and beat until combined.

Reduce speed to low and add in dry ingredients. Mix until combined.

Using a large cookie scoop (3 Tbsp), scoop dough into muffin tins, press down to flatten.

Bake for approx. 9-10 mins or until mostly set, but still soft in the middle.

Remove from oven and immediately use a small jar or container to press firmly down in the center to create a well. Cool in pans for 10mins, loosen each slightly by twisting it in the pan. Cool for 5 more minutes then remove from pan and cool completely on a wire rack.
Eggnog Cheesecake Filling:
Whip heavy cream until stiff peaks (ideally with a cold whisk and in a cold bowl).

In a separate bowl, beat cream cheese and sugar until smooth. Add eggnog, nutmeg and cinnamon and beat until incorporated.*

Fold cream cheese mixture into whipped cream and pipe into cooled cookie cups. Refrigerate until set (approx. 2 hours).

Serve cold and eat within 2-3 days. Or freeze for up to 2 months. The cookies will soften a bit over time.
Notes
* I whipped the cream in my stand mixer, transferred the cream to a bowl, then whipped up the cream cheese using the same bowl and whisk from the whipped cream (without cleaning it- easier this way!)
Calories:
302
kcal
Carbohydrates:
34
g
Protein:
3
g
Fat:
17
g
Saturated Fat:
10
g
Cholesterol:
64
mg
Sodium:
230
mg
Potassium:
140
mg
Sugar:
21
g
Vitamin A:
620
IU
Vitamin C:
0.2
mg
Calcium:
53
mg
Iron:
1.1
mg
The nutritional information and metric conversions are calculated automatically. I cannot guarantee the accuracy of this data. If this is important to you, please verify with your favorite nutrition calculator and/or metric conversion tool.
Originally posted on Nov 17th, 2016