This old-fashioned 7 minute frosting recipe is light, delicious, and easy to make. A bright white frosting that's perfect for cakes, cupcakes, and more.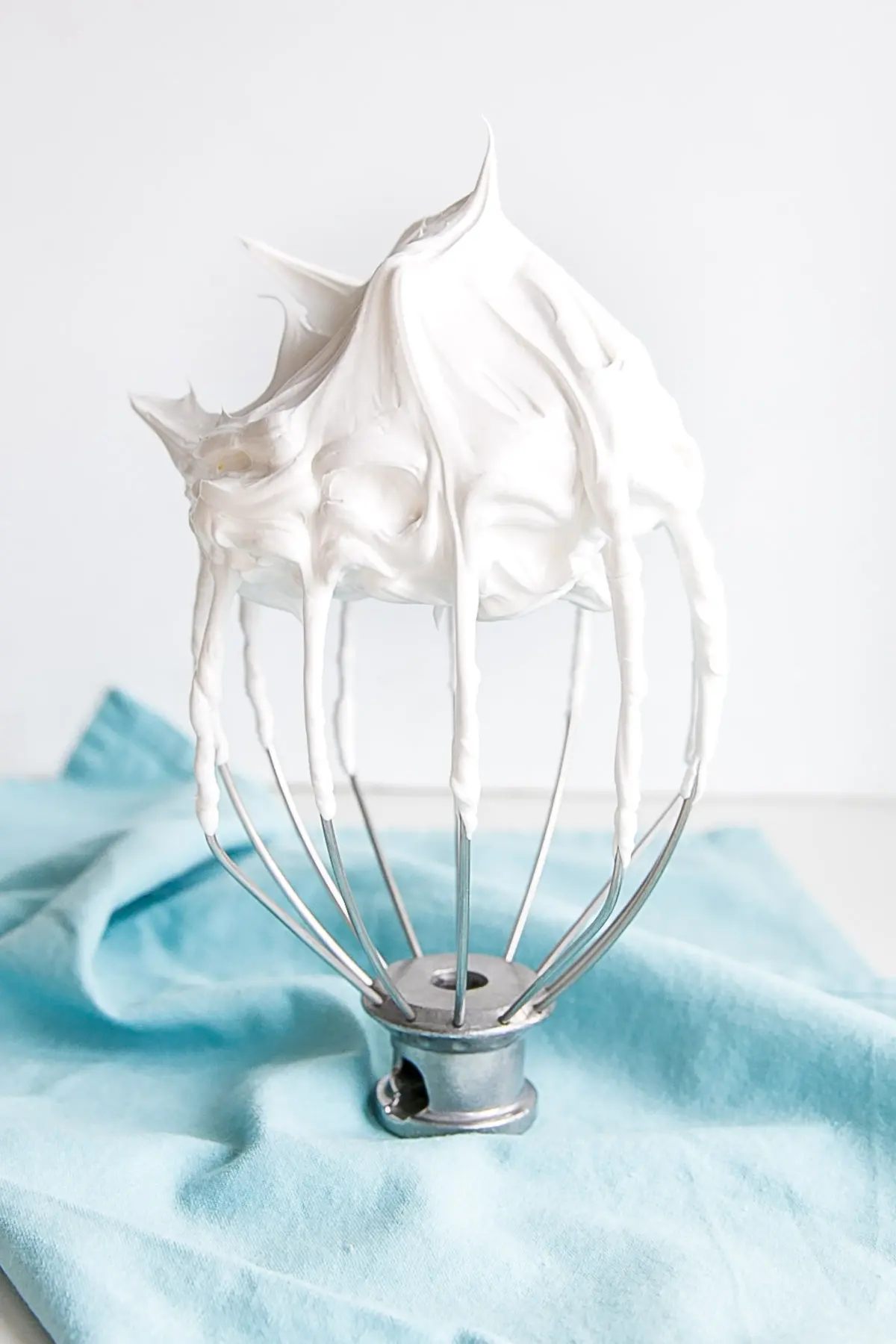 Your grandma's favorite frosting! But not like your grandma used to make it…
I thought I was done with posting frosting tutorials for a while, but I keep hearing about/finding out about new ones (thanks to you guys!) so I can't help myself.
Today, I'm sharing this classic 7 Minute Frosting.
What is 7 Minute Frosting?
Seven-minute frosting (or boiled frosting) is basically a Swiss meringue. You cook the egg whites and sugar and whip them up. It's called 7-minute frosting because that's how long you need to cook/whip it.
The traditional recipe calls for whipping the meringue over a double boiler with a hand mixer. This is too "hands-on" for my liking, so I'm making it the way I make the meringue for my Swiss Meringue Buttercream.
How to Make 7 Minute Frosting
Making this frosting comes down to a few simple steps:
Wipe down your tools (don't skip this)
Cook the egg whites and sugar
Whip for 7 minutes
Add flavoring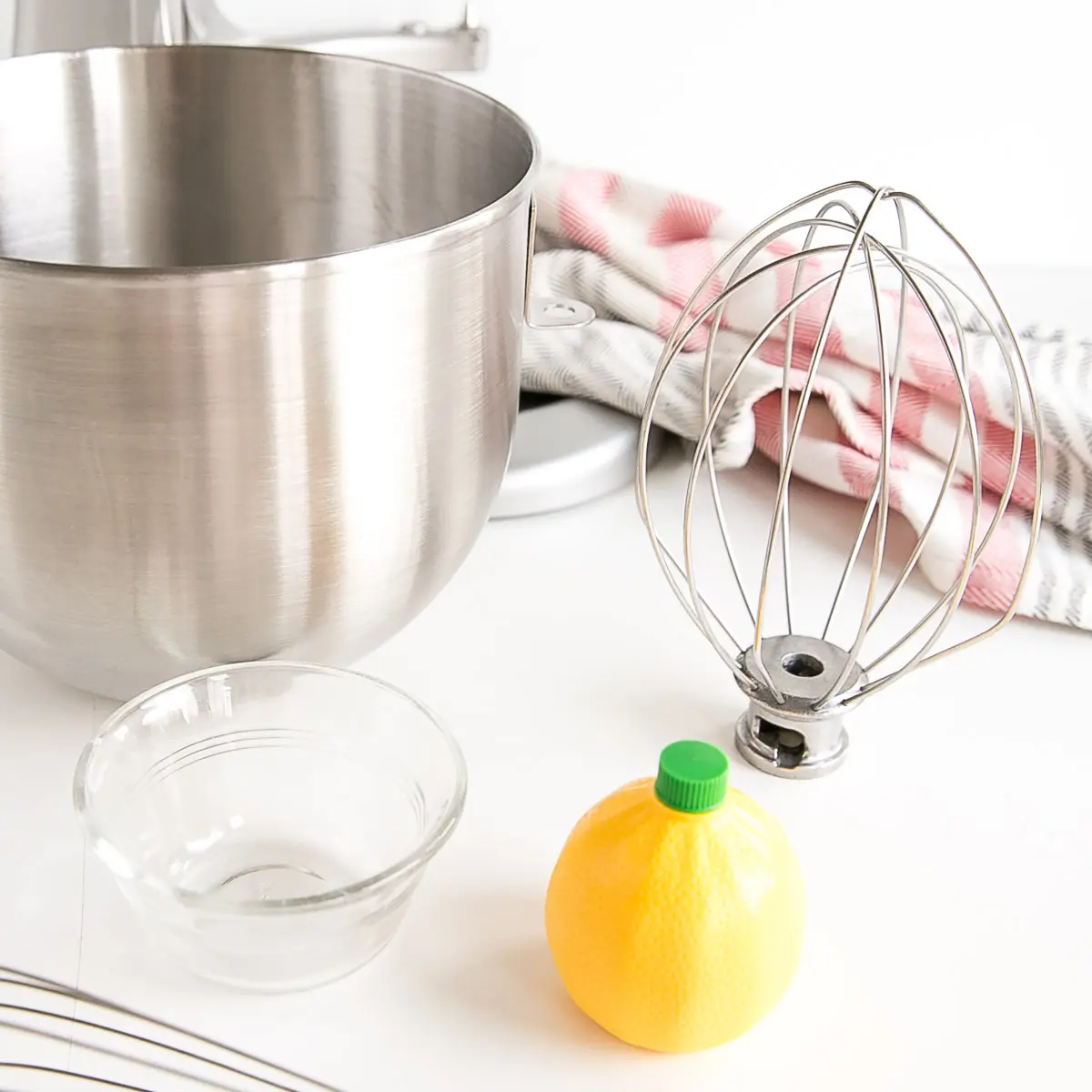 Step # 1 – Wipe Your Tools
Wipe down everything that will come in contact with the egg whites. Things like:
Small bowls used to separate eggs
Stand mixer bowl
Hand whisk
Measuring cup (that will be used to scoop sugar)
Stand mixer whisk
This will help ensure your frosting (aka meringue) whips up properly.
Step #2 – Heat the Eggs and Sugar
Once you've separated your eggs (I do not recommend carton whites — read on for why), place them, the sugar, and the cream of tartar into your mixer bowl and place the bowl over a pot with 1-2″ of simmering water. This is called a double-boiler, or bain-marie.
If you don't have a bowl-lift model mixer, just use a different bowl (ideally metal – better heat transfer) that you've wiped down and then transfer the mixture into your stand mixer bowl when it's cooked so you can whip it.
Do not let the bottom of the bowl touch the water.
Stir the mixture constantly with a whisk to make sure the egg whites cook evenly. This process will take 2-3 mins (sometimes more) depending on the number of egg whites you're working with and how vigorously your water is simmering.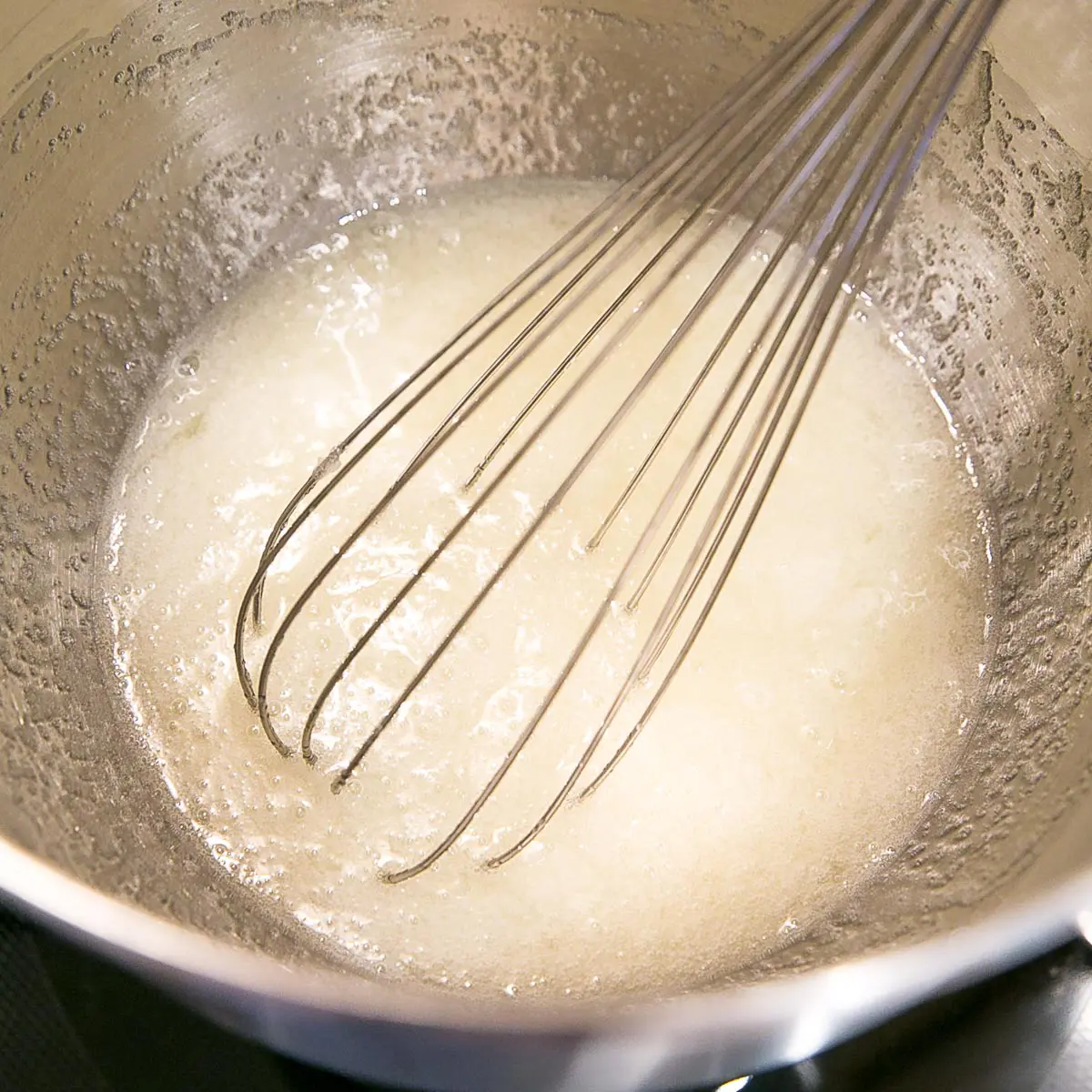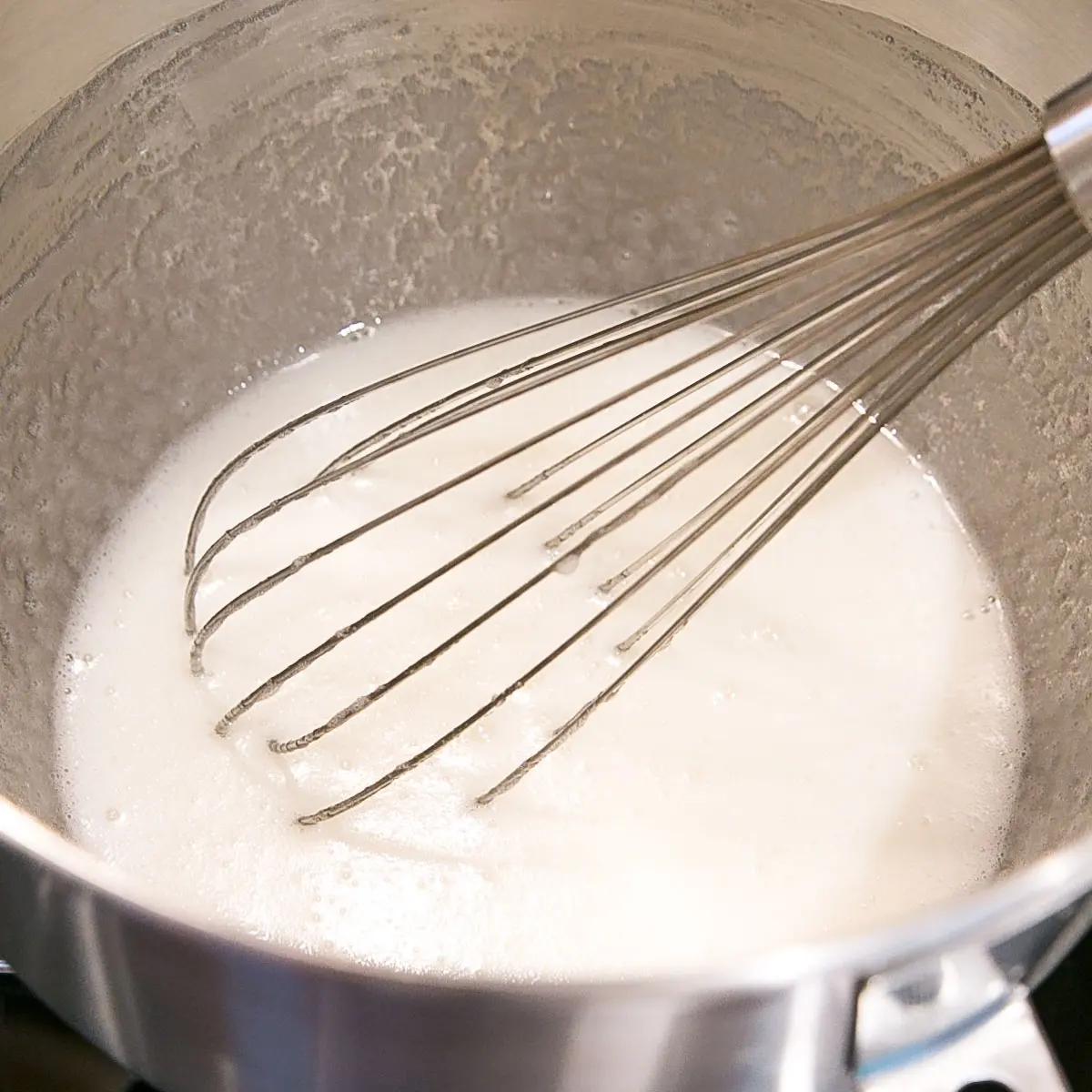 The mixture is ready when it is hot and no longer grainy to the touch. Use a candy thermometer to check that it has reached 160F. This is the most accurate way to make sure your whites are cooked fully.
Then, dip a (clean) finger into the mixture and rub it between your thumb and forefinger. If there is any graininess at all, keep cooking it until all of the sugar is dissolved.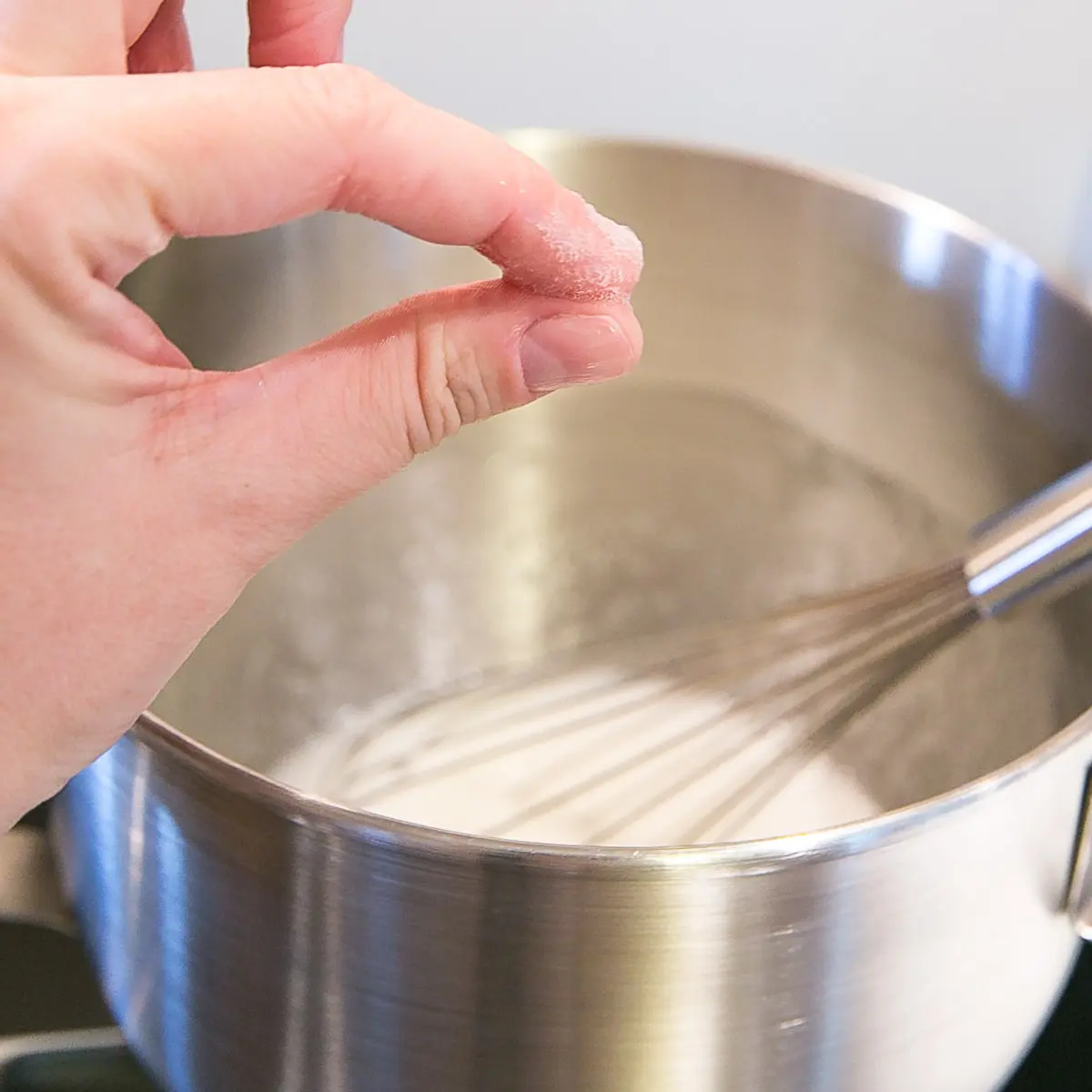 Step #3 – Whip the Meringue
Remove your mixer bowl from the pot, wipe the bottom of the bowl, and place it on your stand mixer (or transfer the mixture into your tilt-head mixer).
Attach the whisk attachment and begin whipping.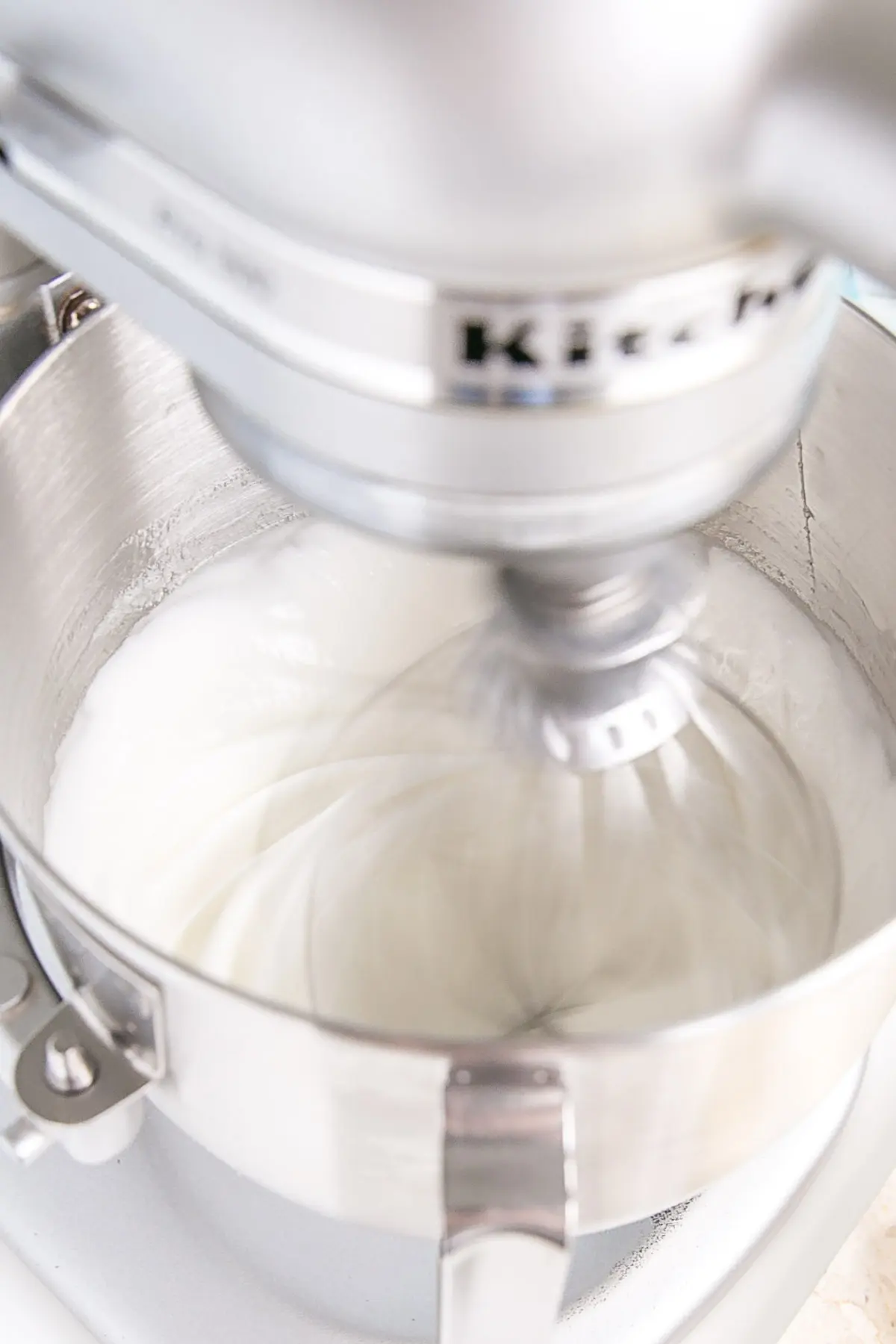 I usually crank it right up to high speed (about 8-9 on my KitchenAid). You'll see it start to thicken.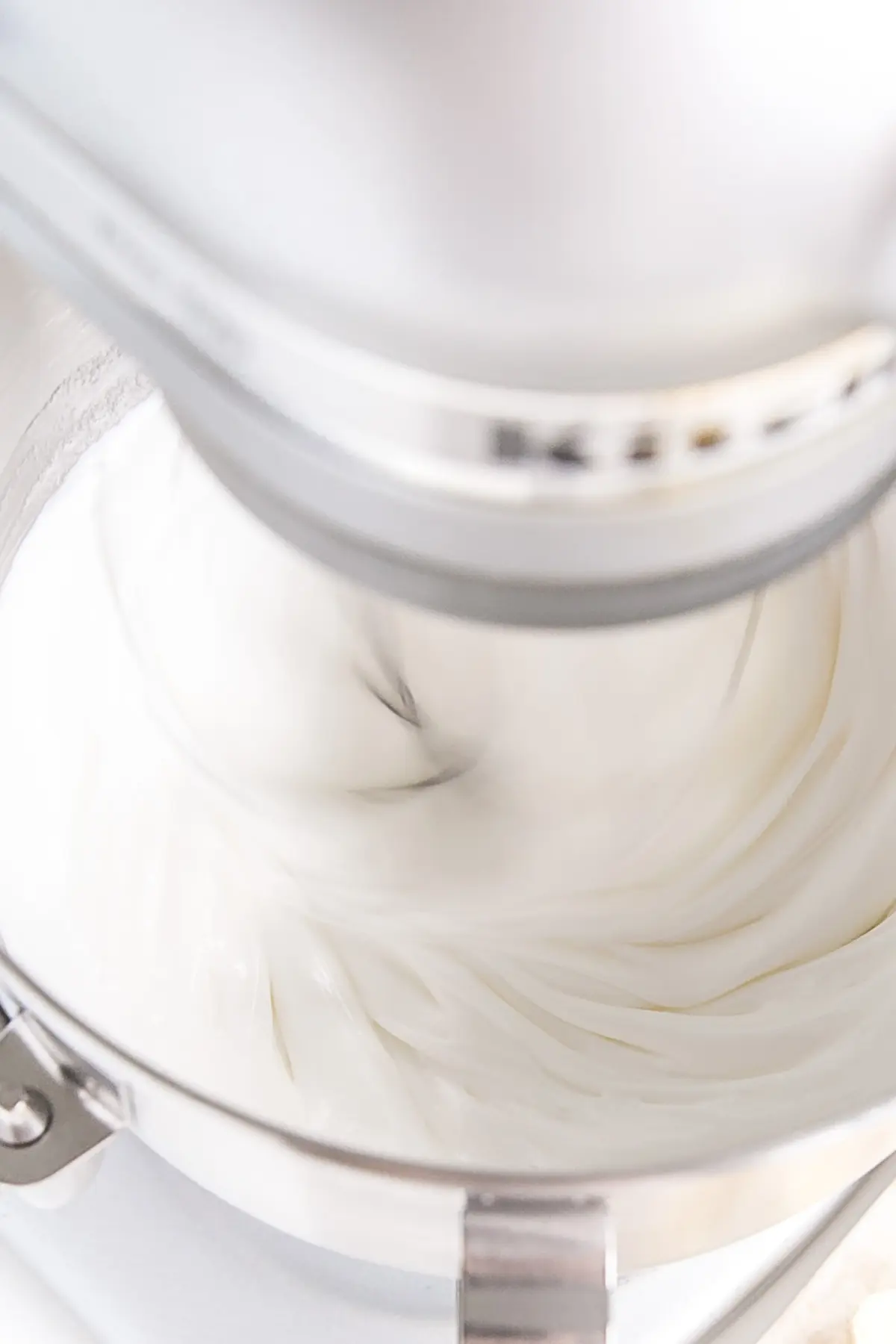 Whip for 5-7 minutes or until the meringue is stiff. You'll know if your meringue was successful if it holds a stiff peak. This is what it should look like – no droopy peaks!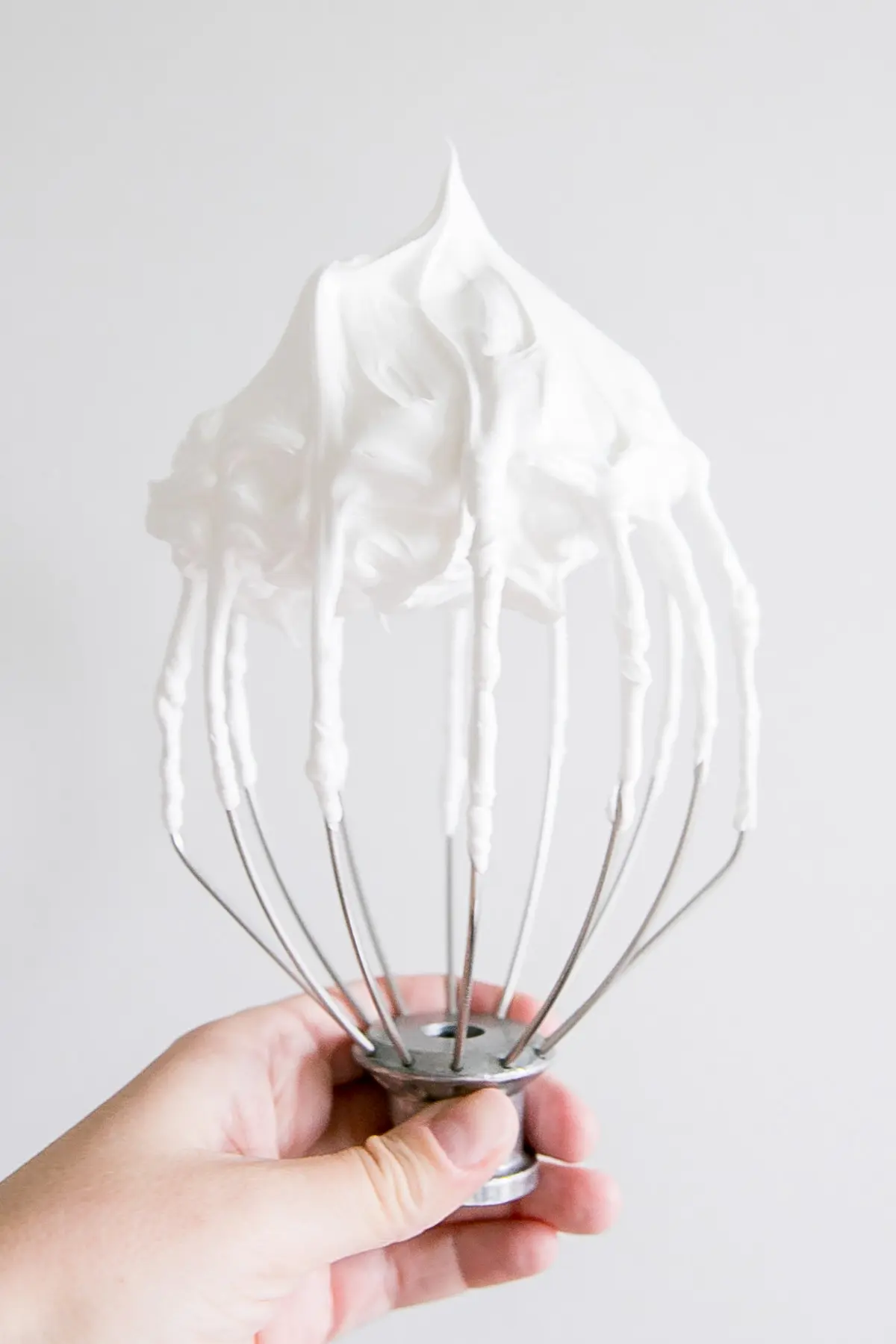 If your meringue is droopy or soft, it was likely affected by either grease, yolk, or carton whites. See Step #1. Unfortunately, if this happens, you will need to start over. There is no way to save the frosting at this point.
Step #4 – Add Flavoring
Stream in vanilla or other flavoring while the meringue is whipping. If you're adding an oil-based flavoring I recommend folding that in as not to deflate the meringue.
Can I use a Hand Mixer?
You can make this frosting a couple of ways using a hand mixer.
You can do it the traditional way and whip the frosting while it's cooking over the double boiler or,
Repeat the steps above but use a hand mixer instead of a stand mixer to whip it up.
It's a little more hands-on this way but will work out totally fine.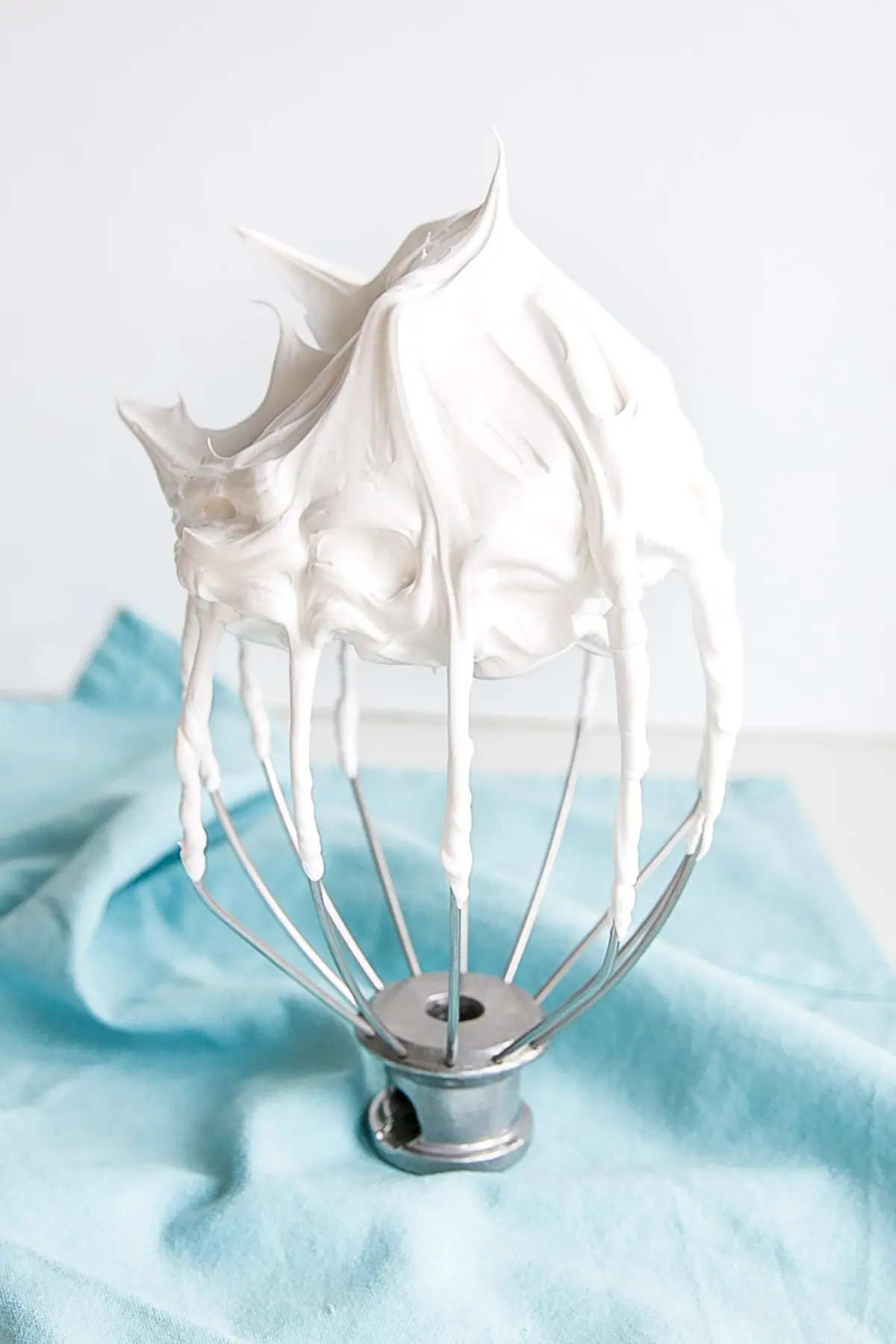 Help! My Meringue Won't Whip Up
Meringue is very susceptible to fat. If even a speck of grease comes in contact with the egg whites it could prevent the meringue from whipping up fully, or at all. You could be left with a soupy mess.
This includes traces of egg yolk (fat). Separate your eggs one at a time and into a separate bowl before putting them in the mixer bowl. You don't want one cracked yolk to ruin the whole bunch.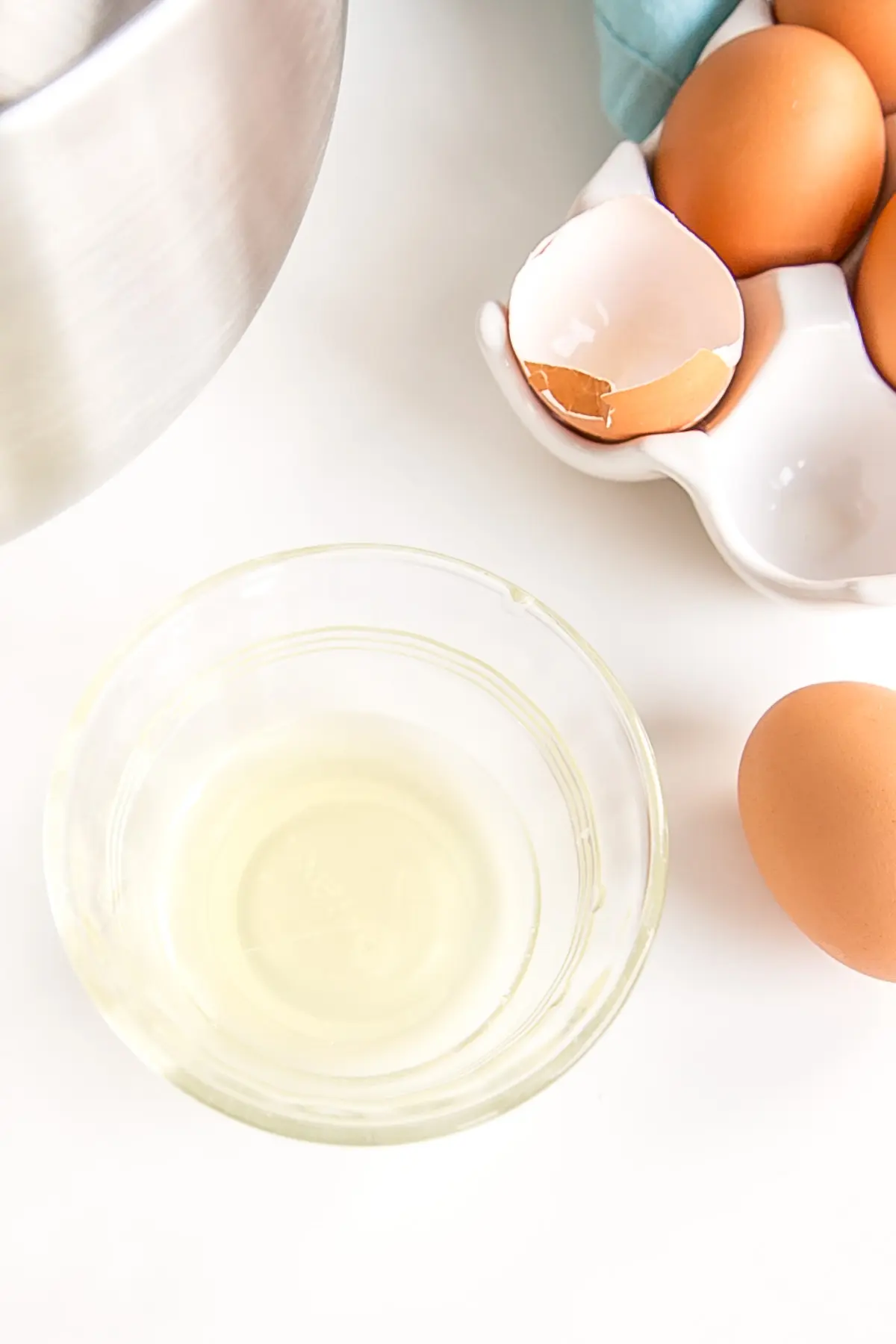 Traces of yolk are the biggest culprit in a failed meringue. This is why I don't recommend using carton egg whites. You cannot guarantee they are completely yolk-free. I, personally, have not had a successful, stiff meringue using carton whites.
Another important tip is to not use plastic tools, especially bowls. Plastic has a tendency to retain grease no matter how thoroughly it's cleaned.
Stick to metal (preferred, best for heat transfer) or glass bowls.
Cream of Tartar
Cream of tartar helps to stabilize the egg whites and make a sturdier meringue.
I don't typically use it when making Swiss meringue buttercream but since we're making a plain meringue, it's good to add it in.
It's not the end of the world though if you don't have any though. The frosting will still turn out just maybe not stay fluffy as long.
For an even more stable version of this frosting, you can make Homemade Marshmallow Fluff. It uses an Italian meringue method which also helps to stabilize the whites. You can see the difference in the stiffness of the two below.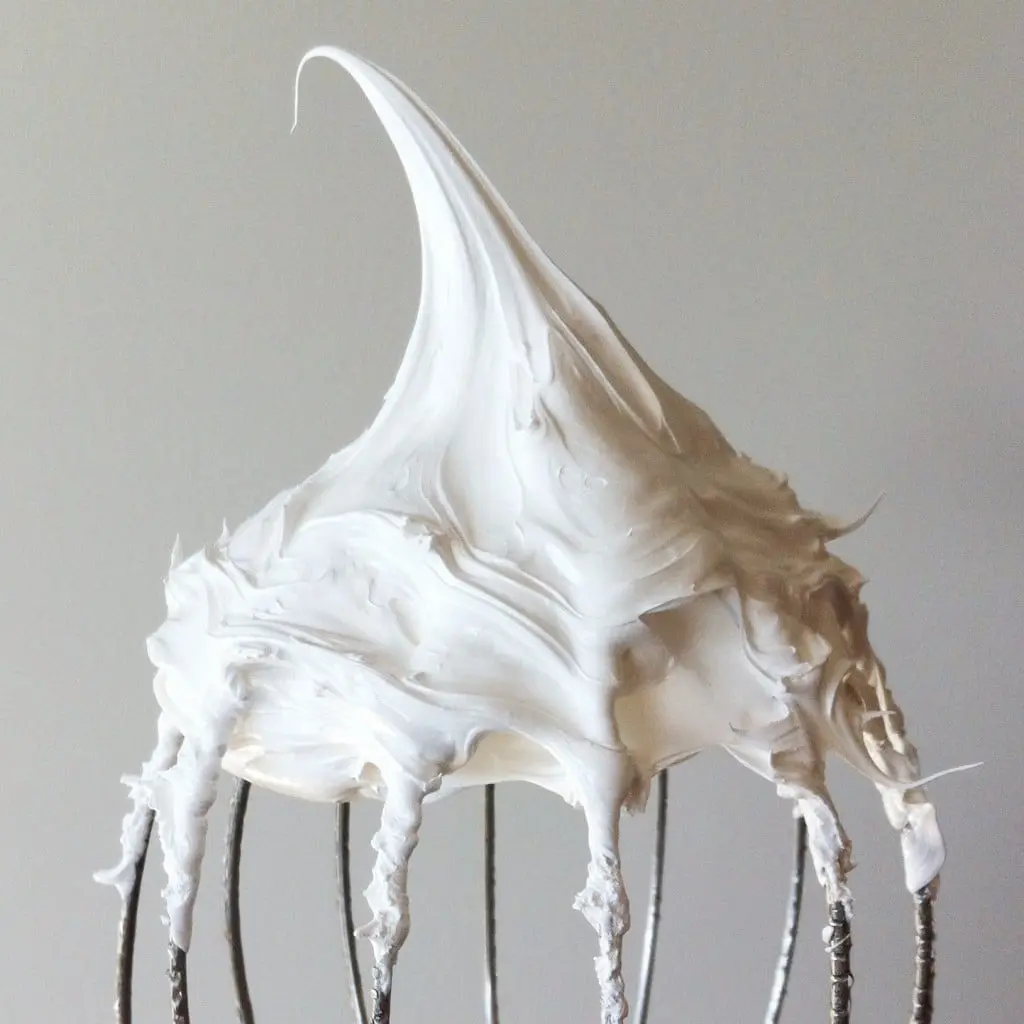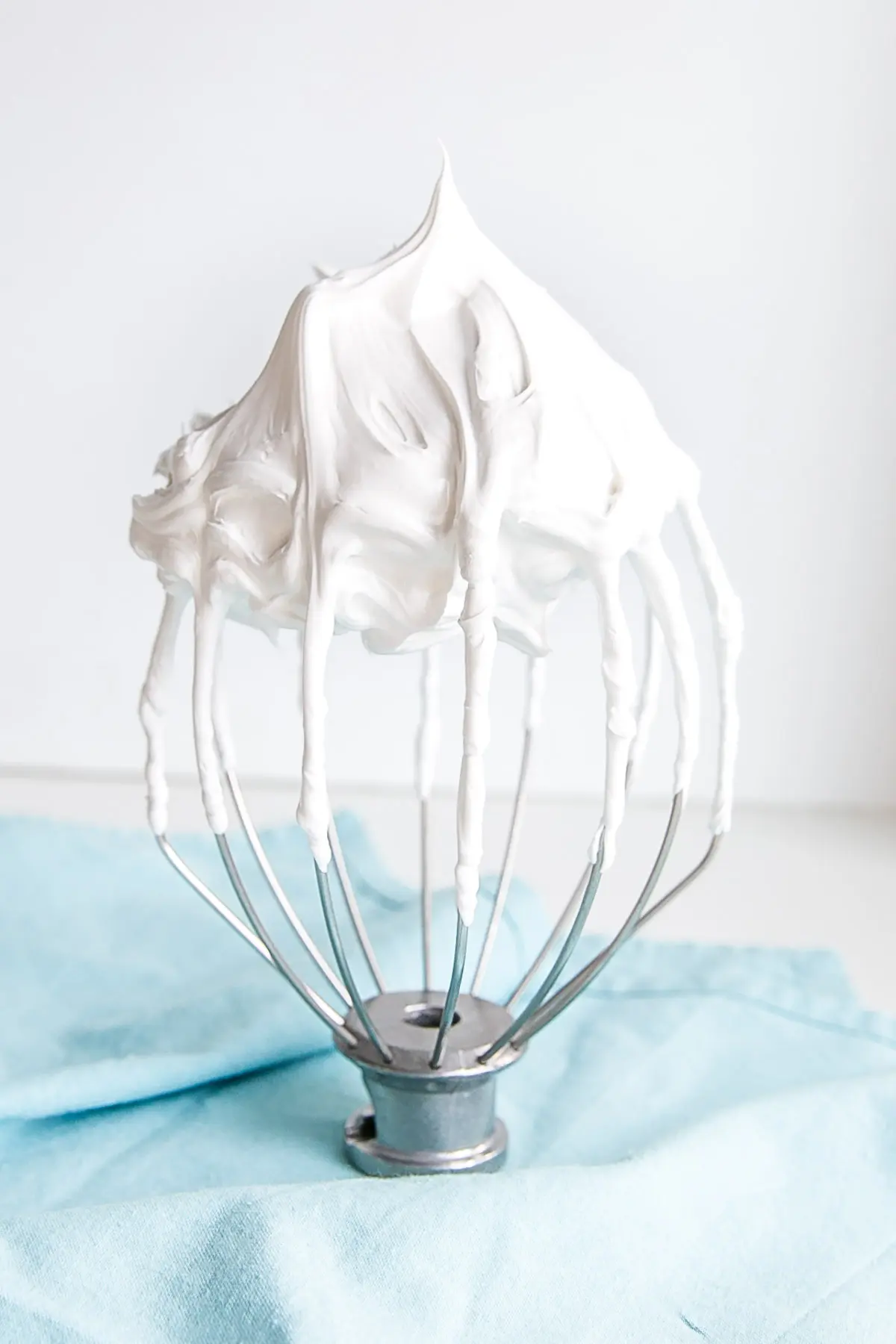 Storage and Perishability
For best results, the frosting should be used immediately. It will start to set a bit and could become difficult to work with so I recommend frosting your cake or cupcakes with it right away.
It should last for a day or so on the cake/cupcakes, but will soften over time and develop a crust. I've had longer-lasting success with meringue that is torched.
It holds up better in heat than a butter-based frosting, but might not last as long (gets soft/deflates) unless toasted.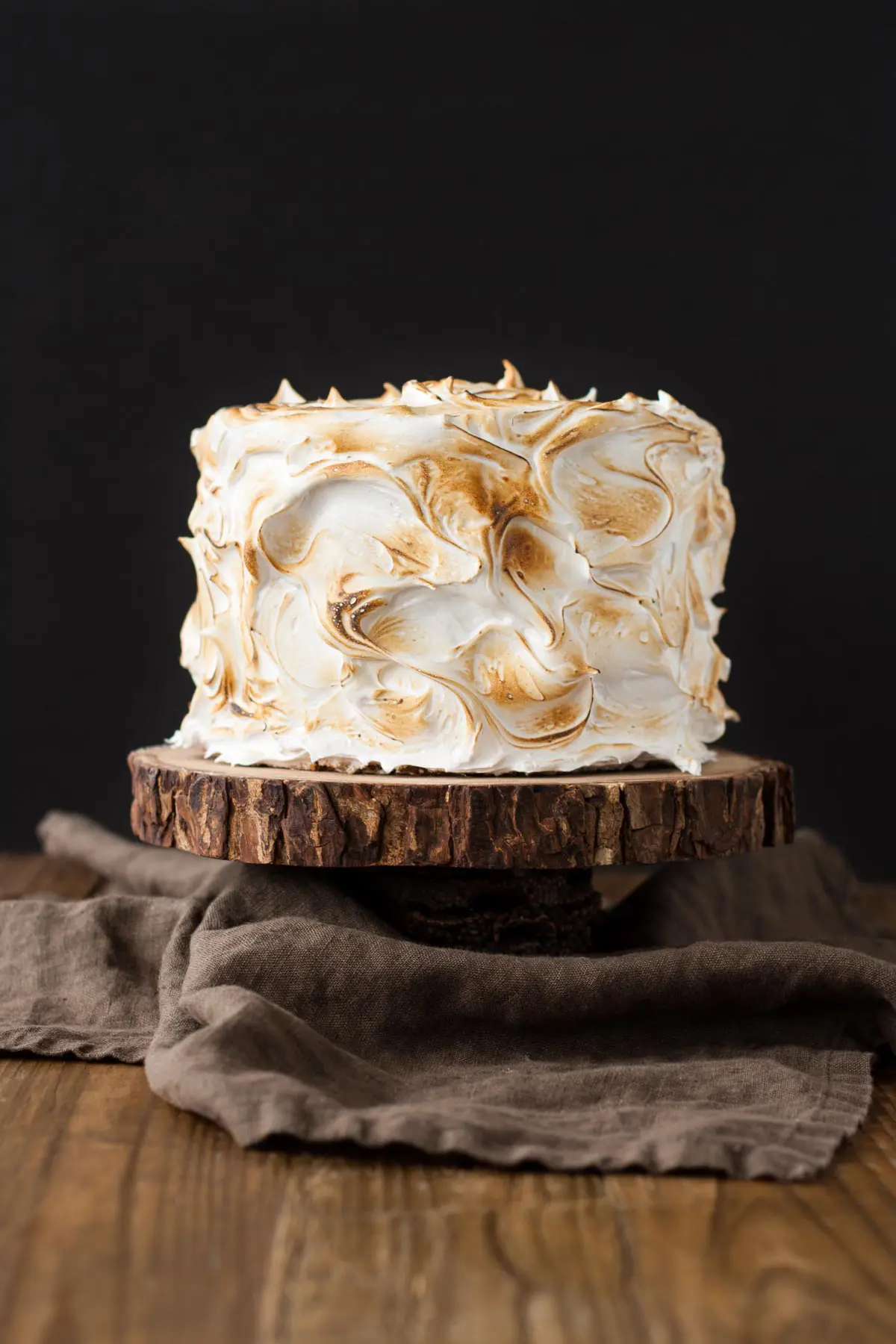 This helps to keep the shape of it on the outside, but it will still be a little softer and runnier on the inside as time goes on.
You can store any leftovers in the fridge or freezer (in a glass container – not plastic), but it will lose some stiffness over time. You'll need to bring it to room temperature and rewhip it, but it won't get as stiff a peak as you initially had.
You can still use it though, in something like these Fluffernutter Cookie Cups, or even in good old Rice Krispie Treats.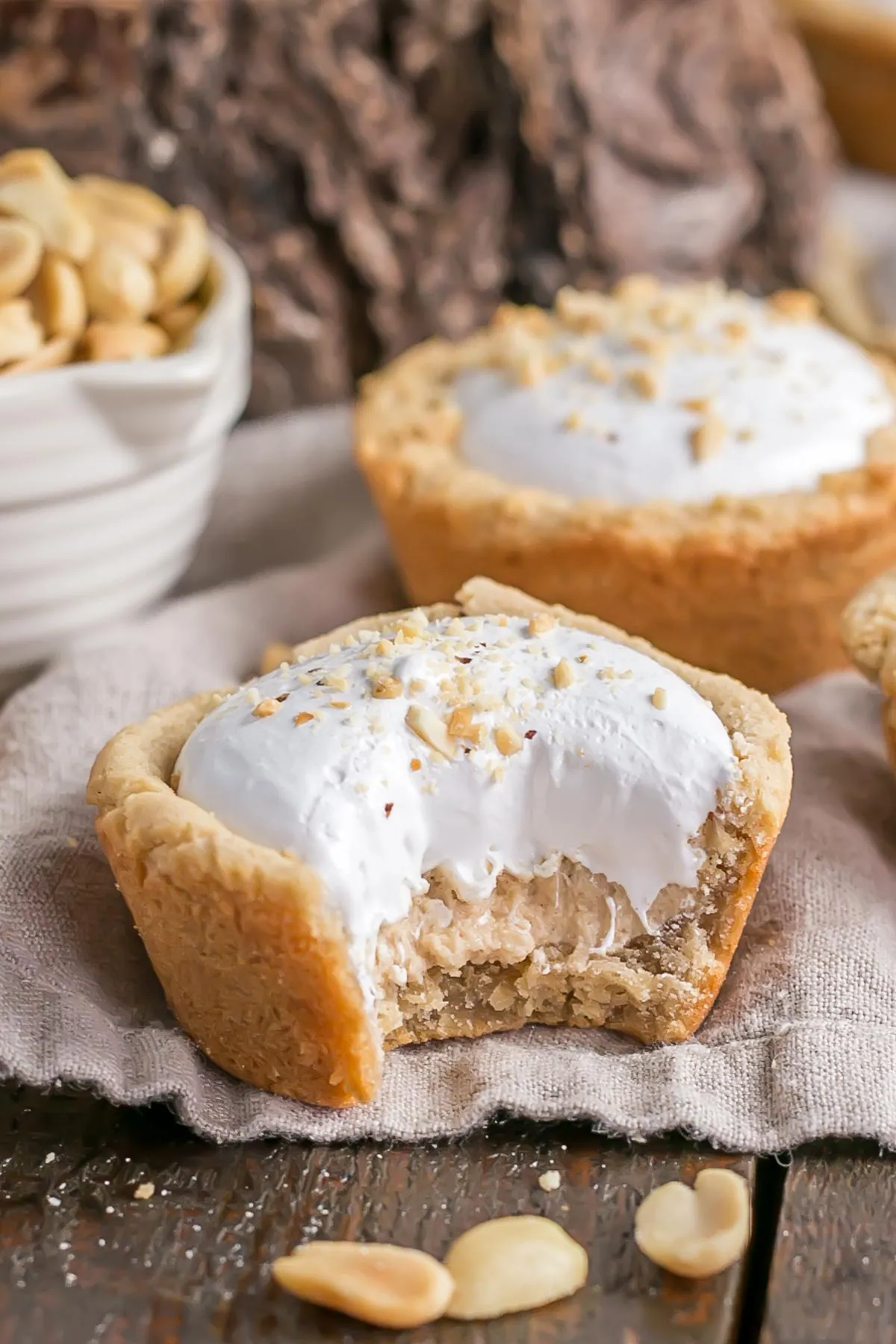 Seven-minute frosting is light and airy — like marshmallow fluff. It's delicious! Perfect for those people that don't like buttery frosting.
It is a bit sticky and may not be the easiest to work with, but it pipes beautifully and looks amazing with a rustic frosting technique.
Definitely a frosting recipe to have in your repertoire!
Looking for more Frosting recipes?
Tips for this Seven Minute Frosting Recipe:
Wipe down all your tools with vinegar or lemon juice to ensure they are grease-free.
Separate your eggs into a smaller separate bowl so that if one of the yolks breaks, you haven't ruined the batch.
Don't use carton egg whites — they don't whip up as well.
Use immediately for best results. See Storage & Perishability for more tips.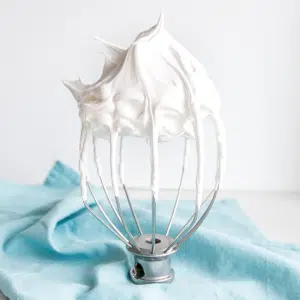 7 Minute Frosting
This old-fashioned 7 minute frosting recipe is light, delicious, and easy to make. A bright white frosting that's perfect for cakes, cupcakes, and more.
Instructions
Wipe your mixer bowl and whisks down with lemon juice or vinegar.

Place egg whites, cream of tartar, and sugar into the bowl of a stand mixer, whisk until combined.

Place bowl over a pot with 1-2" of simmering water and stir constantly with a whisk until the mixture is hot, no longer grainy to the touch, and reads 160F on a candy thermometer (about 2-3 mins).

Transfer bowl to your stand mixer and whip on med-high until the meringue is stiff (about 5-7 minutes).

Slowly stream in vanilla while the meringue is whipping. Taste and add more flavoring if desired*
Notes
* Adding oil-based flavorings can deflate the meringue. I recommend folding these in at the end.
See blog post for tips and troubleshooting.
Calories:
278
kcal
Carbohydrates:
67
g
Protein:
4
g
Fat:
1
g
Sodium:
56
mg
Potassium:
103
mg
Sugar:
67
g
Calcium:
2
mg
The nutritional information and metric conversions are calculated automatically. I cannot guarantee the accuracy of this data. If this is important to you, please verify with your favorite nutrition calculator and/or metric conversion tool.