This White Chocolate Cake is both decadent and delicious! White chocolate is incorporated into the cake layers, the frosting, and the drip for a stunning monochrome effect.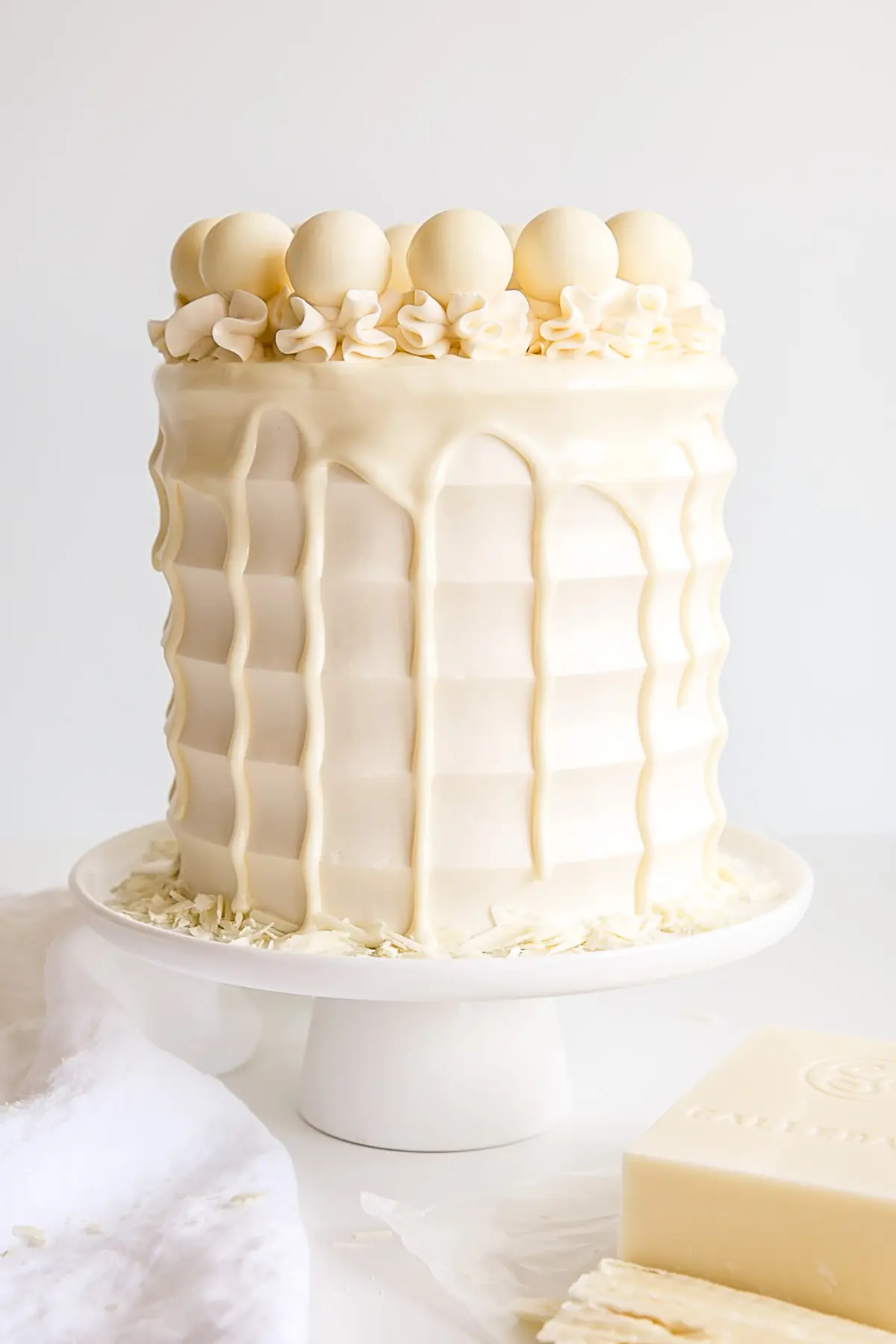 I may be just a little bit obsessed with how pretty and perfectly matchy the monochrome colors worked out here. It's the ultimate White Chocolate Cake!
I'm going to let you in on a little secret though… I actually don't like white chocolate. Not on its own, anyhow, and rarely as part of something else. Something about the flavor is just too sweet or artificial tasting, I don't know. BUT, this White Chocolate Cake is all sorts of deliciousness.
Even though the white chocolate is incorporated into every element, it's not overpowering. Each element on its own is completely delicious, and they all combine to make the perfect White Chocolate Cake.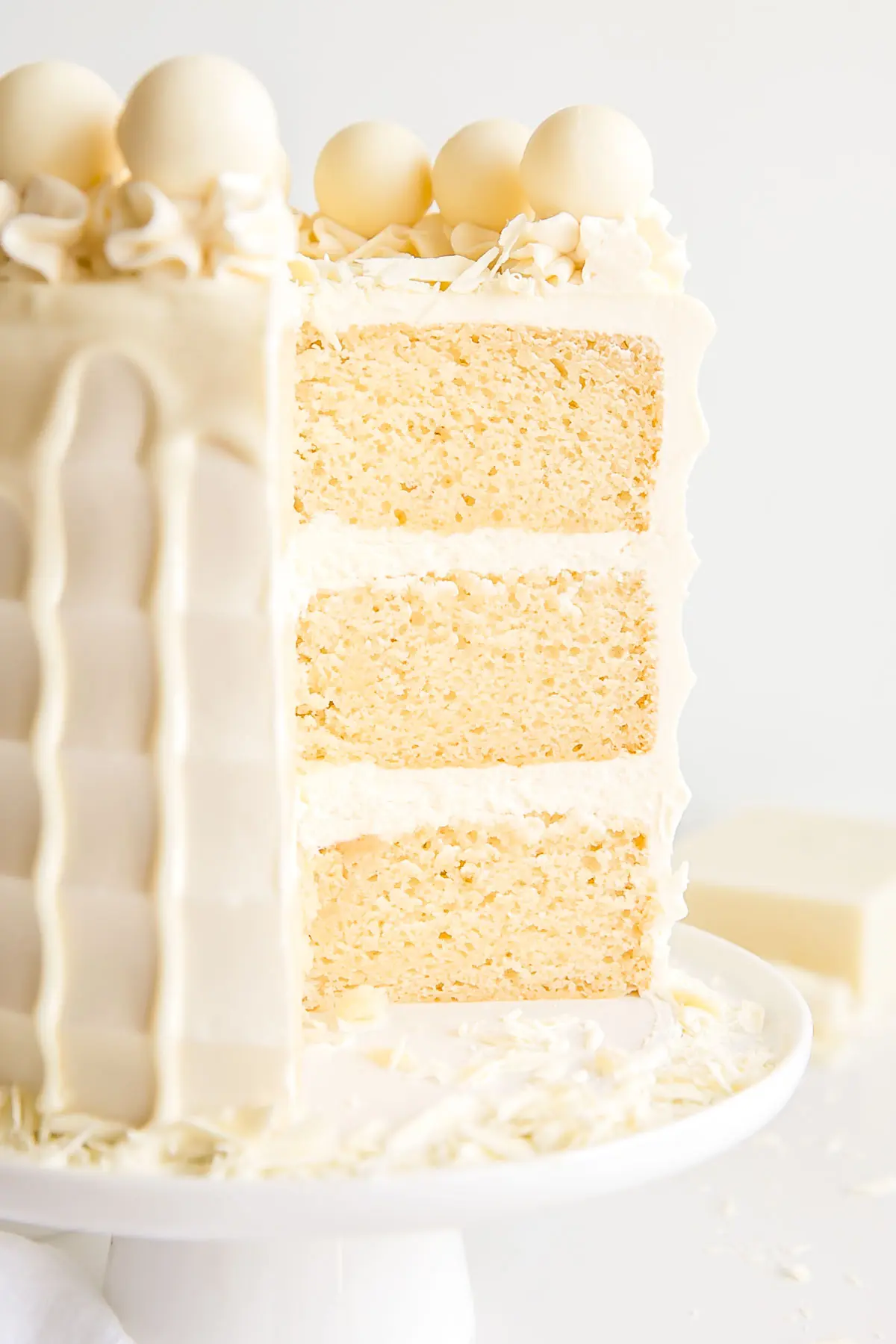 What is White Chocolate?
White chocolate is made from cocoa butter, sugar, and milk solids. It doesn't contain any cocoa solids, which are found in milk and dark chocolate varieties.
Cocoa butter is separated from the cocoa solids (cocoa nibs), which are used to make milk & dark chocolate. The remaining cocoa butter doesn't have a ton of flavor on its own, so sugar and milk solids are added to transform it into white chocolate.
Is White Chocolate Chocolate?
There is some contention about this but, technically, no. In order to be classified as chocolate, there must be cocoa solids present. Even though it's made from part of the cocoa bean (the cocoa butter), it's not actually considered "true" chocolate.
Does it really matter though?? I didn't think so.
How to make this White Chocolate Cake
I have made variations of this cake a couple times before, but I wanted to have a smaller pure white chocolate cake on the blog, as many people have asked for it. The recipe here will work perfectly for three 6″ pans or two 8″ pans. See the Tips section below for other modifications.
The cake layers of this White Chocolate Cake have white chocolate incorporated right into them. I melt down some white chocolate with the milk, and add that to the cake batter once it's cooled. The flavor isn't crazy strong, but it is quite noticeable, especially to anyone who loves white chocolate.
White Chocolate Swiss Meringue Buttercream
Despite not being a white chocolate fan myself, I LOVE this buttercream. There's something about the subtle white chocolate flavor in it that makes it so delicious you'll want to eat it with a spoon.
Adding chocolate to buttercream is very simple. You just need to melt the chocolate down, then cool it before adding it to the buttercream. It's important that your buttercream isn't too cold, as it could cause the chocolate to solidify into chunks when you're adding it. I like to have both at room temperature, and add the chocolate to the buttercream while the mixer is running (on low). This helps ensure they are perfectly incorporated together.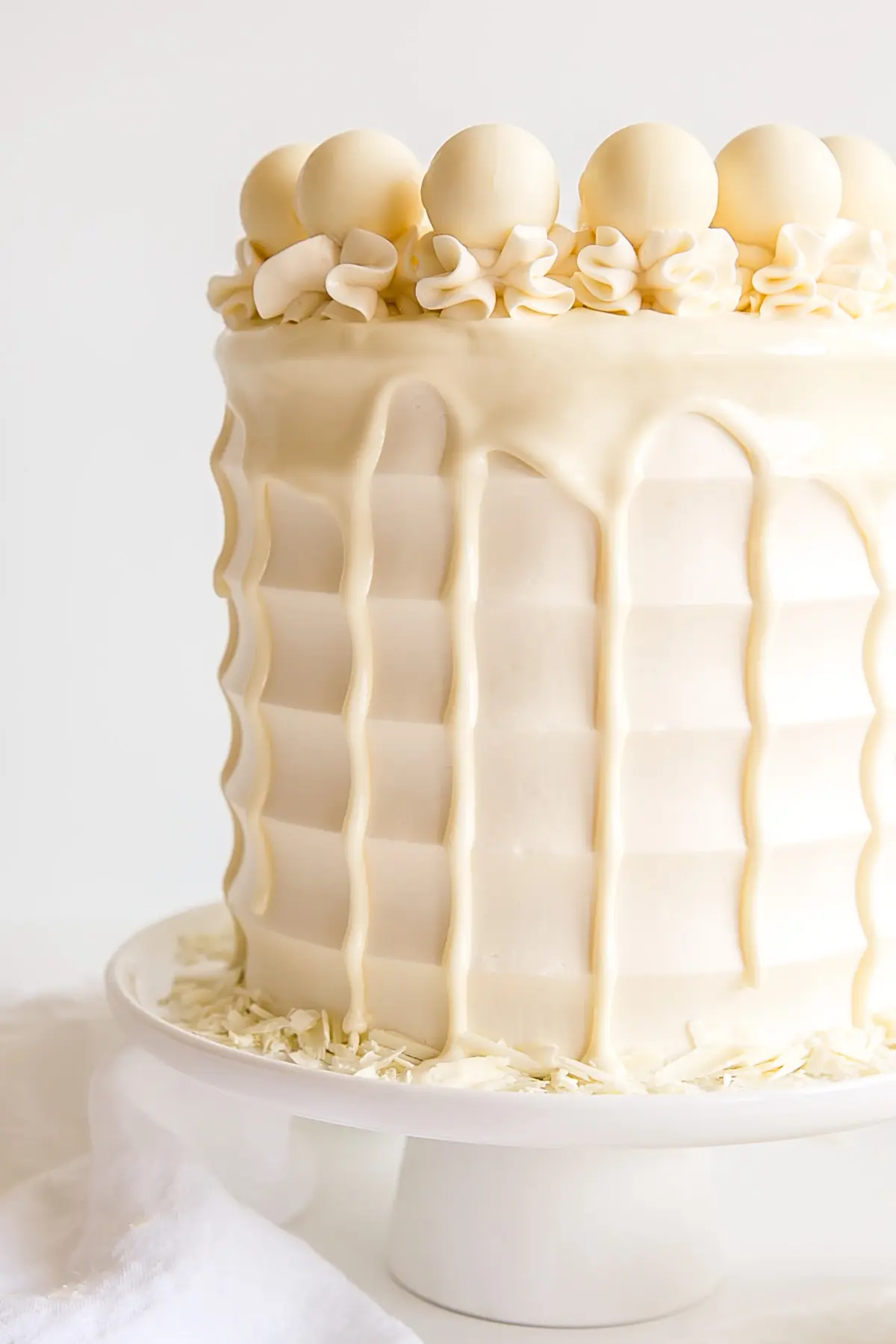 White Chocolate Ganache Drip
White chocolate can be trickier to work with than dark. You need to adjust the chocolate:cream ratio for it not to be a complete runny mess.
For my dark chocolate ganache drip, I do a 1:1 ratio of chocolate to cream. For a white chocolate ganache drip, I recommend a 2.5:1 or even a 3:1 ratio. I used a 2.5:1 ratio here, and it worked well. I heated the chopped chocolate and cream in a microwave safe bowl at small intervals (5-10 seconds) until it was perfectly smooth and silky. Except it wasn't actually, and I ended up straining the last bits of white chocolate out of there. Whatever, it worked fine!
The white chocolate I used for the drip was more on the yellow side, so I added a few drops of bright white color gel to it once I strained it. Just eyeball this until you get the color you're looking for. It can vary depending on how white (or yellow) your white chocolate is.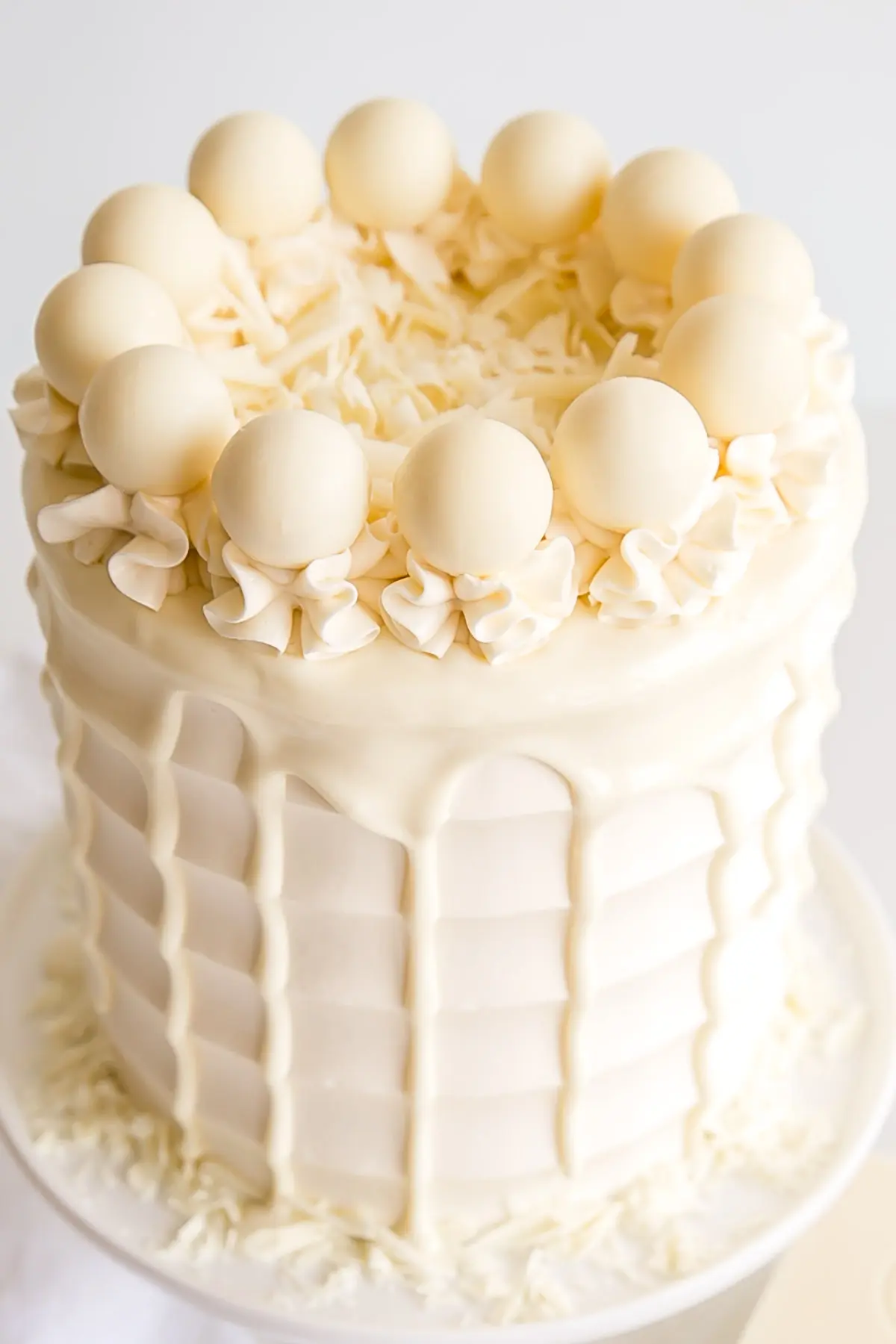 Make sure your cake is well chilled before applying the ganache. And be sure to let the ganache cool completely and thicken a bit before using on the cake. I let my ganache sit out for over an hour. It was actually a bit too thick at this point, so I microwaved it a bit (again, in very small intervals – 3-5 seconds) until it was the right consistency.
It's hard to describe the right consistency. Thick, but pourable. I always do a test drip first to see how it drips down the cake. If it's too thick, I warm it up a bit. I find it's easier to start with a ganache that's too thick vs. too thin. Easier to warm up than cool down.
I chilled my cake for 30mins in the fridge to make sure the frosting was firm and cold, and then used a teaspoon to apply the ganache to the edges. I like to use a teaspoon because I can control it better and be heavier handed in some areas if I want. I prefer an uneven look to my drips. You can also use a squeeze bottle if you prefer. This is most common I think.
For the texture on the sides of the cake, I used a cake comb from this set. I've used a few combs from this set now, and they work great. I do think metal ones would be better overall, but this is a much more affordable option.
I did a thicker layer of frosting on the sides first, smoothed that out, and then ran the cake comb over it a few times. I cleaned up the top a bit. That area wasn't perfect, but I knew I'd be dripping a ganache over it anyhow.
Final decorating touches are some Lindt White Chocolate Truffles and some white chocolate shavings that I made using a vegetable peeler and a block of white chocolate. I chilled the shavings before adding them to the cake so they would be less fragile.
If you're a white chocolate fan you will LOVE this cake! If you don't care for white chocolate, I hope you try it anyhow, because it's nothing like eating it straight up and it's perfectly delicious.
Looking for more drip cakes?
Tips for making this White Chocolate Cake
The recipe as-is will also work in two 8″ pans. For three 8″ pans, 1.5x the recipe.
To make cupcakes, all you need to do is reduce the baking time — start checking at 15mins or so.
I used a cake comb from this set for the texture on the sides of the cake.
Be sure to check my

Swiss Meringue Buttercream

post for tips and troubleshooting.
Learn how to keep your cakes moist using Simple Syrup.
To help ensure your cake layers bake up nice and flat, check out my Flat Top Cakes post!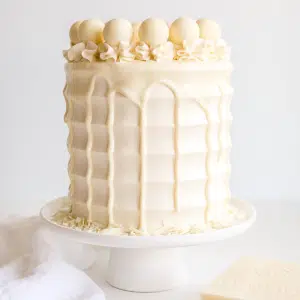 White Chocolate Cake
This White Chocolate Cake is both decadent and delicious. White chocolate is incorporated into the cake layers, the frosting, and the drip for a stunning monochrome effect.
Ingredients
Instructions
White Chocolate Cake:
Heat milk and chocolate until melted and combined, cool to room temperature.*

Preheat oven to 350F. Grease and flour three 6" cake rounds and line with parchment.

In a medium bowl, whisk flour, baking powder, and salt until well combined. Set aside.

Using a stand mixer fitted with a paddle attachment, cream butter and sugar on med-high until pale and fluffy (approx 3mins). Reduce speed and add eggs one at a time fully incorporating after each addition. Add vanilla.

Alternate adding flour mixture and milk mixture, beginning and ending with flour (4 additions of flour and 3 of milk). Fully incorporating after each addition.

Bake for about 40mins or until a toothpick inserted into the center comes out mostly clean.

Place cakes on wire rack to cool for 10mins then turn out onto wire rack and cool completely.
White Chocolate Swiss Meringue Buttercream:
Place egg whites and sugar into the bowl of a stand mixer, whisk until combined.**

Place bowl over a pot with 1-2" of simmering water and stir constantly with a whisk until the mixture is hot and no longer grainy to the touch or reads 160F on a candy thermometer (approx. 3mins)

Place bowl on your stand mixer and whisk on med-high until the meringue is stiff and cooled (the bowl is no longer warm to the touch (approx. 5-10mins)).

Switch to paddle attachment. Slowly add cubed butter and mix until smooth.***

Add melted, cooled white chocolate and whip until smooth.
White Chocolate Ganache:
Place chopped chocolate and cream in a microwave safe bowl. Microwave in 5-10 second increments, stirring in between, until smooth and combined. Add a few drops of bright white color gel to get the desired color. Set aside to thicken and cool completely.
Assembly:
Place one layer of cake on a cake stand or serving plate. Top with 1 cup of buttercream and spread evenly. Repeat with remaining layers and crumb coat the cake. Chill for 20mins.

Frost and smooth the sides with the remaining frosting. Use a scalloped cake comb to create the textured effect on the sides. Smooth the top. Chill for 30mins until frosting is cold and firm.

Using a small spoon, place dollops of ganache around the top edges of the chilled cake, allowing some to drip down. Fill in the top of the cake with more ganache and spread evenly with an offset spatula. Chill to set ganache (5 mins).

Pipe dollops of buttercream on top using an Ateco or Wilton 1M tip, top each with a Lindt White Chocolate Truffle if desired. Sprinkle chocolate shavings along the bottom and to fill in the top.
Notes
* You can do this in the microwave, stirring between 30 second bursts or in a pot in the stove, stirring constantly, or in a double boiler, stirring occasionally.
** Wipe your mixer bowl and whisk down with lemon juice or vinegar to make sure it is completely grease free and make sure there is no trace of yolk in your whites or your meringue will not stiffen.
*** The buttercream may look like it's curdled at some point. Keep mixing until it is completely smooth. If it looks soupy, place it in the fridge for 20mins and rewhip.
Calories:
928
kcal
Carbohydrates:
98
g
Protein:
10
g
Fat:
57
g
Saturated Fat:
35
g
Cholesterol:
180
mg
Sodium:
199
mg
Potassium:
479
mg
Fiber:
1
g
Sugar:
76
g
Vitamin A:
1482
IU
Vitamin C:
1
mg
Calcium:
240
mg
Iron:
2
mg
The nutritional information and metric conversions are calculated automatically. I cannot guarantee the accuracy of this data. If this is important to you, please verify with your favorite nutrition calculator and/or metric conversion tool.