This spice cake is the ultimate comfort food. Paired with cinnamon cream cheese frosting, and cinnamon streusel for some crunch.
Aside from myself, Ryan is the only person I bake a birthday cake for every year. Friends and family will certainly get slices of a cake I happen to make around their birthday (though I do take their flavor preferences into consideration), but Ryan is the only one who can actually request a specific cake for his birthday, and I will happily make it. I actually bug him for flavor ideas repeatedly leading up to the day.
Last year, he requested a Cinnamon Toast Crunch Cake because it's one of his favorite cereals. You really can't go wrong there, amiright? This year, his request was for a Spice Cake with cinnamon frosting. I guess he has a thing for cinnamon!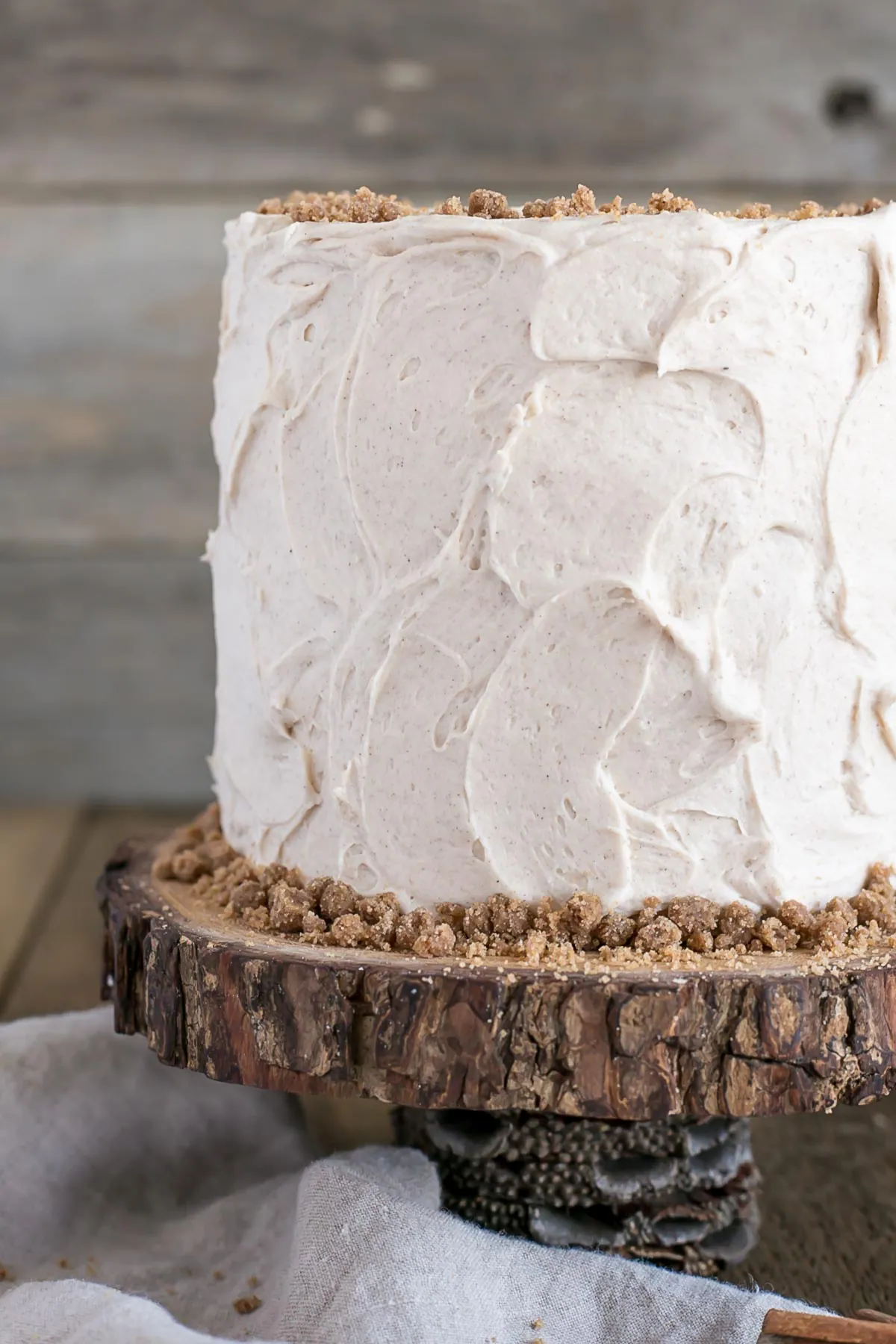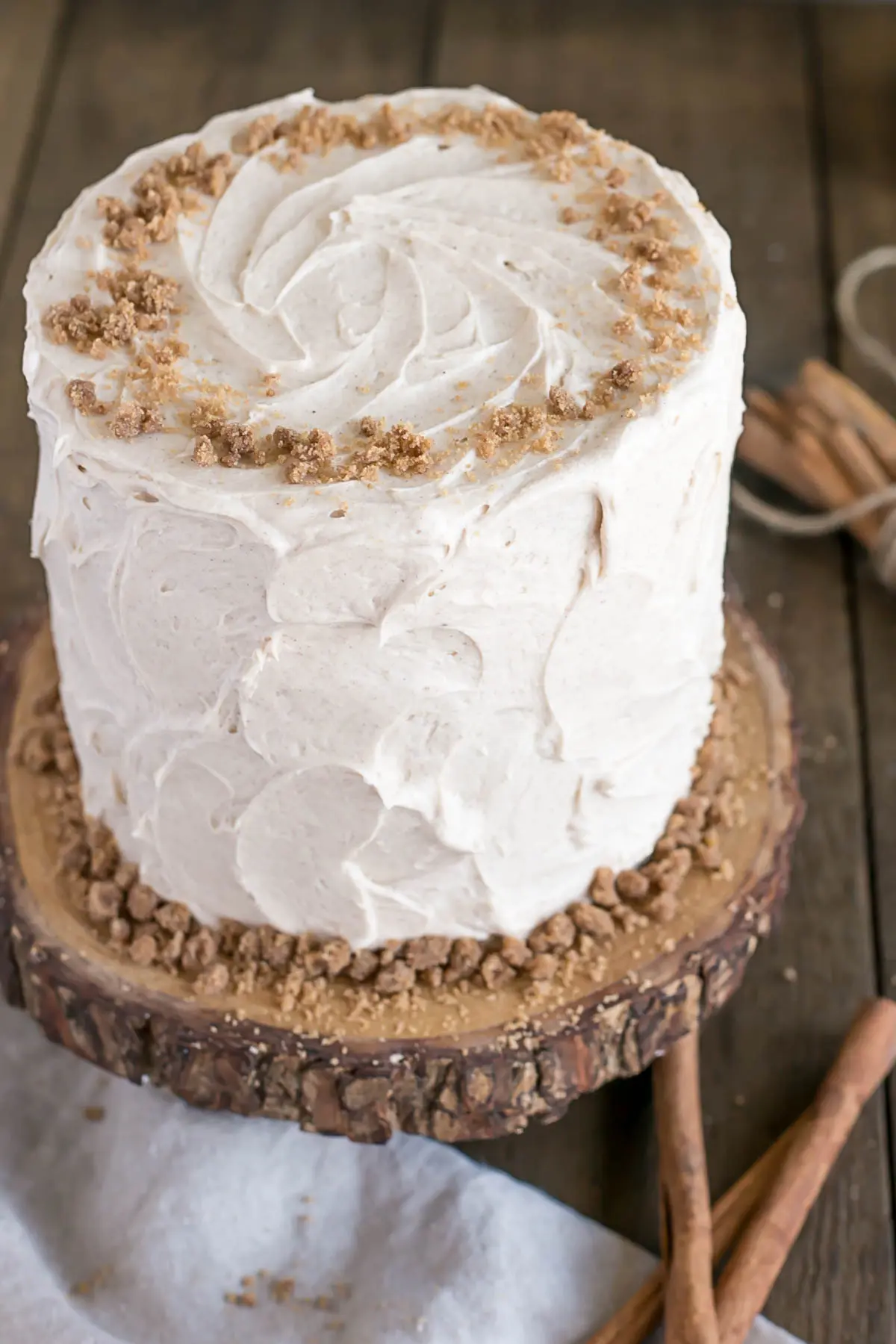 Though arguably more of a Fall flavor, I feel like spice cake can (and should) be eaten all year round. There is something so comforting about the smell of all those delicious spices. It's the perfect warm hug on a cool spring day.
This Spice Cake is fairly dense and fudgy (if you can call a non-chocolate cake fudgy) due to the applesauce in the cake batter (vs something like buttermilk). The applesauce adds both moisture and flavor, and is the perfect addition to this cake. Apples and spices go hand in hand in my opinion.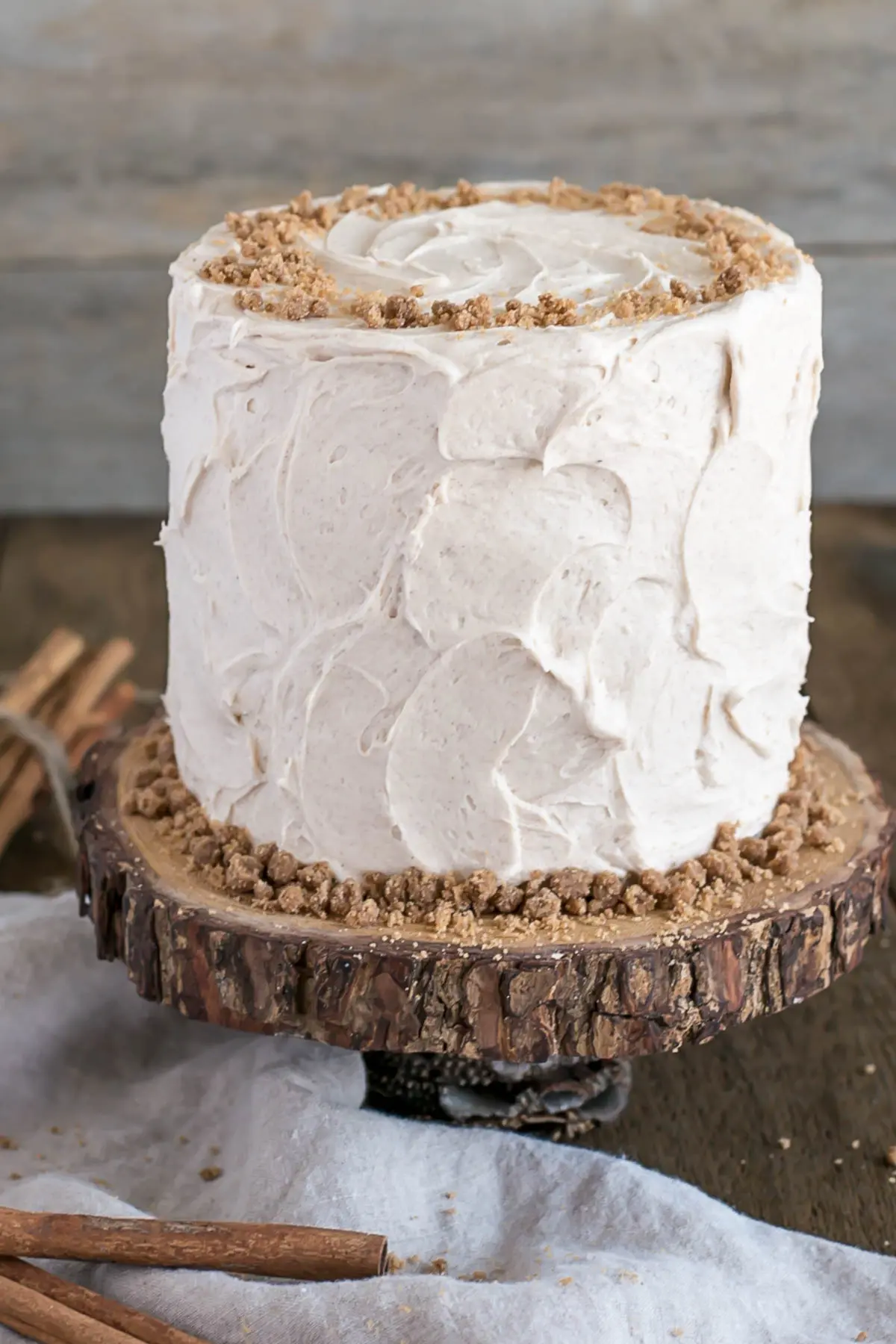 I am really loving cream cheese frostings lately. I don't like cream cheese on its own, or even cream cheese based cheesecakes, but there is something about it in frostings that has me all like <3 <3 <3. I think it's the combo of sweet/tart without being overpoweringly cheesy. The cake isn't overly sweet either, and I think it's just the perfect balance.
My cream cheese frosting has more butter in it than most, to help balance out the cream cheese and create more of a workable texture. Cream cheese frostings can be soft and difficult to work with, but this one is perfectly light and fluffy, and goes particularly well with this spice cake.
I added some cinnamon streusel for some crunch, because I love the additional texture and flavor it gives to a cake. You can skip this if you'd like, but it's so easy to make and really adds more dimension to this Spice Cake.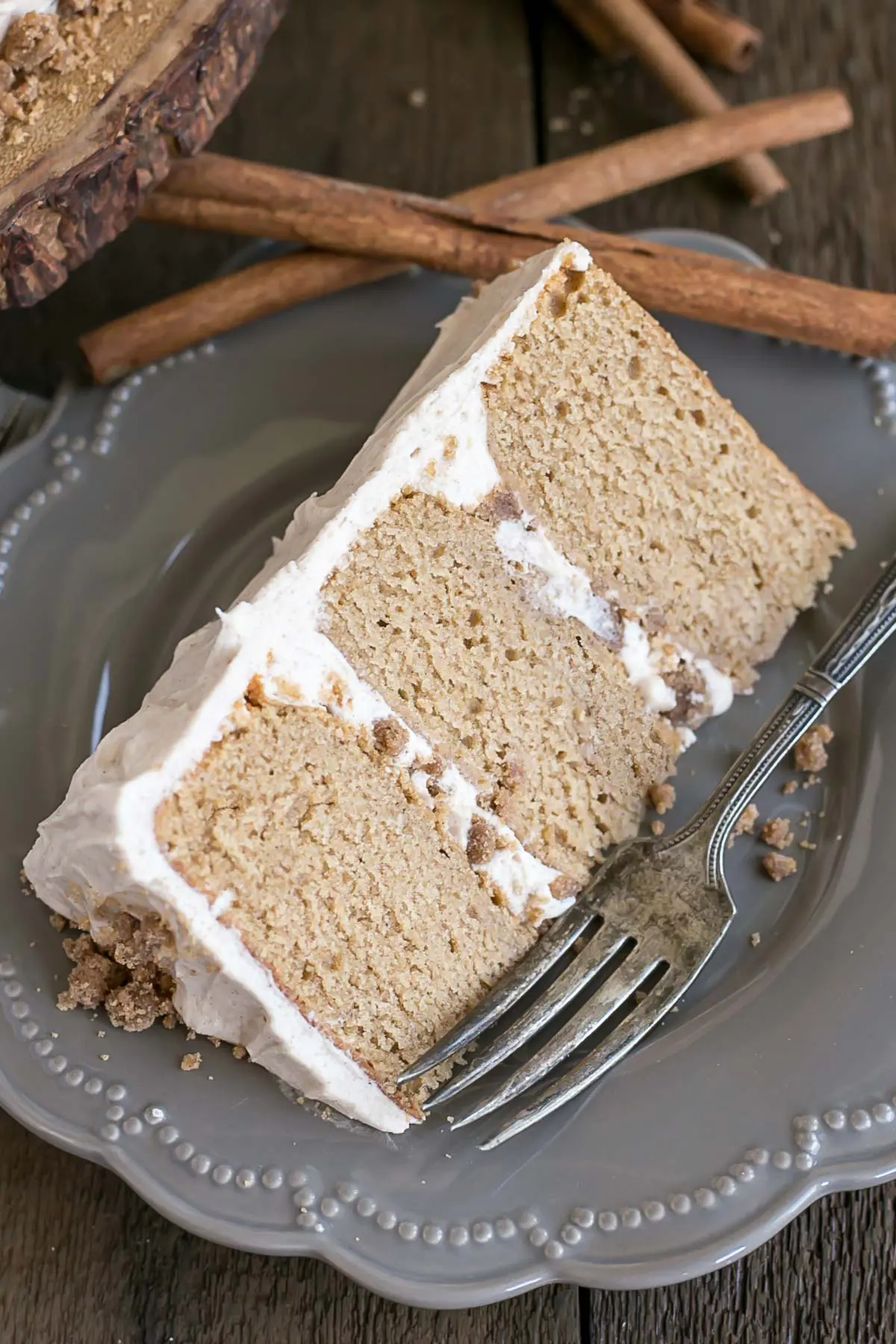 I promise you this cake is SO good. Coming from someone who isn't exactly a cinnamon lover, I think this speaks volumes. You will not be disappointed!
Tips for this Spice Cake: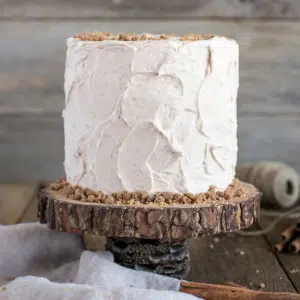 Spice Cake With Cinnamon Streusel
This spice cake is the ultimate comfort food. Paired with cinnamon cream cheese frosting and cinnamon streusel for some crunch.

Ingredients
Cinnamon Cream Cheese Frosting:
Instructions
Spice Cake:
Preheat oven to 350F. Grease and flour three 6″ cake rounds and line with parchment.

In a medium bowl, whisk flour, baking powder, spices, and salt until well combined. Set aside.

Using a stand mixer fitted with a paddle attachment, cream butter and dark brown sugar on med-high until pale and fluffy (approx 3mins).

Reduce speed and add eggs one at a time fully incorporating after each addition. Add vanilla.

Alternate adding flour mixture and applesauce, beginning and ending with flour (3 additions of flour and 2 of applesauce). Fully incorporating after each addition.

Bake for 30-35mins or until a toothpick inserted into the center comes out mostly clean.

Place cakes on wire rack to cool for 10mins then turn out onto wire rack. Allow to cool completely.
Cinnamon Streusel:
Preheat oven to 350F and line a baking sheet with parchment.


Combine all ingredients in a medium bowl until clumps form. Spread on parchment lined baking sheet and bake for 5-7mins.

Cool completely on baking sheet. Break up any larger chunks if needed.
Cinnamon Cream Cheese Frosting:
Beat butter and cream cheese until fluffy (2 mins). Add powdered sugar one cup at a time. Add vanilla & cinnamon and beat until fluffy (3 mins).

Assembly:
Place one layer of cake on a cake stand or serving plate. Top with 2/3 cup of frosting and 1/4 cup streusel (or more if desired). Repeat with remaining layers and apply a thin coat of frosting all over the cake. Chill for 20mins.


Use the remaining frosting to frost the cake with rustic swoops. Use extra streusel to decorate bottom and top of cake if desired.



Calories:
782
kcal
Carbohydrates:
99
g
Protein:
6
g
Fat:
41
g
Saturated Fat:
25
g
Cholesterol:
156
mg
Sodium:
192
mg
Potassium:
209
mg
Fiber:
1
g
Sugar:
74
g
Vitamin A:
1360
IU
Vitamin C:
0.2
mg
Calcium:
111
mg
Iron:
2.1
mg
The nutritional information and metric conversions are calculated automatically. I cannot guarantee the accuracy of this data. If this is important to you, please verify with your favorite nutrition calculator and/or metric conversion tool.