Classic Red Velvet Cake! Tender red cake layers with a hint of chocolate paired with a tangy cream cheese frosting and a red velvet crumble.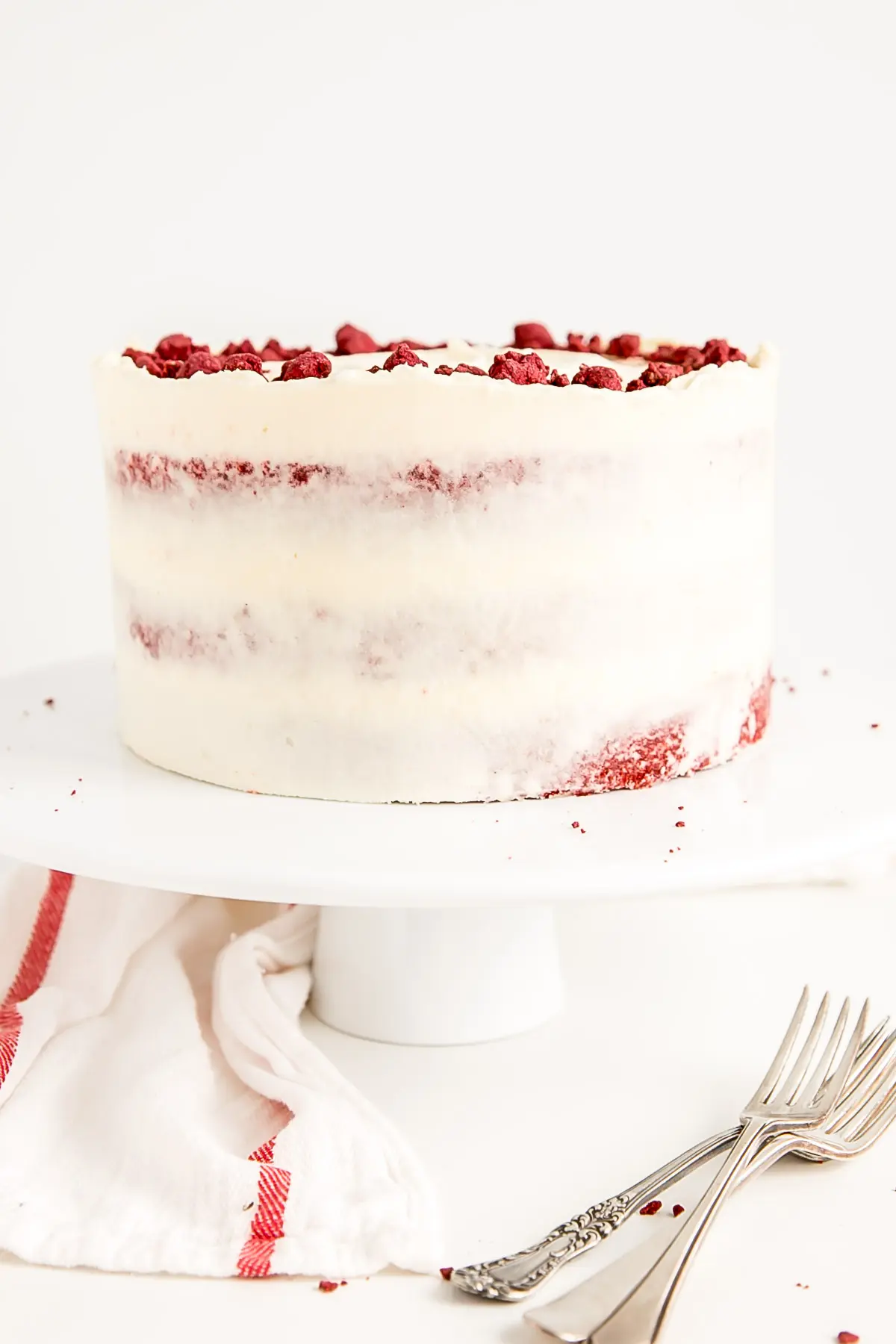 Red Velvet Cake is one of those classic recipes that get requested over and over. That rich red color is stunning and paired with a cream cheese frosting, you can't really go wrong.
I love learning the history behind timeless recipes like this, to find out how they originated, how they became popular, and how they have changed over the years.
Of course, I feel the need to share that with you, so sit back for another quick history lesson — or skip ahead to How To Make Red Velvet Cake.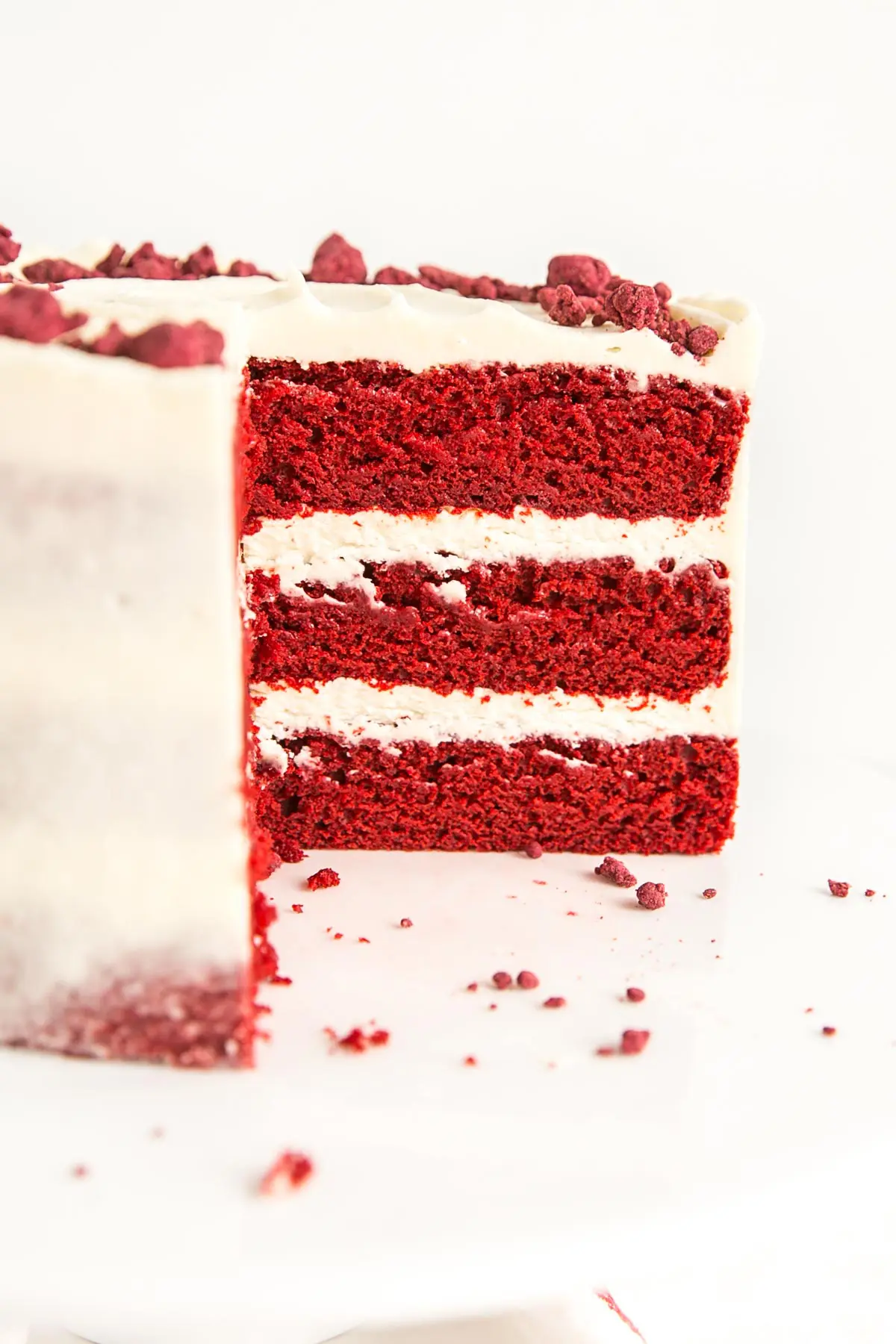 What is Red Velvet Cake?
Originally, back in the 1800's, the color of the cake was due to non-Dutched anthocyanin-rich cocoa, which reacted with the vinegar and buttermilk in the recipe to create a rich red/maroon color.
These days, even standard cocoa powder from the grocery store has gone through some level of Dutch processing, which strips some of the acid and prevents the color change from happening (at least to the extent that it used to).
To compensate, recipes these days use a LOT of red coloring (usually in liquid form) to get that bright or rich red color.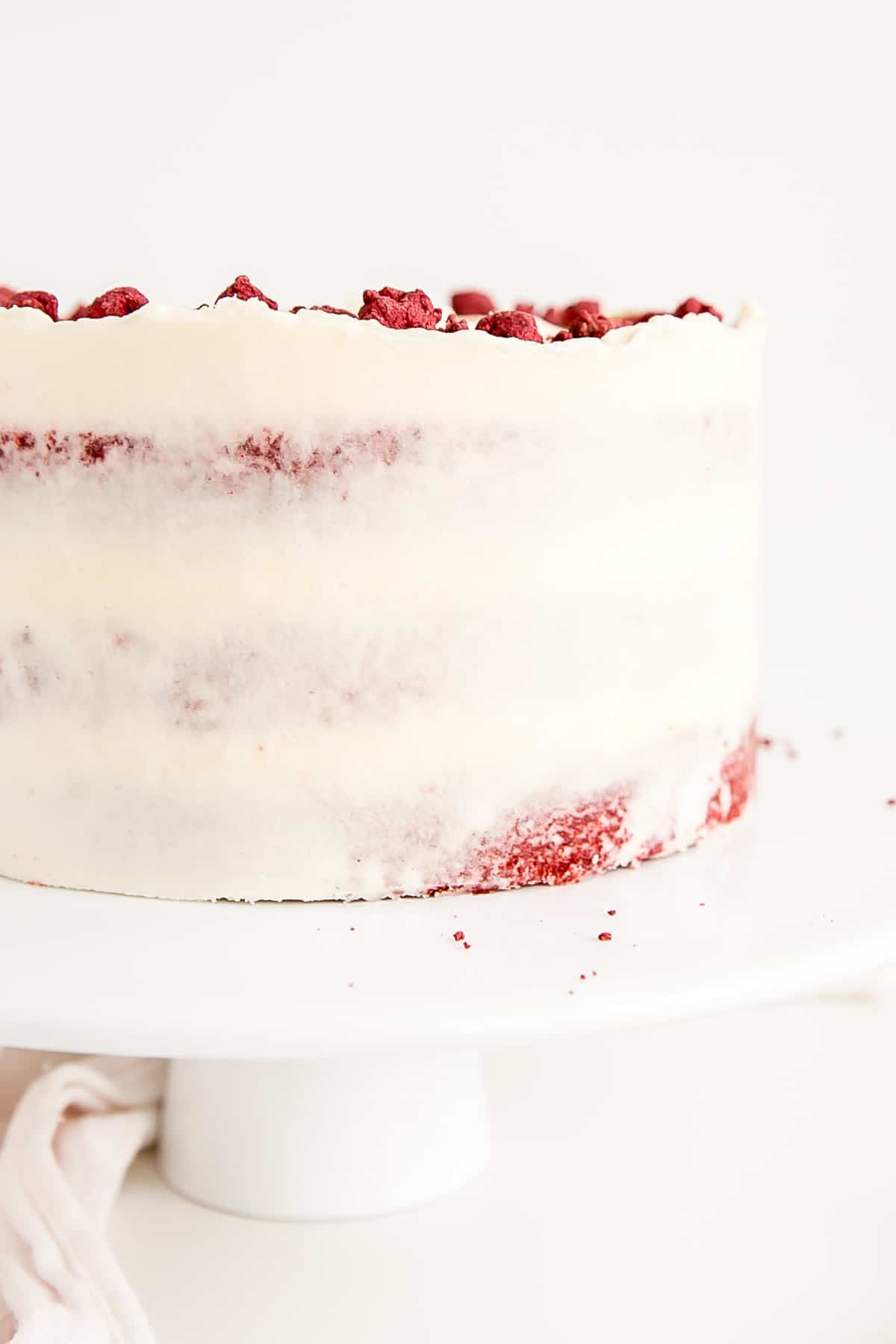 The cake's rise to popularity actually came about during the Great Depression. A company called Adams Extract created the Red Velvet Cake recipe we know today as a marketing tactic, in hopes of boosting sales in a difficult time.
Their recipe uses shortening (which is cheaper than butter), Adams butter flavoring, Adams vanilla, and of course, Adams red food coloring. Adams gave out the recipe for free on recipe cards at grocery stores, and it quickly became a hit in households all across the country.
Fellow Canadians will appreciate this: apparently the red velvet cake was a staple at Eaton's department stores in the 40's and 50's. Except that they claimed the recipe to be their own. Poor form, Eaton's!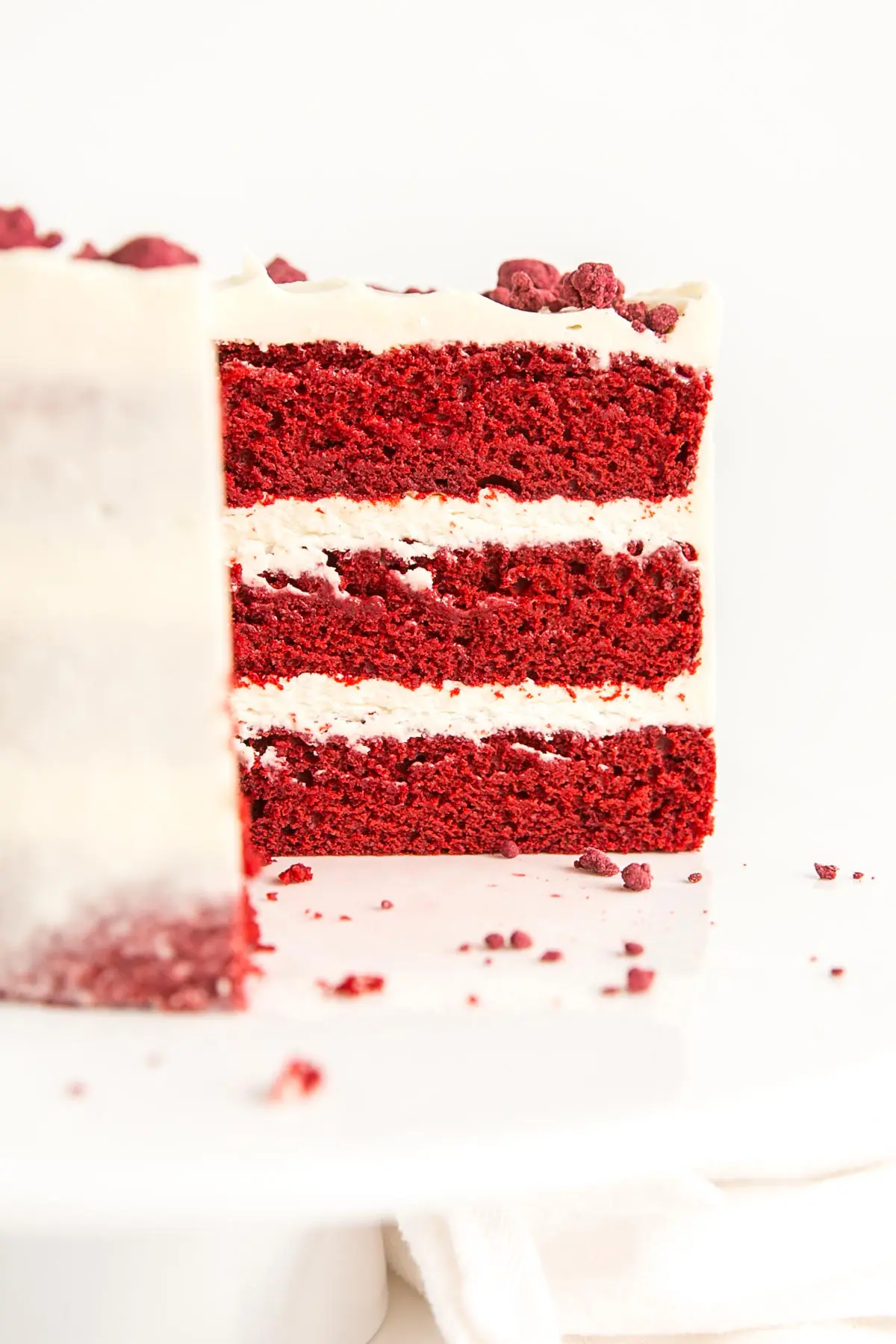 If you've been following Liv for Cake for a while now, you know that I prefer to stick with natural flavors and colors as much as possible.
I have the occasional bright cake where the flavors just call for a pop of color, but I try to utilize natural colorants like freeze-dried powder to give some of the coloring. Making a Red Velvet Cake was never high on my radar because of this.
I've tweaked and improved that recipe in hopes of darkening the cake more with cocoa powder than with coloring. I succeeded… somewhat.
The reality is, if you want a deep red color you just need to add artificial coloring to it. I know some people have used beets to try and achieve the red color, but that just didn't appeal to me (even though I love beets).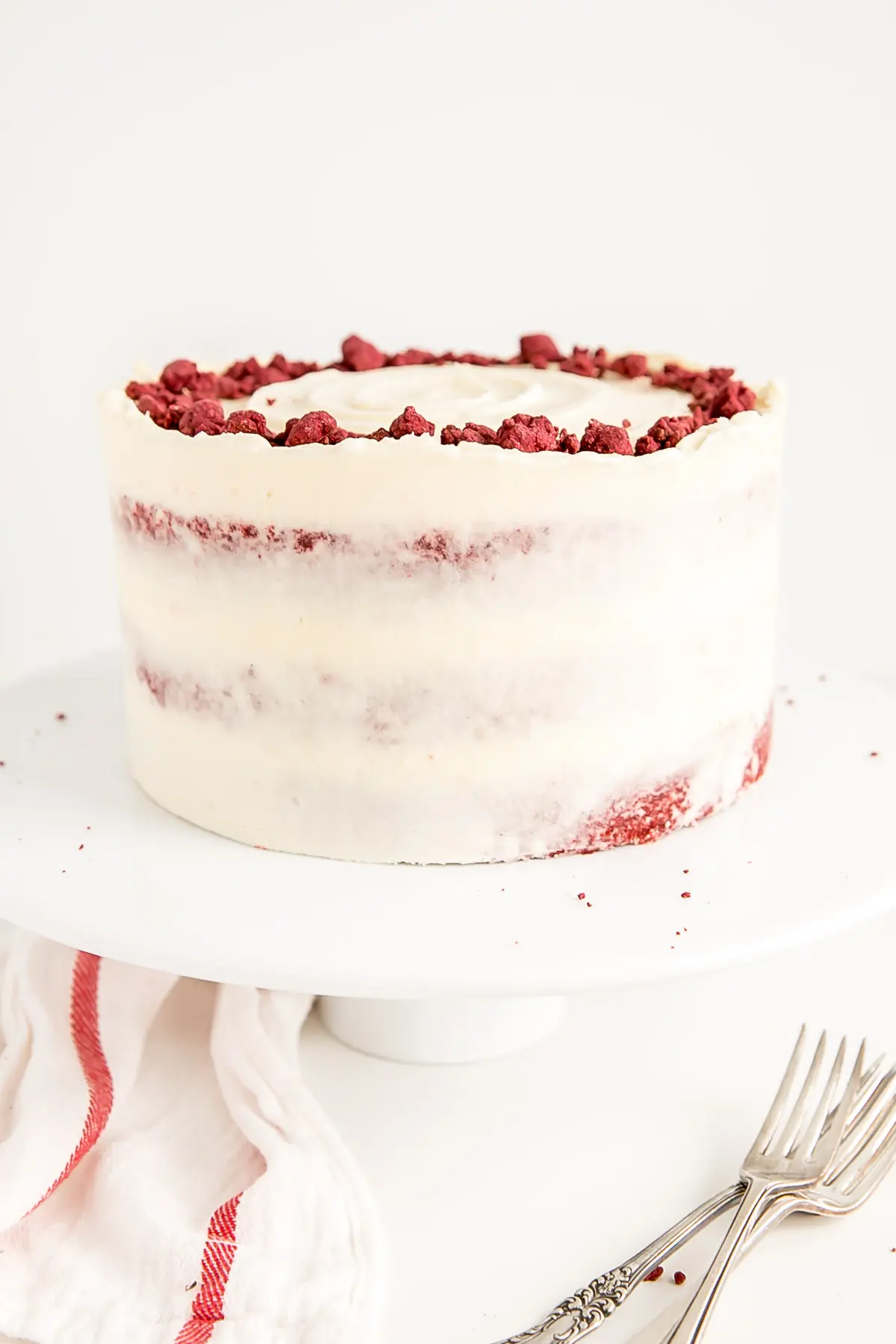 How to Make Red Velvet Cake
Making this red velvet cake is fairly straightforward — except in my kitchen, where things tend to go wrong 90% of the time.
I was in a bit of a rush (common these days) and my butter wasn't quite room temperature yet. I decided to cube it and try to beat it anyhow, in hopes that the friction would warm it up. Well, what it actually did was totally break my KitchenAid paddle.
This is actually the second time this has happened, for this exact same reason. Apparently I don't learn from my mistakes. It's because I have the memory of a goldfish, and I just didn't remember until it happened again.
The paddle I use automatically scrapes the bowl for me (which is a HUGE time saver), but it's plastic and clearly fragile. KitchenAid makes a metal one with a scraper, but it's not available for my model. Why this isn't available for all models is beyond me, and why on earth is it not standard?
Who wants to scrape the bowl? Ever??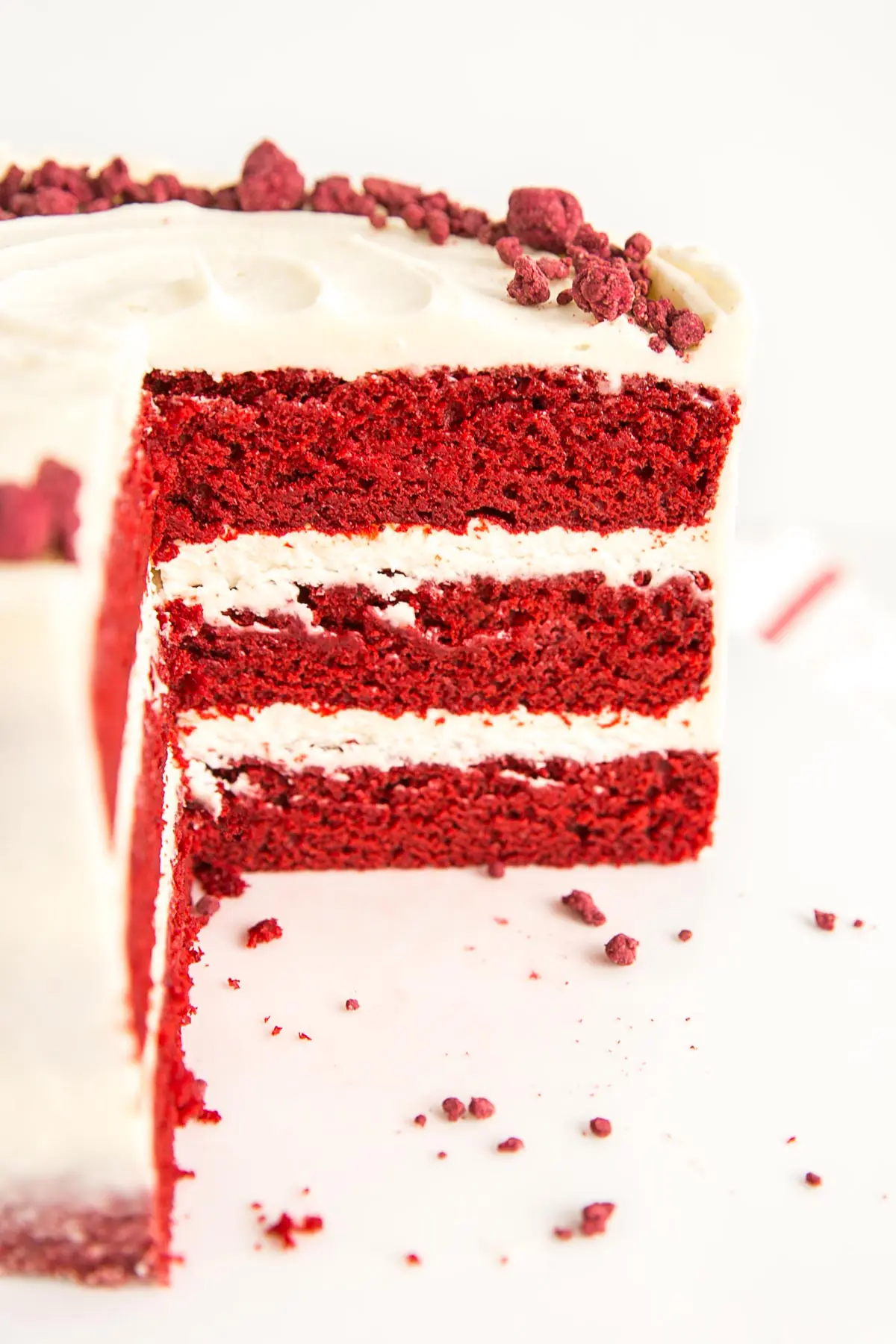 I had no choice now. I tossed out the butter I had in the bowl in case there were any plastic fragments in it, and resorted to using my stock paddle and scraping the bowl by hand.
My plastic scraper paddle has made me so lazy. I did a terrible job of manually scraping the bowl, even though I did it like 4-5 times throughout the process (huge pain in the butt). W
hen I was pouring the cake batter into the tins, there were visible sections of unincorporated butter and sugar (lol). Needless to say, this showed in my baked layers, and one of them sagged a bit on one side.
Do better than I do, people!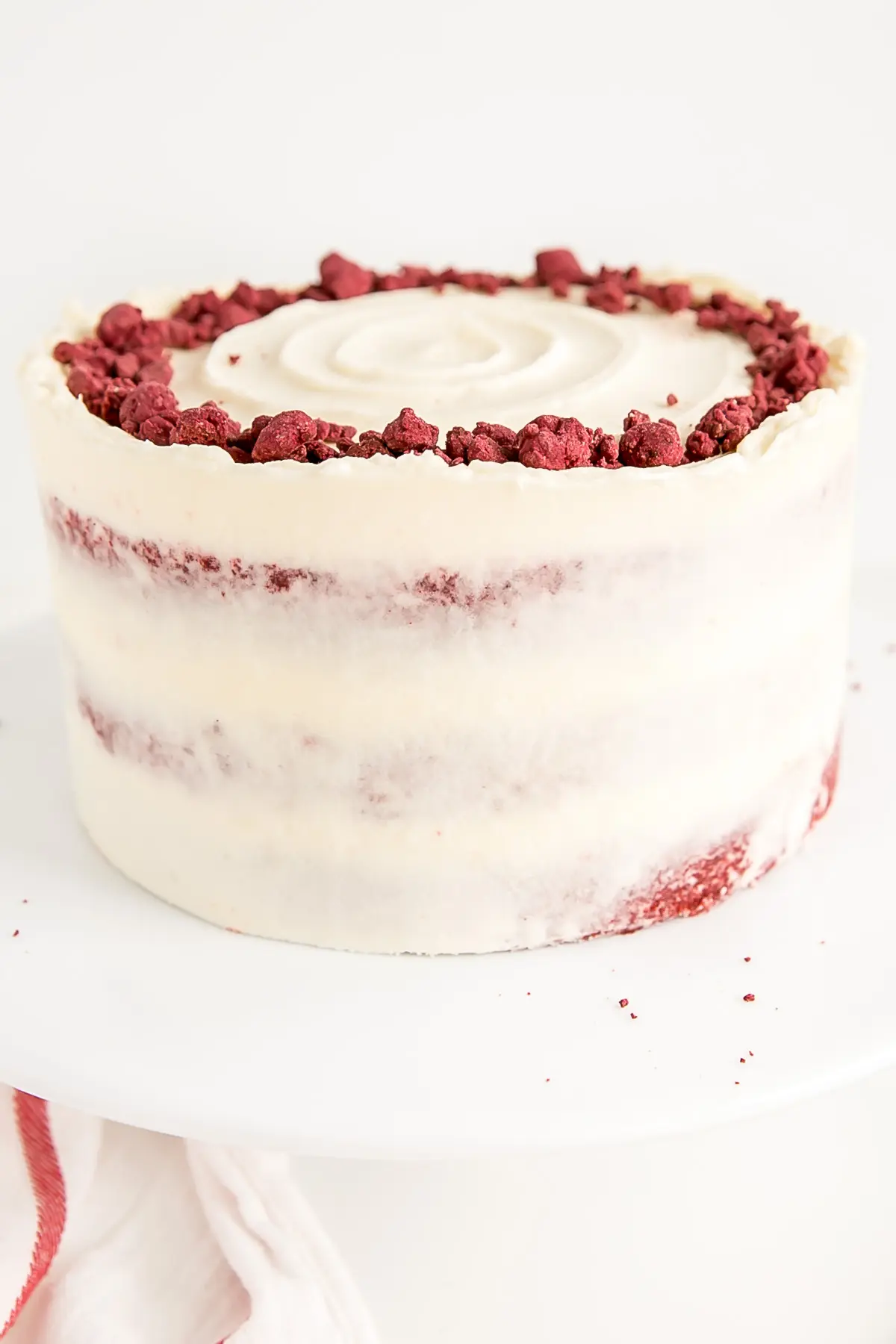 Anyhow, as I was saying, making this Red Velvet Cake is pretty simple — cream your butter and sugar, add eggs one at a time, etc. The key thing is that you want to add your cocoa powder and red coloring before you start adding your flour.
If you attempt to color your batter at the very end, once all the ingredients are added, you will most likely overmix your batter, resulting in a less-than-perfect dense (and sometimes fragile) cake.
This is true for all cakes that use the creaming method, so I always recommend coloring before adding the flour and milk.
Cake Tip!
Add coloring to your cake batter before you add the flour and milk. If you add oclor at the end it's easy to overmix the cake batter. I always add some with the butter and sugar and then add a bit more at the end if needed.
You want to add the coloring in right after your eggs and keep adding it until it's a deep shade of red. This took about 1/2 to 2/3rds of a 0.75oz bottle of Americolor Super Red color gel. I didn't measure it, I just kept adding until I had what looked like the right color.
You can use liquid red food coloring if you prefer — you'll need anywhere from 1-2oz of this. But I like that the color gels are more concentrated and you use less of them.
The Americolor ones also are better at not leaving a strange after-taste like some food coloring does.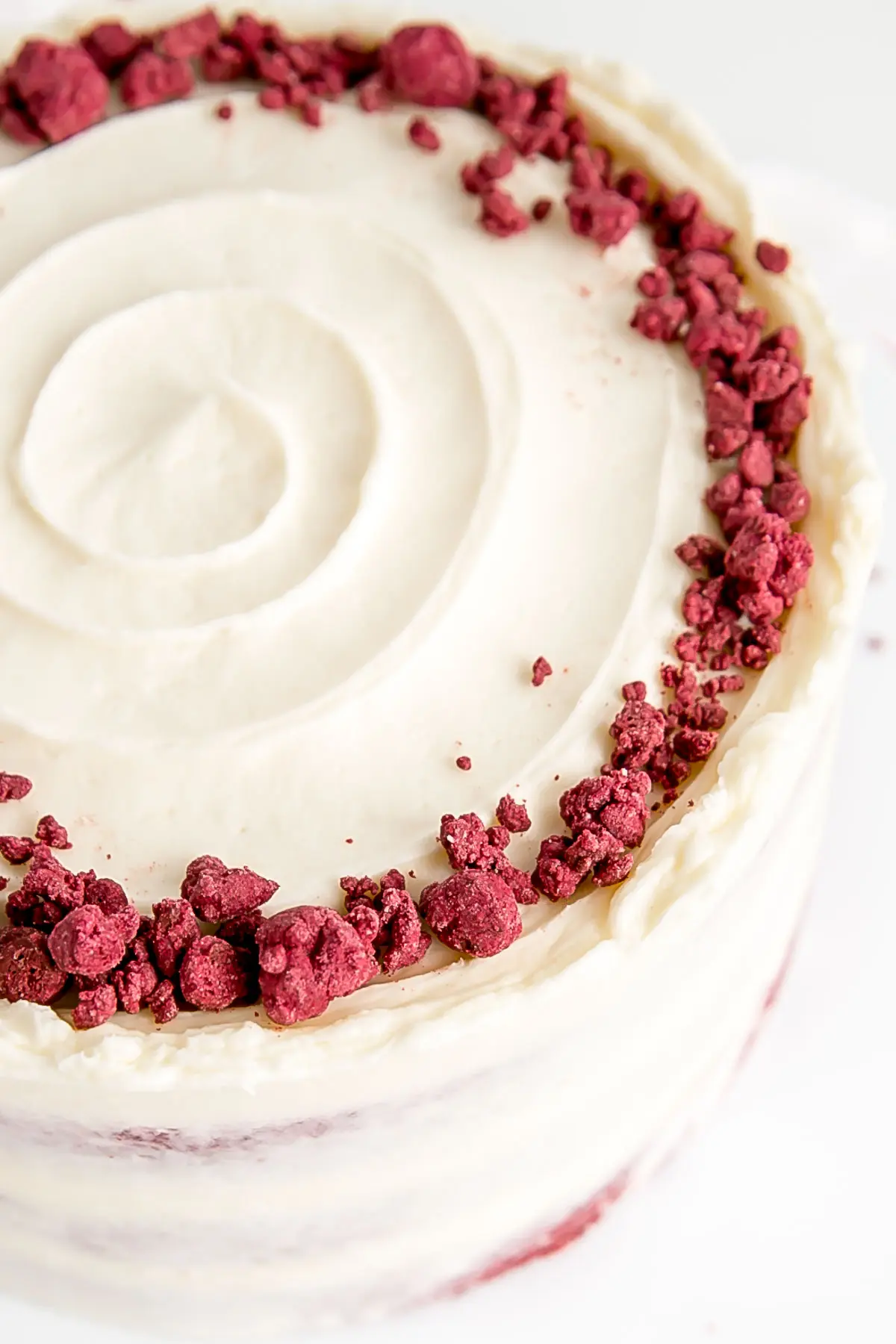 Red Velvet Crumble
A quick note about the crumble on top. I made this because I wanted something to decorate the top with, and I didn't just want to use cake crumbs. Plus I never have any since my cake layers bake up flat every time.
The crumble was a HUGE pain in the butt to make. I attempted to make it from scratch, but after 5 total fails, I gave up and opted for cake mix. After 5 more attempts I finally had something close to what I had envisioned.
I had planned to use this between the cake layers for some crunch, but I didn't love the flavor of it, so I just used it on the top as a decorative element. It is completely optional!
What Does Red Velvet Cake Taste Like?
Red velvet cake has a subtle chocolate flavor and a slight tang from the buttermilk. Mine has a bit more of that chocolate coming through, because I thought it was silly to have only a tablespoon or two in a recipe.
What truly makes the red velvet cake, I think, is the combination of the cake with the cream cheese frosting. It is truly a unique and delicious flavor pairing. A piece or two of this cake may have quickly disappeared shortly after I took the pictures.
If you're a Red Velvet fan, I hope you will love my tweaked version of this classic cake recipe!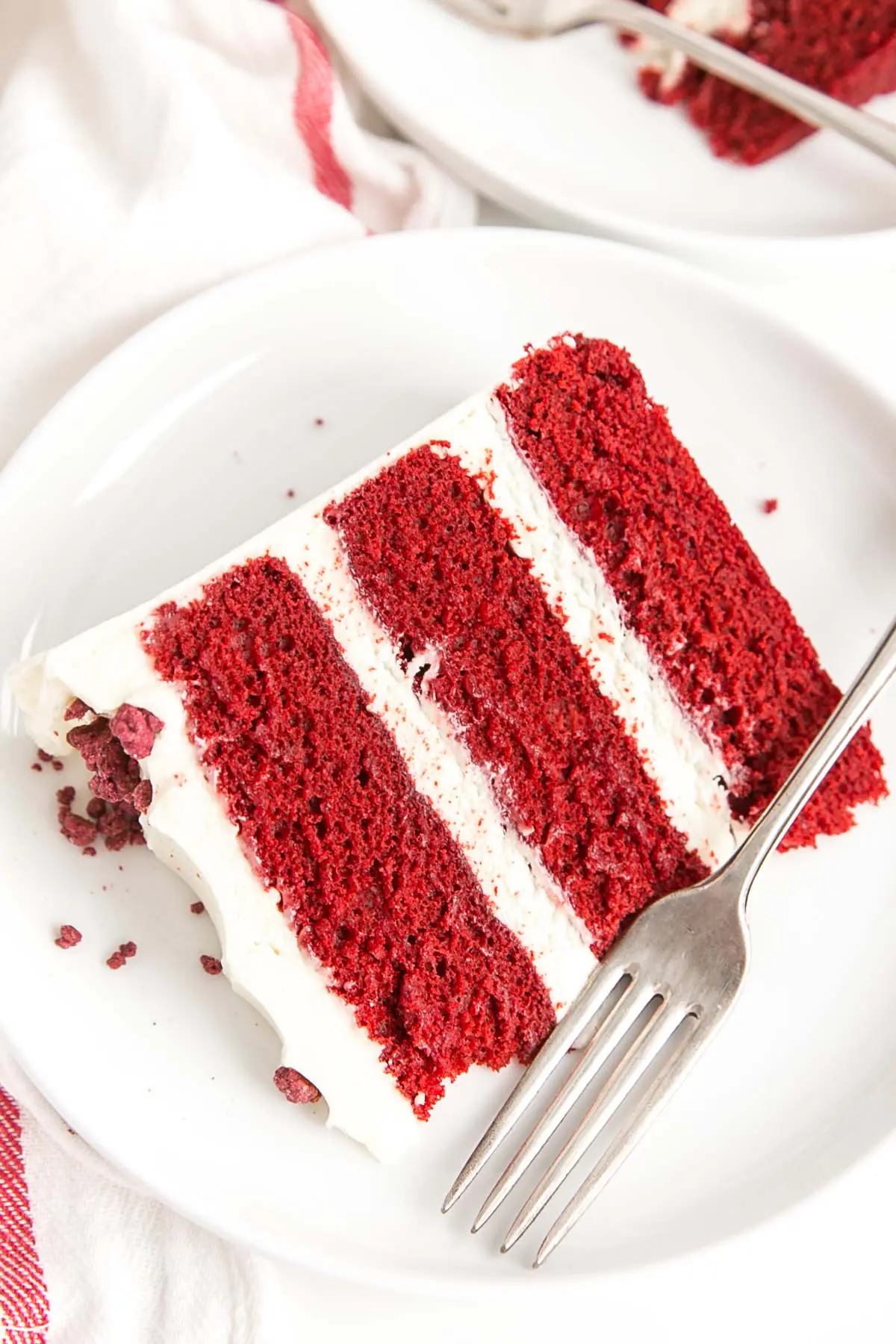 Looking for more Classic Cake Recipes?
Frequently Asked Questions
How can I convert this recipe?
The recipe as-is will work in either two 8″ or three 6″ pans. The layers will be thicker than in the recipe above (three 8″ pans) though, so you'll need to increase the baking time.
To make cupcakes, all you need to do is reduce the baking time — start checking at 15mins or so. The recipe will make 18-24 cupcakes depending on size.
For other conversions go

here

. Bake time may vary depending on pan size.
Baking time will vary if you change the pan size. Every oven is different so I can't say for certain what you'll need to adjust it to. Be sure to check on the cakes while they are baking.
Can I make it in advance?
The cooled cake layers can be baked ahead of time, double wrapped in plastic wrap, and frozen for up to 3 months. Take out 2-3 hours before assembly.
The frosting can be placed in an airtight container and refrigerated for 1 week or frozen for 3 months. Bring to room temp and rewhip before using.
The cooled crumble can be stored in an airtight container for up to a week. You can also freeze it for up to 3 months.
The finished cake (whole or sliced, stored airtight) can be frozen for up to 3 months.
Can I get the measurements by weight/grams?
There is a Metric option in the recipe card. If you click it it will convert everything to grams.
This conversion is done automatically and I cannot guarantee the accuracy but many readers have had success using the metric option on my recipes.
Can I use Dutch Process Cocoa Powder?
Normally yes but for the red velvet cake specifically you should use regular. See post for more details.
What if I don't have buttermilk?
Buttermilk is not optional and cannot be swapped for milk as it will affect the overall result.
For best results, use actual buttermilk, but if you don't have any you can make your own at home by combining 1 cup of milk (whole milk ideally, but I often just use 1%) with 1 Tbsp of lemon juice or vinegar and letting it sit for 10mins.
Tips for making this Red Velvet Cake Recipe
Apr 14, 2022 – Cream Cheese Frosting recipe revised to make a more stable frosting.
I used Americolor Super red to color the cake layers because it is concentrated and does not leave an after-taste. If you want to use liquid coloring, you'll need to use about 1-2 oz.
The crumble is optional, see post for details. I did it solely for aesthetics.
The frosting recipe below makes enough to fully frost the cake. If you only want enough to do a naked cake like I did, use 2/3rds of the recipe.
I prepare my cake pans using

Homemade Cake Release

and line with parchment paper.
Learn how to keep your cakes moist using

Simple Syrup

.
To help ensure your cake layers bake up nice and flat, check out my

How to Bake Flat Cakes

post!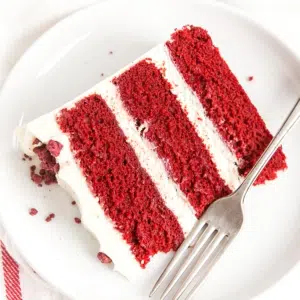 Red Velvet Cake
Classic Red Velvet Cake! Tender red cake layers with a hint of chocolate paired with a tangy cream cheese frosting and a red velvet crumble.
Ingredients
Red Velvet Crumble (optional):
1

cup

Red Velvet Cake mix

3

Tbsp

unsalted butter

melted
Cream Cheese Frosting:
1 1/2

cups

unsalted butter

room temperature

6

cups

powdered sugar

sifted

1 1/2

cups

cream cheese

12 oz chilled, full fat, block, cubed

2

tsp

vanilla extract

cornstarch or meringue powder

optional
Instructions
Red Velvet Cake:
Preheat oven to 350F. Grease and flour three 8″ cake rounds and line with parchment.

In a medium bowl, whisk flour, baking powder, baking soda and salt until well combined. Set aside.

Using a stand mixer fitted with a paddle attachment, cream butter and sugar on med-high until well combined (about 3mins). Add oil and beat another 2 mins until pale and fluffy.

Reduce speed and add eggs one at a time fully incorporating after each addition.

Add vanilla, vinegar, cocoa powder, and enough red color gel to reach your desired color. I used a little more than half of a 0.75oz bottle of Americolor Super Red.

Alternate adding flour mixture and buttermilk, beginning and ending with flour (3 additions of flour and 2 of milk). Fully incorporating after each addition.

Bake for 25-30mins or until a toothpick inserted into the center comes out mostly clean.

Place cakes on wire rack to cool for 10mins then turn out onto wire rack.
Red Velvet Crumble (optional):
Preheat oven to 350F and line a baking sheet with parchment. Add enough color gel to the melted butter so that it's a deep red color.

Place cake mix into a medium bowl. Add some or the butter and stir with a spatula. Add more butter until the cake mix starts to clump. Do not add too much!! It's easier to add liquid if it's too dry, but if you add too much butter you have to start over

.

Spread on a parchment lined baking sheet and bake for approx. 10 mins. Cool completely. Break crumble apart if needed.
Cream Cheese Frosting:
Using a stand mixer or hand mixer beat butter until pale and creamy.

Reduce speed to low. Add powdered sugar 1 cup at a time and mix on low until well blended. Increase speed to medium and beat for 3 minutes. Add vanilla and continue to beat on medium for 1 minute.

Slowly add chilled cream cheese one cube at a time (about 1 tablespoon at a time). Beat well until blended and ensure no lumps of cream cheese remain.

If needed, add cornstarch or meringue powder 1 tablespoon at a time to stiffen the frosting (I didn't but this is an option).

Run mixer on low for a couple of minutes to remove any air bubbles.
Assembly:
Place one layer of cake onto a serving plate or cake stand. Top with about 1 cup frosting and spread evenly. Repeat with next layer.


Place final cake layer on top and crumb coat the cake. Add 1 cup of buttercream to the very top and smooth until it hangs over the sides. Do a swirl on the top with a large offset spatula and then use an icing smoother to smooth the sides and create a lip on the top with the frosting.


Sprinkle some red velvet crumble around the top if desired.
Calories:
669
kcal
Carbohydrates:
86
g
Protein:
6
g
Fat:
35
g
Saturated Fat:
21
g
Polyunsaturated Fat:
2
g
Monounsaturated Fat:
9
g
Trans Fat:
1
g
Cholesterol:
125
mg
Sodium:
289
mg
Potassium:
173
mg
Fiber:
1
g
Sugar:
67
g
Vitamin A:
1136
IU
Calcium:
83
mg
Iron:
2
mg
The nutritional information and metric conversions are calculated automatically. I cannot guarantee the accuracy of this data. If this is important to you, please verify with your favorite nutrition calculator and/or metric conversion tool.
This post was originally published on 02/14/19 and was updated with new content on 02/06/23.