Coconut cupcakes topped with vanilla buttercream and toasted coconut.
I got my first cake order from a stranger last week. I didn't even know this was a thing I was going to be doing, but apparently it's happening. A close friend of mine passed along my info and I got an email out of the blue. Oh &%$#. Someone wants to PAY me to make a cake for them? Anxiety skyrockets. Panic sets in. My instant reaction is that I don't want to do it, so naturally, I'm doing it.
The order is for a vanilla & coconut cake decorated with rosettes. My rosette cake is one of my most popular posts, so simple yet stunning. I love the look of it, and I'm happy for an excuse to make it again. I haven't made a coconut flavoured cake before, so I needed to test out a recipe but didn't want to make a huge whole cake. I decided to make these Coconut Cupcakes instead.
I found a recipe that I could modify and make coconutty, so I tried it out. I halved the recipe, which was the perfect amount for 12 cupcakes.
When I cut a recipe in half, I usually just write down the halved amount right next to the normal amount. This is bad, as sometimes I don't pay enough attention and use the full amount for certain ingredients and half others. In light of this, I decided to write out ALL of the ingredients separately with their correctly halved amounts. This would surely be foolproof and prevent me from rushing and accidentally measuring the wrong amount. You'd think.
In my transcribing, I somehow wrote baking soda instead of baking powder, probably because I was rushing. I never do anything at a normal pace. I didn't notice the mistake until I sampled one after it was baked. It tasted… funny. Not good. I looked over the recipe again, wondering what could cause the weird flavour and noticed my mistake. Argh. Must pay better attention to amounts and ingredients. Seriously.
So I remade the entire batch. Again.
In case you're curious, here's a picture of the difference. Baking powder cupcakes on the left, baking soda on the right.
I was surprised at how much the first ones browned, but now I know why.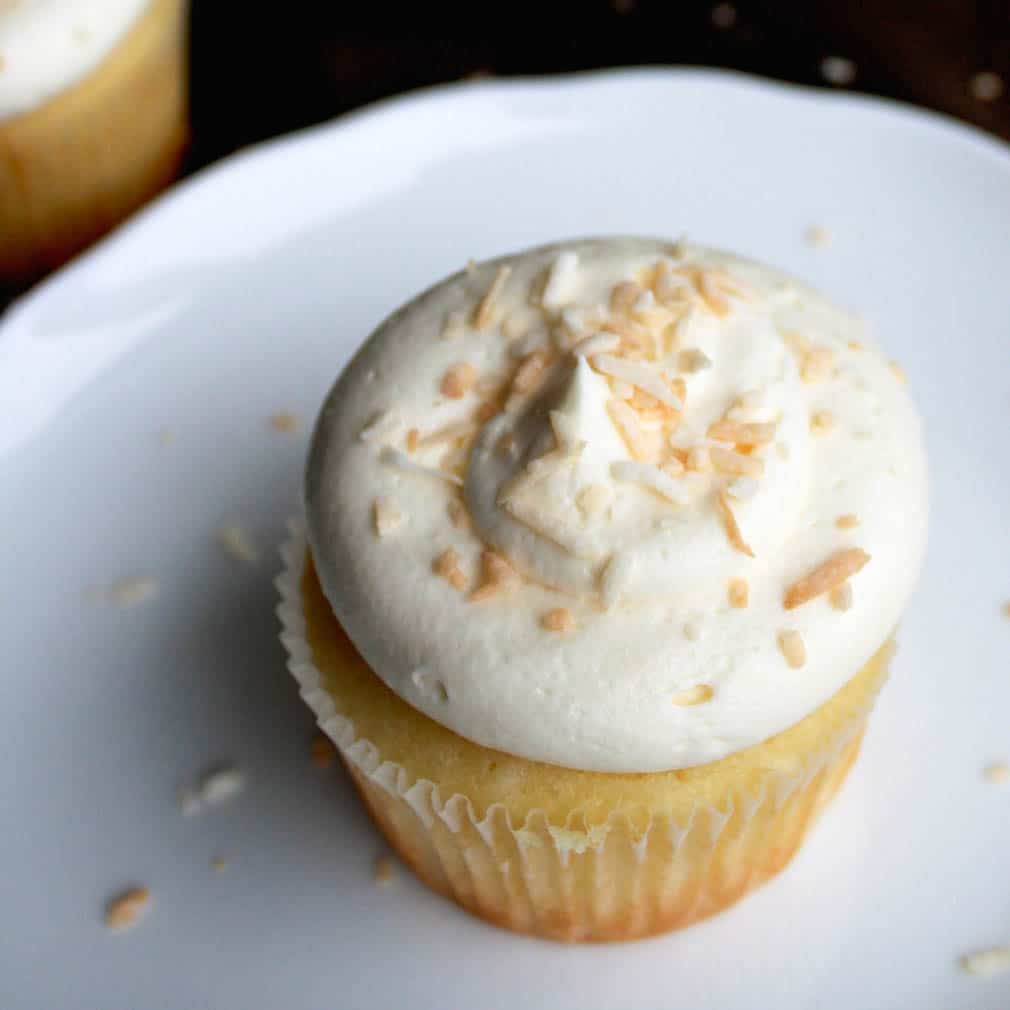 Thankfully the second batch came out perfect.
To top them off, I made my favourite buttercream and sprinkled them with some toasted coconut.
I'd forgotten how easy it is to make cupcakes. So much less work than a cake, but just as satisfying (and delicious).
I think I'll try some chocolate cupcakes next…
Coconut Cupcakes
Coconut cupcakes topped with vanilla buttercream and toasted coconut.
Ingredients
Instructions
Preheat oven to 350F and line a muffin pan with cupcake liners.

Place butter and sugar into a stand mixer fitted with the paddle attachment and beat on medium until light and fluffy.

Add eggs, oil, and coconut extract and beat until well combined.

In a separate bowl, combine flour, salt, and baking powder.

Turn the mixer to low and alternate adding the dry ingredients and the milk scraping the sides of the bowl as needed.

Add in coconut and mix until just combined.

Use a large ice cream scoop to fill each cupcake liner. I used about one scoop per each.

Bake for approximately 15mins or until a cake tester comes out mostly clean.

Cool on wire rack before frosting.

For toasted coconut, spread shredded coconut onto a parchment lined pan. Toast in a 350F oven for 5 mins checking often and stirring occasionally. Mine browned really quickly!
Calories:
302
kcal
Carbohydrates:
24
g
Protein:
2
g
Fat:
7
g
Saturated Fat:
4
g
Cholesterol:
34
mg
Sodium:
122
mg
Potassium:
124
mg
Sugar:
14
g
Vitamin A:
170
IU
Calcium:
53
mg
Iron:
0.8
mg
The nutritional information and metric conversions are calculated automatically. I cannot guarantee the accuracy of this data. If this important to you, please verify with your favourite nutrition calculator and/or metric conversion tool.