This Pistachio Cake recipe has loads of freshly ground pistachios in the cake batter and is layered with a rich dark chocolate ganache and fresh raspberries.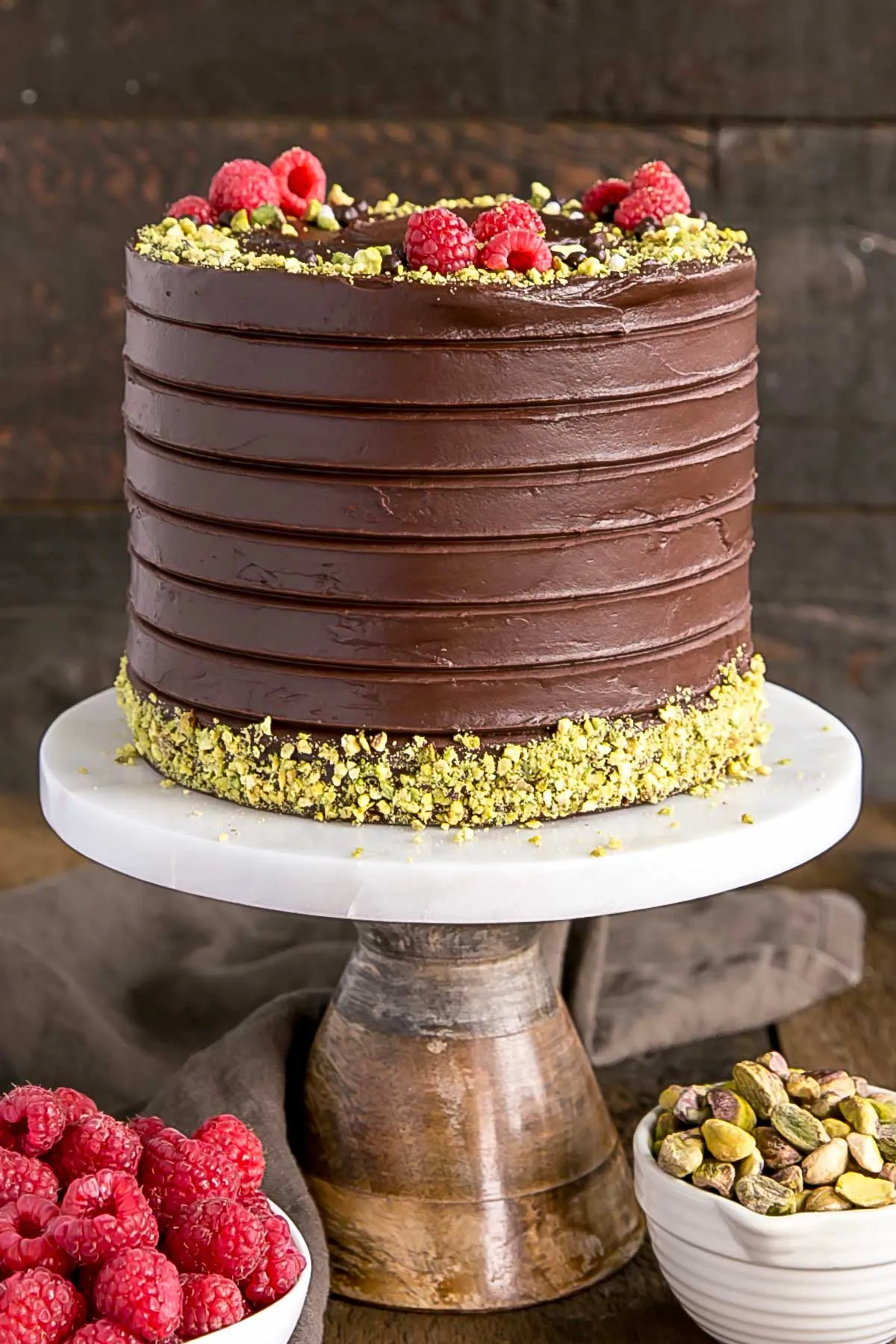 When I was little, my mom used to get this pistachio instant pudding. It was the grossest thing to me. Mint green gelatinous goo with little brown bits which I assume were small pieces of pistachio, but who really knows. A pretty picture, right?? I'm not a huge fan of pudding as it is (it's a consistency thing), but this was over the top nasty. I could never fathom why she'd get that one rather than something safer like chocolate or vanilla, heck even butterscotch! Literally anything else.
I'm sure I must have tried it at some point when it was the only sweet treat in the house, but I can assure you: I was not (and am not) a fan. I'm not sure if it was that pudding that turned me off of pistachios, but they have been at the bottom of the totem pole for me as far as nuts are concerned.
I put out a poll to my Baking Community on Facebook a few weeks ago asking what sort of cakes they would like me to make, and pistachio was a common theme. As such, and in my most selfless act to date, I bring you this Pistachio Cake!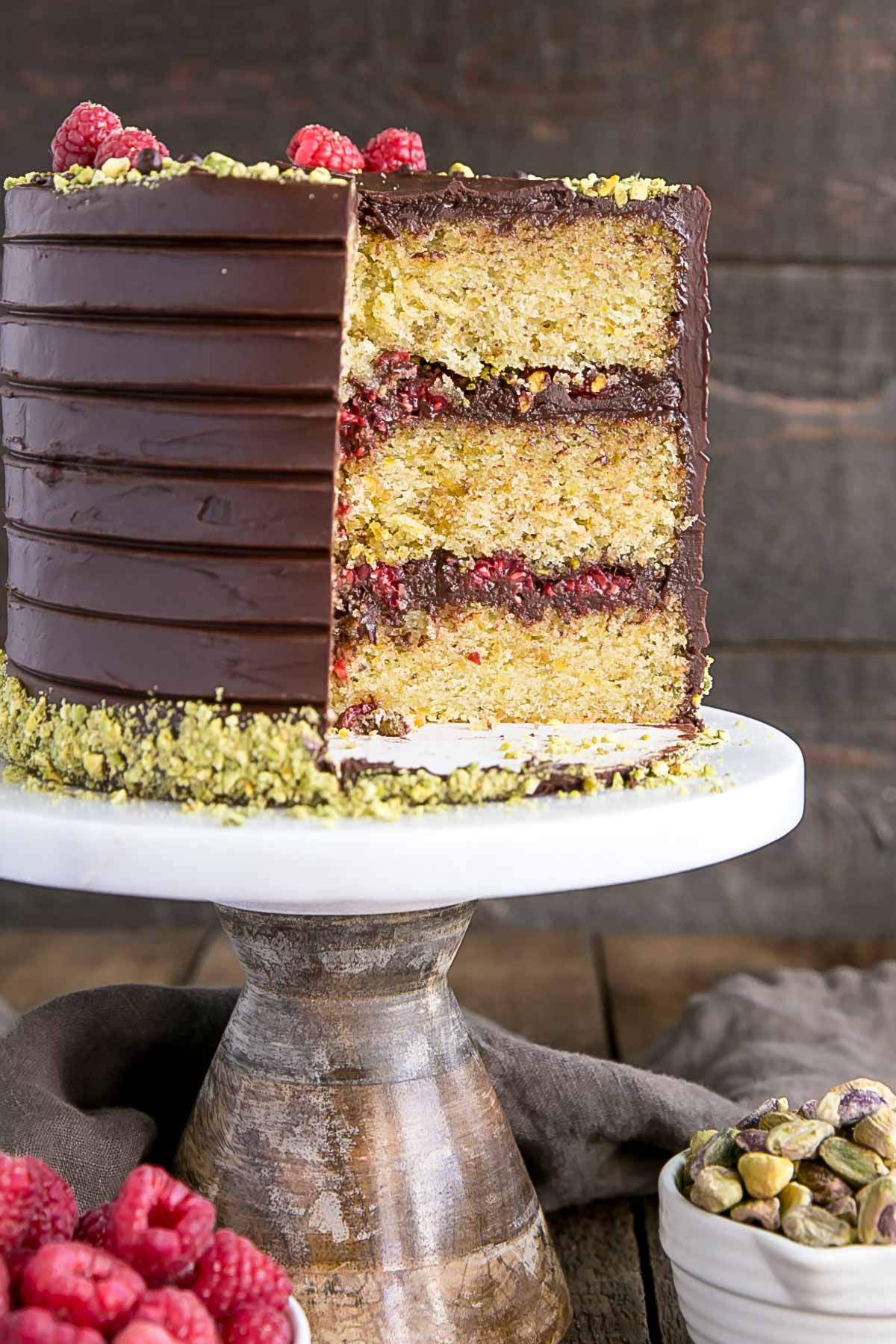 To make this pistachio cake, all I did was substitute some finely ground pistachios for some of the flour in my favorite Vanilla Cake recipe. It's basically the same as my Almond Amaretto Cake, but with pistachios instead.
Pistachios are not cheap. Even worse when you have to buy them unshelled because you need them unsalted (and you're too lazy to shell them yourself). I paid $20 for 350g (about 12oz) of them. So you really have to be (or know) a pistachio lover to make this cake.
The finely ground pistachios will give the slightest hint of green to the cake layers. If you want to amp this up a bit, you can add a tiny bit of moss green coloring. I recommend adding this when you're creaming the butter so that you don't overmix the cake batter once you add the color.
The cake layers baked up beautifully, much like the ones in my Almond Amaretto Cake. It almost makes me want to sub in a bit of almond flour to all of my cakes! It gives them a great texture, too.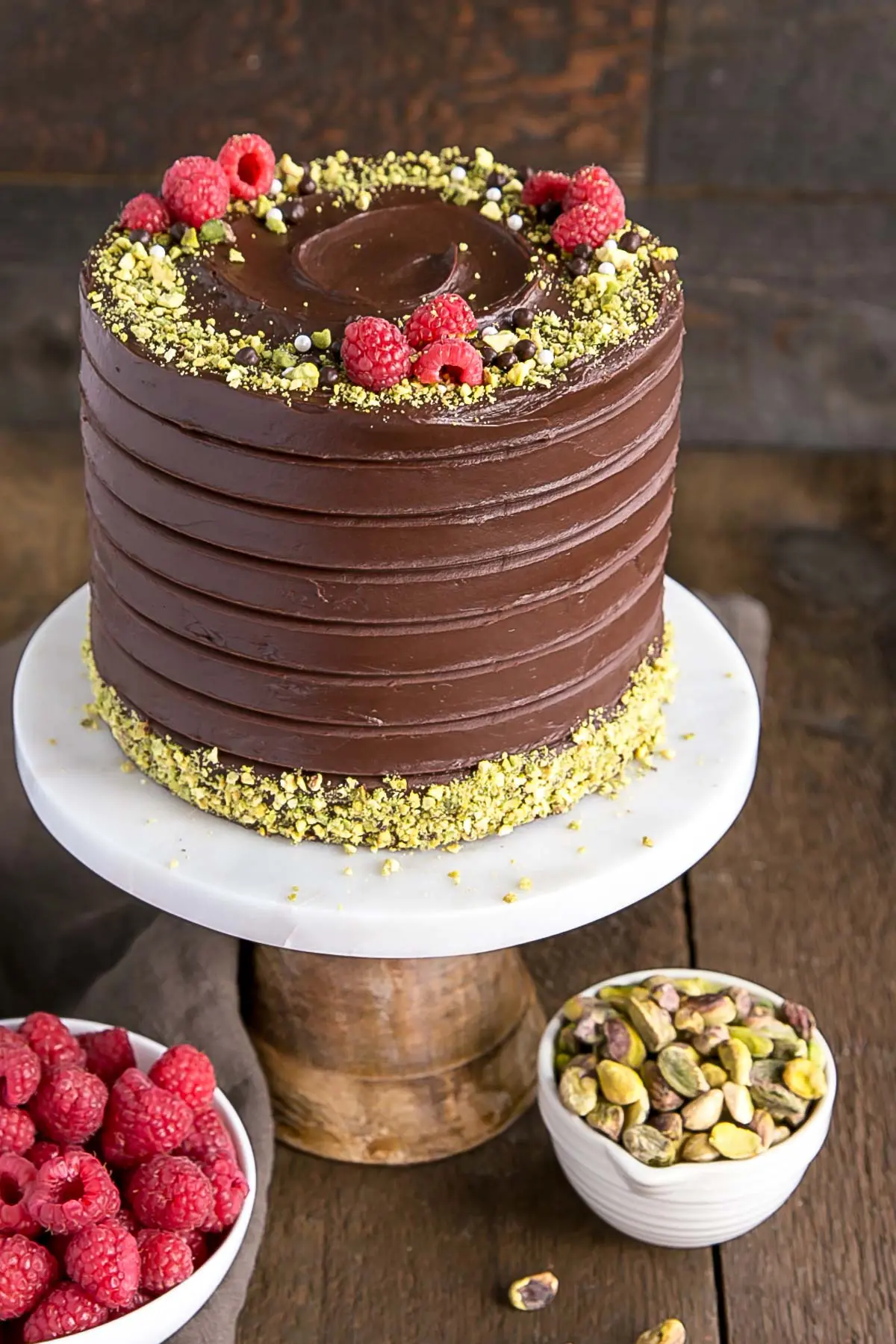 Now, it wouldn't be a Liv for Cake cake without some major issue, right? This time it was my ganache. The same ganache I'd made multiple times before. This time, my laziness and impatience got the better of me.
How do you make a chocolate ganache?
Making a ganache is simple. It really takes just two (sometimes three) ingredients:
Good quality chocolate
Heavy cream
Butter or corn syrup for shine (optional)
All you have to do is pour hot (but not boiling cream) over chopped chocolate, let it sit for a bit, then stir to emulsify. Simple enough, right? It usually works, but there are a few key things that can make it go sideways for you.
I was being lazy, since there was so much chocolate in the recipe (20 oz) and it's a HUGE pain to chop chocolate. It's messy and takes forever, so I left some rather large chunks in there, hoping they would just melt. I also mixed a couple different brands of chocolate together to try to use them all up. This may have contributed to the issues as well.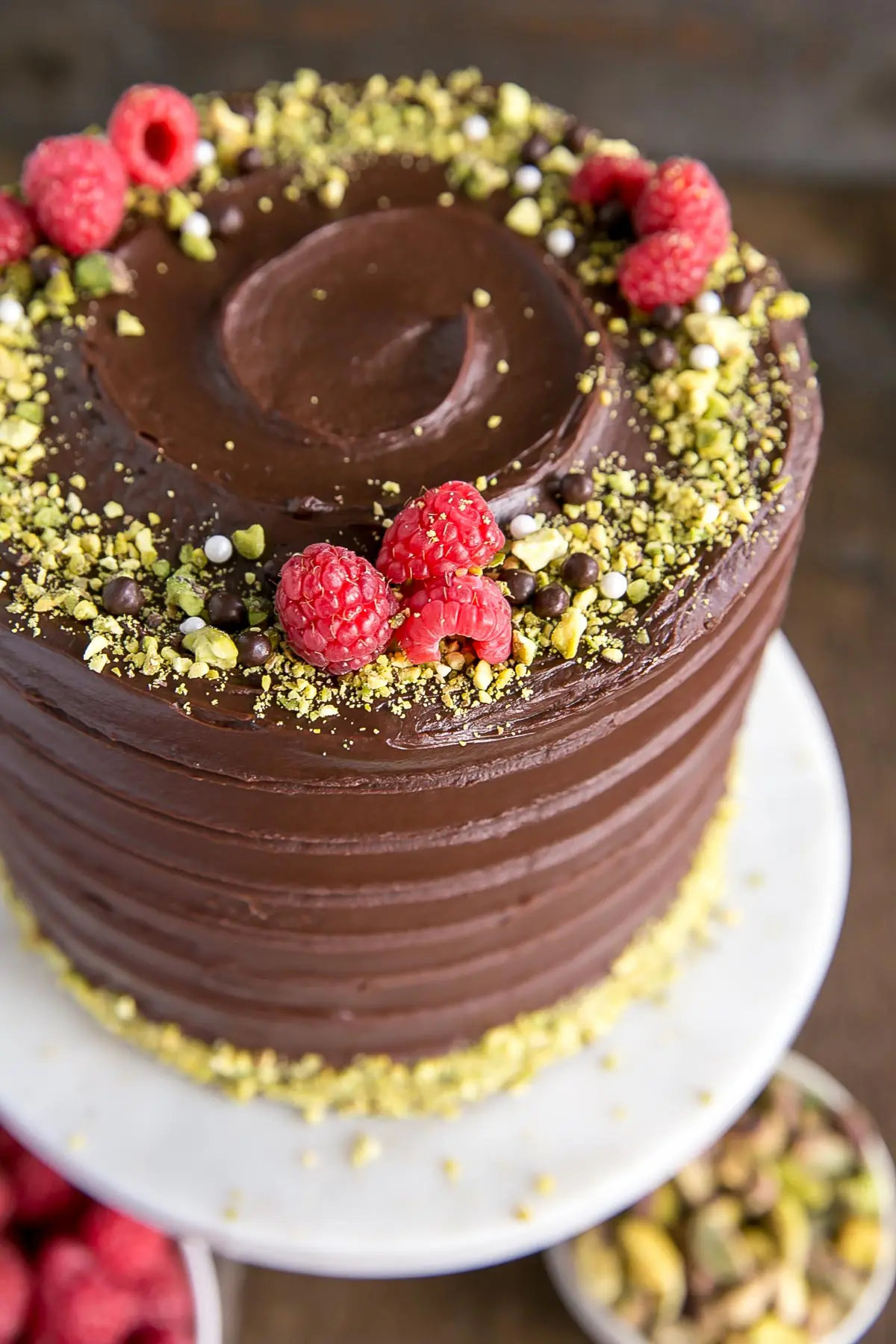 Anyhow, since my chocolate was in larger pieces, I decided it would be a good idea to get the cream/butter mixture hotter. This was most certainly NOT a good idea. Don't do this. You really want the cream just barely to a simmer, otherwise it's too hot and will cause the cocoa butter to separate from your chocolate, which is exactly what happened to me.
I could tell it wasn't quite right once I finished stirring it. It looked a bit greasy and just… off. It wasn't brutal, but I could tell it didn't look right. I covered it with some plastic wrap and left it to sit on the counter. I checked it a few hours later and noticed a thin layer of fat/butter on the top. Ugh.
I tried to save the split ganache in a variety of ways, and it only sort of worked. I'm not recommending any of them here, as I didn't really have success with any of them. The ganache did come together slightly, but it was still a bit off. I went with it anyway as it wasn't too bad, but if I was making this Pistachio cake for someone else, I would have redone it.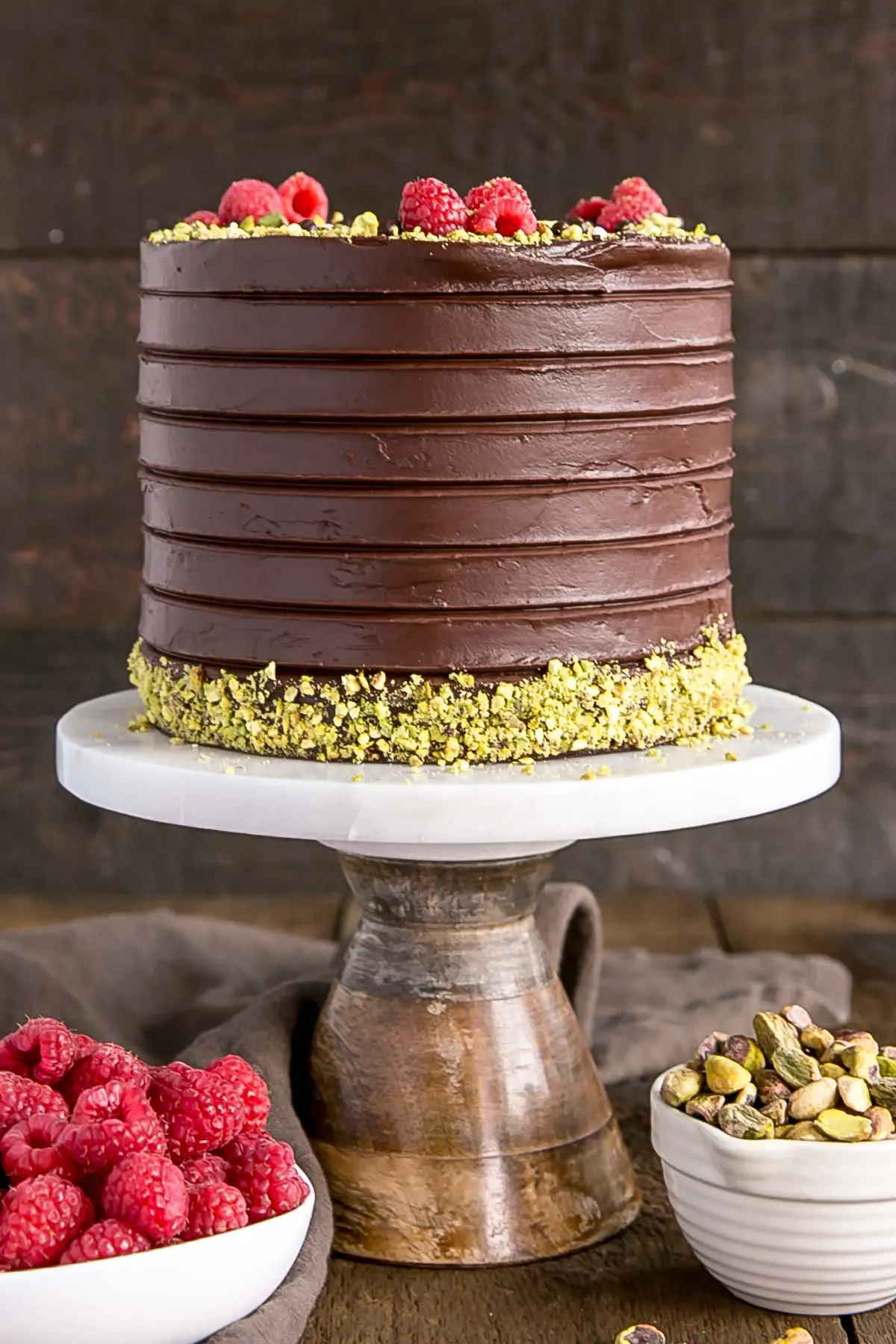 So, if you plan to make a chocolate ganache, follow these steps:
Use good quality chocolate and chop it very fine. Good quality chocolate makes a huge difference both in flavor and texture. It contains a higher % of cocoa butter and will lead to a better ganache.
Heat your cream only to a simmer, when it's just barely starting to have bubbles around the edge. Then pour it over the finely chopped chocolate.
Cover the bowl with plastic wrap and let sit for 5mins.
Begin to stir slowly from the inside with a spatula or a whisk. Keep working until it comes together.
If there are any unmelted chunks at this point, you can put it over a double boiler and stir until it all melts.
Once it's smooth, place plastic wrap directly on the surface and allow to cool/set to desired consistency.
If you plan to add butter (which I do when I use my ganache as a frosting, but not when I use it as a drip), it may be safer to incorporate very soft (but not melted) butter into the ganache at the end, once the cream and chocolate have emulsified. I have melted the butter along with the cream without issue before, but it's safer to do it right at the end.
There are other methods of making a chocolate ganache. You can place the chocolate and cream in a bowl together and microwave it in bursts, or you can place it over a double boiler and stir until it's all melted.
You can use any method you like, but I prefer the hot cream over chocolate method, as it requires the least "hands on" time. I find it faster, and it allows me to do other things while the chocolate is melting.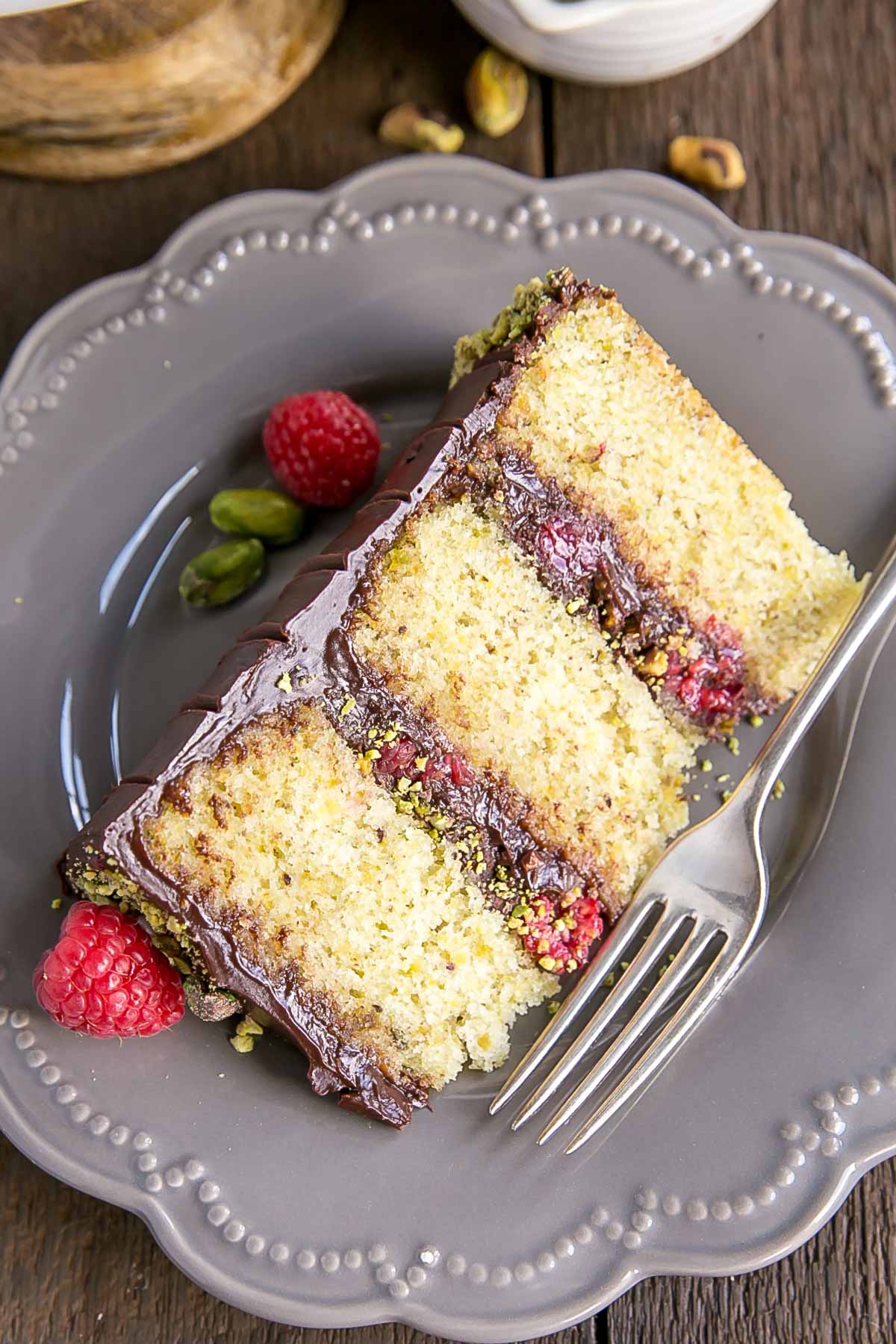 Ganache issues aside, this Pistachio Cake turned out perfect! I fully admit that I tried to tone down/mask some of the pistachio flavor, so I paired this cake with raspberries AND a dark chocolate ganache. Both very strong flavors, but they compliment the cake perfectly. Even I liked it. I swear.
If you're a die hard pistachio fan, you may want that flavor to stand out more, in which case you can pair it with a simple vanilla buttercream, a cream cheese frosting, or even a light whipped cream with some fresh berries!
Looking for more nut inspired desserts?
Tips for making this Pistachio Cake with Dark Chocolate Ganache
Don't try to rush the ganache. Read my post for details.
The cake is paired with some fairly strong flavors (dark chocolate, raspberry), but you could use a simple vanilla buttercream, cream cheese frosting, or whipped cream if you prefer!
This cake can be made in three 6″ pans (as shown) or two 8″ pans.
To help ensure your cake layers bake up nice and flat, check out my Flat Top Cakes post!
Pistachio Cake
This Pistachio Cake recipe has loads of freshly ground pistachios in the cake batter and is layered with a rich dark chocolate ganache and fresh raspberries.
Ingredients
Chocolate Ganache Frosting: (make in advance)
Assembly:
fresh raspberries

optional

chopped pistachios
Instructions
Chocolate Ganache Frosting (make in advance):
Place chopped chocolate in a large heatproof bowl.

Place cream into a medium saucepan. Cook over med heat, stirring often, until it just barely starts to simmer.

Pour hot cream over chopped chocolate and cover bowl with plastic wrap. Let sit 5 minutes.

Stir gently with a spatula until completely smooth. Add softened butter and stir until smooth. If needed, place over a double boiler and stir until all chocolate and butter has melted.

Place plastic wrap directly on top of chocolate ganache. Allow to thicken and set overnight.**
Cake:
Preheat oven to 350F. Grease and flour three 6″ cake rounds and line with parchment.

In a medium bowl, whisk flour, ground pistachios, baking powder,and salt until well combined. Set aside.

Using a stand mixer fitted with a paddle attachment, cream butter and sugar on med-high until pale and fluffy (approx 3mins). Reduce speed and add eggs one at a time fully incorporating after each addition. Add vanilla.

Alternate adding flour mixture and milk, beginning and ending with flour (3 additions of flour and 2 of milk). Fully incorporating after each addition.

Bake for approx. 35-40mins or until a toothpick inserted into the center comes out mostly clean.

Place cakes on wire rack to cool for 10mins then turn out onto wire rack. Allow cakes to cool completely.
Assembly:
Place one layer of cake on a cake stand or serving plate. Top with approx 2/3 cup of thickened ganache, spread evenly. Press cut raspberries into the ganache (I used about 12 halves per layer) and sprinkle with finely chopped pistachios (about 1 Tbsp). Repeat with next layer.

Place last layer on top and smooth the outside with a thin crumb coat. Let sit at room temperature for 20mins. The ganache on the cake will firm up slightly.

Frost the top and sides of the cake with the remaining ganache. Do a swirl on top and use a decorative scraper to do the sides. I used the far left one pictured here.

Press chopped pistachios into the bottom and sprinkle some more on top of the cake. Decorate with raspberries if desired.
Notes
* Pulse 1 cup of shelled, unsalted pistachios in a food processor until they are fine and powdery. Pass through a sifter and measure out 3/4 cup. Reserve remainder for sprinkling between layers.
** You can speed up the thickening of the ganache by placing the it in the fridge, but you need to stir it often.
Calories:
750
kcal
Carbohydrates:
62
g
Protein:
9
g
Fat:
52
g
Saturated Fat:
29
g
Cholesterol:
127
mg
Sodium:
193
mg
Potassium:
578
mg
Fiber:
6
g
Sugar:
38
g
Vitamin A:
1020
IU
Vitamin C:
0.3
mg
Calcium:
130
mg
Iron:
6.9
mg
The nutritional information and metric conversions are calculated automatically. I cannot guarantee the accuracy of this data. If this is important to you, please verify with your favorite nutrition calculator and/or metric conversion tool.