This Pineapple Cake is the perfect tropical dessert for summer! Dried pineapple flowers adorn this pineapple infused cake with fresh pineapple and pineapple buttercream.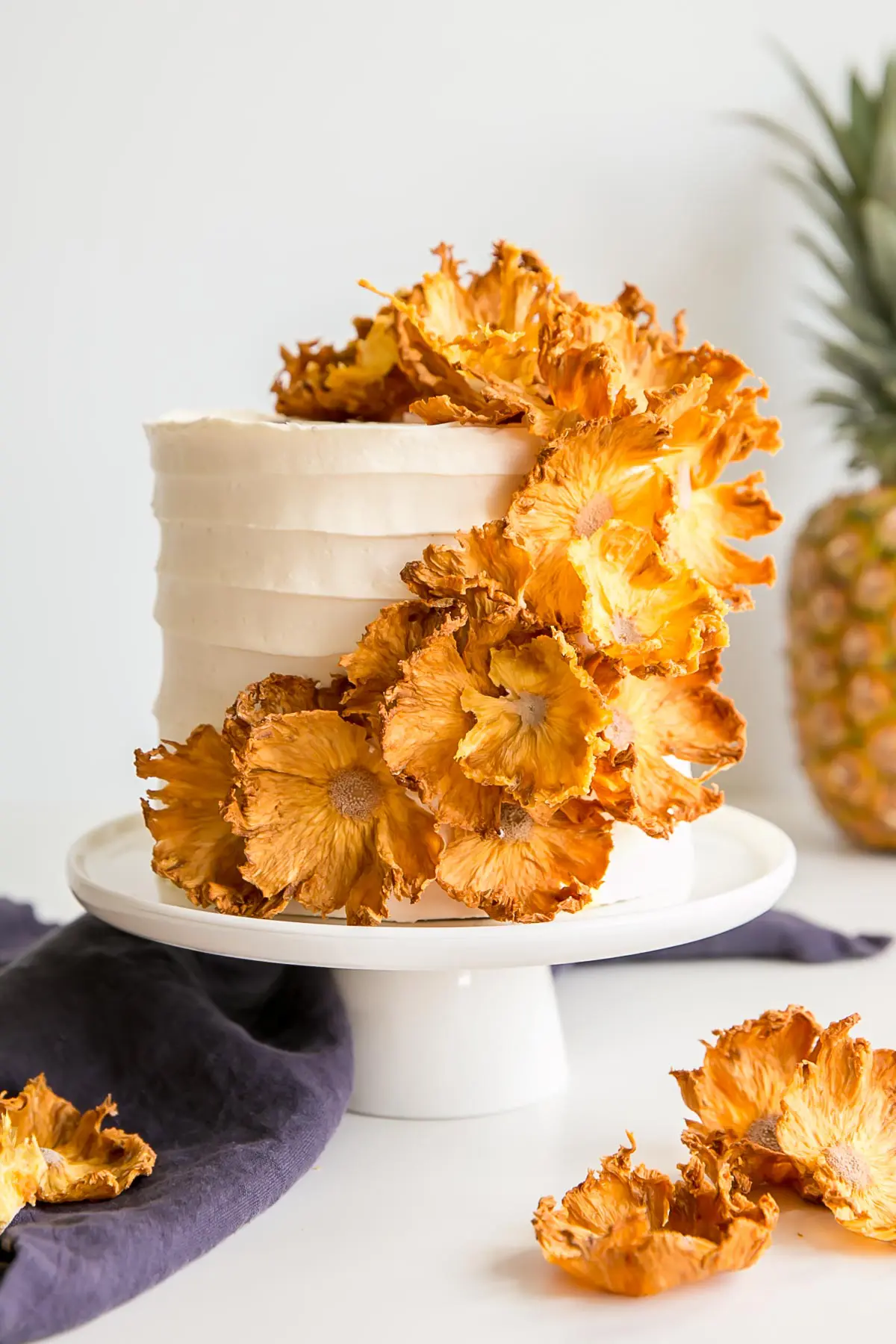 "You should make a Dole Whip Cake" were the words from my friend Rich as I was catching up with him and his wife Crystal about their recent trip to Disneyland. My response? "I should make a Dole Whip Cake!"
For those who don't know, a Dole Whip is a pineapple flavored soft serve that you can get in a small handful of Disney Parks. Disneyland has it at the Tiki Juice Bar in Adventureland, and in Disney World you can also get it at the Animal Kingdom and the Polynesian resort. If you're in Hawaii and dying for a fix, it's also available at the Dole Plantation on Oahu.
I haven't had Dole Whip a lot, I think maybe only a couple of times, really. Partly because the lineups to get one are always ridiculous, and I'd rather wait in line for a ride. And partly because the last time I had one, it tasted a bit artificial and I didn't love it. I swear they changed the recipe from the first time I had one 10 years ago!
Nevertheless, I love pineapple and tropical desserts, so the Dole Whip Cake (aka Pineapple Cake) had to happen. Of course I had to take it over the top and decorate it with a copious amount of dried pineapple flowers. Read on to learn how to make your own.
How to make this Pineapple Cake
As strong as I find pineapple flavor to be on its own, it is surprisingly hard to get it to come through in baked goods. Even though I replaced all of the liquid in the recipe with pineapple juice, you could just barely taste it. You could tell that the cake wasn't just straight up vanilla, but you really couldn't identify the flavor as pineapple.
I tried to find some more concentrated juice — you know the frozen kind that you mix with water? Total flashback to the 80's on that one. I honestly wasn't sure that stores even still carried that kinda stuff. Well, they do! Except not pineapple. At least not in Canada in the stores I checked. It is annoyingly difficult to find certain things in Canada.
I could have experimented with putting crushed pineapple into the cake batter, but I didn't think it would make more of a difference than pineapple juice, so my next step was making a pineapple simple syrup. I had a bunch of pineapple juice left over from the stuff I bought to make the cake, so I whipped that up into a quick syrup to drizzle onto the cake layers during assembly.
The syrup did an okay job of adding pineapple flavor, but still not as much as I hoped for. If you can find frozen pineapple concentrate, I would give that a try in place of the pineapple juice in this recipe. My gut says that will be the best bet in adding the most flavor!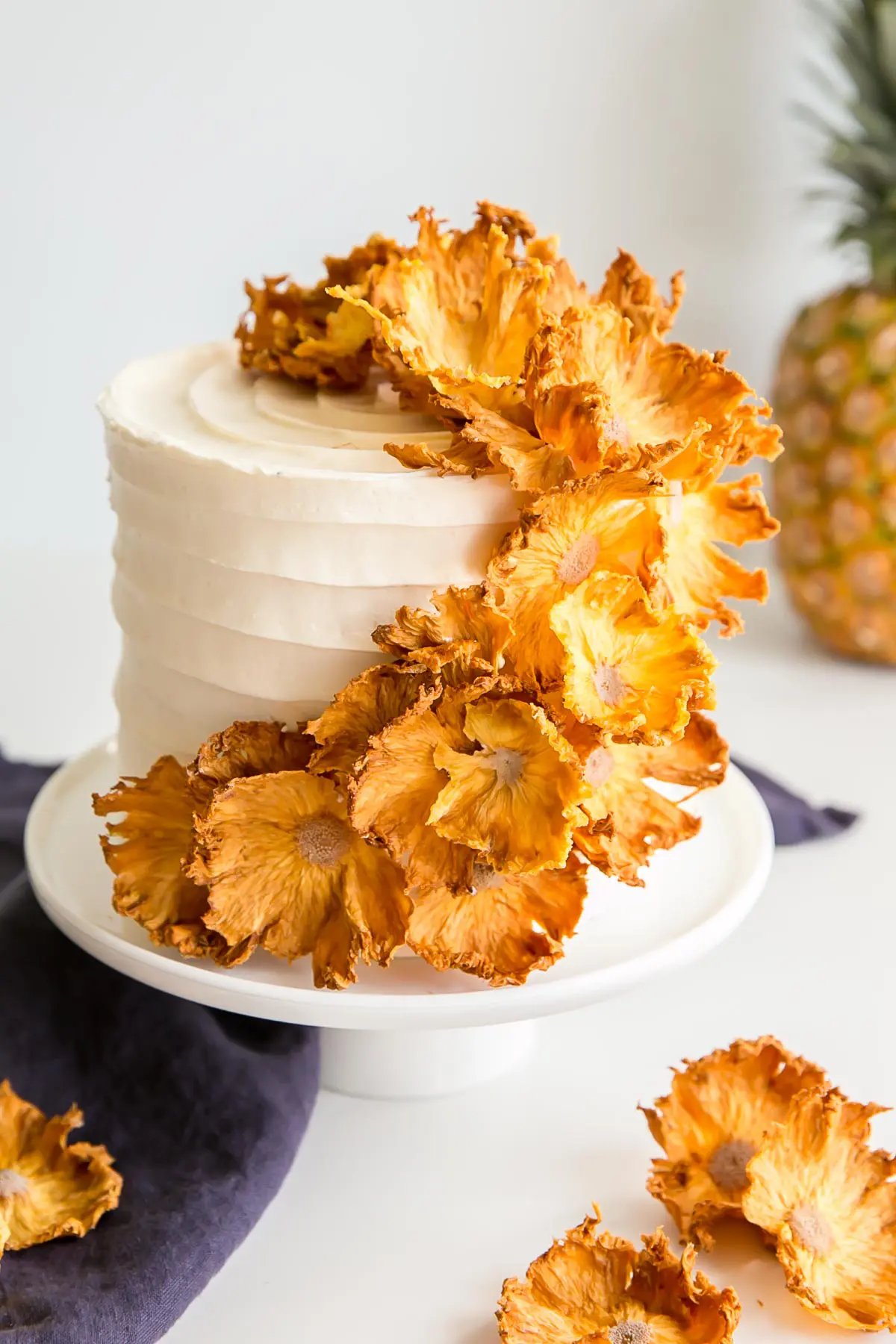 Pineapple Swiss Meringue Buttercream
The pineapple frosting posed another surprising flavor challenge. You guys know I love to use freeze-dried fruit to flavor my cakes and buttercreams, and it usually packs quite a punch. Once again the pineapple let me down.
I used an entire bag of freeze-dried pineapple chunks (40g, 1.5oz) that I powdered in my coffee grinder. It worked out to about 7 Tbsp of pineapple powder. I added the entire thing into the buttercream. Most berry flavored buttercreams would have been intense with flavor, but again you couldn't really taste it. You could taste something, but not exactly the pineapple. So bizarre!
Now I know why the Dole Whip tastes so artificial. Amirite?
The biggest flavor impact was adding the fresh chopped pineapple between the cake layers. It really made a huge difference, and all together it is one delicious pineapple cake! If you prefer, you could do something like a pineapple curd instead.
My design inspiration for this cake came from this one over at The Moonblush Baker. Just gorgeous, right?? It looks like she no longer blogs, which is a shame because her stuff is beautiful. My friend Jen over at Baked by an Introvert recently used some pineapple flowers on her Pineapple Coconut Cake too. So pretty!
For the frosting on the sides, I wanted to emulate that classic Dole Whip swirl. It kinda gets lost in the pineapple flowers, but the thought was there!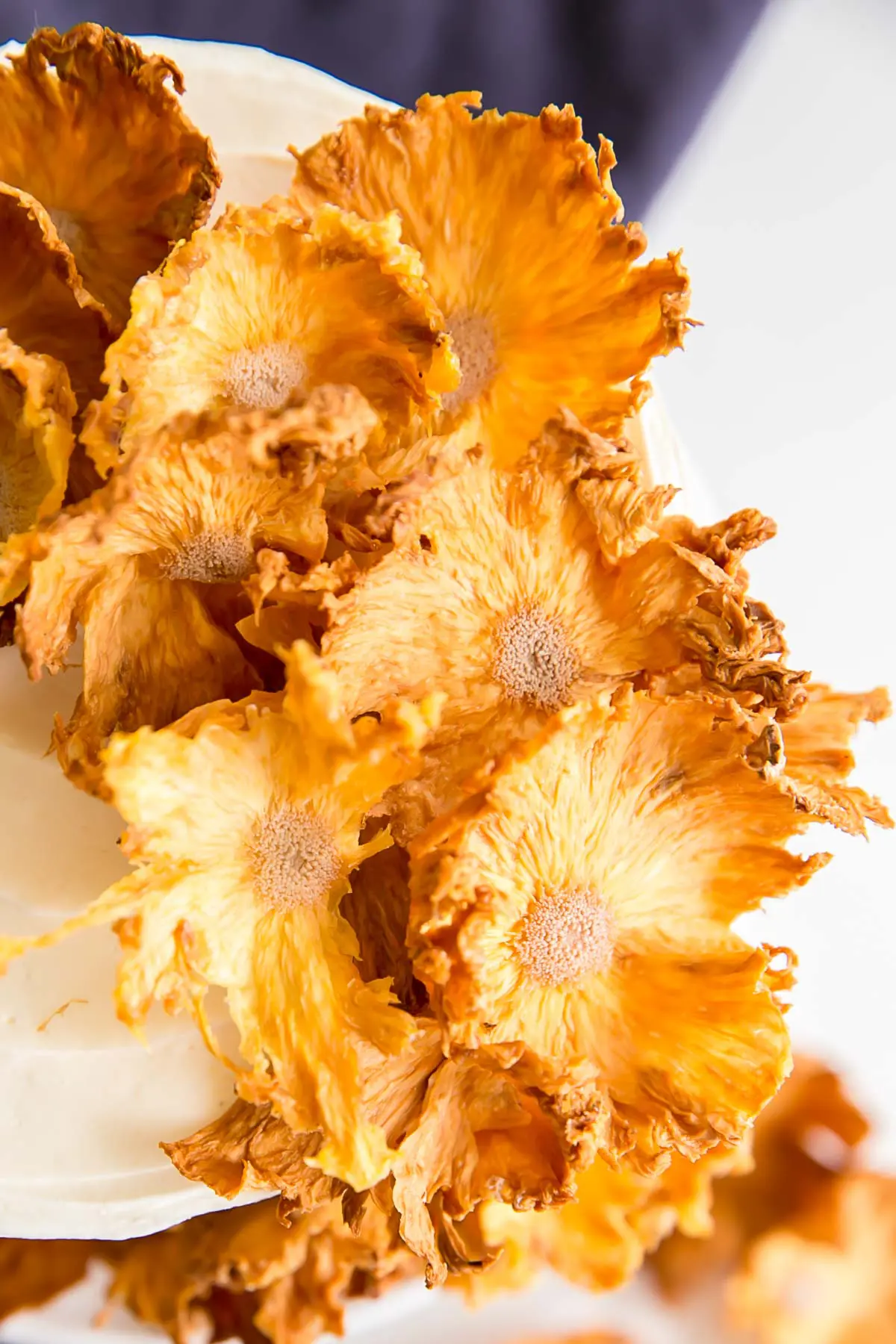 How to Make Pineapple Flowers
Making the pineapple flowers was time consuming (and messy), but not exactly difficult. I used a couple different tutorials to make these. If you have a mandolin handy, it will make things infinitely easier than trying to slice perfectly thin (and even) slices with a knife. I almost considered buying one just to make these flowers! In hindsight, I really should have.
To begin, you want to space out the racks in your oven a bit. I have 3 racks (which was super handy) so I spread them out top, middle, bottom.

Preheat your oven to 200°F and line some baking sheets with parchment. As many baking sheets as you have racks. You can bake these in batches, but it will just take longer overall.

Once your oven is prepped, start working on the pineapple. Cut off the top and bottom of the pineapple and remove a thin layer of the rind. Don't remove too much of it, as it will make your flowers quite small. Using the tip of a vegetable peeler or a melon baller, remove the eyes.

Once that's all done, start cutting the pineapple into very thin slices. You should be able to see your knife through the slices — that thin. This takes time and patience, and some cursing if you're using a knife. A mandolin would be ideal for this, so if you have one use that!!

Place the pineapple slices onto sheets of paper towels and pat dry with more paper towel. Let's not talk about how much of the paper towel roll I went through cutting up this pineapple.

Carefully transfer the towel-dried pineapple slices to your parchment lined baking sheets and place them in the oven.

At this point you need to just keep checking them and flipping them over every 30mins. This is tedious and takes a long time. For me it took about 3 hours.
Once they are dry to the touch and browned on the edges, carefully remove them from the baking sheets and place them into the crevices of a few cupcake pans and leave them overnight.
Let the flowers cool completely before placing on the cake. They will be quite fragile and will break easily, so be careful!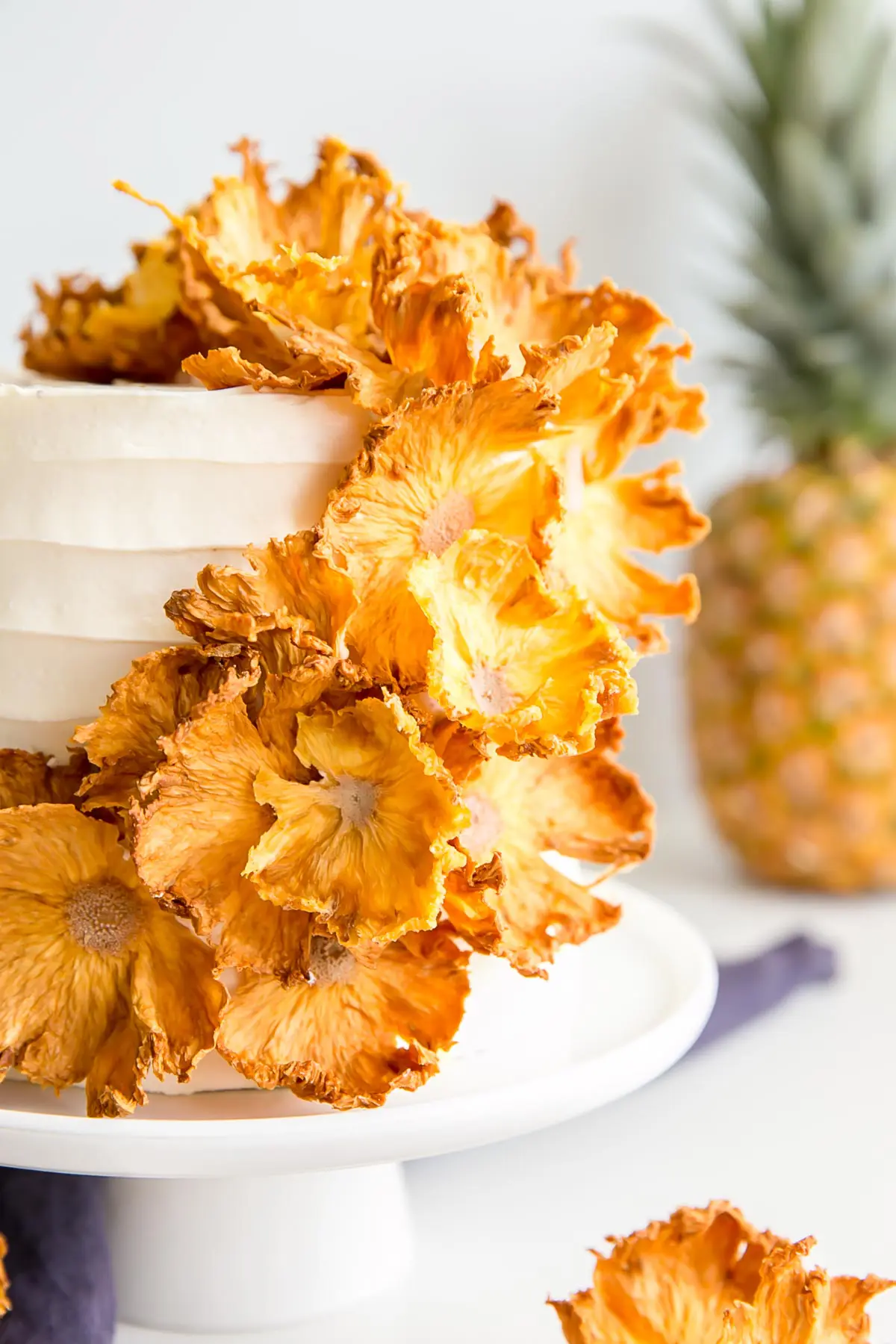 Other things to note about making Pineapple Flowers
If you have a couple giant baking sheets (recommended – I had one) then you should be fine with two sheets and two racks. I used a total of two normal sheets and one giant one. They were full from one (somewhat poorly) sliced pineapple.
Cutting up the pineapple was super tedious and messy. If you have an overly ripe pineapple I imagine it will be easier to get them out, but messier because of the juice. Ideally get one that's more on the under-ripe side so it's easier to slice.
One of my baking sheets had a cooling rack placed in it instead of lining with parchment. I wanted to see if this method would work better, but I didn't notice a difference either way, so both are an option.
I had a few smaller flowers — from the narrower areas of the pineapple. I placed these into mini-cupcake pans rather than a regular sized one.
The flowers were still a bit soft in the morning, so I placed them back into a 200F oven in the cupcake pans, for about another hour. It's likely due to the fact that my slices were thicker than they should have been, but just know this can take some time.
I hope you love this Pineapple Cake as much as I do, and give the pineapple flowers a shot! I don't know that I'll be making them again (not without a mandolin anyhow), but they certainly make a statement, and I love how they turned out on this cake.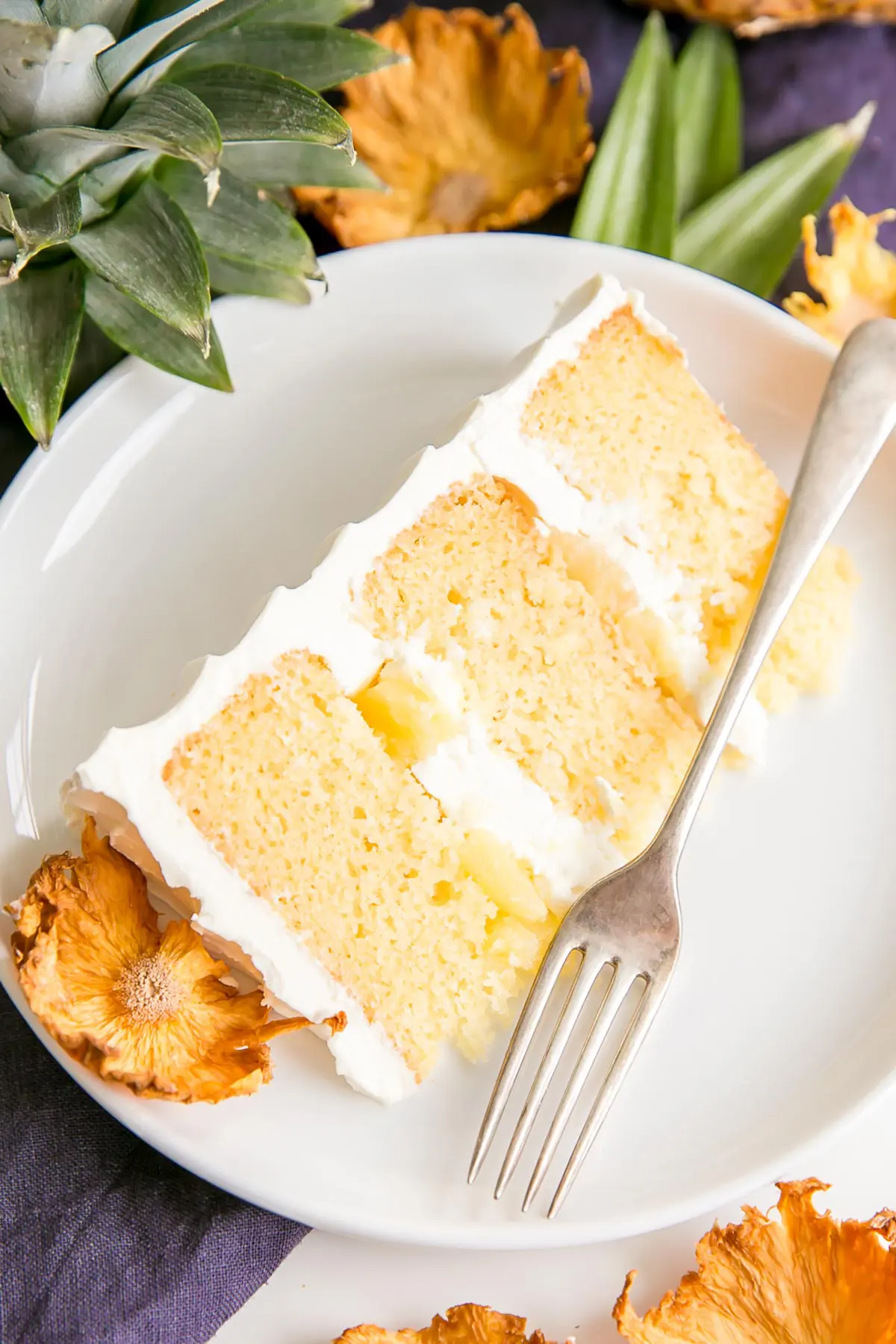 Looking for more Tropical Desserts?
Tips for making this Pineapple Cake recipe
The recipe as-is will also work in two 8″ pans. For three 8″ pans, 1.5x the recipe.
To make cupcakes, all you need to do is reduce the baking time — start checking at 15mins or so.
If you can find frozen pineapple concentrate try that (thawed, at room temperature) instead of pineapple juice in the cake layers. It will likely give a stronger flavor.
The pineapple flavor in the buttercream wasn't very strong. If you can't find freeze-dried pineapple, just skip it altogether or pair it with a coconut buttercream instead!
If you like, you can make a pineapple curd to fill this cake instead.
Be sure to check my

Swiss Meringue Buttercream

post for tips and troubleshooting.
Learn how to keep your cakes moist using Simple Syrup.
To help ensure your cake layers bake up nice and flat, check out my Flat Top Cakes post!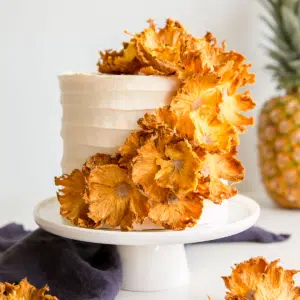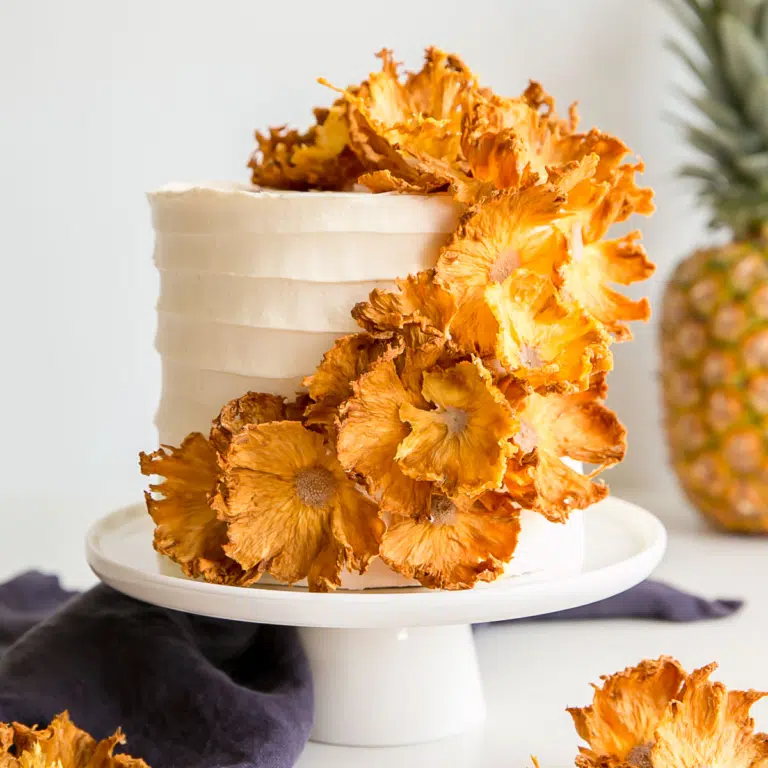 Pineapple Cake
This Pineapple Cake is the perfect tropical dessert for summer! Dried pineapple flowers adorn this pineapple infused cake with fresh pineapple and pineapple buttercream.
Ingredients
Pineapple Swiss Meringue Buttercream:
Pineapple Flowers:
1

large

pineapple

peeled, sliced very thin
Assembly:
1/2

cup

chopped pineapple

fresh or canned (drained)
Instructions
Pineapple Cake:
Preheat oven to 350F. Grease and flour three 6″ cake rounds and line with parchment.

In a medium bowl, whisk flour, baking powder, and salt until well combined. Set aside.

Using a stand mixer fitted with a paddle attachment, cream butter and sugar on med-high until pale and fluffy (approx 3mins). Reduce speed and add eggs one at a time fully incorporating after each addition. Add vanilla.

Alternate adding flour mixture and pineapple juice, beginning and ending with flour (3 additions of flour and 2 of juice). Fully incorporating after each addition.

Bake for 30-35mins or until a toothpick inserted into the center comes out mostly clean.

Place cakes on wire rack to cool for 10mins then turn out onto wire rack.
Pineapple Syrup:
Place sugar and pineapple juice into a pot over med-high heat. Stir to dissolve sugar and cook until mixture boils. Boil for 1 minute. Cool before use.
Pineapple Swiss Meringue Buttercream:
Place egg whites and sugar into the bowl of a stand mixer, whisk until combined.*

Place bowl over a pot with 1"-2" simmering water on the stove. Stir constantly with a whisk until the mixture is hot and no longer grainy to the touch (approx. 3mins). Or registers 160F on a candy thermometer.

Place bowl on your stand mixer and whisk on med-high until the meringue is stiff and cooled (the bowl is no longer warm to the touch (approx. 5-10mins)).

Switch to paddle attachment. Slowly add cubed butter and mix until smooth.**

Add freeze-dried pineapple powder and whip until smooth.
Pineapple Flowers:
Preheat oven to 200F. Space oven racks out evenly. Line 3 baking sheets with parchment. If your oven only has two racks you can do these in batches.

Cut off the top and bottom of the pineapple. Using a sharp knife, remove a thin layer of the rind. Using the tip of a vegetable peeler or a melon baller, remove the eyes.

Cut the pineapple into very thin slices. You should be able to see your knife through them. A mandolin would be ideal for this.

Pat the pineapple slices dry between paper towels. Carefully transfer to parchment lined baking sheets.

Bake for 2-3 hours, turning every 30mins, until the slices are lightly browned on the edges and dry to the touch. Remove sheet pans from oven and turn oven off.

Transfer each slice, carefully, into a crevice of a cupcake tin to create a flower. Return to turned-off oven and leave for another 2-3 hours.

Carefully remove from cupcake pans.
Assembly:
Place one layer of cake on a cake stand or serving plate. Drizzle with 1-2 Tbsp pineapple syrup. Top with approximately 2/3 cup of buttercream, spread evenly. Sprinkle 1/4 cup chopped pineapple over top and press gently into buttercream. Repeat with next layer. Place final layer on top and crumb coat the cake. Chill for 20mins.

Frost the top and sides of the cake and smooth with a bench scraper. Do a swirl on the top and sides using a large offset spatula.

Apply pineapple flowers with remaining buttercream.
Notes
* Ensure there is no trace of egg yolks in your whites and that your mixer bowl and whisk is completely grease free or your meringue won't stiffen.
** The buttercream may look like it's curdled at some point. Keep mixing until it is completely smooth.
Prep time does not include making pineapple flowers. Add 5+ hours to make these.
Cake design inspo from The Moonblush Baker.
Calories:
699
kcal
Carbohydrates:
91
g
Protein:
7
g
Fat:
36
g
Saturated Fat:
22
g
Cholesterol:
144
mg
Sodium:
148
mg
Potassium:
293
mg
Fiber:
2
g
Sugar:
69
g
Vitamin A:
1185
IU
Vitamin C:
39
mg
Calcium:
77
mg
Iron:
1.7
mg
The nutritional information and metric conversions are calculated automatically. I cannot guarantee the accuracy of this data. If this is important to you, please verify with your favorite nutrition calculator and/or metric conversion tool.