The classic peanut butter and marshmallow fluff sandwich gets a major makeover into these delicious Fluffernutter Cookie Cups!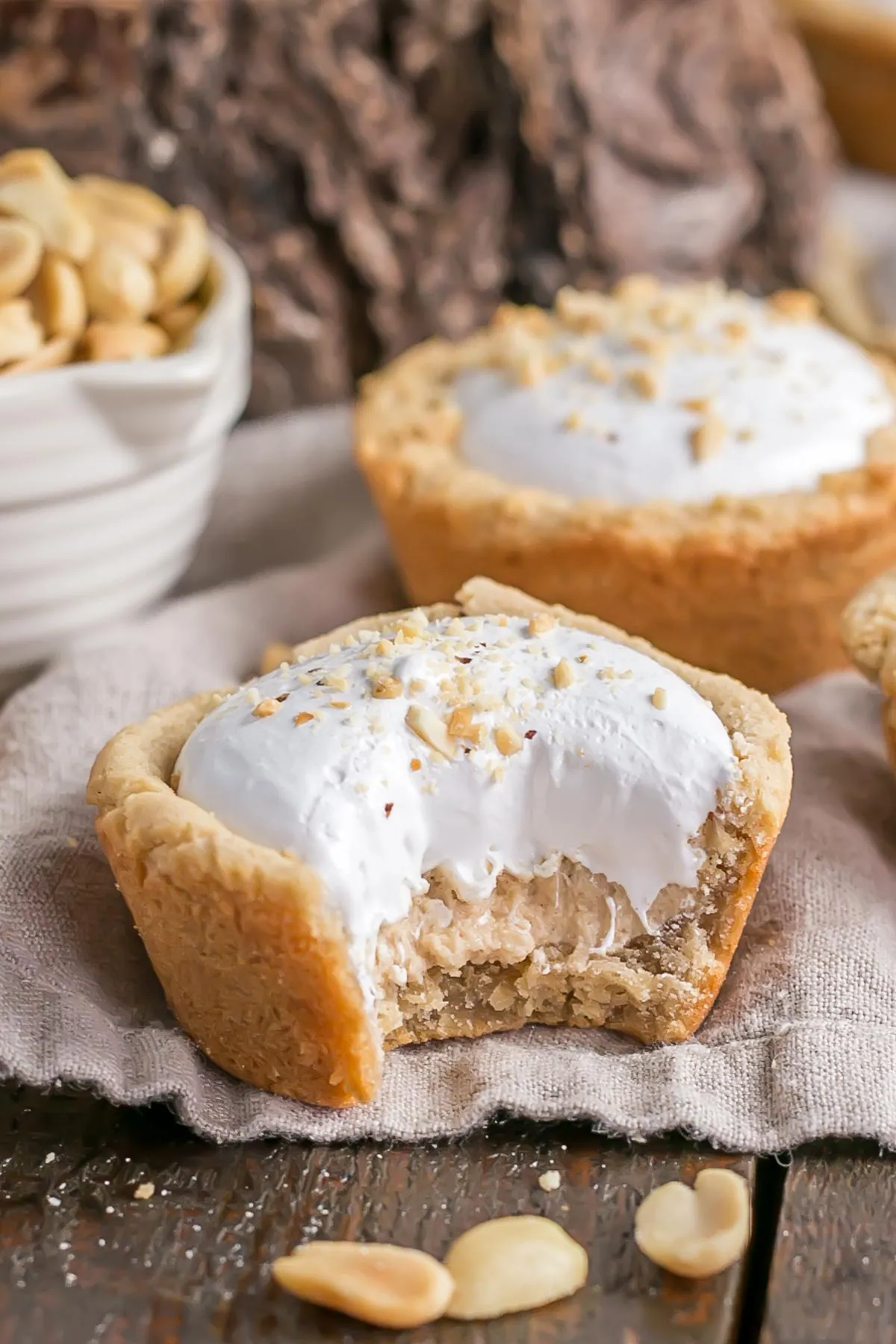 You know what I love? – besides peanut butter and marshmallow – I love using up leftovers. There is nothing quite as satisfying as clearing room in your freezer without throwing anything out. That's exactly what happened with these Fluffernutter Cookie Cups.
I try to ship things off to work with Ryan every now and then, so that we don't have everything in the house. So the idea for these actually came from my husband's friend Robin (Hi Robin!), who has sampled a few of my baked goods. He's even made some of my recipes, which is awesome and amazing. If you're reading this, Robin, thank you for this idea and I hope you like these!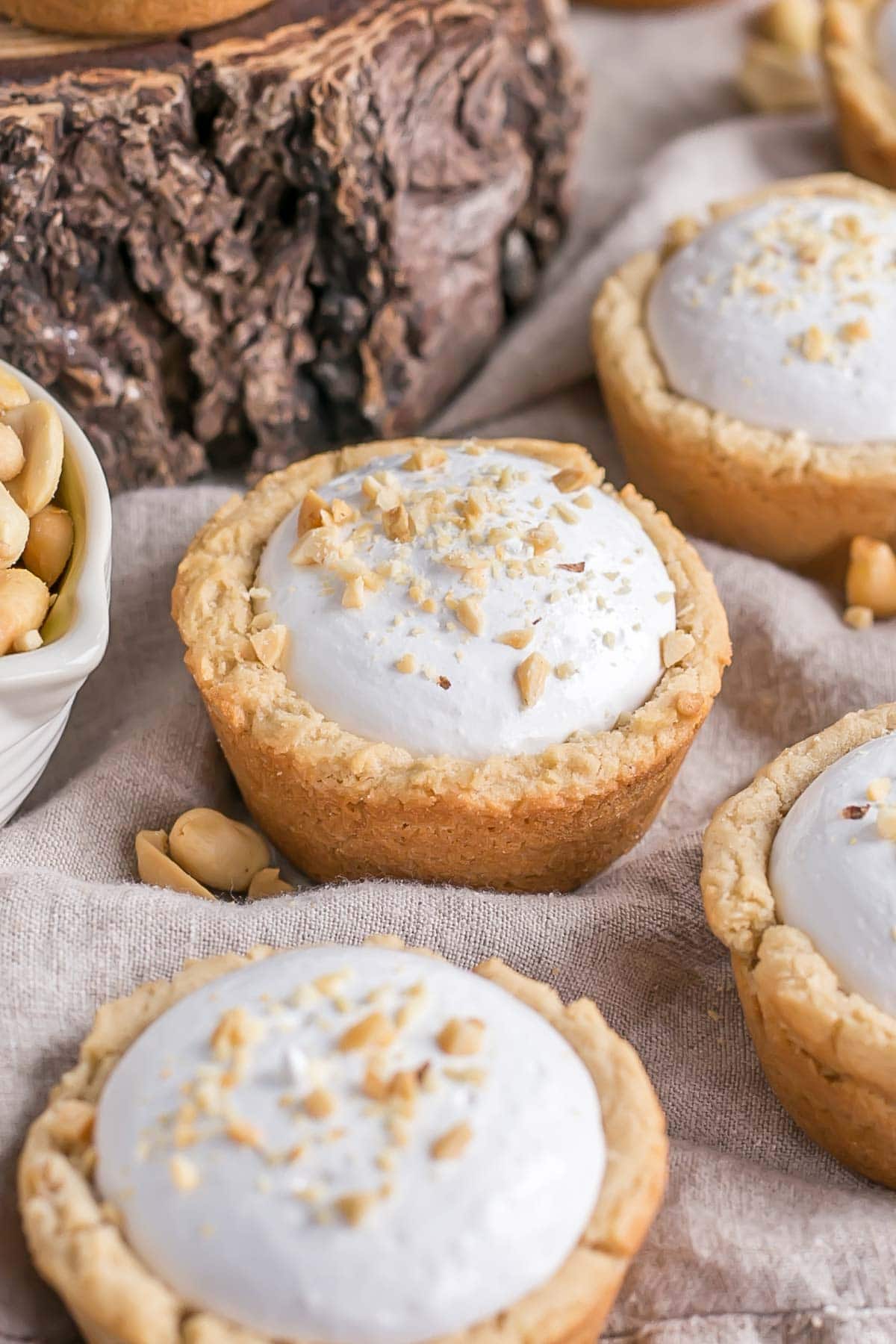 Now, this is actually the first time I had a fluffernutter anything. I had heard about this intriguing combo before, but never actually tried it. When Ryan told me Robin had suggested it, I figured it was the perfect time to try out this delicious combination.
What is a Fluffernutter?
For those who don't know, a fluffernutter is a sandwich made with white bread, peanut butter, and marshmallow fluff. Sounds heavenly, right? It's pretty damn good, and now I'm wondering why my childhood was stripped of such a delicious treat.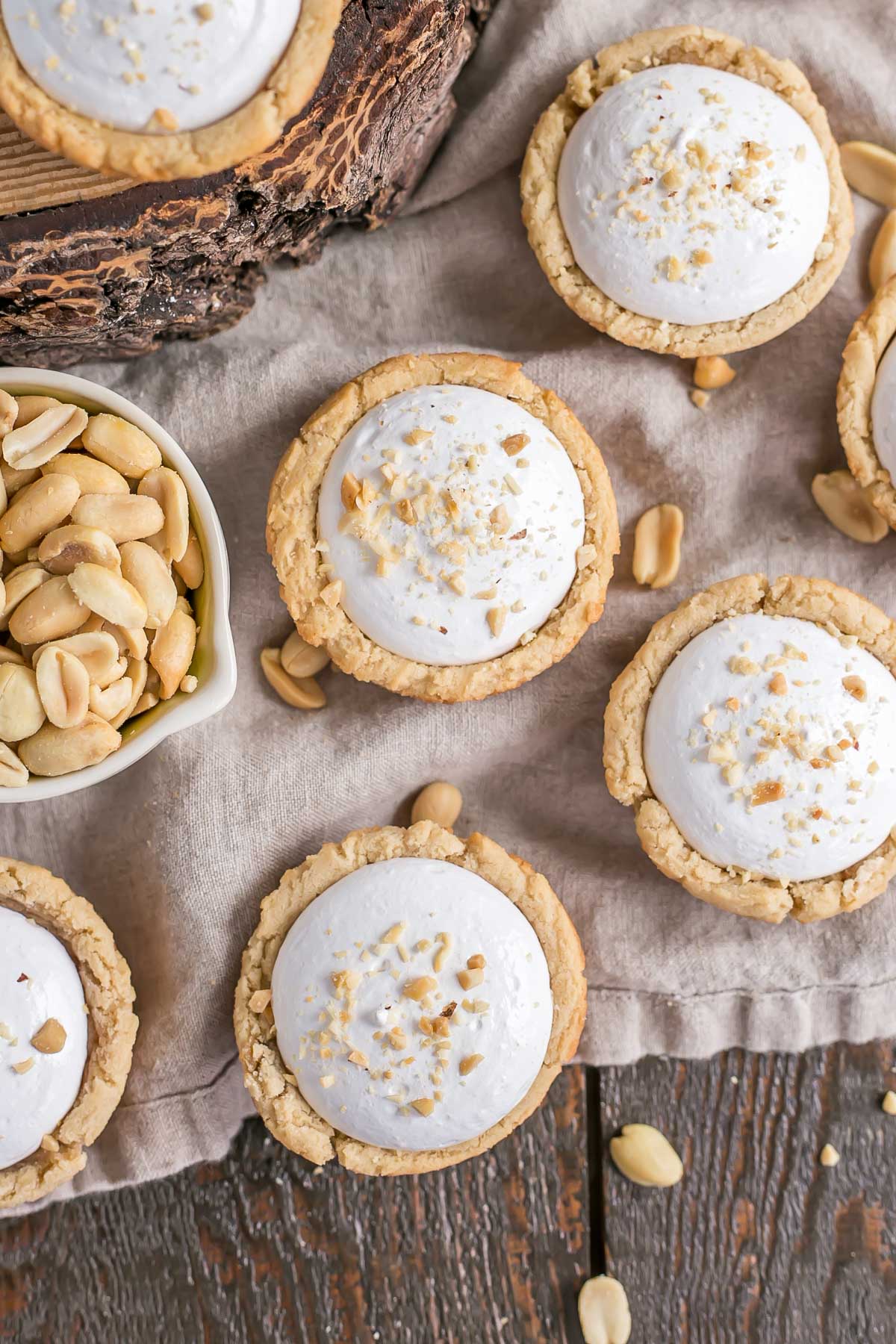 I had some peanut butter frosting and homemade marshmallow fluff in the freezer from a couple of previous baking projects – those times where I had grossly overestimated how much of something I would need. It happens.
I always put the leftovers into a tupperware container and throw them into the freezer in hopes that they will get used up some day. That's rarely the case, to be honest. More often than not, they end up in the trash at some point. But not here! These Fluffernutter Cookie Cups were able to make use of not one, but TWO lonely leftovers.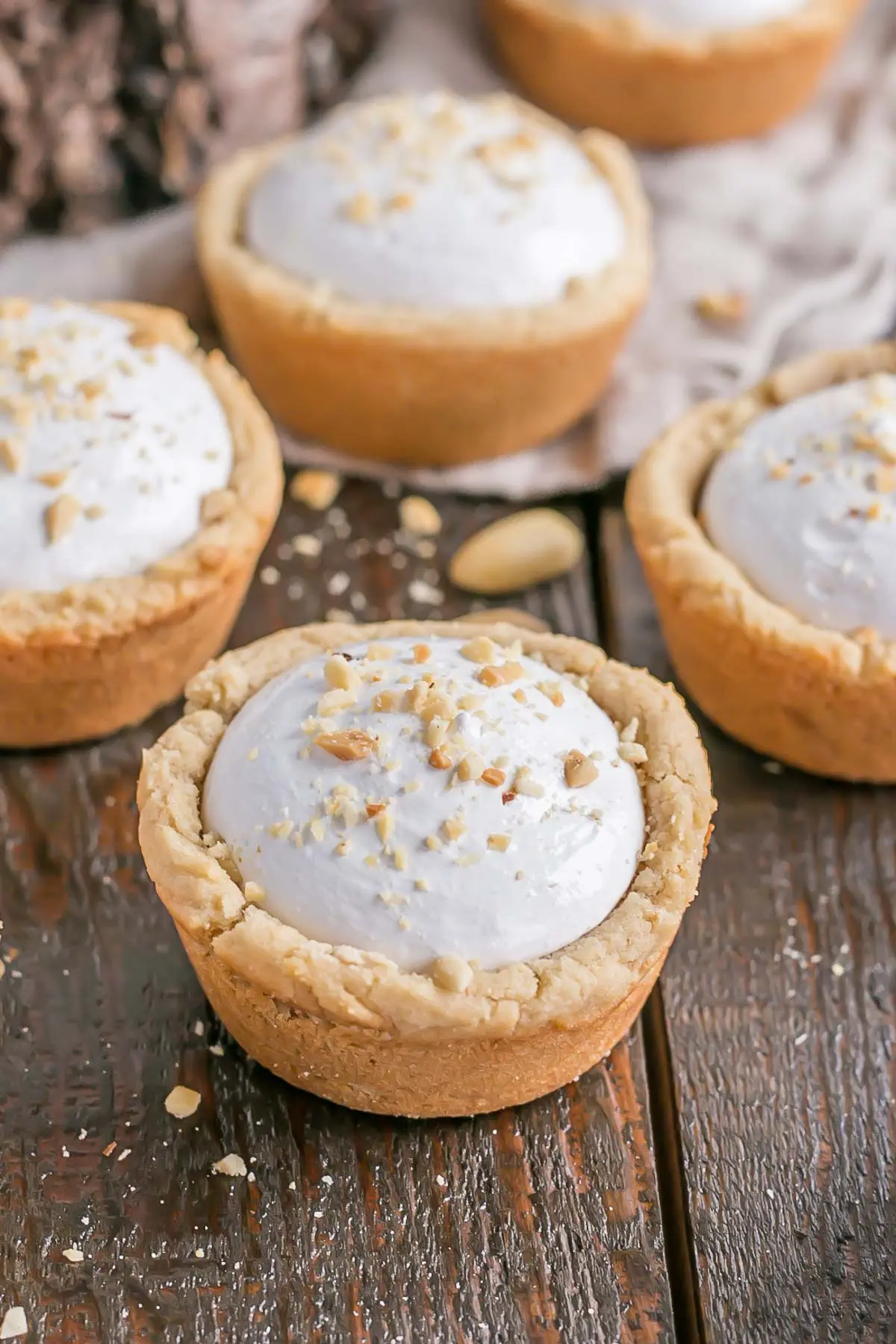 So, peanut butter filling and marshmallow fluff in hand, all I needed to do was make the cookie cups. I used this recipe, minus the chocolate chips, and it worked perfectly.
Because of the peanut butter, these baked up a little differently. I usually don't flatten the cookie mounds before I bake them, but I found that it yielded better (aka prettier) results with these guys. They also take a bit longer to bake if you don't flatten them.
Once the cookie cups are baked and cooled, all you need to do is fill them with the peanut butter frosting and marshmallow fluff. You could skip the peanut butter filling if you prefer, and still get the same delicious flavor.
Looking for more peanut butter recipes?
Tips for these Fluffernutter Cookie Cups:
Fluffernutter Cookie Cups
The classic peanut butter and marshmallow sandwich gets a major makeover into these Fluffernutter Cookie Cups!
Ingredients
Peanut Butter Cookie Cups:
Instructions
Peanut Butter Cookie Cups:
Preheat oven to 350°F. Spray a regular sized muffin tins with cooking spray.

Whisk together flour, baking soda, and salt, set aside.

Beat butter and peanut butter until smooth. Add sugars and beat on med-high until pale and fluffy (approx. 2-3mins).

Reduce speed and add egg and vanilla. Beat until combined.

Add flour mixture and mix until just combined.

Using a large cookie scoop (3 Tbsp), scoop dough into muffin tins, press down to flatten slightly.

Bake for approx. 12 mins or until lightly browned and mostly set.

Remove from oven and immediately use a small jar or container to press firmly down in the center to create a well.

Cool in pans for 10 mins. Twist to release and place on wire rack to cool completely.
Peanut Butter Filling:
Beat butter until creamy. Add peanut butter and beat until well combined (2-3 mins).

Add sifted powdered sugar in one 1/2 cup at a time and beat until combined. Add vanilla.

Add cream one Tbsp at a time until desired consistency. Beat on high for 3 minutes until fluffy.



Marshmallow Fluff:
Place water, sugar, and corn syrup in a medium saucepan. Stir to combine.


Insert a candy thermometer into the pot and heat over medium-high. Do not stir from this point on as crystals will form.

Ensure mixer bowl and whisk are completely grease free.*

Place egg whites and cream of tartar in the bowl of a stand mixer.

When the sugar syrup reaches about 225°F, start whipping the egg whites to soft peaks. Approx 3-4mins.

When the whites are ready, the sugar syrup should be at 240°F. Remove from the heat, turn mixer to medium and very slowly and carefully pour the sugar syrup into the whites in a thin, steady stream.**

Once all of the syrup is in, set mixer to medium/high and continue whipping. The whites will deflate at first, but they will thicken and fluff up.


Continue to whip for 7-8 minutes, or until the mixture is thick and glossy. Add in vanilla and whip until the fluff has cooled.
Assembly:
Pipe peanut butter filling into each cup (about 2/3 of the way up).

Pipe a dollop of marshmallow fluff on top and sprinkle with chopped peanuts if desired.

Serve at room temperature and eat within 2-3 days. Or freeze for up to 4 weeks.



Notes
*If there is even a speck of grease (or egg yolk) the meringue will not whip. I wipe everything down with lemon juice before adding the egg whites.
**The sweet spot for this is getting the stream right between the whisk and the sides of the bowl, so the syrup doesn't get splashed by the whisk.
You may have some marshmallow fluff left over which you can store in an airtight container in the freezer and use it at a later date for S'mores Macarons, S'mores Baked Alaska, or good old Rice Krispie Treats.
Calories:
323
kcal
Carbohydrates:
50
g
Protein:
6
g
Fat:
11
g
Saturated Fat:
5
g
Cholesterol:
37
mg
Sodium:
240
mg
Potassium:
136
mg
Fiber:
1
g
Sugar:
34
g
Vitamin A:
245
IU
Calcium:
23
mg
Iron:
1.1
mg
The nutritional information and metric conversions are calculated automatically. I cannot guarantee the accuracy of this data. If this is important to you, please verify with your favorite nutrition calculator and/or metric conversion tool.