This Creme Egg Cake is the perfect cake for your Easter celebrations. A rich chocolate cake with a Cadbury Creme Egg frosting!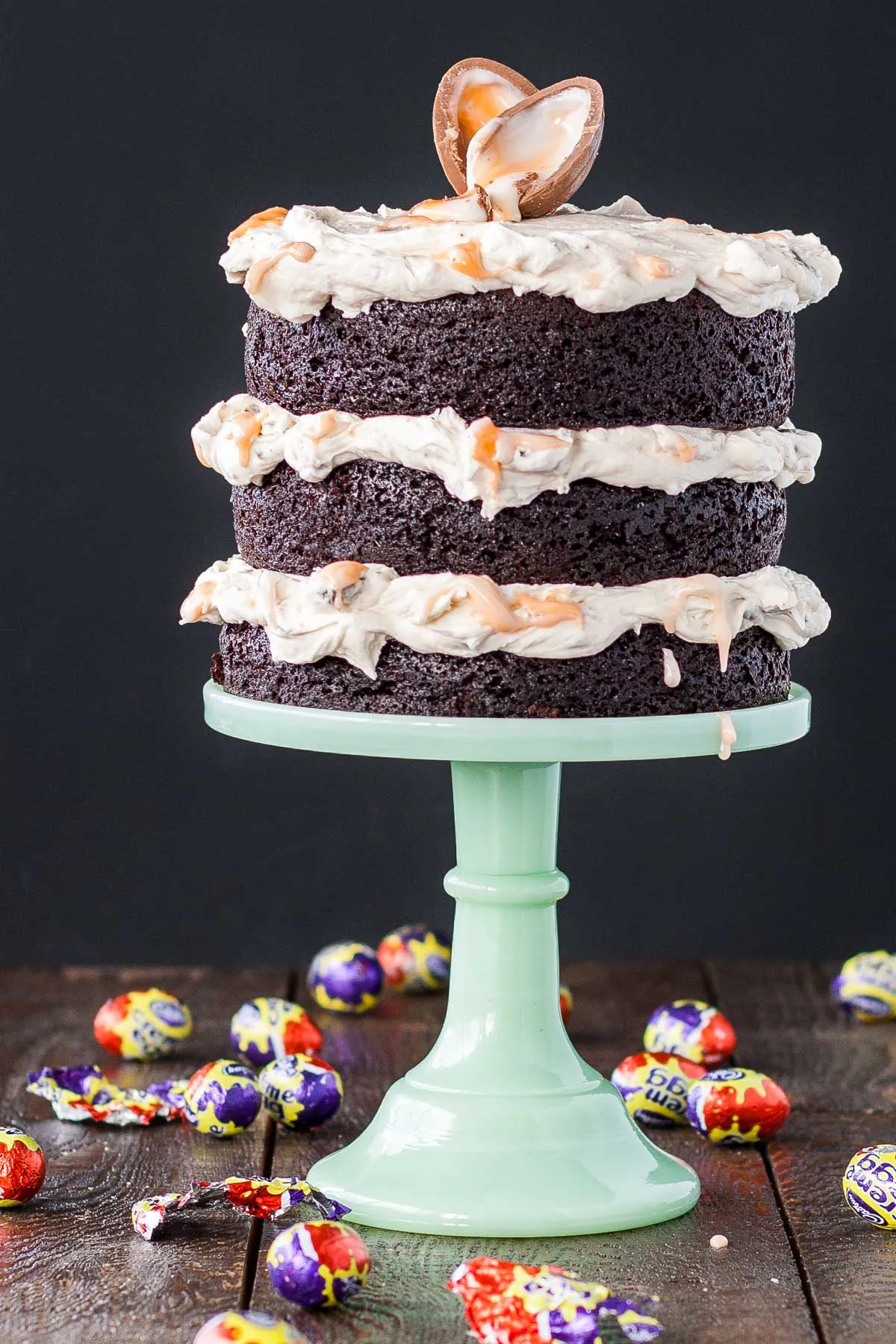 Did you know that there are people out there who do not like Creme Eggs?? Who ARE these people?! Well, two of them happen to be my husband and best friend. You're probably asking yourself why I choose to surround myself with such negativity, right? I know. Creme Egg aversion aside, they BOTH loved this Cadbury Creme Egg Cake. And, I mean, what's not to love, really.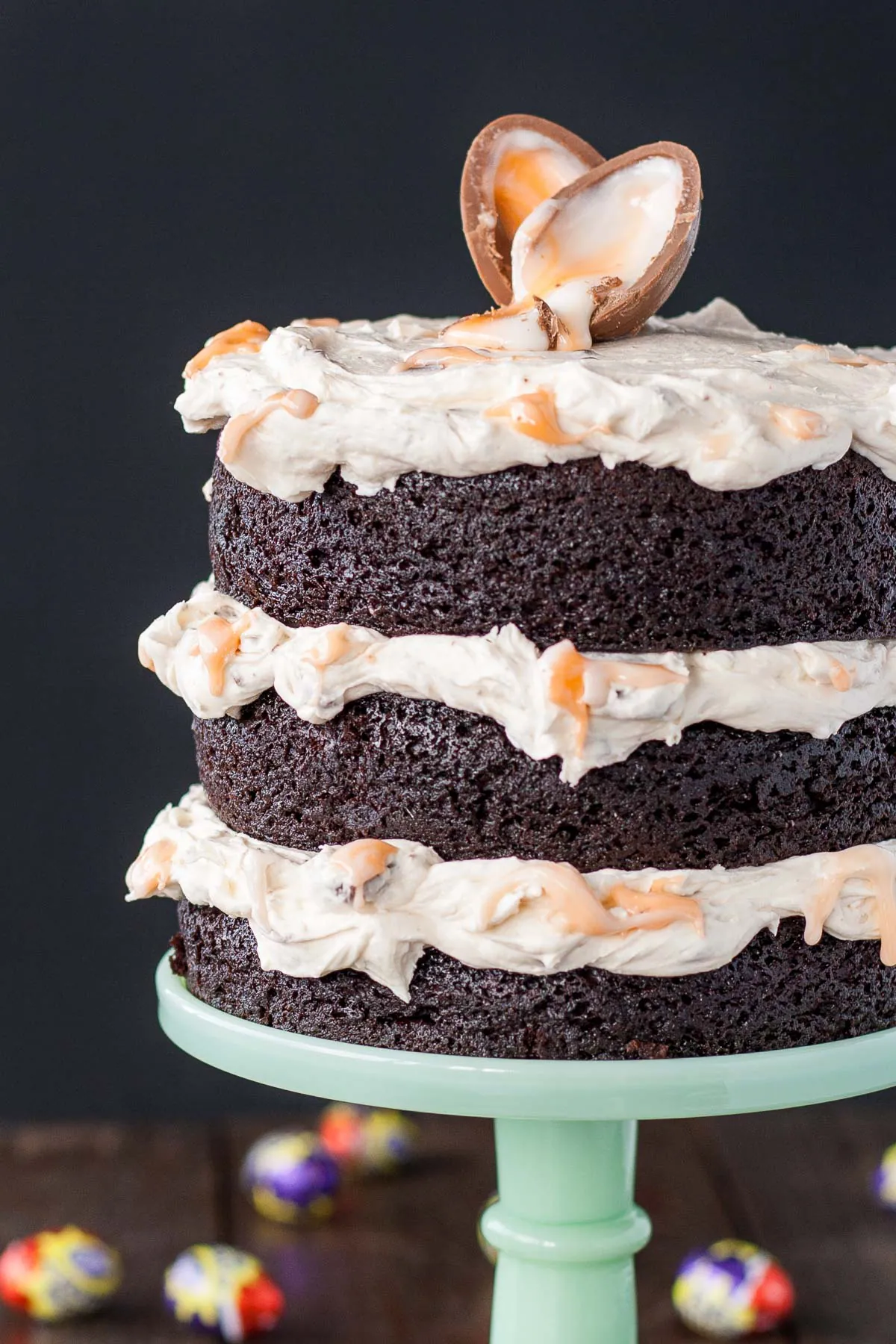 Cadbury Creme Eggs and I go waaaay back to the good old days of the 80's. Sigh, I miss the 80's. Awesome music and movies, no cell phones or in-your-face technology, terrible hair and fashion… the BEST. I often wish I was a teenager in that decade so I could have truly experienced it for what it was. Though being a kid during it was pretty awesome too. Remember Saturday Morning cartoons?? Like, actual GOOD ones? Kids these days are seriously missing out.
Remember those old school Creme Egg commercials in the 80's? The ones with the Cadbury Bunny? If not, let's refresh your memory.
How frikken adorable is that? Also? That "only available till Easter" is genius. Great marketing. Get them while you can! And oh, I did rush to get them, and still do.
I'm not upset by the fact that you can now get Mini Eggs (the lesser egg, in my opinion) year round, but Creme Eggs are still just a seasonal thing. I think that's part of the appeal. What I am upset about is the new packaging. I miss the foil wrapped version. You can still get foil wrapped minis (which you can see in my pictures), but as IF I want a mini version of the real thing. I want as much of that delicious fondant goo as I can handle.
The large eggs are now in this plastic easy-open container thing. Not a fan. They are much easier to open, for sure, but I didn't mind struggling with that foil wrapping that was all but glued to the chocolate by the fondant that had inevitably leaked out a bit.
And can we talk about the fact that the large eggs are clearly smaller than they used to be? And no, it's not just because I'm not a kid anymore and have this warped perception of these giant eggs that were the size of my head. These guys are clearly smaller. No foil wrapping, smaller size, AND they apparently no longer use Dairy Milk chocolate for the shell. What is the world coming to? See, I told you it was better in the 80's.
All that aside, they still taste every bit as delicious as I remember. So, here is my tribute to one of my favorite confections – the Cadbury Creme Egg Cake!
Cadbury Creme Egg Cake
A rich chocolate cake with a Cadbury Creme Egg frosting. Perfect for Easter dinners or, you know, Monday's.
Instructions
Chocolate Cake:
Preheat oven to 350F, grease three 6″ round baking pans and dust with cocoa powder. Line bottoms with parchment.

Place all dry ingredients into the bowl of a stand mixer fitted with a paddle attachment. Stir to combine.

In a medium bowl whisk all wet ingredients (pour coffee in slowly, while whisking, as not to cook the eggs if very hot).

Add wet ingredients to dry and mix on medium for 2-3 mins. Batter will be very thin.

Pour evenly into prepared pans. I used a kitchen scale to ensure the batter is evenly distributed.

Bake until a cake tester comes out mostly clean. A total of 30-35mins.
Creme Egg Buttercream:
Beat butter until pale and smooth (2mins). Add in powdered sugar 1 cup at a time and beat until smooth (2-3mins). Add vanilla and heavy cream and beat until well combined (1-2mins). Add in chopped up creme eggs and beat on med-high to break chocolate into smaller chunks.

Spread on cooled cake.
Notes
*Note: The buttercream is very sweet. It goes well with the not-too-sweet chocolate cake, but if you don't like super-sweet frostings, I suggest cutting back on the sugar and/or Creme Eggs.
Buttercream recipe adapted from Beyond Frosting.
Calories:
535
kcal
Carbohydrates:
61
g
Protein:
4
g
Fat:
22
g
Saturated Fat:
14
g
Cholesterol:
75
mg
Sodium:
384
mg
Potassium:
184
mg
Fiber:
2
g
Sugar:
45
g
Vitamin A:
560
IU
Calcium:
54
mg
Iron:
1.7
mg
The nutritional information and metric conversions are calculated automatically. I cannot guarantee the accuracy of this data. If this is important to you, please verify with your favorite nutrition calculator and/or metric conversion tool.