The classic Boston Cream Pie gets a modern makeover! Vanilla cake layers, creamy custard, and a rich chocolate ganache.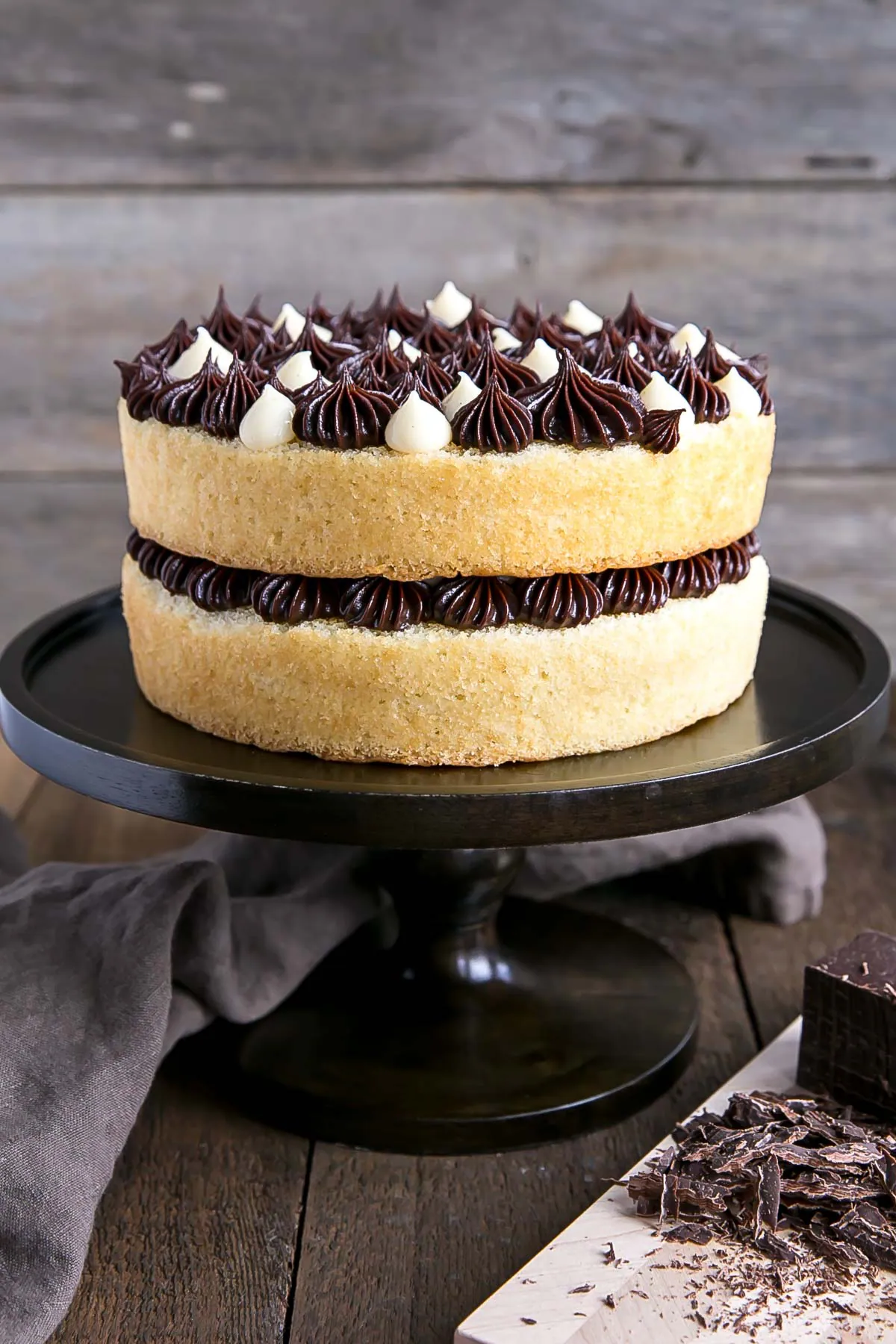 Until this week, I literally thought a Boston Cream Pie was an actual pie. Can you blame me? I mean, really. I assumed any other Boston Cream variations I'd seen (donuts, cakes, cheesecakes) were spin-offs of the original PIE. There are actual pie versions out there, but you literally have to search for 'Boston Cream Pie pie'. Is this hilarious to anyone but me??
According to Wikipedia: "The dessert acquired its name when cakes and pies were cooked in the same pans, and the words were used interchangeably." Makes sense I suppose, but it's really a struggle not to call this a Boston Cream Pie Cake.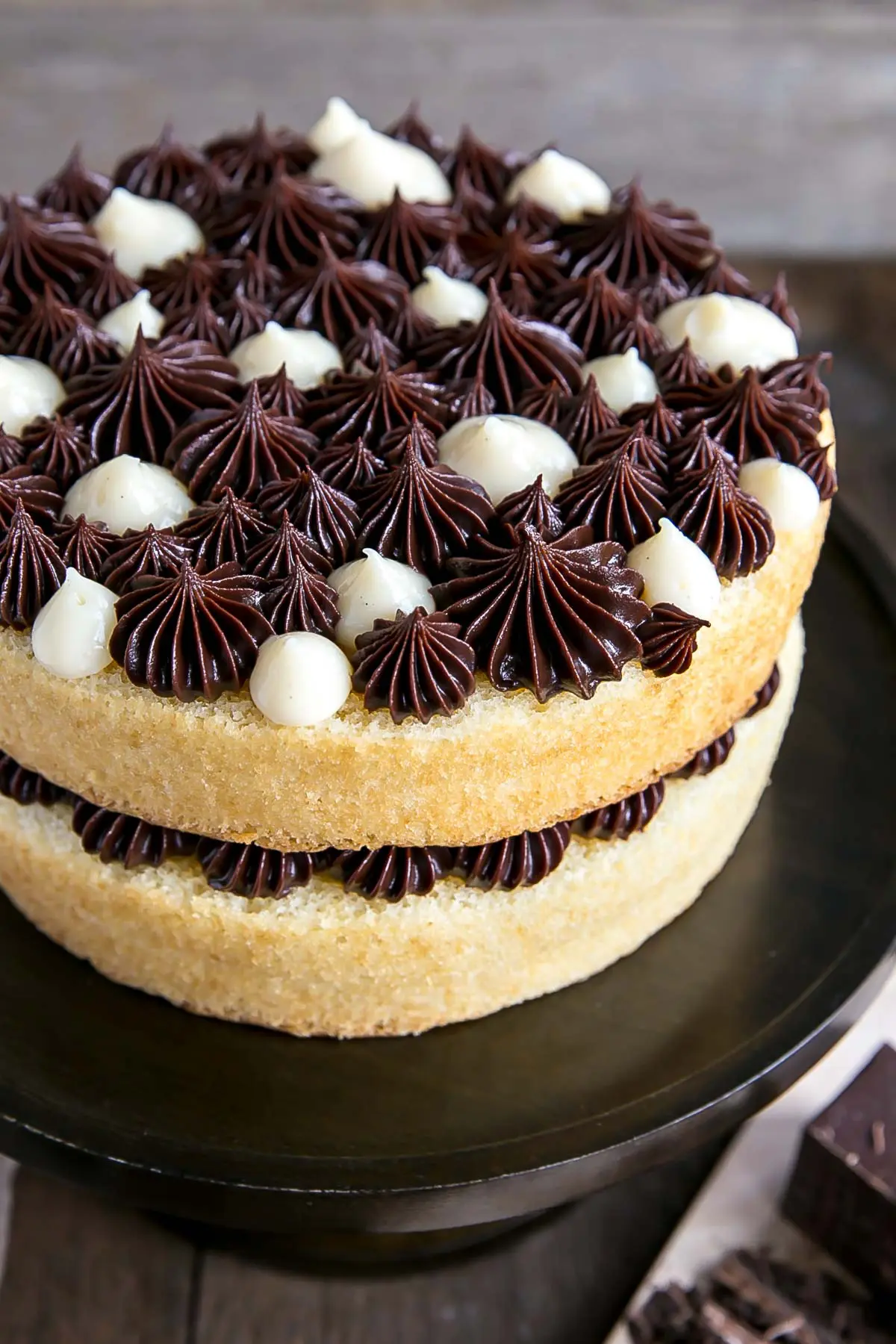 What is a Boston Cream Pie?
A Boston Cream Pie is a very simple dessert. It consists of two yellow cake layers, a layer of pastry cream or custard, topped with a chocolate glaze or ganache.
Ryan had been asking for a Boston Cream Pie for a good couple of years now, but I was never really inspired to bake it. I am not a fan of pastry cream/custard, and the design of the cake wasn't super inspiring to me. Since it was his birthday and all a couple weeks ago, I thought it was time to give in and finally make one! I needed to change up the styling of it though, to try and make it different from every other Boston Cream Pie out there.
My first attempt at this did not go as planned. Are you surprised??
I was trying to come up with different ideas of how to style the cake while still leaving some semblance of the original. My initial plan was to still have an exposed layer of custard in the middle, but piped rather than spread on. I would then do the top with rosette dollops similar to my French Silk Pie Cake. In theory this should have worked, but I ran into a few big issues:
I thought I would use my Almost Scratch Cake recipe for the vanilla cake layers, but these proved way too thick and heavy (albeit delicious).
I used too large a tip for the dollops in the middle layer, and the weight of the cake on top pushed the the cream out the sides more than I wanted.
And oh yeah, one of the cake layers fell out of my hands as I was flipping it out of the pan and broke in half. I had to attach it back together with toothpicks (lol).
The latter is only acceptable since this cake was just for the two of us and not one I planned to give out to anyone. All of those issues aside though, I probably would have just gone with it if I had liked the photos. But some terrible styling choices led to some less than stellar pics (see below).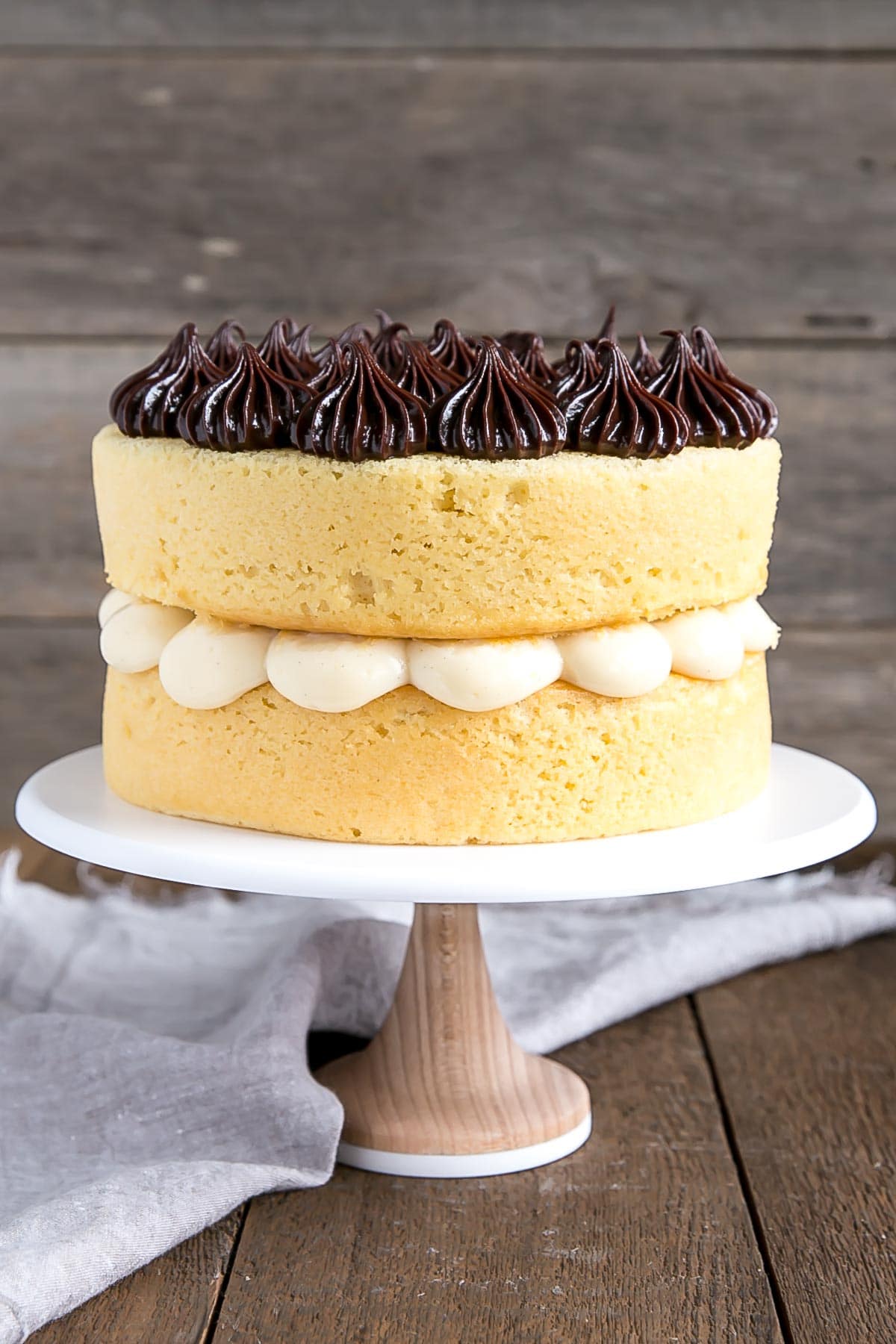 The light cake stand and light linen were a bad call, and in hindsight I don't know what I was thinking. The dollops of everything were way too big as well. It all just didn't look right. After some stewing about it and coming up with all the things I could have and should have done, I redid the whole thing from scratch.
For my second go at this Boston Cream Pie, I decided to pipe a border of ganache on the bottom layer to help hold in the custard so it wouldn't squish out the sides again. This also helps prevent the custard from drying out and cracking (yes, that will happen, it does not keep well) and gave the cake some more structure overall. Since you can't see the custard in the middle layer, I thought it would be good to pipe a few dollops of it on the top and mix it in with the random sized dollops of ganache (inspired by this tart from Cloudy Kitchen).
It's not ideal to have the custard (pastry cream) exposed, especially if you plan to refrigerate the cake, but if you plan to serve it same day, it will be totally fine.
What is Pastry Cream?
Pastry cream, or Crème pâtissière, is a custard made from milk (or cream), egg yolks, sugar, and cornstarch. It's used in desserts like Napoleons, tarts, or as a donut filling. Sometimes it's combined with whipped cream to make a lighter Diplomat cream (my preferred version).
To make pastry cream, you heat some of the milk and temper it (slowly pour while whisking) into the yolk, sugar, and cornstarch mixture. Then it all gets put back into the pot and heated until it's thickened and boiled (it must boil). Once boiled, strain it immediately into a bowl and place plastic wrap directly on top to prevent a skin from forming. Once it's cooled to room temperature, place it in the fridge until you're ready to use it. It will need a good whip before you use it in any form, as it will have thickened quite a bit.
Please see my detailed tutorial for How to Make Pasty Cream for more info.
Pastry cream does not keep well. It has a very short shelf life and must be refrigerated. As such, it's best to serve this cake the same day, or at least within a couple days.
Overall, I am much happier with version #2 of this Boston Cream Pie, both the look of the cake and the styling of the photos. It's a HUGE pain in the butt to redo cakes you're not happy with, but it's almost always worth the effort.
If you're a Boston Cream Pie fan, you will love this version! It has more chocolate than an original would, but that's a-ok by me. If you've never had one before, I hope you give this easy and delicious dessert a try!
Looking for more classic Cakes?
Tips for making this Boston Cream Pie Recipe
Make the ganache and custard in advance. Both will need time to cool & set.
Use the best quality chocolate you can find for the ganache, it makes a huge difference!
Please see my detailed tutorial on How to Make Pasty Cream.
For the dollops on top, I used the following tips, but you could use any that you have available:
Ideally serve same day. Cake will be ok in the fridge for a couple days. Do not freeze, pastry cream does not freeze well.
To help ensure your cake layers bake up nice and flat, check out my Flat Top Cakes post!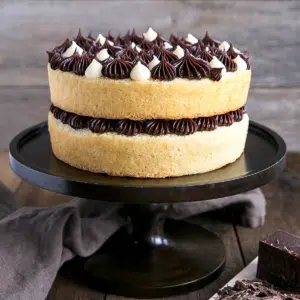 Boston Cream Pie
The classic Boston Cream Pie gets a modern makeover! Vanilla cake layers, creamy custard, and a rich chocolate ganache.
Ingredients
Chocolate Ganache (make in advance):
Pastry Cream (make in advance):
Instructions
Chocolate Ganache (make in advance):
Place chopped chocolate in a large heatproof bowl.

Place heavy cream into a small saucepan and cook over med heat, stirring often, until it just starts to simmer. Do not boil.

Pour hot cream over chopped chocolate and cover bowl with plastic wrap. Let sit 5 minutes.

Stir gently with a spatula until completely smooth. Stir in softened butter. If needed, place over a double boiler and stir until all chocolate and butter has melted.

Place plastic wrap directly on top of chocolate ganache. Allow to thicken and set overnight at room temperature.*
Pastry Cream (make in advance):
Place 1 1/2 cups milk and vanilla bean paste into a medium saucepan. Cook over high heat, stirring often until it just starts to simmer. Remove from heat.

In a medium bowl, whisk remaining 1/2 cup milk, egg yolks, sugar, and cornstarch.

While whisking vigorously, slowly pour the hot milk into the egg mixture.

Return mixture to saucepan and cook over high heat, whisking constantly, until it thickens and comes to a boil.

Pass through a strainer and into a small bowl. Place plastic wrap directly on top of custard to prevent a skin from forming. Cool to room temperature then place in refrigerator a couple hours to set.

Once set, whisk well by hand to smooth out completely.
Vanilla Cake:
Prepare as per recipe instructions.
Assembly:
Place one layer of cake on a cake stand or serving plate. Using Wilton tip 6B, pipe a border of rosettes around the perimeter of the cake layer. Refrigerate for 20mins to set.

Meanwhile, using various sizes of French and round tips, pipe different sized dollops of ganache and pastry cream over the remaining layer. I recommend flipping the layer upside-down and piping on the "bottom" flat surface.

I used:

French tips (Wilton 6B, Wilton 32, Ateco 867) for the ganacheRound tips (Wilton 1A & 2A) for the pastry cream

Remove other layer from the fridge, and carefully fill the center with pastry cream. I used a piping bag and did dollops to fill in the center since the bags were already filled.

Gently place one layer on top of the other. Alternatively, you can wait till the bottom layer is chilled and filled before stacking and decorating the top layer.
Notes
* You can speed up the thickening of the ganache by placing the it in the fridge, but you need to stir it often. Do not leave it in the fridge overnight as it will harden.
The nutritional information and metric conversions are calculated automatically. I cannot guarantee the accuracy of this data. If this is important to you, please verify with your favorite nutrition calculator and/or metric conversion tool.