This Almond Amaretto Cake is a must for any almond lover! Almond cake layers infused with Amaretto liqueur paired with a classic vanilla buttercream.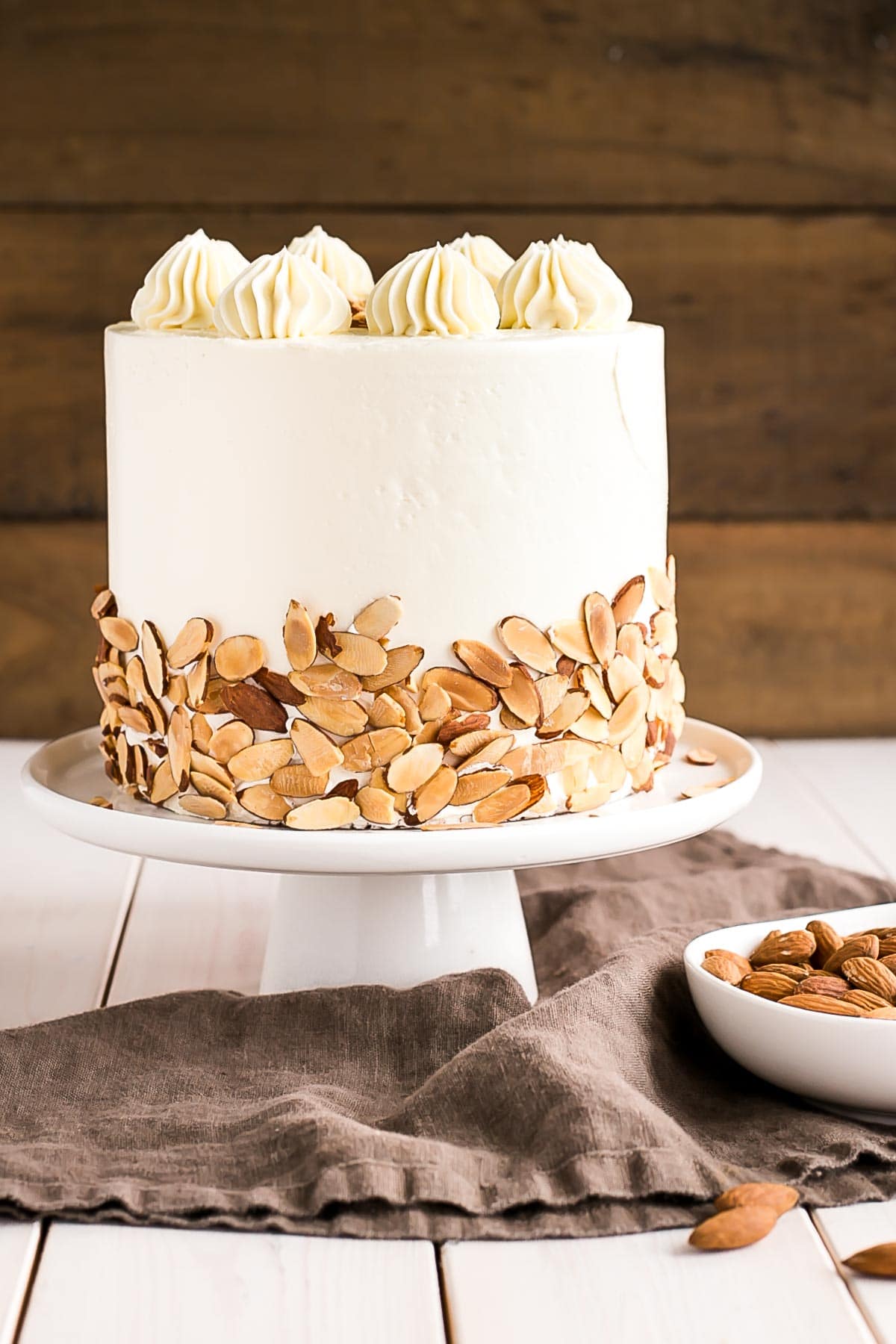 I was never a fan of almond flavored cakes. I found them strong and perfumey, and generally didn't like the flavor — at least of the almond cakes I had tried in the past, which I'll admit, was not many. As it turns out, what I don't like about almond cake is the flavor of almond extract. Amaretto is a whole 'nother delicious level.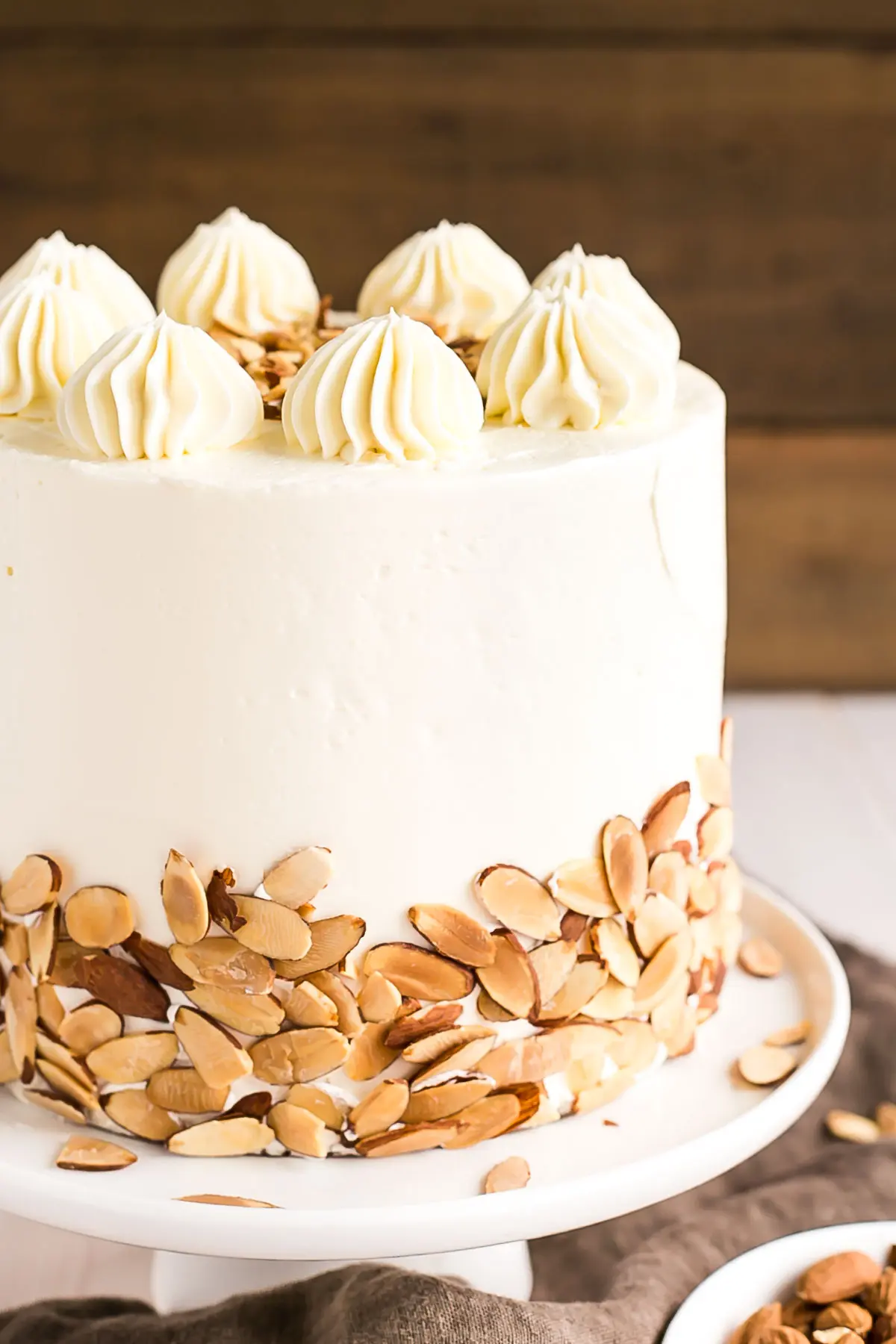 Ryan and I were in London this June visiting family, and Ryan's stepmother, Carol, suggested we try this famous chocolate and cake boutique called Choccywoccydoodah. I had never heard of it before, but there was no need to twist my arm — chocolate AND cake? I'm there. The name is crazy and the creations in the shop are even more so. It is amazing what they can do with chocolate! If you're ever in London, it's worth checking out.
They have this little cafe on the upper level of the shop, so naturally we had to stop in and sample. We hadn't even had lunch yet, but we were all pretty okay going straight to the dessert. Naturally, wanting to sample everything, I got this over-the-top 5 layer cake where each layer was different. The almond cake layer was my favorite by far, and since then I've had it in my mind to make a delicious Almond Amaretto Cake.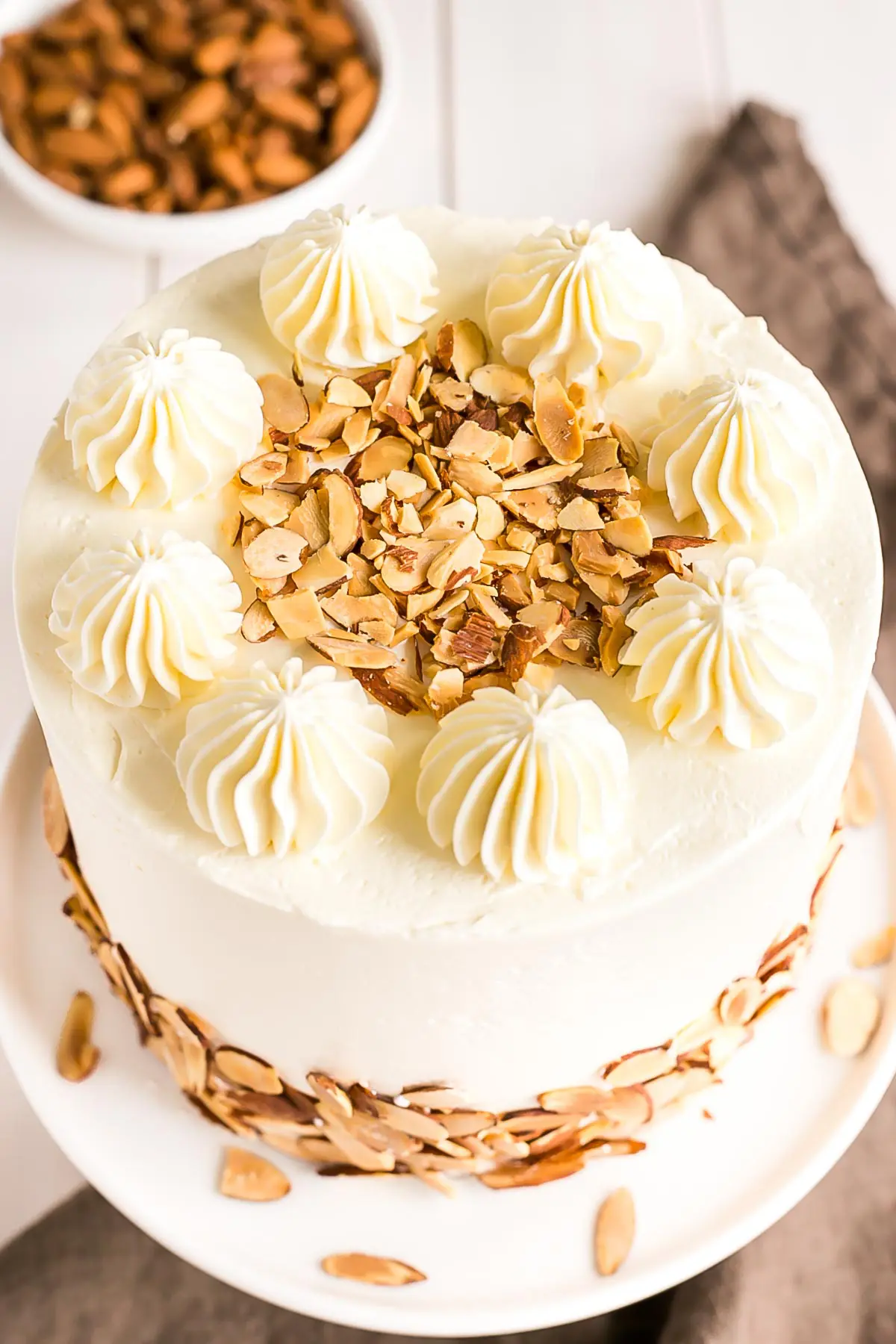 In order to up the almond flavor, I added some almond flour to the cake batter. I really like the texture this gives the cake, but it's totally optional. Almond flour is expensive, so if you don't have any laying around, feel free to just replace it with flour. The Amaretto in the cake layers and the Amaretto syrup are both must-do's in my opinion. It really helps to enhance the flavor, and the syrup adds amazing moisture too.
I chose to pair this almond cake with a simple vanilla buttercream, but you could add Amaretto to that too if you prefer. If you'd rather make a non-alcoholic version of this cake, you can use almond extract instead, but use it sparingly. Almond extract is very easily overpowering, definitely a case where less is more.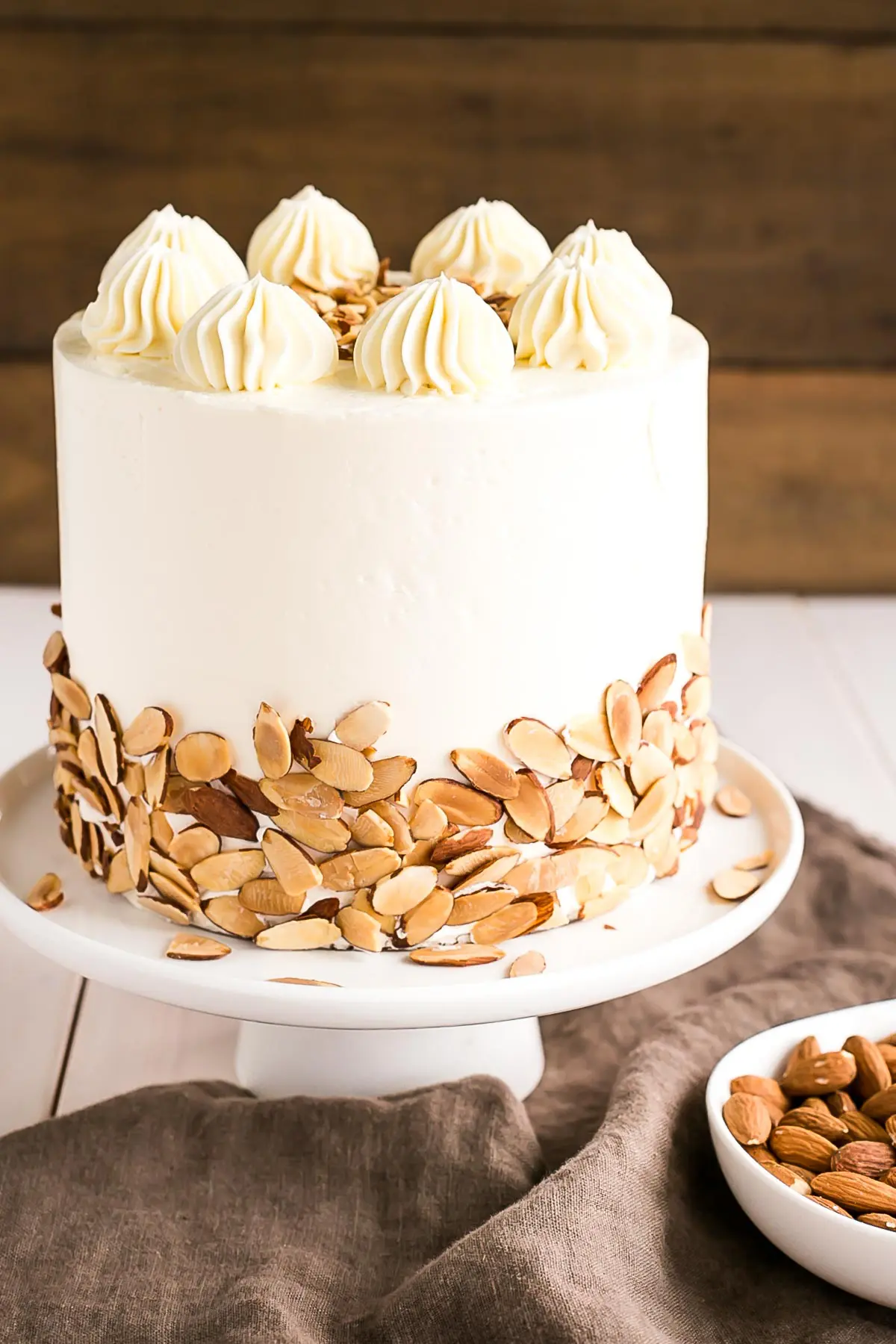 I kept the decoration on this cake simple — toasted almonds pressed into the sides, and some dollops on top with an Ateco 867 (or Wilton 6B) tip. If you're an almond lover or have one in your life, or if you've hated almond cakes all your life like I have and want to try something that just might convert you, this cake is a must!!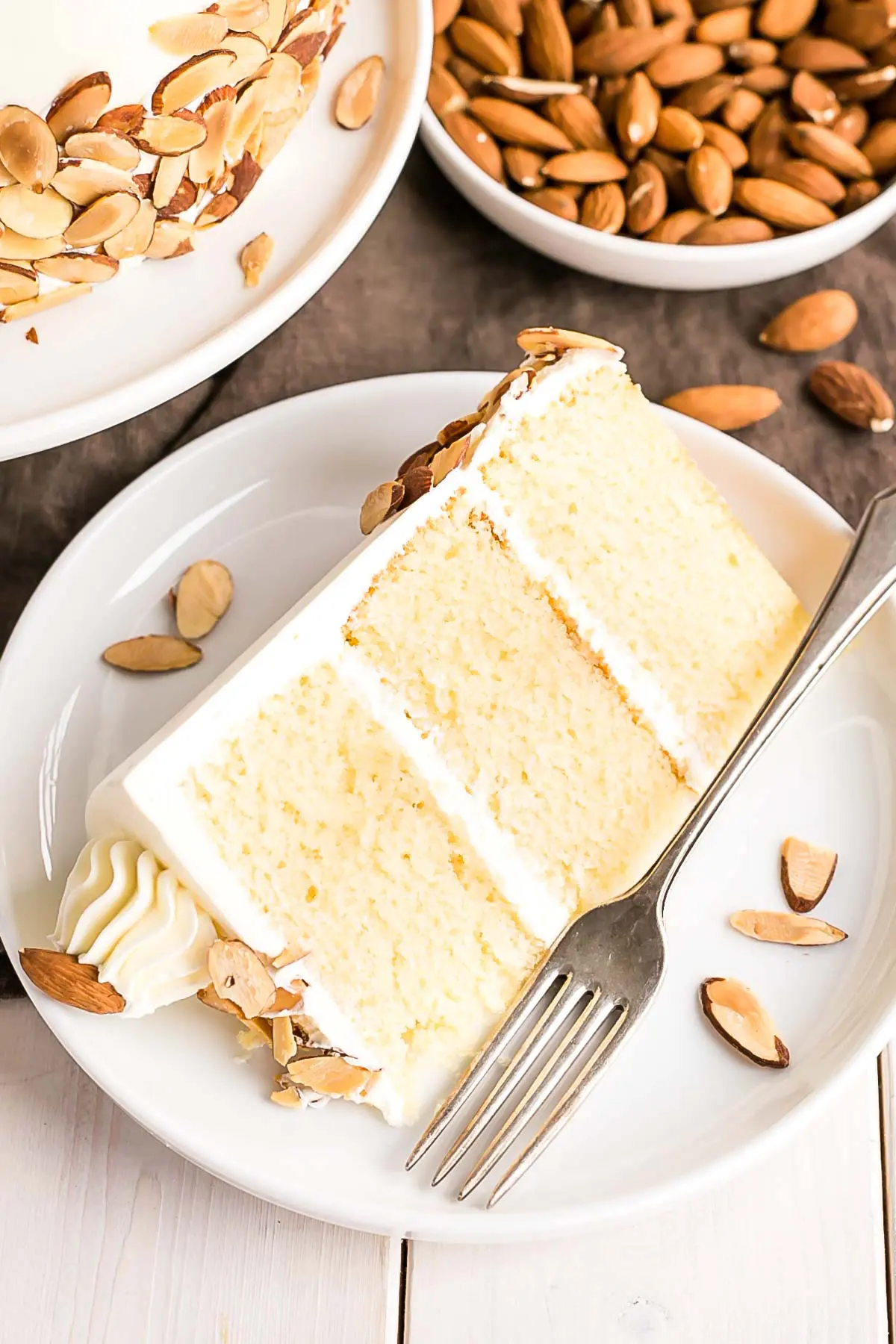 Looking for more boozy desserts?
Tips for making this Almond Cake recipe: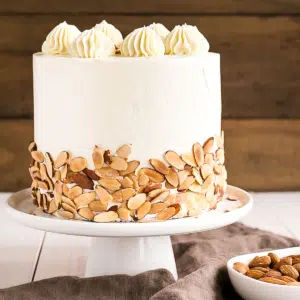 Almond Amaretto Cake
This Almond Amaretto Cake is a must for any almond lover! Almond cake layers infused with Amaretto liqueur paired with a classic vanilla buttercream.
Ingredients
Instructions
Cake:
Preheat oven to 350F. Grease and flour three 6″ cake rounds and line with parchment.

In a medium bowl, whisk flour, almond flour, baking powder,and salt until well combined. Set aside.

Combine milk and Amaretto. Set aside

Using a stand mixer fitted with a paddle attachment, cream butter and sugar on med-high until pale and fluffy (approx 3mins). Reduce speed and add eggs one at a time fully incorporating after each addition. Add vanilla.

Alternate adding flour mixture and milk mixture, beginning and ending with flour (3 additions of flour and 2 of milk). Fully incorporating after each addition.

Bake for approx. 35mins or until a toothpick inserted into the center comes out mostly clean.

Place cakes on wire rack to cool for 10mins then turn out onto wire rack. Allow cakes to cool completely.
Amaretto Syrup:
Place sugar and water into a small pot. Bring to a boil and simmer 2 mins. Remove from heat, stir in Amaretto. Cool completely
Vanilla Swiss Meringue Buttercream:
Place egg whites and sugar into the bowl of a stand mixer, whisk until combined.*

Place bowl over a double boiler on the stove and whisk constantly until the mixture is hot (160F) and no longer grainy to the touch (approx. 3mins).

Place bowl on your stand mixer and whisk on med-high until the meringue is stiff and cooled (the bowl is no longer warm to the touch (approx. 5-10mins)).

Switch to paddle attachment. Slowly add cubed butter and mix until smooth.** Add vanilla and mix until incorporated.
Assembly:
Trim tops of each cake layer just slightly (to help the syrup absorb).

Place one layer of cake on a cake stand or serving plate. Brush generously with Amaretto Syrup. Top with approximately 2/3 cup of buttercream and spread evenly. Repeat with remaining layers.

Press toasted almonds into the bottom and sprinkle on top of the cake.
Notes
* Ensure there is NO trace of egg yolks in your whites and that your mixer bowl and whisk is completely grease free or your meringue won't stiffen.
** The buttercream may look like it's curdled at some point. Keep mixing until it is completely smooth. Note:
– If you don't have almond flour and can't be bothered buying it (I don't blame you), you can just leave it out and increase the flour to 2 1/4 cups.
– If you prefer a non-alcoholic version, you can use almond extract instead. For the cake, use 1/4 – 1/2 tsp almond extract (at most) and increase the milk to 1 cup. For the syrup, use 1 tsp of almond extract instead of Amaretto. Almond extract is strong and it's easy to overdo it. Less is more here.
Calories:
747
kcal
Carbohydrates:
78
g
Protein:
8
g
Fat:
44
g
Saturated Fat:
23
g
Cholesterol:
139
mg
Sodium:
200
mg
Potassium:
234
mg
Fiber:
2
g
Sugar:
63
g
Vitamin A:
1155
IU
Calcium:
112
mg
Iron:
1.6
mg
The nutritional information and metric conversions are calculated automatically. I cannot guarantee the accuracy of this data. If this is important to you, please verify with your favorite nutrition calculator and/or metric conversion tool.