This Biscoff Cake pairs fluffy vanilla cake layers with a sweet cookie butter frosting and crushed speculoos cookies.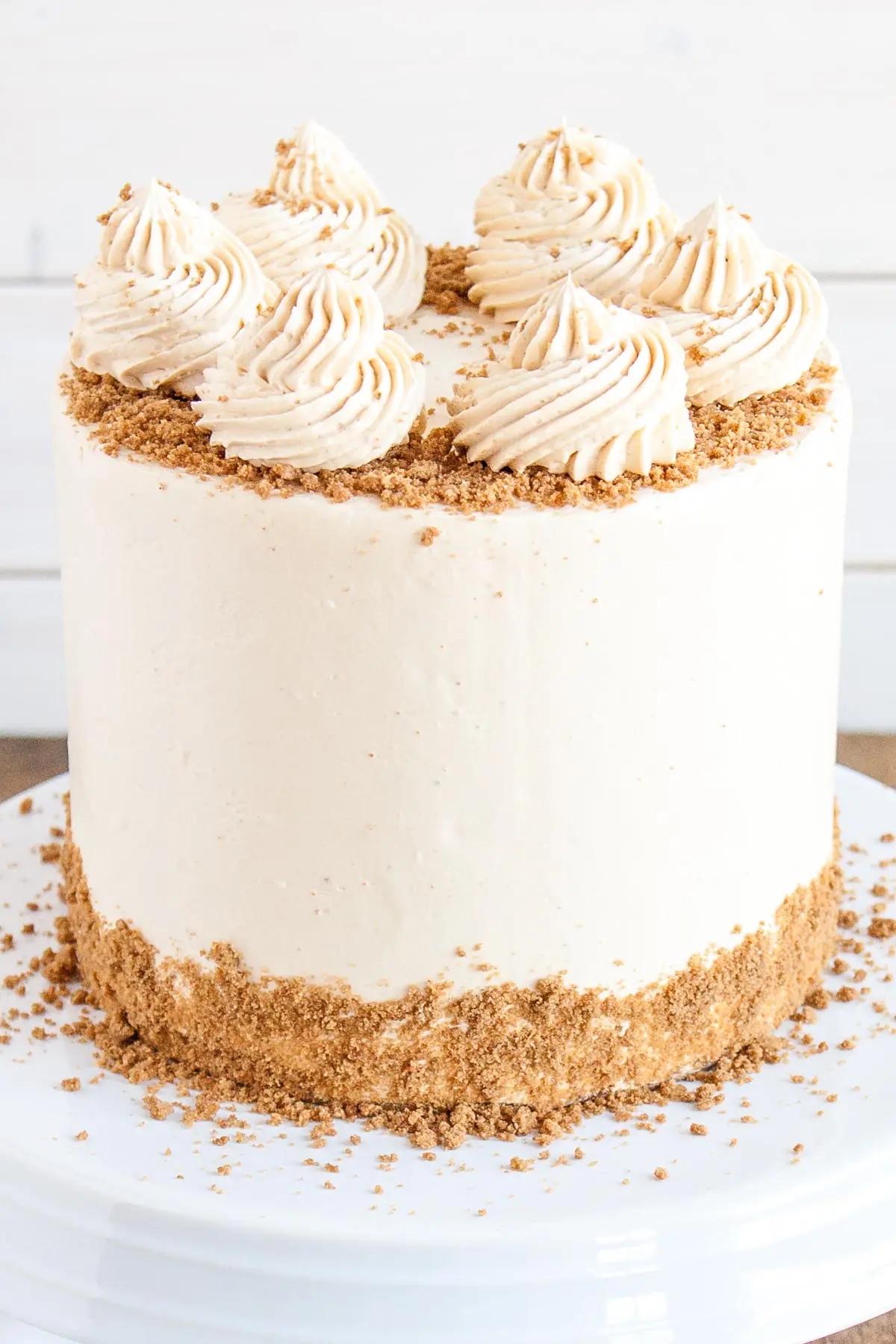 Where are my cookie butter fans at? This Biscoff Cake is for YOU. It is pure cookie butter heaven.
I didn't know cookie butter was a thing until a friend of mine brought me back a jar from Trader Joe's. We don't have Trader Joe's here and I am forever sad about that. I don't get down to the US that often so I'm unable to partake in all of the amazing goodies they have there.
Thankfully, we can now get our own cookie butter in the stores here in Canada. The brand we have is called Penotti and you can find it wherever you'd find peanut butter or other spreads.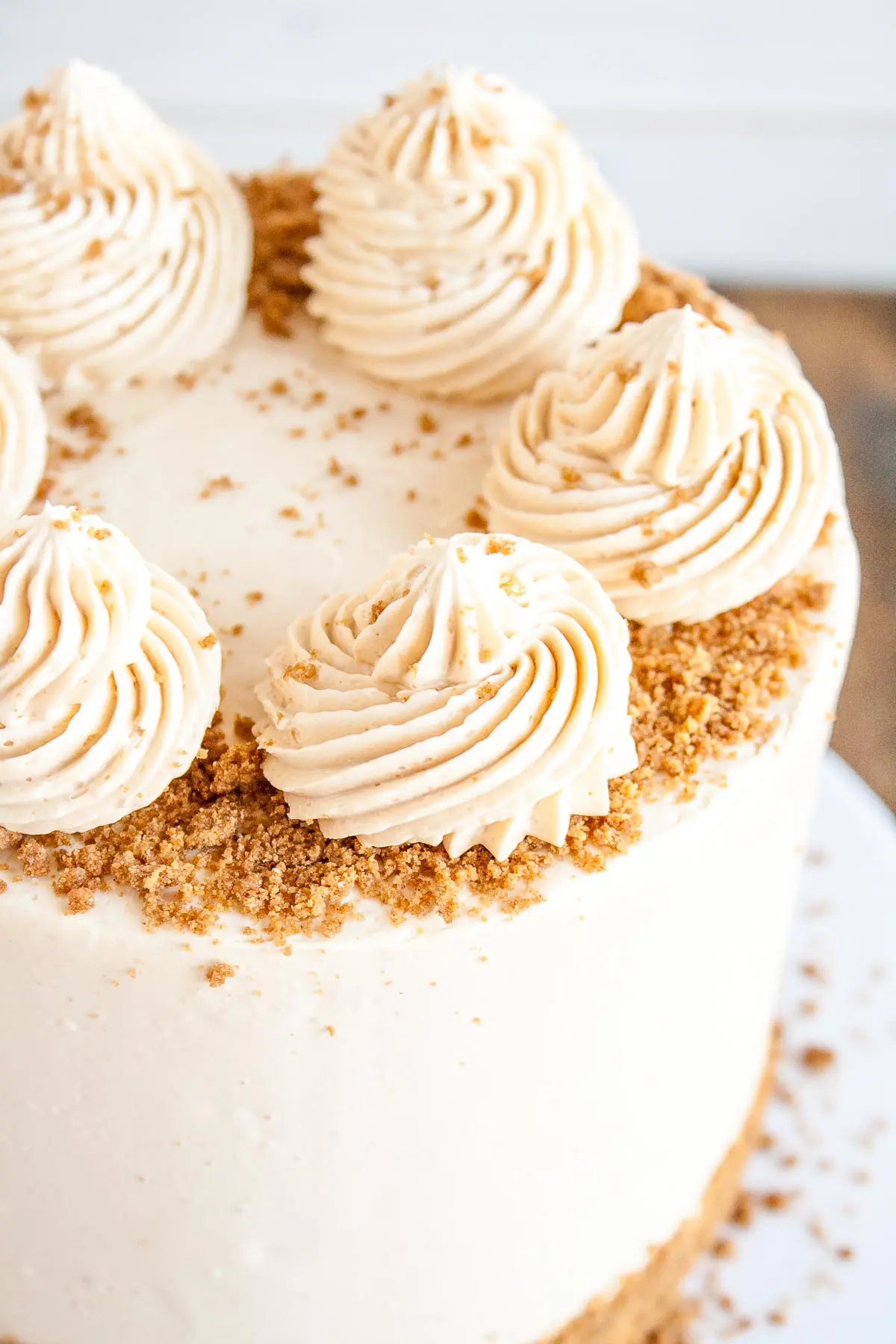 What Is Cookie Butter?
Cookie butter is made from Belgian Speculoos cookies. Speculoos (or Biscoff) cookies have a unique flavor that is hard to describe — spiced, crisp, gingersnap-like cookies.
They are delicious dunked in tea, and even better in the form of a spread!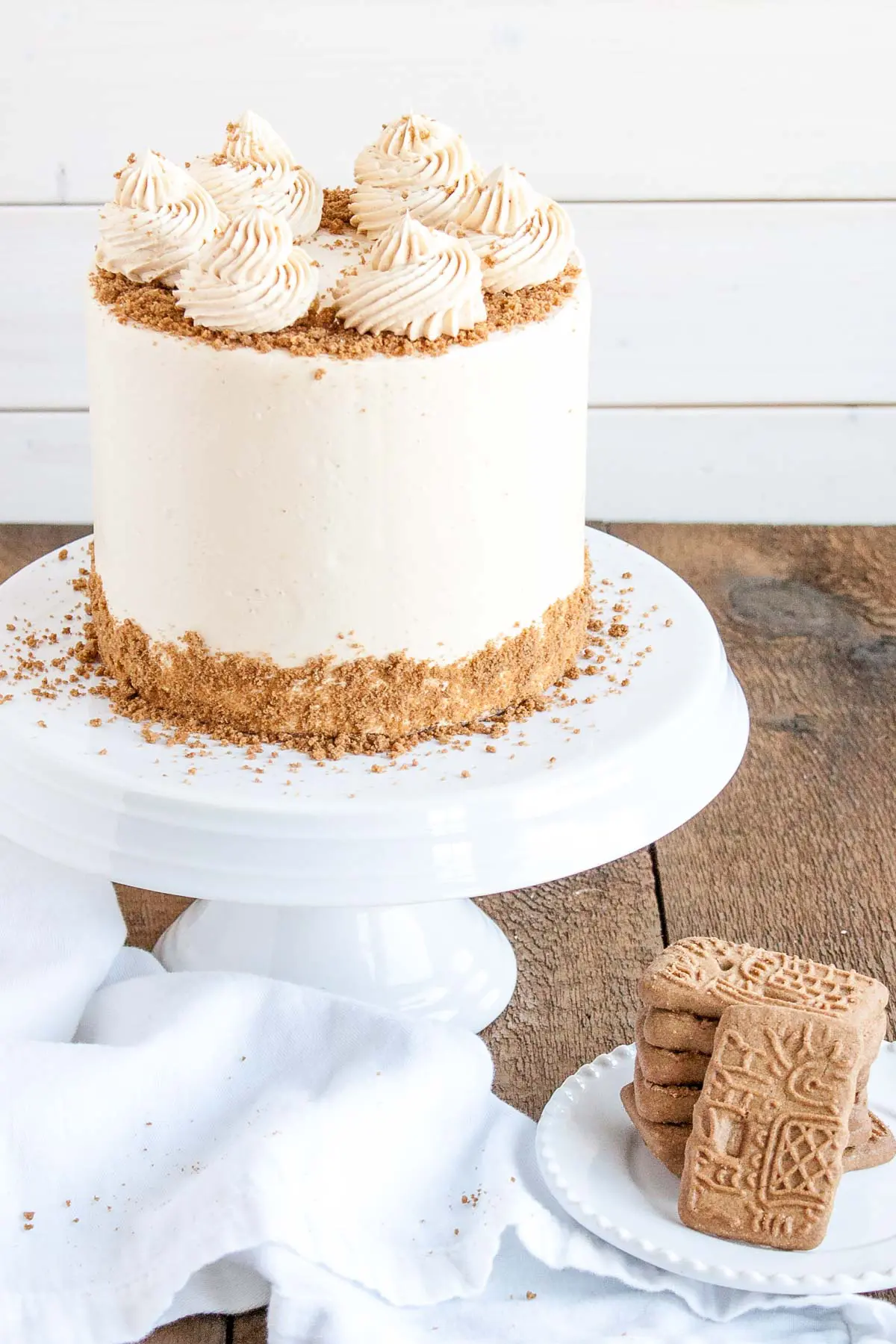 You can use it just as you'd use something like peanut butter or chocolate hazelnut spread. Cookies, cakes, frostings, ice cream — the delicious possibilities are endless.
The Biscoff Cake I bring you today uses both Smooth snd Crunchy Cookie butter spreads. I used the smooth spread in the buttercream, and the crunchy spread on top of each cake layer.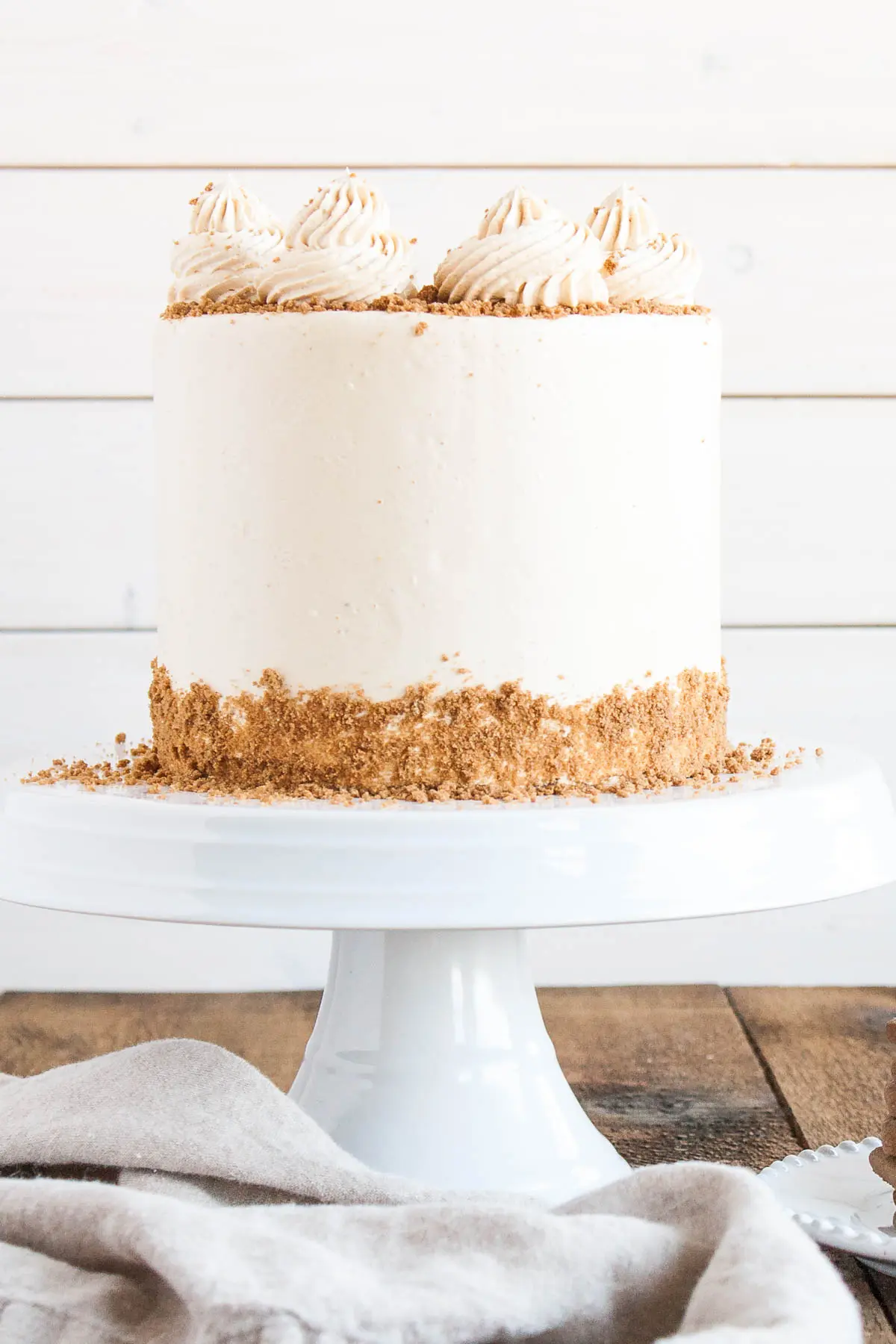 How to Make this Biscoff Cake
I chose to do a simple vanilla cake so that I could let the cookie butter stand out in the to-die-for Biscoff buttercream.
I made my favorite Swiss meringue buttercream and added some of the smooth cookie butter spread to it. It's important not to add too much as this can (and will) affect the texture of your buttercream and might make it too soft.
Using the crunchy cookie butter is optional, but I like the extra flavor and texture it gives the cake. You could also just use crushed speculoos cookies between the layers.
I kept the decorating fairly simple. Smooth sides with crushed speculoos cookies along the top and bottom of the cake and finished it off with some rosettes piped with a 6B tip.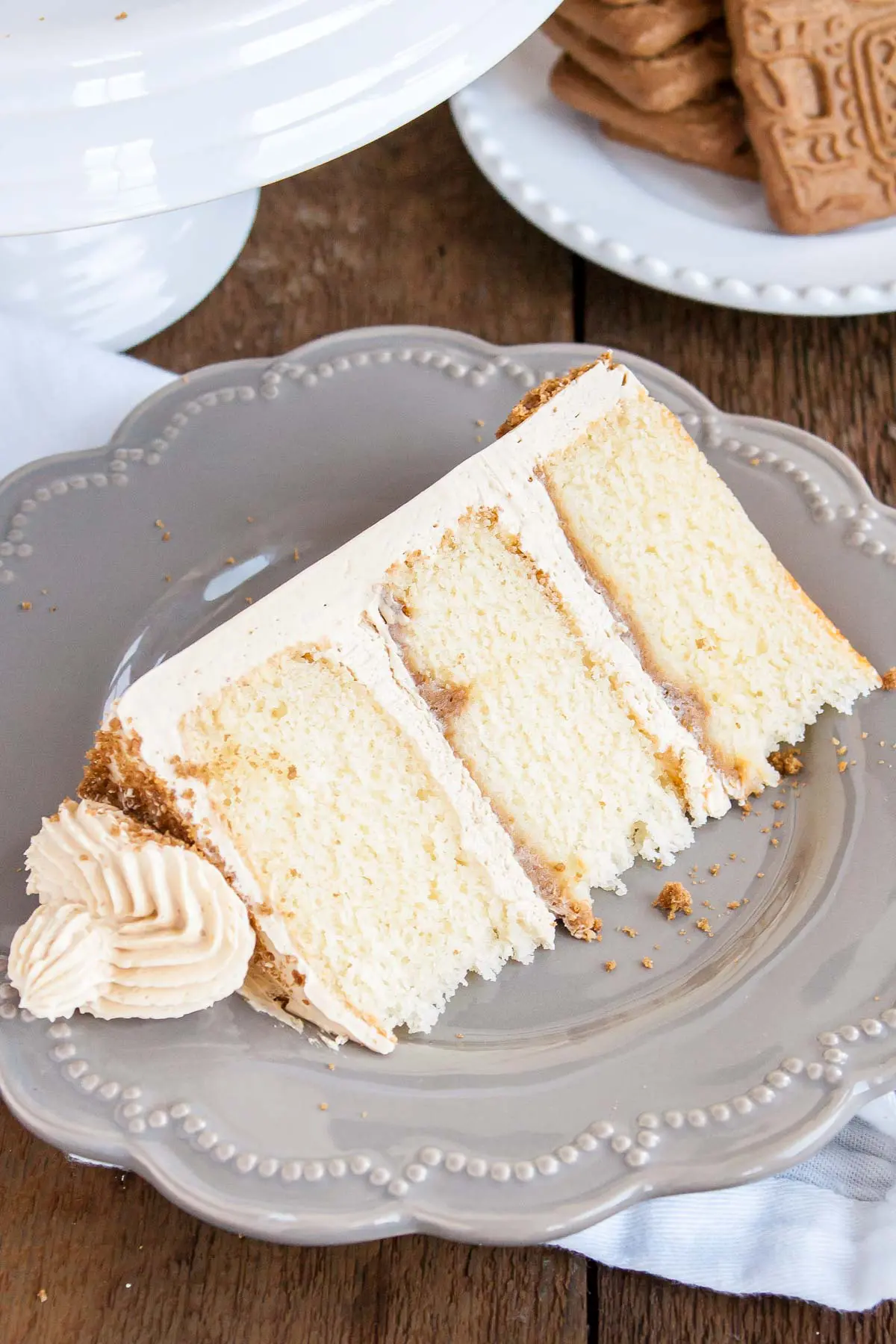 If you're a cookie butter fan, you will LOVE this cake!
And if you've never had cookie butter before, run (don't walk) to your nearest grocery store to get yourself some. And then come make this cake!
Tips for this Biscoff Cake:
The recipe as-is will also work in two 8″ pans. For three 8″ pans, 1.5x the recipe.
To make cupcakes, all you need to do is reduce the baking time — start checking at 15mins or so.
I used both Smooth snd Crunchy Cookie butter spreads in this cake.
If you don't have crunchy cookie butter, you can use smooth on each layer or just leave it out.
Alternatively, you can use crushed cookies on top of the frosting between the layers for some crunch.
The cooled cake layers can be baked ahead of time, double wrapped in plastic wrap, and frozen for up to 3 months. Take out 2-3 hours before assembly.
The frosting can be placed in an airtight container and refrigerated for 1 week for frozen for 3 months. Bring to room temp and rewhip before using.
Be sure to check my Swiss Meringue Buttercream post for tips and troubleshooting.
Learn how to keep your cakes moist using Simple Syrup.
To help ensure your cake layers bake up nice and flat, see my Flat Top Cakes post.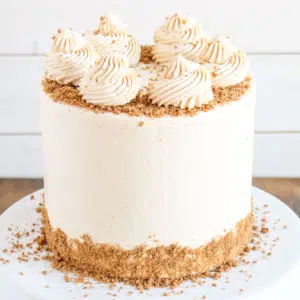 Biscoff Cake (Cookie Butter Cake)
This Biscoff Cake pairs fluffy vanilla cake layers with a sweet cookie butter frosting and crushed speculoos cookies.
Instructions
Vanilla Cake:
Preheat oven to 350F and grease and flour three 6″ cake rounds, line with parchment.

In a medium bowl, whisk flour, baking powder, and salt. Set aside.

Using a stand mixer fitted with the paddle attachment, beat butter until smooth. Add sugar and beat on med-high until pale and fluffy (2-3mins).

Reduce speed and add eggs one at a time, fully incorporating after each addition. Add vanilla.

Alternate adding flour mixture and milk, beginning and ending with flour (3 additions of flour and 2 of milk). Fully incorporating after each addition. Do not overmix.

Spread batter evenly into prepared pans. Smooth the tops with a spatula.

Bake for approx. 25-30mins or until a toothpick inserted into the center comes out mostly clean.

Place cakes on wire rack to cool for 10mins then turn out onto wire rack.
Biscoff Buttercream:
Place egg whites and sugar into the bowl of a stand mixer, whisk until combined.*

Place bowl over a hot water bath on the stove and whisk constantly until the mixture is hot and no longer grainy to the touch or reaches 160F (about 5mins).

Place bowl on your stand mixer and whisk on med-high until the meringue is stiff and cooled (the bowl is no longer warm to the touch (approx. 5-10mins)).

Switch to paddle attachment. Slowly add cubed butter and mix until smooth. Add cookie butter and mix until smooth.**
Assembly:
Place one layer of cake on a cake stand or serving plate. Spread a thin layer of crunchy cookie butter on the cake. Top with 2/3 cup of frosting and spread evenly. Repeat with remaining layers and apply a thin coat of frosting all over the cake. Chill for 20mins.

Frost and smooth the sides. Decorate with rosettes and crushed Speculoos cookies if desired.
Notes
* Ensure there is NO trace of egg yolks in your whites and that your mixer bowl and whisk is completely grease free or your meringue won't stiffen.
** The buttercream may look like it's curdled at some point. Keep mixing until it is completely smooth.
Calories:
608
kcal
Carbohydrates:
65
g
Protein:
6
g
Fat:
37
g
Saturated Fat:
23
g
Cholesterol:
140
mg
Sodium:
201
mg
Potassium:
178
mg
Fiber:
1
g
Sugar:
47
g
Vitamin A:
1164
IU
Calcium:
77
mg
Iron:
1
mg
The nutritional information and metric conversions are calculated automatically. I cannot guarantee the accuracy of this data. If this is important to you, please verify with your favorite nutrition calculator and/or metric conversion tool.
Originally published December 2016