This Cinnamon Roll Cake is packed with cinnamon flavor! A layer of cinnamon rolls sandwiched between two cinnamon swirl cake layers, covered in a cream cheese frosting.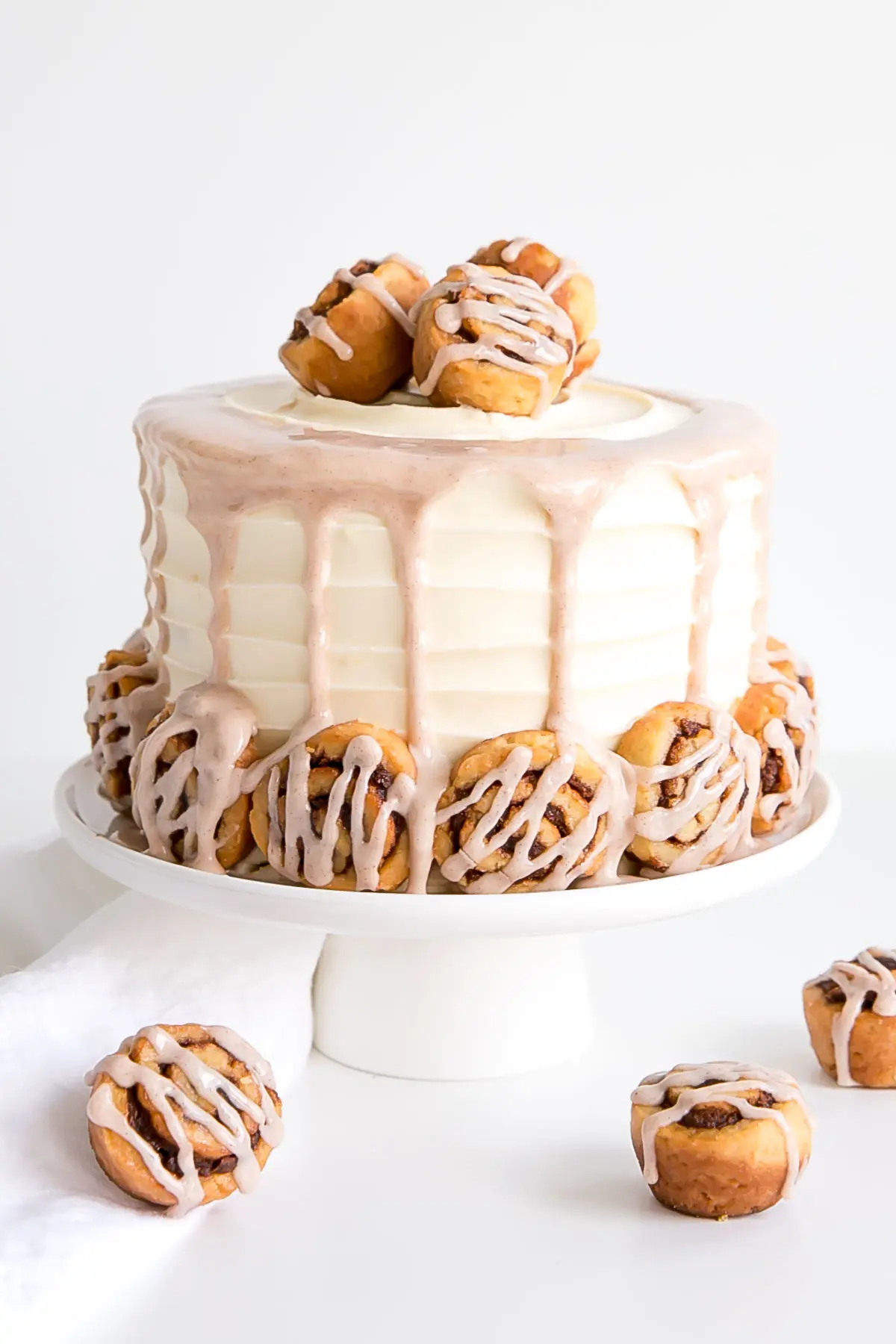 Breakfast for dessert or dessert for breakfast? There is no wrong answer. This Cinnamon Roll Cake transforms my favorite overnight cinnamon roll recipe into a delicious layer cake!
I'm pretty sure Ryan has been asking for this cake for months (maybe years?). It's been a long time coming. I couldn't decide if I wanted to just do three cinnamon swirl layers or throw in a layer of actual cinnamon rolls. The former would convey the cinnamon roll flavor, but the latter would really throw it in your face. Guess which one I went with??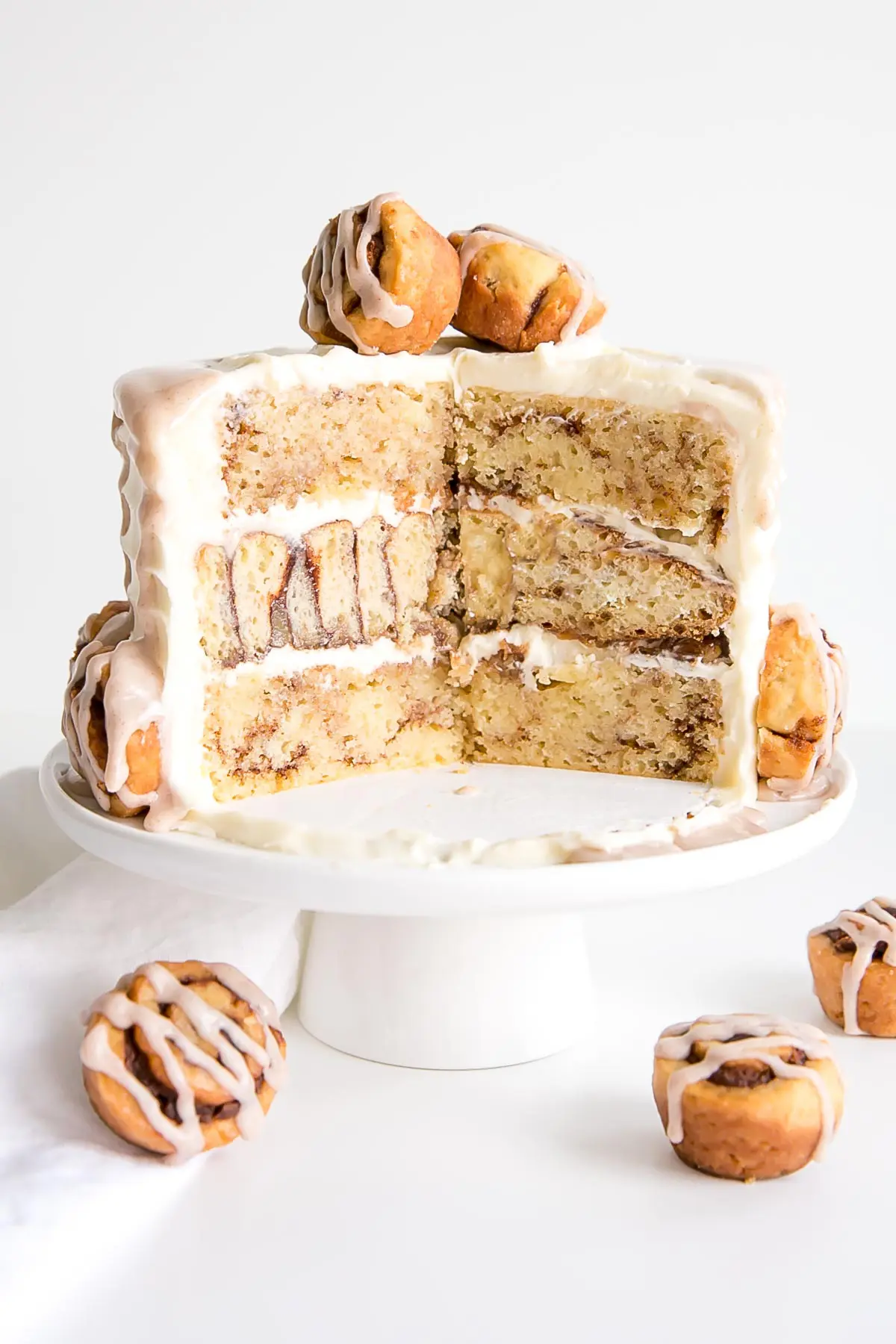 How to Make this Cinnamon Roll Cake
For the cinnamon swirl cake layers I used my favorite vanilla cake recipe and just swirled some cinnamon and brown sugar in there as I was putting the batter in the pans. This was fairly easy to do:
Pour some cake batter into the cake pan
Sprinkle with cinnamon sugar
Top with more cake batter
Swirl with a bamboo skewer (or butterknife, or whatever)
The only somewhat challenging part was trying to spread the upper layer of cake batter over the cinnamon sugar. I recommend not lifting your spatula when you do this as it will just lift the whole top layer of batter.
It's kinda hard to explain but once you're doing it you'll know what I'm taking about. Just do your best to smooth it as much as you can. It doesn't have to be perfect!
For the cinnamon roll layer, I baked up my overnight cinnamon rolls in a 6″ cake pan. You'd probably want to do 1/3 of the full recipe, but since cinnamon rolls are a pain in the ass to make, I would just make the whole thing and bake up the extra to eat for breakfast or dessert or whenever! They also freeze really well.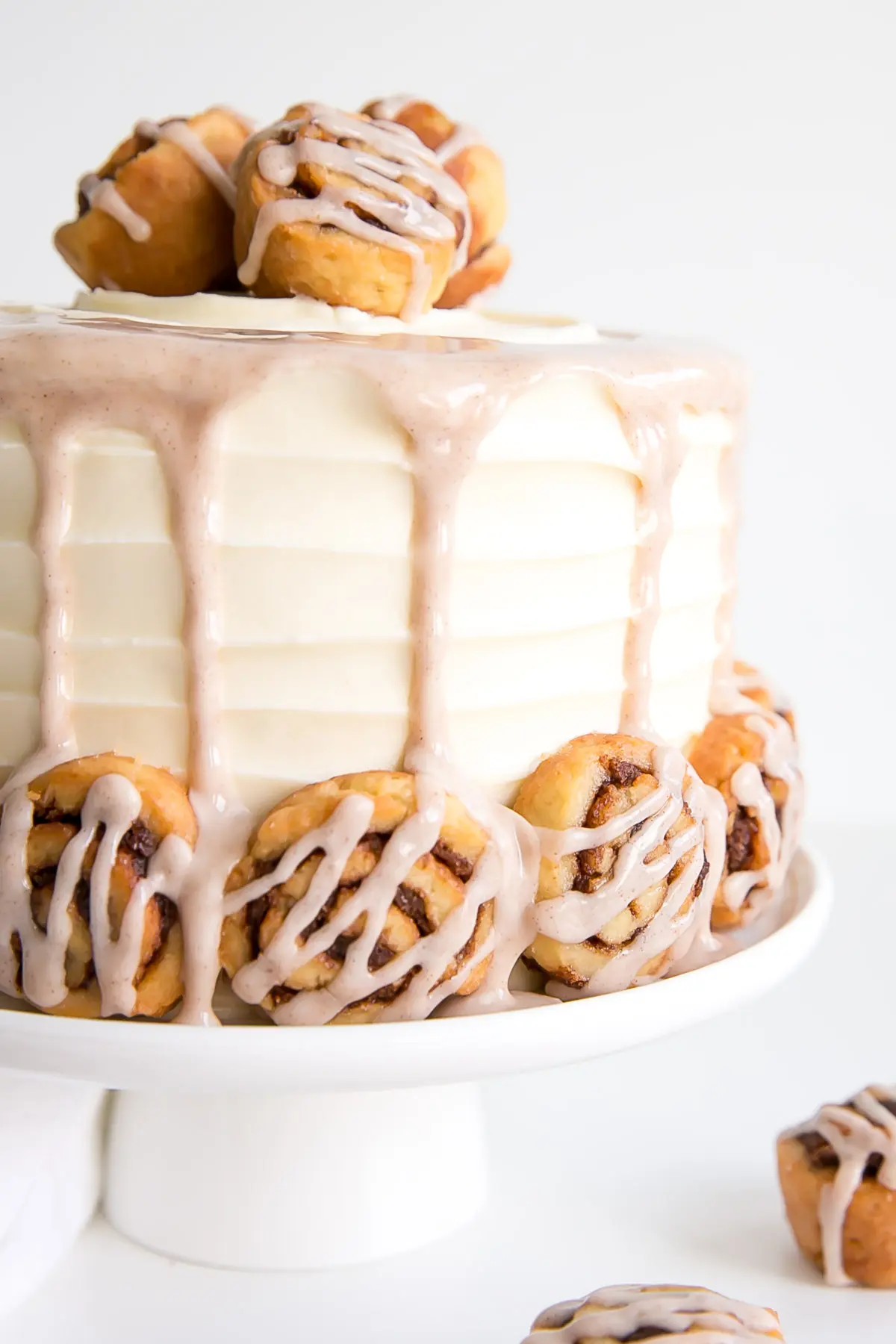 What if I don't want to make Cinnamon Rolls from scratch?
If you can't be bothered to make cinnamon rolls from scratch — I can't really blame you, I make them ONCE a year for Christmas morning. I'm not a yeast bread/rolling pin kinda baker. I pretty much never want to bust out the rolling pin for anything.
If you're looking for an easier version of this cake I have a few options for you!
Use store-bought cinnamon rolls and bake them at home.

The Pilsbury ones are probably easiest to find (especially in Canada), but the if you have a Trader Joe's near you theirs come highly recommended. If you have a favorite, let me know in the comments!

Skip the cinnamon roll cake layer altogether and bake three cinnamon swirl cake layers instead. To do this use the following amounts (or change the Servings to 18 in the recipe card — don't increase the frosting though unless you want a LOT of extra cream cheese frosting).

2 1/4 cups all-purpose flour
2 1/4 tsp baking powder
3/4 tsp salt
3/4 cup unsalted butter
1 1/2 cup granulated sugar
3 large eggs room temperature
1 1/2 tsp vanilla
1 cup milk room temperature
6 Tbsp light brown sugar packed
1 1/2 Tbsp ground cinnamon

If you do skip the cinnamon roll layer but still wan actual cinnamon rolls in there you can buy pre-made cinnamon rolls, chop them up, and sprinkle them on the frosting on each layer.
You really can't go wrong with any option. Each one will be equally delicious in it's own way.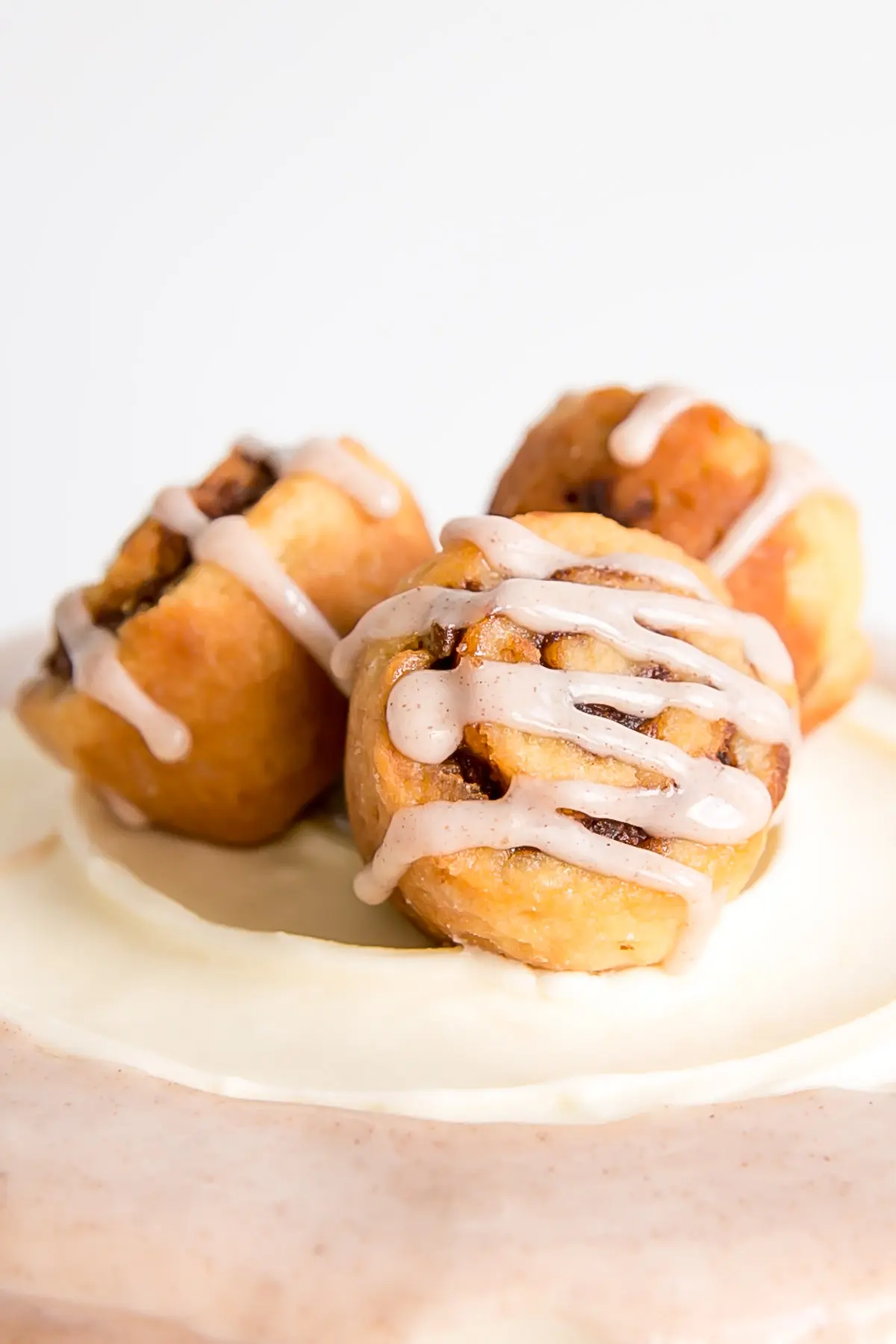 Mini Cinnamon Rolls
I'm sorry to disappoint you (maybe?) but I didn't make the mini cinnamon rolls that adorn this cake. You totally could make some, if you're into that kind of torture, but I found these two-bite cinnamon rolls at my local grocery store.
I was actually looking for mini cinnamon roll type cookies (I swear I've seen them before), but came across these instead and I think they work even better.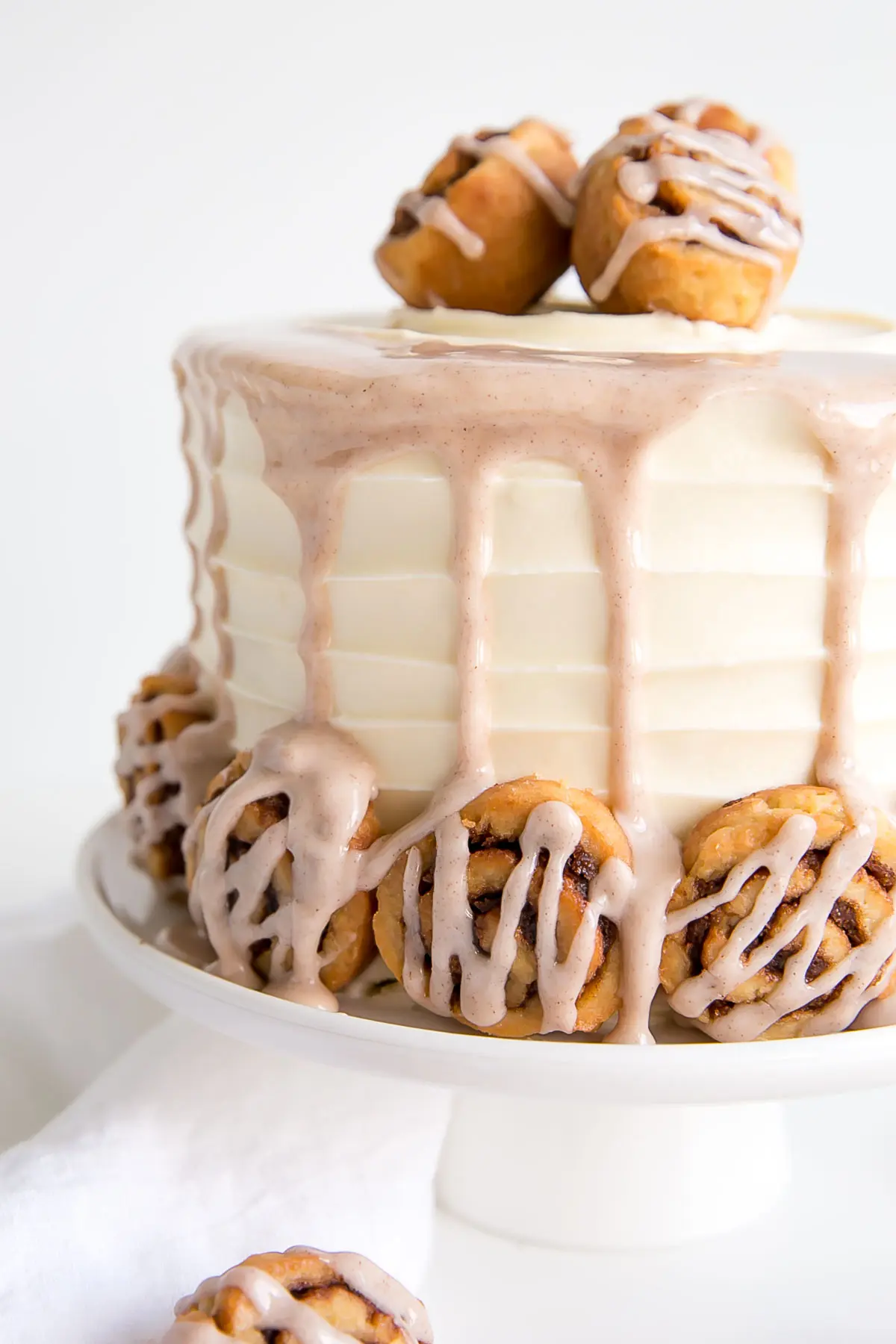 I trimmed the tops off some of the the mini cinnamon rolls so they would be thin enough to place around the bottom. They didn't come with a glaze, so I added that too, the same cinnamon sugar glaze I used as a drip for the top.
I recommend letting the glaze set on the cinnamon rolls before applying them to the cake. This should only take 10mins or so, but longer is better. The glaze will turn matte and be dry to the touch when set.
For the sides of the cake, I did a simple buttercream swirl to fit with the theme. I just used a small offset spatula to do this, but you could use a scalloped cake comb to get a similar effect.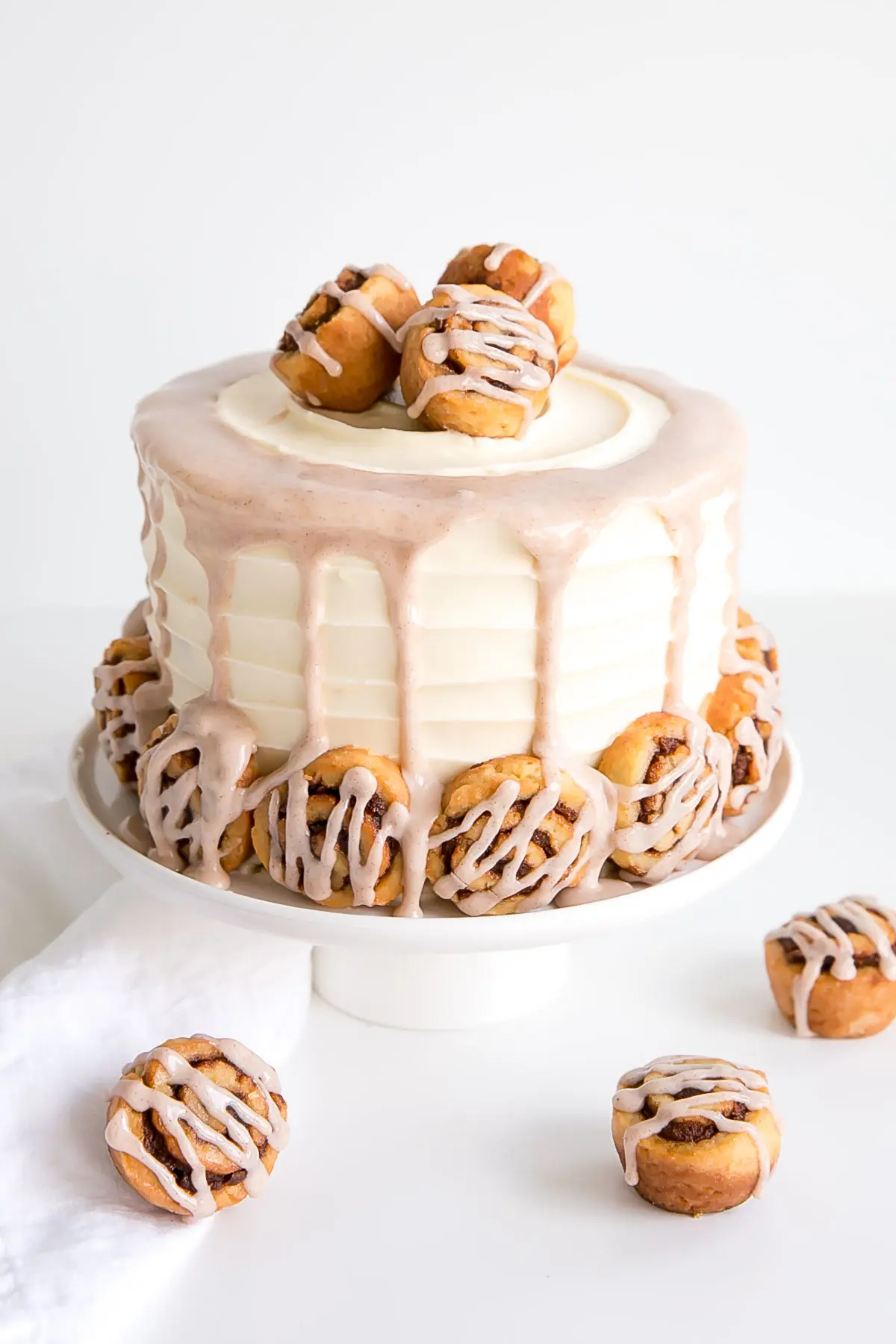 Whether you like your rolls slathered in a cream cheese frosting, drizzled with a simple sugar glaze, or drowning in a brown sugar caramel (my preference), this Cinnamon Roll Cake ticks all the boxes! I hope you love it as much as we do.
But that does beg the question… how DO you like your cinnamon rolls??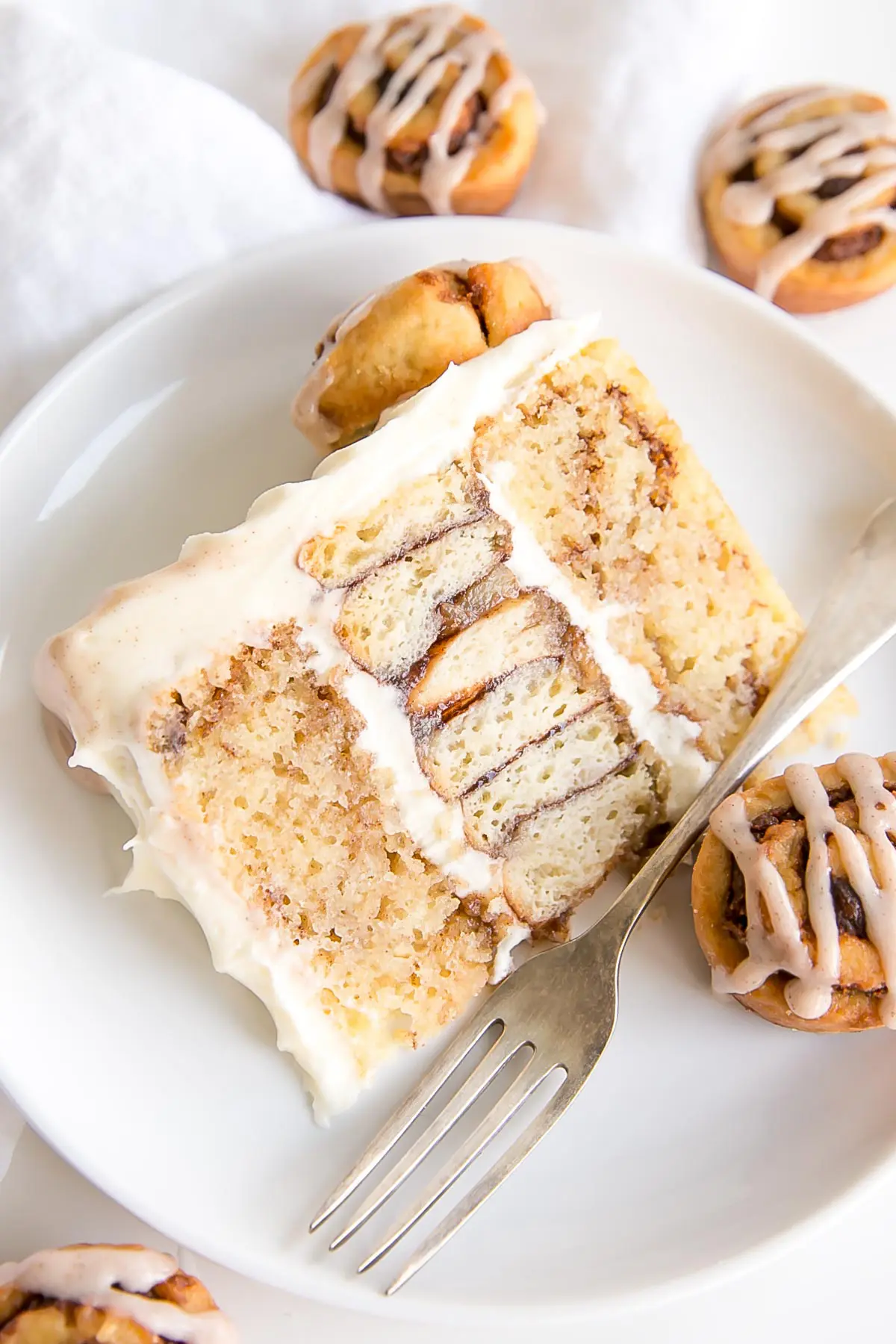 Tips for making this Cinnamon Roll Cake Recipe
Apr 14, 2022 – Cream Cheese Frosting recipe revised to make a more stable frosting.
To make an 8″ cake, you can 1.5x the recipe (change the Servings to 18 to get the amounts).
If you'd rather skip making the cinnamon bun layer but want three 6″ cinnamon swirl cake layers, 1.5x the cake recipe (not the frosting). See post for options and recipe amounts.
The mini cinnamon rolls are from two-bite.
To make cupcakes, all you need to do is reduce the baking time — start checking at 15mins or so.
Learn how to keep your cakes moist using Simple Syrup.
To help ensure your cake layers bake up nice and flat, check out my Flat Top Cakes post!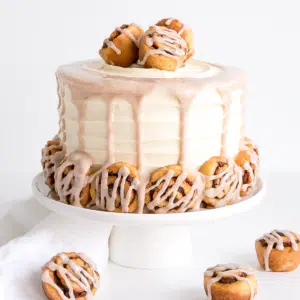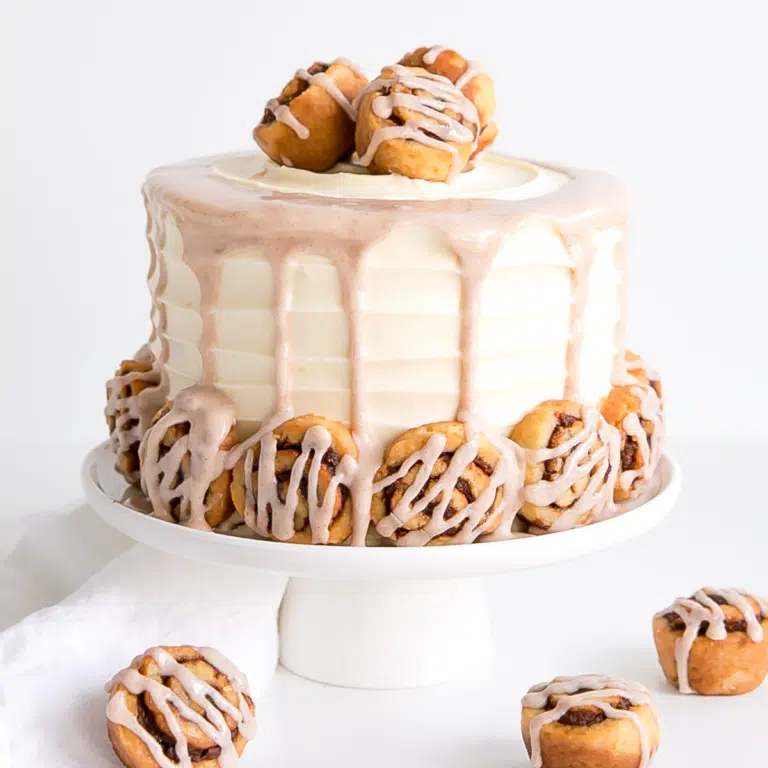 Cinnamon Roll Cake
This Cinnamon Roll Cake is packed with cinnamon flavor! A layer of cinnamon rolls sandwiched between two cinnamon swirl cake layers, covered in a cream cheese frosting.
Ingredients
Instructions
Cinnamon Swirl Cake:
Preheat oven to 350F. Grease and flour two 6" cake rounds and line with parchment.

In a medium bowl, whisk flour, baking powder, and salt until well combined. Set aside.

In a small bowl, whisk brown sugar and cinnamon. Set aside.

Using a stand mixer fitted with a paddle attachment, cream butter and sugar on med-high until pale and fluffy (approx 3mins). Reduce speed and add eggs one at a time fully incorporating after each addition. Add vanilla.

Alternate adding flour mixture and milk, beginning and ending with flour (3 additions of flour and 2 of milk). Fully incorporating after each addition.

Pour 1/4 of the cake batter (about 200g) into one of the cake pans, spread evenly. Sprinkle with half the cinnamon sugar mixture (2 1/2 Tbsp). Dollop another 1/4 of the cake batter over the top and spread as best you can (try not to life your spatula too much). Swirl through with a bamboo skewer. Repeat with next cake pan.*

Bake for 30-35mins or until a toothpick inserted into the center comes out mostly clean.

Place cakes on wire rack to cool for 10mins then turn out onto wire rack to cool completely.
Cream Cheese Frosting:
Using a stand mixer or hand mixer beat butter until pale and creamy.

Reduce speed to low. Add powdered sugar 1 cup at a time and mix on low until well blended. Increase speed to medium and beat for 3 minutes. Add vanilla and salt and continue to beat on medium for 1 minute.

Slowly add chilled cream cheese one cube at a time (about 1 tablespoon at a time). Beat well until blended and ensure no lumps of cream cheese remain.

If needed, add cornstarch or meringue powder 1 tablespoon at a time to stiffen the frosting (I didn't but this is an option).

Run mixer on low for a couple of minutes to remove any air bubbles.
Cinnamon Sugar Glaze:
Place all ingredients into a small bowl or measuring cup. Stir until smooth. Add more milk or sugar as needed to get a very thick but pourable glaze. Place plastic wrap directly on top until ready to use.
Assembly:
Place one layer of cake on a cake stand or serving plate. Top with approximately 1 cup of buttercream and spread evenly. Repeat with cinnamon roll layer** and place final layer of cake on top. Do a thin crumb coat all over the cake and chill for 20mins.

Frost the top and sides of the cake and smooth with a bench scraper. Swirl the top and sides using an offset spatula. Chill to set frosting, at least 30mins.

Place the trimmed tops of the two-bite cinnamon buns along the bottom if desired. Use extra buttercream to adhere them if needed.

Using a teaspoon, place dollops of glaze around the top edges of the cooled cake, allowing some to drip down. Place a few whole two-bite cinnamon rolls on top if desired.
Notes
* I just did both cake pans at the same time but it was easier to describe one at a time. If it's easier, divide the cake batter in half, before dividing it in half again for each pan. A scale helps with this.
** See blog post for details on how to modify the recipe if you want to skip the cinnamon roll layer.
Calories:
647
kcal
Carbohydrates:
90
g
Protein:
5
g
Fat:
31
g
Saturated Fat:
19
g
Polyunsaturated Fat:
1
g
Monounsaturated Fat:
8
g
Trans Fat:
1
g
Cholesterol:
113
mg
Sodium:
229
mg
Potassium:
146
mg
Fiber:
1
g
Sugar:
76
g
Vitamin A:
1036
IU
Vitamin C:
1
mg
Calcium:
85
mg
Iron:
1
mg
The nutritional information and metric conversions are calculated automatically. I cannot guarantee the accuracy of this data. If this is important to you, please verify with your favorite nutrition calculator and/or metric conversion tool.