This easy overnight cinnamon rolls recipe is a huge time saver! Make them in advance and pop them in the oven on Christmas morning.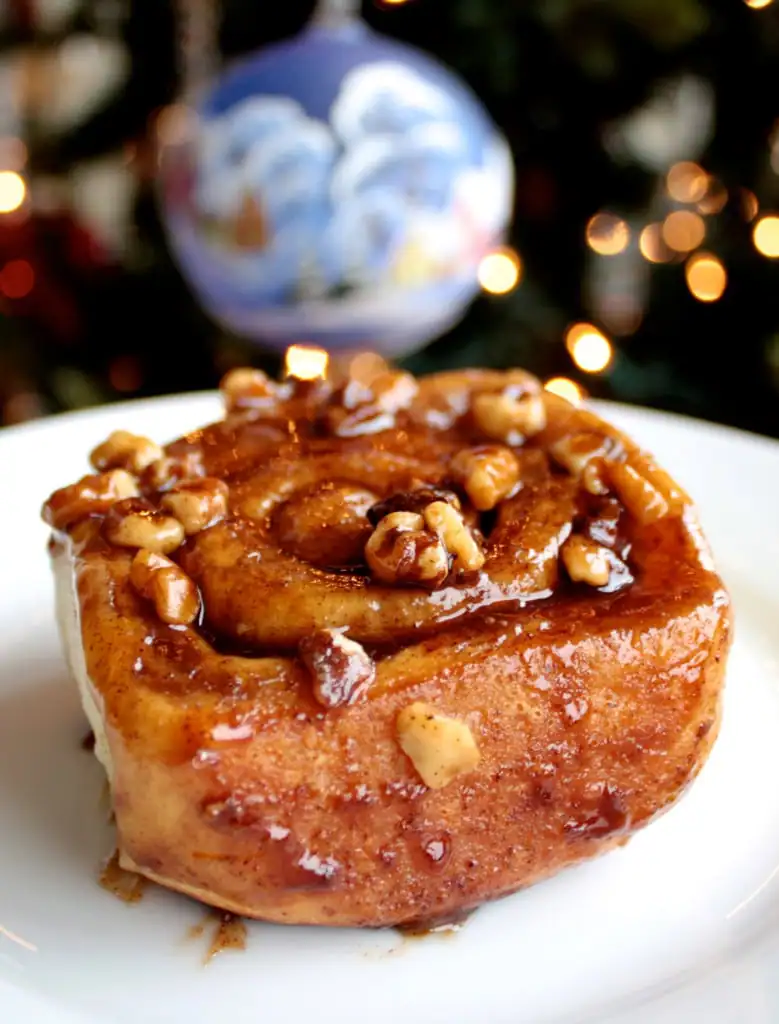 This post is a bit of a departure from recent ones because:
It's a step-by-step guide of how to do something, and
It's about 2 months late.
These pictures, and the recipe, are actually from December, when I made these overnight cinnamon rolls for Christmas Morning. Hence the tree in the background – and no, my tree is not still up.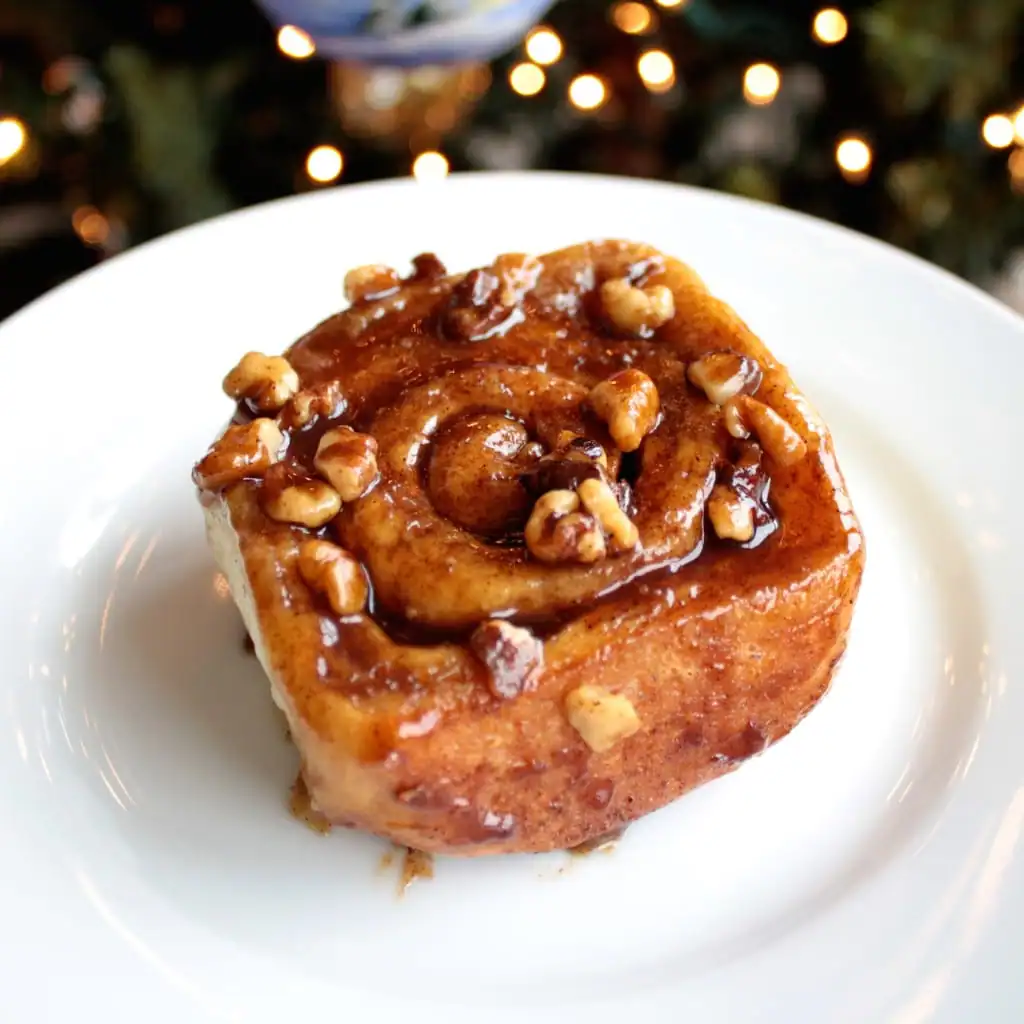 Having cinnamon rolls for Christmas morning was never a tradition when we were growing up, but ever since I met Ryan it was a must-do.
After years of having unsatisfactory Pilsbury cinnamon buns in the morning that were notoriously dry no matter how much glaze you put on (there was never enough), I decided to bite the bullet and make my own.
There are a few different components to these but, I promise you, they are all simple. Yeast-based products can be intimidating. The trickiest part is making sure your yeast activates, but as long as it does, you'll be good to go.
Dealing With Yeast
This recipe calls for active dry yeast (do not use instant yeast!), and the first step is dissolving that yeast in warm water and sugar and letting it sit for 10mins or so.
What you're looking for here is that the yeast has gotten very frothy. If you notice no change, it's not good, and you have to start over with a new package of yeast.
I had to do this the first time I made them because the water I used wasn't warm enough. Now I have a thermometer to measure the temperature, but really you want to make sure the water runs on the warmer side, not just lukewarm (about 25-38C is ideal). Also, make sure your yeast is not expired!
While your yeast is activating, you heat up the milk, butter, and some of the sugar, and then cool it until lukewarm. Mix this with your yeast mixture, flour, and eggs, and your dough is ready for kneading. That's it!
The details are in the recipe below, but you want to knead for about 8mins or so, then let your dough rise for about an hour until doubled in volume.
Alright, now to the good stuff (aka, the stuff I actually got pictures of).
How to Make Cinnamon Rolls Step by Step
1. While your dough is rising, make the brown butter caramel and pour into a greased 9×13″ baking dish. Sprinkle with half of the chopped walnuts (or pecans).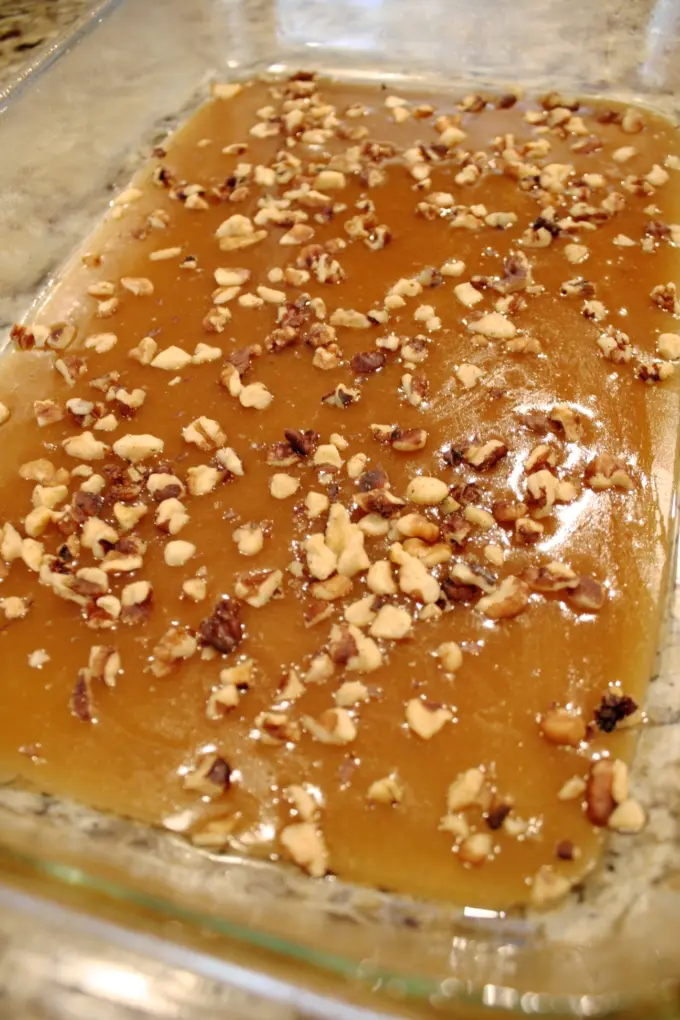 2. After the dough has risen, roll it out into an 18×14″ rectangle on a lightly floured surface and spread softened butter over top, leaving a 1″ border around the outside. Mine's more of an oval, but whatever!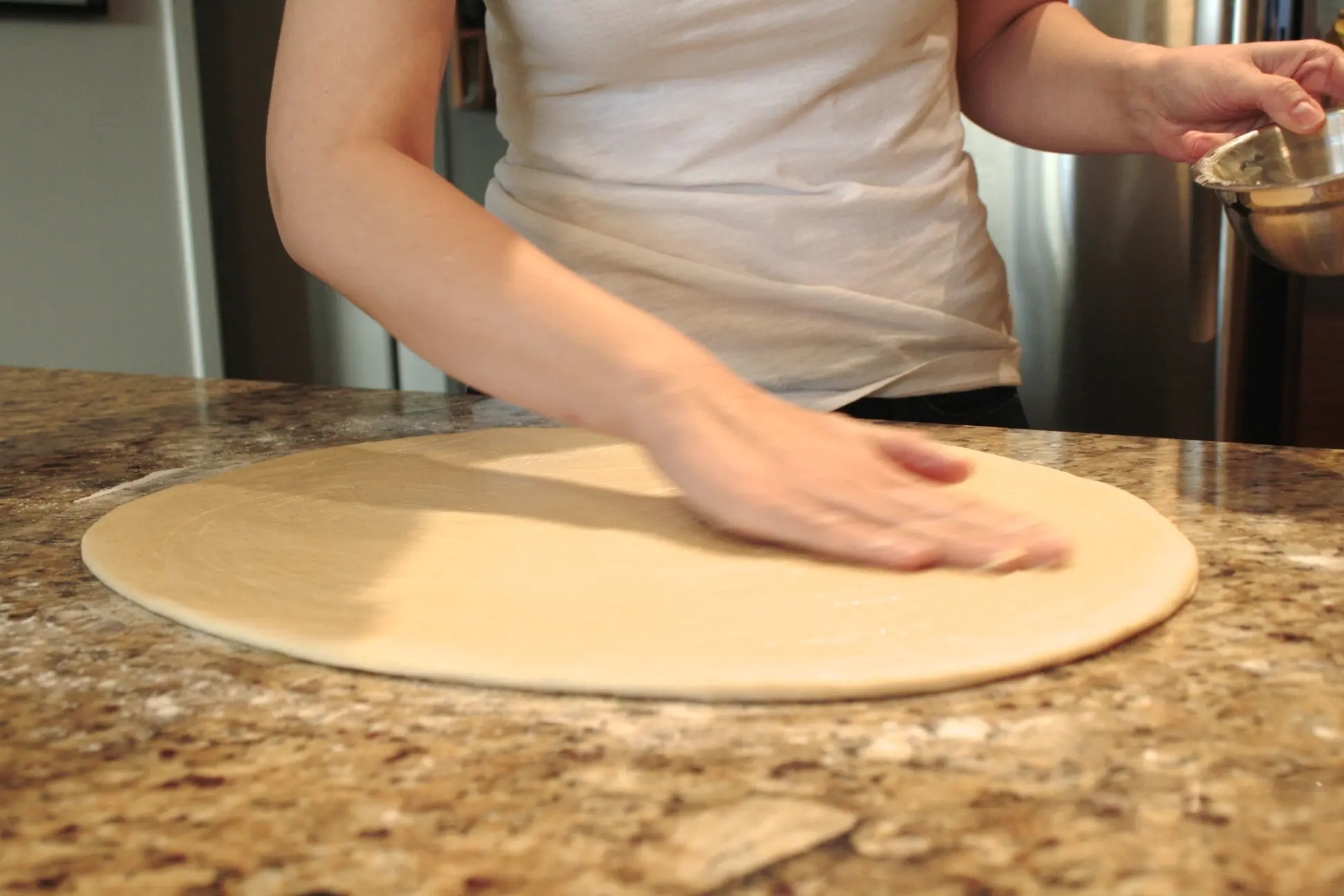 3. Sprinkle with the cinnamon sugar mixture and remaining nuts.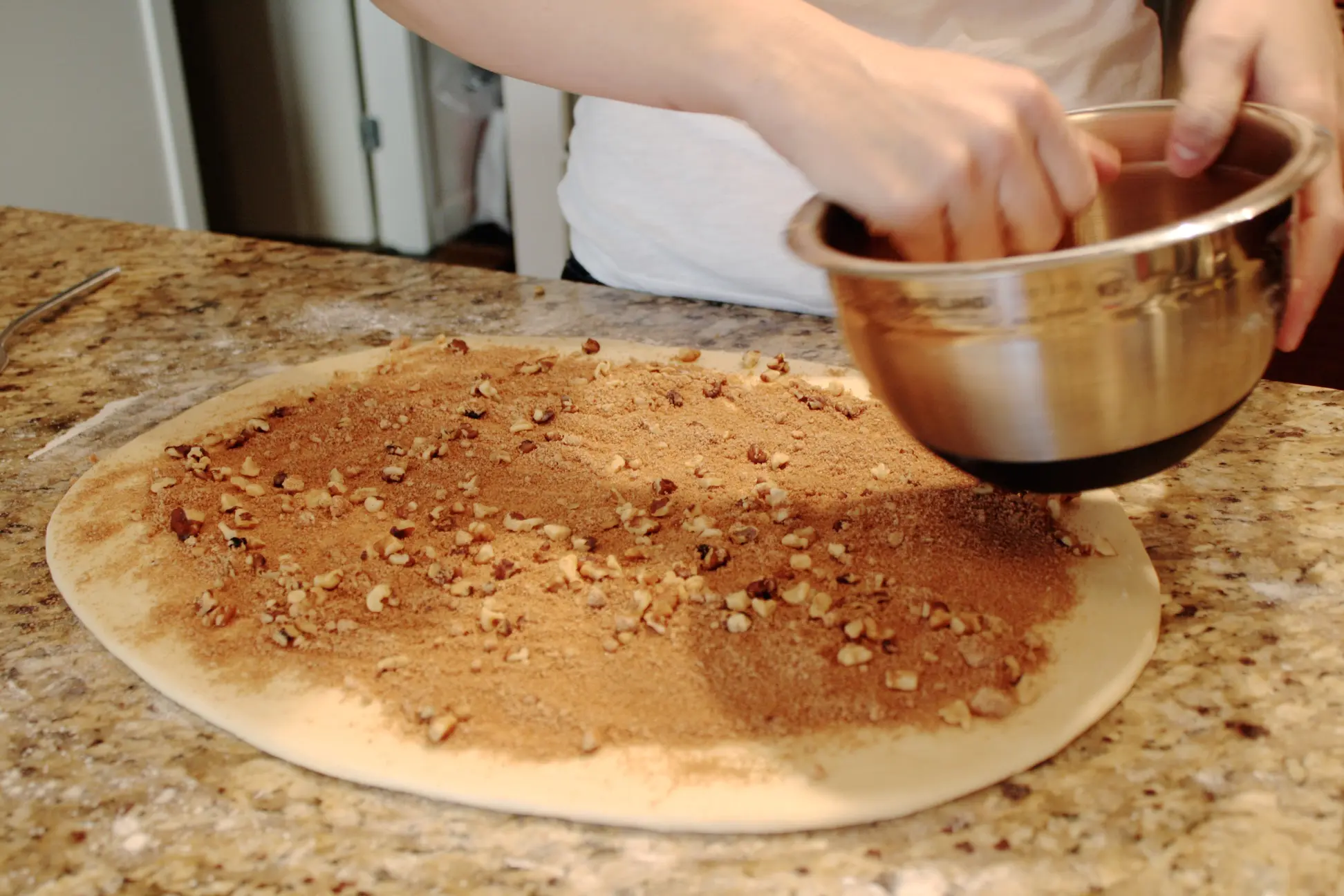 4. And begin rolling. I find rolling towards me easier, as I can see the filling, but rolling outwards might be easier to control.
5. Once rolled, pinch the seam well to seal.
6. Turn seam side down and cover the top with the remaining butter.
7. Next, cut into 15 equal pieces using a serrated knife. Naturally, I used a tape measure to ensure the pieces were *perfect*, but a more sane person could probably just eyeball it.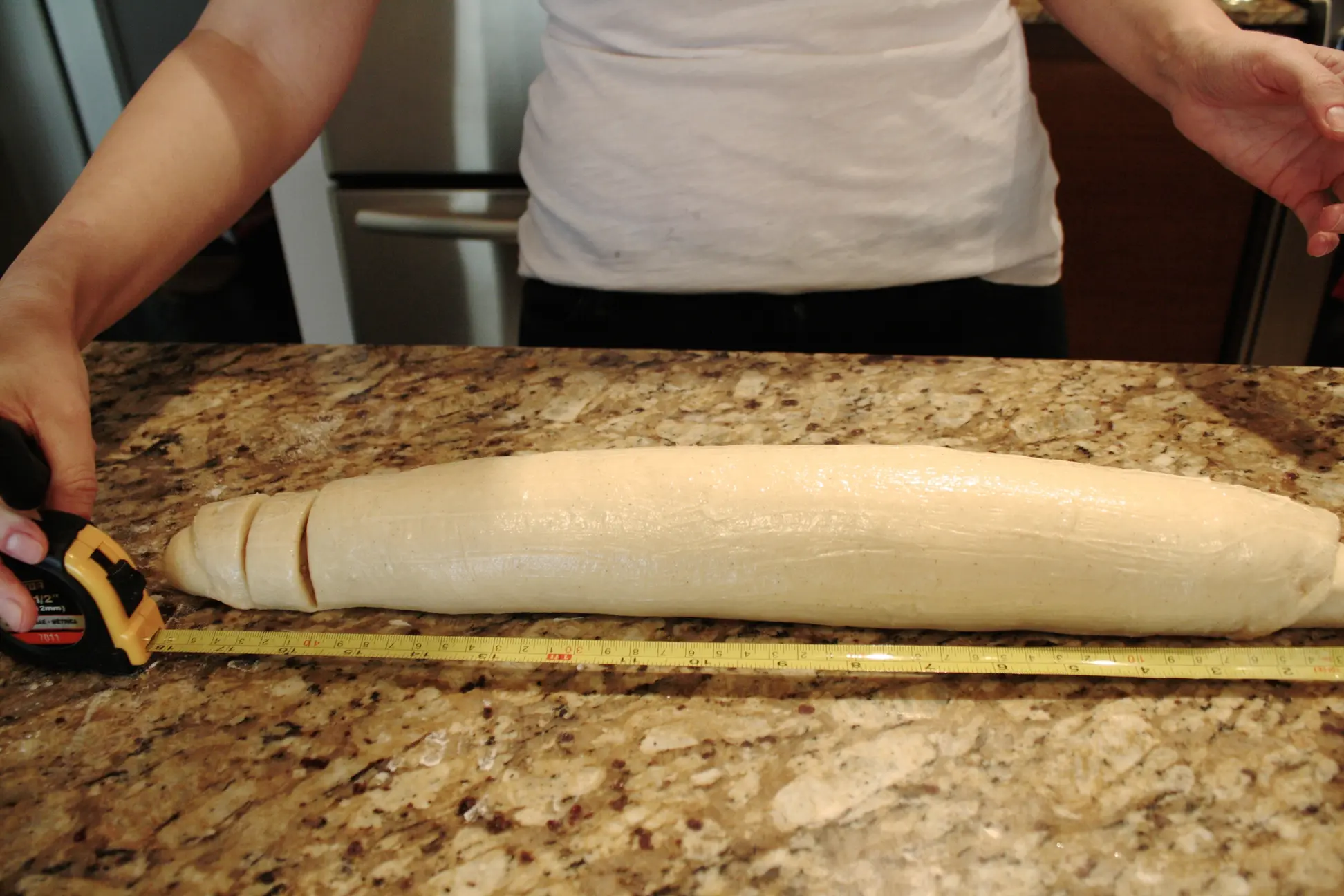 8. Place cinnamon rolls cut side down on top of the caramel.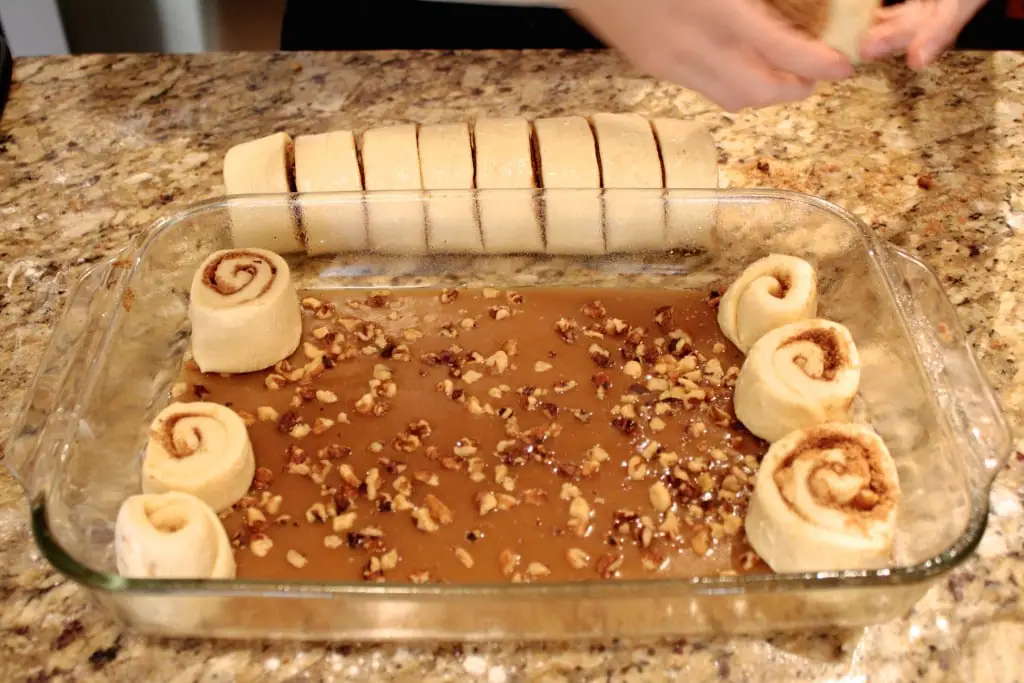 Some rearranging was necessary.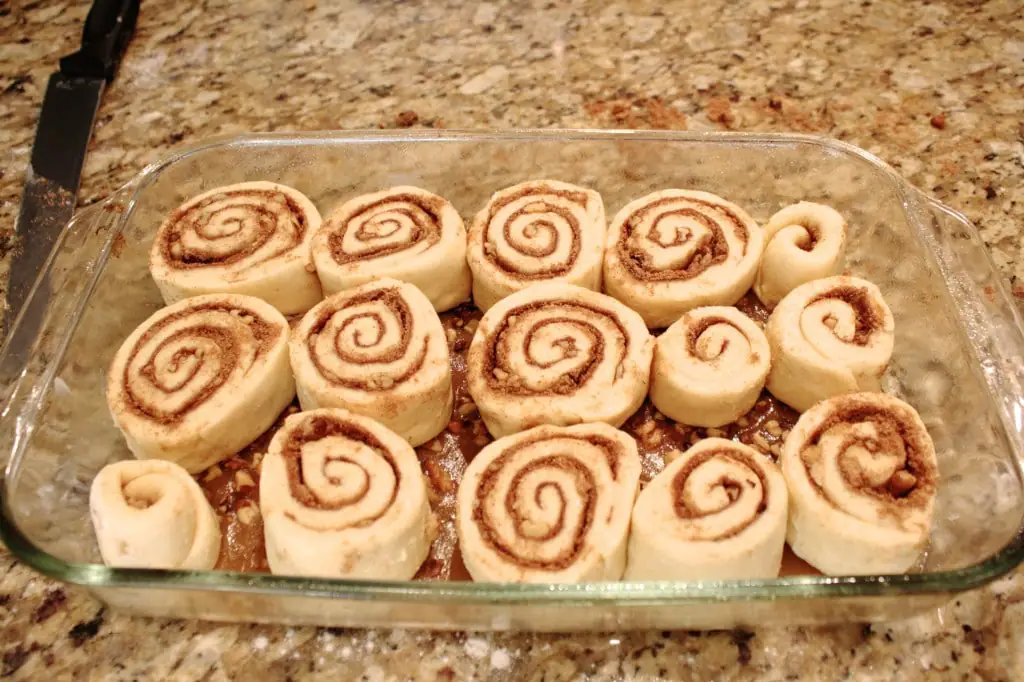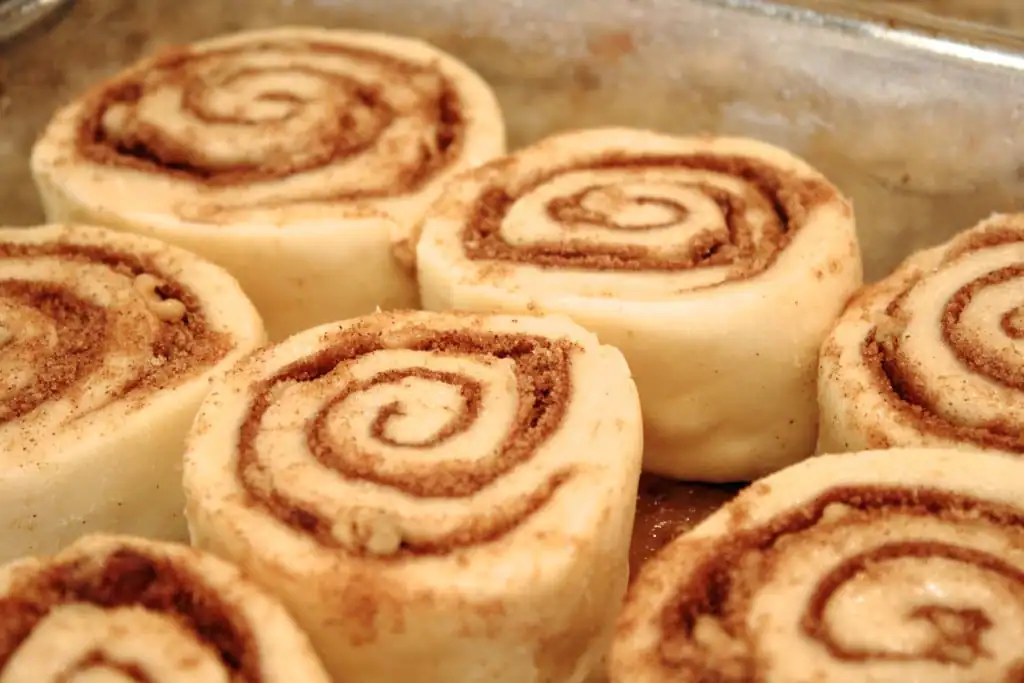 9. Cover tightly with plastic wrap and place in the fridge overnight.
At this point, if you want to bake them the same day, cover the rolls and let them rise at room temperature for about an hour until they are doubled in size.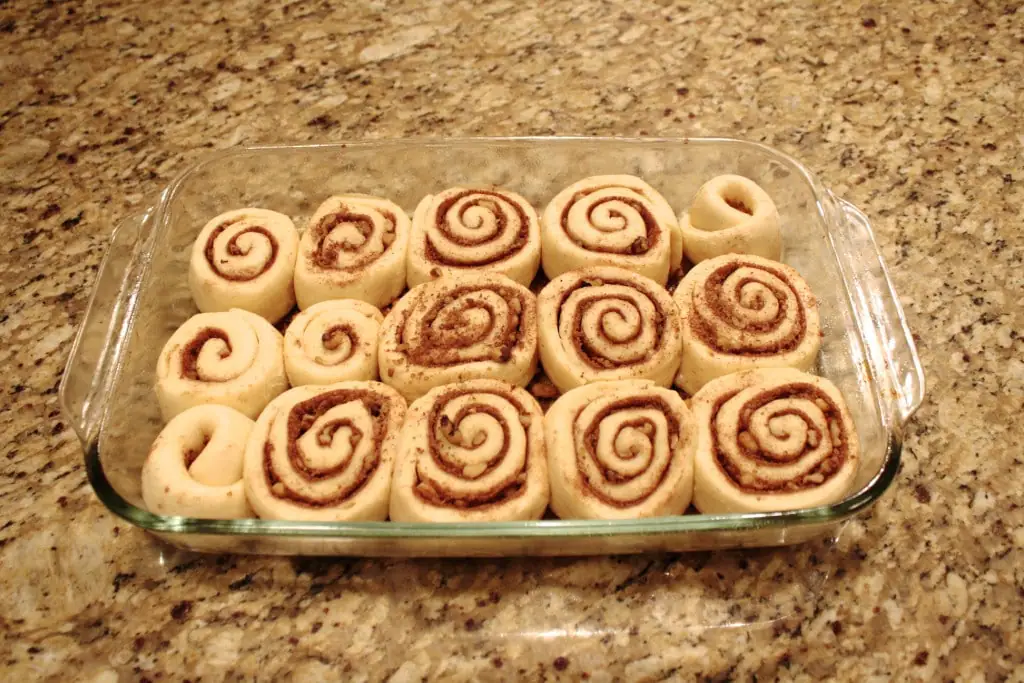 10. In the morning, remove from the fridge and let come to room temperature on the counter, about an hour. You'll notice that the cinnamon rolls will have risen quite a bit from their overnight stint in the fridge.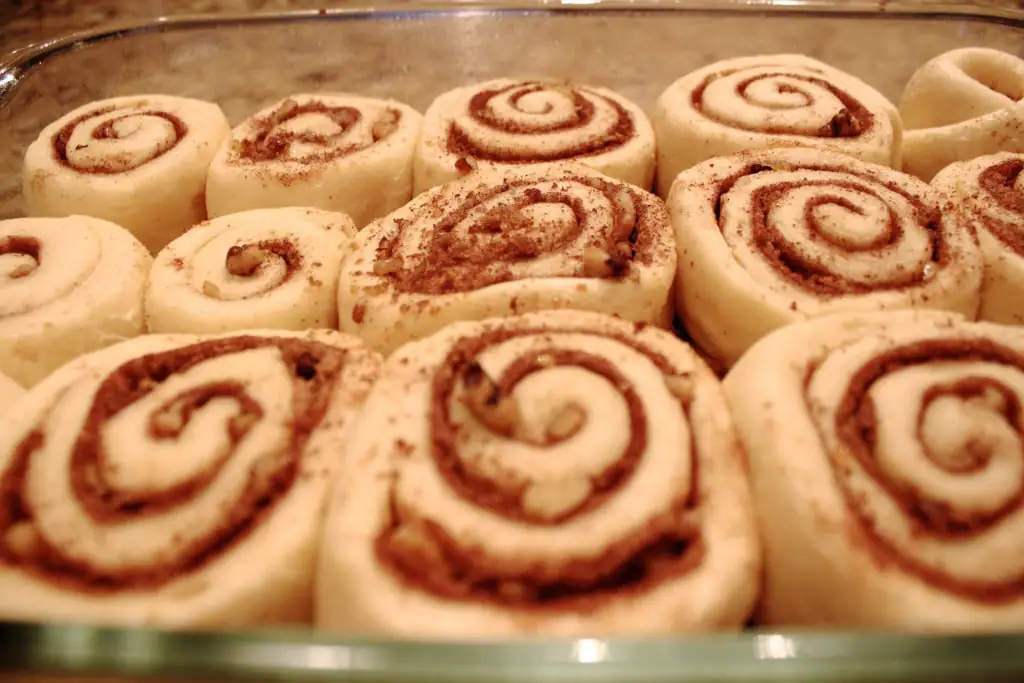 11. in a 375F oven for 25-30mins or until golden.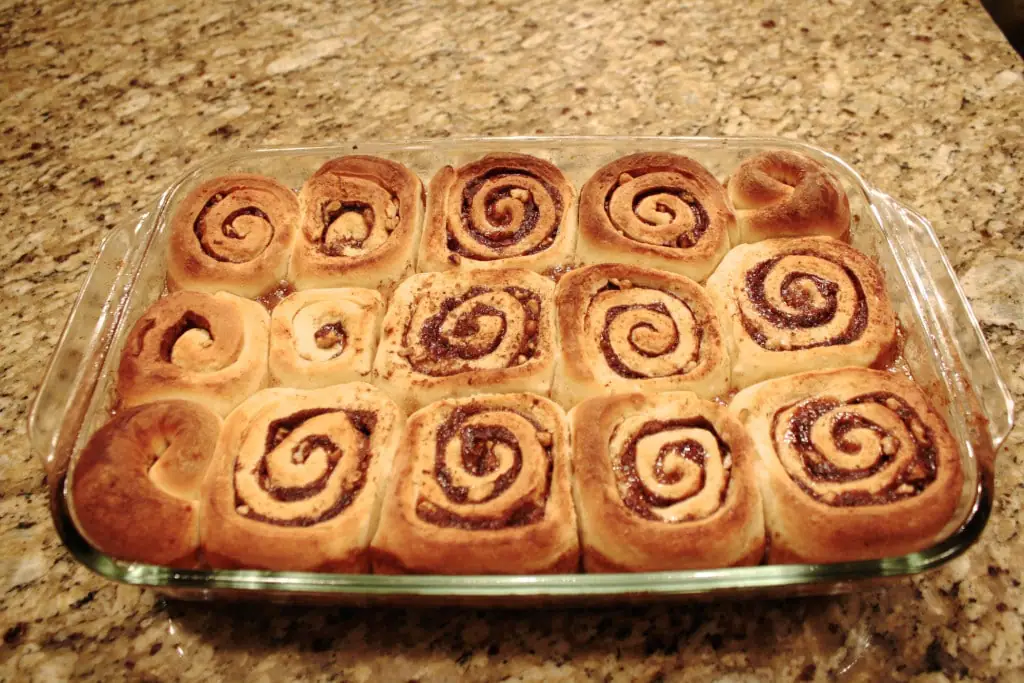 12. Let rest for 3 minutes and then carefully flip the whole thing over onto serving dish. That caramel underneath will be molten hot, so be careful!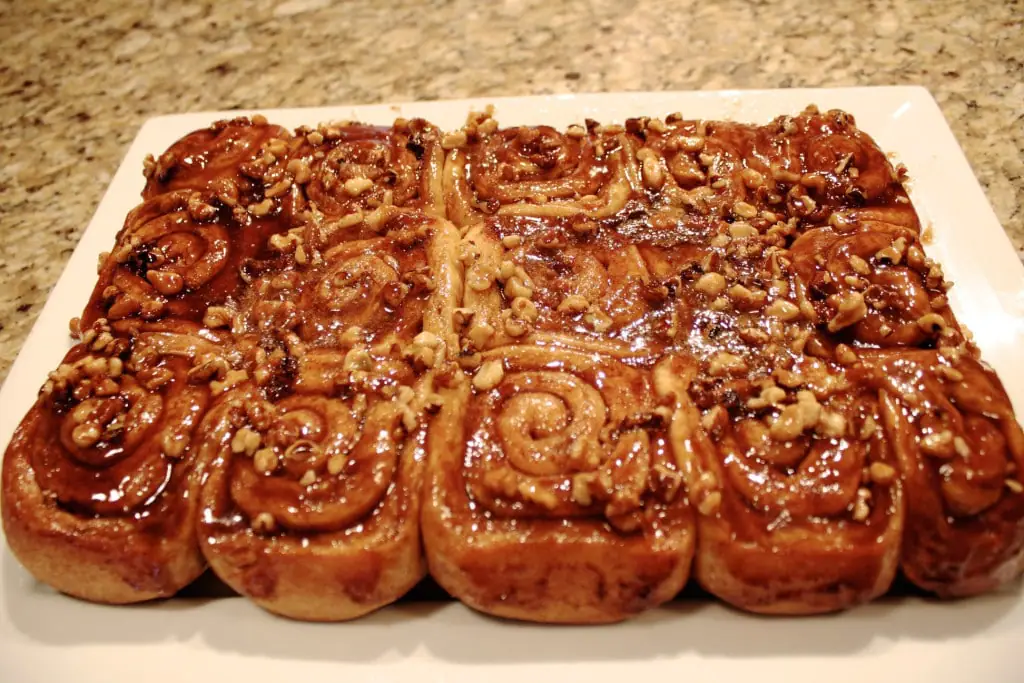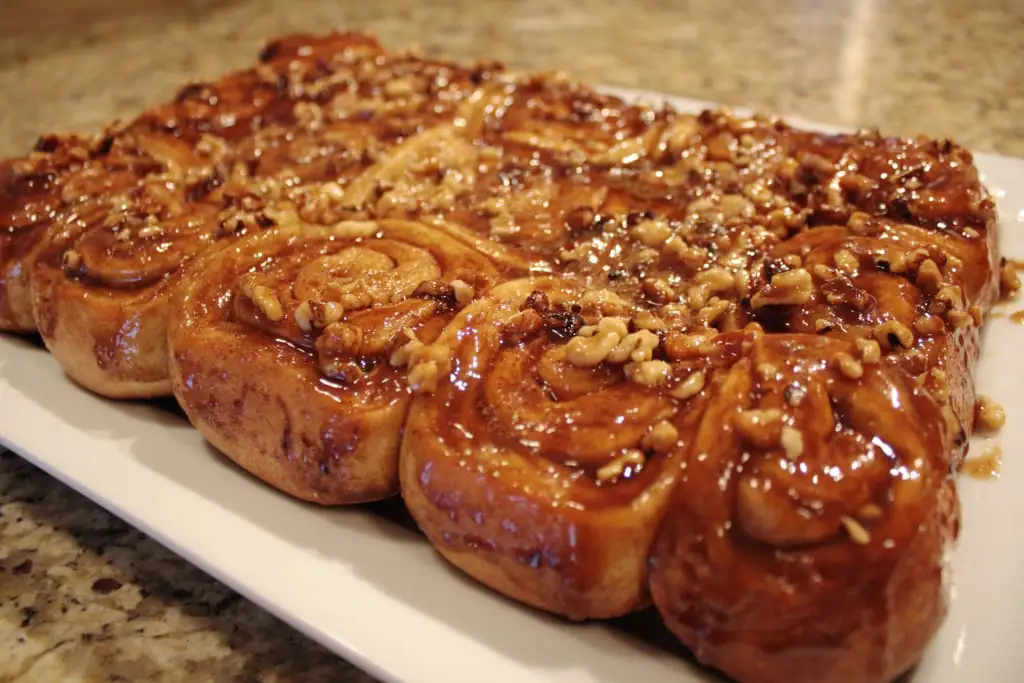 Devour immediately.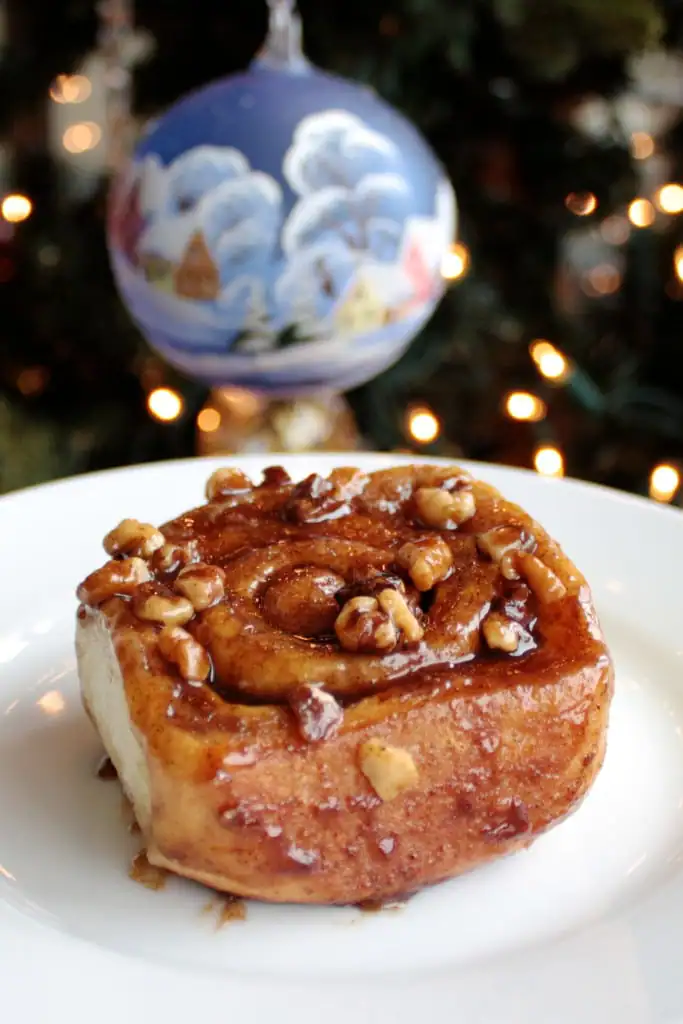 I've made these Overnight Cinnamon Rolls five years in a row now and will continue to make them for years to come. The ability to prep them the day before is HUGE. All you have to do in the morning is take them out of the fridge and let them sit for an hour or so, then bake.
Looking for more Holiday recipes?
Tips for making this overnight cinnamon rolls recipe
The recipe calls for active dry yeast, do not use instant!
You can use any nuts you like — walnuts, pecans, etc — or leave them out altogether.
If you plan to bake them the same day, cover the rolls in the baking dish as per recipe and leave them on the counter for an hour to rise.
One year I doubled the caramel recipe because I thought it could use a bit more — this was too much! If you're a caramel lover and like them extra gooey, you can 1.5x the caramel recipe.
Or, if you're a frosting fiend, you can make an additional cream cheese frosting to go over top of these. They will be very rich and sweet though.
Overnight Cinnamon Rolls
This overnight cinnamon rolls recipe is a huge time saver! Make them in advance, refrigerate, then pop them in the oven in the morning. 
Ingredients
Instructions
Yeast Mixture:
In a small bowl, dissolve 1 tsp granulated sugar and yeast in warm water. Let stand until frothy, approx 10mins. Make sure it's frothy! If not then your yeast hasn't activated and you need to redo it with a new package. Make sure the water is warm and your yeast is not expired!
Milk Mixture:
In a small saucepan, warm the milk until it bubbles, remove from heat. Mix in 1/4 cup sugar, 1/4 cup butter and salt; stir until melted (easier if the butter isn't cold). Let cool until lukewarm.
Dough:
In a large bowl combine the yeast mixture, milk mixture, eggs, and 1 1/2 cup flour. Stir with a wooden spoon to combine. Add in the remaining flour 1/2 cup at a time, incorporating well after each addition.

When the dough comes together, turn it out onto a lightly floured surface and knead until smooth, about 7-8 minutes.

Lightly oil a large bowl, place the dough in the bowl and turn it over to coat it with oil. Cover the bowl with a damp tea towel and let rise in a warm place until doubled in volume, approx 1 hour.
Caramel Glaze:
While dough is rising, melt 3/4 cup butter in a small saucepan over medium heat. Stir in 3/4 cup brown sugar and whisk until smooth. Pour into greased 9x13" baking dish. Sprinkle 1/2 cup walnuts over top and set aside.
Filling:
In a medium bowl, combine 3/4 cup brown sugar, 1/2 cup walnuts, and cinnamon. Set aside.
Assembly:
Grease a 9x13" baking pan or dish.

Turn dough out onto a lightly floured surface and roll into an 18x14" rectangle.

Spread approximately half (2 Tbsp) of softened butter over the dough leaving a 1" border. Sprinkle brown sugar cinnamon mixture over top, within the border.

Starting with the long side begin rolling tightly. Pinch seam well to seal.

Spread remaining butter over top and cut into 15 equal pieces with a serrated knife. Place into baking dish.

Cover baking dish tightly with plastic wrap and place in the fridge overnight. (

If baking same day, cover rolls and let rise for 1 hour or until doubled in size).

In the morning, remove dish from fridge and let the rolls come to room temperature. Approx 45mins to 1 hr.

Preheat oven to 375F and bake for 25-30mins until golden brown.

Let cool in pan for 3mins, then turn out onto a serving dish. Be careful as the caramel will be HOT!
Calories:
422
kcal
Carbohydrates:
52
g
Protein:
6
g
Fat:
21
g
Saturated Fat:
10
g
Cholesterol:
66
mg
Sodium:
177
mg
Potassium:
126
mg
Fiber:
1
g
Sugar:
25
g
Vitamin A:
520
IU
Vitamin C:
0.1
mg
Calcium:
54
mg
Iron:
2.1
mg
The nutritional information and metric conversions are calculated automatically. I cannot guarantee the accuracy of this data. If this important to you, please verify with your favourite nutrition calculator and/or metric conversion tool.
Originally posted on Feb 19th, 2015