This classic recipe pairs delicious moist chocolatey cake layers with a rich and silky chocolate buttercream. It's the only chocolate cake recipe you will ever need!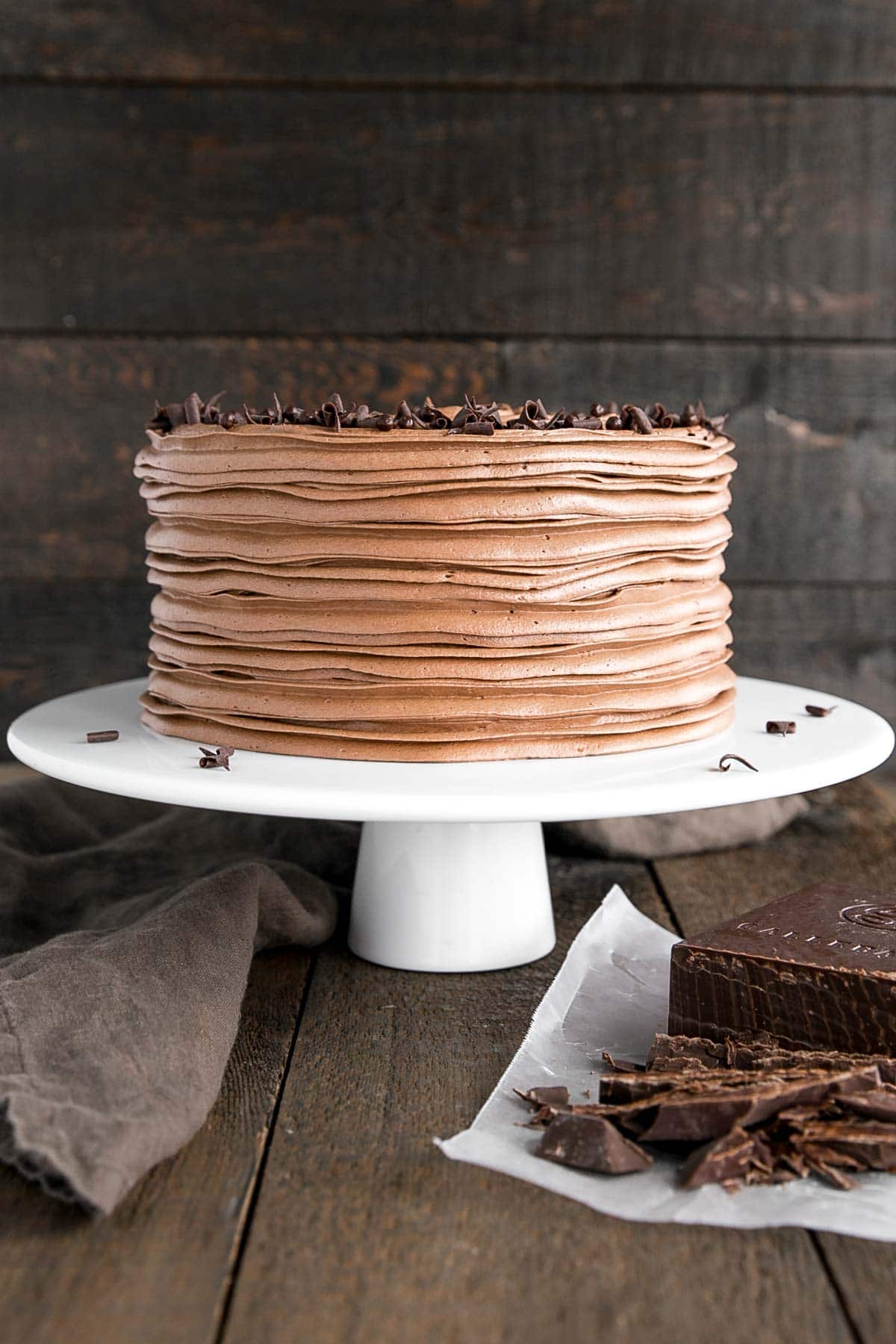 There are few things more comforting in this world than good old chocolate cake. It is, in fact, one of my most favorite things to eat. The classic combo of chocolate + chocolate is truly the best.
I'm so excited to share my favorite homemade chocolate cake recipe with you. It is delicate yet sturdy, with a perfect crumb, and full of flavor. I've been using this one for years and I love it. The best part? It's super easy to whip together and bakes up perfectly every time.
Whether you're celebrating a special occasion or satisfying a chocolate craving, this recipe is all you need.
How to Make the Best Chocolate Cake
This recipe uses a simple mixing method and simple ingredients. You don't have to worry about creaming butter and sugar or alternating flour and milk. You just:
Combine the dry ingredients
Combine the wet ingredients
Mix both together and bake
You can make this cake either using a stand mixer or just by hand using a large bowl or two.
If you prefer, you can use hot coffee instead of hot water. It is commonly used in this type of recipe and helps enhance the chocolate flavor a bit. I'm usually too lazy to make coffee and I find the hot water version perfectly delicious. Alternatively, you can dissolve 1 Tbsp of instant espresso powder in the hot water.
Buttermilk is needed for this recipe and can't be replaced with regular milk. If you don't have buttermilk at home read through the FAQ section below on how to make your own.
Cake Tip!
The cake batter will be very thin and liquid. This is normal! The batter also rises a lot so be sure not to fill your pans more than half full or so.
This recipe is a crowd-pleaser and a fan favorite. It will go perfectly with almost any flavor of frosting. Today, I've paired it with a classic chocolate Swiss meringue buttercream.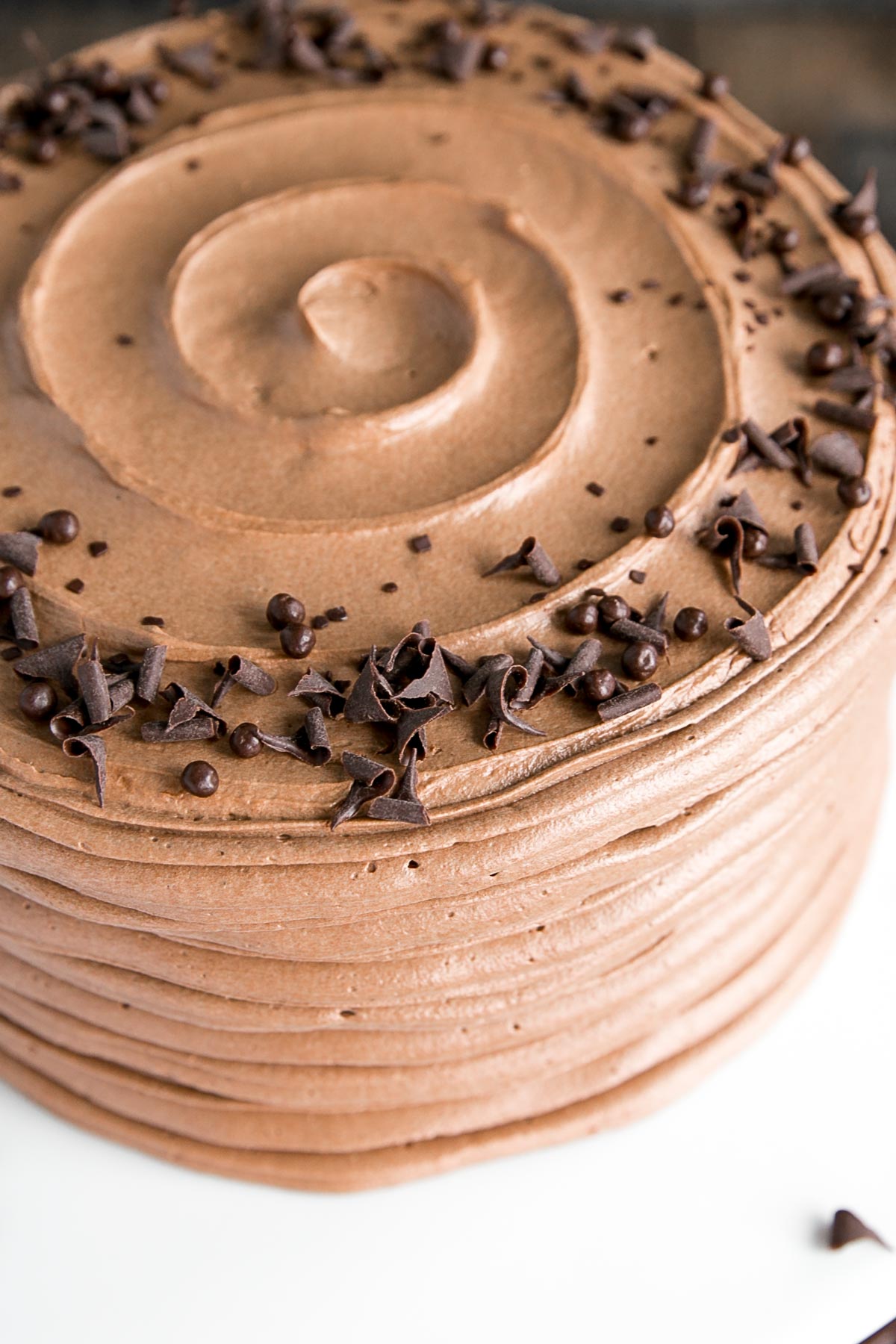 Chocolate Swiss Meringue Buttercream
This chocolate buttercream recipe is pure heaven. It is seriously SO good that you'll be eating it with a spoon. I've made chocolate Swiss meringue buttercream in the past, but have always struggled a bit getting it to look and taste very chocolatey. With American chocolate buttercream, it's easier to achieve that fudgy flavor and color.
If you'd like to enhance the chocolate flavor even more you can add a bit of cocoa powder to the buttercream like I did here in my German Chocolate Cake. You can just add it 1 Tbsp at a time until you get the desired flavor or color.
If you want a darker chocolate frosting you can also add some chocolate brown color gel to it. I don't find it necessary, but it's an option.
If you prefer an easier frosting, I have a great recipe for an American-style easy chocolate buttercream that you can use instead. Or, if you want something even richer, you can pair it with a chocolate ganache frosting.
Whatever frosting you choose, I do recommend using high quality chocolate for the buttercream as it will really improve the flavor and texture.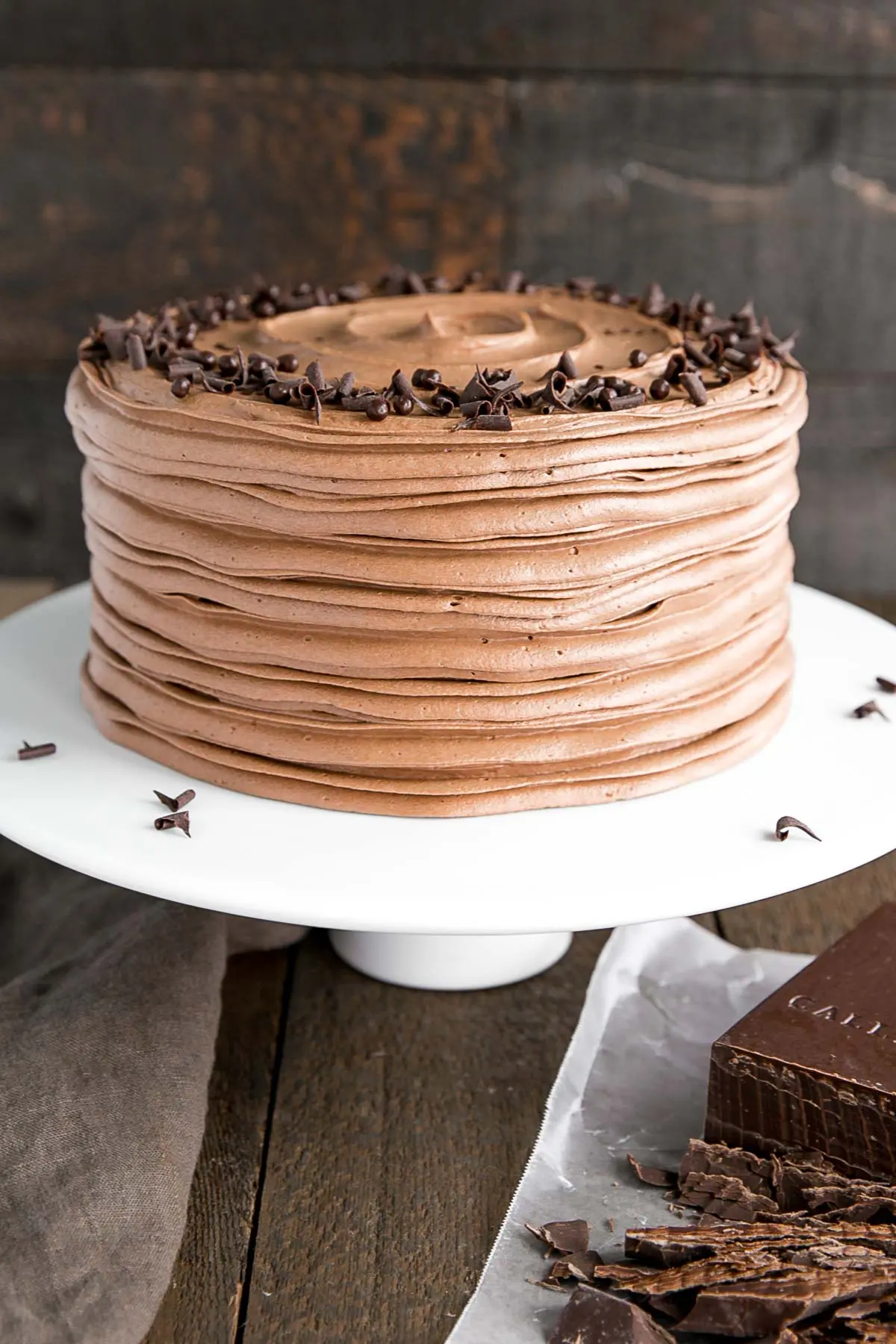 What is the Best Kind of Chocolate to Use?

Be sure to use the best quality chocolate you can get your hands on. This typically excludes anything you'd find in your local grocery store, but Lindt will do if you don't have access to anything else. When I'm using chocolate in ganache or frosting, I like to use a high-quality semi sweet chocolate from Callebaut which is readily available to me.

A high-quality chocolate will really enhance the flavor and texture of your cakes, cookies, and frostings. Other brands I like to use are Valhrona, Cacao Barry, and Ghirardelli.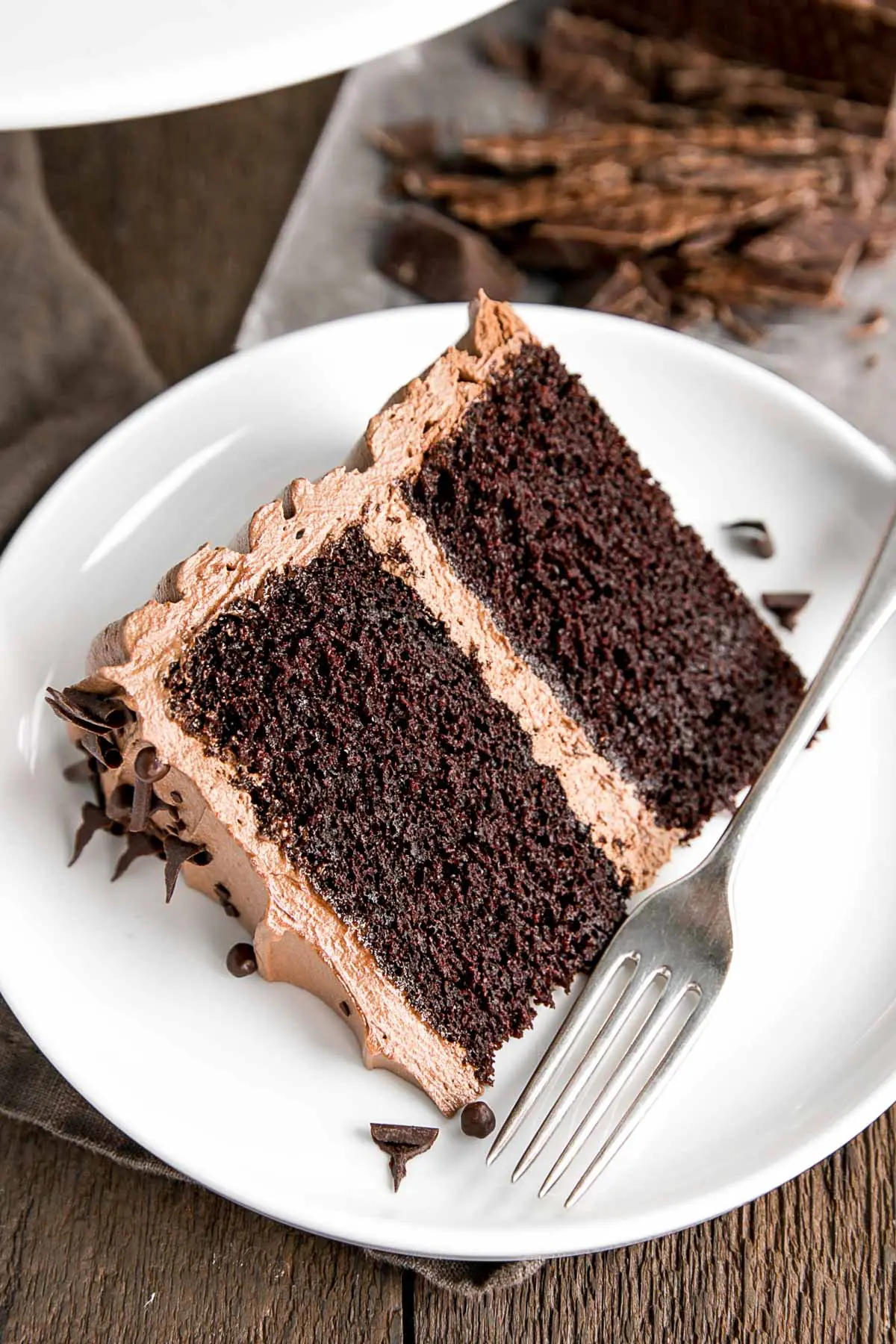 This deliciously moist chocolate cake recipe is a reader favorite and in my top 5 favorite cakes of all time. Perfect for the chocolate cake lover in your life. I am sure you will love it as much as I do!
Frequently Asked Questions
How can I convert this recipe?
You can use this recipe to make a three-layer 6″ cake instead, but make sure your cake pans are 3″ tall. Or use this recipe here.
To make cupcakes, all you need to do is reduce the baking time — start checking at 15mins or so. The recipe will make 18-24 cupcakes depending on size.
For other conversions go here. Bake time may vary depending on pan size.
Can I make it in advance?
The cooled cake layers can be baked ahead of time, double wrapped in plastic wrap, and frozen for up to 3 months. Take out 2-3 hours before assembly.
The frosting can be placed in an airtight container and refrigerated for 1 week or frozen for 3 months. Bring to room temperature and rewhip before using.
The finished cake (whole or sliced, stored airtight) can be frozen for up to 3 months.
Can I get the measurements by weight/grams?
There is a Metric option in the recipe card. If you click it it will convert everything to grams.
This conversion is done automatically and I cannot guarantee the accuracy but many readers have had success using the metric option for this recipe.
What if I don't have Dutch-process cocoa powder?
I like to use Dutch-process cocoa powder in all of my chocolate recipes, but most any kind of cocoa powder will work just fine.
Dutch-process has had some of the acid stripped from it and yields a richer flavor overall. Again, it won't make or break the recipe to use regular cocoa powder here.
What if I don't have buttermilk?
Buttermilk is not optional and cannot be swapped for milk as it will affect the overall result.
For best results, use actual buttermilk, but if you don't have any you can make your own at home by combining 1 cup of milk (whole milk ideally, but I often just use 1%) with 1 Tbsp of lemon juice or vinegar and letting it sit for 10mins.
Can I use hot coffee instead of hot water?
You'll often see this kind of chocolate cake recipe using hot coffee instead of hot water in the batter, and you can use either.
Does the sugar get mixed with the wet or dry ingredients?
I combine the granulated sugar with the dry ingredients.
Tips for making this Homemade Chocolate Cake Recipe
The cake batter will be very thin and liquid. This is normal! It also rises a lot so be sure not to fill your pans more than half full or so.
If you'd prefer to use an American-style buttercream with this chocolate cake you can double my Easy Chocolate Buttercream Frosting recipe.
I used a 1M tip to create the frosting effect on the side of the cake.
Be sure to use room temperature ingredients unless specified.
I like to prepare my cake pans using

Homemade Cake Release

and line with parchment paper.
Be sure to check my Swiss Meringue Buttercream post for tips and troubleshooting.
Learn how to keep your cakes moist using Simple Syrup.
To help ensure your cake layers bake up nice and flat, check out my How to Bake Flat Cake Layers post!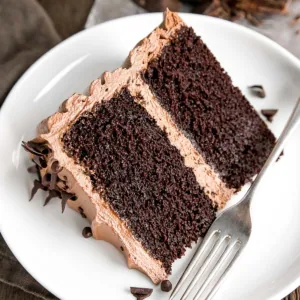 Homemade Chocolate Cake Recipe
This classic homemade chocolate cake pairs delicious chocolate cake layers with a rich and silky chocolate buttercream.
Ingredients
Chocolate Swiss Meringue Buttercream:
Assembly:
chocolate curls or sprinkles
Instructions
Chocolate Cake:
Preheat oven to 350F, grease two 8-inch cake pans and dust with cocoa powder. Line bottoms with parchment paper.

Place all dry ingredients into the bowl of an electric mixer fitted with a paddle attachment. Stir to combine.

In a medium bowl whisk all wet ingredients (pour hot water/coffee in slowly as not to cook the eggs).

Add wet ingredients to dry and mix on medium for 2-3 mins. Batter will be very thin.

Divide batter evenly in your prepared pans. I used a kitchen scale to ensure the batter is evenly distributed.

Bake for 40-45 mins or until a cake tester comes out mostly clean.

Cool 10 minutes in the pans then turn out onto a cooling rack to cool completely.
Chocolate Swiss Meringue Buttercream:
Place egg whites and sugar into the bowl of a stand mixer, whisk until combined.*

Place bowl over a double boiler on the stove and whisk constantly until the mixture is hot and no longer grainy to the touch (approx. 3mins). Or registers 160F on a candy thermometer.

Place bowl on your stand mixer and whisk on med-high until the meringue is stiff and cooled (the bowl is no longer warm to the touch (approx. 5-10mins)).

Switch to paddle attachment. Slowly add cubed butter and mix until smooth.**

Add cooled melted chocolate and whip until smooth.
Assembly:
Place a layer of cake on a cake stand or serving plate. Top with approx. 1 cup of buttercream and spread evenly. Place the second layer on top and do a thin crumb coat on the cake. Chill for 20mins.

Place 1 cup of frosting on top and spread evenly. Smooth the sides and flatten the top, then use a large offset spatula to do a swirl pattern on top.

Using a piping bag fitted with a 1M tip, pipe rows of frosting around the cake, starting at the bottom. Apply even pressure as you rotate your turntable. Continue working your way up the cake to the top, making sure the seams all align at the back.

Decorate the top with chocolate curls, pearls, and flakes if desired.
Notes
* Wipe your mixer bowl and whisk down with lemon juice or vinegar to make sure it is completely grease-free and make sure there is no trace of yolk in your whites or your meringue will not stiffen.
** The buttercream may look like it's curdled at some point. Keep mixing until it is completely smooth. If it looks soupy, place it in the fridge for 20mins and rewhip.
Calories:
872
kcal
Carbohydrates:
98
g
Protein:
9
g
Fat:
52
g
Saturated Fat:
34
g
Polyunsaturated Fat:
2
g
Monounsaturated Fat:
13
g
Trans Fat:
1
g
Cholesterol:
115
mg
Sodium:
448
mg
Potassium:
384
mg
Fiber:
5
g
Sugar:
74
g
Vitamin A:
1033
IU
Calcium:
80
mg
Iron:
5
mg
The nutritional information and metric conversions are calculated automatically. I cannot guarantee the accuracy of this data. If this is important to you, please verify with your favorite nutrition calculator and/or metric conversion tool.