This Strawberry Shortcake Cake gives a new twist to an old classic. Vanilla cake layers, fresh strawberries, and mascarpone cream!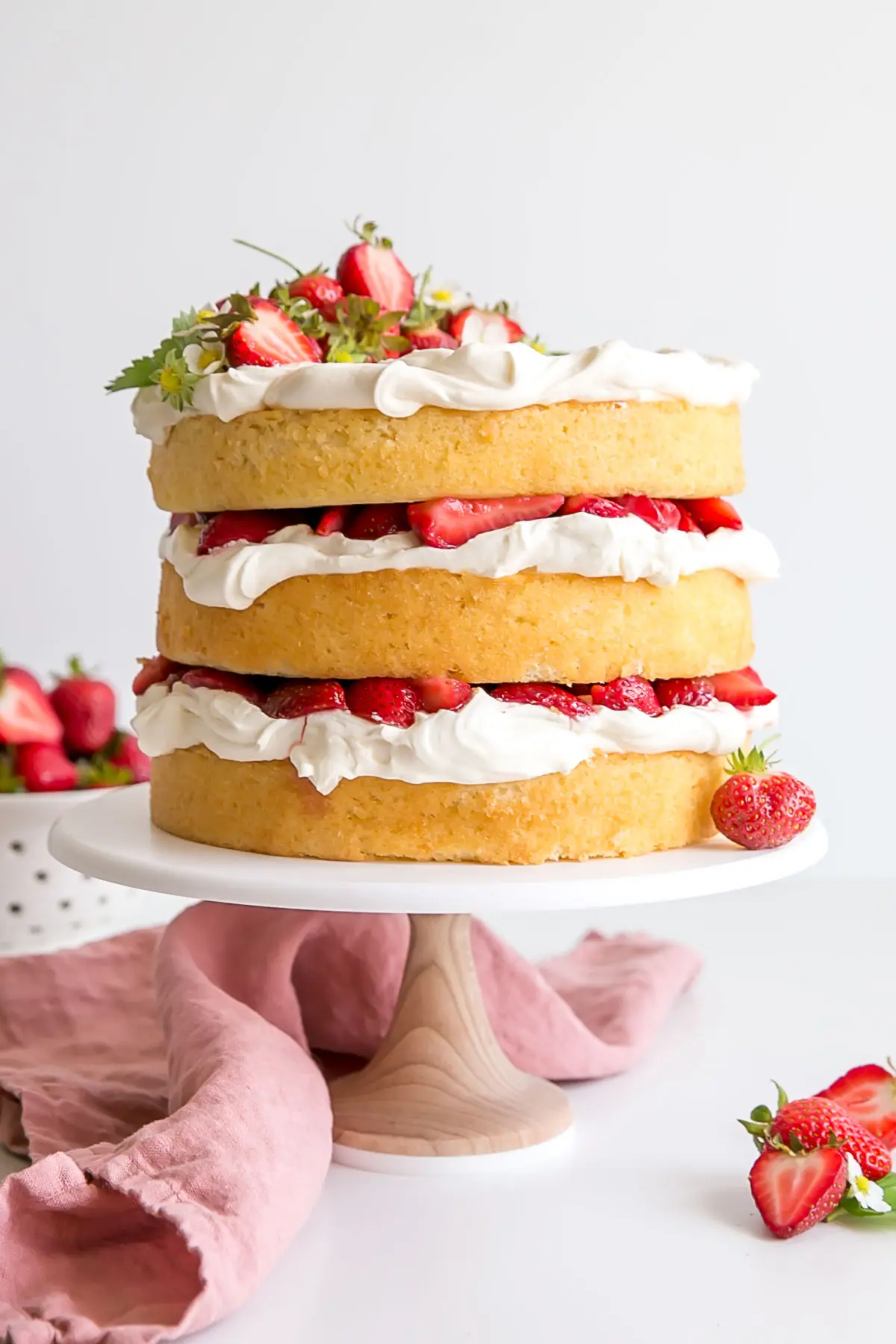 How do you know if you're allergic to something?
I feel like I might be mildly allergic to strawberries, but not in the typical way. Occasionally (but not always) when I eat some I get a bit of a weird feeling in my throat, kind of a scratchiness, or tightness, or something. But when I was making this Strawberry Shortcake Cake it was different — I hadn't eaten any of the strawberries yet.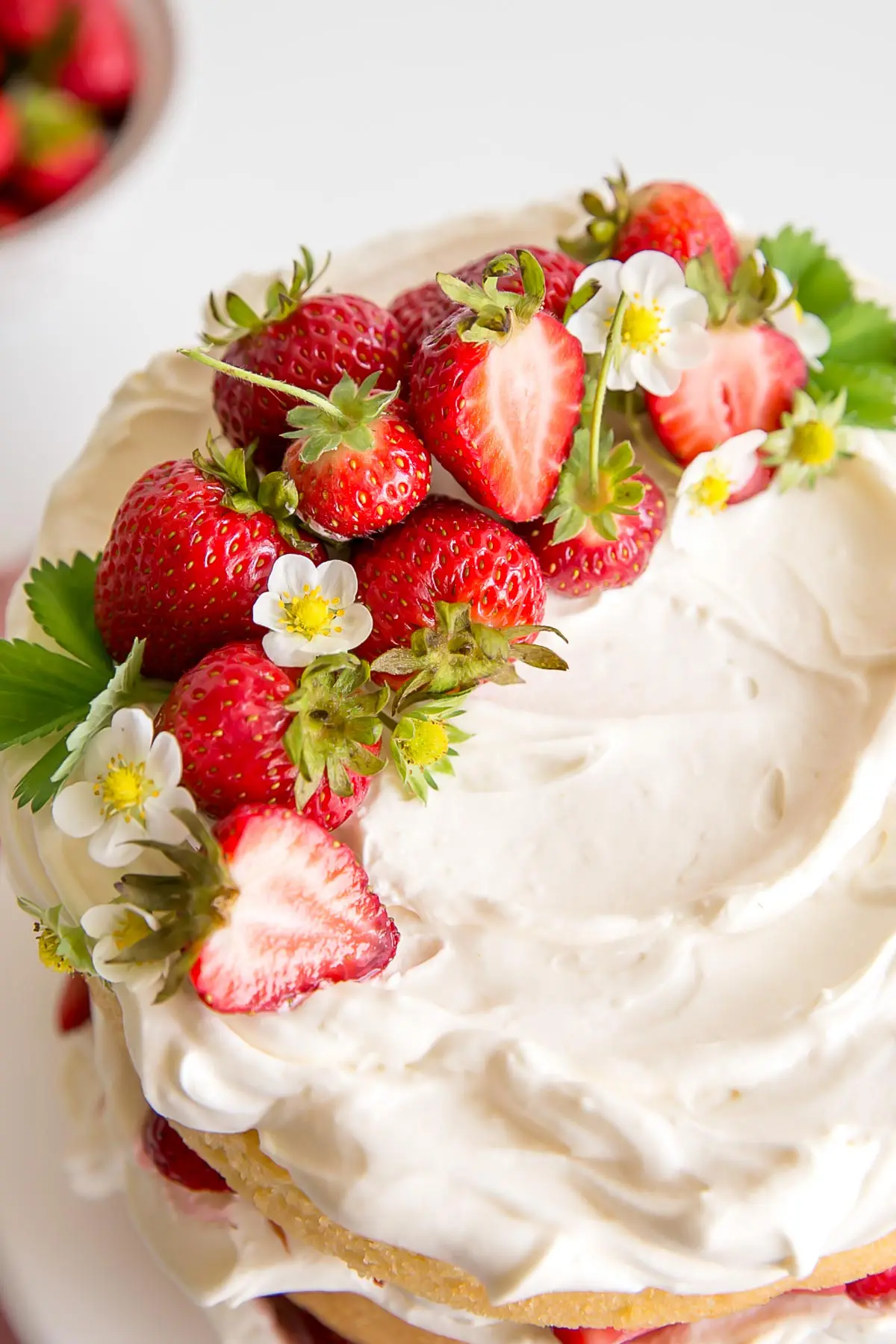 I was quartering about 4 cups of them for the filling and I started to find it hard to breathe. Not like call an ambulance hard to breathe, but I felt like my throat was closing up a bit, just from the SMELL. Is that possible?
They were crazy fragrant. Some borderline overripe and very potent. It took about an hour for the feeling to subside once I was away from them. Maybe it's all psychosomatic or maybe I'm just allergic to strong smells of any kind. *Shrug*. I'm still alive today but let it be known I may have risked my life making this Strawberry Shortcake Cake for you!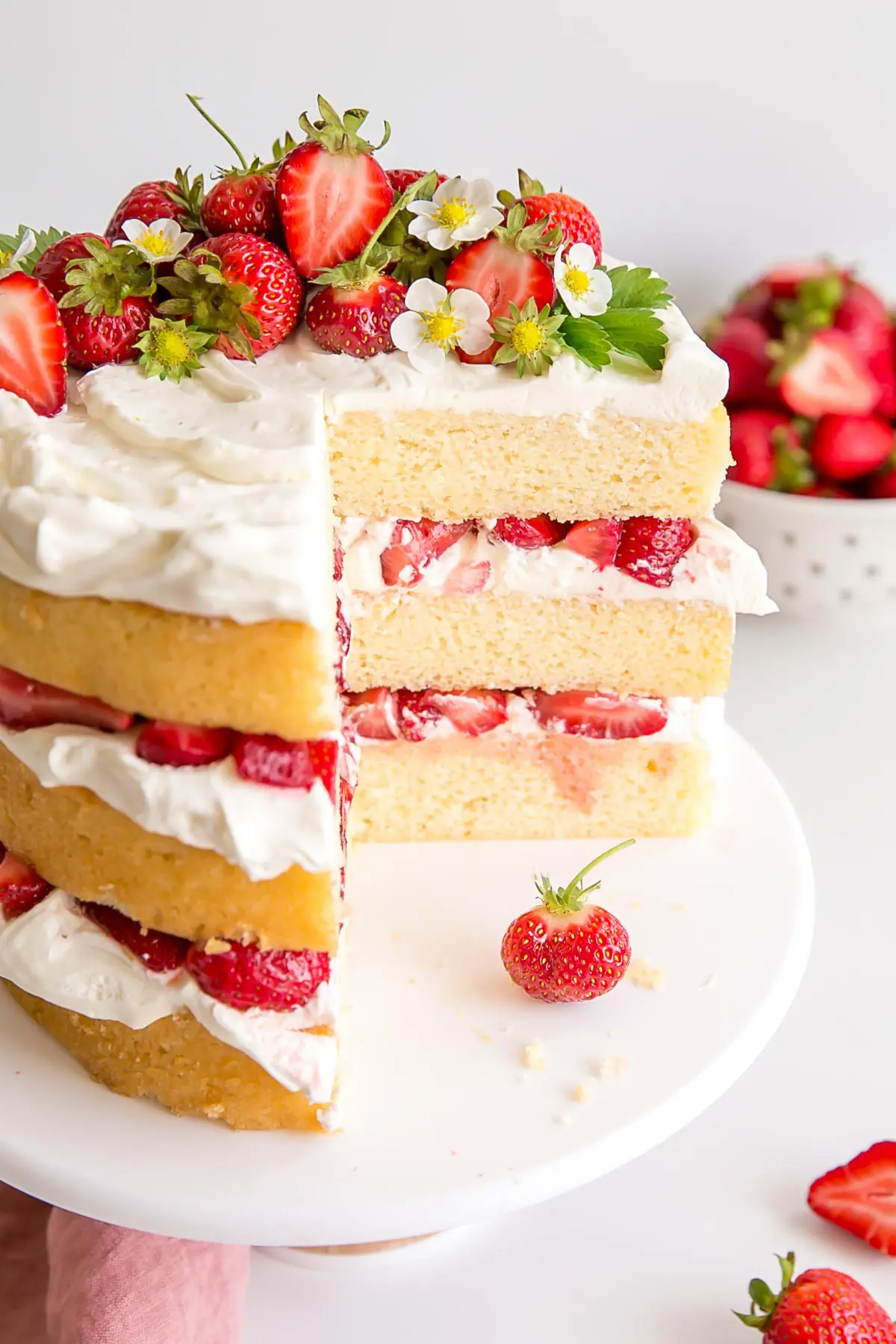 What is Strawberry Shortcake?
Traditionally, strawberry shortcake is a dessert consisting of a shortcrust biscuit that's cut in half and sandwiched with whipped cream and macerated strawberries.
My interpretation of the traditional strawberry shortcake consists of buttermilk vanilla cake layers, fresh macerated strawberries, strawberry syrup, and mascarpone whipped cream. The latter which is really the star of the show here.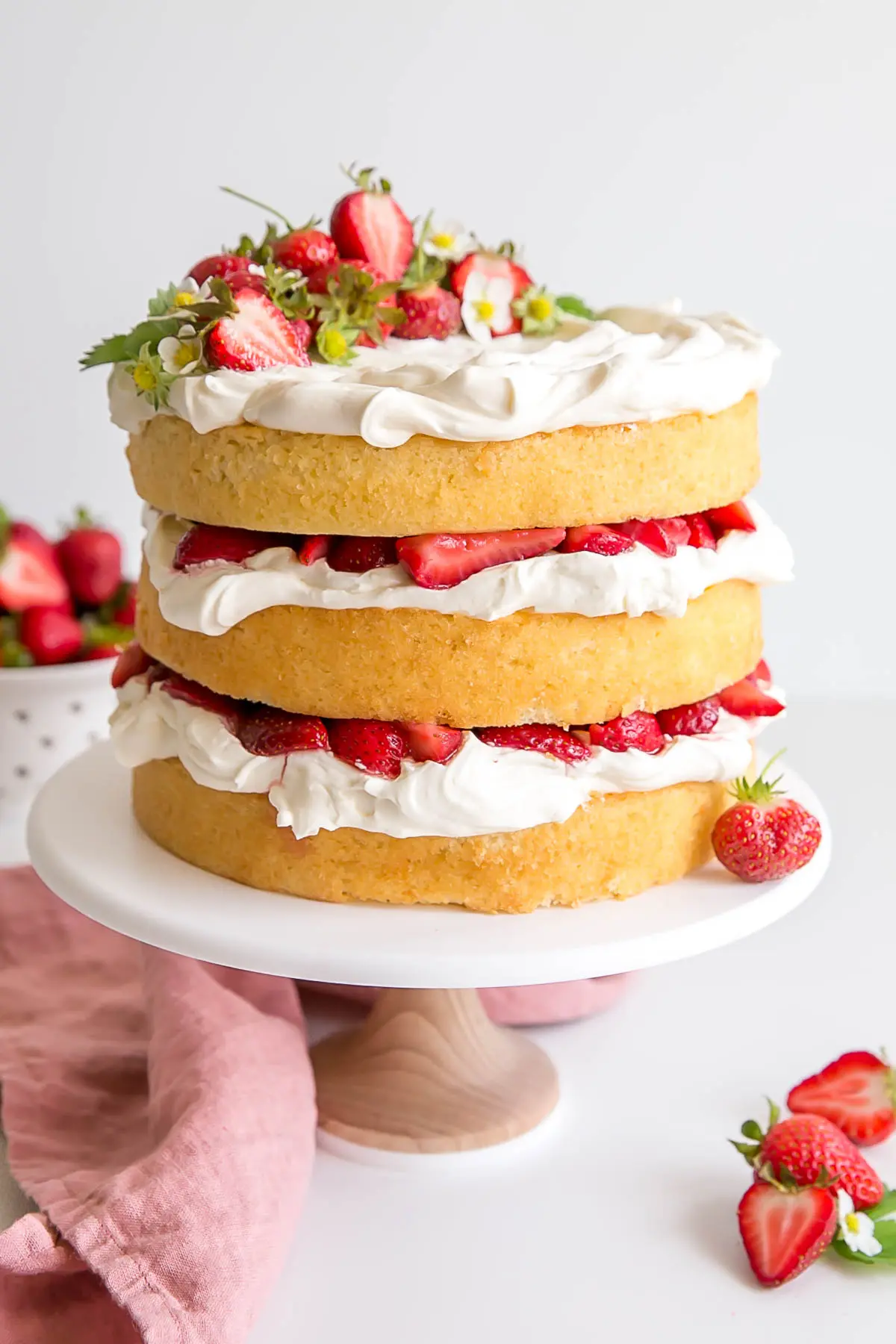 How do you make Mascarpone Cream?
There are many variations on how to make this, but I'm going to tell you how I did it. Not that this is the only or right way to do it, it's just what worked for me.
Mascarpone has a very high fat content and can split very easily if overwhipped. It's not the easiest to work with, but it's SO delicious, so I'm going to tell you my method for keeping it smooth and silky.
Chill your mixer bowl and whisk until cold — a few hours in the fridge or 15mins in the freezer will do.
Whip your (cold) heavy cream until still peaks form. Be careful not to overwhip or it will turn to butter (for real).
Transfer whipped cream to a separate bowl — no need to clean the mixer bowl or whisk.
Place the chilled (but slightly softened) mascarpone in the mixer bowl and beat with a paddle until smooth. Add sugar and beat until smooth.
Fold mascarpone into whipped cream.
Transfer back into mixer bowl and whip until stiff. Be careful not to overwhip!
It's a few extra steps, but I think it helps ensure a smooth frosting. My mascarpone was actually too cold still and I didn't smooth it before adding the sugar, so it had some small clumps of cheese that wouldn't smooth out. Slightly softened mascarpone would work best. Don't use room temperature though as it's more easy to split.
Cake Assembly
I also took a few extra steps when assembling this cake. Optional, but overall I think it made for a cleaner finished look so I'm recommending you do it this way too. Basically I decorated each layer separately, then chilled them, then stacked. This helps the mascarpone cream set a bit and gives more structure to the cake.
Place each layer of cake on a cake board or similar — something you can easily move them off of after to stack.
Drain strawberries, but reserve the syrup (optional).
Drizzle 2-3 Tbsp of strawberry syrup on each cake layer (optional). I did this with my bottom layer but forgot to do it with the rest (oops), just do them all at the same time so you don't forget like me!
Top each cake layer with 1/3 of the mascarpone cream. Spread roughly with the back of a large spoon.
Carefully spoon 1 1/2 cups of strawberries evenly onto two of the layers. The third layer (the top) is strawberry-free. The recipe makes enough strawberries to cover all 3 layers (rather than the decorative layer I have on top). You can do it either way.
Chill each cake layer for 15-30 mins.
Carefully remove cakes from cake boards and stack them onto each other.
Refrigerate until ready to serve.
Serve within a day or two. Must be refrigerated.
Can I make this cake in advance?
Not really. The mascarpone cream does not keep well especially once stacked with the berries. The juices from those will start to break the cream down a bit. It's best to serve it same day if possible.
You can make the cake layers in advance though. Once cooled, wrap them in plastic and freeze until ready to use.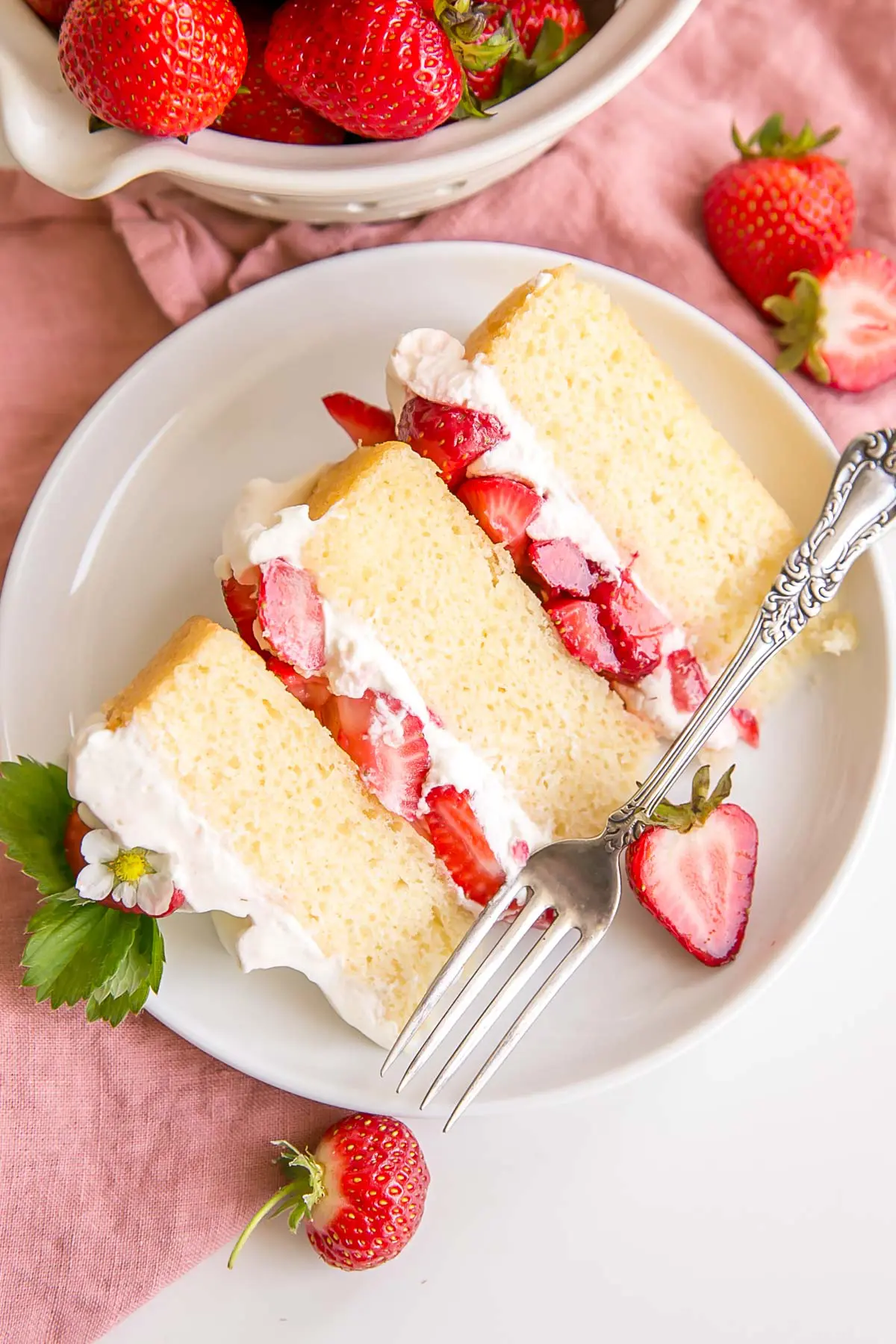 This cake is really very easy to make, but if you'd like to make it even easier you can use my favorite modified box mix recipe for the cake layers instead!
If you're looking for a light, summer dessert to make the very best use of those fresh berries, this Strawberry Shortcake Cake is calling your name!
Frequently Asked Questions
How can I convert this recipe?
The recipe as-is will also work in two 8″ pans as long as they are 3″ tall, or two 9″ pans. Baking time may need to be adjusted.
For a three layer 6″ cake, change the Servings to 12 and use those amounts. Or, if your pans are 3″ tall you can leave the recipe as is. The layers will be thicker so baking time will need to be adjusted.
To make cupcakes, all you need to do is reduce the baking time — start checking at 15mins or so. The recipe will make at least 24 cupcakes depending on size.
For other conversions go here.
Can I make it in advance?
The cooled cake layers can be baked ahead of time, double wrapped in plastic wrap, and frozen for up to 3 months. Take out 2-3 hours before assembly.
The mascarpone cream will not keep. It should be made right before putting the cake together.
This cake will not keep long and does not freeze well. Ideally serve same day, but can be refrigerated for 1-2 days.
Can I get the measurements by weight/grams?
There is a Metric option in the recipe card. If you click it it will convert everything to grams.
This conversion is done automatically and I cannot guarantee the accuracy but many readers have had success using the metric option for this recipe.
Tips for making this Strawberry Shortcake Cake
To make it even easier, you can use my favorite modified box mix recipe for the cake layers instead.
For best results, make sure your cream, whisk, and bowl are chilled. This gives the whipped cream the most volume.
I found it best to decorate each layer separately, chill, then stack.
I used a large spoon to spread the mascarpone cream on each layer. I found this gives the best rustic look.
You can substitute any berry you like, or try it with a blueberry sauce.
I like to prepare my cake pans using

Homemade Cake Release

then line with parchment.
Learn how to keep your cakes moist using Simple Syrup.
To help ensure your cake layers bake up nice and flat, check out my Flat Top Cakes post!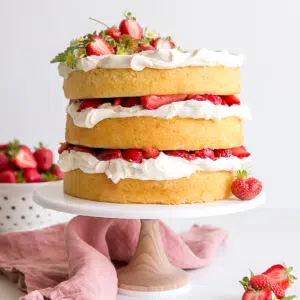 Strawberry Shortcake Cake with Mascarpone Cream
This Strawberry Shortcake Cake gives a new twist to an old classic. Vanilla cake layers, fresh strawberries, and mascarpone whipped cream!
Ingredients
Mascarpone Whipped Cream:
Instructions
Vanilla Cake:
Preheat oven to 350F. Grease and flour three 8″ cake rounds and line with parchment.

In a medium bowl, whisk flour, baking powder, and salt until well combined. Set aside.

Using a stand mixer fitted with a paddle attachment, cream butter and sugar on med-high until pale and fluffy (approx 3mins).

Reduce speed and add eggs one at a time fully incorporating after each addition. Add vanilla.

Alternate adding flour mixture with buttermilk, beginning and ending with flour (3 additions of flour and 2 of milk). Fully incorporating after each addition.

Spread batter evenly between the prepared pans and smooth the tops.

Bake for about 30 mins or until a toothpick inserted into the center comes out mostly clean.

Place cakes on wire rack to cool for 10mins then turn out onto wire rack to cool completely.
Strawberries:
Place quartered strawberries and sugar into a medium bowl. Stir to combine. Place in fridge and let sit for 15mins (up to overnight).

Drain strawberries before using in cake. Reserve syrup to drizzle on cake layers during assembly if desired.
Mascarpone Whipped Cream:
Place mixer bowl and whisk into the fridge or freezer to chill.

Pour cold cream into the bowl and whip on high until stiff peaks form. Set aside.

In a separate bowl, beat mascarpone until smooth. Add sugar and beat until combined*

Combine whipped cream and mascarpone mixture until smooth and stiff.*
Assembly:
Divide mascarpone cream into 3 equal portions.

Place one layer of cake on a cake stand or serving plate. Drizzle with reserved strawberry syrup if desired.

Roughly spread 1/3 of the mascarpone cream over the top of the layer. I used the back of a large spoon to do this.

Place 1 1/2 cups of quartered strawberries on top. Repeat with remaining layers leaving the top layer just with the mascarpone cream.**

Refrigerate until serving. Serve same day.
Notes
* Be careful not to over beat as the mascarpone will curdle.
** I found it easiest to do each individual layer separately, chill them all for 15mins, then stack. This amount of strawberries is enough to cover all 3 layers. If you prefer to leave the top layer like I did, you'll need 3 cups of quartered berries total.
Calories:
832
kcal
Carbohydrates:
84
g
Protein:
7
g
Fat:
53
g
Saturated Fat:
32
g
Cholesterol:
227
mg
Sodium:
179
mg
Potassium:
195
mg
Sugar:
65
g
Vitamin A:
1705
IU
Vitamin C:
5.9
mg
Calcium:
77
mg
Iron:
1.7
mg
The nutritional information and metric conversions are calculated automatically. I cannot guarantee the accuracy of this data. If this is important to you, please verify with your favorite nutrition calculator and/or metric conversion tool.
This post was originally published on 06/28/19 and was updated with new content on 06/25/21.