This flourless chocolate espresso cake with a crispy top crust and a rich fudgey interior is a chocolate lover's dream!
What a week! It all started with a sore throat on the 4th. What I thought was a minor cold that would last a couple days turned into a relentless ongoing cough that has taken over my life. The typical cold symptoms subsided after a day or two, but then the cough started. A constant tickle in my throat that gets so bad I'm sometimes left gasping for air. No joke. Needless to say, this has been a pretty sleepless week.
No amount of over the counter medication has helped, not even a little bit! Buckleys, Benylin, Sucrets, Ricola… I could go on and on. It's like we're running our own little private pharmacy over here, with my frustration growing more and more each day.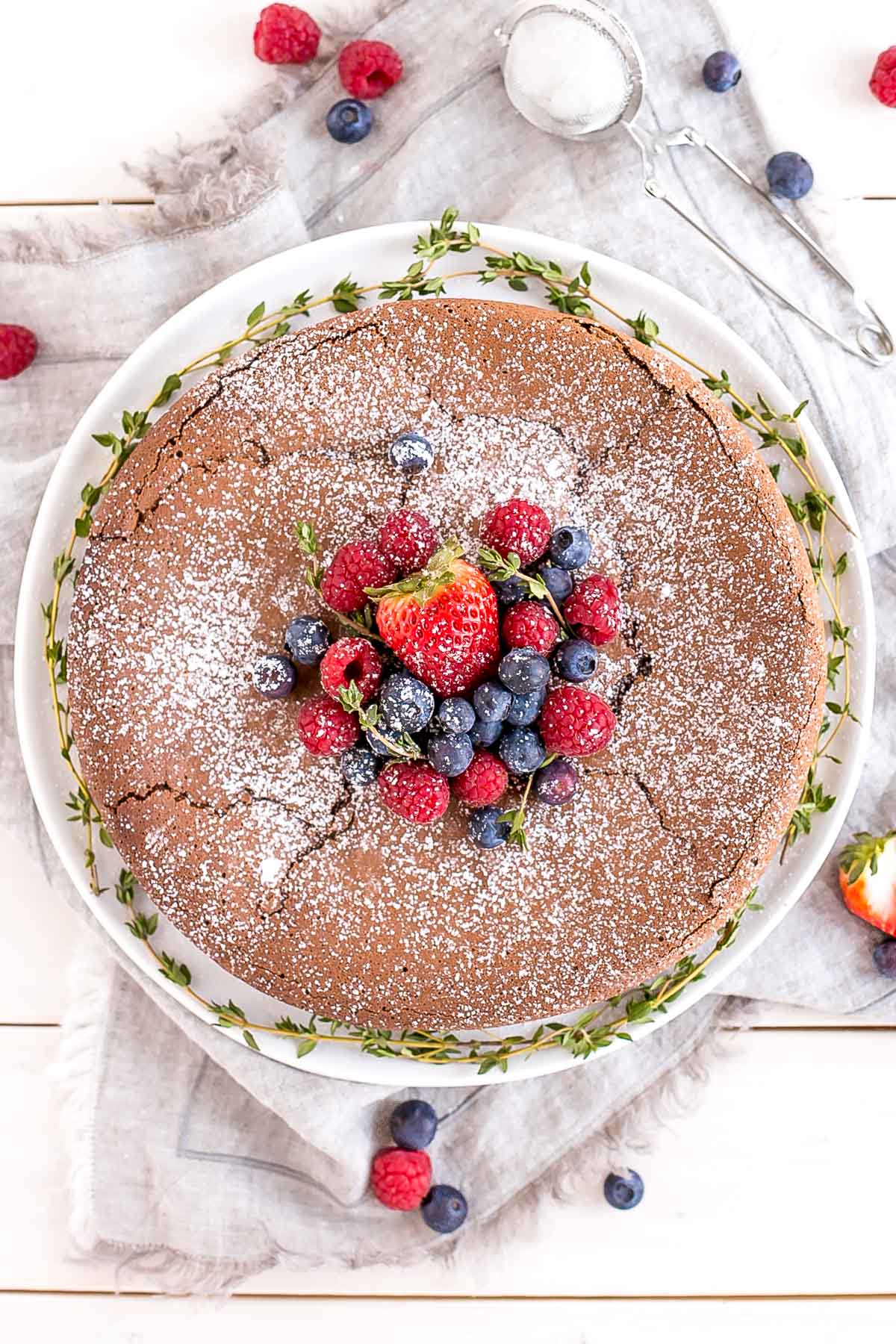 I do NOT get sick. I am so careful about using hand sanitizers, wiping things down, staying way from sick people (as much as I can) and taking preventative vitamins if I feel something coming on. I'm a bit of a germaphobe and it honestly enrages me if people are out and about when they're sick — coughing without covering their mouths, sneezing all over the place. RAGE. Total disregard for others, and it happens way too often. Ugh, can you tell this cold has me mega-grumpy?
By some miracle, I managed to get in to see my family doctor on Friday. Usually it's a 3 week wait to get in to see her, but I managed to piggy back on an appointment that Ryan had with her in the afternoon. I happened to have a major coughing fit right in her office, and when she saw me she ran to get a face mask and put it on, lol. I can imagine how disgusting I must have looked/sounded.
She prescribed cough syrup and a painkiller, since by this point my ribs were hurting from all the coughing. Would you believe we had to go to 3 (!!!) different pharmacies to get the cough syrup?! Everyone was out, and I was slowly breaking into a panic that we wouldn't be able to find any. Third time was a charm.
My cough is "better" today, but not gone. I am relieved to have gotten a good night's sleep finally though! Ok, enough whining about my cold, on to this Flourless Chocolate Espresso Cake!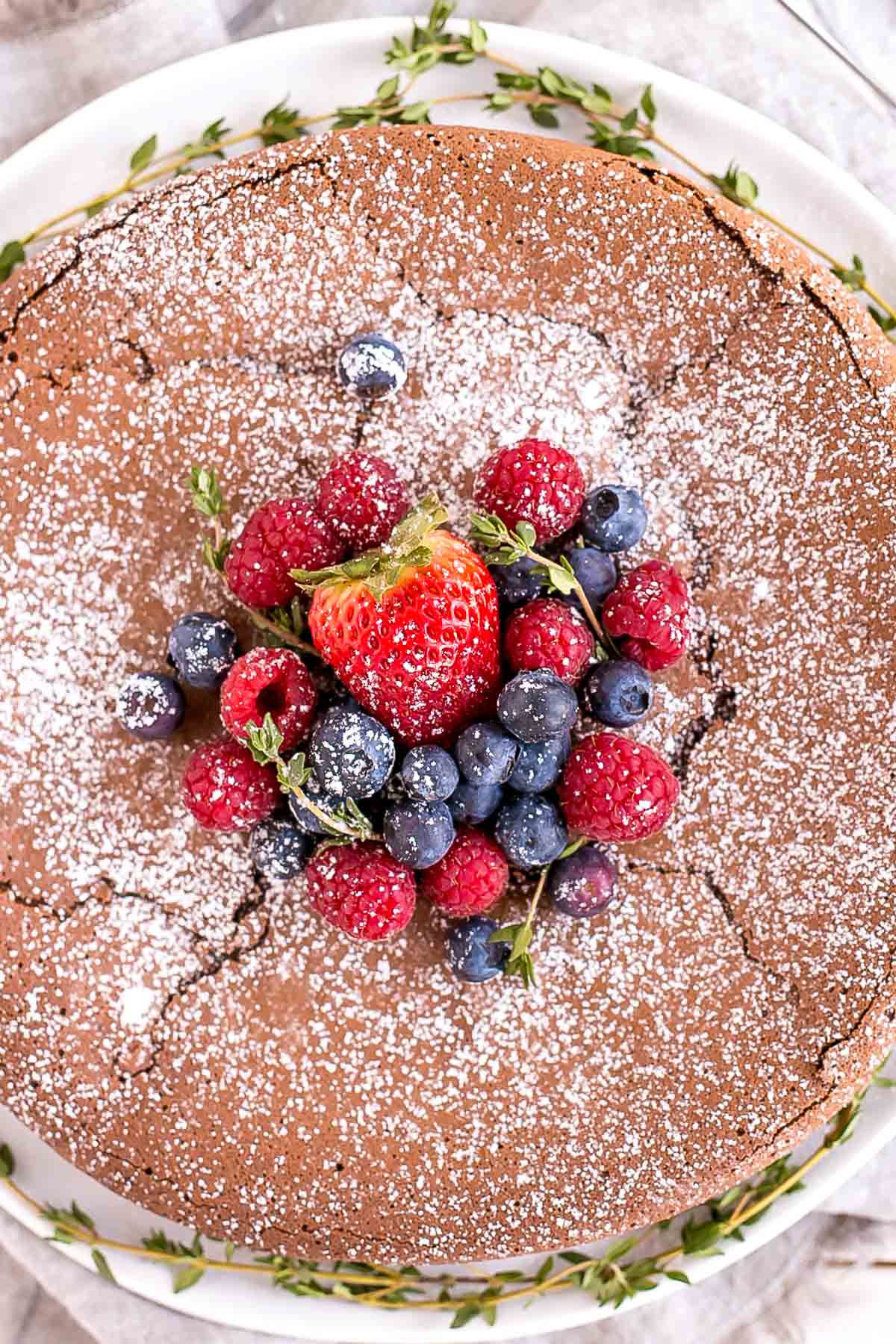 This is my second time making a flourless chocolate cake — the first time was in Pastry School a couple years ago with my friend Lindsay for our final project. The one we made was more of a chocolate paté and didn't have a crunchy crust like this one, but it was every bit as delicious.
There are a variety of ways to make a flourless chocolate cake. Some call for whipping the yolks and eggs separately, some call for no whipping at all, and some (like this one) call for whipping the whites only. There is no right or wrong way, though it will affect the texture of your end product. All are equally delicious.
This flourless chocolate espresso cake consists of few simple ingredients — chocolate, butter, eggs, sugar — and is relatively easy to make. The most challenging part is probably chopping all of the chocolate! I hate chopping chocolate, maybe even more than making pie crust (not really, but it's close), so if you have any tips on how to quickly/easily chop chocolate, I would love to hear them!!
I chose to flavor this flourless chocolate cake with espresso, but you could leave that out or try a variety of other flavor combinations. The espresso really enhances the chocolate flavor and you know I love coffee with chocolate in desserts.
This Flourless Chocolate Espresso Cake has a very intense chocolate flavor. It's not overly sweet, so if you'd prefer something sweeter opt for a 50% or 60% dark chocolate (mine was 70%), or add a bit more sugar. Being flourless, it is completely gluten-free, so it is a great dessert for people with dietary restrictions.
I chose to top mine with a simple dusting of powdered sugar, but you could dust with cocoa powder instead, or serve with whipped cream or ice cream. Raspberry or caramel sauce would be a delicious compliment to it as well!
Notes & tips for this Flourless Chocolate Espresso Cake:
Don't overwhip the egg whites or they will be difficult to fold in.
It's ok if there are some white streaks of egg whites left, you don't want to fold too much and risk deflating it.
You can skip the espresso powder if you'd prefer just a chocolate cake.
Alternate serving options are drizzled with caramel or fruit syrups.
Flourless Chocolate Espresso Cake
This flourless chocolate espresso cake with a crispy top crust and a rich and fudgey interior is a chocolate lovers dream!
Ingredients
Flourless Chocolate Espresso Cake:
Instructions
Flourless Chocolate Espresso Cake:
Preheat oven to 350F. Butter the sides and bottom of a 9″ springform pan and dust with cocoa powder.

Place chocolate and butter into a large heatproof bowl. Place bowl over a simmering pot of water to create a double boiler. Melt until smooth and combined.* Cool slightly and whisk in egg yolks and espresso powder.

While chocolate is cooling, start whipping the egg whites in a grease free bowl. Just before they reach soft peaks, start adding the sugar 1 Tbsp at a time. Beat until almost at stiff peaks and glossy.

Fold 1/4 of the whites into the chocolate mixture to lighten it. Fold in the remaining whites.**

Spread evenly into prepared pan and smooth the top.

Bak for approximately 35mins or until cake is set in the center (a toothpick won't be completely clean)

Cool completely in pan on a wire rack.

Cake should pull away from sides of the pan as it cools, but run a knife around the edges if needed and remove the sides of the pan.

Dust with powdered sugar or cocoa powder if desired. Or serve with whipped cream, ice cream, or caramel or raspberry sauce.***
Notes
* You can also melt it in the microwave.
** It's ok if there are some streaks of whites.
*** Cake is easiest to cut when it is chilled. Cut slices about an hour before serving.
Calories:
281
kcal
Carbohydrates:
21
g
Protein:
5
g
Fat:
19
g
Saturated Fat:
10
g
Cholesterol:
130
mg
Sodium:
48
mg
Potassium:
238
mg
Fiber:
2
g
Sugar:
15
g
Vitamin A:
385
IU
Calcium:
37
mg
Iron:
3.3
mg
The nutritional information and metric conversions are calculated automatically. I cannot guarantee the accuracy of this data. If this is important to you, please verify with your favorite nutrition calculator and/or metric conversion tool.