Learn how to do two-toned spirals in the Heritage bundt pan with this detailed tutorial.
The response to my Rocky Road Bundt Cake was amazing!! I'm so happy that people liked it, and many of you asked for a tutorial on how I did the multi-colored spirals. Unfortunately, I rarely take pictures when I'm baking. I never think of it. It's too chaotic and messy, and my kitchen doesn't have the best natural light for photos. So I wait until everything is finished, and then haul all my photography gear and props into my brightly lit living room for photos. It's a pain in the ass, I'll be honest. While I was making the Rocky Road bundt, I did actually think: people are gonna want to know how to do this, I should be taking pics. So I took ONE crappy picture, but it didn't tell the story at all. So for this tutorial post, I had to bake the whole thing again.
This was not the easiest thing to do given where I usually take my photos. My setup includes using a center leaf from our dining room table as the surface, which I place on an ottoman in the living room for better lighting. To get overhead shots, I climb a stepladder and do my best to not fall over onto the whole setup while taking photos. There was just no way I was going to climb up a stepladder every 2 minutes for this tutorial though, AND I didn't want to go back and forth between my kitchen for each step because that 15 foot distance is really just too much for my lazy self. So, I placed the table leaf on the floor so I could stand over it to take pics, and I literally sat on the floor doing every step of this tutorial. The whole process (making bundt batter, step-by-step photos) took about 2 hours start to finish. No joke. That doesn't include cleaning, or taking photos of the glazed cake the following day because it clouded over once the cake cooled and I lost my light. Not that I'm complaining or anything, hah.
Oh and also, this is actually a three-toned bundt, but my 3rd tone was a bit of a fail. In light of not wanting it to be too dark chocolate, I made it too light and it looks like the plain one. Oh well! At least there's an even distribution of colored spirals this time.
For this tutorial you're going need a bundt pan (obviously), enough pastry bags for each color you do, enough cake skewers for each color (or something equivalent), and a spatula.
Alright, lets get started. At this point I'm going to assume you've already prepared your bundt batter and colored it per the directions in the recipe below. The recipe I used this time is a very basic pound cake that's easily customizable, but you can use any 10-cup bundt recipe for this pan. And really, this technique should work in most bundt pans (depending on your patience), but the one I'm showing specifically is the Heritage Bundt pan from Nordic Ware.
Step #1: Grease your bundt pan (I used cooking spray), and fill each of your pastry bags with one of the colors of batter.
Step #2: Cut the tip off the bag with the darkest color. I can't remember why I started with the dark, but it made sense to me at the time… Be careful not to cut off too much or it will be harder to control the flow! (Glasses to hold your piping bags come in handy).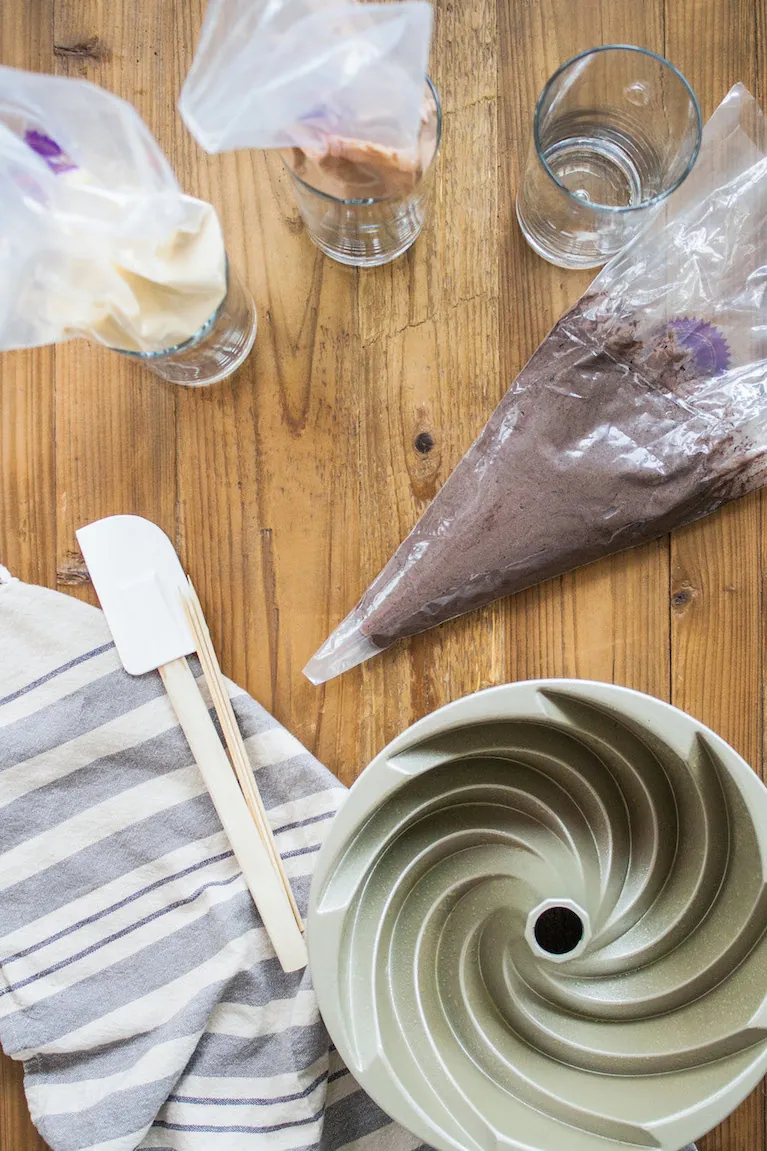 Step #3: Pipe the batter into the spirals, offsetting by the amount of colors you have. If you only have 2 colors you'll have an uneven amount of spirals as I did in the Rocky Road Bundt. Not many people noticed this, so I wouldn't worry about it.
Step #4: Use a cake skewer to nudge the batter into each crack and up towards the center of the spiral.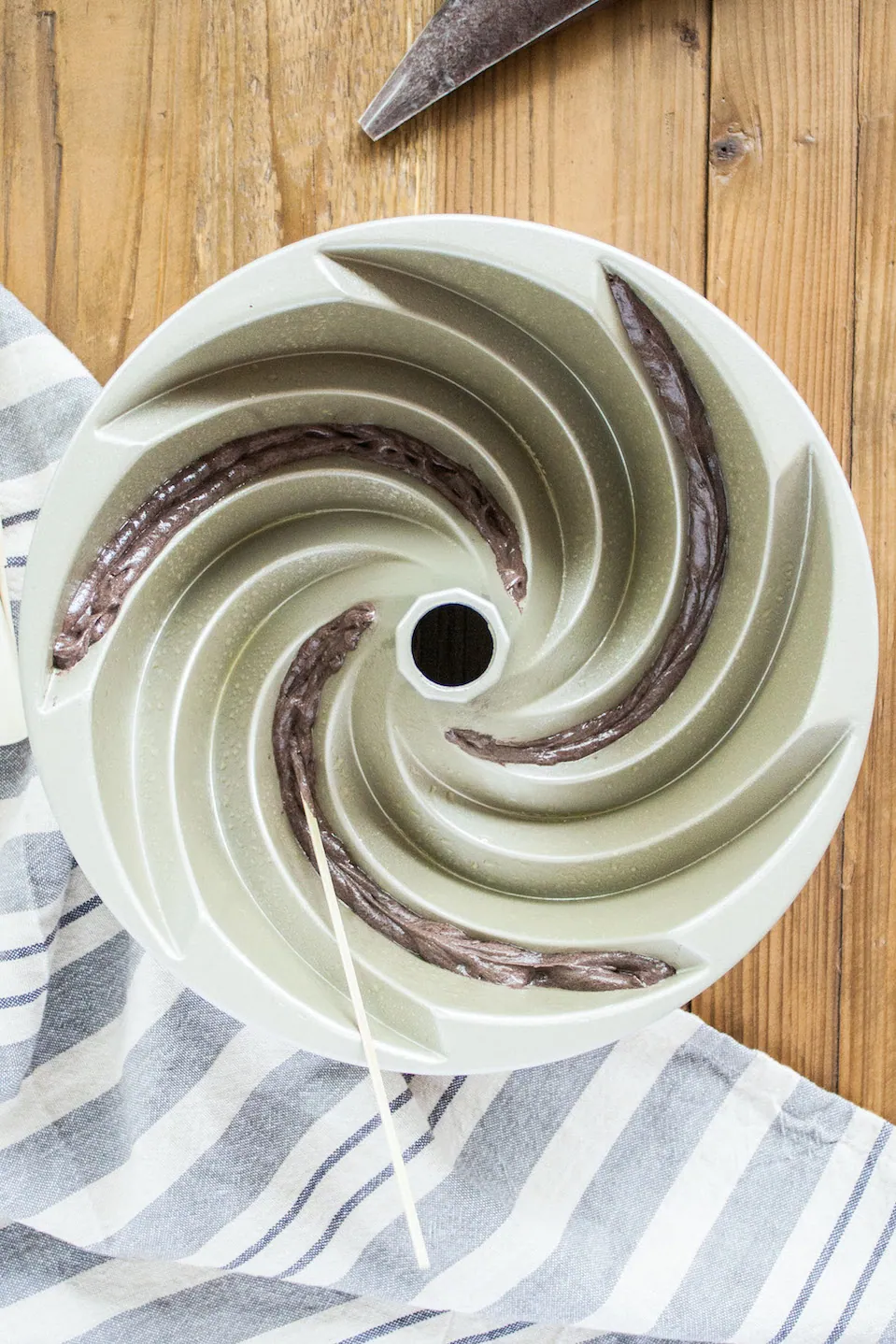 Step #5: Fill the rest of the spiral with the cake batter by piping it in.
Step #6: Spread the batter out evenly using the same skewer or a spatula. Be careful not to let it creep into the neighboring spiral. If it does, just nudge it out with the skewer. The good thing is that these areas of overlap will likely be covered with a glaze if you use one.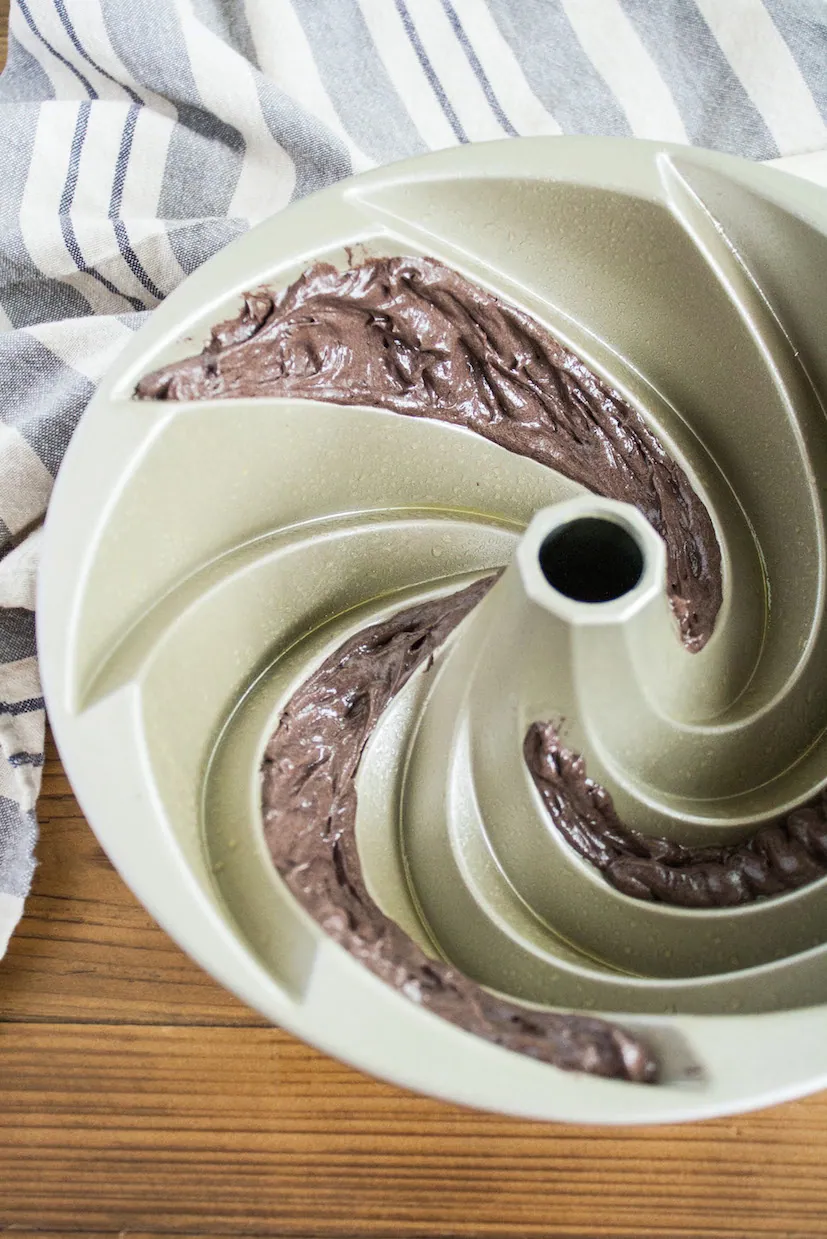 Step #7: Repeat process above with the second color.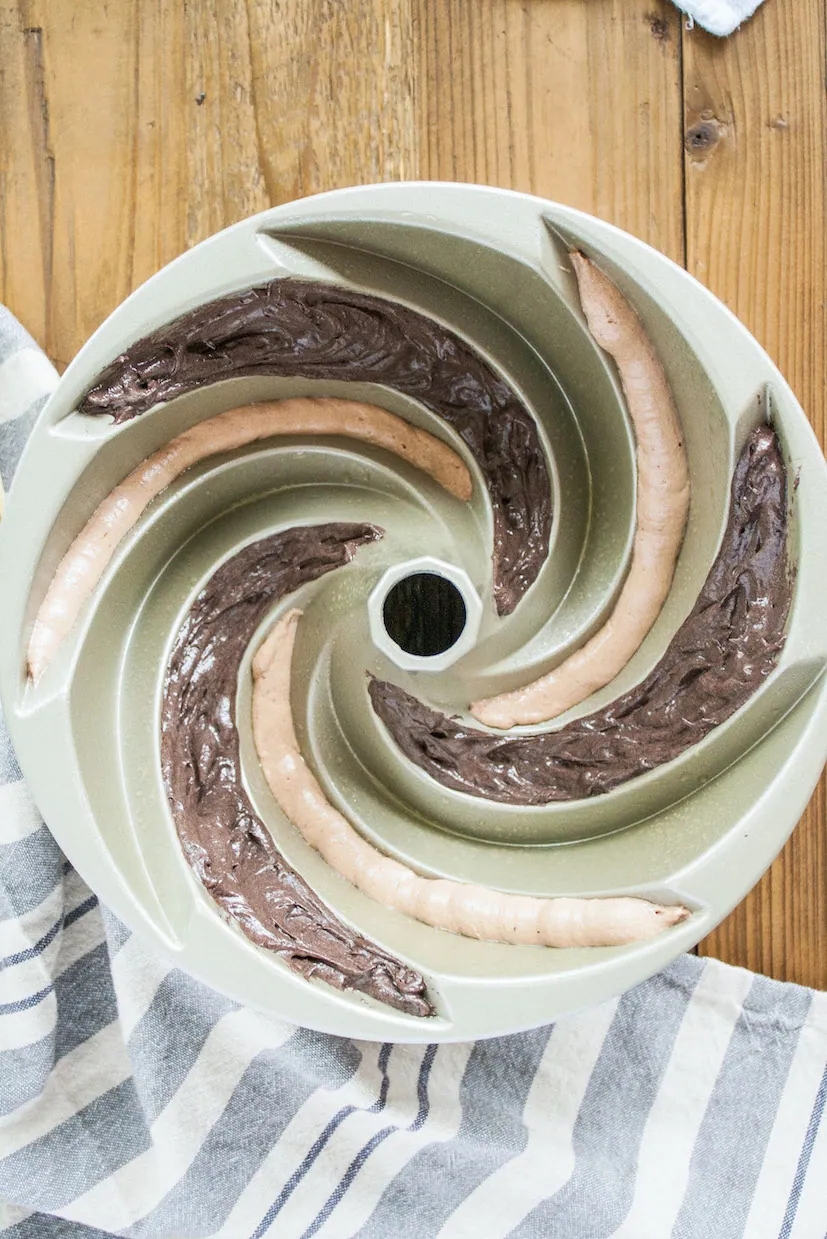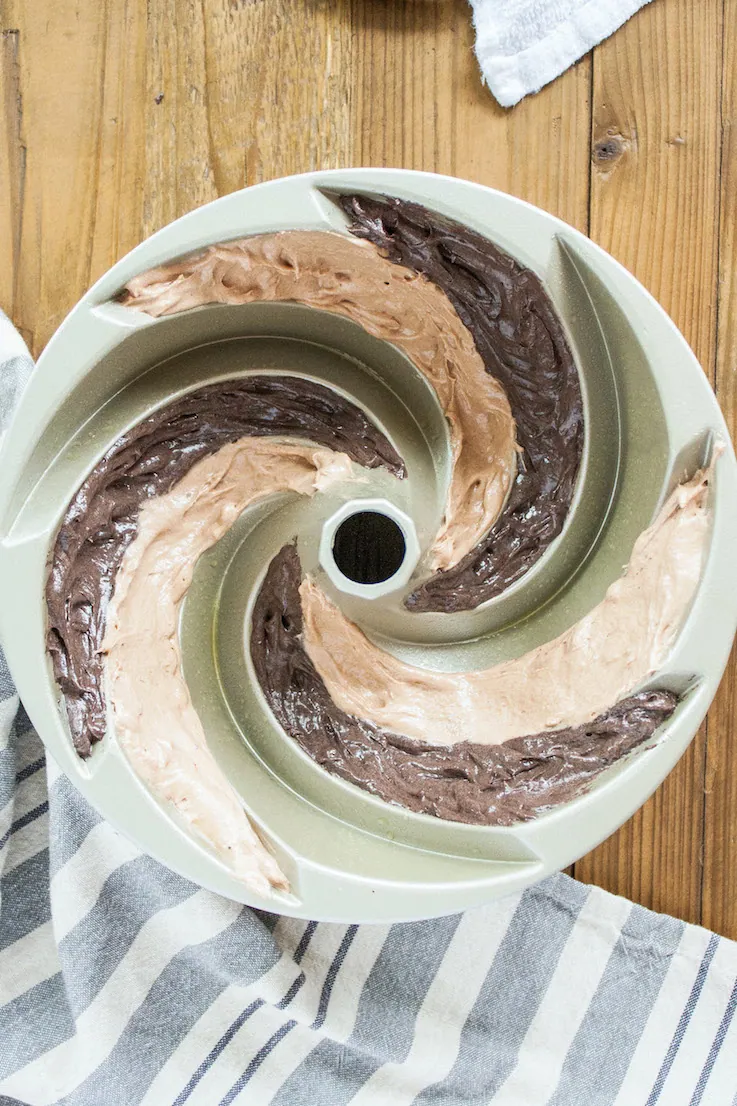 Step #8: And a third color if you have it.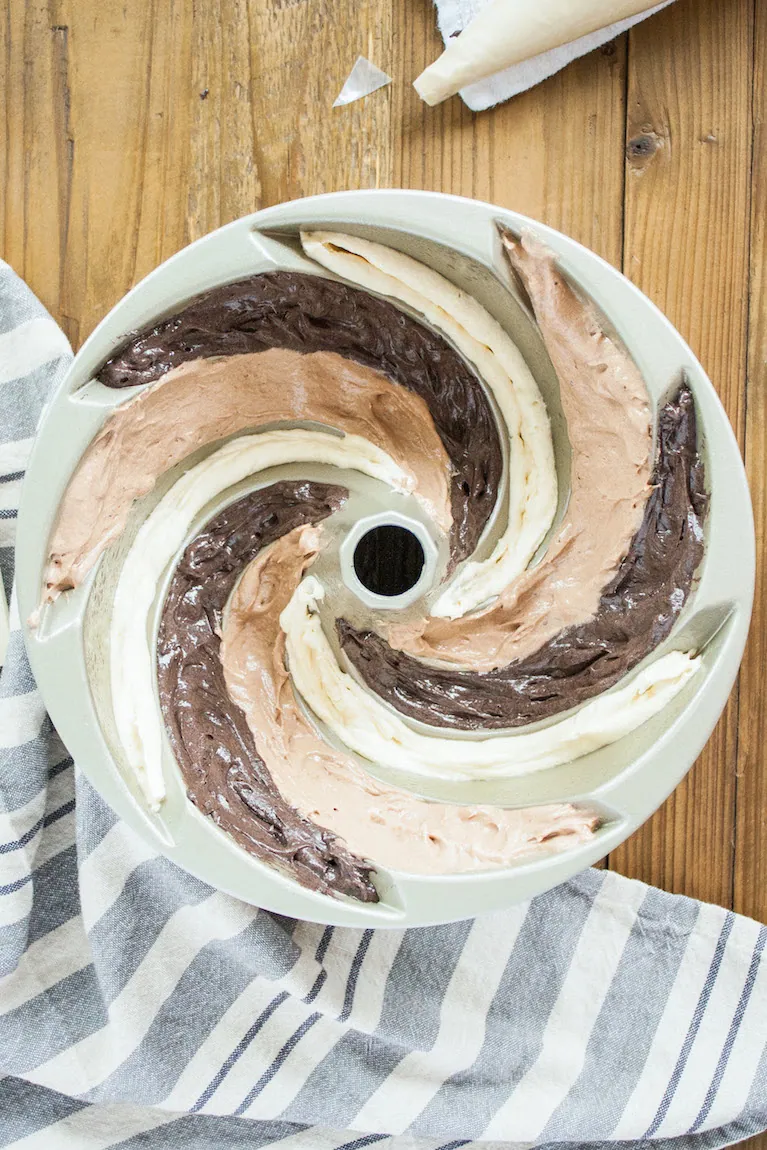 Step #9: Using a skewer, merge the batter between the spirals so there are no gaps.
Step #10: Roughly pipe in the rest of the batter. It doesn't really matter how you do this, as you've already created a "shell" for your cake. Last time, I just layered each color. This time I tried to keep with the general flow of the spirals.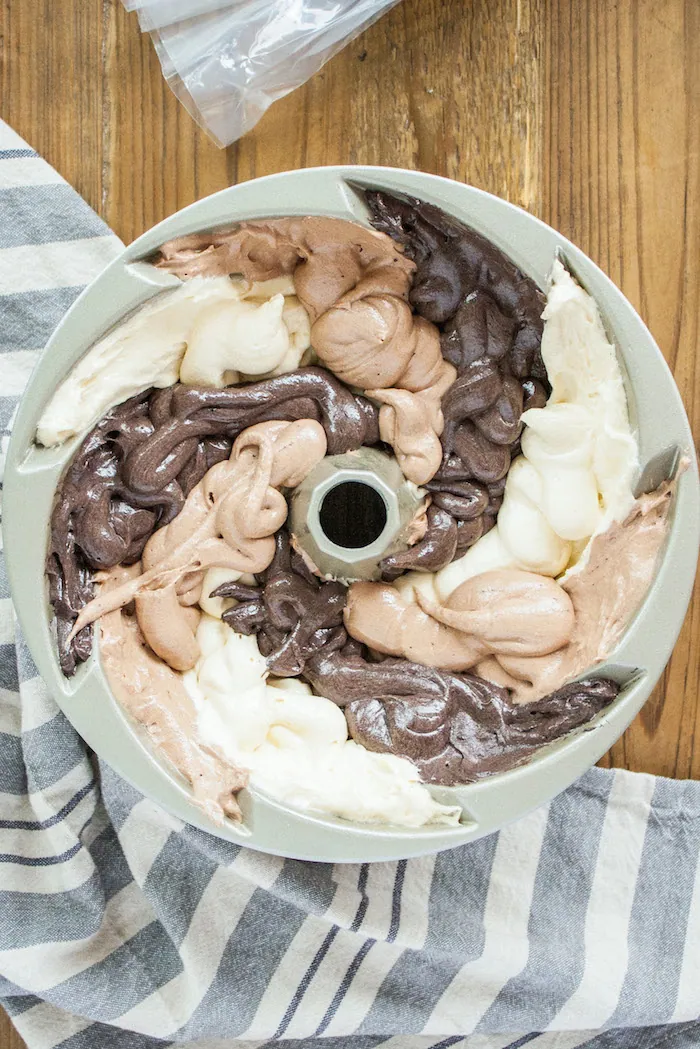 Step #11: Marble the batter (optional) with a cake skewer, and spread the top evenly with a spatula.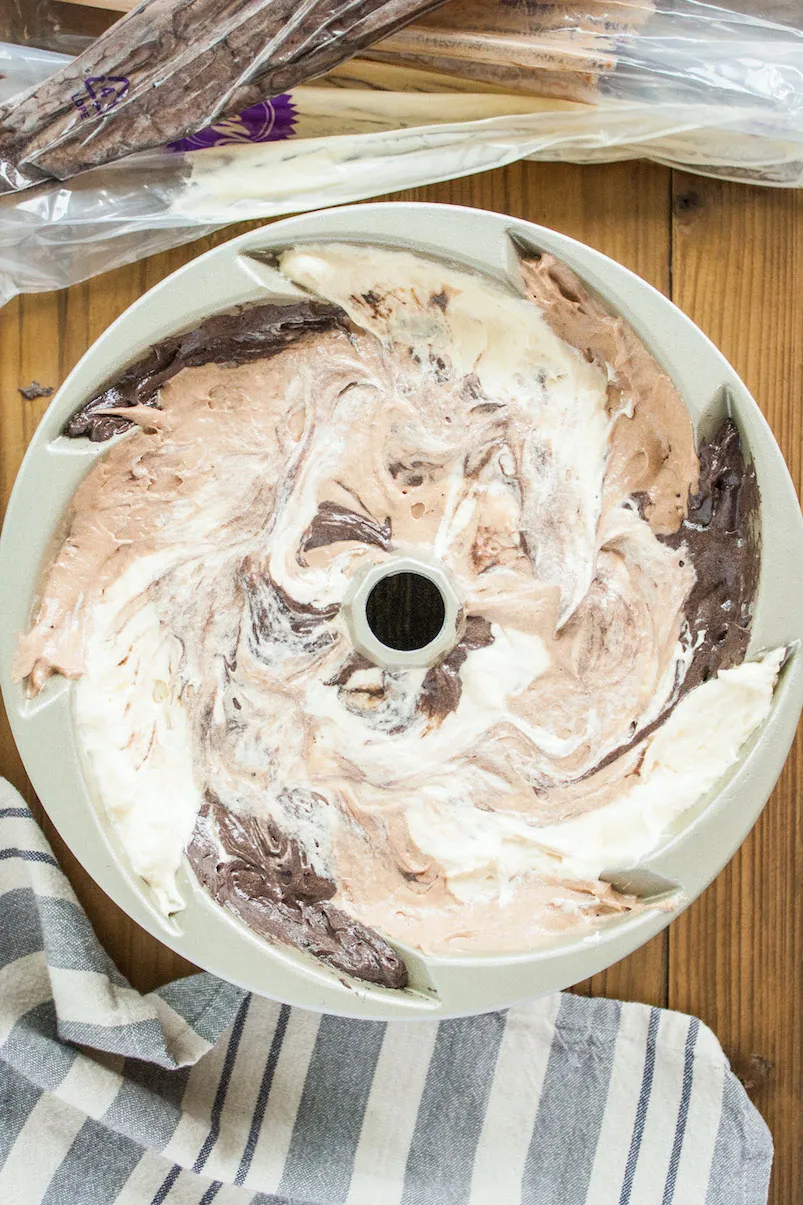 Step #12: Bake per directions in your recipe. You can see here how the two lighter colors pretty much blended together.
Step #13: Pray. Flip your bundt cake out onto a cooling rack. You can kiiiiinda see the 3 colors here.
Step #14: Glaze and devour.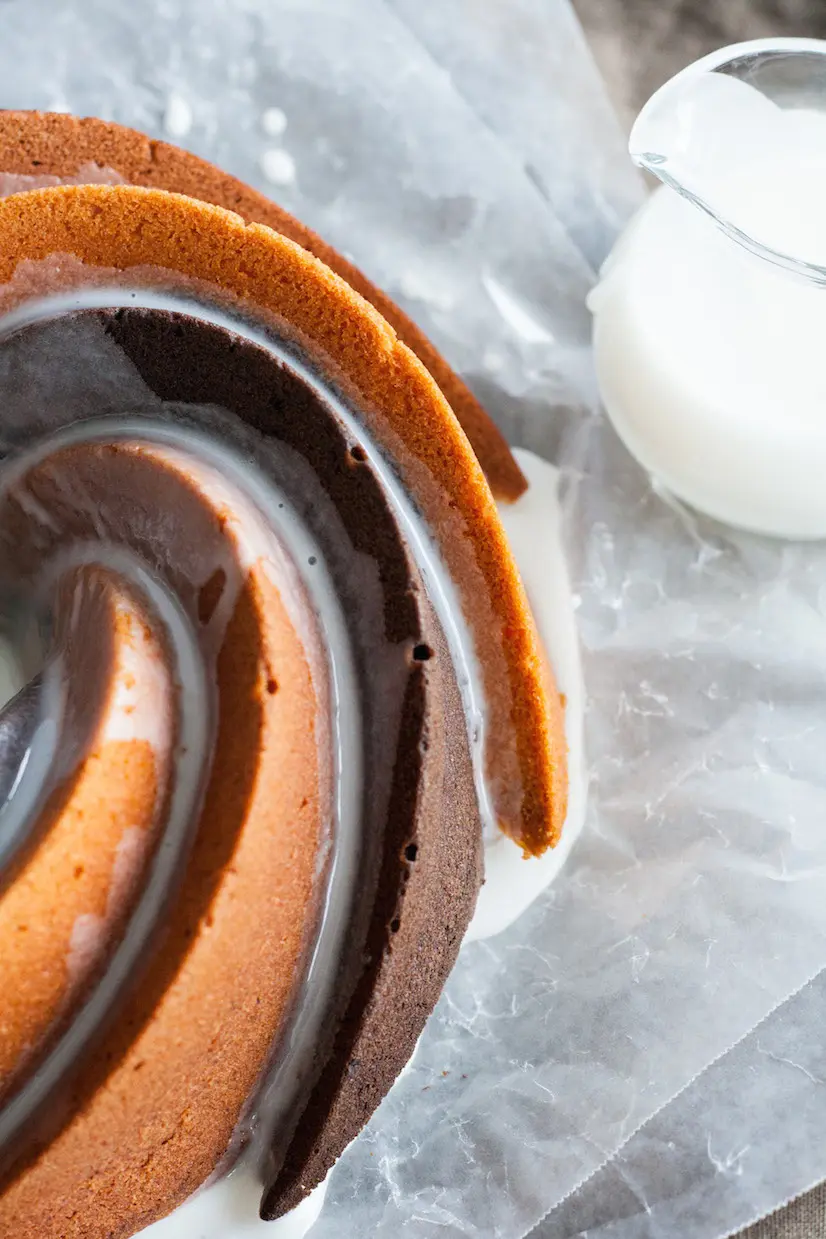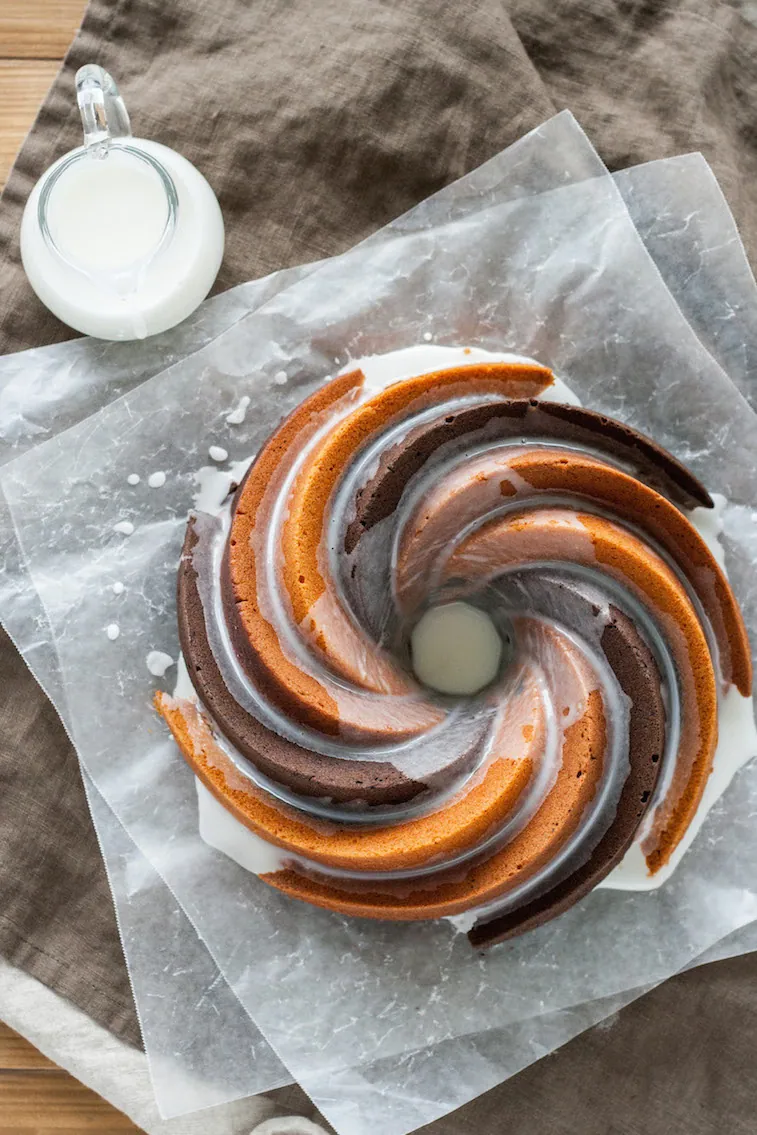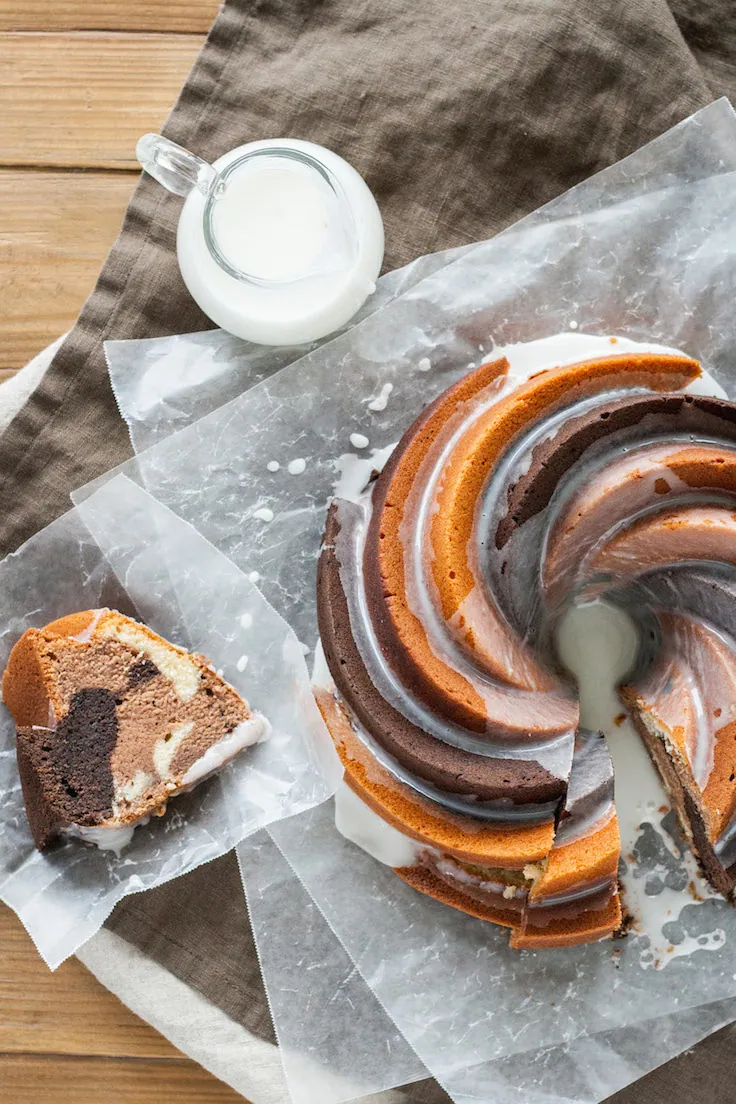 I hope this two-toned tutorial has been helpful. If anything's unclear or if you have any questions, please just ask! And if you like this kind of tutorial post and want more like it in the future, let me know what you'd like to see in the comments below!
Two-Toned Bundt Tutorial
Simple, basic pound cake. Easy to tweak and modify to your desired flavour.
Instructions
Cake:
Preheat oven to 325F and grease a 10-cup bundt pan with cooking spray.

In a medium bowl, whisk flour and baking powder, set aside.

In a stand mixer fitted with the paddle attachment, cream butter and sugar on med-high until pale and fluffy (approx 5mins).

Add eggs one at a time, fully incorporating after each addition. Add vanilla.

Reduce speed to low. Add flour mixture in 3 portions, alternating with 2 portions of milk. Mix until just combined.

Separate the batter into 3 bowls.*

Add 2 Tbsp Dutch-processed cocoa powder to one and 2 Tbsp black cocoa to another. Mix each until well combined.

Prepare 3 separate pastry bags and fill each with one of the batters.

Pipe the batter, alternating the colors, into the cracks of the Heritage bundt pan, being careful to avoid spilling over into neighbouring cracks. **

Once cracks are sufficiently filled, add remaining batter in alternating layers and use a kitchen skewer to marble it. Spread the batter evenly.

Bake for 55-60mins or until a skewer comes out clean.

Remove from oven and transfer bundt pan to cooling rack for 10-15mins. Rap the bundt pan against the counter to loosen it then turn cake out onto cooling rack to cool completely.
Glaze:
Combine powdered sugar and milk in a medium measuring cup. Stir until well combined. Add more milk as needed until desired consistency is reached. Pour glaze into cracks of cooled cake.
Notes
*I use a kitchen scale to weigh the batter to ensure I had even amounts, but a normal person would probably just eyeball it.
**I used a kitchen skewer for the finer points of the cracks. It's a process.
Note: Prep time is 45mins assuming you're doing the colored spirals. Otherwise it would take 20mins or so.
NOTE: Measurements in grams have not been tested. An online tool was used to convert these measurements.
Adapted from Add a Pinch.
Calories:
607
kcal
Carbohydrates:
88
g
Protein:
7
g
Fat:
26
g
Saturated Fat:
15
g
Cholesterol:
140
mg
Sodium:
45
mg
Potassium:
191
mg
Fiber:
1
g
Sugar:
62
g
Vitamin A:
860
IU
Calcium:
80
mg
Iron:
2.1
mg
The nutritional information and metric conversions are calculated automatically. I cannot guarantee the accuracy of this data. If this is important to you, please verify with your favorite nutrition calculator and/or metric conversion tool.