This Milk Chocolate Almond Cake pairs fluffy almond cake layers with a rich milk chocolate ganache frosting.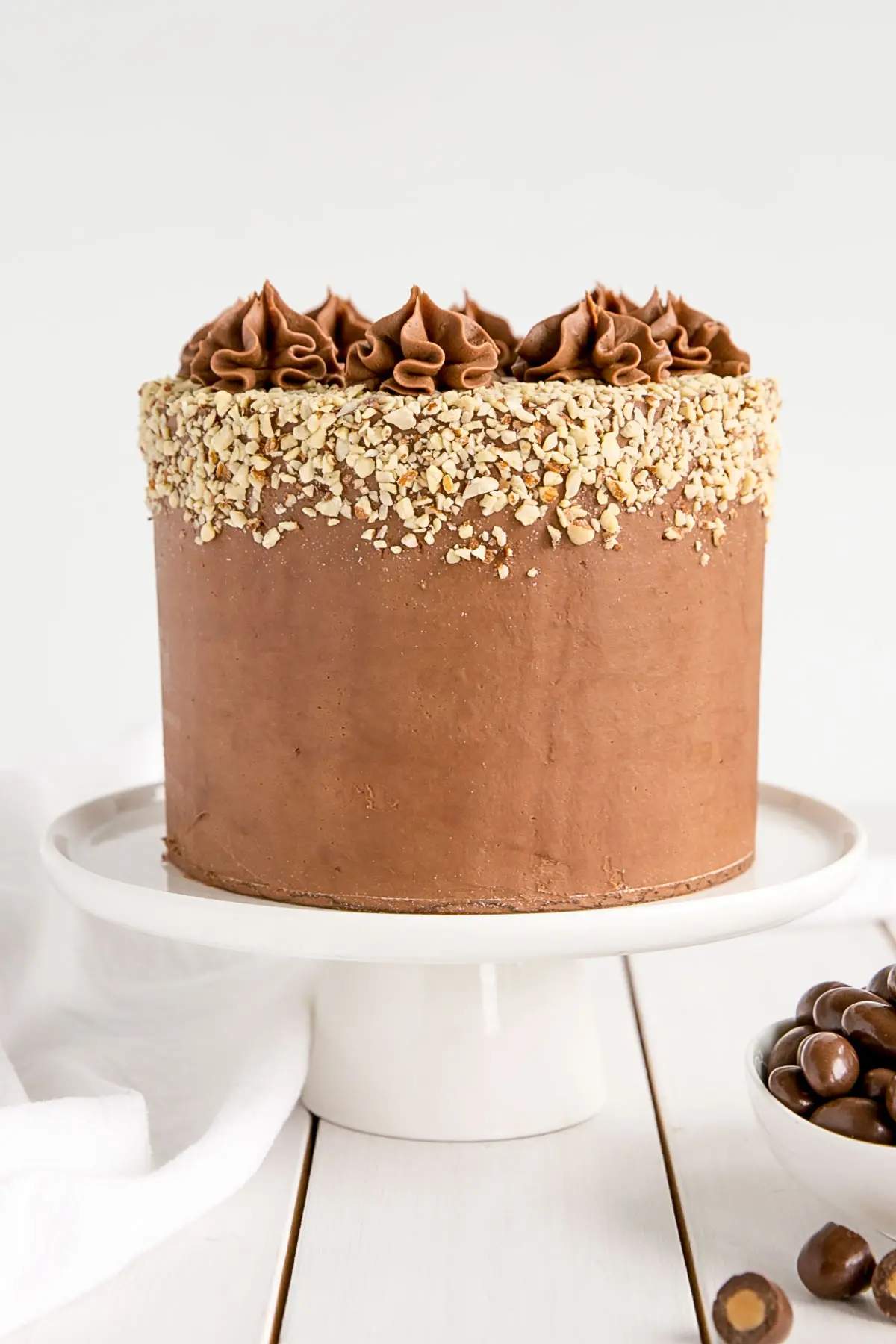 Milk chocolate almonds are my kryptonite. I almost never allow myself to buy them, since I'll eat an entire bag in one day. One time, I bought one of those huge bags of them from Costco. I don't even think they lasted a week. SO. GOOD. I have zero self control when it comes to them. ZERO.
It was Ryan's suggestion to turn my favorite chocolate confection into a cake. I'm actually not sure why I hadn't thought of it before. I already have the perfect Almond Cake recipe, all I needed to do was pair it with a rich milk chocolate ganache. And so, the Milk Chocolate Almond Cake was born.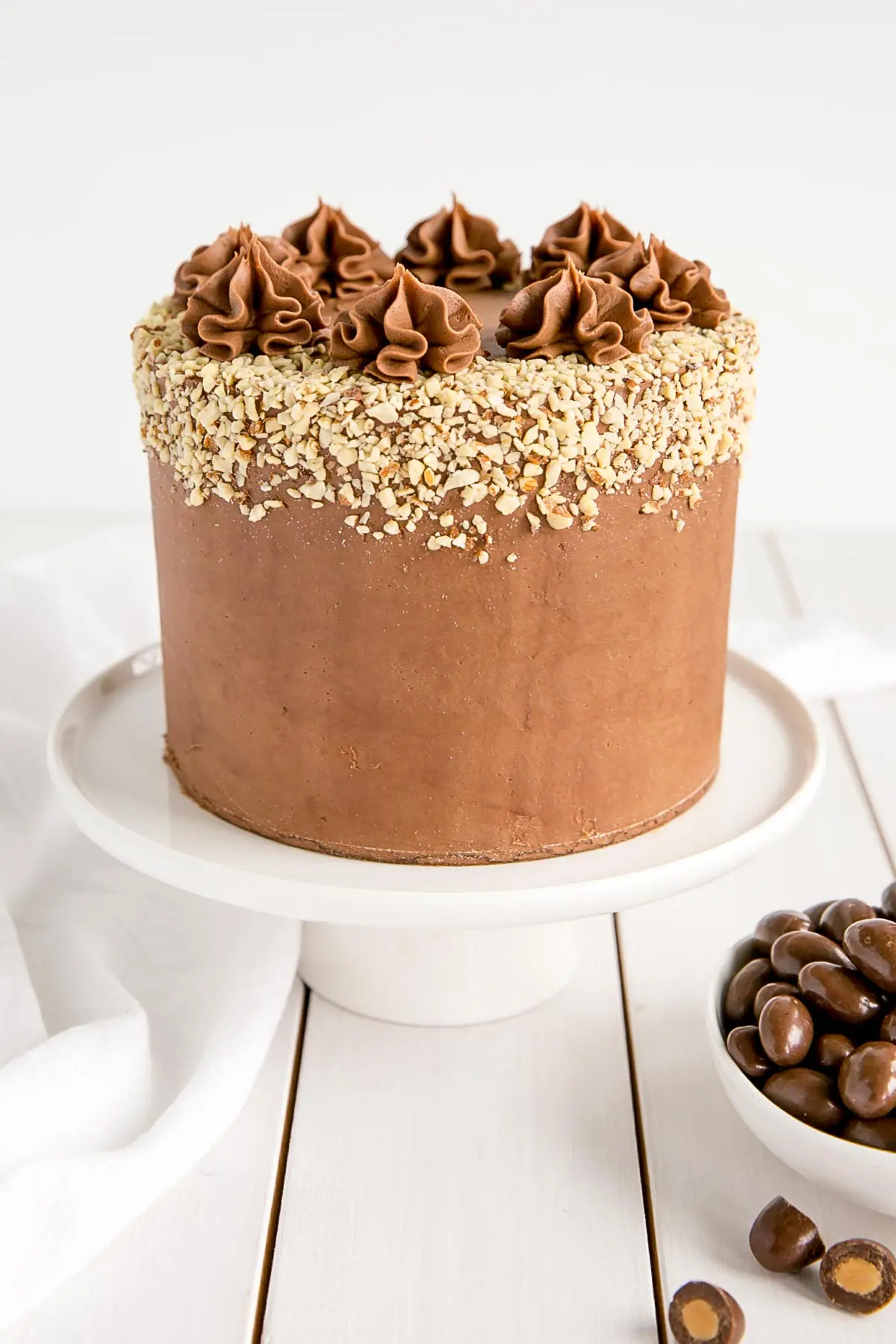 The almond cake is pretty straightforward. I took my favorite vanilla cake recipe, swapped out some of the all-purpose flour for almond flour, and swapped some of the milk for Amaretto to enhance the almond flavor. You could use almond extract if you prefer or want to keep it kid friendly, but only use a teaspoon or so. You can easily overdo it with almond extract (it's not my favorite), so less is more here. If you do use extract instead of Amaretto, be sure to increase the milk to 1 cup.
You could also skip the almond flour and just replace it with all-purpose flour, but it really does add to the flavor and, even more so, the texture of this cake. I love the texture so much that I really should start using almond flour in all of my cake recipes.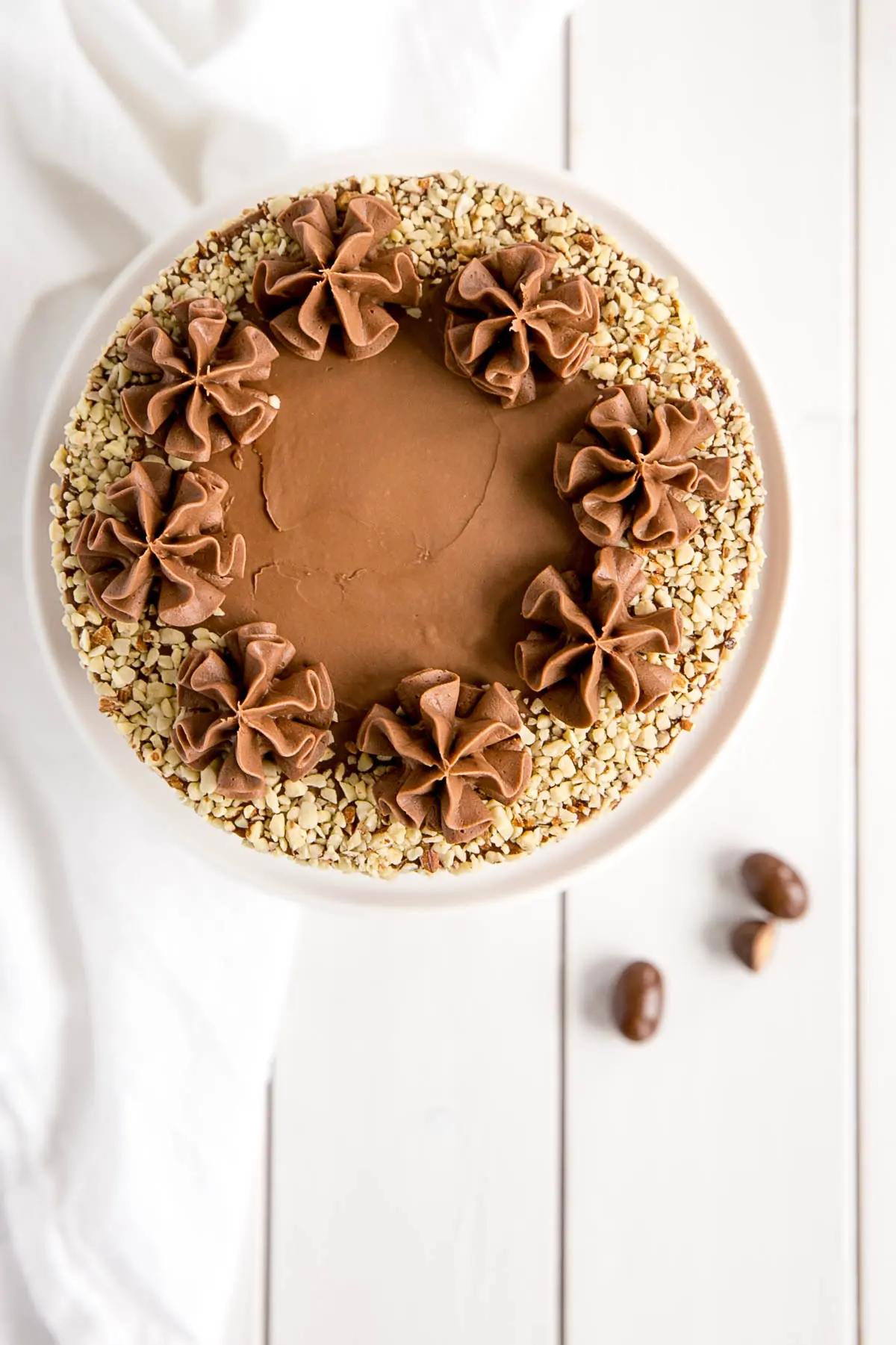 For the ganache, it's really important to use good quality chocolate. Ideally not the grocery store kind (though Lindt will do if you can'f find anything better). It really affects both the flavor and the texture of your overall ganache. As much as I love Hershey's milk chocolate, that is not something you want to use here.
I used Callebaut milk chocolate since it's what's easily available to me. I'll be honest that I don't love the flavor of it. It almost has a bit of a caramel flavor and just throws me off. Ryan loved it though. If you're picky with milk chocolate like I am, you really just have to sample a few brands to see which you like best. The Callebaut Dark and semi-sweet are perfect.
On that note, you can do a dark or semi-sweet chocolate ganache for this Chocolate Almond Cake, but you'd have to change the proportions. For milk and white chocolate ganache, it's common to see 2.5:1 or even 3:1 ratios of chocolate to cream. For dark chocolate, you want to make this 2:1. So if you use dark chocolate, either decrease the chocolate in the recipe to 20 oz or increase the cream to 12.5 oz.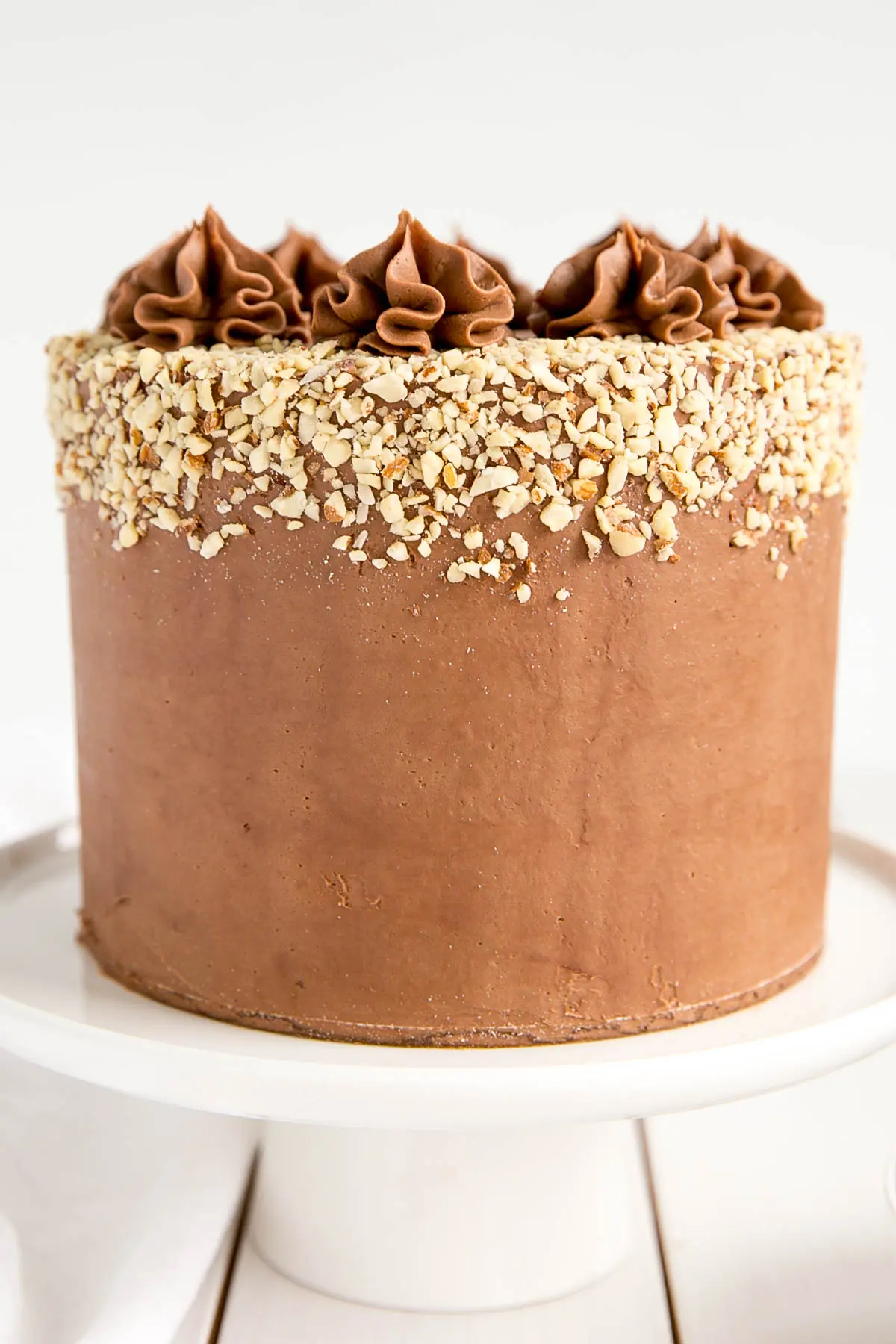 I had trouble with the ganache again, even though I was so careful this time — I chopped my chocolate very fine, didn't get the cream too hot, stirred slowly, etc, etc. It looked perfectly fine, but when I went to use it the next day, it just looked slightly off. I filled the cake layers with it and it seemed to get worse the more I worked with it. Just the slightest bit greasy. It wasn't brutal, but it wasn't perfect either.
I tried to save it by adding a bit of warm cream, but it didn't work in the slightest. All it did was thin the ganache out. I've literally never been able to save a ganache and get it to come back together, so if you have any tips on this, I'm all ears!
I decided to whip the ganache for the exterior frosting. I didn't want to whip it. I wanted to use it in its pure, perfect form, so that it emulated those milk chocolate almonds in texture and color, I just didn't think it would give me the look I was going for in its current state. Maybe it would have, but I decided to whip it anyhow.
It turned out alright in the end, and it does still look pretty, it's just lighter than I wanted it to be. At least the inside layers match the color of the chocolate almonds though!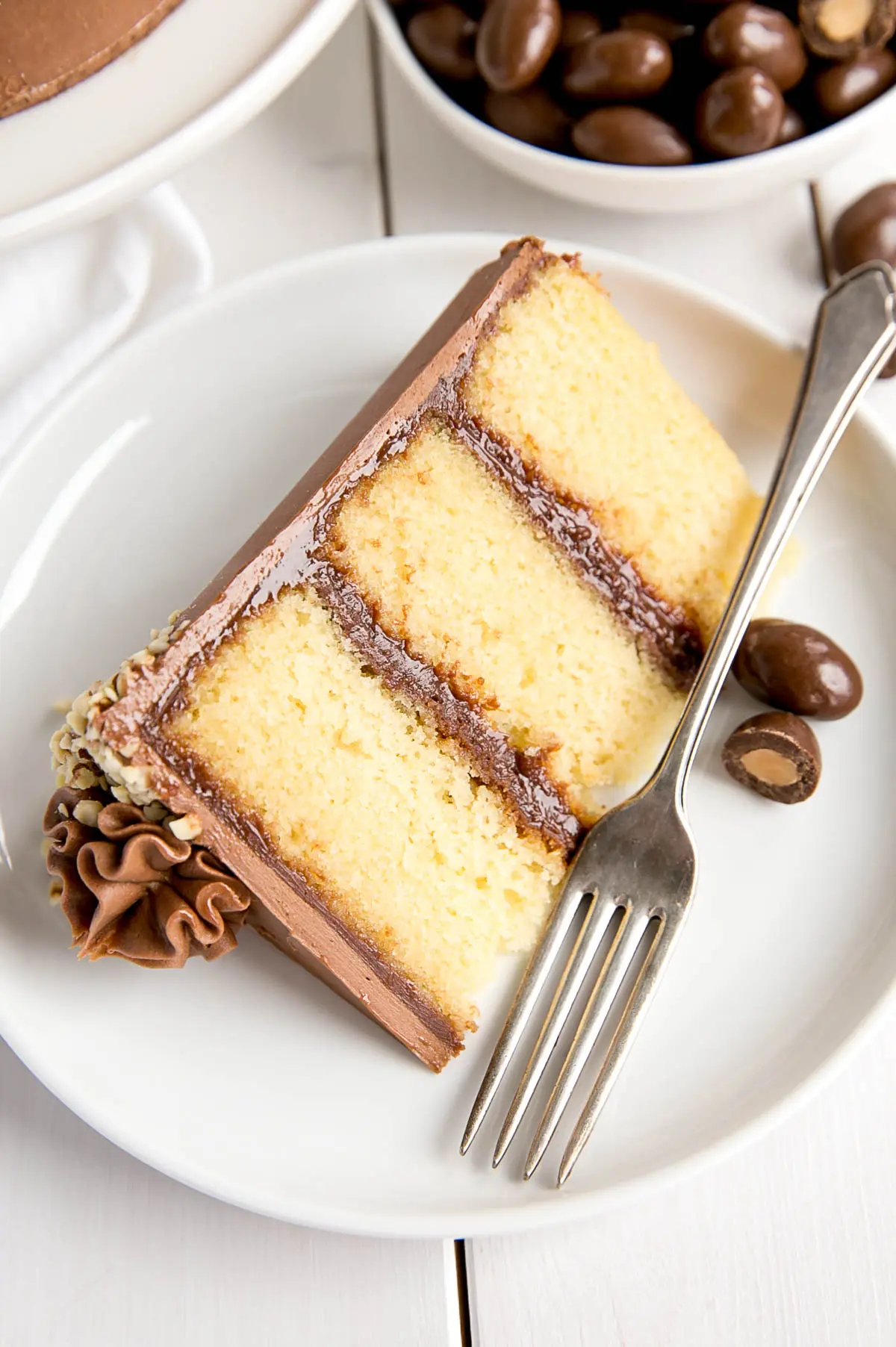 I kept the decoration of this Chocolate Almond Cake fairly simple. Super smooth sides, which I find really easy to do with ganache. A heated up bench scraper works wonders here. Once I've frosted the cake and smoothed the sides as much as possible, I run my metal bench scraper under hot water, dry it off, and run it along the sides of the cake again. It sometimes helps to chill the cake, especially if you're working with a buttercream, but I find that ganache sets up firm pretty quickly.
This technique will help you get those super smooth sides and crisp edges… the crisp edges that you can't actually see because I decided to cover them all with chopped almonds! I gently pressed some chopped almonds into the sides and around the top before finishing the cake with some simple rosettes.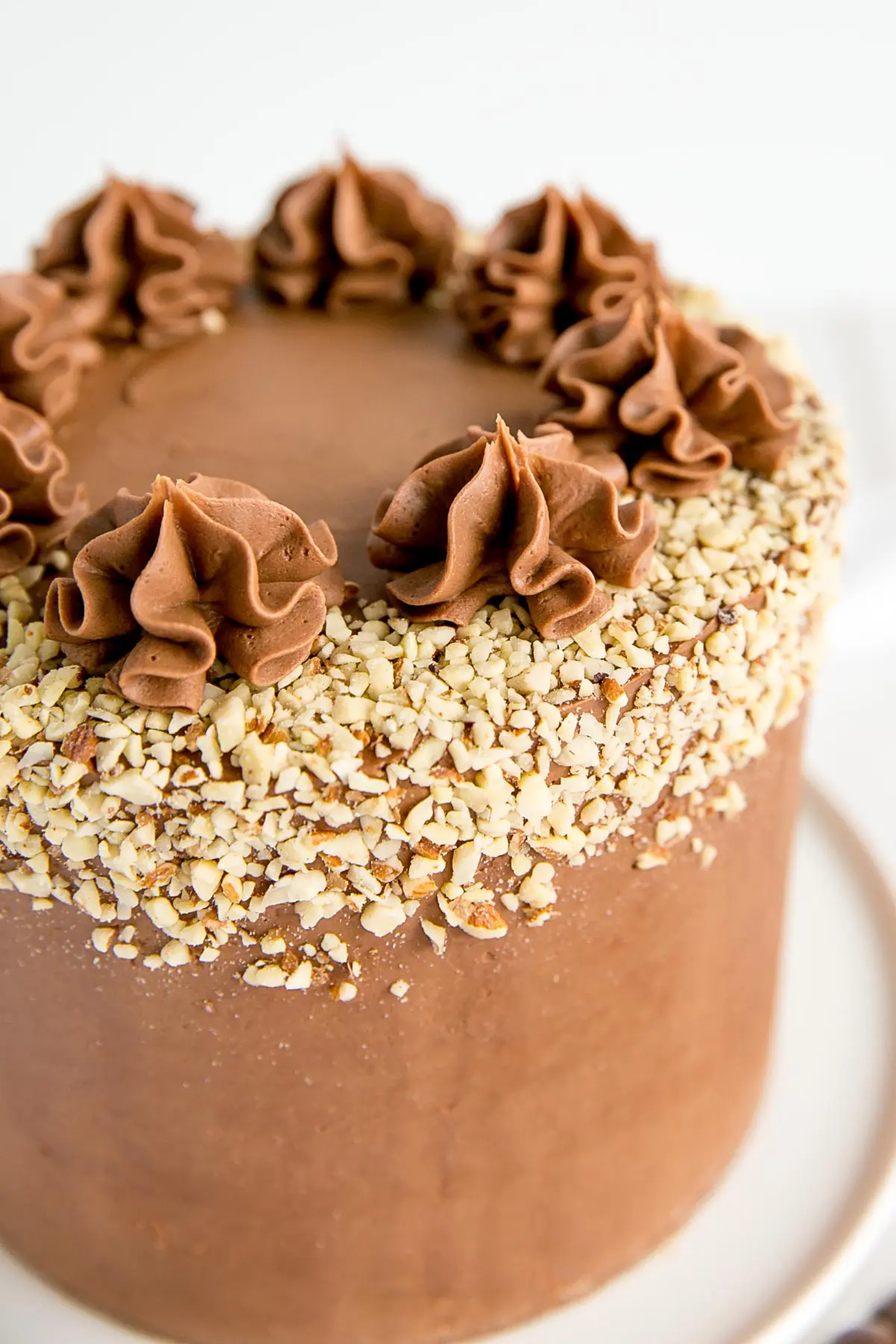 If you're obsessed with chocolate almonds like I am, or just love the flavor combo, you have to try this Milk Chocolate Almond Cake!
If you like this Milk Chocolate Almond Cake, check out these recipes!
Tips for making this Almond Cake with Milk Chocolate Ganache:
You can use almond extract in place of Amaretto, but only use 1 tsp, and increase the milk to 1 cup.
If you don't have almond flour you can just replace it with all-purpose flour.
Be sure to use good quality chocolate for the ganache. If you're limited to what's in the grocery store, buy the best you can find. Lindt is usually a safe bet.
Whether or not you choose to whip the ganache is completely up to you. My initial vision for this cake was unwhipped ganache so that it would match the color of the chocolate almonds more.
You can use dark chocolate for the ganache instead of milk, but you need to either decrease the chocolate in the recipe to 20 oz or increase the cream to 12.5 oz.
To help ensure your cake layers bake up nice and flat, check out my Flat Top Cakes post!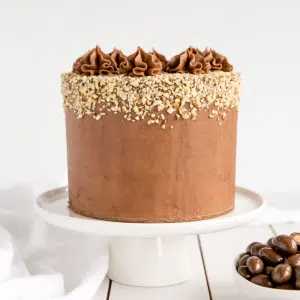 Milk Chocolate Almond Cake
This Milk Chocolate Almond Cake pairs fluffy almond cake layers with a rich milk chocolate ganache frosting.
Ingredients
Milk Chocolate Ganache (make in advance):
25

oz

good quality milk chocolate

finely chopped

10

oz

heavy cream

1 1/4 cup
Instructions
Milk Chocolate Ganache (make in advance):
Place chopped chocolate into a large bowl.

In a small saucepan, bring cream just barely to a simmer. Pour over chopped chocolate and cover bowl immediately with plastic wrap. Let stand 5 mins. Stir with a spatula until combined and smooth. ***

Place plastic wrap directly on the surface of the chocolate. Allow to set at room temperature overnight.****
Cake:
Preheat oven to 350F. Grease and flour three 6″ cake rounds and line with parchment.

In a medium bowl, whisk flour, almond flour, baking powder,and salt until well combined. Set aside.

Combine milk and Amaretto. Set aside.

Using a stand mixer fitted with a paddle attachment, cream butter and sugar on med-high until pale and fluffy (approx 3mins). Reduce speed and add eggs one at a time fully incorporating after each addition. Add vanilla.

Alternate adding flour mixture and milk mixture, beginning and ending with flour (3 additions of flour and 2 of milk). Fully incorporating after each addition.

Bake for approx. 35mins or until a toothpick inserted into the center comes out mostly clean.

Place cakes on wire rack to cool for 10mins then turn out onto wire rack. Allow cakes to cool completely.
Amaretto Syrup:
Place sugar and water into a small pot. Bring to a boil and simmer 2 mins. Remove from heat, stir in Amaretto. Cool completely.
Assembly:
Trim tops of each cake layer just slightly (to help the syrup absorb).

Place one layer of cake on a cake stand or serving plate. Brush generously with Amaretto Syrup. Top with approximately 2/3 cup of ganache and spread evenly. Repeat with remaining layers.

Frost and smooth the outside with a thin crumb coat. Allow to set at room temperature for 20mins.

Frost the top and sides of the cake. Press chopped almonds into the top and side of the cake and pipe dollops on top of desired using a 1M tip.
Notes
* If you don't have almond flour and can't be bothered buying it (I don't blame you), you can just leave it out and increase the flour to 2 1/4 cups.
** If you prefer a non-alcoholic version, you can use almond extract instead. For the cake, use 1 tsp almond extract (at most) and increase the milk to 1 cup. For the syrup, use 1 tsp of almond extract instead of Amaretto. Almond extract is strong and it's easy to overdo it. Less is more here.
*** If you have unmelted chunks of chocolate in your ganache still, you can heat it up over a simmering double boiler on the stove.
**** You can speed up the thickening of the ganache by placing the it in the fridge, but you need to stir it often.
Calories:
767
kcal
Carbohydrates:
87
g
Protein:
8
g
Fat:
45
g
Saturated Fat:
25
g
Cholesterol:
110
mg
Sodium:
192
mg
Potassium:
330
mg
Fiber:
4
g
Sugar:
68
g
Vitamin A:
795
IU
Vitamin C:
0.2
mg
Calcium:
110
mg
Iron:
2.9
mg
The nutritional information and metric conversions are calculated automatically. I cannot guarantee the accuracy of this data. If this is important to you, please verify with your favorite nutrition calculator and/or metric conversion tool.