This Cotton Candy Cake has pretty marbled layers of light and fluffy cake paired with a cotton candy buttercream!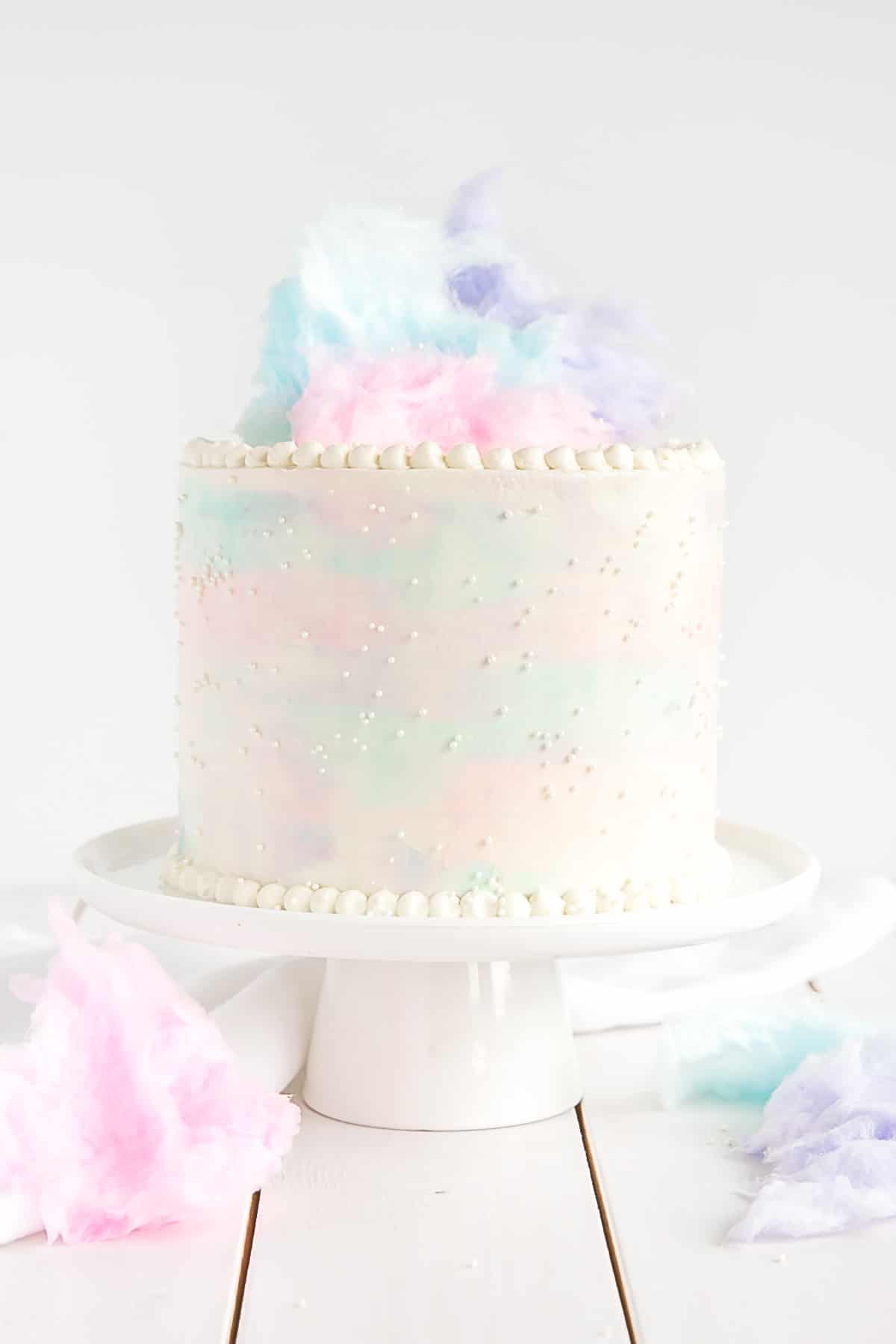 It all started with a container of pretty pastel cotton candy that I saw in the check out line at Homesense. I didn't know exactly what I was going to do with it, or how I would turn it into a cake exactly, but the colors were so pretty I just had to have it. Impulse purchase was made.
Come to think of it, I've made a lot of impulse purchases in that lineup. The checkout aisle is always stocked and the lineup moves at a glacial pace (at best), so I'm not entirely surprised. Clearly Homesense knows what they're doing. I wonder how many other people walked away with cotton candy they didn't need that day?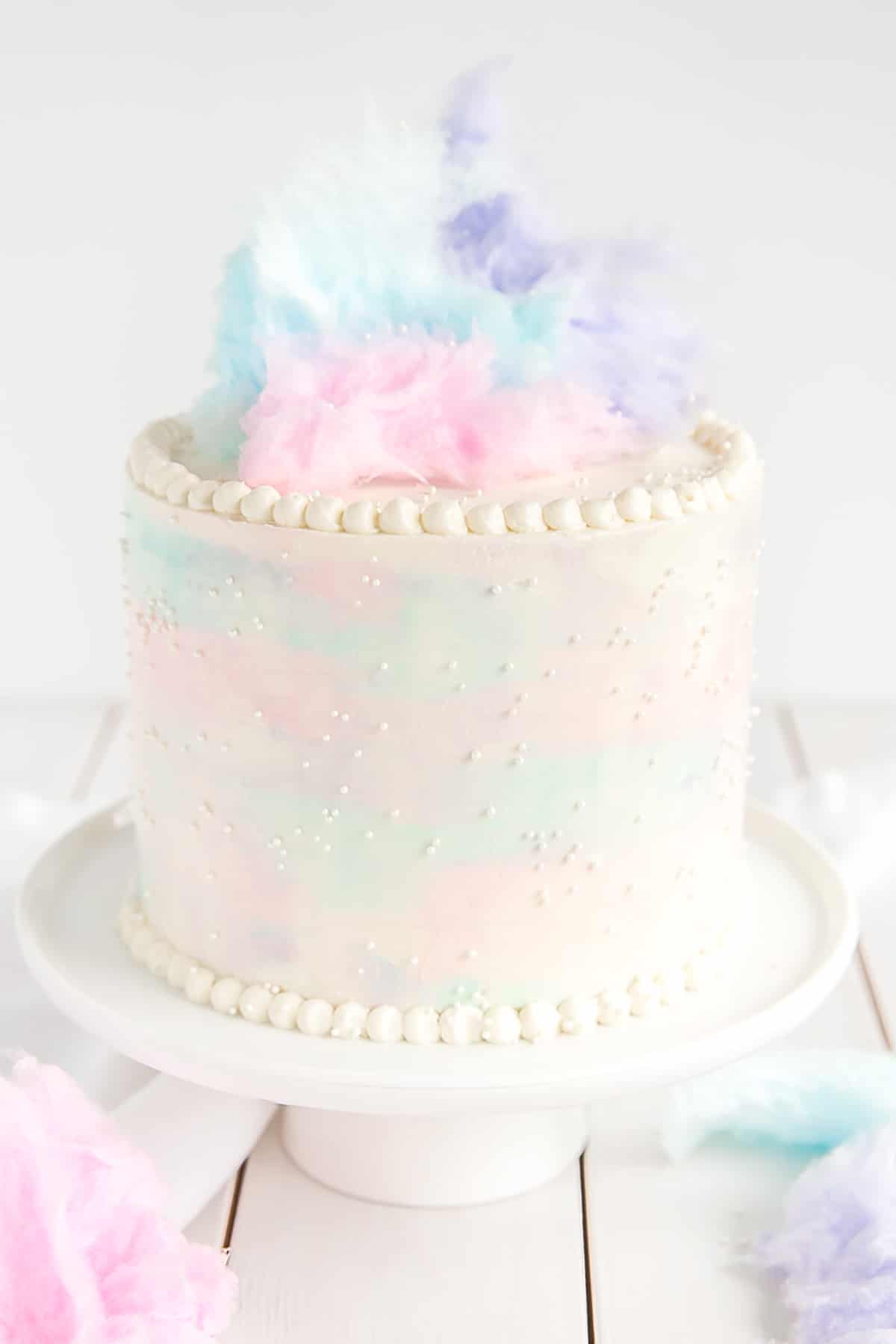 When I decided to make this Cotton Candy Cake, I had no idea what a challenge (and pain in the butt) it would be to get actual cotton candy flavouing. I could have easily ordered it online, but the shipping cost was the same as the cost of the product and I was super offended by that, so I was determined to find it in store. I'm not even joking when I tell you I checked probably 10 stores in Canada AND the US and came up empty handed.
My favorite local gourmet shop had a spot for it, but it was all sold out because apparently people use these flavorings for vaping?? WHAT? Annoyed and frustrated, I left yet another store. I persevered though, and finally, FINALLY found one last bottle in a local cake shop. A cake shop that I hadn't been to in years. Lesson learned, next time I'll go there first!
Cotton candy flavoring (finally) in hand, it was time to come up with a plan for this cake.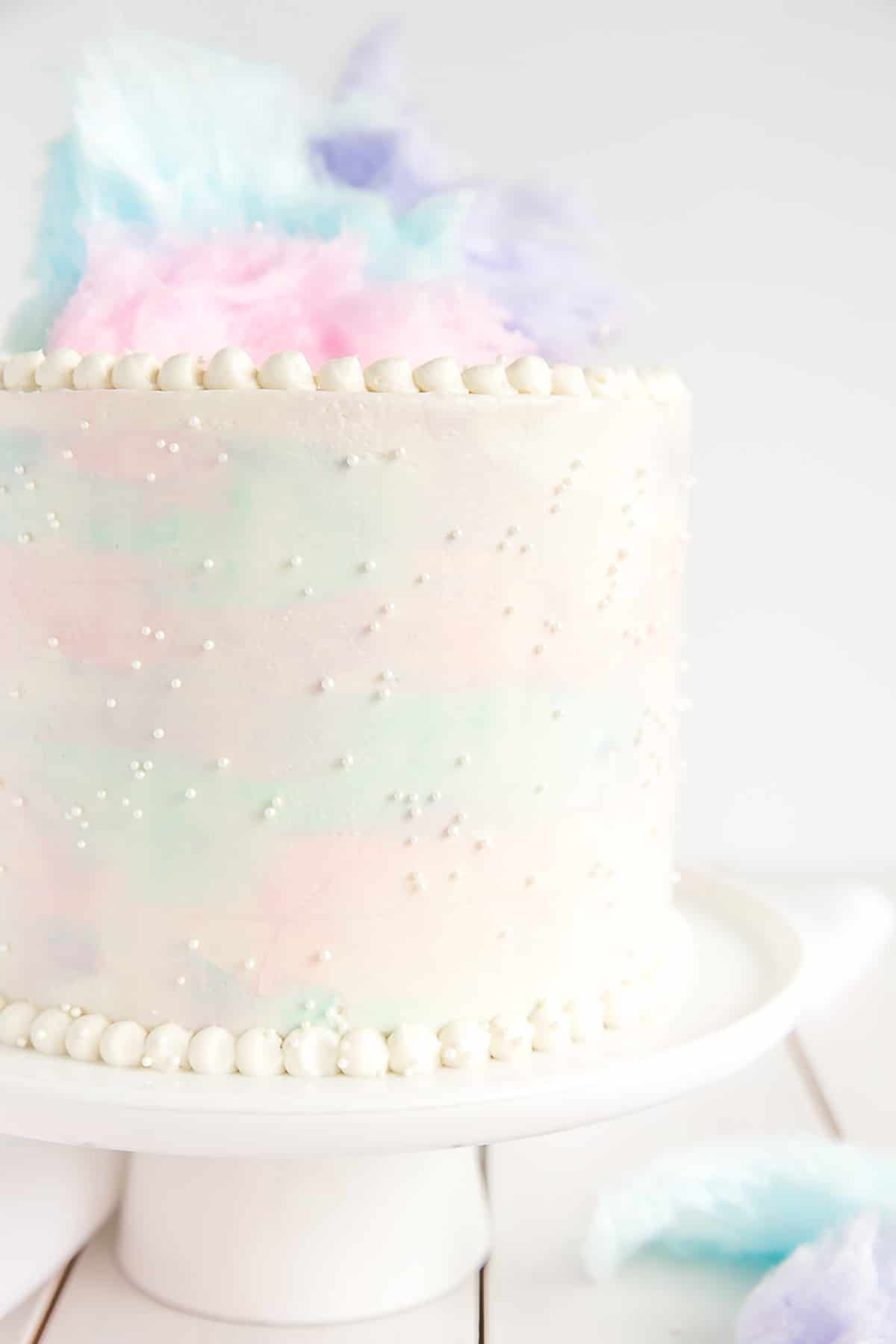 The cotton candy I bought came in 4 different colors – pink, blue, purple, and yellow – so I decided to marble the cake with all of these colors. This would easy enough to do — I would split the batter into four bowls, color 3 of them and leave one plain. Except that just as I was about to split the batter up I realized I had forgotten to use the cotton candy extract! Seriously!! There was NO way I could leave that out given the hassle I went through to get it, and I was not about to remake the batter (laziness). So I added it right at the end, instead of with the eggs, and gave the batter another good mixing.
That mistake, coupled with coloring the batter, meant that the cake batter was crazy overmixed. I knew it would be, but I went with it anyhow.
What happens when you overmix cake batter?
There are a few tell-tale signs of an overmixed cake. The severity varies depending on just how much the batter was overmixed. Ideally, you want to mix just until the flour is incorporated.
Overmixing often leads to denser cakes because you've built up too much of the gluten. You'll often also notice holes or tunnels when you cut into it. Severely overmixing cake batter will affect the entire structure of the cake so much that sometimes the layers will be so fragile that they will break coming out of the pans. That is what actually happened to me with this Cotton Candy Cake.
Once the cakes had cooled for 10mins in their pans, I could see there was a problem. They were still sort of clinging to the sides and very crumbly around the edges. I ran a knife along the sides to loosen them as much as possible and turned them out. The sides were very crumbly. Honestly, the sides mostly just fell off or stayed behind on the pan.
I was worried about whether you'd be able to tell once the cake was assembled and if it would look terrible, but I went with it anyhow. Did I mention I'm lazy?? You'd never really be able to tell though by the pic, right?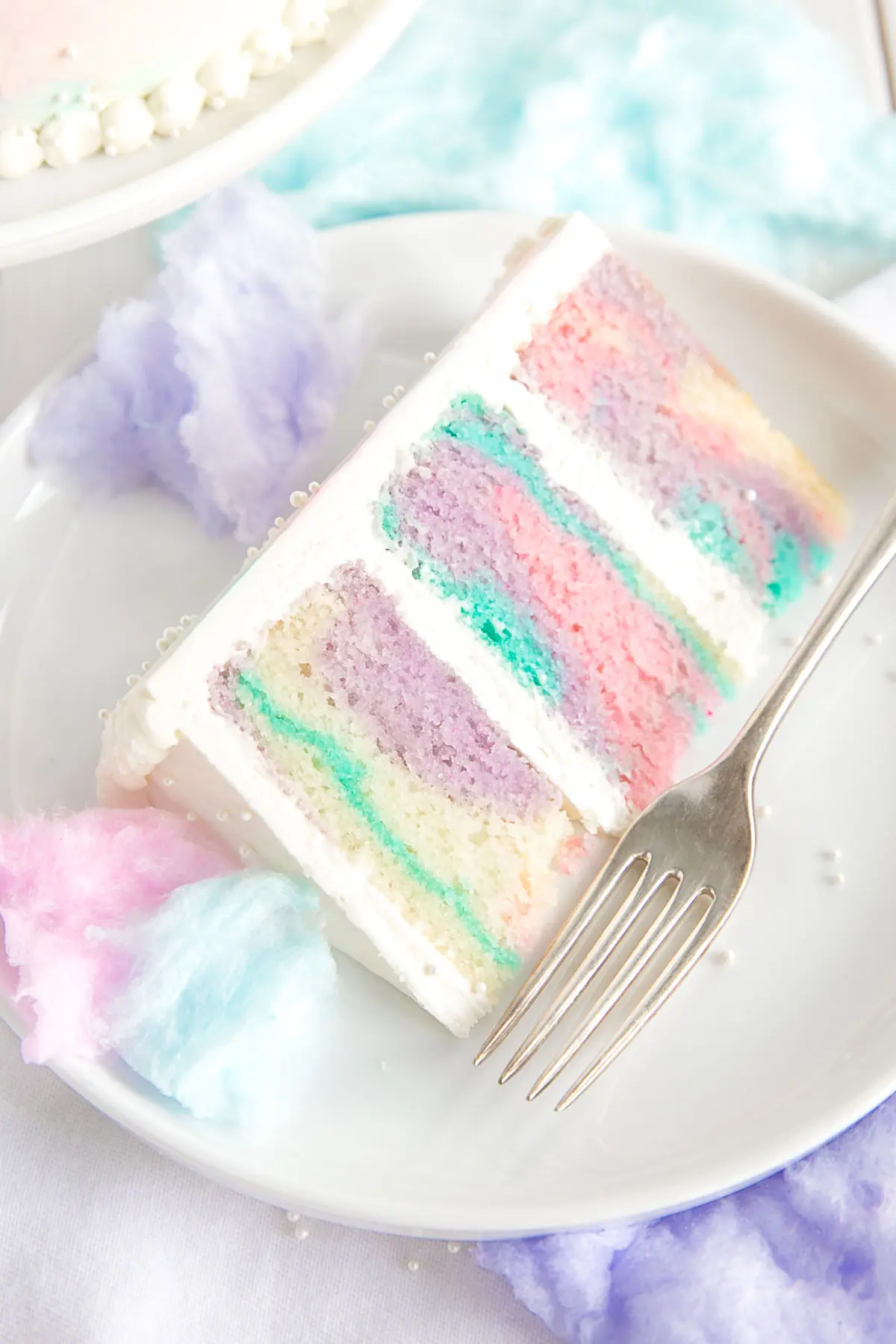 Let me tell you though, those little scraps that stuck to the pans were SO good. Another reason I decided just to go with it. I knew the cake tasted good and that the problems with the structure were simply due to overmixing (aka forgetting the damn extract). It likely would have been fine if I didn't also color the batter. The two coupled together were just a recipe for disaster.
Any time you're coloring batter there is a risk of overmixing. Really, it's impossible to avoid overmixing to some extent. If you're doing just one solid color, I actually recommend adding a bit of color gel into your butter & sugar mixture. That way you get the color at least some of the way there already. That's how I did it for my Pink Velvet Cake, and just added a bit more color at the end if I needed it.
While we're on the topic of coloring cake batter, don't do as I did and just squirt the color into your cake batter because you are too lazy to use a toothpick like I was. This led to some MUCH darker blue batter than I was going for. I tried to add more of the uncolored batter to lighten it, but it was too far gone. You'll need a couple drops of color gel in there, but less than comes out with a squirt!
My frosting, on the other hand, could have used way more color. The watercolor effect isn't nearly as visible as I'd like, and I think that's partly due to the pastels of my frosting being too light, especially when scraped into the white frosting and each other. I should have gone a touch darker there.
How to make a watercolor cake
This is actually very simple to do. I used a regular white buttercream for the base of my cake and fully frosted it (not just a crumb coat). Then I split the leftover frosting into 4 bowls and colored 3 of them pink, blue, and purple respectively. You want to leave some white buttercream in case you need to do some touch ups here and there. I didn't need it too much for that, but I did use it to do the pearl border on the top and bottom of the cake.
Once you have your frosting colored, work with one color at a time and spackle each one randomly around the cake. Repeat with remaining colors until most of the surface is covered and then use your icing scraper to smooth out the sides. Here's a good tutorial and overview.
One issue I had with the watercolor effect was that my base frosting was too firm/chilled. I had put it back in the fridge for a bit while I colored the frosting, and in hindsight I think this was a bad idea, as it didn't blend as nicely as I hoped it would. Next time, I would make sure the frosting on the cake is the same temperature and texture as the stuff I'm spackling on.
Coloring and frosting issues aside, I think this Cotton Candy Cake turned out pretty well!! The watercolors, although on the lighter side, do match the actual cotton candy quite well.
So I bet you're wondering how this Cotton Candy Cake tastes, right?? Does it actually taste like Cotton Candy?? To be fair, I'm not sure that it totally does. The cotton candy flavoring almost had more of a bubblegum + coconut kinda flavor (to me anyhow). That being said, it is perfectly delicious. Like, SO good. It is on the sweeter side overall (which should be no surprise given the name), but it was a hit all around over here.
Looking for more Cotton Candy recipes?
Tips for making this Cotton Candy Cake:
As much as possible, try not to overmix your cake batter as it will affect the texture of your cake.
When coloring the batter and frosting, I recommend using a toothpick to control the amount of color that is added.
Do not chill your cake before doing the watercolor technique so that the colors blend more easily.
Cotton candy does not hold up well for long periods of time, and will not hold up at all in the refrigerator. I recommend adding it just before serving.
Be sure to check my Swiss Meringue Buttercream post for tips on how to make your buttercream white.
To help ensure your cake layers bake up nice and flat, see my Flat Top Cakes post.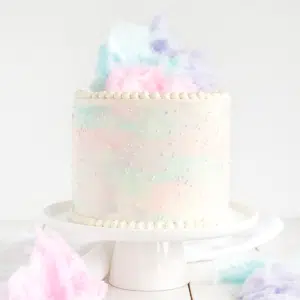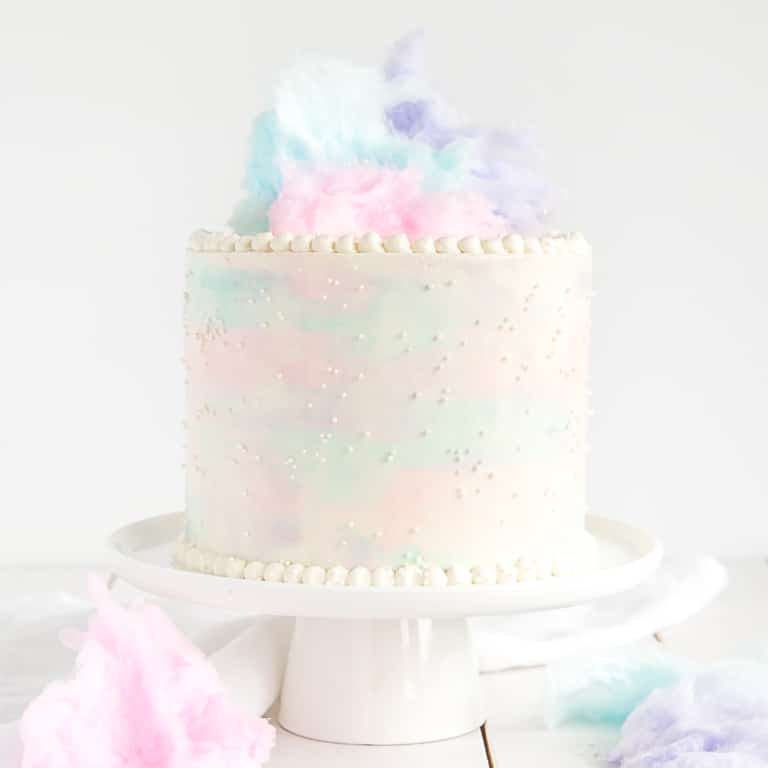 Cotton Candy Cake
This cotton candy cake has pretty marbled layers of light and fluffy cake paired with a cotton candy buttercream. All finished off with a watercolor frosting and a cloud of cotton candy!
Ingredients
Cotton Candy Buttercream:
Instructions
Cotton Candy Cake:
Preheat oven to 350F. Grease and flour three 6″ cake rounds and line with parchment.

In a medium bowl, whisk flour, baking powder, and salt until well combined. Set aside.

Using a stand mixer fitted with a paddle attachment, cream butter and sugar on med-high until pale and fluffy (approx 3mins). Reduce speed and add eggs one at a time fully incorporating after each addition. Add cotton candy flavoring and mix well.

Alternate adding flour mixture and milk, beginning and ending with flour (3 additions of flour and 2 of milk). Fully incorporating after each addition.

Separate batter equally into four bowls (I use a kitchen scale). Color 3 of the bowls of batter with fucshia, sky blue, and violet gels respectively. Spoon batter randomly into each of the 3 pans, swirl once or twice with a bamboo skewer to marble.

Bake for approx. 35mins or until a toothpick inserted into the center comes out mostly clean.

Place cakes on wire rack to cool for 10mins then turn out onto wire rack.
Cotton Candy Buttercream:
Place egg whites and sugar into the bowl of a stand mixer, whisk until combined.*

Place bowl over a double boiler on the stove and whisk constantly until the mixture is hot and no longer grainy to the touch (approx. 3mins). Or registers 160F on a candy thermometer.

Place bowl on your stand mixer and whisk on med-high until the meringue is stiff and cooled (the bowl is no longer warm to the touch (approx. 5-10mins)).

Switch to paddle attachment. Slowly add cubed butter and mix until smooth.**

Add cotton candy flavoring and whip until smooth.
Assembly:
Place one layer of cake on a cake stand or serving plate. Top with approximately 2/3 cup of buttercream. Repeat with remaining layers and crumb coat the cake. Chill for 20mins.

Frost the top and sides of the cake and smooth with a bench scraper.

Divide the remaining frosting into 4. Leave one batch white and color the remaining three fuschia, sky blue, and violet.

Doing one color at a time — scrape a bit of colored frosting onto the back of a small offset spatula and spackle this onto the cake in a random pattern. Repeat with the other colors until they are evenly, but roughly, dispersed.

Run your bench scraper along the sides of the cake again to smooth out the newly added colored frosting. Repeat as needed, adding more color or patching with white.

Do a pearl border along the top and bottom using a small round piping tip with the remainder of the white buttercream.

Add cotton candy to the top if desired.***
Notes
* Ensure there is NO trace of egg yolks in your whites and that your mixer bowl and whisk is completely grease free or your meringue won't stiffen.
** The buttercream may look like it's curdled at some point. Keep mixing until it is completely smooth.
*** Cotton candy does not hold up well for long periods of time and will not hold up at all in the refrigerator. I recommend adding this just before serving.
Calories:
691
kcal
Carbohydrates:
69
g
Protein:
6
g
Fat:
44
g
Saturated Fat:
27
g
Cholesterol:
160
mg
Sodium:
206
mg
Potassium:
203
mg
Sugar:
51
g
Vitamin A:
1400
IU
Calcium:
88
mg
Iron:
1.4
mg
The nutritional information and metric conversions are calculated automatically. I cannot guarantee the accuracy of this data. If this is important to you, please verify with your favorite nutrition calculator and/or metric conversion tool.