This moist and delicious coconut cake recipe is infused with natural flavor throughout and decorated with giant toasted coconut flakes.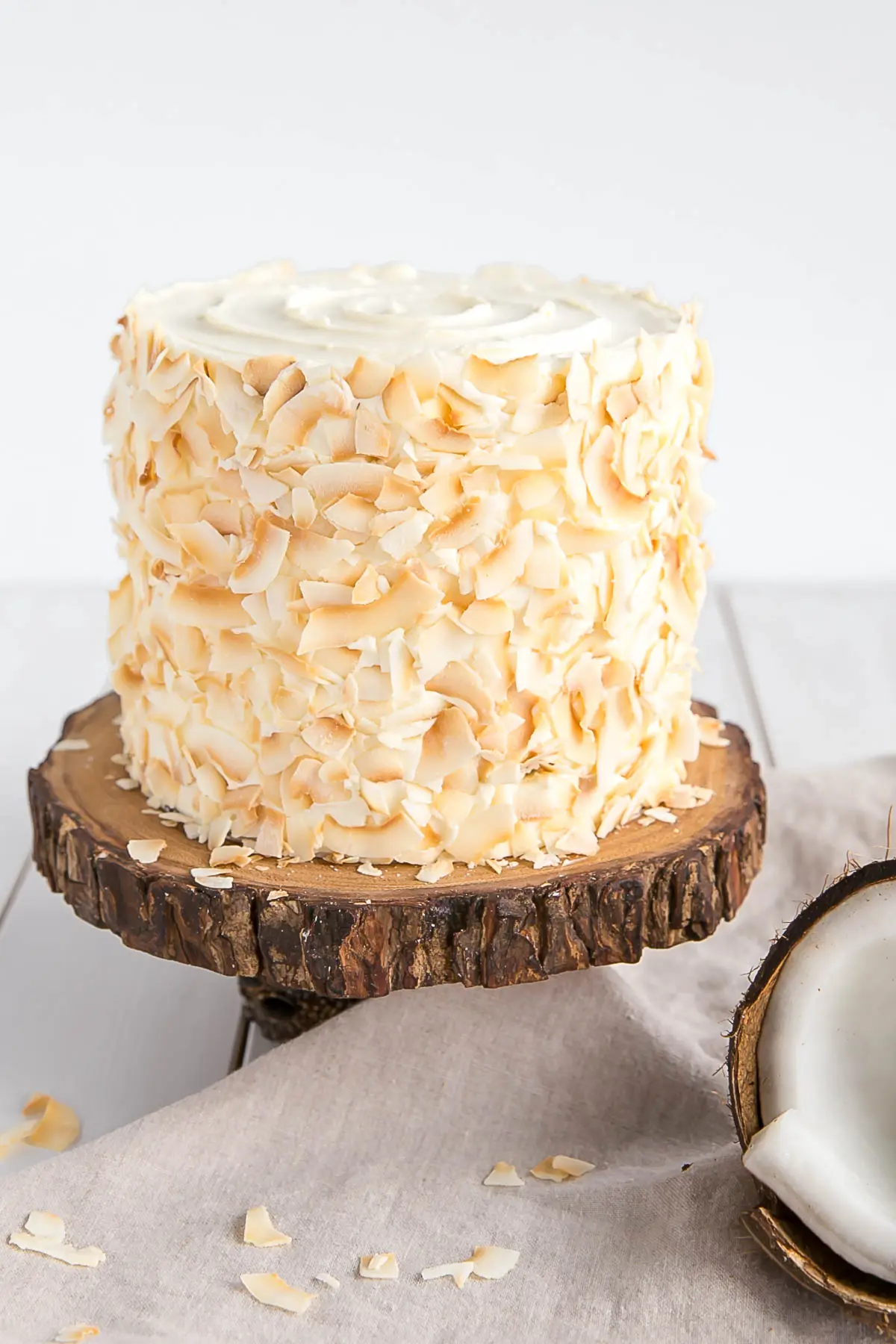 Today's post is a revamp of one of my oldest recipes. All the way back to 2015! It was one of those recipes that was good but could have been better.
My main issue with the original coconut cake recipe was that it used coconut extract. I don't often like to use flavored extracts in my baking, as I find them to taste artificial and generally unpleasant.
Some are better than others, mind you, but I mostly stick to vanilla or try to infuse the flavors in some other way.
Coconut extract, not unlike almond extract, is very easy to overdo. It's strong, often overpowering, and can make your baked goods taste like you're eating suntan lotion if you're not careful.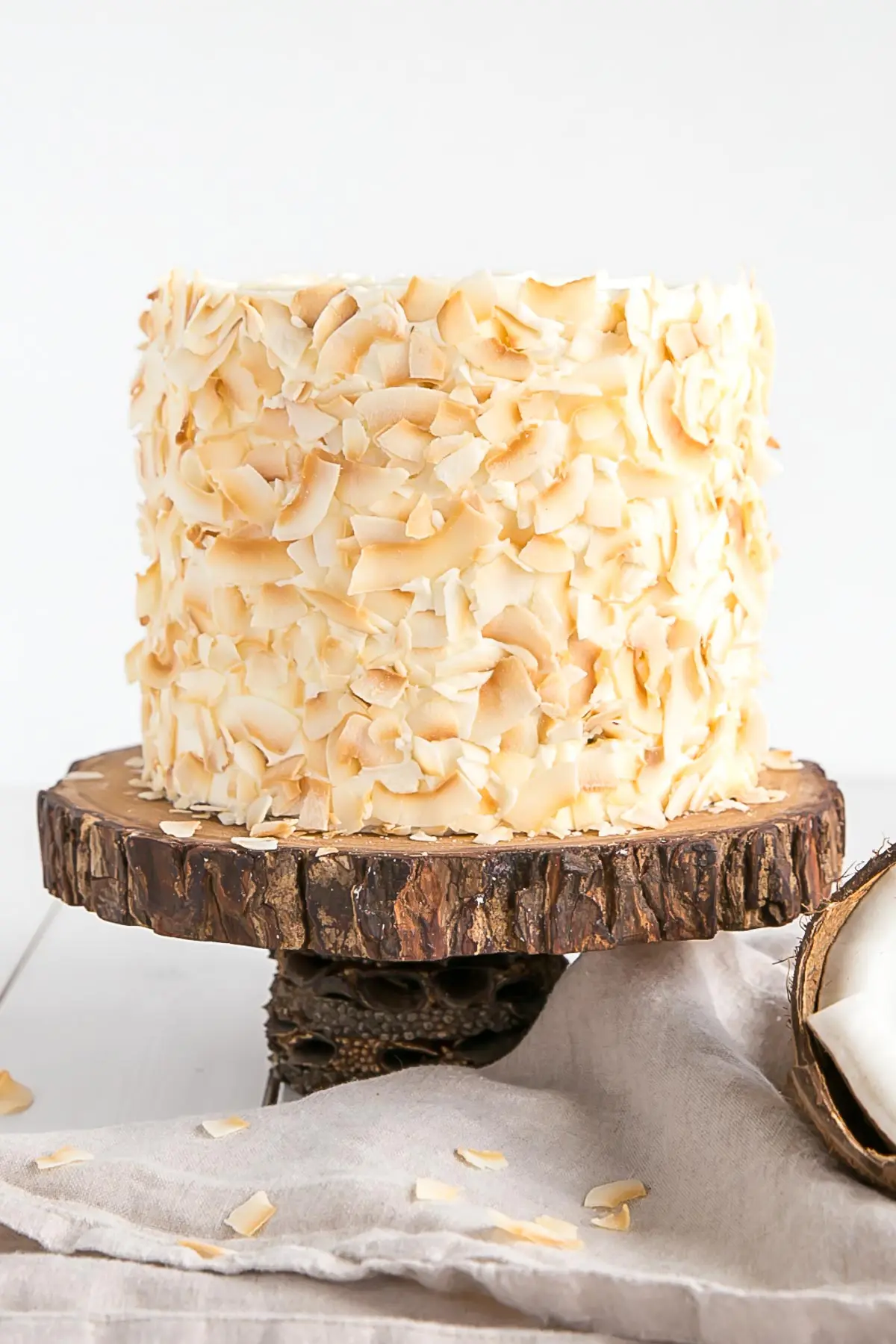 All Natural Ingredients
I was on a mission to redo this Coconut Cake recipe using coconut in its pure form. There is a slew of coconut products out there, so the possibilities are endless.
I'm not kidding when I say I bought every single coconut product I could find to test and experiment with. This included the following:
And some whole coconuts for good measure
All of these ingredients (except for the coconut flakes) were super easy to find in the grocery store.
For me, the first three were found in the Ethnic Foods section, the rest in the baking section. The only thing that was harder to find was the large coconut flakes, which I picked up at Whole Foods.
I didn't end up using elements of the whole coconuts other than for the pics, but I was surprised at how easy they were to crack!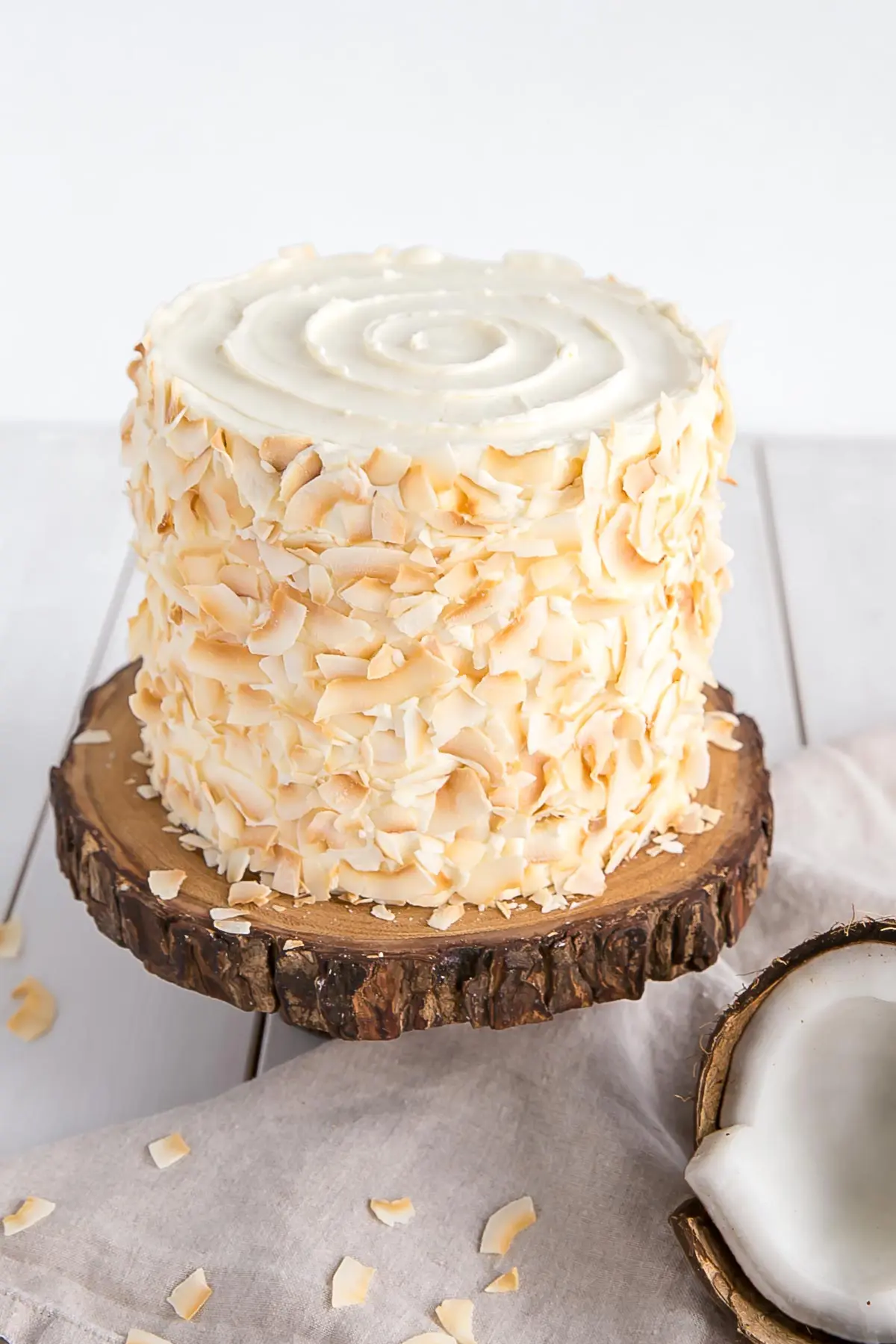 There are a bunch of videos on how to do this, and I recommend watching one to see how it's done, but basically, all you need to do is:
Poke out one or more of the "eyes" with a screwdriver (I was able to poke through without using a hammer)
Drain the coconut water into a bowl
Hammer around the axis of the coconut while turning it, and eventually a crack will start to form (this didn't take long)
Keep hammering until the crack is big enough that you can pry the coconut open
Coconut Tip!
If you're cracking more than one coconut and want to keep the water, drain them into separate bowls. I didn't know at the time, but the second coconut I cracked was a bit rotten on the inside, and I didn't want to use the water after I saw that.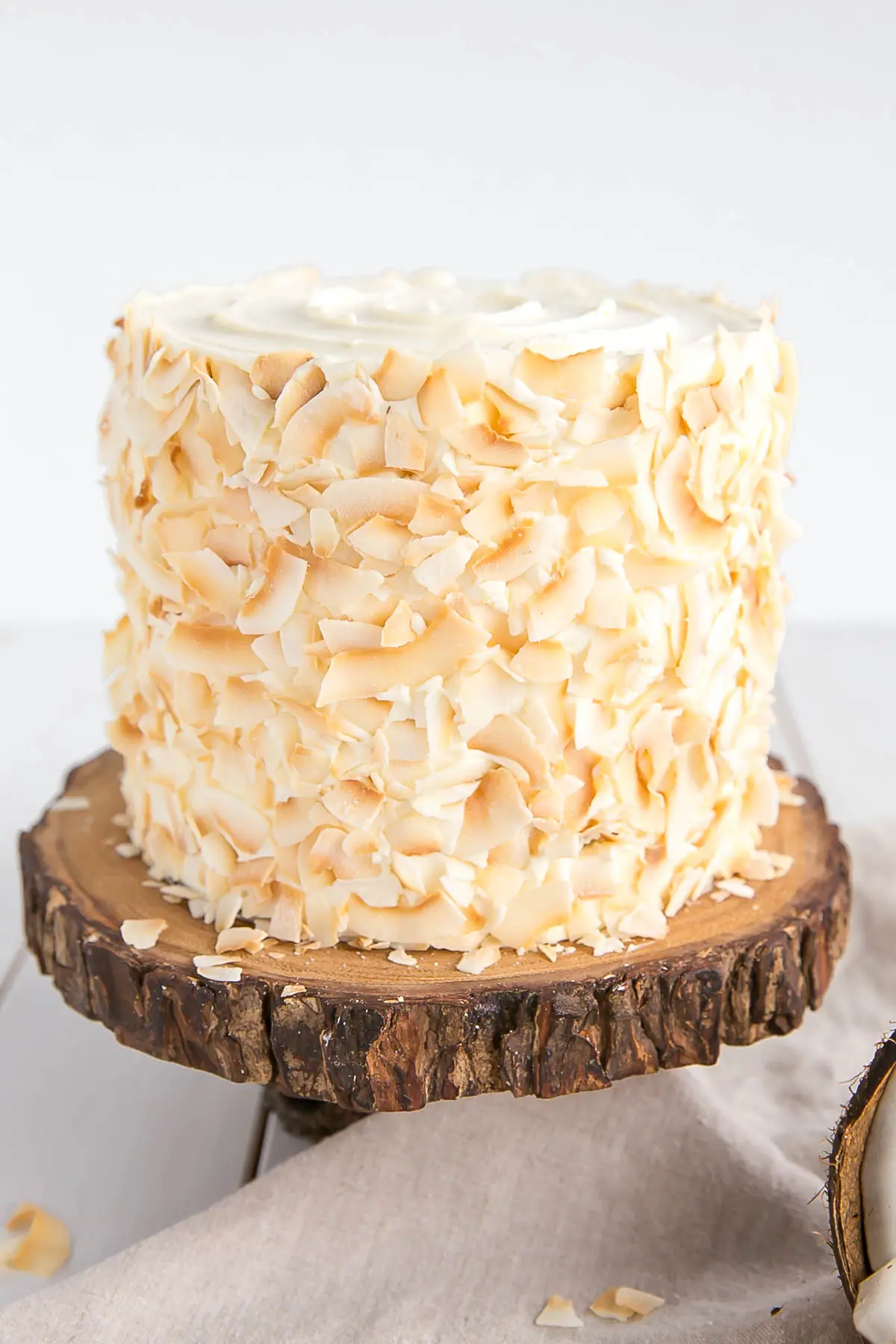 How to Make this Coconut Cake Recipe
For the actual cake recipe, I ended up using the canned coconut milk in place of regular milk, and I added medium shredded coconut to the batter.
I would have preferred to use fine shredded coconut, because I don't love the texture of coconut, but the stuff I had was unsweetened and I wanted to add a bit more sweetness to the cake. Either combination will work though — sweetened/unsweetened, fine/medium/coarse. It's just a matter of preference!
I didn't end up using the coconut sugar in the final version of the recipe, because it colored the cake batter too much and I wanted a nice, white/yellow cake.
So you can use coconut sugar and it will work totally fine, the cake will just have a slightly different flavor and color. But it's important to note that coconut sugar doesn't actually taste like coconut at all. It's made from the sap of the flower buds of the coconut palms, not the coconut itself. It tastes and looks similar to brown sugar.
The coconut milk powder worked extremely well in the frosting. It added an amazing flavor without affecting the texture. If you were to use canned coconut milk instead, you'd have to use a lot more of it for the flavor to come through, and it could make the frosting too soft. I highly recommend using the milk powder if you can find it!
I only used the coconut milk powder in the frosting, not the cake, but I think it would be a great way to add more flavor to the cake if you wanted to. I'd probably add a couple of Tbsp to the dry ingredients.
This pretty Coconut Cake is finished off with a simple decoration of some giant toasted coconut flakes, and I just love the look of them. I was able to buy mine already toasted, but I popped them into the oven for a bit more to enhance the color.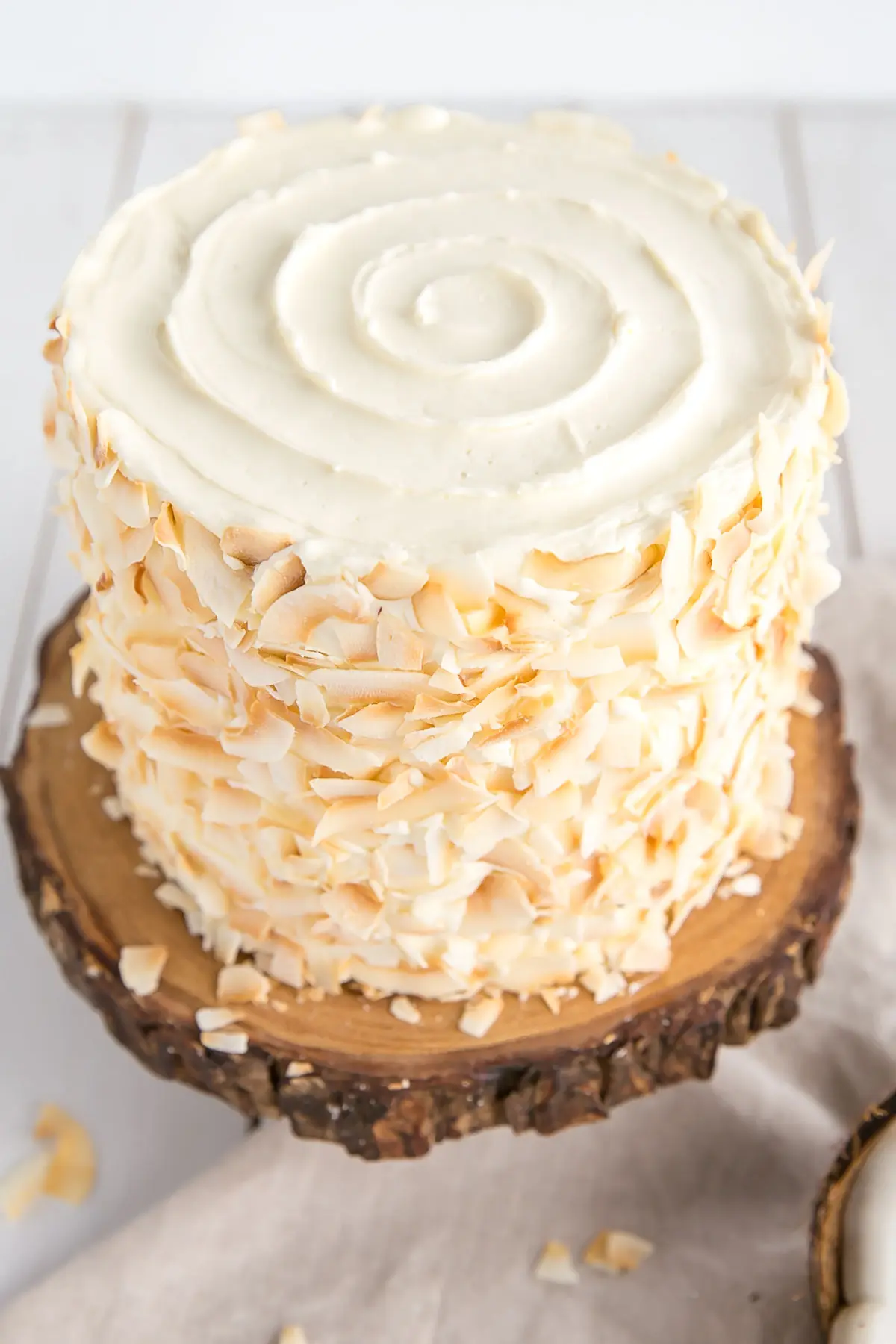 Why Do you Toast Coconut?
Toasting coconut gives it a delicious nutty flavor. It's really a step that you don't want to skip! It also gives it a crispier texture and smells just heavenly.
How to Toast Coconut
Toasting coconut is super easy and can be done in no time. Preheat your oven to 350F and spread the coconut in a thin, even layer on a large baking sheet. Pop it in the oven for 5mins, stir it around, and keep toasting until the desired color is reached. It's important to note that it can go from beautiful golden brown to burnt very quickly, so watch it like a hawk and stir it around often. Make sure the coconut is cooled completely before using it on the cake.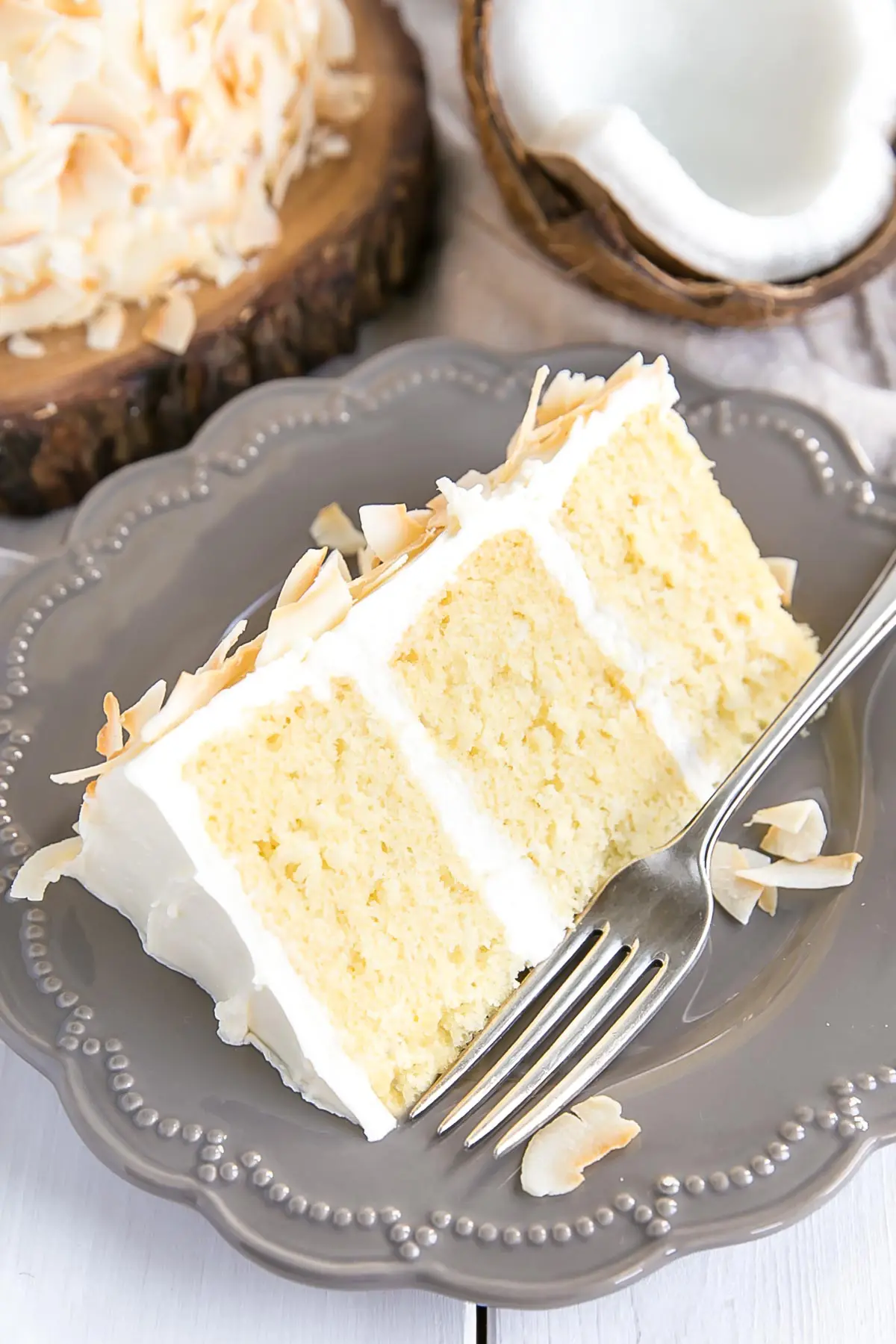 This Coconut Cake recipe has the perfect hit of coconut flavor throughout without being overpowering or tasting artificial. Any coconut fan in your life is sure to love it!
Frequently Asked Questions
How can I convert this recipe?
The recipe as-is will also work in two 8″ pans. For three 8″ pans, 1.5x the recipe. Baking time may need to be adjusted.
To make cupcakes, all you need to do is reduce the baking time — start checking at 15mins or so. The recipe will make 18-24 cupcakes depending on size.
For other conversions go here.
Can I make it in advance?
The cooled cake layers can be baked ahead of time, double wrapped in plastic wrap, and frozen for up to 3 months. Take out 2-3 hours before assembly.
The frosting can be placed in an airtight container and refrigerated for 1 week for frozen for 3 months. Bring to room temperature and rewhip before using.
The finished cake (whole or sliced, stored airtight) can be frozen for up to 3 months.
Can I get the measurements by weight/grams?
There is a Metric option in the recipe card. If you click it it will convert everything to grams.
This conversion is done automatically and I cannot guarantee the accuracy but many readers have had success using the metric option for this recipe.
Tips for this Coconut Cake Recipe
Be sure to use canned coconut milk, not the stuff in the carton, and shake it well before use. Mine was quite smooth, but it can separate a bit, so be sure to shake it!
I would have used very fine shredded coconut in the cake batter if I had it available, but you can use any kind you like. I used sweetened, but unsweetened will work too.
The coconut milk powder worked extremely well in the frosting, adding great flavor without affecting the texture.
If you like, you can add a couple of Tbsps of coconut milk powder into the dry ingredients in the cake batter to enhance the flavor even more.
I love the large coconut flakes on the outside of this cake, but if you can't find them you can use any kind of shredded coconut.
If you prefer to use an American buttercream, like my original coconut cake recipe used, you can use my Simple Vanilla Buttercream recipe and add coconut milk powder to it.
I like to prepare my cake pans using

Homemade Cake Release

then line with parchment.
Be sure to check my Swiss Meringue Buttercream post for tips and troubleshooting.
See my post on Simple Syrup for tips on how to make sure your cakes stay moist.
To help ensure your cake layers bake up nice and flat, see my Flat Top Cakes post.
Coconut Cake
This moist and delicious coconut cake recipe is infused with natural coconut flavor throughout.
Ingredients
Coconut Swiss Meringue Buttercream:
Assembly:
Instructions
Coconut Cake:
Preheat oven to 350F. Grease and flour three 6″ cake rounds and line with parchment.

In a medium bowl, whisk flour, baking powder, and salt until well combined. Set aside.

Using a stand mixer fitted with a paddle attachment, cream butter and sugar on med-high until pale and fluffy (approx 3mins). Reduce speed and add eggs one at a time fully incorporating after each addition. Add vanilla.

Alternate adding flour mixture and coconut milk, beginning and ending with flour (3 additions of flour and 2 of milk). Fully incorporating after each addition.

Gently fold in shredded coconut.

Bake for 35-40mins or until a toothpick inserted into the center comes out mostly clean.

Place cakes on wire rack to cool for 10mins then turn out onto wire rack.
Coconut Swiss Meringue Buttercream:
Place egg whites and sugar into the bowl of a stand mixer, whisk until combined.*

Place bowl over a double boiler on the stove and whisk constantly until the mixture is hot and no longer grainy to the touch (approx. 3mins). Or registers 160F on a candy thermometer.

Place bowl on your stand mixer and whisk on med-high until the meringue is stiff and cooled (the bowl is no longer warm to the touch (approx. 5-10mins)).

Switch to paddle attachment. Slowly add cubed butter and mix until smooth.**

Add coconut milk powder and whip until smooth.
Assembly:
Place one layer of cake on a cake stand or serving plate. Top with approximately 2/3 cup of buttercream. Repeat with remaining layer and crumb coat the cake. Chill for 20mins.

Frost the top and sides of the cake and smooth with a bench scraper. Do a swirl on the top.

Gently press toasted coconut flakes into the sides of the cake.
Notes
* Ensure there is NO trace of egg yolks in your whites and that your mixer bowl and whisk is completely grease free or your meringue won't stiffen.
** The buttercream may look like it's curdled at some point. Keep mixing until it is completely smooth.
Calories:
701
kcal
Carbohydrates:
70
g
Protein:
6
g
Fat:
45
g
Saturated Fat:
30
g
Cholesterol:
138
mg
Sodium:
171
mg
Potassium:
236
mg
Fiber:
1
g
Sugar:
52
g
Vitamin A:
1130
IU
Vitamin C:
0.6
mg
Calcium:
65
mg
Iron:
1.7
mg
The nutritional information and metric conversions are calculated automatically. I cannot guarantee the accuracy of this data. If this is important to you, please verify with your favorite nutrition calculator and/or metric conversion tool.