A delicious blueberry buttercream made with fresh blueberries.
I really don't like to see anything go to waste and I almost always have leftovers after baking something. Extra buttercream, ganache, cupcakes, etc. I store all of this in my freezer, but it can get out of control every once in a while, so I like to find things I can make with the extras.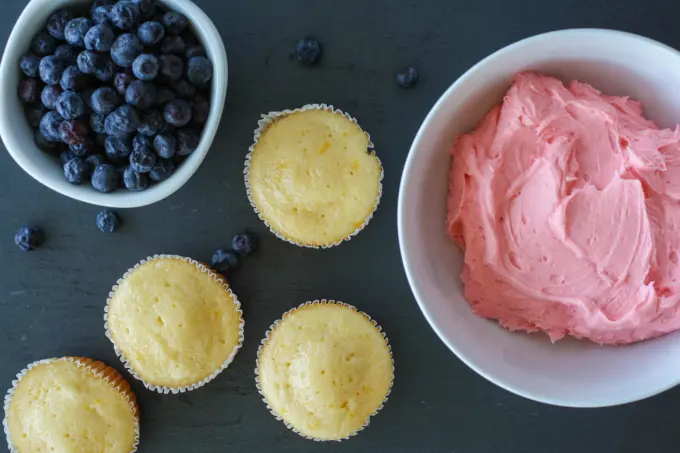 In this case I used the following leftovers to make the perfect lemon cupcakes with blueberry buttercream.
The process was pretty simple AND successful considering I winged the entire thing.
While the buttercream and cupcakes were defrosting, I cooked down the blueberries, pushed them through a strainer, and reduced them to a thick sauce. I then cooled the sauce completely and added about 2-3 Tbsp of it to the room temperature buttercream. I folded it in by hand, but the buttercream was separating a bit so I threw it into the mixer and beat it for a couple minutes and it came out perfect!
It's important to note that the starting buttercream was PINK. If you want yours to turn out the same color as these ones, make sure you use a base of pink. I'm sure the color would turn out just as pretty with white buttercream though, likley more of a pretty pastel blue.
I love the flecks of blueberries in these.
With the leftovers, I had just enough to ice the 6 cupcakes I had. Perfect. I managed to pick out a handful of un-shriveled blueberries as garnish, but the pickings were slim!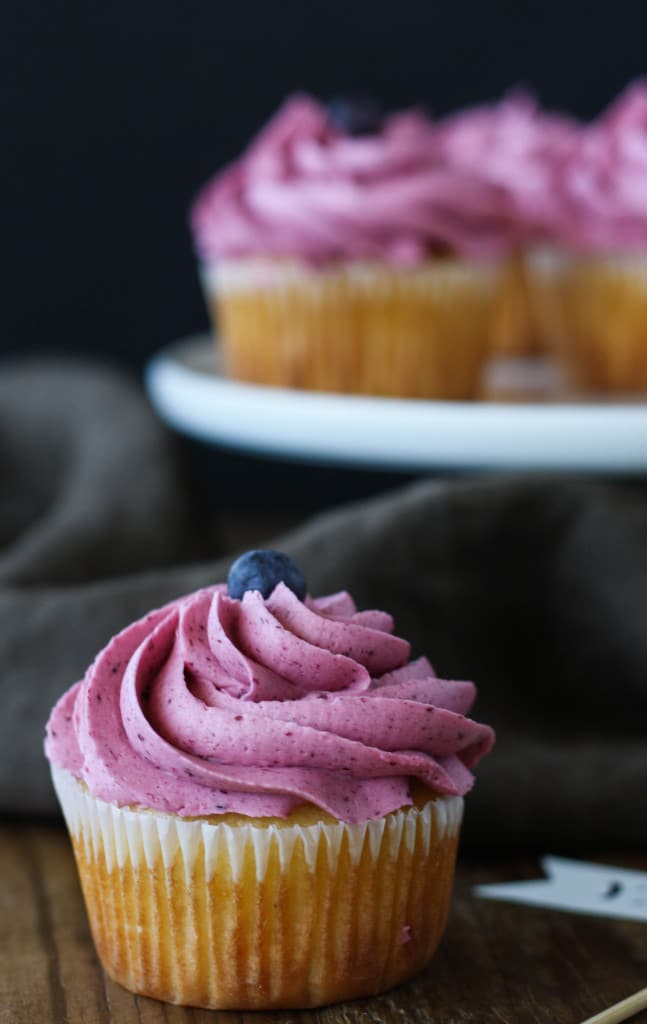 Classic combo of lemon and blueberry was a success. And YAY to no wasted leftovers!
Blueberry Buttercream
A delicious blueberry buttercream made with fresh blueberries.
Instructions
Place blueberries and 1/4 cup water in a small pot over medium heat. Simmer until blueberries are broken downa nd most of the water has evaporated.

Strain the blueberries, pressing through with a spatula.

If blueberry sauce is too thin, return to pot over medium heat and reduce until thickened and coating the pot.

Cool completely.

Add 2-3 Tbsp blueberry sauce to buttercream and beat until combined.
Calories:
986
kcal
Carbohydrates:
164
g
Fat:
36
g
Saturated Fat:
6
g
Sodium:
416
mg
Potassium:
133
mg
Fiber:
1
g
Sugar:
149
g
Vitamin A:
40
IU
Vitamin C:
7.2
mg
Calcium:
7
mg
Iron:
0.6
mg
The nutritional information and metric conversions are calculated automatically. I cannot guarantee the accuracy of this data. If this is important to you, please verify with your favorite nutrition calculator and/or metric conversion tool.