This Very Berry Layer Cake makes the perfect use of those summer berries! Layers of vanilla cake, swiss meringue buttercream, and loads of fresh berries.
Summer berries are the best. Pretty and plentiful, it's hard not to make a berry dessert (or multiple) during the hot, sunny months. This berry layer cake is an impressive yet super easy dessert to make, I promise! All you need is a cake of some kind (from scratch or a box mix, vanilla or chocolate), frosting of your choice (a simple vanilla buttercream or cream cheese frosting, etc.), and fresh berries. Then all you have to do is stack, and your impressive summer dessert is done!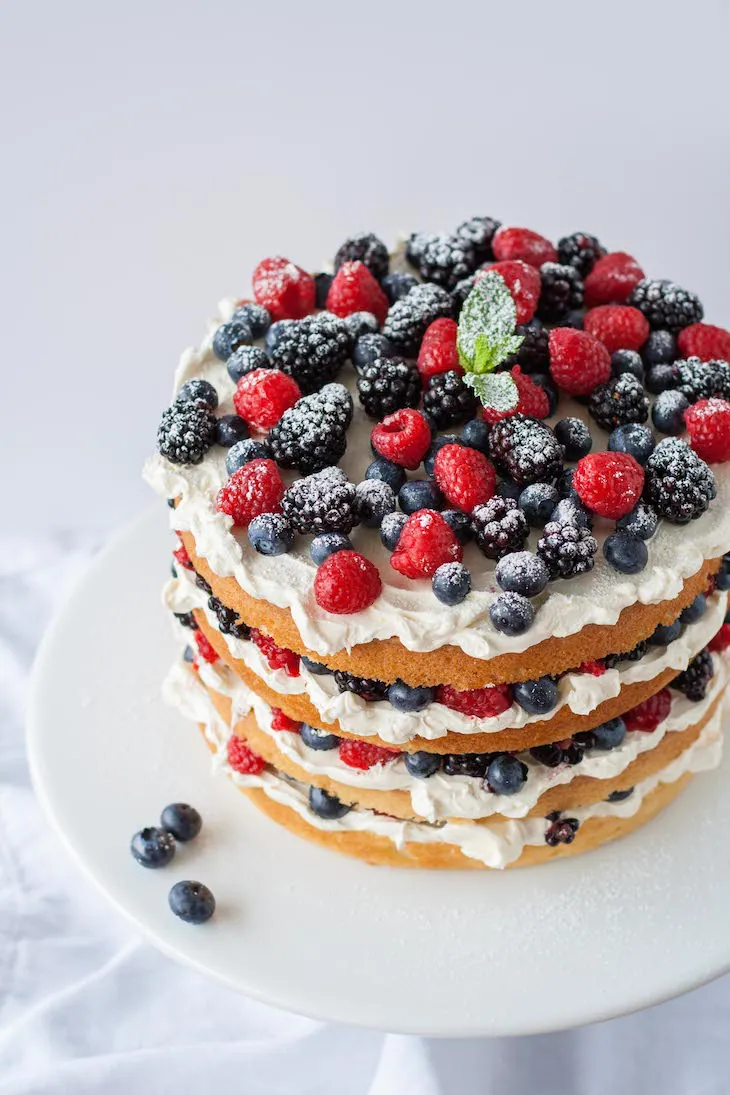 I first made this cake years ago for my mom's birthday. I had seen it in a magazine and improvised the recipes. If you dig through my blog, you can find the super old post about it along with some lovely pics in the archives.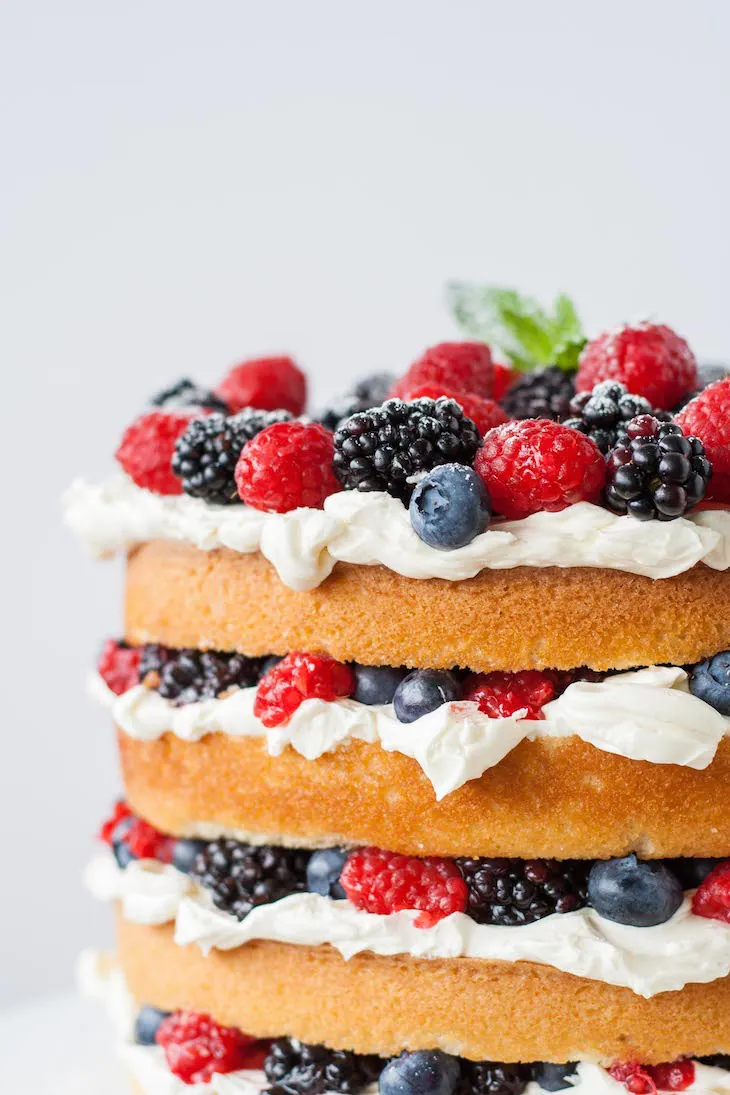 Laziness prevailed this week, so instead of baking from scratch, I made my Almost Scratch Cake. It's a box mix (gasp) with some extras thrown in (like sour cream) to make it even better. I actually kinda screwed up the cake. I really need to learn to read my recipes. I checked the cake at 30mins and wondered why the heck it was domed and cracking. Now I know why: I assumed that I needed to set the oven to 350F, as I do for almost every other cake, but this one needs 325F.
A domed cake was the last thing I wanted, and it never happens thanks to some of my tricks. Thankfully, I was able to utilize the tea towel trick to flatten the cakes as soon as they came out of the oven. Not ideal, but it got the job done. The high temp also meant the cake was browned way more than I expected/wanted. Oh well! Learn from my mistakes people, read the directions!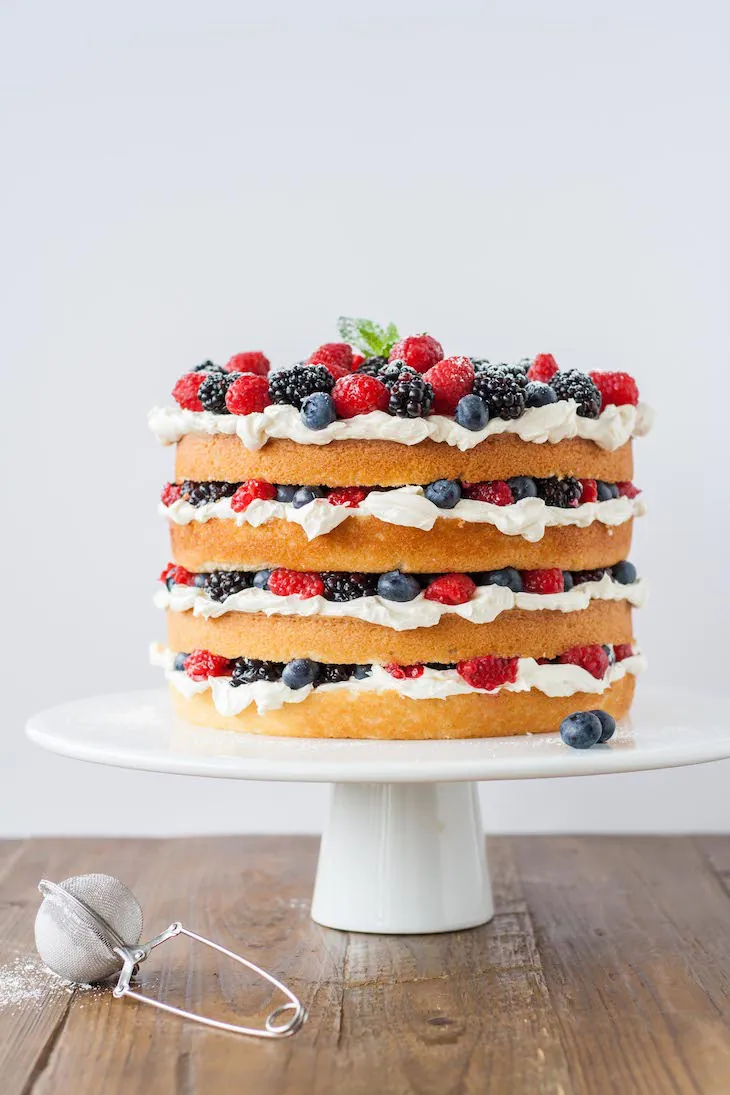 You can really make any kind of cake for this as long as the flavor goes with berries. A chocolate one would be pretty delicious. You can use something like Angel Food cake too, but it will affect the structural integrity of the cake, since Angel Food is so light and this is cake gets heavy once all of the layers, frosting, and berries are added. If you do want to use Angel Food, I'd suggest trying whipped cream instead of buttercream and maybe not as many berries. I prefer my cakes dense though, so no Angel Food here.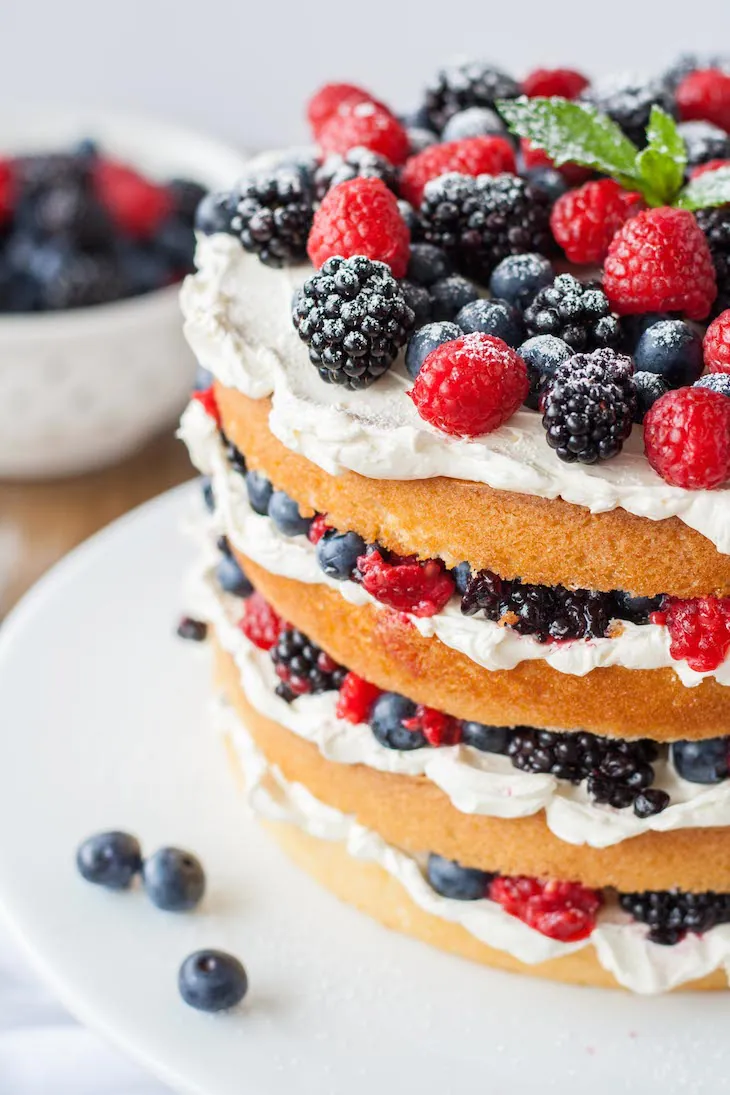 I made a Swiss Meringue Buttercream for the frosting since it's lighter and less sweet than a traditional American buttercream. The berries already add sweetness, as does the simple syrup, so I wanted to balance it out.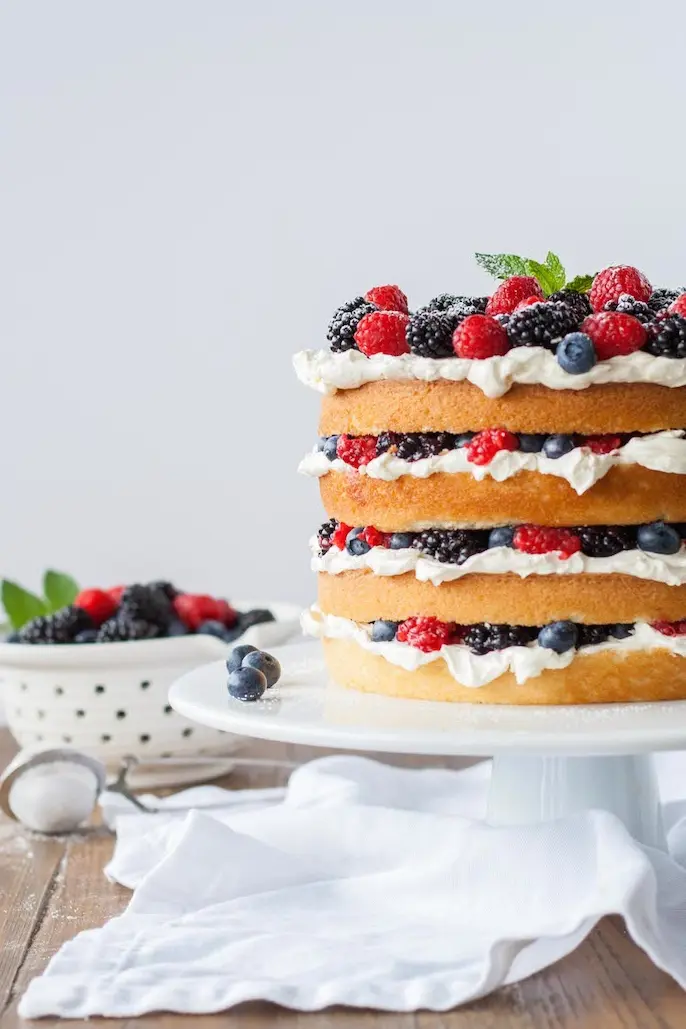 The simple syrup is optional, but it adds more moisture to the cake. No one wants dry cake, right? Truthfully, this cake is already super moist with the addition of sour cream, but I like the syrup for that extra amount of moisture and sweetness.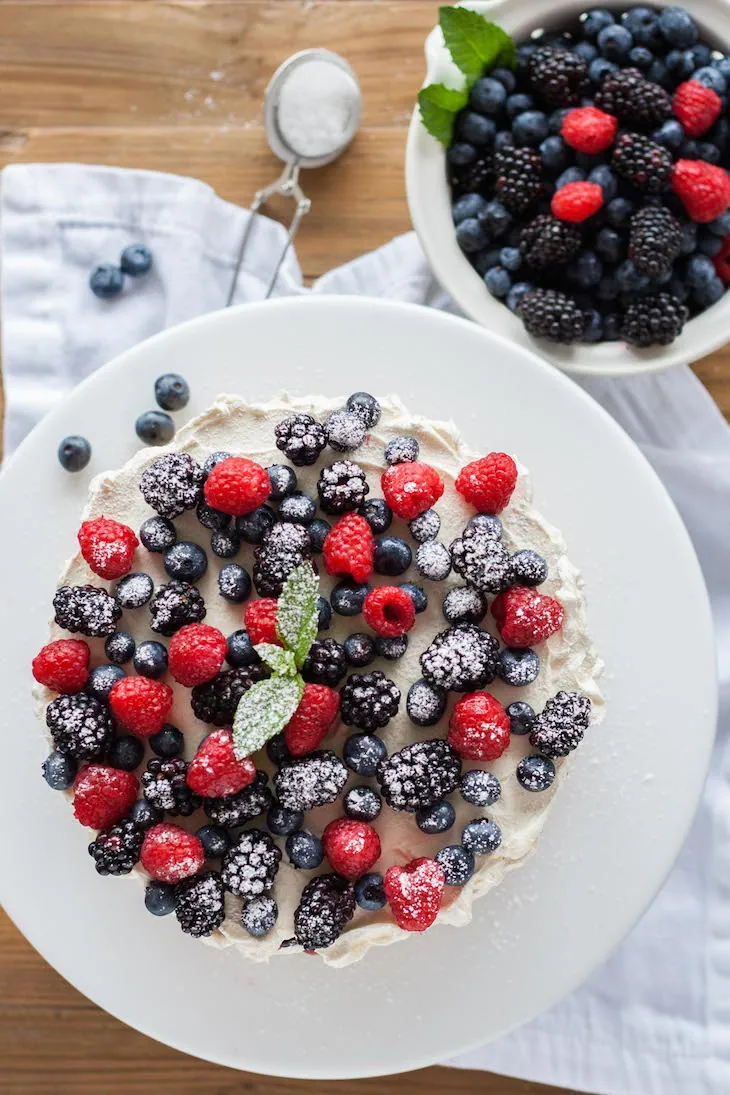 There you have it. This Berry Layer Cake is a stunning simple summer dessert!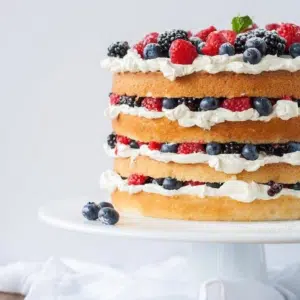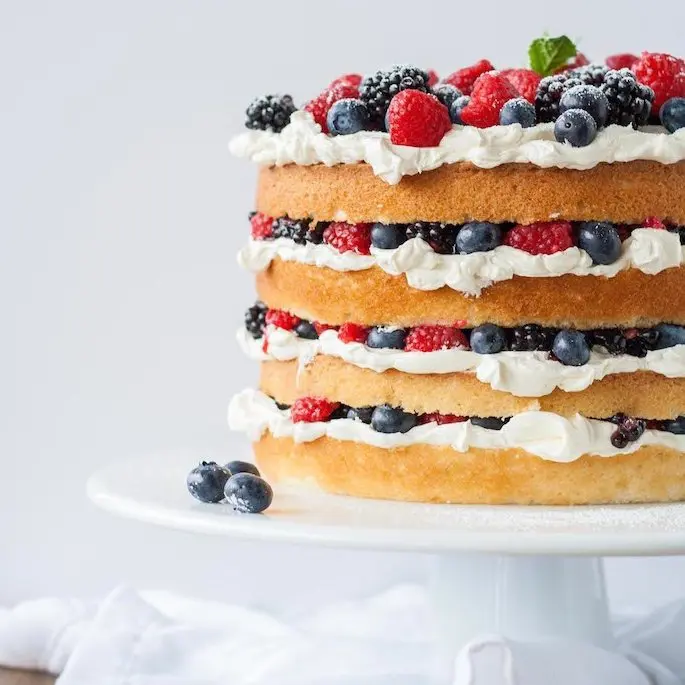 Very Berry Layer Cake
This Very Berry Layer Cake makes the perfect use of those summer berries! Layers of vanilla cake, swiss meringue buttercream, and loads of fresh berries.
Ingredients
Swiss Meringue Buttercream
Berries
5-6

cups

mixed berries

sliced

2

cups

mixed berries

whole
Instructions
Cake:
Prepare cake as per

recipe

. Once cool, cut layers in half horizontally. I used a

cake leveler

to do this.
Simple Syrup:
Optional, but will add more moistness to your cake.

Place water and sugar into a small pot over high heat. Stir until sugar has dissolved. Remove from heat and cool completely. Store in fridge until needed.
Swiss Meringue Buttercream:
Place egg whites and sugar into the bowl of a stand mixer, whisk until combined.

Place bowl over a hot water bath on the stove and whisk constantly until the mixture is no longer grainy to the touch (approx. 3mins).

Place bowl on your stand mixer and whisk on med-high until the meringue is stiff and cooled (the bowl is no longer warm to the touch (approx. 5-10mins)).

Switch to paddle attachment.

Slowly add cubed butter and mix until smooth. Add vanilla.**
Assembly:
Cut cake layers in half horizontally using a

cake leveler

or large serrated knife.

Place one layer onto your cake stand, brush with simple syrup. Add 1/4 of the buttercream on top and spread roughly. Spread 1/3 of sliced berries over top of the buttercream.

Repeat the process with the other layers, finishing with 2 cups of whole berries.
Notes
* Ensure there is NO trace of egg yolks in your whites and that your mixer bowl and whisk is completely grease free or your meringue won't stiffen
** The buttercream may look like it's curdled at some point. Keep mixing until it is completely smooth.
Calories:
690
kcal
Carbohydrates:
36
g
Protein:
1
g
Fat:
23
g
Saturated Fat:
14
g
Cholesterol:
61
mg
Sodium:
21
mg
Potassium:
72
mg
Fiber:
2
g
Sugar:
32
g
Vitamin A:
750
IU
Vitamin C:
2.2
mg
Calcium:
14
mg
Iron:
0.2
mg
The nutritional information and metric conversions are calculated automatically. I cannot guarantee the accuracy of this data. If this is important to you, please verify with your favorite nutrition calculator and/or metric conversion tool.