This Oatmeal Cookie Cake has brown sugar chocolate chip cake layers, an oatmeal cookie crunch, and oatmeal cookie frosting!
Turning my (and your) favorite cookie recipe into a cake! My Oatmeal Chocolate Chip Cookies recipe is one of the most popular recipes on my blog. Rightfully so as they are delicious. Seriously if you haven't tried them bookmark that recipe right now and add it to your bake list.
You guys all loved my Chocolate Chip Cookie Cake so I thought it would be fun to do an oatmeal cookie version.
How to this Oatmeal Cookie Cake
Turning cookies into a cake isn't exactly easy. You want the essence of that cookie texture and flavor to be there and it requires some experimenting. Naturally, there were some fails along the way.
I tried to incorporate oats as well as chocolate chips right into the cake batter so I tweaked the recipe slightly to do that since I was adding oats (I soaked them first in milk). Unfortunately, the oats (and the chocolate chips) ended up sinking right to the bottom of the cake.
I was surprised by both, to be honest. I coated the chocolate chips in flour which has worked in previous recipes, and the oats were softened by the milk so I don't really know why they sank either.
Sinking aside, the cakes tasted amazing but I actually didn't like the texture of the oats in them. A bit too chewy for my liking. So I scrapped the oats in the cake layers idea and went for a trusted brown sugar chocolate chip cake.
This Oatmeal Cookie Cake is comprised of the following:
Brown sugar chocolate chip cake layers
Oatmeal crumble
Oatmeal cookie buttercream
Cookie Crumble
For added texture in the cake and to emulate the "cookie" I made an oatmeal cookie crumble. The same one I made for my Apple Crisp Cake.
This is an optional step. You could just crush up some oatmeal chocolate chip cookies and use those instead.
Cake Tip!
If you do this you can use some of the larger chunks that were sifted out for the buttercream. Read on for that.
The crumble consists of four simple ingredients.
Flour
Oats
Brown sugar
Melted butter
You simply combine the dry ingredients and add enough butter until it starts to clump. I just stirred it in with a spatula but you can use a hand or stand mixer if you like. Be sure to only add as much butter as is needed. Adding too little and it will be sandy, too much and it will turn into one huge clump.
Once combined, spread it on a parchment or silicone-lined baking sheet and bake at 350F for 8-10mins.
Cool completely before using it in the cake and break up some of the crumble if necessary.
I sprinkled some mini chocolate chips on top of the crumble on each layer.
Oatmeal Cookie Buttercream
This stuff is magical. It tastes SO good and just like oatmeal cookies. To make this I used my standard Swiss meringue buttercream recipe except I used dark brown sugar instead of white and added pulverized cookie crumbs to it.
I opted to use store-bought oatmeal cookies for this rather than my own recipe because these cookies were very dry and crispy and would be easy to turn into a powder. My cookies are more on the chewy side so they wouldn't work as well for this.
I pulsed the cookies in my food processor then sifted them through a fine-mesh strainer until I had a cookie powder to add to the buttercream.
If you want to skip the crumble above, I recommend pulsing the cookies a few times, sifting out some larger bits for the crumble then pulverizing the rest into a powder. You may need to do this a few times (pulverizing/sifting) to get the full 150g (or 1 1/2 cups) of powder.
Cake Tip!
You don't need to use as much of the powdered oatmeal cookies as I did. I used the full amount but just add it 1/4 cup at a time to taste.
The cookie powder will make your buttercream less smooth so it won't be as perfect or pristine but trust me it's worth it because it is delicious!
To decorate the cake I did a quick rope border on top and filled the middle in with some cookies and cookie crumbs. The rope border isn't as smooth as it usually is due to the cookie crumbs in the frosting but I think it still looks pretty.
I had intended to use the homemade oatmeal crumble along the bottom of the cake and at the top but it was a different color than my cookies and I wanted it to match. So the poor crumble only got used between the layers.
Feel free to use it however or wherever you like or just use crushed cookies instead.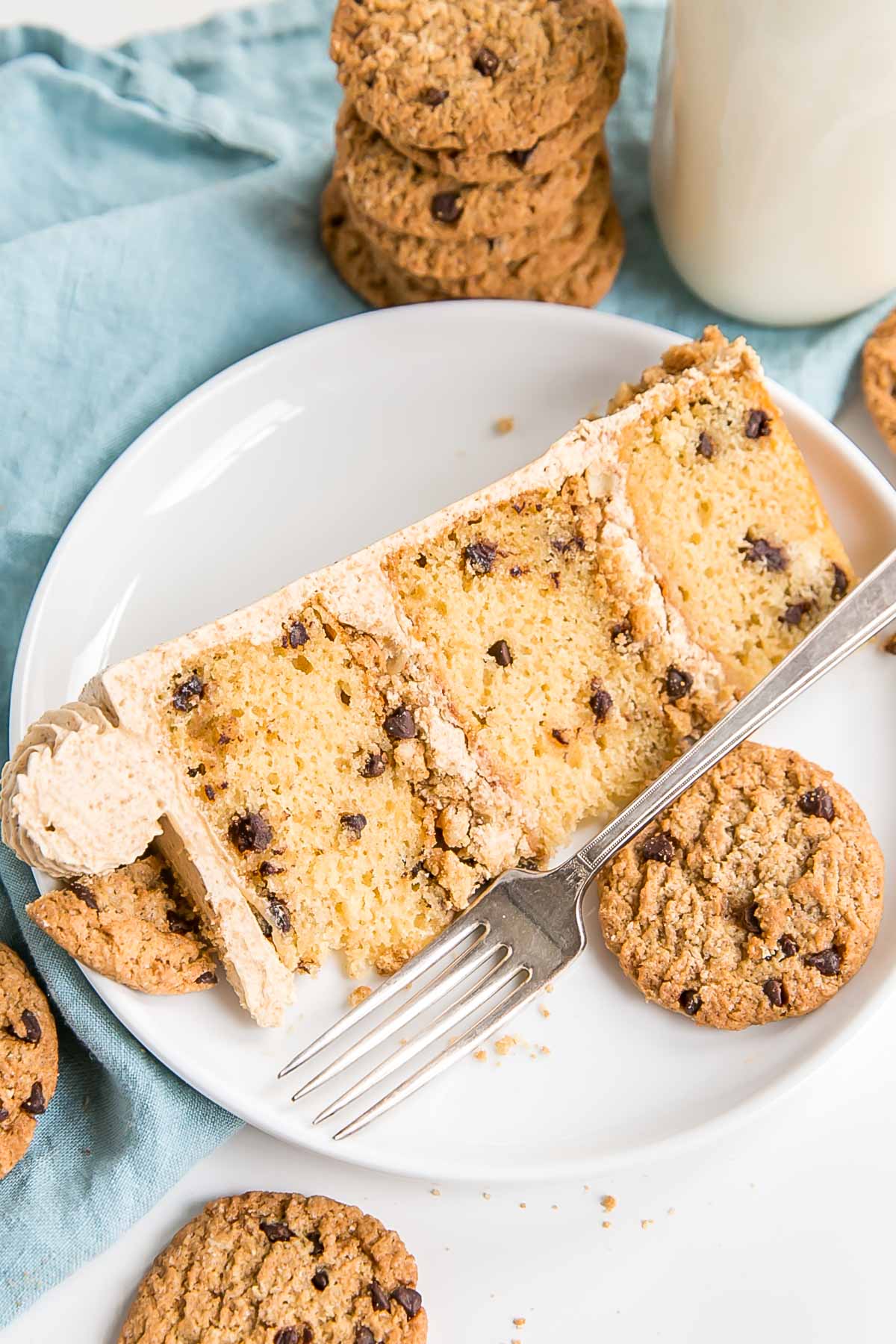 If you're an oatmeal cookie fan, this cake is for you! The oatmeal cookie flavor really comes through, especially in the frosting.
A fun and delicious cake for the oatmeal cookie fan in your life.
Frequently Asked Questions
How can I convert this recipe?
The recipe as-is will also work in two 8″ pans. For three 8″ pans, 1.5x the recipe. Baking time may need to be adjusted.
To make cupcakes, all you need to do is reduce the baking time — start checking at 15mins or so. The recipe will make 18-24 cupcakes depending on size.
For other conversions go here.
Can I make it in advance?
The cooled cake layers can be baked ahead of time, double wrapped in plastic wrap, and frozen for up to 3 months. Take out 2-3 hours before assembly.
The frosting can be placed in an airtight container and refrigerated for 1 week for frozen for 3 months. Bring to room temp and rewhip before using.
The cooled cookie crumble can be stored in an airtight container for up to a week. You can also freeze it for up to 3 months.
The finished cake (whole or sliced, stored airtight) can be frozen for up to 3 months.
Can I get the measurements by weight/grams?
There is a Metric option in the recipe card. If you click it it will convert everything to grams.
This conversion is done automatically and I cannot guarantee the accuracy but many readers have had success using the metric option on my recipes.
Tips for Making this Oatmeal Cookie Cake
The homemade Oatmeal Crumble is optional. You can just use crushed oatmeal cookies for this instead.
Only add as much butter as needed to the crumble. Stop when it starts to clump.
You can leave the chocolate chips out of the cake if you prefer.
Add the oatmeal cookie powder to taste to the buttercream. Add 1/4 cup at a time until you get to a flavor you like. I added the full amount but it will make your buttercream sweeter and the more you add the less smooth your buttercream will be.
I like to prepare my cake pans using

Homemade Cake Release

then line with parchment.
Be sure to check my Swiss Meringue Buttercream post for tips and troubleshooting.
Learn how to keep your cakes moist using Simple Syrup.
To help ensure your cake layers bake up nice and flat, check out my How to Bake Flat Cake Layers post.
Oatmeal Cookie Cake
This Oatmeal Cookie Cake has brown sugar chocolate chip cake layers, an oatmeal cookie crunch, and oatmeal cookie frosting!
Ingredients
Instructions
Brown Sugar Chocolate Chip Cake:
Preheat oven to 350F. Grease and flour three 6″ cake rounds and line with parchment.

In a medium bowl, whisk flour, baking powder, and salt until well combined. Set aside.

Using a stand mixer fitted with a paddle attachment, cream butter and sugars on med-hig until pale and fluffy (approx 3mins).

Reduce speed and add eggs one at a time fully incorporating after each addition. Add vanilla.

Alternate adding flour mixture and milk, beginning and ending with flour (3 additions of flour and 2 of milk). Fully incorporating after each addition.

Toss chocolate chips in 1 Tbsp flour. Gently fold in chocolate chips and mix until just incorporated.

Bake for 30-35 mins or until a toothpick inserted into the center comes out mostly clean.

Place cakes on wire rack to cool for 10mins then turn out onto wire rack and cool completely.
Oatmeal Cookie Crumble (optional):
Preheat oven to 350F. Whisk flour, oats, and brown sugar in a medium bowl. Add enough melted butter so that the mixture starts to clump. Spread onto a parchment lined baking sheet and bake for 8-10 mins. Cool completely. Break crumble apart if needed.

This is optional, if you prefer you can just use crushed cookies instead.
Oatmeal Cookie Buttercream:
Place egg whites and sugar into the bowl of a stand mixer, whisk until combined.*

Place bowl over a pot with 1-2" of simmering water and stir constantly with a whisk until the mixture is hot and no longer grainy to the touch or reads 160F on a candy thermometer (approx. 3mins).

Place bowl on your stand mixer and whip on med-high until the meringue is stiff and cooled (the bowl is no longer warm to the touch (approx. 5-10mins)).

Switch to paddle attachment. Slowly add cubed butter and mix until smooth.**

Add vanilla and cookie crumbs whip until smooth.***
Assembly:
Place one layer of cake onto a cake stand or serving plate. Top with 2/3 cup of frosting and spread evenly. Sprinkle with about 1/4 – 1/2 cup crumble (smaller pieces). Sprinkle mini chocolate chips on top if desired. Press gently into frosting. Repeat with next layer. Crumb coat the cake. Chill for 20mins.

Frost the cake and smooth the sides and top. Do a rope border using a Wilton 6B piping tip. Place crushed cookies along the bottom of the cake if desired.
Notes
* Wipe your mixer bowl and whisk down with lemon juice or vinegar to make sure it is completely grease-free and make sure there is no trace of yolk in your whites or your meringue will not stiffen.
** The buttercream may look like it's curdled at some point. Keep mixing until it is completely smooth. If it looks soupy, place it in the fridge for 20mins and rewhip. See this post for tips.
*** You can use less cookie crumbs if you like. Add them 1/4 cup at a time to taste.
Calories:
910
kcal
Carbohydrates:
105
g
Protein:
9
g
Fat:
52
g
Saturated Fat:
32
g
Trans Fat:
2
g
Cholesterol:
176
mg
Sodium:
184
mg
Potassium:
290
mg
Fiber:
1
g
Sugar:
79
g
Vitamin A:
1583
IU
Vitamin C:
1
mg
Calcium:
150
mg
Iron:
2
mg
The nutritional information and metric conversions are calculated automatically. I cannot guarantee the accuracy of this data. If this is important to you, please verify with your favorite nutrition calculator and/or metric conversion tool.