These Maple Sugar Cookies are simple, stunning, and delicious. Loaded with pure maple syrup, they are a perfect treat any time of year, especially during the holiday season!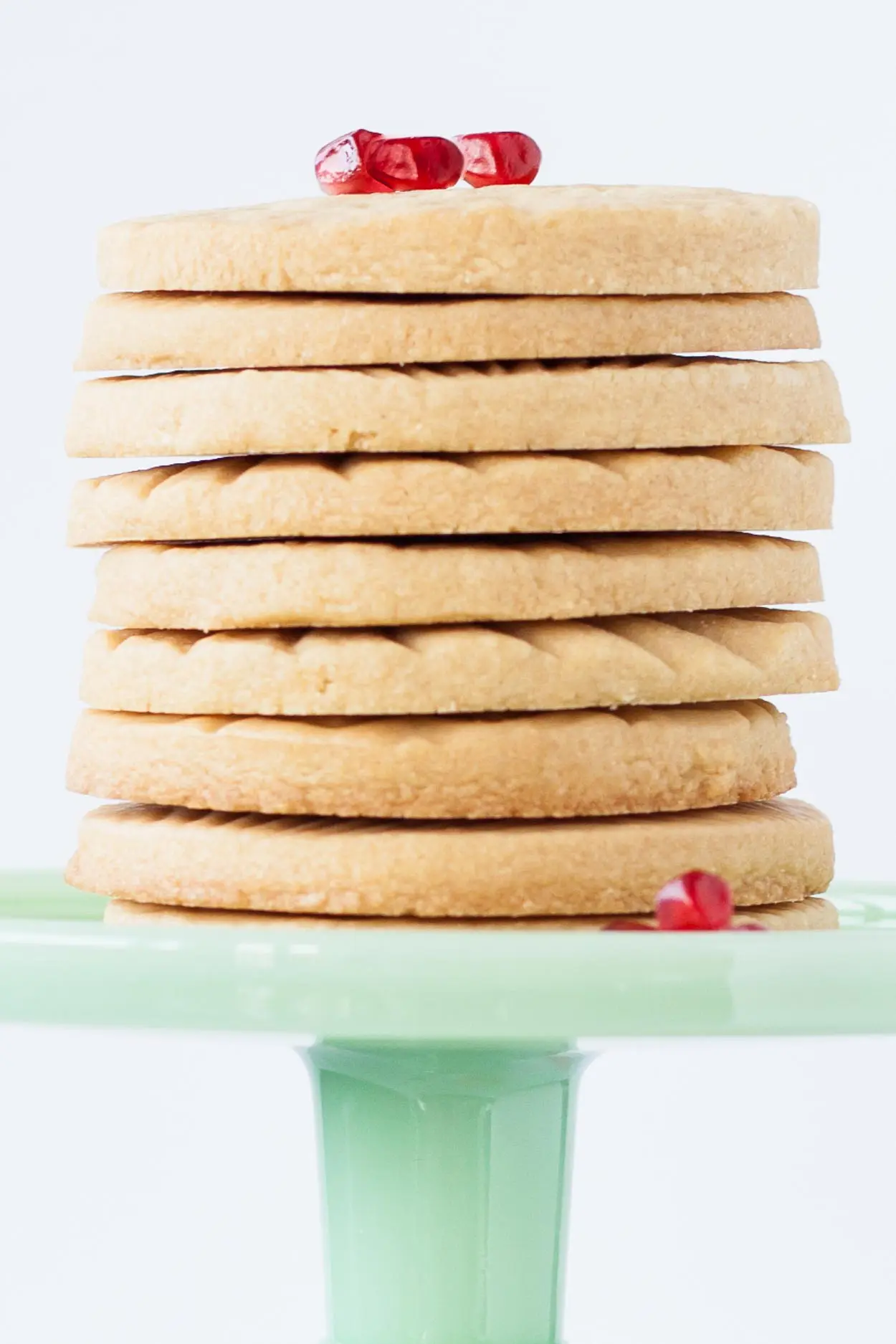 Nordic Ware sent me these Geo Cookie Stamps and Naturals Big Baking Sheet pan to try out, but have not compensated me monetarily for this recipe. All opinions are my own.
If you haven't already noticed, I'm 100% in holiday mode. My holiday baking has been going on for a few weeks now, and I don't intend to stop until the clock strikes 2016. Christmas is slowly starting to infiltrate our apartment, and we'll be putting up our tree next weekend (which is actually a week later than we usually do it). LOVE this time of year! I'll be focusing on holiday cookies for the next little bit because: 1) they're easy (usually); 2) there's a bunch of cookie exchanges going on, and; 3) they're delicious. This week it's these yummy Maple Sugar Cookies!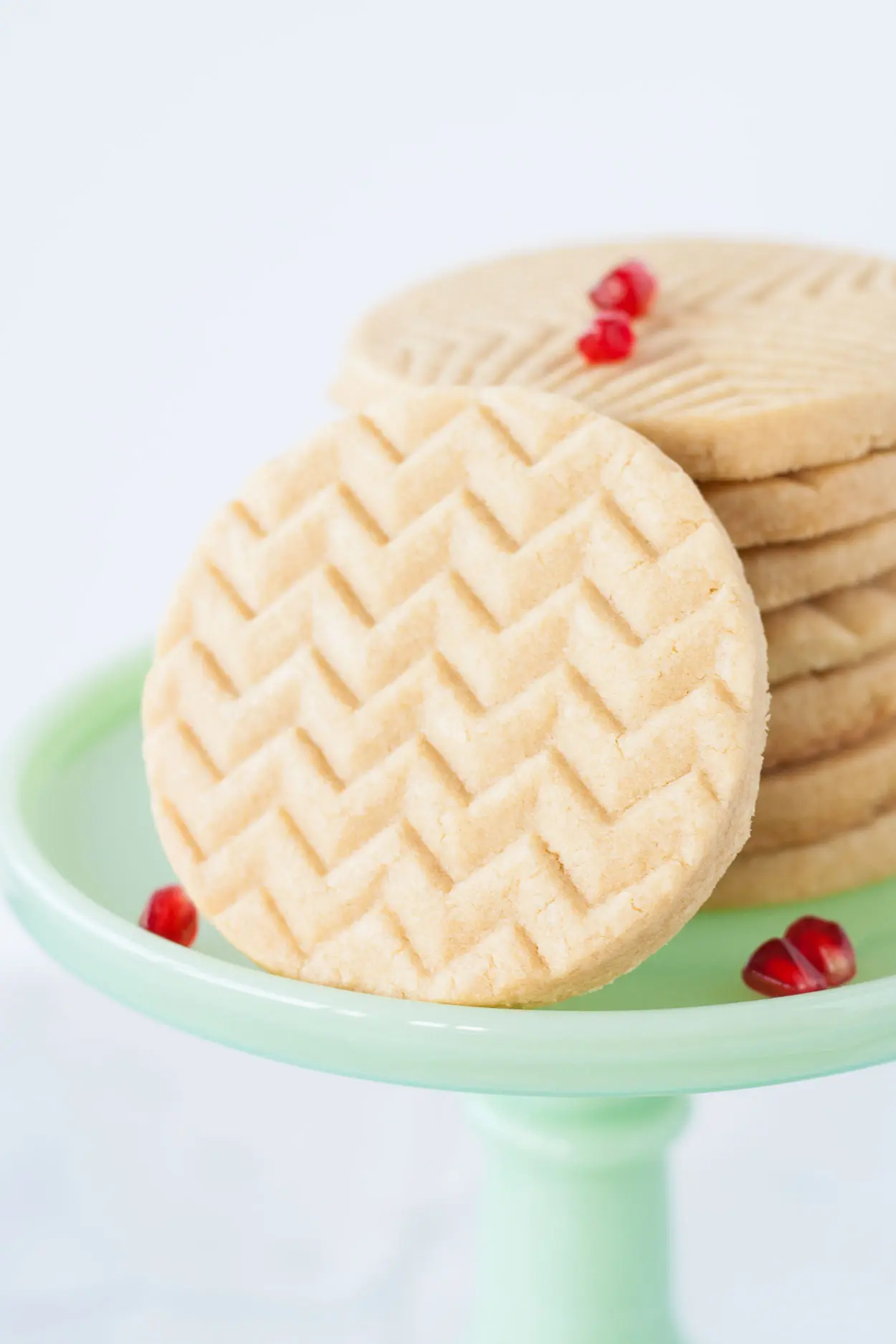 I'm all about simple, pretty, elegant designs, which is I think why I love the Bundt cakes so much. Nordic Ware is my go-to company for those, so I was super excited when they sent me these Geo Cookie Stamps and Naturals Big Baking Sheet to try out for this holiday season!
I've seen cookie stamps around, but honestly I was a little intimidated to try them. I don't do cut-out cookies often and I wasn't sure how the stamps would work out. I imagined them sticking to the dough and generally not being very user-friendly. Thankfully I was wrong!
There's a couple of ways you can make cookies with cookie stamps. There's the easy way, and then there's the way that I did it. Sigh. I'm going to tell you about both and you can decide which is best for you.
The way *I* did it was to chill the dough, roll it out, stamp the cookies, use a cookie cutter to cut them out, then chill the cookies again before baking. This is a longer process, but does give you clean/sharp edges on your cookies.
The easier method is just to scoop the batter right away, roll it into a ball, use the cookie stamp to press it down, and then chill the cookies. I realized this when I was using up my last scrap of dough — I just rolled it into a ball and stamped. I'm not sure why I didn't think this idea would work in the first place. I thought the dough would stick to the cookie stamp because it wasn't chilled, but it totally didn't and was perfectly fine! This way gave more defined lines, as the dough was softer, but the edges of the cookie were more rounded.
Either method you decide (I've included both in the recipe below), you're sure to have stunning cookies that will impress friends and family!
To make sure my cookie dough didn't stick to the stamps, I dipped them into a small bowl filled with flour and brushed off the excess. This would do a few cookies, then I would dip again as needed – worked perfectly.
As with all Nordic Ware products, the quality of their Geo Cookie Stamps is amazing. They are quite rugged, made from heavy cast aluminum, and I love the vintage look of the wooden handles! The Naturals Big Baking Sheet is a winner too. It's high quality, and it's nice and large, which means you can bake more cookies at a time!
These Maple Sugar Cookies are simple and delicious. You don't need a ton of ingredients or fancy decorations – they are perfect on their own. Sweet and soft, with the yummy flavor of pure maple syrup. If you'd like to kick it up a notch, you can dip them in a maple glaze or brush them with maple syrup straight out of the oven and then dust them with coarse sugar. I did a few with the maple glaze (not pictured) so I've included the recipe for the glaze below.
Happy Holiday Baking!!
Maple Sugar Cookies
These Maple Sugar Cookies are simple, stunning, and delicious. Loaded with pure maple syrup, they are a perfect treat any time of year, especially during the holiday season!
Instructions
Prep:
Beat butter and sugars with an electric mixer on med-high until pale and fluffy (approx 3mins.)

Reduce speed to low and add egg yolk, mix until fully combined.

Add maple syrup, mix until fully combined.

Add flour and salt and mix until just incorporated.
Method #1:
Scoop dough using a medium cookie scoop,(approx 1.5 – 2 Tbsp) roll into a ball and place on lined baking sheet. Dip cookie stamp into some flour and brush off excess. Press into cookie dough to flatten.

Chill cookies until firm (approx.1 hour).
Method #2:
Divide dough in half, shape into discs, chill for 2 hours.

Roll dough out between 2 pieces of parchment to 1/4″ thickness. Dip cookie stamps in flour, brush off excess. Press cookie stamps into dough, then use a round cookie cutter to cut cookies out. Reroll scraps as needed. Transfer cookies to lined baking sheet and chill until form (approx 30mins).
Baking:
Preheat oven to 325F. Bake cookies for 15-20mins or until lightly browned on edges. Cool on baking sheet for 5mins, transfer to wire rack to cool completely.

Serve as is, or glaze with a simple powdered sugar and maple syrup glaze. Store in an airtight container.
Notes
Adapted from Martha Stewart's Holiday Cookies Magazine (2010).
Calories:
165
kcal
Carbohydrates:
25
g
Protein:
1
g
Fat:
6
g
Saturated Fat:
3
g
Cholesterol:
22
mg
Sodium:
42
mg
Potassium:
38
mg
Sugar:
15
g
Vitamin A:
195
IU
Calcium:
16
mg
Iron:
0.6
mg
The nutritional information and metric conversions are calculated automatically. I cannot guarantee the accuracy of this data. If this is important to you, please verify with your favorite nutrition calculator and/or metric conversion tool.
This is not a sponsored post. Nordic Ware sent me the Geo Cookie Stamps and Naturals Big Baking Sheet for review. All opinions are my own.