Delicious lemon blueberry loaf with a hint of almond.
Sometimes things don't turn out quite the way you plan, no matter how hard you try or what precautions you take. You can choose to view these things as failures, or focus on the positive aspects instead. The latter is not an easy thing to do if you're a perfectionist.
I did not intend for the blueberries to sink like a ton of bricks *both* times I baked this loaf. As striking as that deep purple strip along the bottom is, the blueberries were supposed to be scattered perfectly throughout. I hesitated in posting this recipe at all because of that, but this loaf tastes so good that it just had to be shared.
My first attempt at this loaf truly was an epic fail. Not only did the blueberries sink, but the entire loaf did too. No joke, a huge crater right down the middle. Did you know that if you use too much baking powder/baking soda, it can cause your cake to sink?? Apparently. This is counterintuitive to me, since baking powder/soda are leavening agents that cause baked goods to rise. At any rate, trust me when I say that too much is not a good thing.
Thankfully, loaf #2 baked up perfectly, except for the damn blueberries. I coated the blueberries in flour (liberally), but this didn't stop them from sinking (it usually does). I think if the batter was a bit thicker they would have been fine, but then the cake would have been more dense, and I didn't want a super dense loaf.
I added almond flour to the batter which, to me, makes a huge difference. The almond flour I had was a bit coarse, so it added both flavor and texture to this loaf.
I love the texture of this Lemon Blueberry Almond Loaf and wouldn't change a thing about the recipe. If you're not keen on having blueberries on the bottom, you can easily omit them and have a delicious Lemon Almond Loaf instead. And the sweet/tart lemon glaze on the top compliments this loaf perfectly.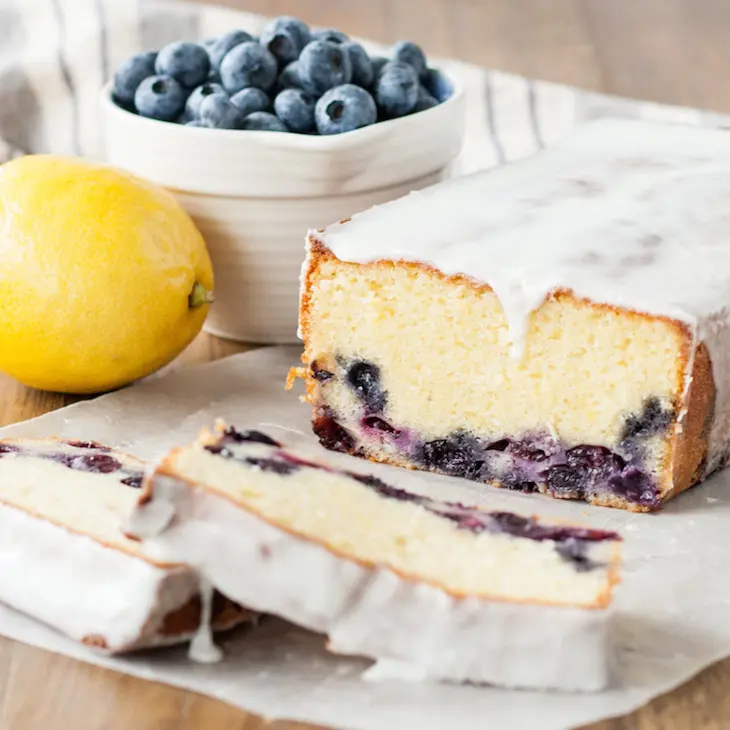 Lemon Blueberry Almond Loaf
Delicious lemon blueberry loaf with a hint of almond.
Instructions
Preheat oven to 350F, grease and flour a 9″x5″ loaf pan (I use

cake release

).

In a medium bowl, whisk together flour, almond flour, salt, and baking soda. Set aside.

Rinse blueberries and toss in a bowl with 1 Tbsp flour until coated. Set aside.

Cream butter and sugar on med-high in the bowl of a stand mixer with a paddle attachment until light and fluffy. Approx 5mins.

Add eggs one at a time, fully incorporating after each addition.

Turn speed to low and alternate adding flour and sour cream (2 additions of flour, 1 of sour cream).

Add lemon juice, zest, and vanilla. Mix until just combined.

Gently fold in blueberries with a spatula.

Pour batter into prepared pan and spread evenly with spatula.

Bake for 50mins or until cake tester comes out mostly clean.

Cool in pan on wire rack for 10mins, turn out and cool completely on wire rack.
Glaze
In a large measuring cup, combine icing sugar and lemon juice. Mix until smooth (I use a fork to do this).

Drizzle over cooled loaf.
Calories:
448
kcal
Carbohydrates:
69
g
Protein:
5
g
Fat:
17
g
Saturated Fat:
8
g
Cholesterol:
95
mg
Sodium:
200
mg
Potassium:
77
mg
Fiber:
1
g
Sugar:
56
g
Vitamin A:
495
IU
Vitamin C:
6
mg
Calcium:
42
mg
Iron:
1.2
mg
The nutritional information and metric conversions are calculated automatically. I cannot guarantee the accuracy of this data. If this is important to you, please verify with your favorite nutrition calculator and/or metric conversion tool.