Lightly flavored with lemon and topped with candied lemon slices, this classic English Madeira Cake is the easiest dessert you will ever make.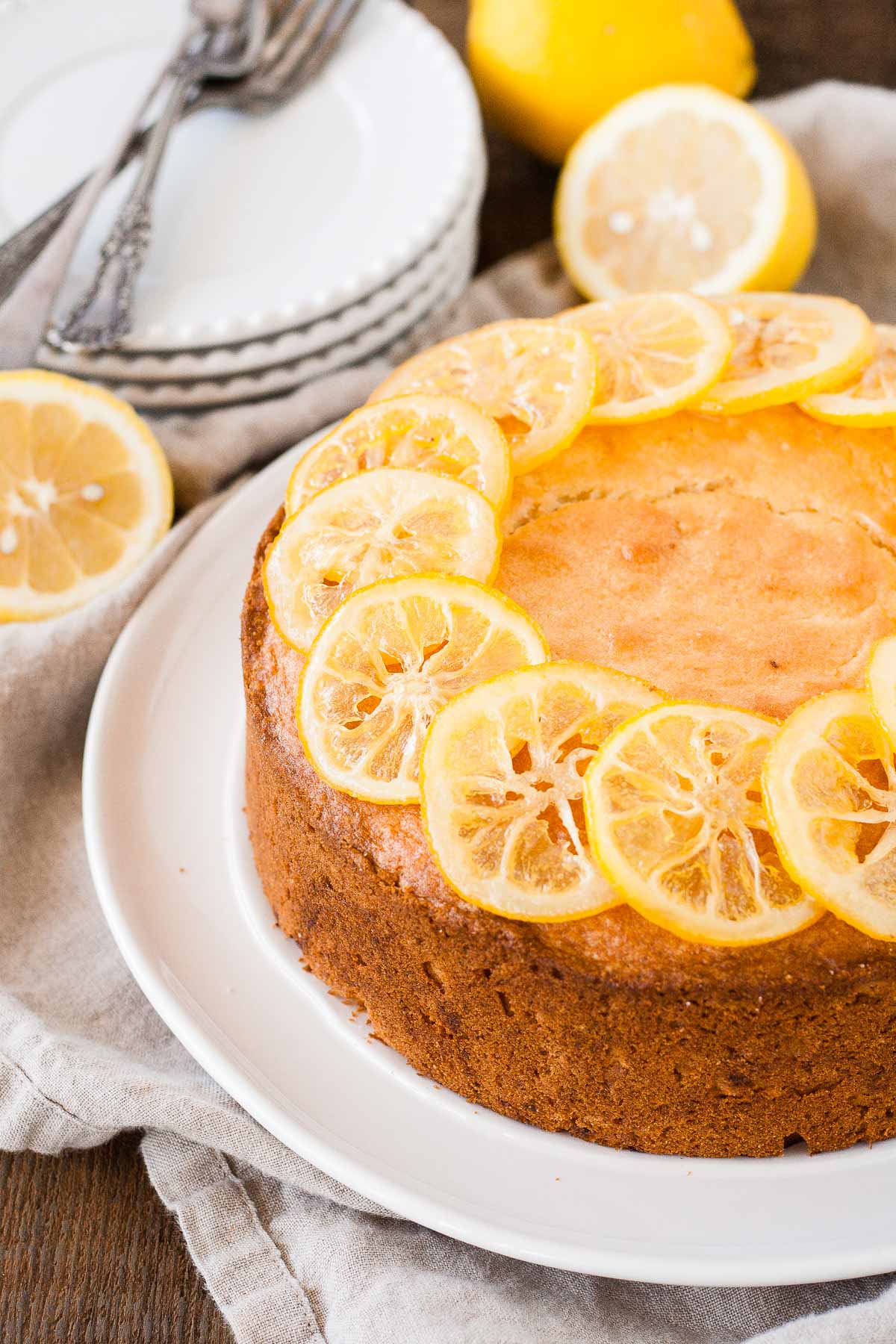 I have a new obsession: The Great British Bake Off.
I know I'm late to the party here… later than I thought actually. I assumed the most recent season was Season 3, but apparently what I'm watching is season 6! Where have I been for 6 years?! So much to catch up on!!
Ugh, I hope I can find the older seasons somewhere. I actually caught the last episode of season 4 (what I thought was season 2) a couple months ago and have been hooked ever since.
Kicking myself for missing out on all of those seasons.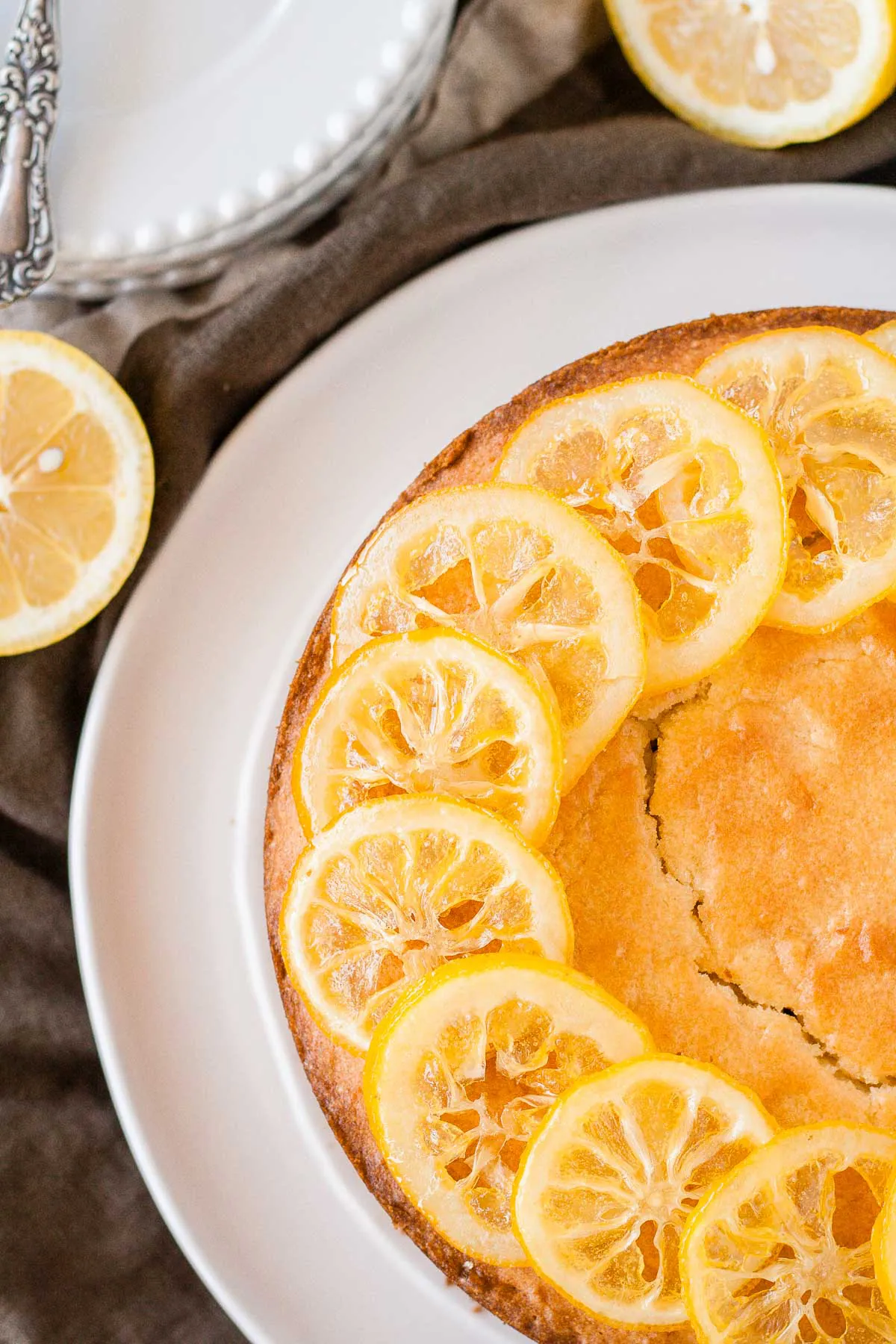 I know Season 6 is technically over, but it just started a few weeks ago here in Canada and I've been happily engrossed in it ever since.
There's something about British TV shows that's just better than ones in the US and Canada. They have a certain feel to them and a higher quality (in my opinion). The Great British Bake Off is no exception….the US version totally tanked and I, myself, couldn't even get through one episode. SO BAD.
I think the appeal of the British version is that the contestants are really relatable. They are not professionals, by any means, and there's just a genuine quality about them. Plus the hosts and judges are the BEST. Sue Perkins is my fave. Hilarious!
I'm also loving the fact that in watching this show I'm being exposed to baked goods I've never even heard of — like this classic Madeira Cake.
According to Mary Berry, a Madeira Cake is a close textured plain cake that is signified by a dome and a crack on the top. Traditionally it is lemon in flavor and has some sort of candied lemon garnish.
I didn't stray away from the traditional version as I wanted to try it in its classic form. After all, Mary did say that you can't beat the classic. It is really simple to make. In fact, I think it might be the easiest cake I've ever made.
Cake Tip!
Not a lemon fan? Try it with any other citrus instead using the same amounts.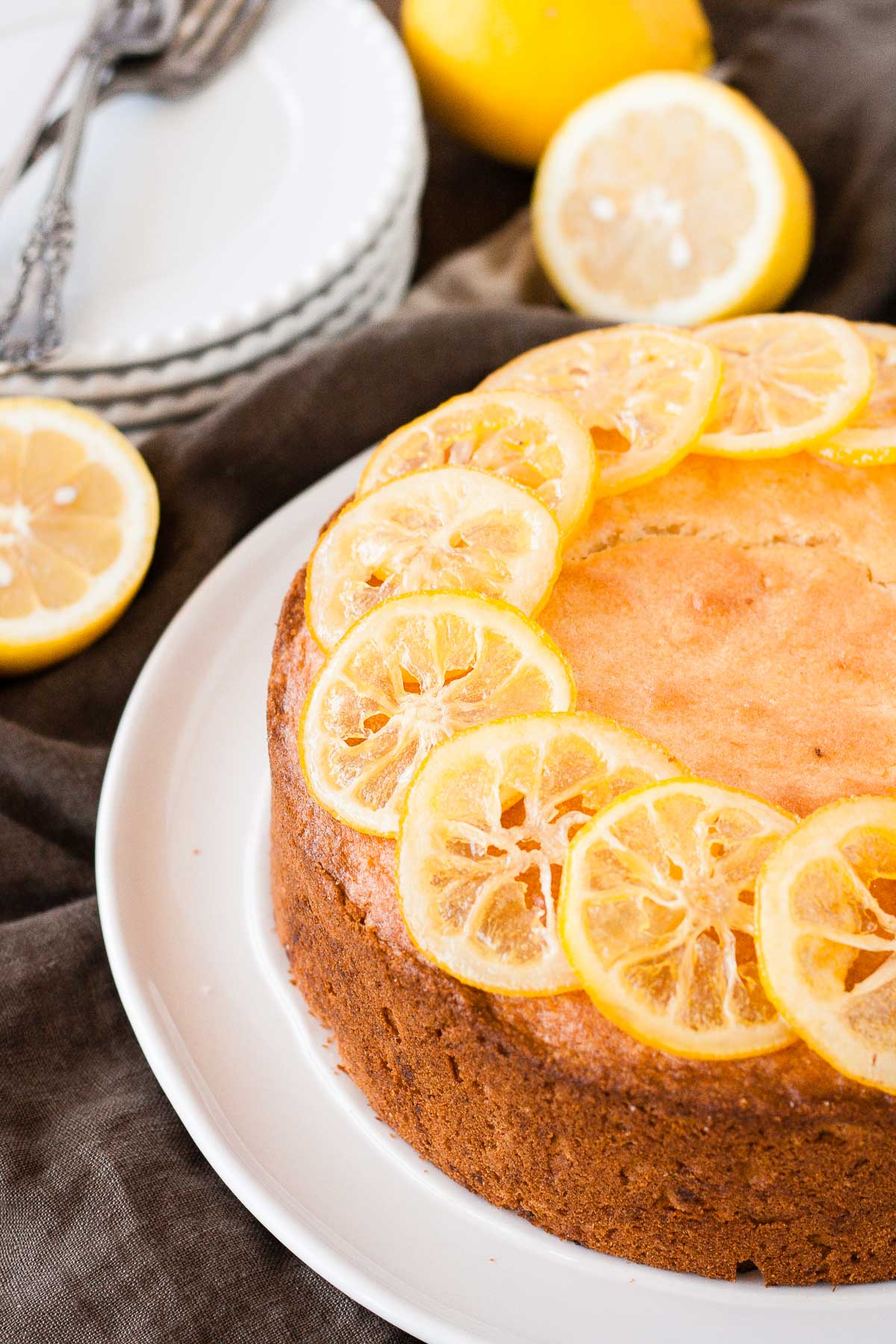 Naturally, this was attempt #2 at this cake — #1 was an epic fail. Since all of the traditional recipes are British, I had a bit of hard time figuring out ratios and amounts from grams to cups, but mostly converting from self-raising flour to all-purpose.
Unfortunately my first cake, as delicious as it was, completely sank in the middle due to too much baking powder. My sources steered me wrong!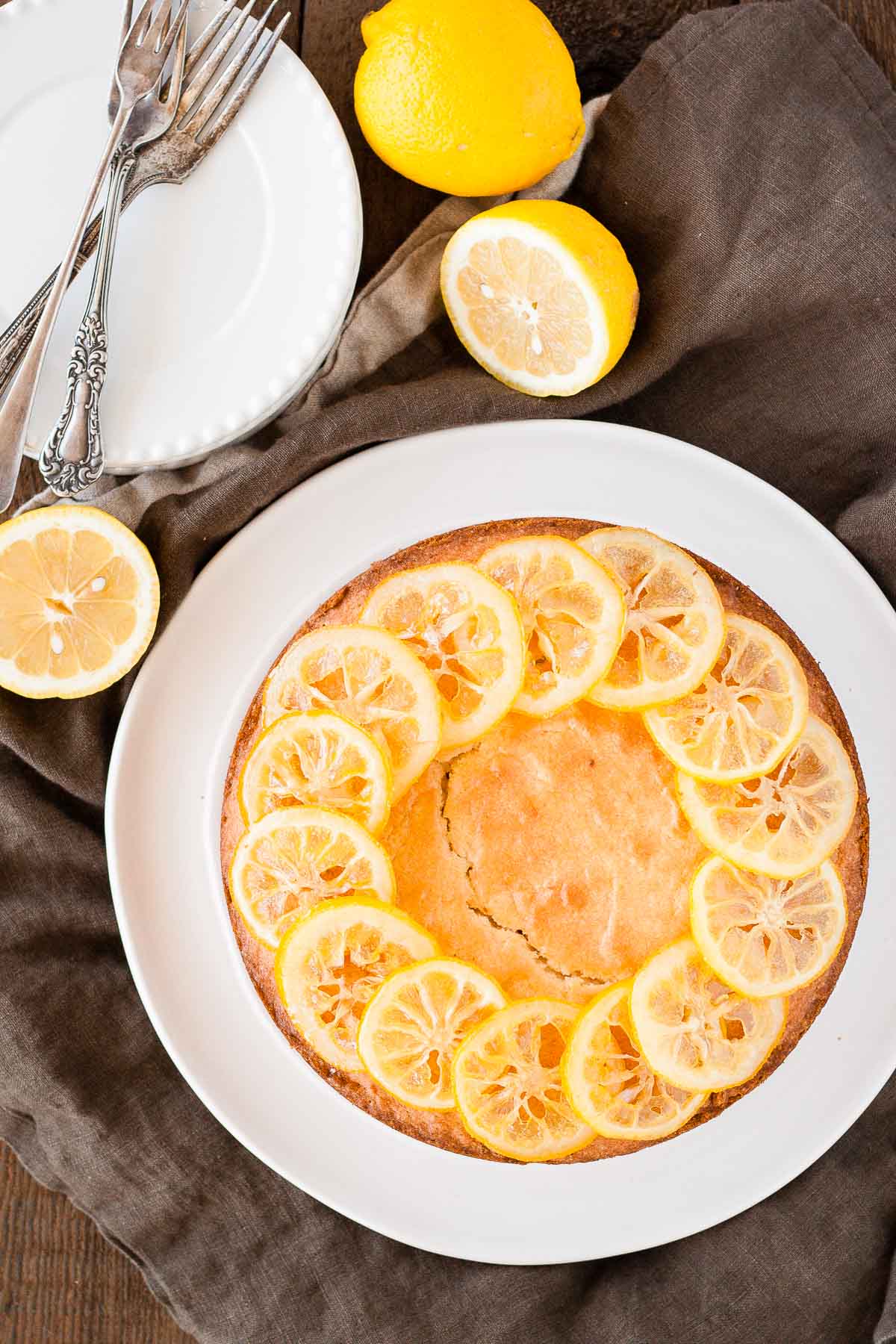 The info I found was to add 2 tsps of baking powder per cup of all-purpose flour to make self-raising flour. This seemed like a lot (based on my experience) but, against my better judgment, I went with 4 tsps per my 2 1/2 cups in the recipe, but it was still way too much.
I ended up going with 1 tsp of baking powder per cup (which is standard) and it worked perfectly.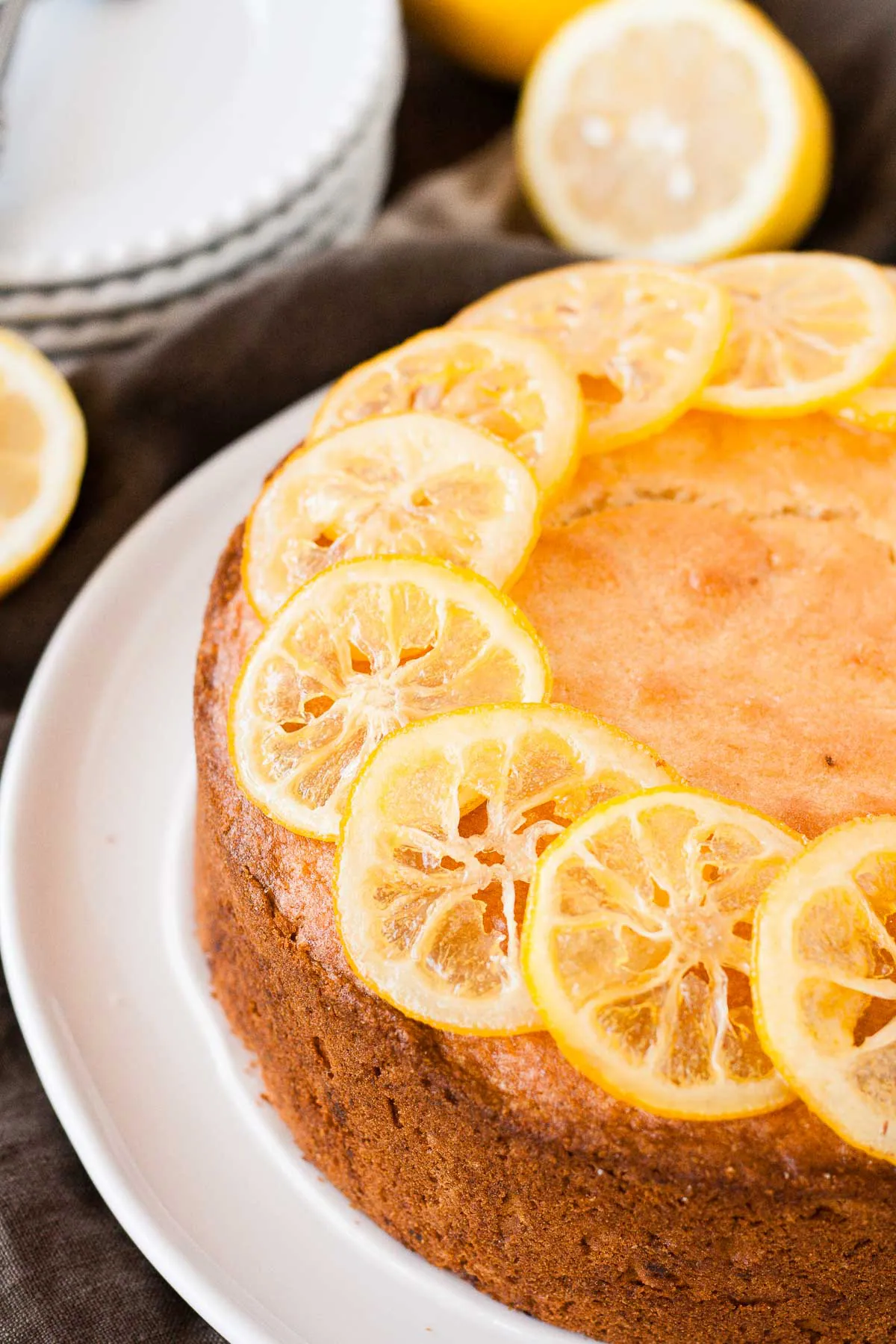 Candied Lemon Slices
The candied lemon slices were very easy to make. The key is to slice them very thin (1/8″ thick) then you simmer them in a sugary simple syrup until they are candied. And yes, you can totally eat the rind! It softens in the syrup and is delicious.
My Madeira Cake didn't dome quite as much as I had hoped, there's just a slight hump in there, but I'm happy with it. It did crack though! Pretty perfect if I do say so myself.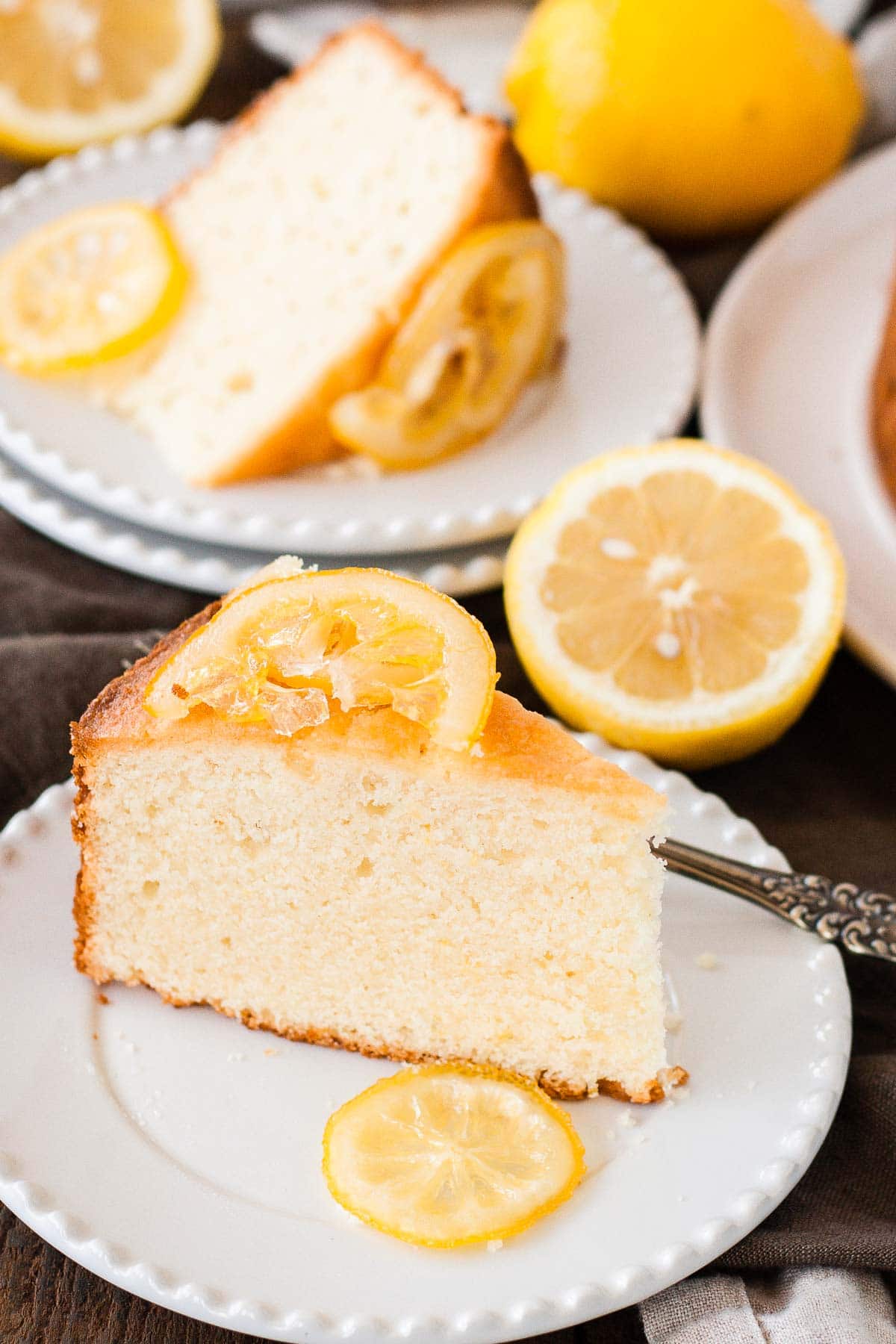 This Madeira Cake is perfect for afternoon tea. Or breakfast, I don't judge.
It's simple and delicious. Really, is there anything better than that?? I recommend microwaving pieces for about 20 seconds before eating for that fresh-out-of-the-oven taste. I'll be making this one again for sure!
Looking for more Lemon recipes?
Frequently Asked Questions
How can I convert this recipe?
To make cupcakes, all you need to do is reduce the baking time — start checking at 15mins or so. The recipe will make 18-24 cupcakes depending on size.
For other conversions go

here

. Bake time may vary depending on pan size.
Baking time will vary if you change the pan size. Every oven is different so I can't say for certain what you'll need to adjust it to. Be sure to check on the cakes while they are baking.
Can I make it in advance?
The cooled cake layers can be baked ahead of time, double wrapped in plastic wrap, and frozen for up to 3 months. Take out 2-3 hours before serving.
The candied lemon slices can be stores at room temperature for a couple days.
Can I get the measurements by weight/grams?
There is a Metric option in the recipe card. If you click it it will convert everything to grams.
This conversion is done automatically and I cannot guarantee the accuracy but many readers have had success using the metric option on my recipes.
Tips for making this Madeira Cake
You can replace caster sugar with granulated sugar if you can't find any.
Make sure your 8″ pan is at least 3″ tall or the cake may overflow.
Be sure to slice your lemons thin and even for best results and prettiest presentation.
The leftover syrup from the candied lemon slices can be used to drizzle over the cake or you can save it and refrigerate it to add it to iced tea or other beverages.
I prepare my cake pans using

Homemade Cake Release

and line with parchment paper.
To help ensure your cake layers bake up nice and flat, check out my

How to Bake Flat Cakes

post!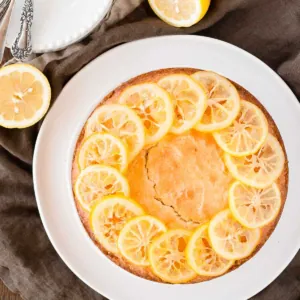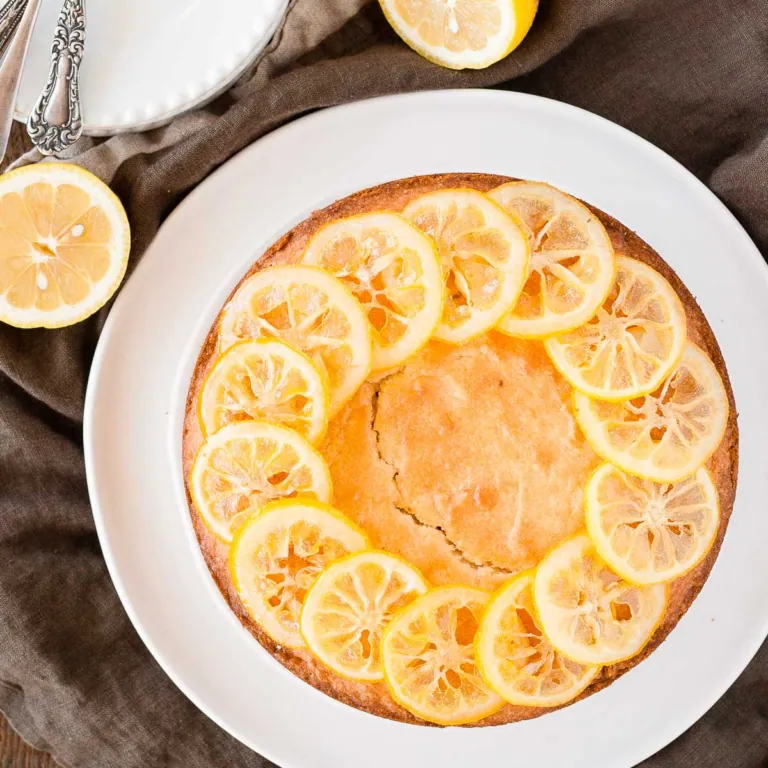 Classic Madeira Cake
This classic English Madeira Cake is the easiest dessert you will ever make. Lightly flavored with lemon and topped with candied lemon slices.
Instructions
Madeira Cake:
Preheat oven to 325F (170C). Grease and flour a deep* 8″ round cake pan, line with parchment.

In a medium bowl, whisk flour and baking powder. Set aside.

Beat butter, sugar, and lemon zest on med-high until pale and fluffy (2-3mins). Add eggs one at a time along with one tablespoon of flour mixture for each egg. Fully incorporate after each addition.

Gently fold in flour mixture, then lemon juice.

Bake for approximately 1 hour or until a cake tester comes out clean. Cool in pan for 10mins then turn out onto wire rack to cool completely.
Candied Lemon Slices:
Place sugar and water in a large, shallow, saucepan. Bring to a simmer and stir until dissolved. Gently lay the lemon slices in a single layer in the saucepan. Simmer for 15mins, turning over half way through.

Carefully remove slices from pan, dripping off excess syrup, and place on a parchment lined baking sheet.** Allow to dry at room temperature. Dip in granulated sugar if desired.
Notes
* Make sure your pan is at least 3″ deep.
** The cooled lemon syrup can be drizzled over cake or used in various beverages. I used mine in homemade iced tea.
Madeira Cake recipe adapted from Nigella Lawson.
Candied Lemon recipe from Our Best Bites
Calories:
537
kcal
Carbohydrates:
86
g
Protein:
5
g
Fat:
20
g
Saturated Fat:
12
g
Cholesterol:
104
mg
Sodium:
27
mg
Potassium:
215
mg
Fiber:
1
g
Sugar:
60
g
Vitamin A:
650
IU
Vitamin C:
11.5
mg
Calcium:
78
mg
Iron:
2
mg
The nutritional information and metric conversions are calculated automatically. I cannot guarantee the accuracy of this data. If this is important to you, please verify with your favorite nutrition calculator and/or metric conversion tool.
This recipe was originally published Aug 21, 2016 and has been updated with new content on January 19th, 2023.