Your favorite cereal in cake form! Cinnamon cake, cream cheese frosting, and Cinnamon Toast Crunch crumble.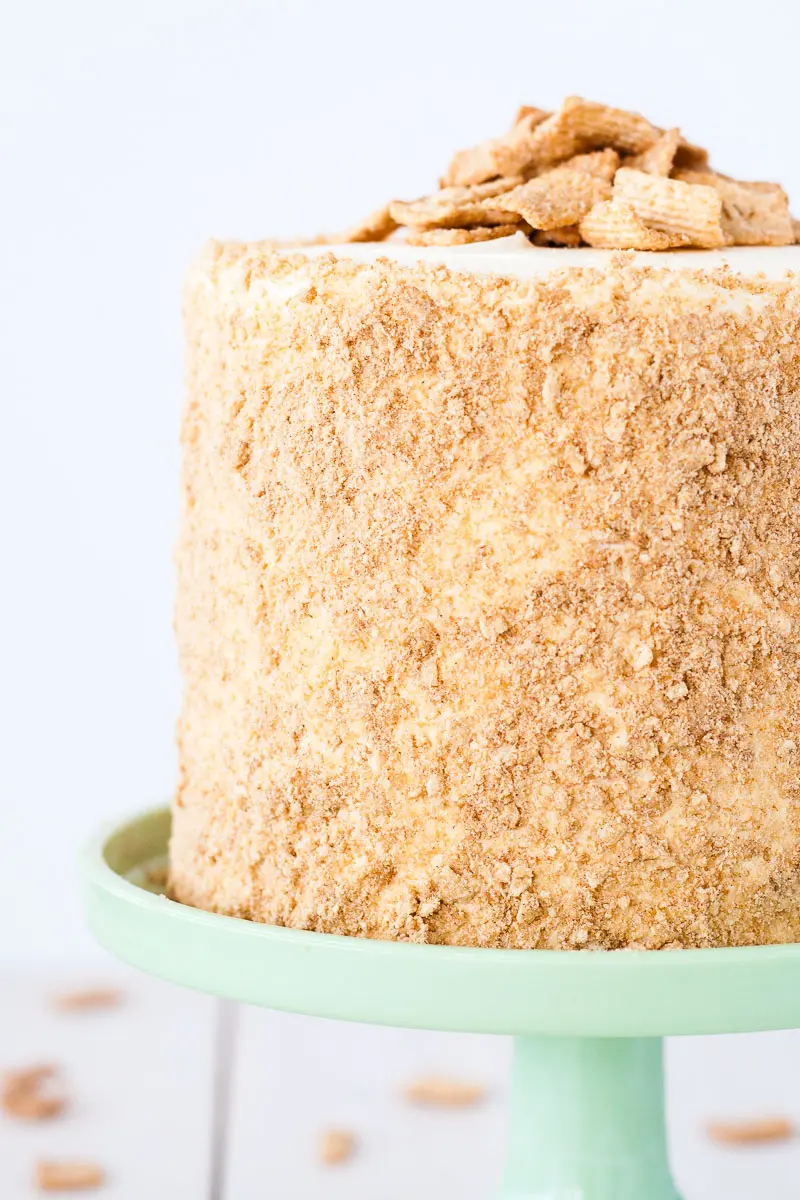 I always make a special cake for Ryan's birthday. This has been happening for years, ever since I got into cake decorating in late 2009. Last year, I took on a huge challenge and made him a Momofuku Birthday Cake. If you know Momofuku recipes at all, you know that they are intense and have a LOT of steps. Needless to say, I ran into many issues making that cake, but the taste was well worth the effort. This year, I decided to turn one of Ryan's favourite cereals into this Cinnamon Toast Crunch Cake (read: it was actually his idea).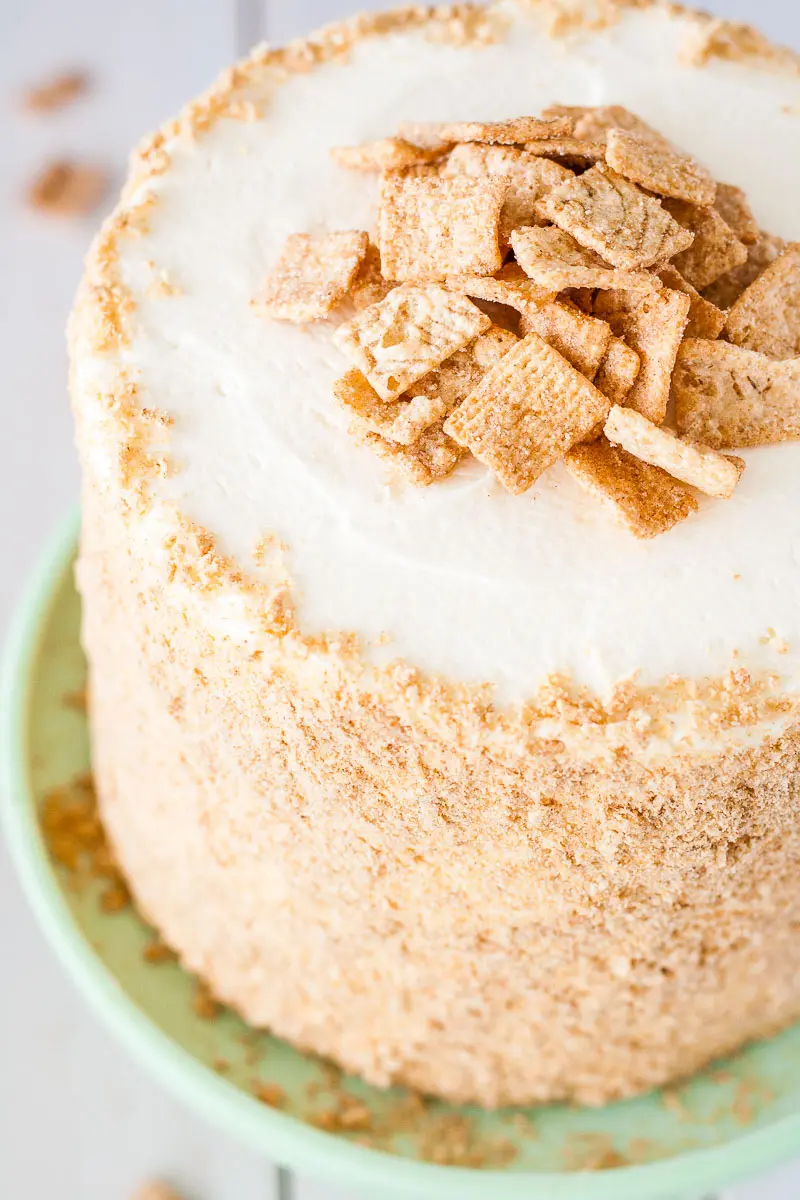 In true Olivia fashion, I couldn't decide how I wanted to decorate this cake. It's always a last minute decision these days, and I don't know if it's just because I have no ideas, or because I want it to be perfect and (relatively) easy to do. I wanted to try something a bit different, so I thought I'd crush up some more cereal and press it into the sides, kinda like my Funfetti Cake, but with cereal instead of sprinkles.
Surely this would be easy given that I'd done it before — prop the cake on an upside down bowl and press stuff into the sides. It was all going swimmingly, except that I have this annoying desire to make things perfect, so I kept fussing with it and pressing more and more into the sides… until the cake started to fall OFF of the bowl and I had to literally grab it with my hands. Where is the crying emoji?? I need one. That or the cursing one.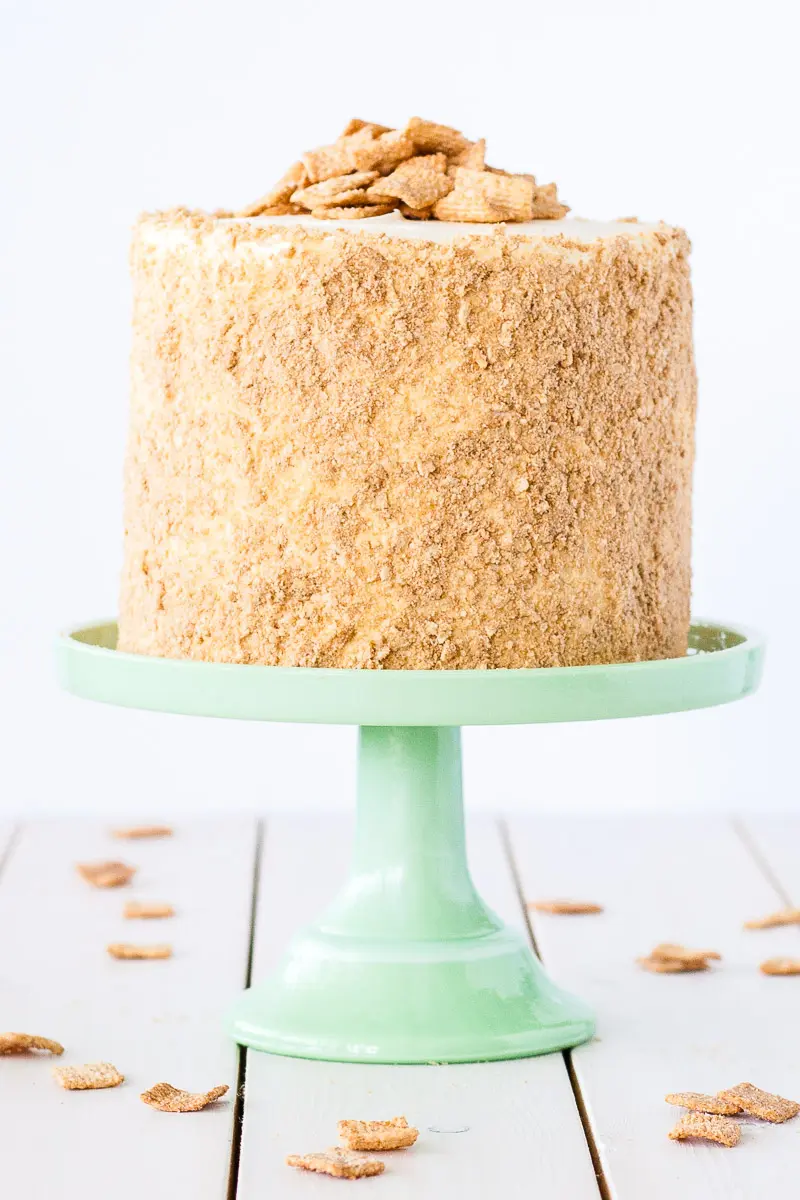 So my pristine smooth-sided cake, perfectly covered in crushed up Cinnamon Toast Crunch now had the added bonus of handprints on the sides. Did I mention the frosting was soft? Yeah… so soft that you could literally see all of my fingers pressed into the cake. SIGH. Thankfully I was able to patch the holes (lol) with more crushed up cereal, but STILL. It's a never-ending drama over here with my baking. Needless to say, the pics are taken from the most flattering angle, as usual.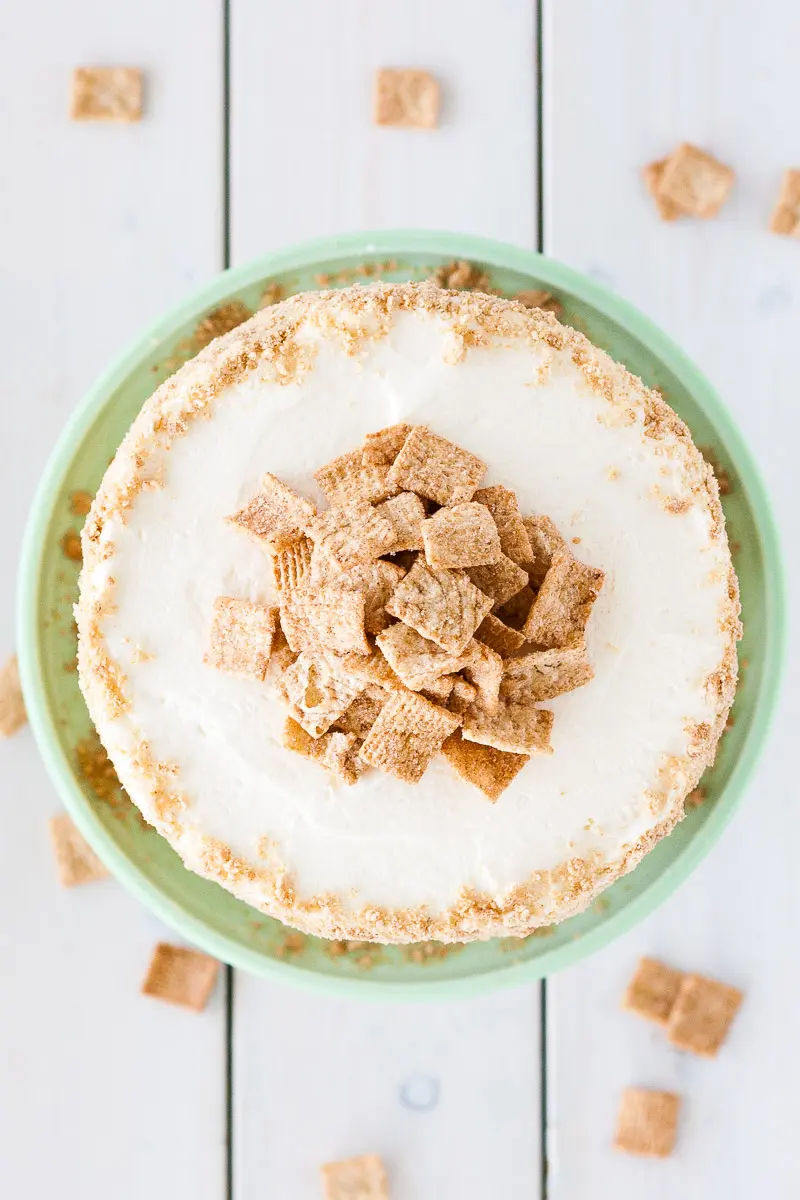 The only other issue is that I had quite a bit of tunnelling in the cake because I overmixed the batter. So don't do that. It doesn't affect the taste, but it certainly doesn't look as pretty with these hollow channels running through it.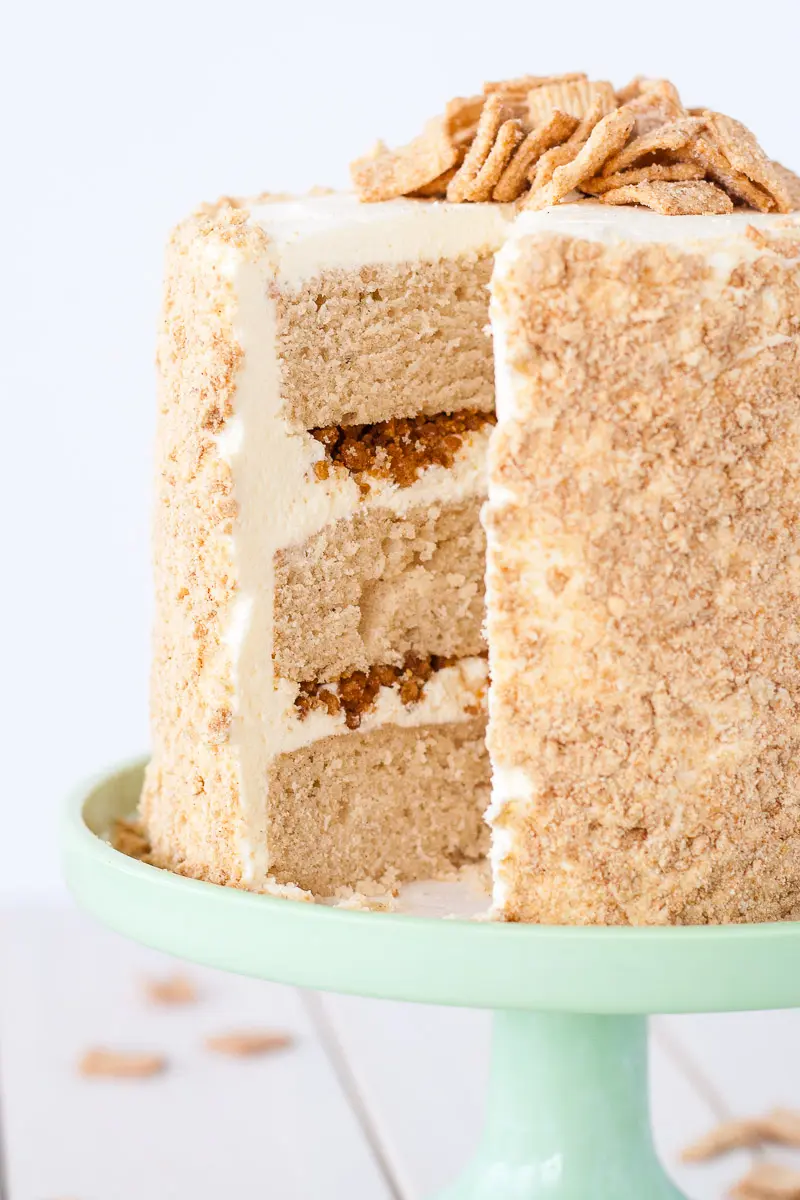 I added a bit of cinnamon to the cake itself, and paired it with a cream cheese frosting to cut down some of the sweetness from the Cinnamon Toast Crunch. One of my favorite elements of the Momofuku cakes is the crumble. It adds an amazing flavour and texture to the cakes, so I've started incorporating it into a few of mine. I figured this Cinnamon Toast Crunch Cake needed a bit of, well, "crunch," so I made a crumble using crushed up cereal and placed it between the layers.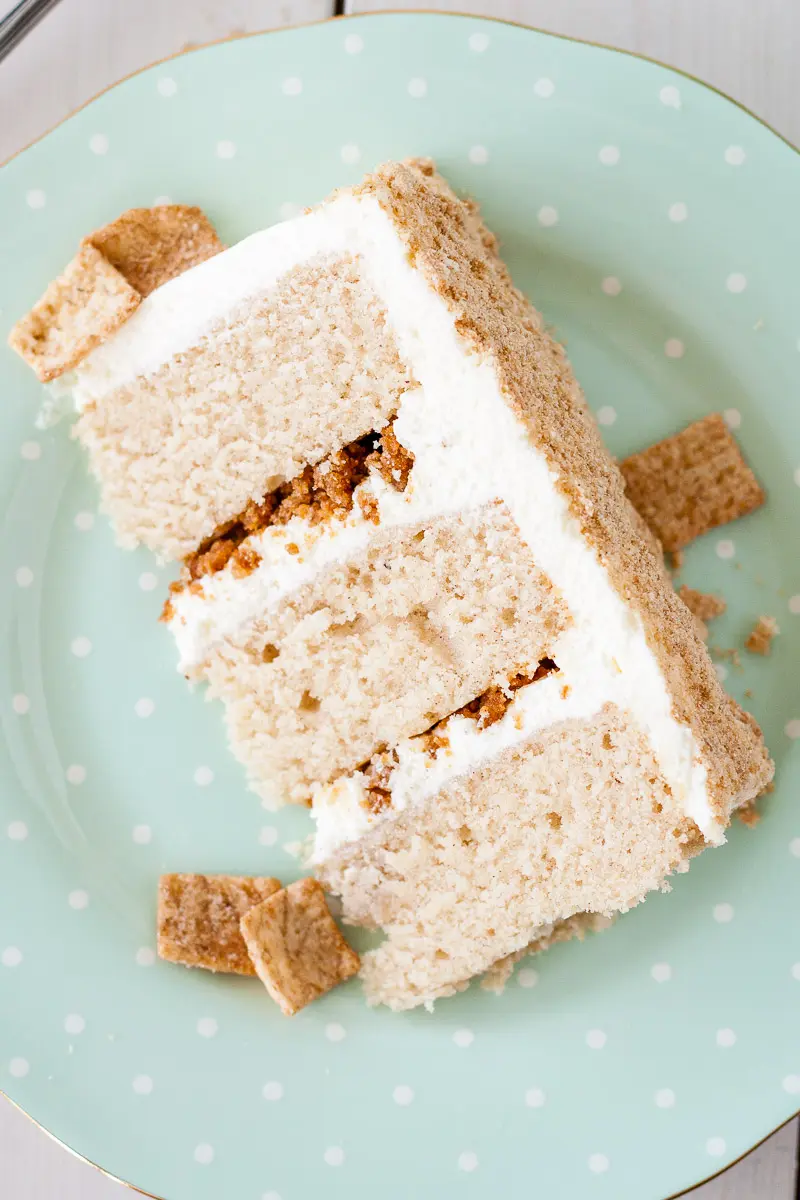 The cake tasted amazing! Ryan said it tasted just like having the cereal with milk. If you have a Cinnamon Toast Crunch fan in your life, they will love this cake!
Notes & tips for this Cinnamon Toast Crunch Cake:
Cinnamon Toast Crunch Cake
Your favorite breakfast cereal in cake form! A cinnamon cake, paired with a cream cheese frosting and Cinnamon Toast Crunch crumble.
Ingredients
Cinnamon Toast Crunch Crumble:
1

cup

crushed Cinnamon Toast Crunch cereal

1/2

tsp

baking powder

1/2

tsp

salt

2

Tbsp

grape seed oil

or any vegetable oil

2

tsp

vanilla
Assembly:
1 1/2

cups

crushed Cinnamon Toast Crunch cereal
Instructions
Cake:
Preheat oven to 350F. Grease and flour three 6" cake rounds, line with parchment.

In a medium bowl, whisk flour, baking powder, cinnamon, and salt and set aside.

Beat butter until smooth. Add sugar and beat on med-high until pale and fluffy (2-3mins).

Reduce speed and add eggs one at a time, fully incorporating after each addition. Add vanilla.

Alternate adding flour mixture and buttermilk, beginning and ending with flour (3 additions of flour and 2 of milk). Fully incorporating after each addition. Mix until just combined

Spread batter evenly into prepared pan and smooth the top with a spatula.

Bake for 30mins or until a toothpick inserted into the center comes out mostly clean.

Place cakes on wire rack to cool for 10mins then turn out onto wire rack to cool completely.
Crumble:
Preheat oven to 300F and line a sheet pan with parchment or a silicone mat.

Whisk all dry ingredients. Add wet ingredients and mix until small clumps form.

Spread evenly and bake for 15mins. Cool completely before using on cake.
Cream Cheese Frosting:
Beat butter and cream cheese on med-high until pale and smooth (approx. 2mins).

Reduce speed to low and add sugar 1 cup at a time. Add vanilla and pinch of salt. Increase speed to high and beat for 2-3 minutes until pale and smooth.
Assembly:
Place one layer of the cake onto a cake stand or serving plate. Top with 1 cup of frosting and spread evenly. Sprinkle with crumble as desired. Repeat with remaining layers. Frost outside of cake and press crushed Cinnamon Toast Crunch cereal into the sides.
Calories:
561
kcal
Carbohydrates:
65
g
Protein:
4
g
Fat:
31
g
Saturated Fat:
18
g
Cholesterol:
109
mg
Sodium:
299
mg
Potassium:
160
mg
Fiber:
1
g
Sugar:
50
g
Vitamin A:
1075
IU
Vitamin C:
3.1
mg
Calcium:
83
mg
Iron:
1.9
mg
The nutritional information and metric conversions are calculated automatically. I cannot guarantee the accuracy of this data. If this important to you, please verify with your favourite nutrition calculator and/or metric conversion tool.