Take the classic birthday cake up a few notches with this easy and delicious Chocolate Chip Cake with Whipped Chocolate Buttercream!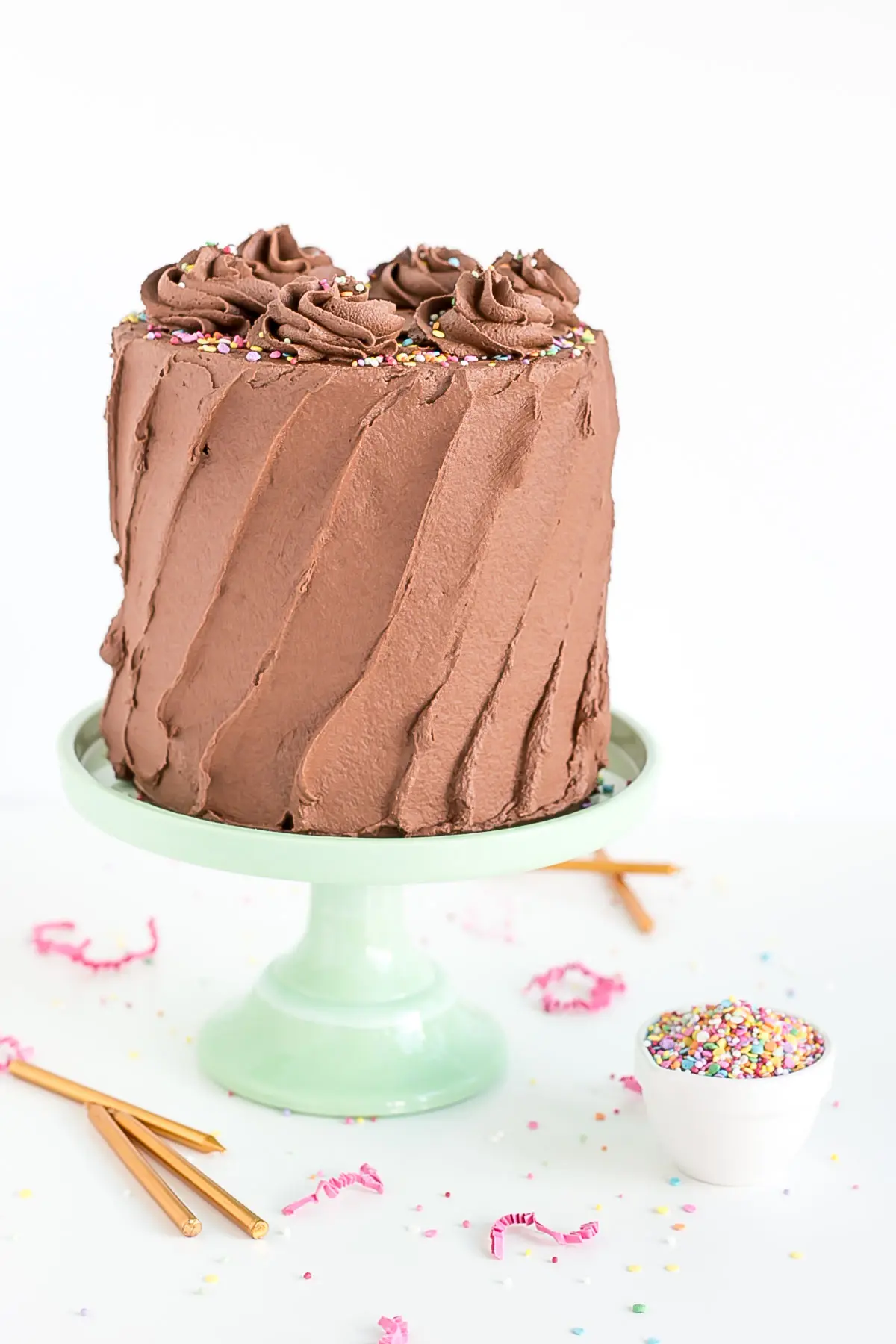 It's April! Flowers are *finally* starting to bloom, and it looks like we have a magnolia tree on our front lawn that I had no idea about. So exciting!! I am SO over winter — and this year has been a particularly bad one. Getting through the January to March phase is always the worst for me. Nothing to look forward to for 3 dreary months. Thankfully we were able to break it up a bit with our February Sydney trip, but that's not always an option.
So, to kick off April and the signs of spring and summer on the horizon, I bring you this bright and cheery Chocolate Chip Cake!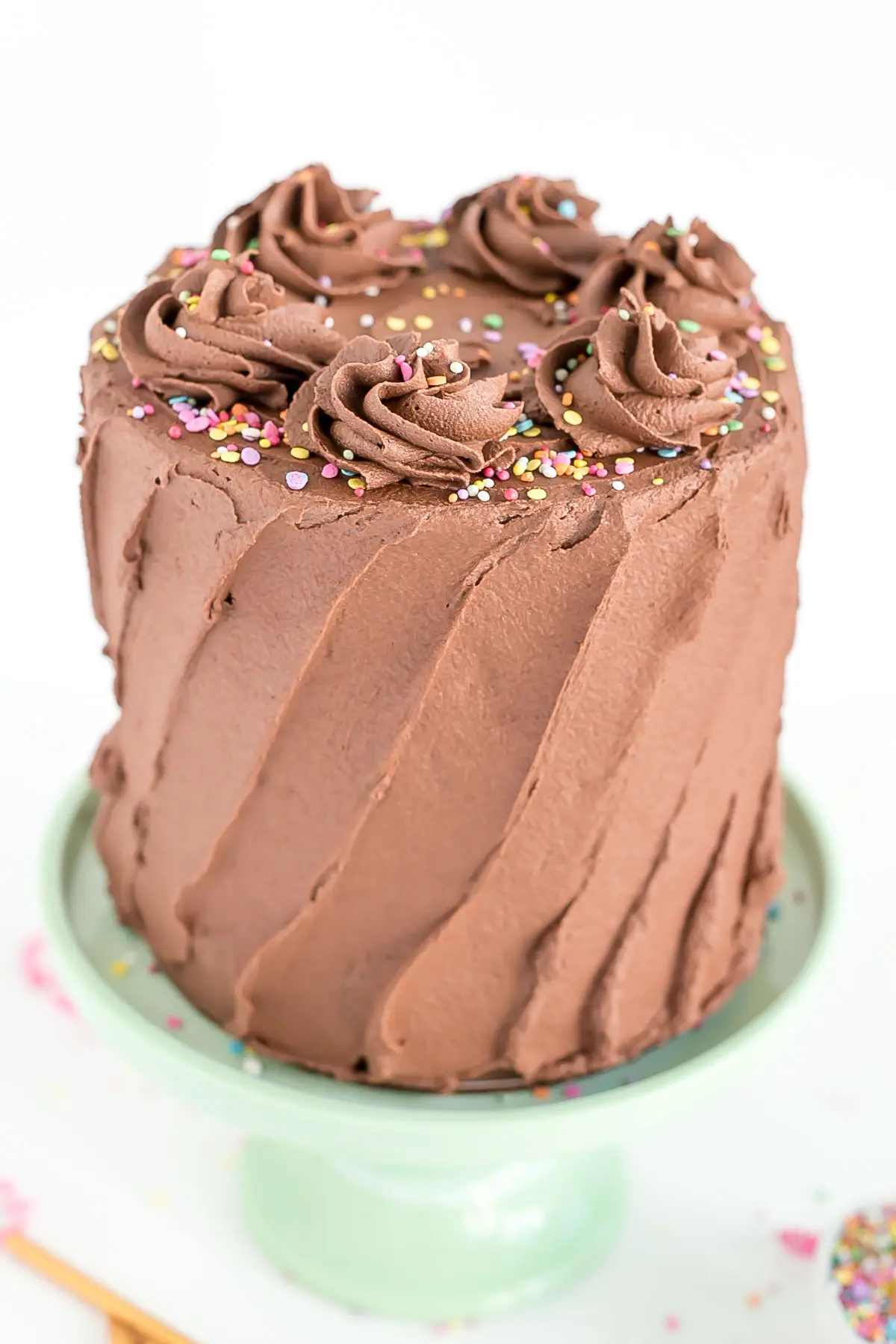 There was no special occasion for this birthday cake, it's just one that I've wanted to do for a while. And really, does there need to be a special occasion to have cake? I didn't think so.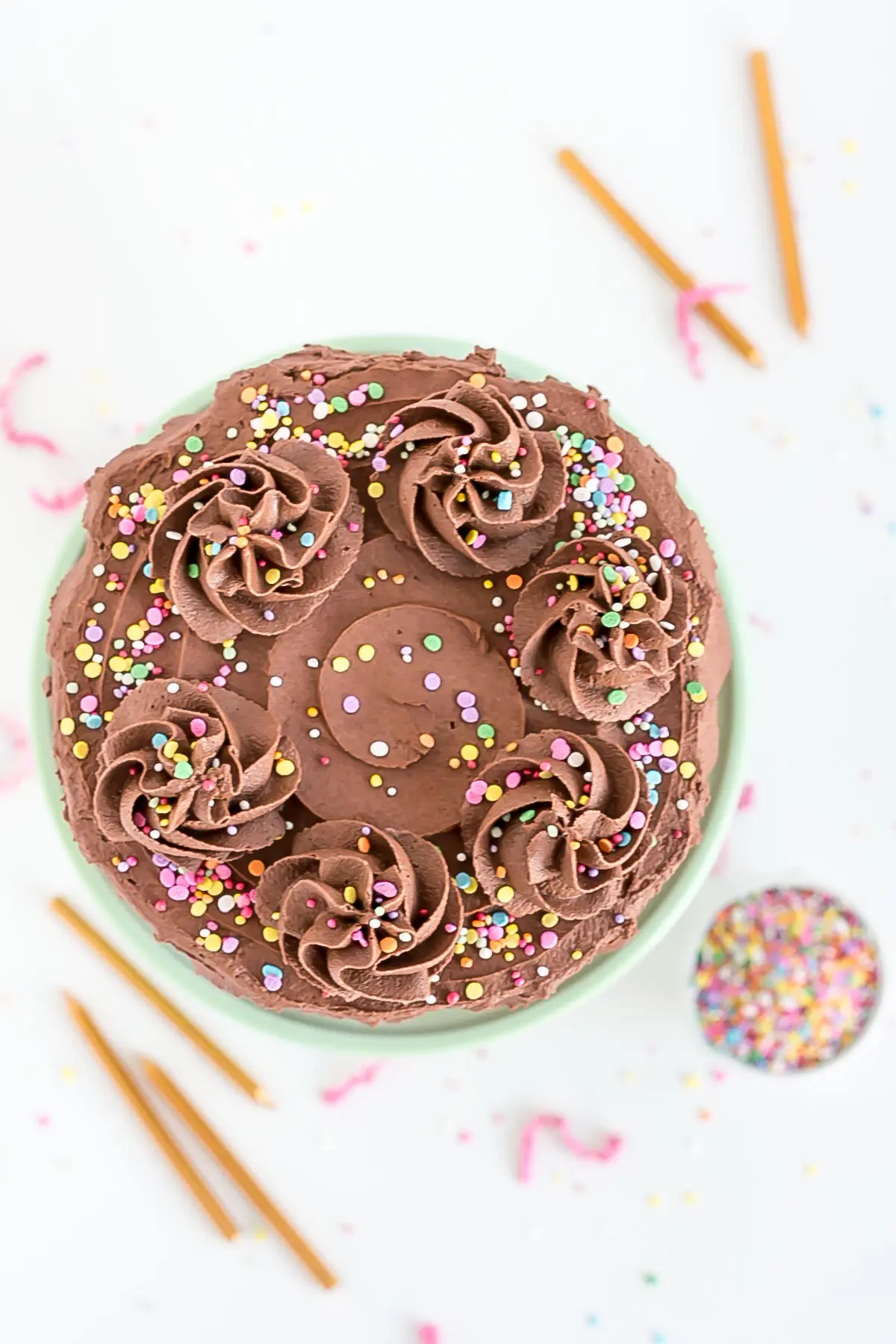 The chocolate chip cake is the same one I use in my Milk & Cookies Cake. It's a buttermilk based cake, and tastes truly delicious. Ryan insists the cake tastes just like a chocolate chip muffin, and really, it totally does. I use the same "base" cake recipe for all of my vanilla cakes, but for some reason the addition of chocolate chips gives it a whole different kind of flavor.
This is Ryan's new favorite cake, and I've been instructed to not give any of it out (lol). I managed to smuggle a few pieces away for some friends, but the rest of it has been squirrelled away into the freezer.
The chocolate buttercream did not turn out as I intended. My vision for this cake was not to have a whipped buttercream at all, but a rich, fudgey chocolate one. Apparently this is something I am incapable of achieving, as I have tried multiple times without success. Either the color is off or the texture isn't right — I never quite get what I'm after.
This is an American style buttercream, which I don't do very often. I typically stick to Swiss meringue buttercreams, but I knew that getting a rich chocolate color with a meringue would be all but impossible, so I went with a powdered sugar based buttercream instead. Maybe I should have added more melted chocolate, or cocoa powder, or milk instead of cream. Or maybe I whipped it for too long or at too high a speed. Regardless, it's light and airy rather than rich and fudgy. Flavor-wise, it's still perfectly delicious.
So, the chocolate fudge buttercream I was after turned into a whipped chocolate buttercream. I'm actually totally ok with this and think it looks perfectly pretty, it's just not exactly what I had envisioned.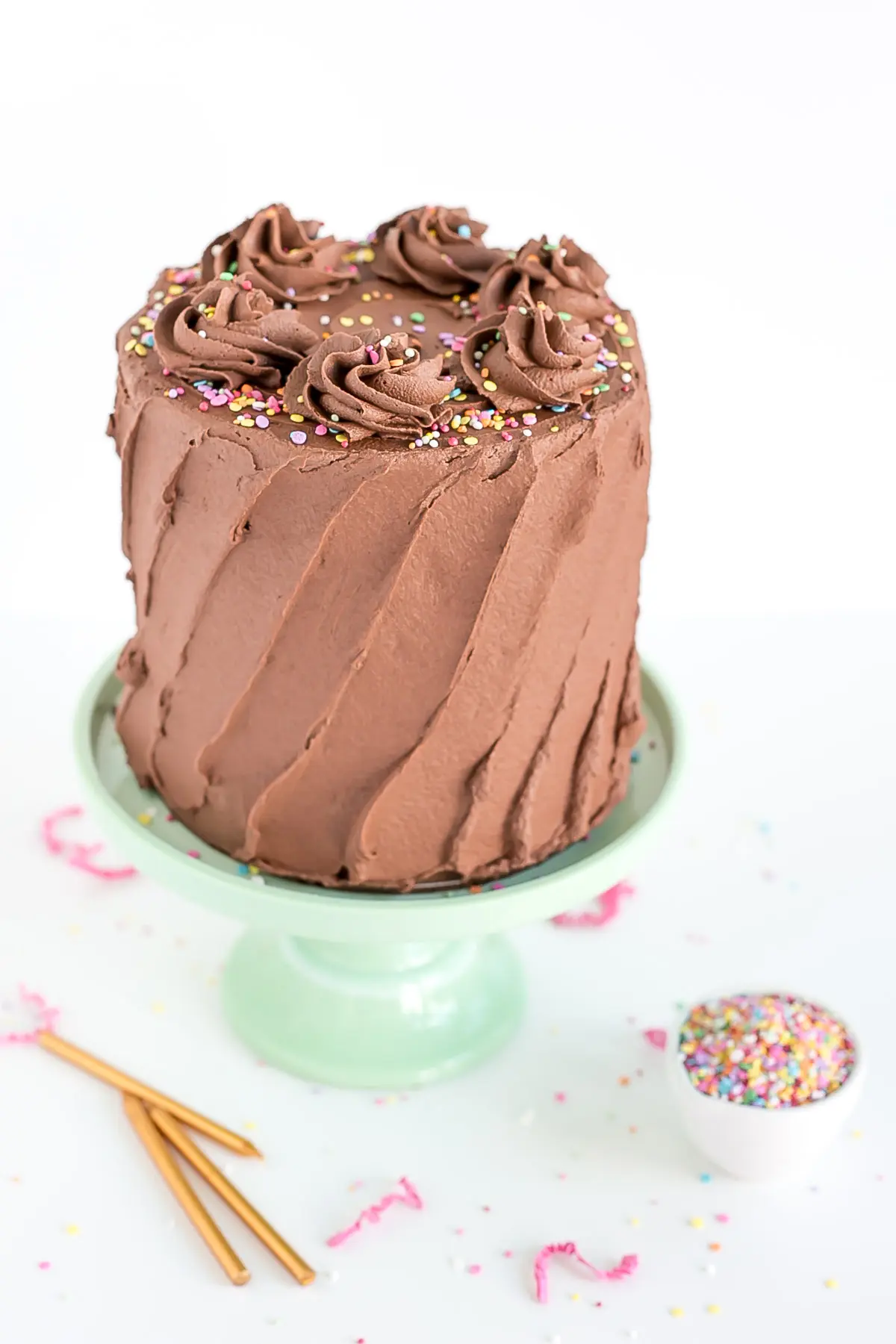 I wanted to try something a little different for the sides of the cake this time, and I would say that I'm about 80% happy with how it turned out. Again, it's not exactly what I was going for, but I was lazy and I didn't want to scrape it all off and start over. It was close enough.
I used a large straight icing spatula, pressed it into the bottom of the cake and swiped upwards at an angle. I didn't clean it between swipes, which helped to give the frosting the pronounced ridges. I think it would actually be a cool effect for a "wood" themed cake, as it kinda looks like bark.
Some classic rosettes and a mixture of pastel confetti and sprinkles top off this pretty Chocolate Chip Cake.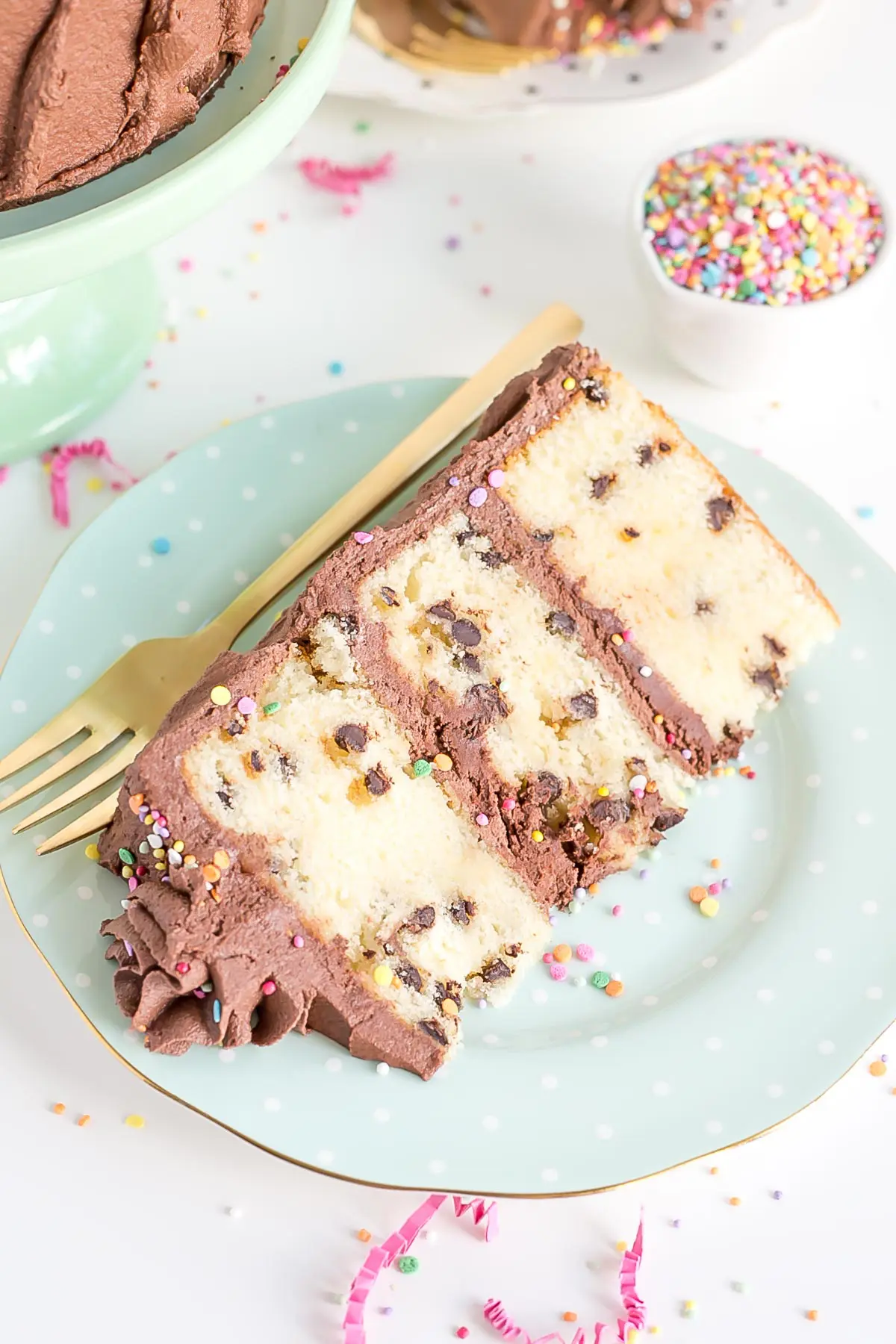 The cake is fairly dense but moist, and it pairs well with the fluffy whipped chocolate buttercream. Perfect as a birthday cake or for any special occasion.
Notes & tips for this Chocolate Chip Cake:
Use mini chocolate chips rather than regular sized ones for the cake. For the frosting I melted down regular size chocolate chips, but any would work.
Use a large straight icing spatula to create the scalloped effect on the sides and the swirl on top.
For a darker chocolate frosting, you can experiment by adding more chocolate or cocoa powder, or less cream.
Best served at room temperature.
If you would like a vanilla frosting version instead, check out my Milk & Cookies Cake!
To help ensure your cake layers bake up nice and flat, see my Flat Top Cakes post.
Chocolate Chip Cake With Whipped Chocolate Buttercream
Take the classic birthday cake up a few notches with this easy and delicious Chocolate Chip Cake with Whipped Chocolate Buttercream!
Ingredients
Whipped Chocolate Buttercream:
Instructions
Cake:
Preheat oven to 325F. Grease and flour three 6″ cake rounds and line with parchment.

In a medium bowl, whisk flour, baking powder, and salt until well combined. Set aside.

Using a stand mixer fitted with a paddle attachment, cream butter and sugar on med-high until pale and fluffy (approx 3mins).

Reduce speed and add eggs one at a time fully incorporating after each addition. Add vanilla.

Alternate adding flour mixture and buttermilk, beginning and ending with flour (3 additions of flour and 2 of milk). Fully incorporating after each addition.

Fold in chocolate chips and mix until just incorporated.

Bake for 35-40mins or until a toothpick inserted into the center comes out mostly clean.

Place cakes on wire rack to cool for 10mins then turn out onto wire rack. Allow to cool completely.
Whipped Chocolate Buttercream:
In a large bowl, combine sifted powdered sugar and cocoa powder. Whisk to combine and set aside.

Using a stand mixer, beat butter until smooth. Reduce speed and slowly add powdered sugar & cocoa mixture one cup at a time. Add 2-4 Tbsp of cream until desired consistency is reached (I used all 4). Mix on medium until smooth (3 mins).

Add vanilla and melted chocolate and mix until well combined and smooth.
Assembly:
Place one layer of cake on a cake stand or serving plate. Top with approximately 2/3 cup of buttercream. Repeat with remaining layers and crumb coat the cake. Chill for 20mins.
Calories:
743
kcal
Carbohydrates:
89
g
Protein:
6
g
Fat:
41
g
Saturated Fat:
25
g
Cholesterol:
128
mg
Sodium:
132
mg
Potassium:
282
mg
Fiber:
3
g
Sugar:
68
g
Vitamin A:
1090
IU
Calcium:
96
mg
Iron:
2.8
mg
The nutritional information and metric conversions are calculated automatically. I cannot guarantee the accuracy of this data. If this is important to you, please verify with your favorite nutrition calculator and/or metric conversion tool.